Being one of the most efficient and comprehensive ways to convey thoughts, share moments of life, and make yourself go viral on social media of YouTube, Facebook, Twitter, TikTok, etc., videos tend to be made in different aspects with a variety of modern techs. Notably, many content creators prefer to begin with an off-the-shelf video template to make their intro & outro videos. However, you may hardly find your wanted features and affordable pricing in some video editors.
InVideo is an exception, which was released for making videos easily online. In this post, I am going to share with you a complete InVideo review of features, pros & cons, pricing, and alternatives to let you master this online video editor. It starts right here!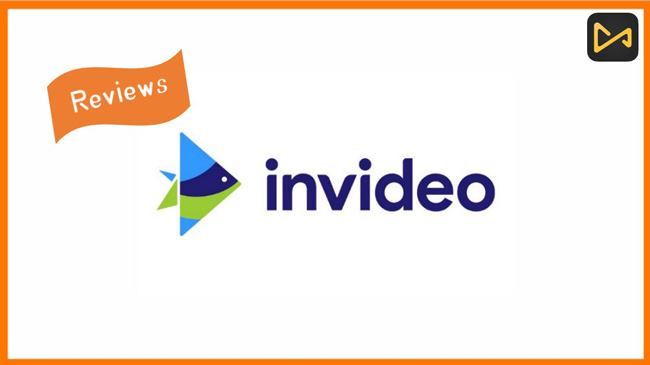 InVideo FAQs: You Need to Know About
What is InVideo Used for?
Released by Sanket Shah, Pankit Chedda, and Harsh Vakharia in Mumbai, InVideo is a non-linear cloud-based video editor. Common edits like trimming, titling, cutting, converting, overlaying, adding filters, recording, importing, and more all are supported by InVideo. More significantly, you can choose a video template to hit the storytelling road.
Is InVideo Free to Use?
InVideo includes 3 different licenses and the free license is the most popular one for active users. There is no watermark on the free version, yet you will encounter limits like duration (15min) and quality. For more details, you can check the pricing section in this post.
Is InVideo.io Safe to Use?
Surely, InVideo is totally safe to use. All of your imported files will be programmed classified and you will get a personal account as well. There are 7M+ active users across 195 countries in the world joined in the InVideo community.
The Pros and Cons of InVideo Online Video Editor
Comes packed with over 5000+ ready-made templates, InVideo is released with 3 different project selections, in other words, you can turn to the text-to-video themes or a blank canvas as you want. InVideo allows users to share their videos on YouTube TV and some other social platforms, which can be accessed by going to the Quick Video channel after registering.
Here are the reasons to pick up InVideo to edit videos online as well as the downsides you need to keep in mind in case some needless troubles bother you.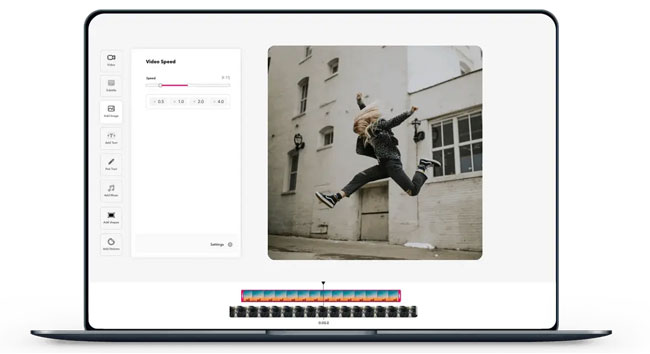 Pros:
The free version has no watermark
iStock Media
Music library online
Filters, overlays, and many more built-in effects
A vast choice of templates to get started
Quick YouTube video maker
Cloud-based platform
Cons:
Unstable workflow environment
Lack of advanced effects like Mirror and Split-Screen
Unfit for multiple video edits
Supported formats are in shortage
The Pricing of InVideo Video Editor Online
It's worth noting that InVideo provides a 14-day free trial of the two paid subscriptions. Normally, you will be allowed to create a video with 3500 + ready-made templates as well as 50+ text-to-video themes. Although the exported video is limited to 15min, you can download it without any log or text watermark.
As for the paid subscription, one named Business offers 60 video exports every month with 20 credits to remove video background, which spends you $20 monthly. And the Unlimited subscription is released with services of endless video exports, 1M+ premium media, alont with 123 iStock media, which spend you $60 monthly.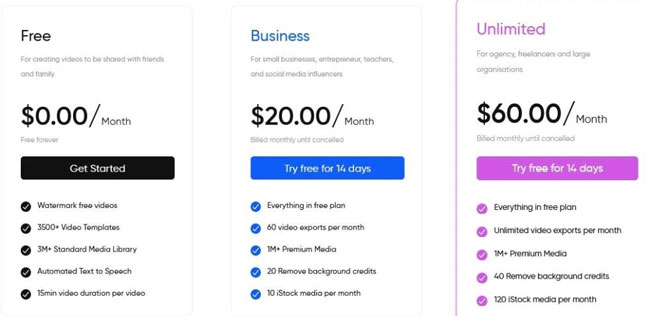 Best Alternatives to InVideo for Desktop and Online (Tested)
1. AceMovi - An One-Stop & Easy Video Editing software on both Windows and Mac
We all know that online video editors appear unstable and you need to wait for a long time before downloading the results successfully, in this sense, editing video on PC will be easier and more comfortable. Here you must try out AceMovi Video Editor which features tools Video Recorder, Video Cutter, Video Converter, Video Cropper, Video Chopper, Color Grading, Chroma Keying, Split-Screen, Sound Equalizer, Slideshow Maker, YouTube Intro Maker, Music Library, etc.
AceMovi supported the majority of video formats and channels for YouTube, Facebook, Twitter, TikTok, InShot, Snapchat, Vimeo, and more social media. You can download/convert your videos into MP4, MOV, MKV, WMV, AVI, M4V, MPEG-1, MPEG-2, DivX, TS, DVD, or 4K Videos in a couple of minutes.
You can find all the useful tools and buttons on one screen with this video editor. And now it's free and time to download AceMovi!
Pros:
Beautiful UI
Smart media & drag-&-drop
Major video formats supported
Text templates, transitions, filters, overlays, and more elements
Making YouTube intro in high quality
HD & 4K videos editing
Responsive speed
Cost-efficient following
Cons:
Stay tuned for the voice-to-text feature
2. FlexClip - The Multi-Functional Online Video Editor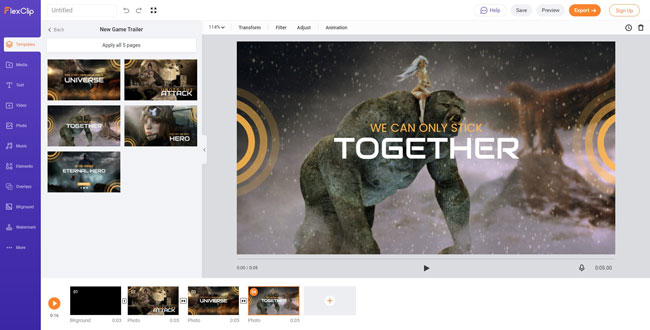 If you ask me which online video editor is the best alternative to InVideo. I will say FlexClip. In this InVideo.io reviews, except for AceMovi Desktop Video editor, it is suggested to use FlexClip for making brilliant edits.
There are fewer limits in the free version of FlexClip compared to InVideo, so you don't need to follow the subscriptions first. However, you must upgrade your account if you want to export video in 480p+ SD quality.
Pros:
Fully website-based
Hundreds of video templates
Clutter-free interface
Create photo slideshow
Add new music, shapes, texts, and more
Cons:
Limited tracks
Cannot edit 4K videos
3. Differences between InVideo, AceMovi, and FlexClip
Here is the difference between the 2 alternatives and InVideo from aspects of the operating system, released versions, basic edits, advanced edits, pricing policy, and more.
Surprisingly, AceMovi works for your desktop and appears more table when doing video editing jobs. If you tend to import or export various formats, better opt for AceMovi. While FlexClip is able to download your video without watermarks up to 480p SD only. Here are the details!
| | InVideo | AceMovi | FlexClip |
| --- | --- | --- | --- |
| OS | Online | Windows 8, 8.1, 10, 11, and Mac | Online |
| Trial Version | √ | √ | √ |
| Full Version (Pricing) | Business - $20.00/Month; Unlimited - $60.00/Month | $29.95/Month; $39.99/Year; $79.99/Lifetime | Basic - $9.99/Month; Plus - $19.99/Month; Business - $29.99/Month |
| Video Watermark on the Trial Version | X | √ | X (480p SD Downloads Maximum) |
| Trim, Cut, and Split Videos | √ | √ | √ |
| Reverse, Convert, and Rotate Videos | √ | √ | √ |
| Split-Screen(Chroma Keying), Clone, Reverse, and Keyframes | × | √ | × |
| Video Templates for Themes | √ | × | √ |
| Learning Curve | Medium | Easy | Medium |
| Max Video Quality to be Edited | 1080p Full-HD | 4K Video | 1080p Full-HD |
| Supported Formats | Less | More (Almost All) | Less |
How to Use Pre-Made Templates & Text-to-Video Themes in InVideo
Want to find a matched video template to start your video creation? In this case, InVideo can be a great choice for you. There are thousands of off-the-shelf video templates and 50+ text-to-video themes located in the InVideo online video editor.
It is easy to find a YouTube intro video template and directly commence making a video to be shared on YouTube Studio. More video template types like game videos, kids' birthday videos, celebration videos, anniversary videos, and school project videos are provided by this online-based tool.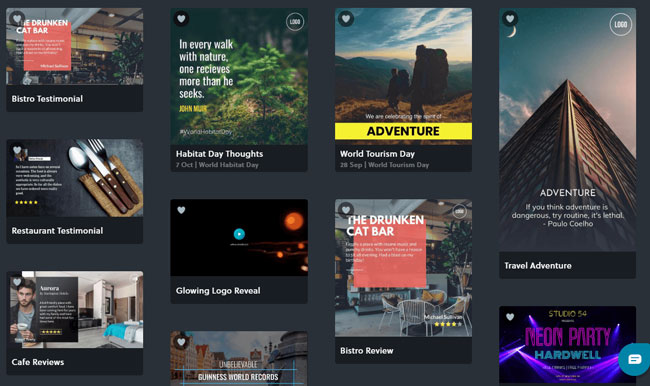 Tutorials: How to use a video template in InVideo to make your storytelling? All you need to do is fill in the keywords in the box to search for possible video templates. InVideo allows you to preview the video template as well as related parameters like duration and quality.
In addition, you need to select the resolution from 16:9, 9:16, or 1:1 at the very beginning. For example, if you want to bleep a video with one template in InVideo. You should import the wanted files and then apply the beep effect from the online music library to the soundtrack to make it functional. Lastly, click the Export icon to make your video downloaded.
How to Add a Music Track in InVideo
Want to comprehend how to add background music to a video or how to use sound effects in InVideo? Like most online video editing tools, InVideo features an online music library that is capable of creating a plethora of music resources.
You need to put wanted music under the soundtrack by clicking on the + icon. Then try to trim out unnecessary sound clips in the timeline. Clicking on the ▶ icon to play it to check if the effect is synchronous is a wise choice. Alternatively, you can turn to add a voice-over in InVideo by the microphone.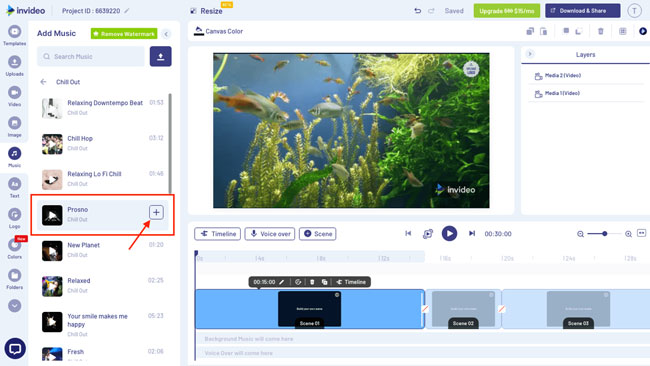 How to Insert Subtitles or Texts with InVideo
InVideo offers 50+ themes of text-to-video so you will find it effortless to get started with it. If you are planning to add captions or subtitles to a video, you need to launch the Subtitle Adder in the first place. After filling content in the box, it is allowable to change the font, location, color(brightness, contrast, and genres), duration, and more. You can also set the background color to your text to highlight the effect.
Lastly
InVideo is really easy to master even if you are a beginner in the video-making field. If you want to try out advanced effects like split-screen, mirror, or reversion, AceMovi and FlexClip will be better choices. Hoping you can find all the details in this InVideo review. More comments? Leave it below!