Now, editing a video has become a popular entertainment though Internet users. As technology improves, video editor is not limited to software but has ways like web-based editor and app. If you are looking for an online video editor, here is where you should be. Compare to traditional video editing software, an online video editor can be used in a browser. In today's post, I will list up the best-selected online video editor without watermark left. Both products have powerful editing tools for basic and advanced editing.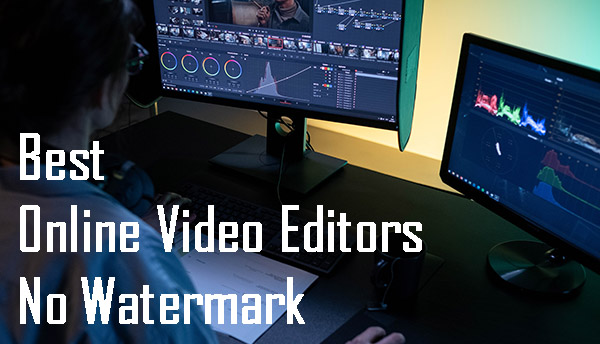 Part 1. All You Should Know Before Choosing A Video Editor
1. Editing Feature
The editing feature is the most important measure for choosing an online video editor, and it usually depends on how to use it. The editing feature can be simply divided into basic editing and advanced editing. If you just need to cut, trim, splice, or merge your video, the basic editing tool is suitable for you. If you need to add filters, transitions, or other stunning editing skills, a video editor that has more advanced features is better.
2. Video Editing Stocks
A video editor with various video editing stocks can save your time finding pictures, stickers, audio effects, backgrounds, and royalty-free music. Though the video editing resources usually require a premium account or advanced license, the investment is proportional to the return. Usually, the video editor with a huge stock of video editing resources can get a higher rate.
3. Pricing
Intuitively, the more expensive editor you are using, the more functions you could get. In this post, we will show you the online video editor no watermark including free and paid products. The purpose of the editing will make your choices. For personal editing like sharing with friends for fun or posting on social media platforms, a free or low-price video editor can meet all your needs. For commercial editing, purchasing a full-featured online video editor that supports high definition is a wiser option.
Part 2. Top 8 Online Video Editor No WaterMark Recommendation
1. Kapwing
What makes Kapwing stand out is obviously. Kapwing is a simple and lightweight online video editor with professional editing tools built-in. You can upload your video resources to Kapwing by dragging and dropping, pasting an URL, or Google Drive. The features like Layers, Text, Elements, Audio, Scenes, and Templates can help you create stunning content though you are a total novice. Though it is an online editing program, it has a fast rendering speed that users won't need to wait for a long to download. If users have requirements for making short videos, Kapwing is the ideal choice as an online video editor no watermark left.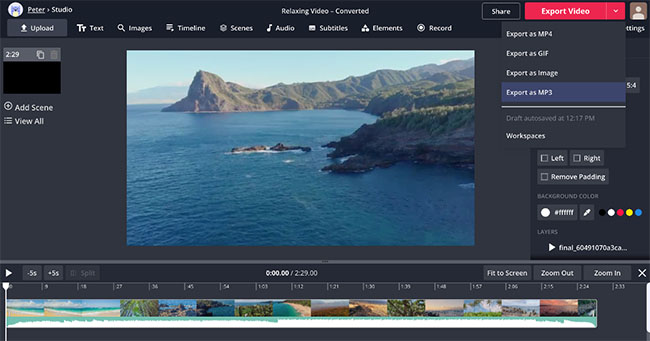 Pros:
It is not a simple program that can handle it easily
Has a bulk of templates for you to replace your video easily
The layers feature helps manage different resources
Cons:
1080P resolution requires a premium account
Price: $192 / year
2. Clipchamp
Clipchamp is a famous video editor online no watermark that is widely prised all around the world. The beginner-friendly interface makes editing an easy job without taking too much time to learn how to use it. Users can easily edit videos into different ratios like 16:9, 9:16, 1:1, 4:5, 2:3, and 21:9 that are suitable for sharing to different platforms and devices. Besides, it has different stocks to add to the videos. Users just need to drag and drop it from the library to the timeline. Though Clipchamp is an online video editor, it still provides users with the best video editing experience. Clipchamp also provides cloud storage that allows users to edit their projects on different devices.

Pros:
Has built-in video recorder and screen recorder
Is able to export your video to GIF and different video ratio
Has various video editing effects to make videos better
Cons:
The free account has limitations in video resolution and video stock
Price: $228 / year
3. WeVideo
Why WeVideo is on this list is because of its powerful editing features and concise interface. It can be deemed as the top video editor online no watermark that has editing features including Text, Aidop, Transitions, and Backgrounds. Users can easily trim a video by using the split feature easily. WeVideo is suitable for both beginners and masters, it has the trim and cut feature for users to achieve basic video editing. WeVideo also supports different languages. If you are new to video editing, WeVideo would not be a bad choice for you to get video editing much easier and more interesting. WeVideo also supports you to share your video to social media platforms directly.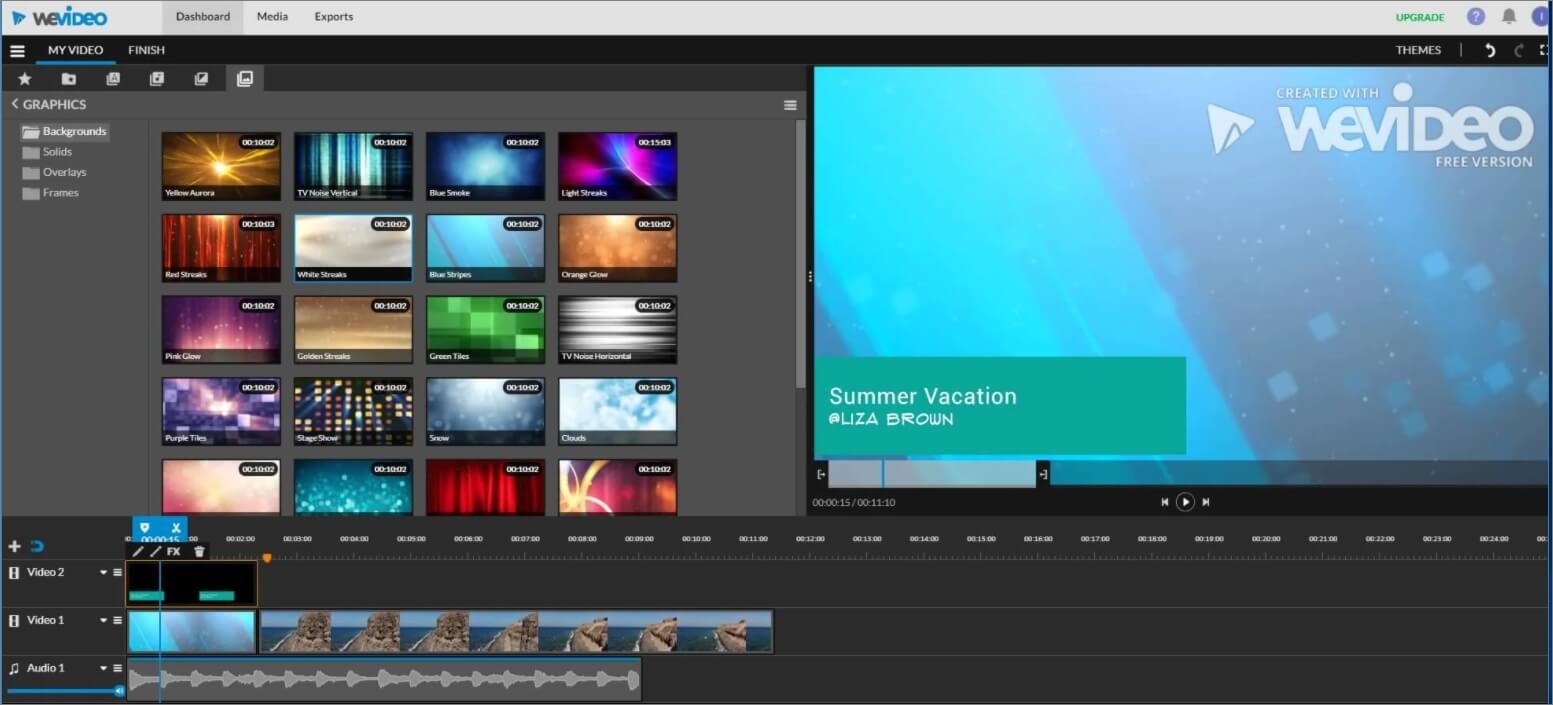 Pros:
Can easily cut and trim your video clips with the non-linear timeline
Has different video editing tracks for text, media, and audio
Customizing the resources parameter is easy within several steps
Cons:
Runs lags when editing huge project
Price: $239.88 / year
4. VEED
If you are finding an effective yet easy-to-use online video maker no watermark, VEED is the considerable one. In the left toolbar of VEED, you can find Settings, Upload, Subtitles, Transitions, Text, Elements, Filters, and Draw. With these useful features, users are able to edit their video as your wish. It can also speed up and down your videos within one click. VEED also supports users to edit a green screen video with the chroma key feature. Every parameter of your videos, pictures, or resources can be customized with this online video editor. Nevertheless, VEED only supports users to export video to MP4 and GIF. If you need to export your video, you can share the videos with a link or share them on social media platforms.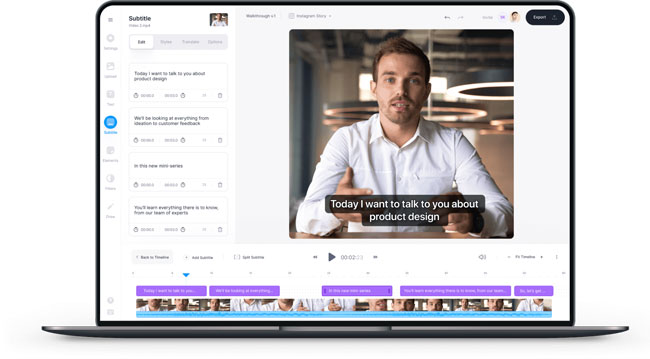 Pros:
Supports users to upload different formats of videos
Has music visualizers to edit your audio better
All the video editing resources are able to customize freely
Cons:
The export formats are limited
Price: $288 / year
5. FlexClip
As a lightweight free online video editor no watermark, FlexClip achieves a balance between features and ease of use. Dragging and dropping the video clips to the FlexClip library, and then you can add the video clips to the timeline. It comes with basic editing features like trimming, recording, applying templates and changing video ratio. It is a linear video editor that users can customize the video clip by clip. Further, FlexClip is suitable for simple video editing because of the limitation of the linear timeline. Besides that, FlexClip allows users to export videos in 480p without watermark left though you are using a free account. When you finish the video editing, you can add the given intro to your video for free. Finally, you can share your video to YouTube directly after rendering.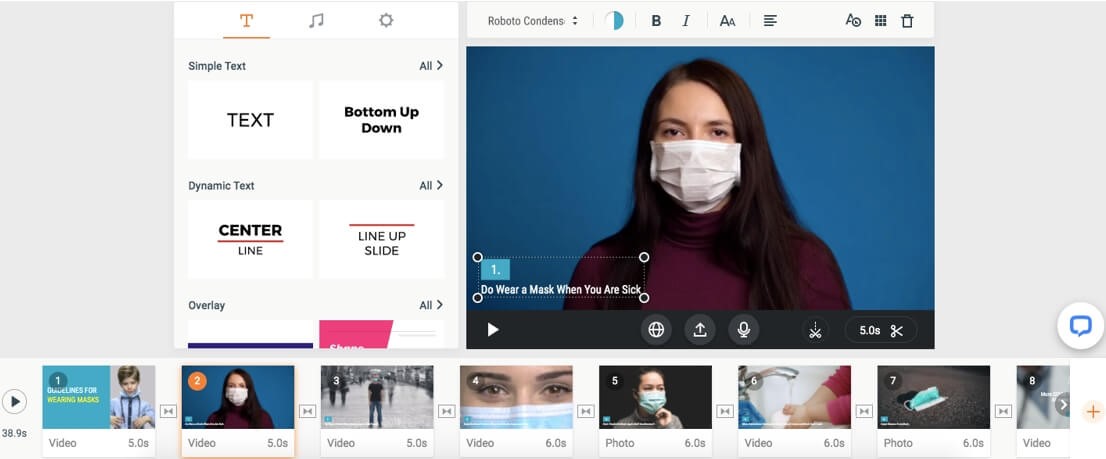 Pros:
The editing features are suitable for those new to video editing
Can sequence the video easily by dragging to change the position
Users are allowed to adjust detailed parameters of each video clip
Cons:
The linear timeline is not so convenient for video editing
Price: $239.88 / year
6. ezGIF
ezGIF is more of a video edit tool than a video editor, but I still would like to recommend it to you as one of the best video editor online free no watermark. This integrated tool supports users to convert video to GIF, JPG, and PNG. Users can also use it to rotate, resize, reverse, cut, crop, mute, merge, or speed up and down the video. If you just need to quickly adjust the whole video using the above function, ezGIF is the easy solution. What's more, it is totally free and without watermarks on your video after conversion.
However, the shortcomings of ezGIF are obvious. The max file size you can upload to ezGIF is up to 100MB, which means are you cannot edit or convert huge files with this powerful yet free tool. Another is that editing a section of the uploaded video is infeasible in ezGIF.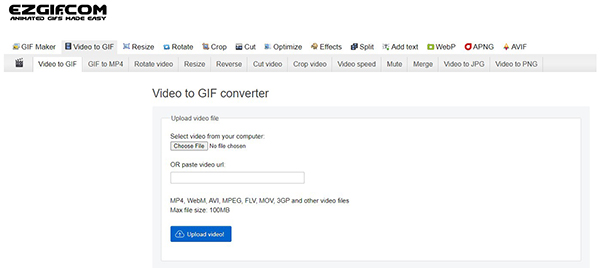 Pros:
A lightweight video editing tool integrant
Has an intuitive interface and simple operation
Don't have any pay item and supports different video formats
Cons:
Don't have any pay item and supports different video formats
Price: FREE
7. Magisto
Magisto is a well-known online video editor no watermark that gets highly praised in this post. It is an easy-to-use program with basic video editing functions and prepared-editing templates. Once you upload your video to Magisto, it will automatically divide your video into a section of the section. If users need to trim the video, Magisto offers a trim mode that enables users to trim their video in the timeline. The most important is that Magisto has amazing stocks of royalty-free music, including different modes and genres. To edit each video section, replacing it with another section can be done using the built-in feature. Nevertheless, as a video editor, Magisto focus on providing editing stocks too much yet ignores the basic editing feature.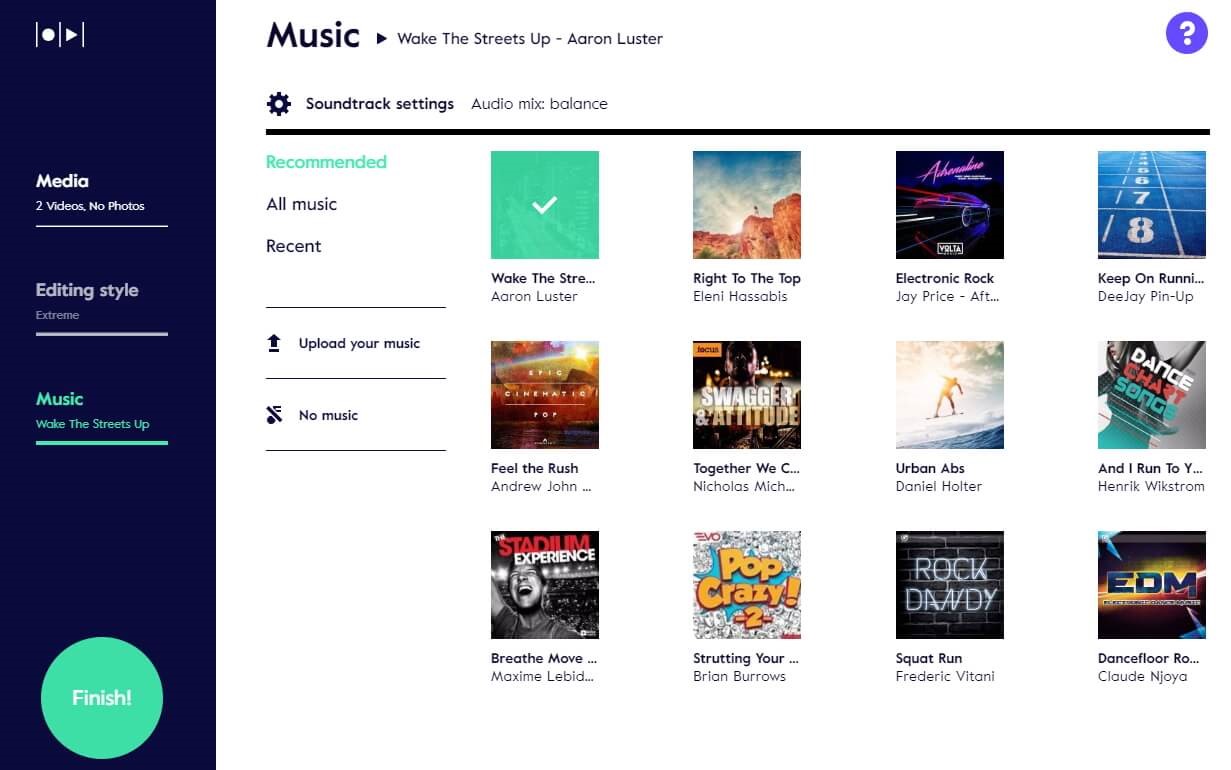 Pros:
Can automatically divide your video into a section of the section
Has funny and interesting video styles to apply to videos
Can share videos to Vimeo, YouTube, Twitter, and Email
Cons:
Requires a stable and fast internet connection to make it work properly
Price: $119.88 / year
8. InVideo
InVideo, a remarkable non-linear online video maker no watermark, is also the best assistant in video editing. In InVideo, users can search images from bing and drag them to the timeline directly. When users add videos to the editing area, users can trim, crop, animate, speed up and down, or blur the video. Besides, making a video collage is available on InVideo, click on the Collage icon in the left toolbar and choose from to add to the video. It is worth noting that each video file is limited to up to 200MB.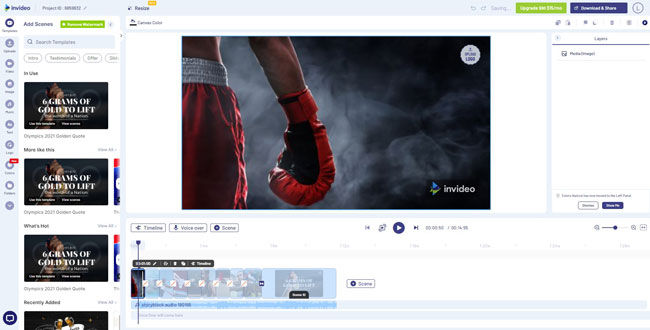 Pros:
Provides a non-linear editing timeline with unlimited tracks
Has different kinds of images, logo, music, stickers, and layers
The collage feature is useful to make video and picture collages
Cons:
Sometimes running lags on low-end PC
Price: $360 / year
Part 3. Best Video Editing Software Recommendation - TunesKit AceMovi
Unlike the above online video editor, TunesKit AceMovi is a one-stop and all-in-one video editing program that suits novice as well as professionals. It is available on Windows and Mac and allows users to import mainstream video formats. With the concise and user-friendly interface, users will not meet any video editing hassle. Besides, TunesKit AceMovi comes with a built-in screen recorder that allows users to capture the screen and camera.
Though you need to download a package to install and launch TunesKit AceMovi, you can get more editing features and a better experience than using an online tool. The editing feature of TunesKit AceMovi like stickers, text, filter, transitions, animations, etc., will be quite a help to you.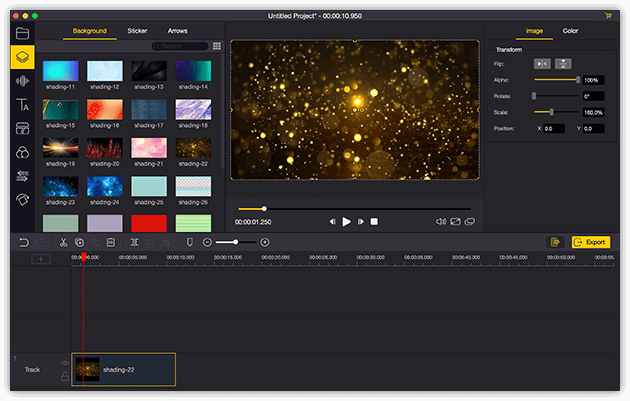 Let's see how to use TunesKit AceMovi to create a stunning video.
Launch TunesKit AceMovi and import your media files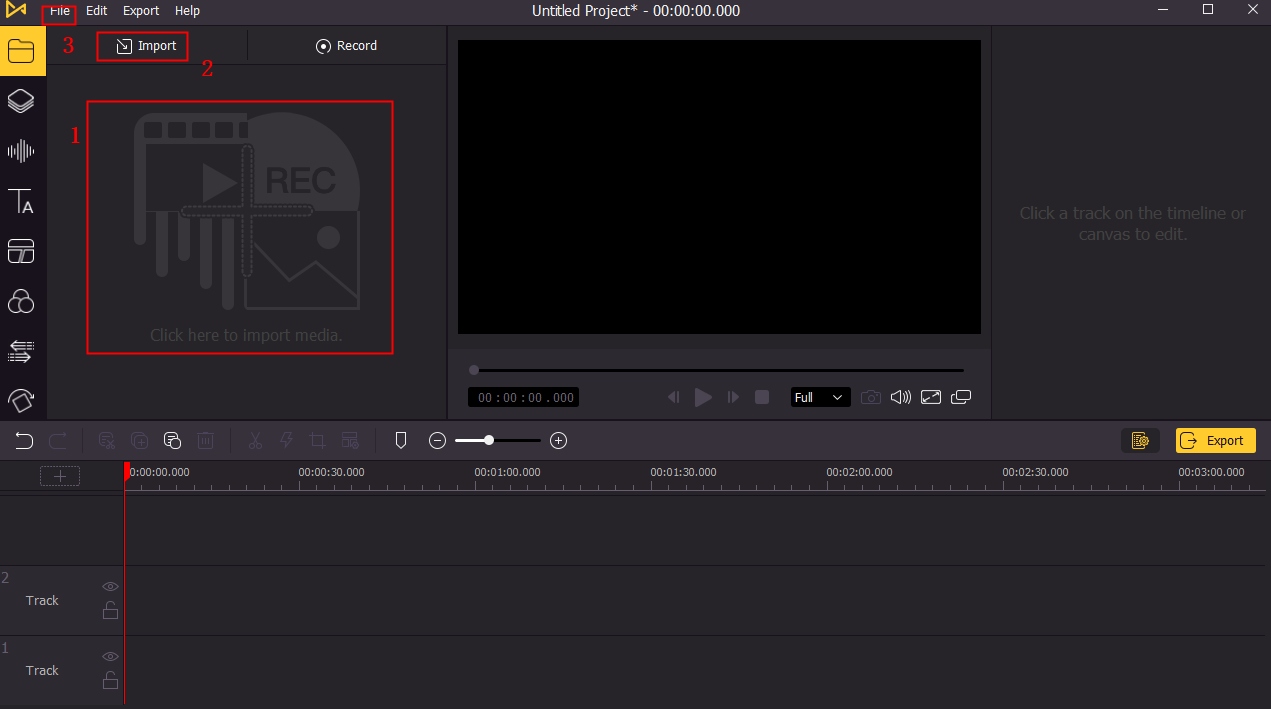 In the TunesKit AceMovi interface, you can see a toolbar, a video editing library, a non-linear timeline, a preview window, and an editing panel. Before editing your video, you need to import your media file to the TunesKit AceMovi library. You can drag and drop the target media to it directly, or click the File tab and choose the Import Media option.
Edit your video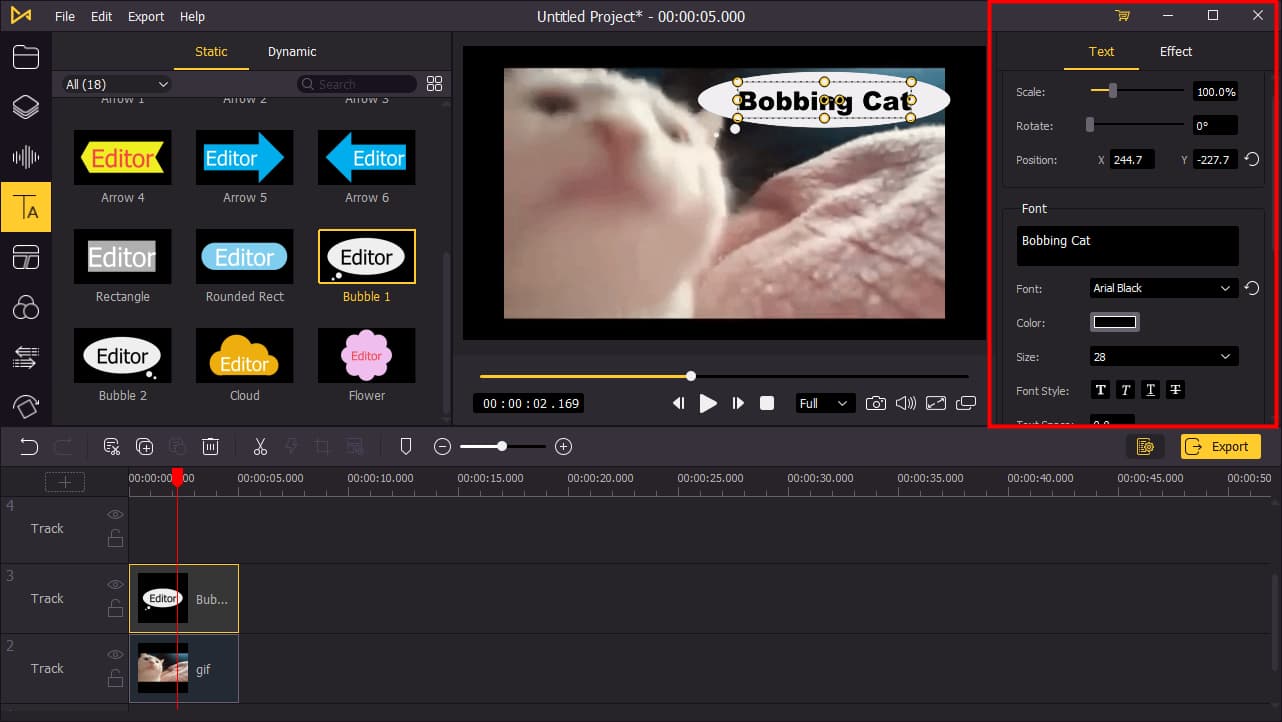 Then, you can start to edit your video. Drag and drop your video to the timeline, select it and you can edit it on the top-right editing panel. You can customize your video by changing the opacity, rotate, scale, position, and so on. If you need, you can add the free video editing resources to your video.
Export your video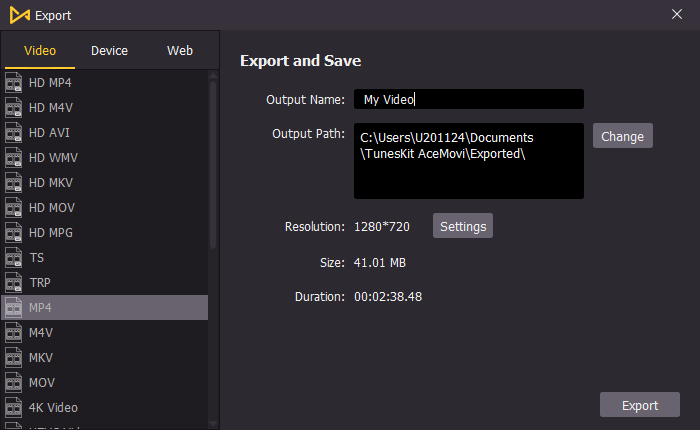 When you finish your video editing, you can click the export button to get your work done. In the pop-up window, you can change the video resolution, video format, file name, and saving path. Using TunesKit AceMovi will not cause any quality loss.
| | TunesKit AceMovi Video Editor | Online Video Editors |
| --- | --- | --- |
| Supported system | Mac & Windows | Web-based |
| Timeline | Non-linear | Linear |
| Input& output formats | More | MP4, GIF |
| Basic editing (Rotate, Crop, Cut, etc.) | √ | √ |
| Filter, element, transition, animation, mosaic | √ | √ |
| Audio editing | √ | × |
| Rendering speed | Fast | Slow |
| File size | Unlimited | Limited |
| Cloud storage | × | √ |
| Tracks | Unlimited | Limited |
| Resolution | 4K | 1080p |
Part 4. Summary
For many video workers, choosing what kind of video editing tools depends on your video purpose. For light video editing, an online video editor suits you better. With the above 9 best-selected online video editor no watermark, you can easily trim, cut, merge, and rotate videos within several steps.
Unlike online tools, though you need to download a firmware package on your computer, a software program usually comes with much more editing features than online tools. As a versatile video editor, TunesKit AceMovi is always the best choice for both beginners and professionals.