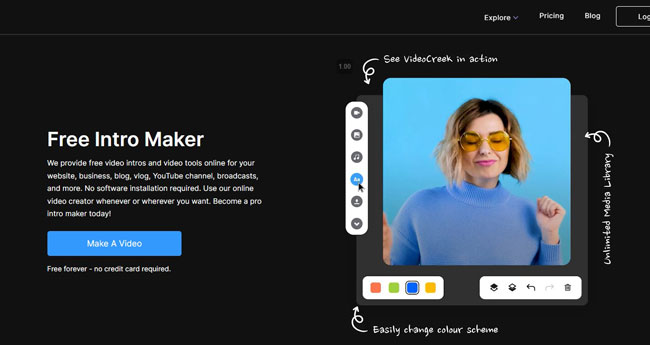 Video content is blossoming like nothing else on the internet; Businesses and bloggers are now using videos to market products, generate leads, and engage their consumers. They are using big online video streaming platforms, with YouTube being one of the most preferred options. Today, YouTube receives over 5 billion views on video content every day.
As a video content creator, creating quality content is key to ensuring that you reach out to a vast audience, and making video intros for your videos is one way of achieving eye-catching video content.
Video intros are short introductory video clips at the beginning of every video. They must be simple, attractive, and high-quality; that is why you will need video intro maker software. Good for you, we have in this piece put together a list of the top10 best online video intro maker software for you! Check it out!
No.1 Renderforest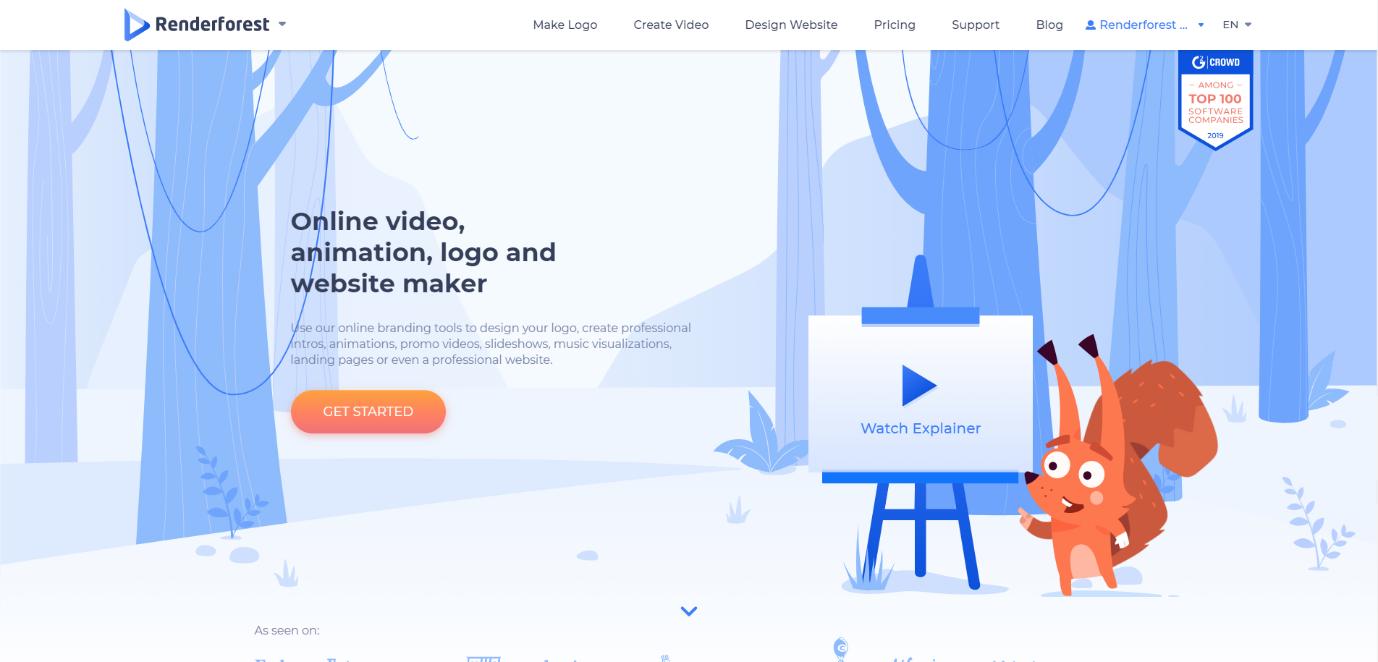 With over 5 million intro videos made so far, Renderforest is undeniably one of the best free online video intro maker web-based software. It is a multi-purpose software that not only lets you create intros for your YouTube Videos but also create logos and web designs. With just a few clicks, you can create a clean and professional intro for your blog or YouTube tutorials.
It has over 50,000 intro video templates that can be personalized and fine-tuned using photos, graphics, and fonts. Its free plan provides 500MB cloud storage, and you can create unlimited 360p quality video. The lengths are, however, limited to 3 minutes for each video.
Pros:
• Huge collection of templates
• Plenty of customization options
• It is versatile
• Easy and fast use
Cons:
• UI can be challenging to use
No.2 Biteable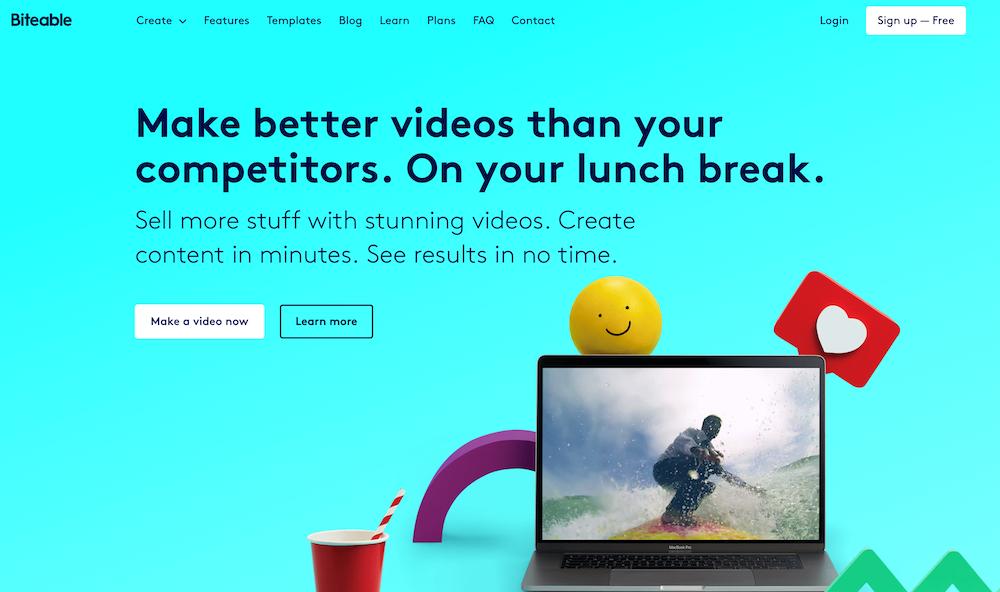 Biteable is a classy online video intro maker tool design to help video content creators achieve studio-quality video introductory clips for the blog site or YouTube channels. It also comes with some amazing intro and outro templates that can be customized to fit your video's needs. You can easily insert business logos, cards, names, and audios and preview them later.
Biteable is a web-based software meaning that you can create your intro on any device with internet connection capabilities.
Pros:
• Built-in media library
• Processes video in HD quality
• Easy to navigate
• Allows intro video customization
Cons:
• No 3D options
No.3 Panzoid
Panzoid is a gr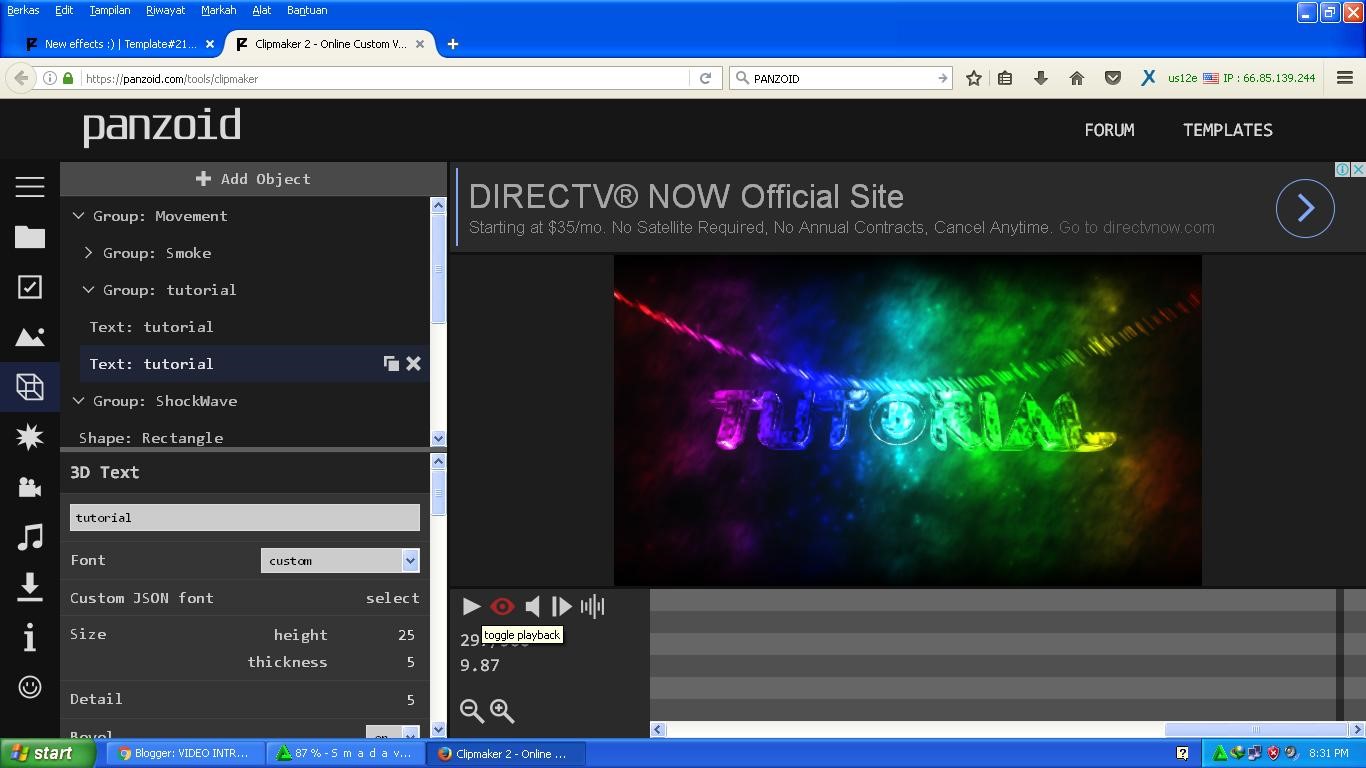 eat and widely used free online video intro maker software designed to help create custom content. Even though critics say the platform is old school, Panzoid has a huge community of designers.
Here you can find a whole lot of templates posted on users' forum. In turn, users can easily customize these templates by adding graphics, music, and image for their own use. It also has user tutorials that go along with helping beginner users navigate and make top video intros.
Pros:
• Great editing suite
• Offers background editing
• Vast community to interact with
• It is free
Cons:
• UI is not easy to navigate and use
• Limited animation options
No.4 Adobe Spark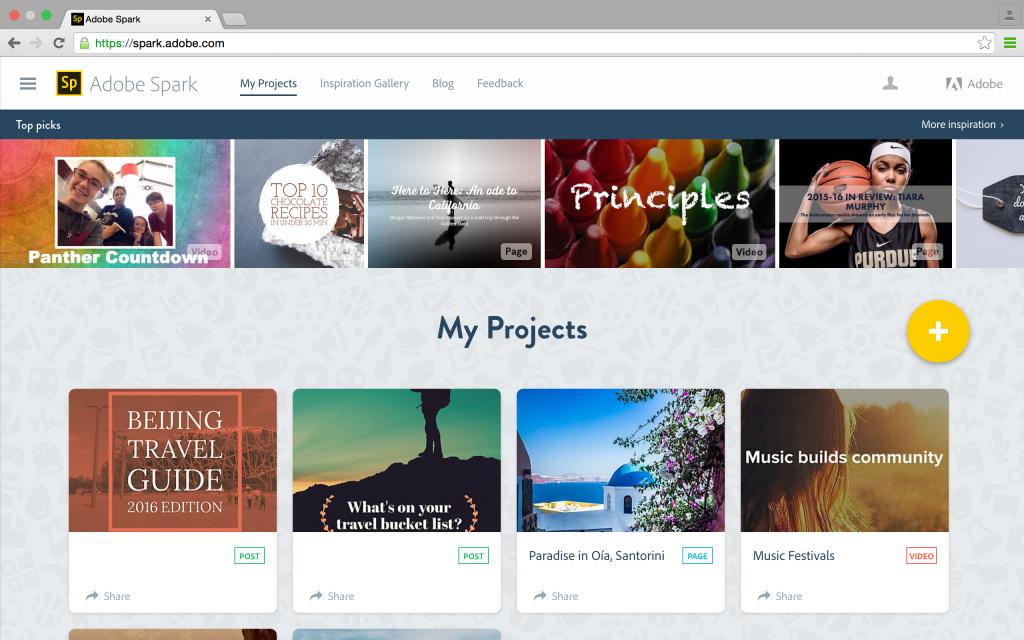 Here is another popular online video intro maker tool with remarkable fast intro designing tools. Adobe Spark provides you with everything you need to create a great intro clip for your blog video.
The program allows users to customize their video clips at every step and can alternatively choose to use a ready-made template for their clips. With its user-friendly interface, users can create amazing intros within a few minutes.
Adobe also comes with additional features with include but are not limited to iconic imagery, free fonts, professional themes, and colors.
Pros:
• Easy to use
• Offers intro video templates
• Drag and drop feature
• Video tutorials are available
Cons:
• Free version is limited
No.5 Tube Arsenal

Tube Arsenal is a newly developed online video intro maker software devoted to ensuring that you succeed as a Youtuber or a blogger. As its brand name, Tube is an arsenal that provides high-quality video through its array of top templates and customizing options.
Tube Arsenal is web-based, meaning you do not have to bulk your system with software files. Most importantly, the software provides a free training option for new users and those who are not conversant with the application.
Pros:
• Seamless interface
• Easy to use
• Premade templates
• One-click download
Cons:
• Site is not easy to navigate
No.6 Flixpress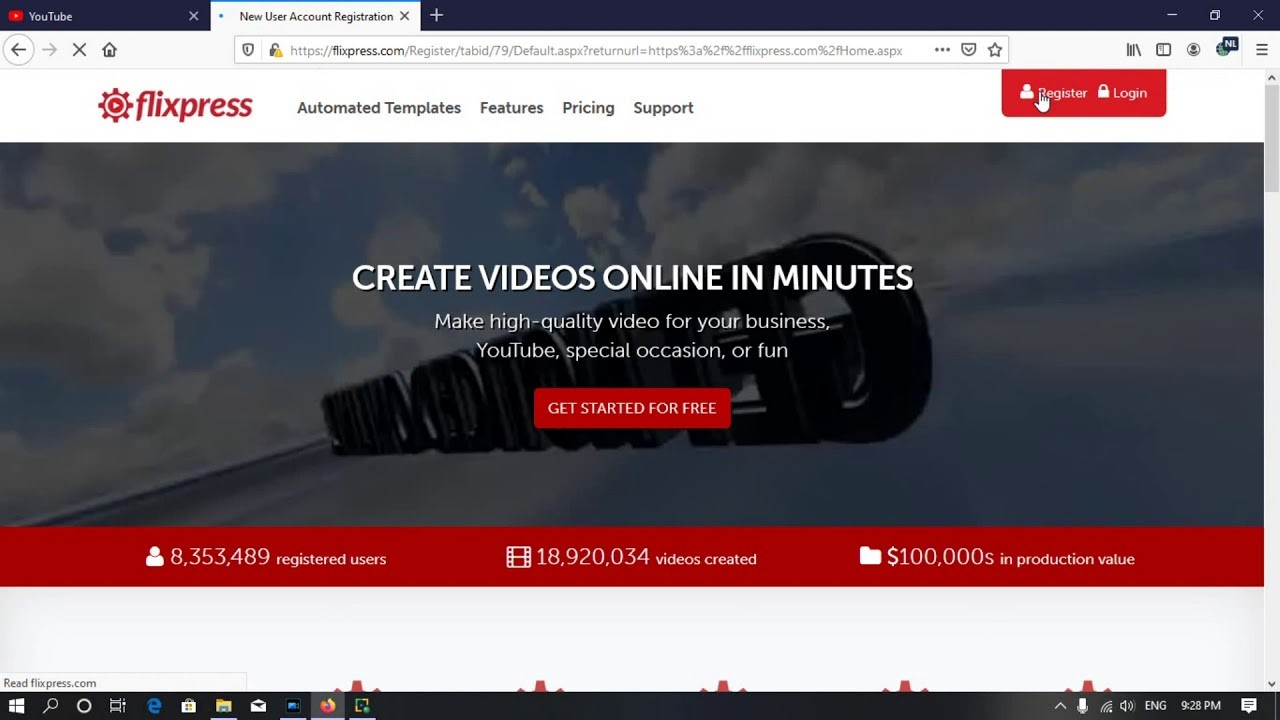 It is a pretty straightforward online-based free online video intro maker. The web-based software is specifically built to help you make amazing intro clips for online upload.
Flixpress has fully customizable templates, 3D objects support, and a phenomenal collection of 3D assets, including colors, text, photos, and animated videos. It also has a huge and unique library of videos. The free plan lets users create intro videos of up to 2 minutes with a 360p resolution.
Pros:
• Lots of infomercial-like animations
• Easy to use
• It is a trusted site
• Blazing fast
Cons:
• Free plan limits quality to 360p
No.7 IntroCave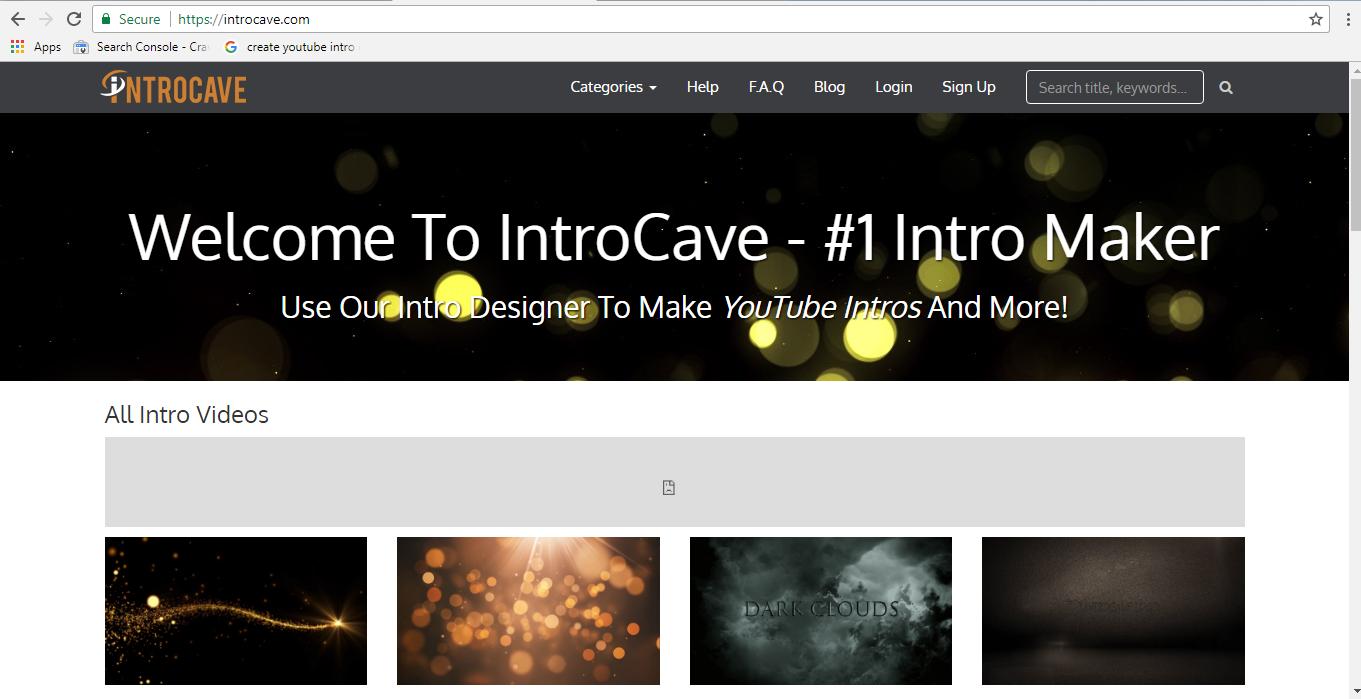 IntroCave is a uniquely designed online video intro maker tool that allows users to select their preferred base video templates for their own content. The templates are uniquely and nicely designed to attract an audience.
Depending on the choice of your base video, you can choose to add a logo or text on it. The templates also feature an existing backing track that lets you add audio from the library or upload your own MP3 file. After customizing, you can download HD-quality intro clips in 2 hours.
Pros:
• Extremely easy to use
• Lots of beautiful particle effects
• Improved video quality
Cons:
• Payment must be made for HD-clips
No.8 VideoCreek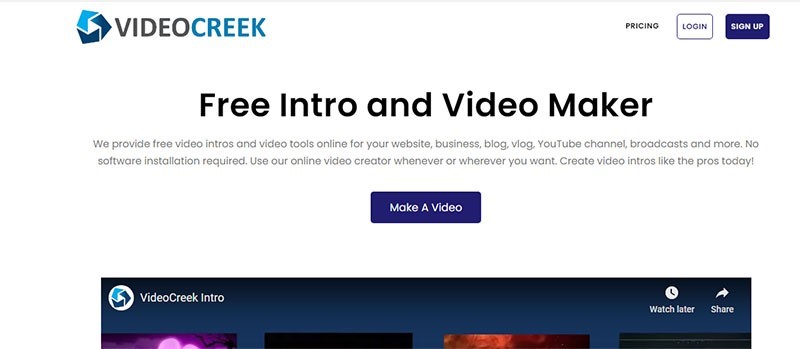 This is the perfect online video intro maker software for beginners. The software is very much easy to use and features three main editing features, i.e., change image, extra customization, and change audio. VideoCreek also features a whole lot of templates for your intro clips. It has a simple interface that makes it easy for anyone to use. The program works fast, and you can get the job done in a matter of minutes.
Pros:
• It is fast
• Many templates
• Simple UI
• Easy to use
• High-quality intro clips
Cons:
• Lacks professional touch
No.9 Light MV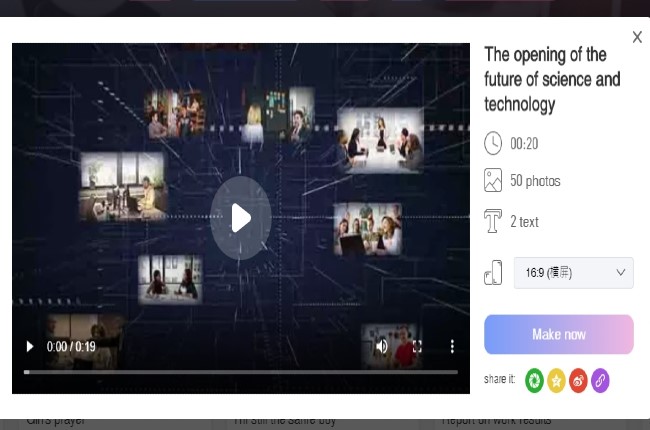 Light MV is a powerful yet free online video intro maker without a watermark. The software help YouTubers and bloggers in just a few steps without imprinting watermarks on the output intro clip. The software is compatible with all commonly-used browsers, including Chrome, Safari, Mozilla, and Edge.
With the app, you can create a spectacular intro by adding effects, texts, photos, videos, and background music.
Pros:
• No watermarks
• Processes HD resolution clips
• Easy to use
• Content is sharable
Cons:
• Limited effects
• Require fairly strong internet connections
No.10 Motion Den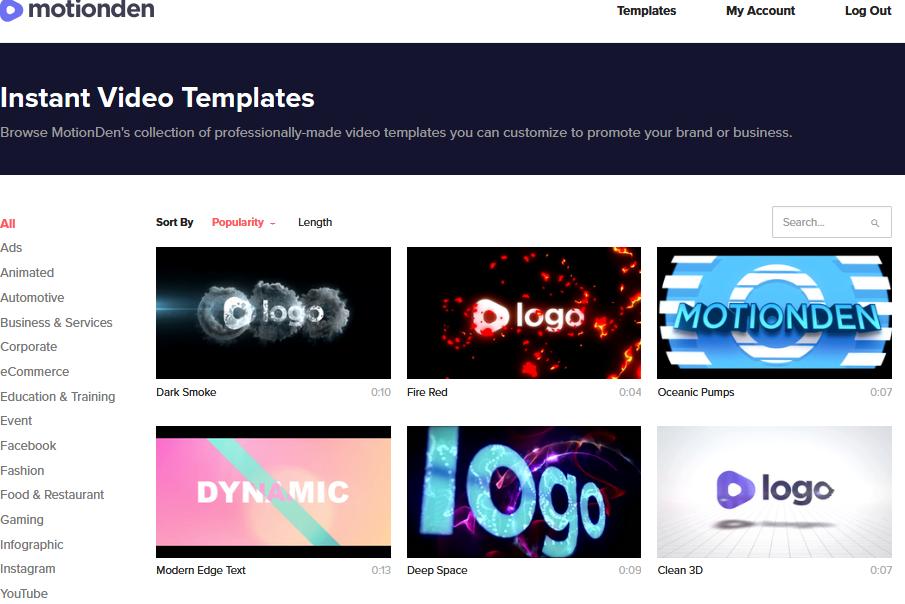 Appearing at the bottom of our top 10 best free online video intro maker software is the Motion Den tool. Motion Den helps create distinctive animated intro using ready-made templates.
The application has categorized the templates in logical themes like e-commerce and YouTube, making it easy to choose the right template for use. It is also easy to use and a custom editor function that lets you write text, colors, and background tracks.
Pros:
• Easy to use
• Really good templates
• It is more organized
• Has an able custom editor tool
Cons:
• Glitchy at times
Conclusion
Even though free online video intro maker tools have limited functionality, we have in this article feature the best free intro maker software in the market. Most of them are easy to use and provide high-quality intro videos.
You could also add some flair and style to your video using the TunesKit AceMovi. It easy and professional video editing software designed with classy and advanced tools to help you add transitions and effects, trim, merge, adjust speed, among others. It also lets you directly upload videos to YouTube, Vimeo, etc. Try TunesKit AceMovi, and you will certainly not regret it!