Metadata is a tag for any document, audio, or video file. For videos, some descriptive information like author, titles, keywords, author, location, size, format, etc., are some of the classic examples of video metadata. This data tag is valuable and helps classify and organize your video content. In short, the metadata simplifies digital tasks.
Having said that, it is uneasy to edit and manipulate sensitive metadata – especially if they are too large or in bulk. Fortunately, you find much software designed to modify it for you. Herein will discuss the 8 best video metadata editors for Windows, Mac, & Linux. Take a look at their features, pros, and cons, and pick up the one best for you.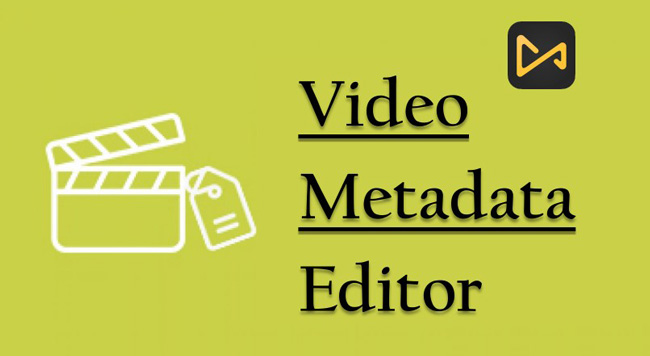 TunesKit AceMovi - MP4 Video Metadata Editor
Talking about the best video metadata editor, TunesKit AceMovi has been placed at the top one. This feature-loaded program is available for Windows and Mac computers. With a straightforward interface, the AceMovi metadata editor allows you to add or edit any video/audio metadata during the export process.
As an added benefit, it also offers exciting video editing features, including a screen recorder, a webcam recorder, and a slideshow maker. In the end, you can save your video in various popular formats in HD quality like MP4, DivX, 4K Video, WMV, MOV, etc., or share them with friends and Facebook or Facebook community. All in all, TuneSkit AceMovi lets you do more than just edit video name, title, saved location, size, aspect ratio, and framerate.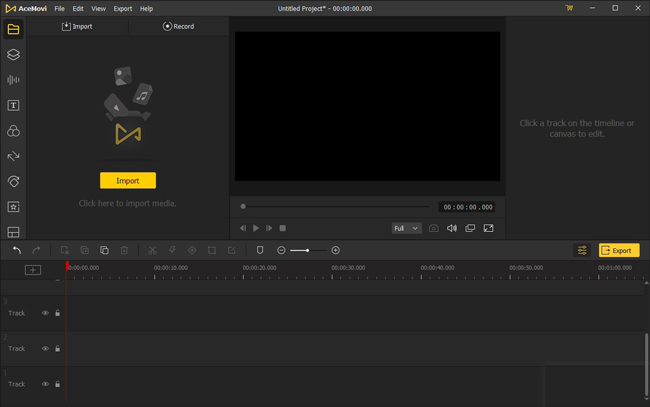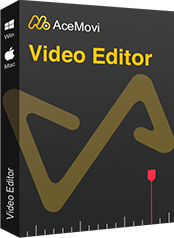 TunesKit AceMovi Video Editor
Security Verified. 12,133,225 people have downloaded it.
Reasons to Choose:

Effortless video metadata editing
Customizable video parameters
High-definition and 4K output
Powerful and straightforward UI
Supports various file formats such as MP4, M4V, MPG, WAV, etc.
Real-time preview
Downsides:

Premium subscription required after free trial
VLC Media Player - Video Metadata Editor Open Source & Cross Platform
For video metadata editing on Windows, Mac, or Linux, VLC Media Player is more than just a viral audio and video player. The incredible tool is an open-source video metadata editor more likely for professionals and supports nearly all major video and audio formats, so you can play virtually anything on the VLC media player.
Besides its media playing capabilities, the tool allows you to change media information such as the artist, title, and publisher within no time. You can also choose to change the aspect ratios at 16:10, 16:9, 1.85:1, 4:3, 2.21:1, 2.35:1, or others. Tap on the Ctrl+E shortcut to use the built-in effects and filters.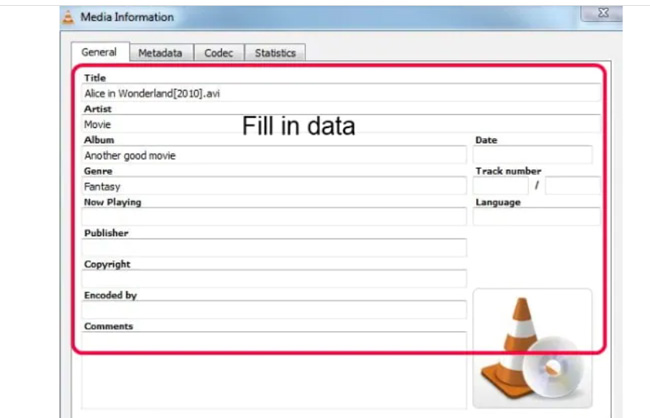 Pros:
Compatible with all kinds of operating systems
Supports plenty of formats and aspect ratios
Video conversion, screen capture, and metadata editing feature
Allows custom metadata
Largest open-source media player
Cons:
Lacks professional metadata editing features
It does not support finding online metadata
Lightworks Bulk Video Metadata Editor
Primarily a professional video editing program, Lightworks is supported on all major operating systems, including 32-bit and 64-bit computers, and it can export your video at 8K resolution. Log in every 7 days is required to make sure that you are using it safely and personally.
While it allows you to enhance your videos with creative editing options, you can also update the video metadata tag. Unlike many other editors, Lightworks supports multiple formats such as 4k, 2k, Pal, and even HD formats. There are 4 panels - Log, Edit, VFX, and Audio are included.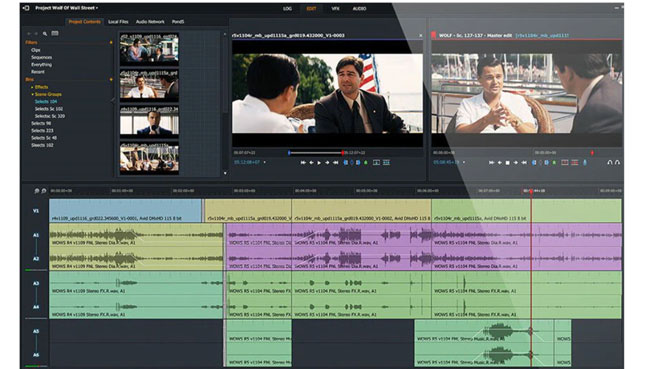 Pros:
Advanced metadata editing
Cloud editing and collaboration
Creative editing tools
Auido mixer and sound wave
Free video metadata editor
Cons:
Slightly complicated for beginners
Intimidating user-interface
Avidemux Video EXIF Editor
With Avidemux, you get a quite easy choice to edit video file metadata for free. This mp4 video metadata editor is entirely free and open-source, so you don't have to worry about any security issues. You can use any MP4, MPEG, AVI, or ASF video files to update the metadata tag easily. Other than that, you can edit videos, add text, apply filters, and share your video on your social media.
You may find few advanced features like split-screen and PIP. Also, you work with a obsolete workflow interface that compiles a set of tools to edit video metadata.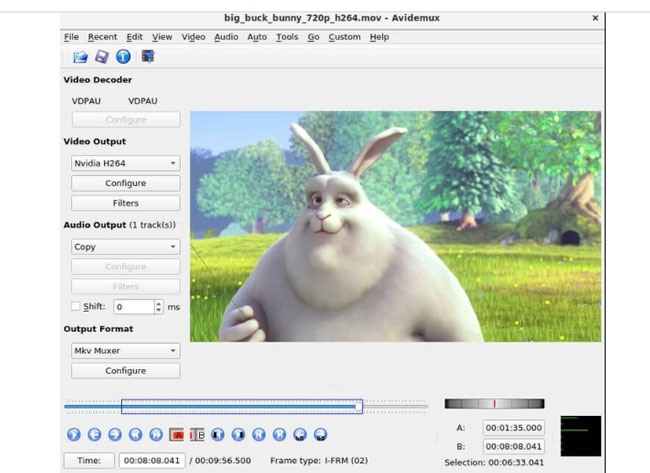 Pros:
Automated project management
Open source freeware
Available on Windows and Linux
De-noising filtering option
Download video responsively
Cons:
No friendly creative features
Some tools are difficult to use
Tigo Tago Edit Video Metadata
Yet another interesting metadata tag editing software is Tigo Tago. The tool comes with a unique spreadsheet-based layout. For this reason, you might face trouble understanding the program. Namely, it is quite helpful in that it helps you rename or edit a large number of metadata tags with ease. You can manipulate various information aspects, for example, track, type, album, artist, title, etc. Finally, you can view a live preview of your changes for a better experience.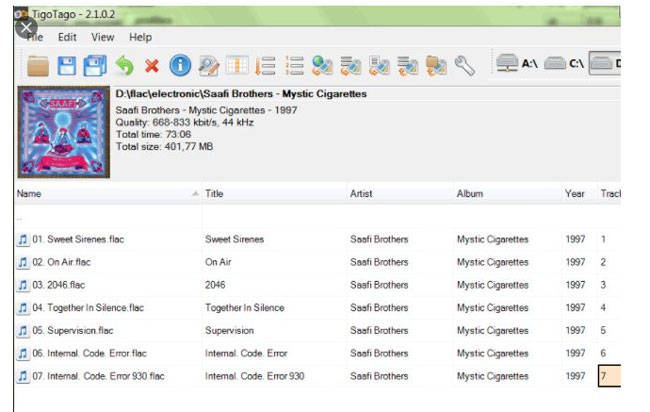 Pros:
Supports a variety of file formats
Compatible with all versions of the Windows operating system
Uses various languages
Spreadsheet-based canvas
Redo and undo
Cons:
Not available for Mac and Linux computers
MKVTOOLNix Best Video Metadata Editor
If you are a Mac user looking for a versatile metadata updater tool, MKVTOOLNix is your best bet. This tool is free, open-source, high-quality editing software that any professional editor can use. Although there is no support for popular file formats, it enables you to update metadata tags of the MKV files.
There are five plates, including Input, Attachments, Global, and Chapter Editor. Perfect for editing File title and segment info file from the Global plate. And you are going to edit video metadata from chapter to chapter on the Chapter Editor plate. It's easy and smooth to operate.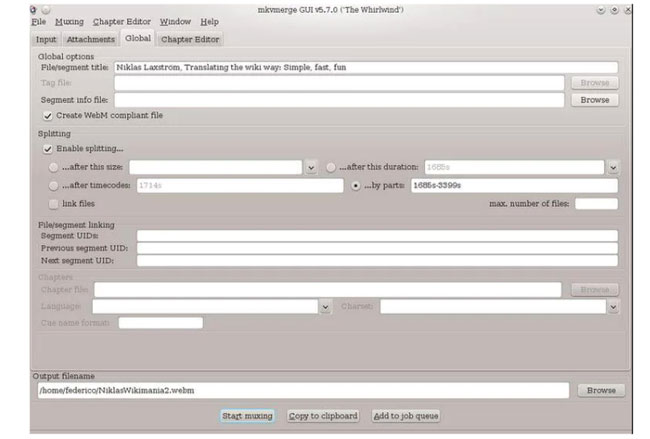 Pros:
Improved new tools
Free to use an open-source program
Available for Mac, Windows, and Linux pcs
Element editing feature
Segment UIDS editing
Cons:
Not customizable and user-friendly
MyMeta Video Metadata Editor Reddit
MyMeta is an amazing tool with plenty of smart video metadata editing choices, giving it an edge over the other meta tag editors. MyMeta connects various databases to search and gather meta-information, then automatically adds them to your video. Also, you can enjoy its free trial for ten days before paying any money for the paid version. The tool is workable on Windows 10 and most other Windows versions.
You find channels to edit resolution, duration, data created, file size, screen writer, cast, composer, and release date. The metadata of Video, YV, and Sorting are supposed to be enhanced and edited for creatives.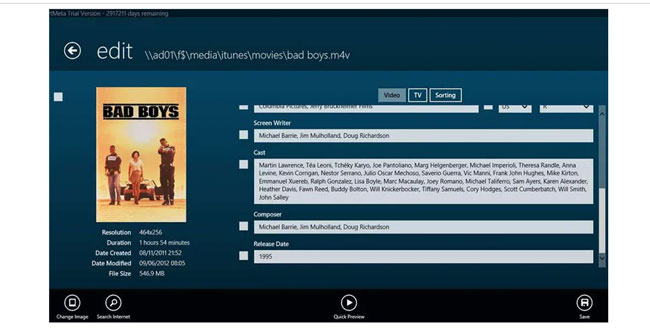 Pros:
Decent user interface
Ten days free trial
Searches for online websites
Advanced editing features
Quick preview
Cons:
Fewer metadata editing options
Video Soft Dev Converter
Our last pick is a batch video metadata editor available on Windows computers. Whether you have a 32-bit or 64-bit system, Video Soft Dev Converter will work for you. Mainly designed for image editing, this tool also includes a powerful metadata updater. You can use it to create or edit metadata tags in bulk within seconds. Moreover, it helps you add effects, transitions, 3D diagrams, and other exciting features to your videos.
Compared to AceMovi Mac video metadata editor, you use Video Soft Dev Converter for adding new objects, video effects, and audio effects from the menu. This tool can be used as a video metadata editor on android because you can convert video into Autofit resolution(9:16) with it.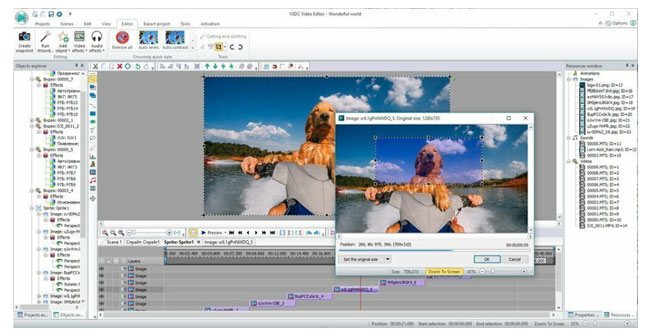 Pros:
Zoom tool
Highly customizable interface
Import multiple file formats
A plethora of audio and video effects
Unlimited tracks can be added into this tool
Cons:
The free version has limited features
Comparisons of the 8 MP4 Video Metadata Editors
To know what are the major differences among the above-mentioned 8 metadata video editing tools, you need to review the table below, which describes and compares the price, OS, UI, and UX.
| | OS | UI | UX | Titles | Date | Save Location | Cast | UIDs |
| --- | --- | --- | --- | --- | --- | --- | --- | --- |
| AceMovi | Windows & Mac | Clean | Easy | √ | √ | √ | √ | √ |
| VLC | Windows & Mac & Linux | Complicated | Uneasy | √ | √ | √ | × | × |
| Lightworks | Windows & Mac | Complicated | Uneasy | √ | √ | √ | × | √ |
| Avidemux | Windows & Mac | Clean yet obsolete | Medium | √ | × | √ | √ | × |
| Tigo Tago | Windows | Clean | Easy | √ | √ | × | √ | × |
| MKVTOOLNix | Mac & Windows & Linux | Complicated | Medium | √ | √ | √ | × | √ |
| MyMeta | Mac & Windows | Clean | Easy | √ | √ | √ | √ | × |
| Video Soft Dev Converter | Mac & Windows | Complicated | Uneasy | √ | √ | √ | × | × |
Conclusion
Well, metadata is an important piece of information about computer files that is beneficial for users in many ways. Thus, as the digital world expands, you will need a video metadata editor to better organize, identify, or improve the authority of your content.
Luckily, there are many efficient programs to help you update the metadata of both audio and video files. The above-mentioned are the eight best video metadata systems that are compatible with all major operating systems. Find one that is tailored for your needs and enjoy editing.