Being an acronym for MPEG audio layer-3, MP3 files are supported by most computer and smartphone devices, making it the most commonly-used option and good enough for audio encoding, editing, and storing. In other words, the quality of MP3 is suitable for many purposes, but many of you may need to trim out unwanted parts to reach the best state before downloading the music. That's the point we're about to give you the instructions to cut MP3 files on this page. By the way, cutting multiple audio files is suggested for operating the tools on your computer. Ready? Here we start!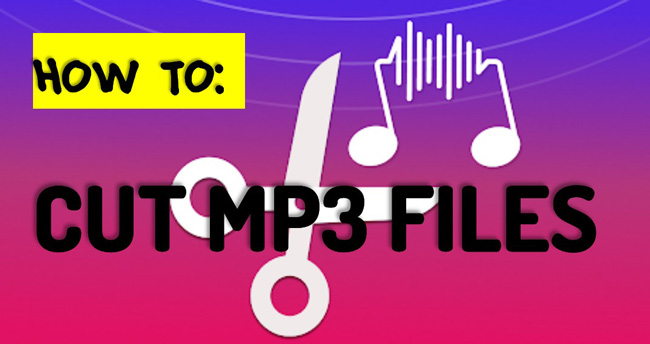 How to Cut MP3 Files on Windows & Mac by TunesKit AceMovi
For cutting and editing MP3 music files, TunesKit AceMovi is powerful and easy enough for both professionals and beginners. You can import unlimited songs to the timeline for splitting, volume increasing/decreasing, de-nosing, combining, muting, mixing, and applying fade effects.
Apart from cutting the MP3 format, AceMovi is capable of editing other song types like AAC, AC3, OGG, WMA, FLAC, and CAF. That is to say, users can use this software on their computers to convert audio into MP3 format and then cut out wanted frames with ease. Just download AceMovi and operate it here!
AceMovi MP3 Cutter
Import batch MP3 files for cutting
Trim an MP3 music with one click
Convert other audio format to MP3 file
Support MP3 bit rate up to 320 Kbps
Denosing background audio in a video
Extract and unlink audio and video
Download the song track from a video
A library of sound effects and music
TunesKit AceMovi: How to Cut MP3 Files on Windows 10, 11, and Mac
Operate AceMovi from desktop. Add your MP3 files to the interface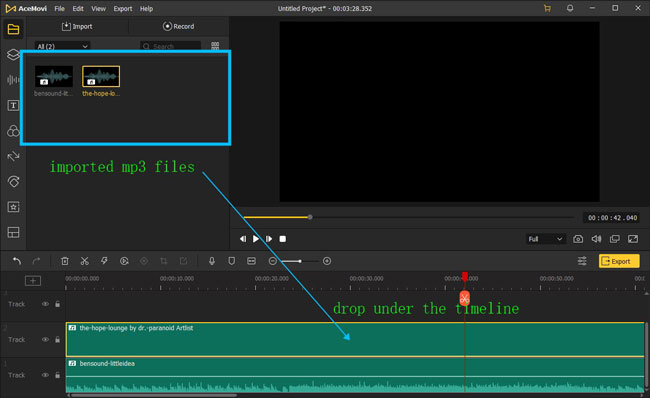 All imported MP3 and MP4 files will be added to the Media panel. You can add the wanted resource to the timeline by dragging and dropping. The performance monitor helps you play the media in real-time.
Move the progress bar under the cutting point first, then press "Ctrl + B"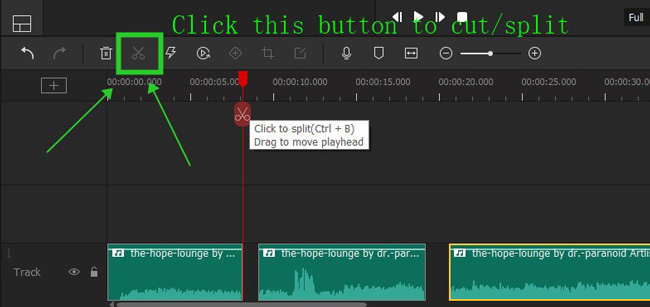 You need to put the progress bar under the cutting point. Then, click on the music track and press "Trim" from the toolbar. You will find the music will be split into two parts under the timeline, and you can delete the unwanted ones.
Go to the menu "Export" > "Export Audio" to download your music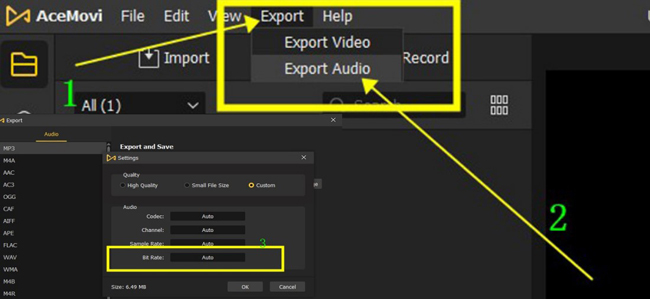 AceMovi provides under to edit both MP3 and MP4 files. Exporting the music file is different from downloading a video file. You need to follow "Export" and "Export Audio" from the menu. After that, converting bit rate, quality, size, frame rate, and other parameters are under your control. For trying other MP3 editing features, download AceMovi below!
How to Cut an MP3 File on Mac by iMovie
iMovie is a powerfully decorated video and MP3 editing tool for newbies with little to no experience. If you're a Mac user and looking for a straightforward method to trim your MP3 files, honestly speaking, choosing iMovie is a good idea.
The same as TunesKit AceMovi, iMovie comes with a nonlinear editing interface that supports batch file editing and cutting. The different point is that iMovie is pre-installed on your device, now come with me to cut your MP3 music with it.
Start a new project on iMovie and upload your MP3 files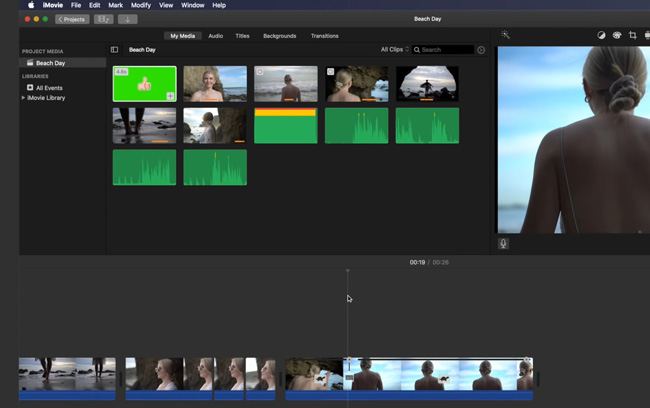 At the very begging, add your music files to the interface of iMovie. You may want to add multiple songs at once, which is allowed by this software.
Put the playhead on your cutting point under the timeline areas
Users can drop the playhead in any place, which will decide the cutting point. So, you need to play the MP3 song first to define the point and then drop the playhead into the correct area.
Right-click the track to choose "Split Clip" when you want to cut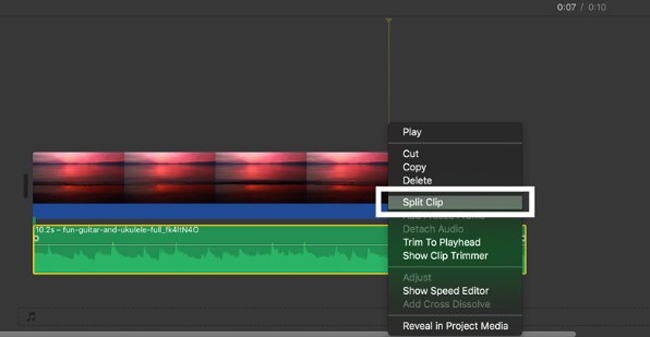 Right-click the soundtrack from the interface, then hit the "Split Clip" option. Afterward, you will find the track will be cut into two parts. And you can choose which one to leave and which one to delete. In this case, you just cut the MP3 files on Mac successfully, then choose to export the audio file from iMovie.
How to Cut MP3 Files Online Free by MP3Cutter
The MP3Cutter.com has functions to assist you in cutting .mp3 and any other song files to the exact points by manipulating the starting and ending sliders. Plus, this website displays the waveforms of your audio in real-time to help you visually make sure where to cut. By the way, applying the "Fade Audio" effect is provided by it. Here are the tutorials on using this online free MP3 cutter to cut your music.
Go to MP3Cutter.com, and click "MP3 Cutter" and "Choose File"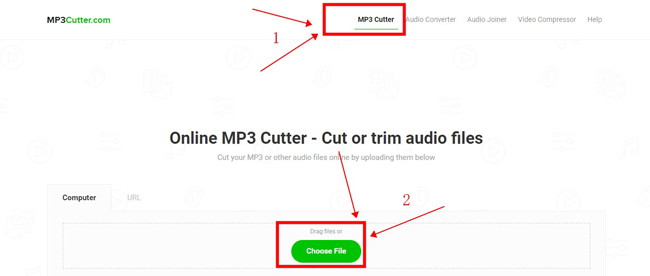 MP3Cutter also gives you with audio converter, audio joiner, and video compressor. As a result, you need to go to the "MP3 Cutter" workspace firsthand. As usual, import your files by clicking the "Choose File" button from the interface. Or you can paste the URL.
Begin trimming out unnecessary parts of the music by controlling the area

You can control the green area and blank area by moving the progress bars on the timeline. By default, this online MP3 editor will leave the green parts after you download the trimmed music. Once you've finished it, you can download the file without spending a penny.
How to Cut an MP3 File on iPhone & Android
As an intelligent app to add echo effects and cut MP3 audio files, BoMix Echo Sound Effect is compatible with both iPhone and Android. Additionally, users are empowered to add speed effects, change pitch, insert delay, and apply distortion to their music file as want. You'll find the workflow to cut MP3 songs is simple with this app on your mobile phone. Keep reading this page.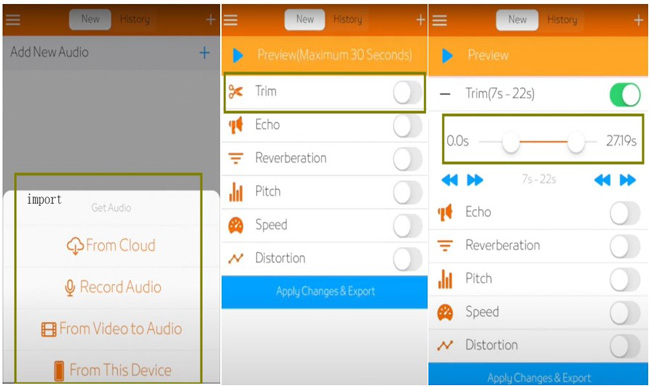 In the first step, select MP3 files from the album of your mobile phone. You can choose to add them from Cloud, record a piece of new music, or detach the audio from your video. Next up, click the button "Trim" to launch the workspace for cutting MP3 music. Then, control the progress bar based on your requirements. Once over, hit the "Apply Changes & Export" to save the split music to your cell phone.
Lastly
What is your option for cutting MP3 music files after reading this post? You can share your opinions about the experiences of using those tools with me in the below box. By comparison, you will find using TunesKit AceMovi and iMovie on a computer for cutting, editing, speeding, and converting multiple MP3 files is easier and quicker. While MP3Cutter and BoMix can help you trim the file online or on a cell phone.