As one of the most convenient formats, MP3 has been used widely for music recording, storage, as well as sharing for years. Since users can hardly merge or trim MP3 files with music players like Spotify and Tidal, they need to turn to audio editing equipment. Besides that, such a good tool can help you balance and configure the beat in a song while de-nosing any background noise without too much effort.
So, if you want to know how to combine MP3 files into one on Windows, Mac or online, or continue to edit them with other functions like trimming, speeding, and converting. Believe me, the three tools introduced on this page will make a difference. Let's get this tutorial started!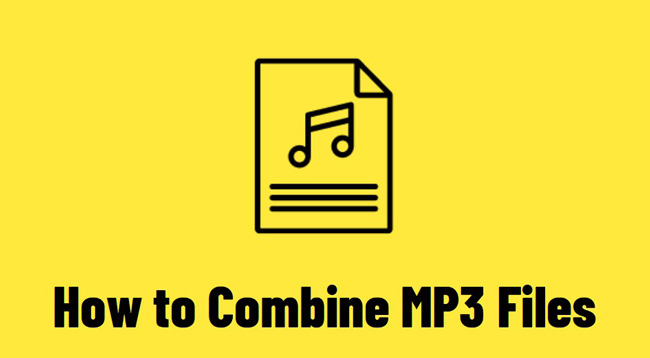 FAQs about Combining MP3 Files
1. What Is MP3? And Why MP3 Format Is Popular?
As a compressed digital music format with a miniature HDD (Hard Disk Drive), MP3 stores huge quantities of file data on memory chips and plays them back anytime anywhere you want. Some general sound files also use MP3 widely, such as podcasts and audiobooks.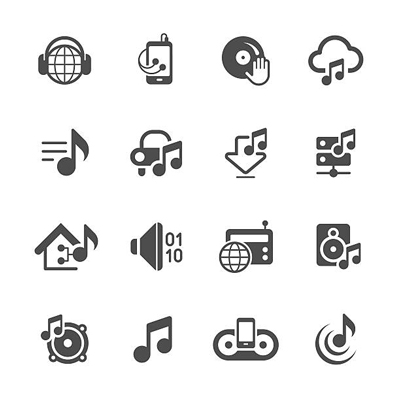 It's no doubt that the convenience and portability make MP3 stand out, in other words, you can play MP3 files for listening to music, playing games, broadcasting, etc. On top of that, the majority of video and audio editing programs can operate MP3 losslessly.
2. How Do You Mix Two Audio Files?
Many users may wonder how can two different types of audio combined into one file without quality or frame loss. Don't worry! The tools introduced in this post empower users to upload more than hundreds of audio and video files, including, MP3, FLAC, AAC, WMV, MP4, MKV, DivX, etc. All you need to do is follow the steps below.
3. Which One to Choose Between Desktop Audio Editing Software and Online Tool?
In most cases, the software is loaded with more powerful audio-making and -editing features. And you can upload large-scale files to it without any hassle. While you won't be required to download anything if you're to use an online program. However, you should create an account beforehand and may encounter limits like size and downloading times.
Now, you may want to know how to make your MP3 files combined, right? We'll be sharing with you three ways to complete this mission by which you can turn to further editing as well. So here it comes.
[AceMovi] How to Merge MP3 Files in Windows & Mac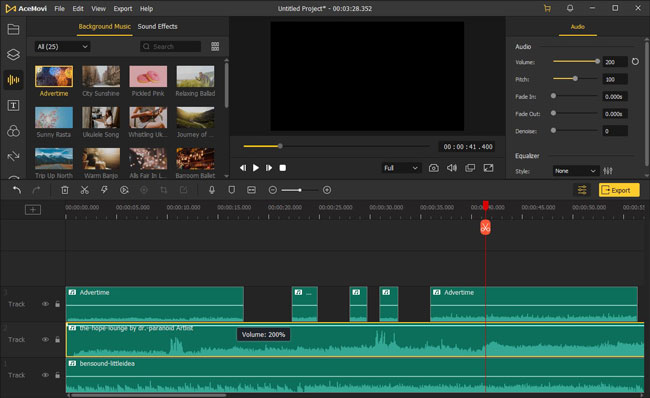 AceMovi is a multi-purpose audio editing and combining software for both personal and commercial channels. The timeline is easy and trackless, which can help you merge batch MP3 files at once. All you need to do is download AceMovi on Windows 10 and Mac, import your files, and make them as one.
More features are provided with AceMovi - Speeding, converting, volume boosting, background de-nosing, posting, equalizing, pitch converting, and bit rate (Kbps) changing. Fuel your creativity now!
AceMovi Audio Merger
Easy for beginners
Free trial no expiry
Any type of audio supported
Edit the audio from a video
Change file size and quality
Download for Windows and Mac
Free music resources and sound effects
AceMovi Guides! How to Combine All MP4 Files into One
Use AceMovi's latest version. Upload files to the track area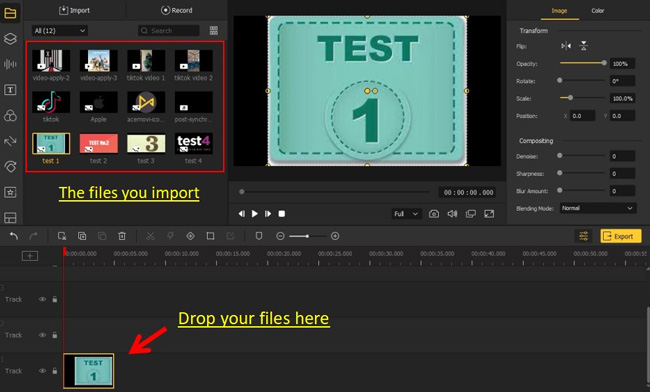 Download AceMovi on your desktop and launch it right now. You can get the latest version from its official website for free. Afterward, import your files to the interface and arrange the sequences as you wish.
Begin to combine MP3 files to one track under the timeline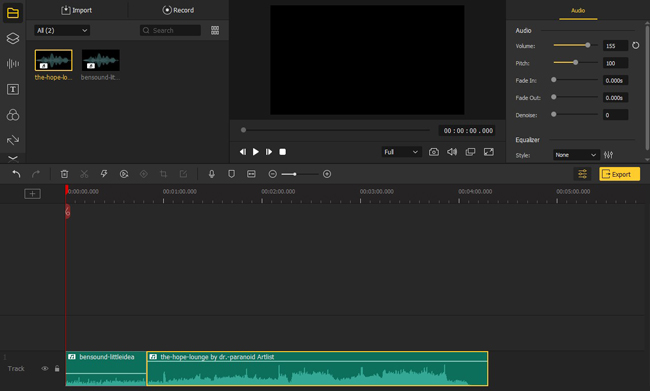 The interface is just like a painting canvas, that is to say, you can customize anything with AceMovi. Drop your audio files to the timeline, and play the track to check the effects.
Change audio parameters. Download file to your computer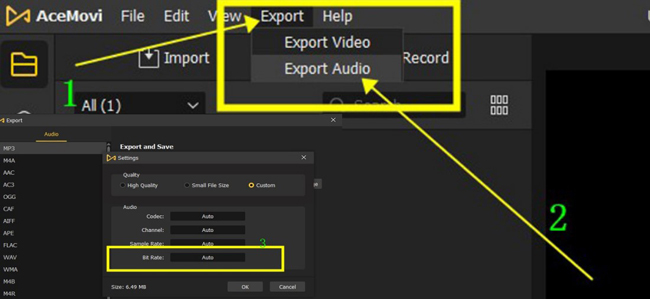 Before downloading or sharing this edited and combined audio file, you can set the output parameters, including codec, bit rate, sample rate, and quality. To do this, go to the menu "Export" > "Export Audio" > "Custom". If you're done setting it up, choose the exporting format and click "Export".
[123APPs] How to Combine MP3 Files Online Free
Want to know how to combine MP3 files as a whole online and free? 123APPs is such a web-based tool for you. It's a multifunctional audio editing program rather than an app that should be downloaded first. So, you don't need to download anything at all.
However, every coin has two sides, one of the evident disadvantages of 123APPs is that many advertisements will pop up although it only impacts user experience. Now, let's learn how to use it.
Visit 123APPs website and go to the menu "Audio Tools" > "Audio Joiner"
All the features can be navigated from the menu on the 123APPs website. To combine files, you should click the menu "Audio Tools" and "Audio Joiner".
Import audio files by clicking on the "+ Add Track" button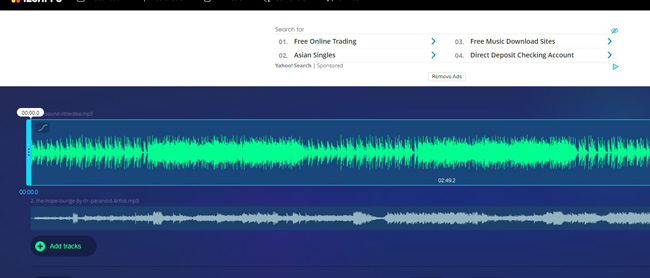 You can directly put your files into this program by clicking "+ Add Tracks". It's allowed to add as many files as you like. When it is over, operate it and download your files online for free.
[Audacity] How to Join MP3 Files in a Pro Audio Editor
By comparison, AceMovi and 123APPs belong to video and audio editors that were released for beginners, while Audacity is a professional tool for audio editing, joining, syncing, configuring, beating, and more. This software is free for both Windows and Mac systems. You may find it intricate, but you can learn how to use it in this post. So, keep reading!
Use Audacity on computers. Click the menu "File" > "Import" > "Audio..."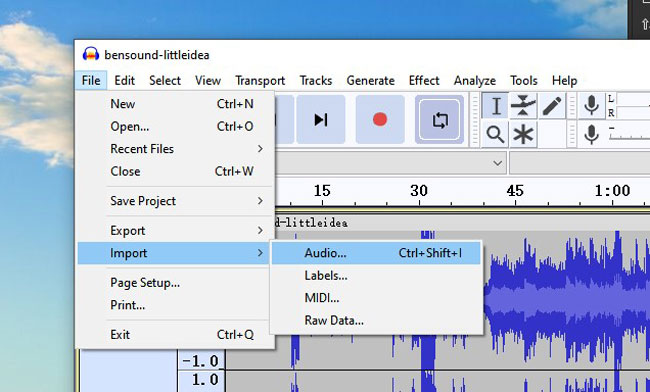 After entering into this software, you need to add your audio files to it first and foremost. You can drop files to the timeline or click the "File", "Import", and "Audio...". Then choose the files from your computer.
Commence joining MP3 files under the timeline and copy-&-paste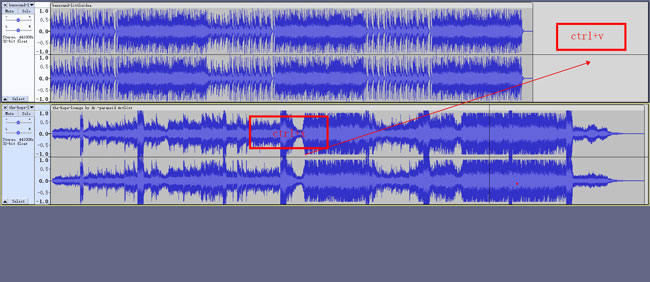 You will see two tracks under different dialogues. You need to move one of them to another track. To be specific, you can press "Ctrl+X" to cut the second track and then press "Ctrl+V" to paste the copy to track one.
Download the joined music file from this program in wanted folder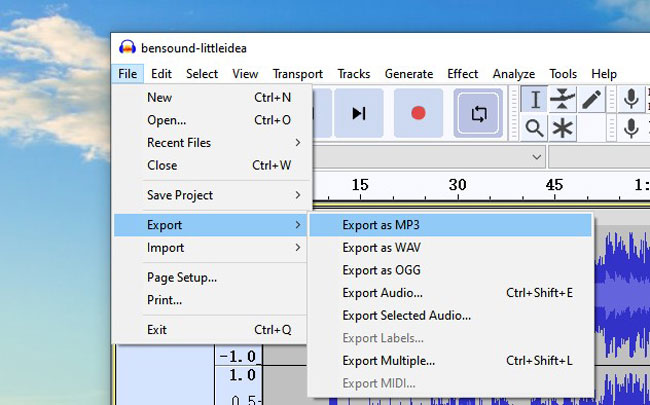 You're empowered to set the output format at MP3, WAV, OGG, or else. Just click on the "File", "Export", and the next provided option. Audacity will guide you set the save path and name automatically.
The Final Verdict
You can use the ways to combine and merge many MP3 files into one easily after learning this post. If you want to continue to trim, convert, speed, or record new sound files, AceMovi and 123APPs are better options. The third recommendation Audacity is a pro in making and promoting music with advanced features. Go ahead to try your tool!