It's demanding to record and produce an excellent audio file. Needless to say, have you denoised the background waves and equalized the tones successfully? As regards the clip, you need to cut down unnecessary parts. However, those popular music media players, such as Spotify and Vox, are not qualified audio trimmers. That's why this post was published. Herein we'll be showing you the best audio editing programs to help you trim an audio file while maintaining the original quality [HQ/SQ]. You can learn how to do advanced audio and video editing jobs as well, like file format conversion and bitrate alteration. Let's try those methods together!
How to Trim an Audio File in Windows and Mac: AceMovi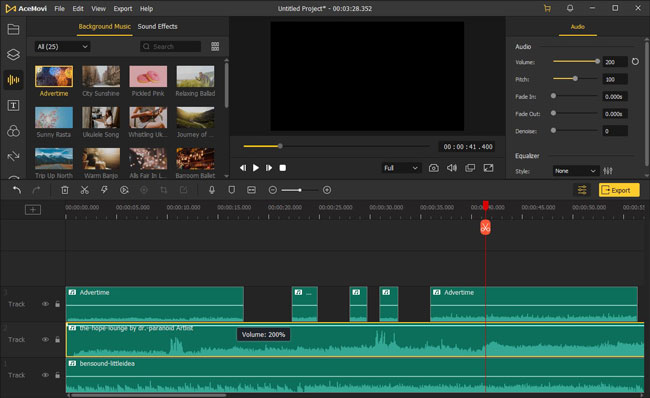 AceMovi is well-received and has been praised widely among audio creators and uploaders from social media. The key point why AceMovi is popular lie in its easiness and stability. You can trim, chop, split, boost volume, change pitch, sync pace, convert bitrate and sample rate, change speed, and turn format in this program with a few clicks on the user editing interface.
You can add as many audio files as you want to AceMovi, meaning batch audio-trimming operation is simple to realize. There is no worry about the format and size of your ready music files, they can be MP3, AAC, FLAC, CAF, AIFF, AC3, AAC, M4A, and many more up to 30 types. Surprisingly, AceMovi combines audio editing and video-making as a whole so that you can choose to extract the audio from the video, then trim out unwanted parts, and lastly, download your file directly. Want to have a try? Click here.
AceMovi Audio Trimmer
Trim out batch audio files on HQ and SQ
One-stop audio-editing features provided
Almost all music formats can be imported/exported
Bleep, Shot, & other 200+ royalty-free audio effects
Easy for newbies to learn and master
Powerful skills to extract/edit video audio
How-to Guides! How to Trim an Audio File with AceMovi
Import Your Music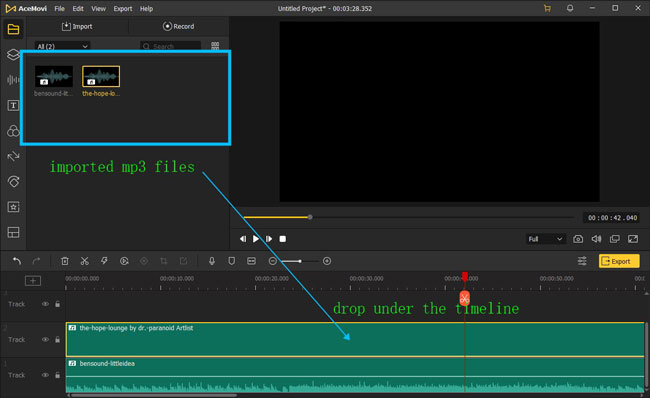 Click the "Import" icon from the Media first and foremost. You will see thumbails of those imported files. To perform the project, just drop the music file under the timeline.
Begin to Trim Audio Track

It's easy and effective to cut down your clips under the timeline. You should select the clip and move the playhead to the trimming points, then click the "scissor" icon from the toolbar. After that, you can reposition every trimmed music clip as you want.
Export Your File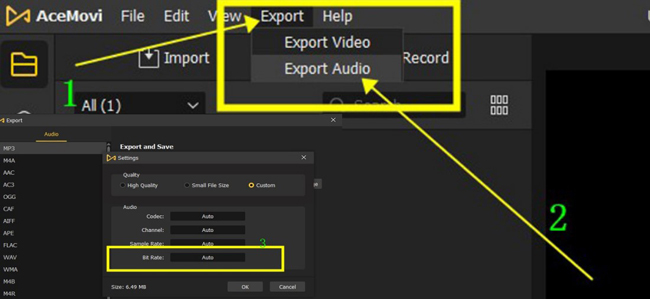 AceMovi allows you to export both video and audio. If you just trimmed an audio file with it, click the menu "Export" and "Export Audio". When the "Settings" window pops up, you can adjust related parameters, such as quality and codec. By the way, it's accessible to let AceMovi automatically converts your files into high-quality or small file size.
Other Tools to Cut Down Music Track at High Speed
Although you can apply and download AceMovi to edit and trim audio files in Windows 10 or Mac, it's unlikely to operate this software online or on a mobile phone. Therefore, just try the following methods to trim audio files depending on your requirements of devices. Keep scrolling down.
1. How to Trim an Audio File Online with AudioTrimmer
There's no need to download software and application if you use an online audio trimmer. For convenience, we think that AudioTrimmer is more fit for music trimming projects compared to other online tools like Kapwing or 123APPs. Without registration, you can use AudioTrimmer to alter the duration, convert format and apply fade-in and fade-out effects. Here is the guide to trimming an audio file with it.

AudioTrimmer only offers one track for audio editing workflow. To trim the song, you need to slide the playhead. The black area will not be exported after you click on the final "Cropping" button.
2. How to Trim an Audio File on Android and iPhone in BoMix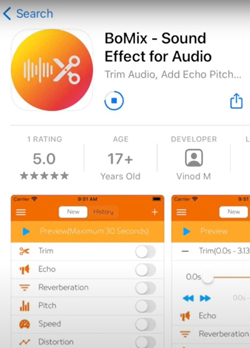 Here is the method of how to trim audio files on your mobile phones without effort. The recommended app to be downloaded is called BoMix. As a toolkit for portable audio editing, you can use BoMix to trim files, apply echo effects, change pitch, adjust playback speed, and balance distortion. This app is easy for entry-level audio editors.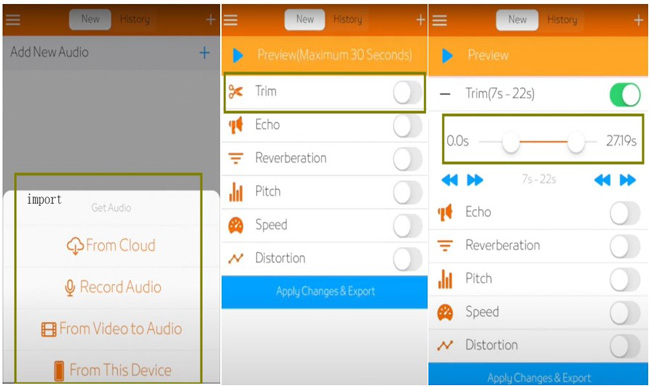 Upload your audio files from Cloud, Video-to-Audio, or device, or record a new clip. Next up, tick the "Trim" line to start a project. Afterward, you can slide the fine-tune the duration as you want. When all is well, click the "Apply Changes & Export" to get the edited audio file.
3. How to Trim an Audio File in Audacity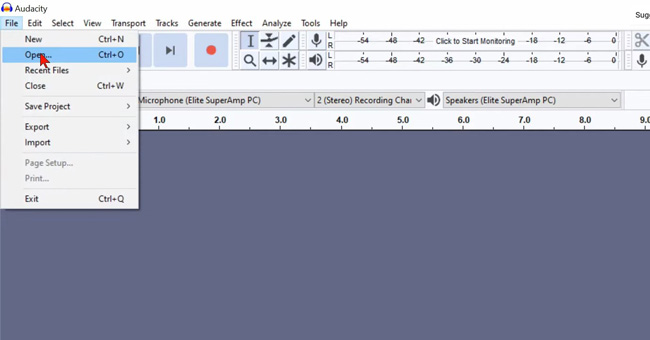 Want to know how to trim an audio file on Windows professionally? Audacity is powerful in editing audio with the feature of recording, scrubbing, mixing, fading, inverting, and toning. It's free for all licenses and you don't even need to log in. But more than that, Audacity is supposed to edit multiple audio files quickly and easily. You can use the drag-n-drop interface to import your music or click the "File" and "Open" to browse from local folders.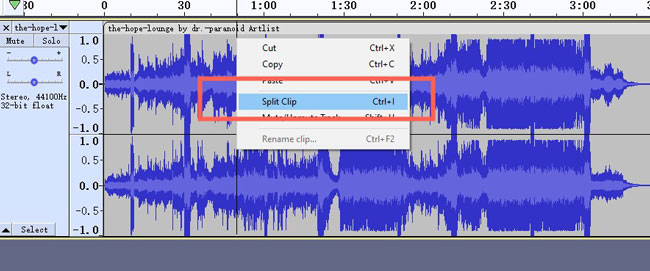 You need to select the clip, then right-click the audio to choose the "Split Clip". The shortcut to trim audio is "Ctrl+l". You can quickly press the shortcut to edit batch files. As for rendering and exporting results, just click the "File" once over, then choose the format and perform related settings.
4. How to Trim an Audio File in VLC Media Player
VLC is a cross-platform and open-source media player by default. More importantly, you can choose VLC to make trimmings and editings in video audio at a rapid rate. In fact, you can turn to mute the audio from the video, then apply a new track. Many audio effects are provided, including but not limited to Equalizer, Compressor, Spatializer, Stereo Widener, and Pitch Changer. The following is the tutorial, here we continue!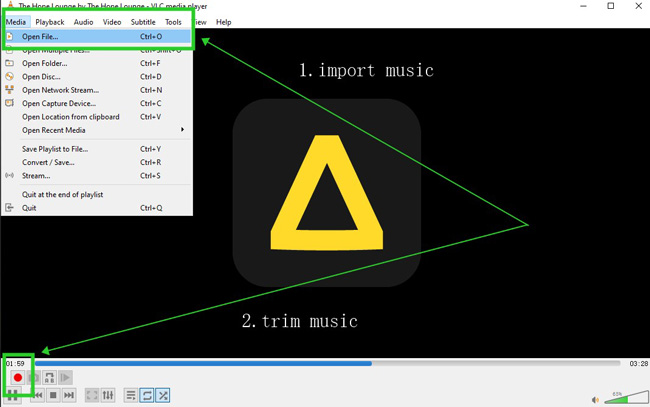 Unlike AceMovi and Audacity, VLC trims an audio file in the way of recording. In other words, you should play the music to start and click the red "Record" button on the bottom left-hand corner to commence trimming. The last step is to click the button again. VLC will automatically save your recording in the designated folder.
The Last Part
You just learned the 5 methods to cut down an audio file based on your devices. By comparison, AceMovi is simpler and more fit for beginners and creators who want to edit audio video; I recommend you to try Audacity to operate advanced audio features, like mixing and configuration, and; You can use AudioTrimmer based on webpages to perform more effects, for example, the speed changer.