Being the most fun and fashionable elements showcased among the social internet community in the era, GIF makes dialogue become vivid and metaphorical with a few frames and moving texts. Believe it or not, there are some professional painters who spare no effort to produce a series of GIFs with animated characters, which is also a practical way to earn a lot of money. Whichever, you may want to create a GIF from the YouTube videos you're watching now, and the GIF-making tools are your first target. On this page of sharing, we're going to master the best tools to convert YouTube video to GIF on different devices per your needs. It's on!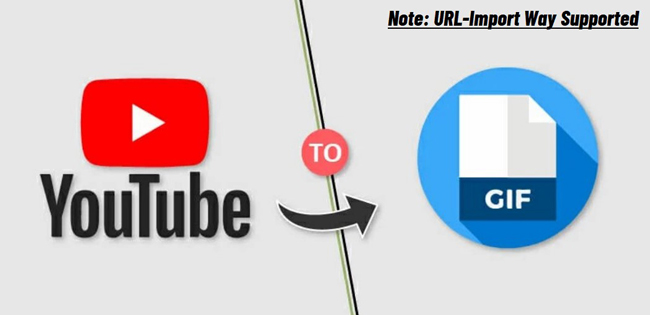 TunesKit AceMovi - Turn a YouTube Video into a GIF on Computers
YouTubers are prefer to convert videos to GIFs with AceMovi for the fantastic convenience. It's a one-size-fits-all media editing & conversion software released for both entry-level and pro-level users. GIF, MP4, WMV, AVI, DivX, M4A, MKV, and many more file formats are supported by AceMovi. More importantly, users can export their video at HD or even 4K resolutions.
Besides that, AceMovi is also a YouTube video trimmer, cutter, cropper, speeder, and compressor. The easy-to-manipulate timeline adds unlimited tracks for text, image, and video clips. For time-saving, you can automatically export the file in the best format for YouTube, Facebook, Vimeo, and more platforms.
AceMovi GIF Generator
A handful of elements, including stickers and emojis
Convert video to 100+ formats
Overlay text templates on a GIF
Nonlinear video editing style
Save GIF file at high-quality
Trim out unwanted YouTube videos
Low-end computers can easily operate it
Instructions to Convert YouTube to GIF with AceMovi
Download and use AceMovi from its official website, then import files to it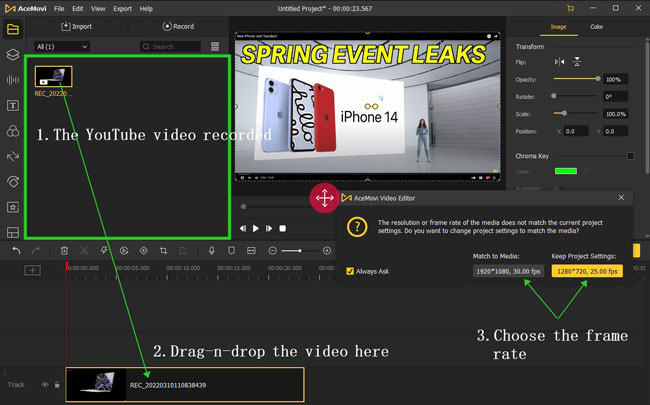 If you have downloaded the YouTube videos, just add them to the timeline. Otherwise, you can record the video you're enjoying by AceMovi Video Recorder. The button to launch the Recorder is set in the top left corner.
Click Export > Web > GIF to save the file as GIF format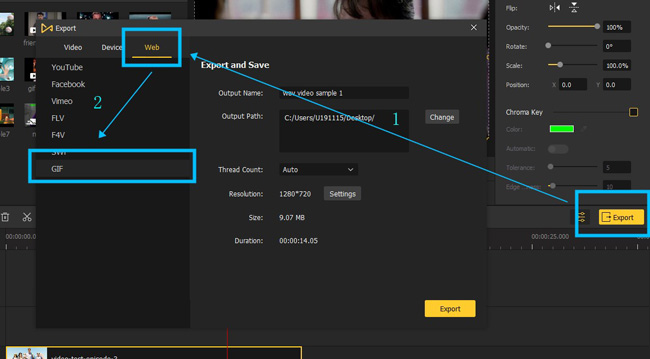 It's easy to operate the whole performance. All you should do is click the "Export" icon on your right hand, then go to "Web" and "GIF". In this case, the YouTube video will be converted and downloaded as GIF format losslessly. If you want to set other parameters of the GIF, continue to scroll down.
(Optional) Determine the output settings, such as resolution and save path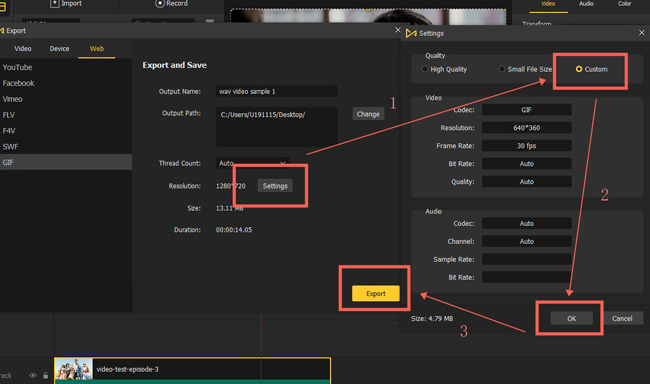 AceMovi provides you with meticulous settings of GIF files. You can use the Auto feature to determine the GIF file size. For example, if you want to make it high-quality and you don't know how to change the resolution and frame, just follow the "Export" > "Settings" > "High-Quality".
If you find AceMovi very good and convenient to use, you can buy the premium version for removing watermarks from the outputs. Now, download it on your computer by clicking the buttons below.
EZGif - Convert YouTube Video to GIF File Online Free
There are many web-based GIF converters and editors in the market like Kapwing and FlexClip, yet most of them are paid so you need to register and buy the premium accounts first. Don't worry! We'll recommend you a free online YouTube video to GIF converter which is called EZGif, and you can find it on any browser. Users apply this website to do GIF conversion, trimming, resizing, splitting, and many more. Give it a try!
Search for the EZGif, and click the "GIF Maker" and "Video to GIF" icons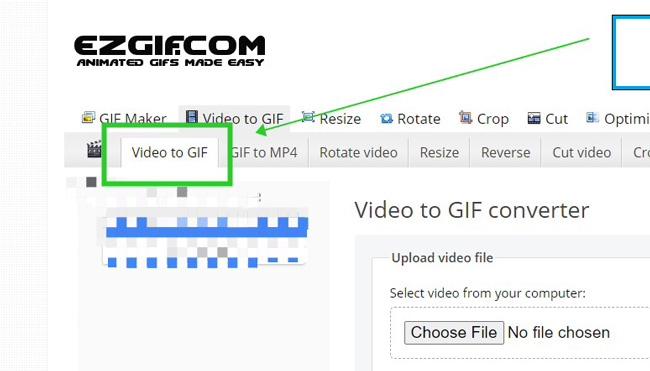 What makes this program unique is that users won't be required to register and buy their products. Even rhough there are some limits, for example, you need to tolerate the advertisements and the file size should be kept within 100 MB. Now, go to the panel of "Video to GIF" from the menu "GIF Maker".
Add files via YouTube URL or click the "Choose File" to select local media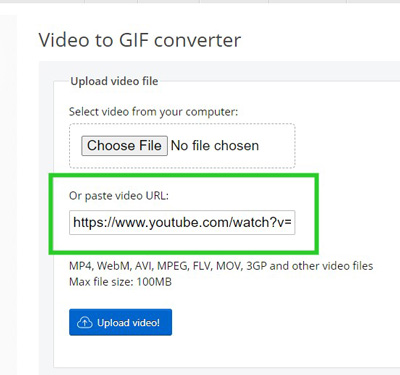 Instead of downloading or recording the wanted YouTube video, you can paste the file URL to import your videos to this website easily. Alternatively, click on the "Choose File" to add your local files.
Fine-tune the start time, end time, size, and frame rate before downloading it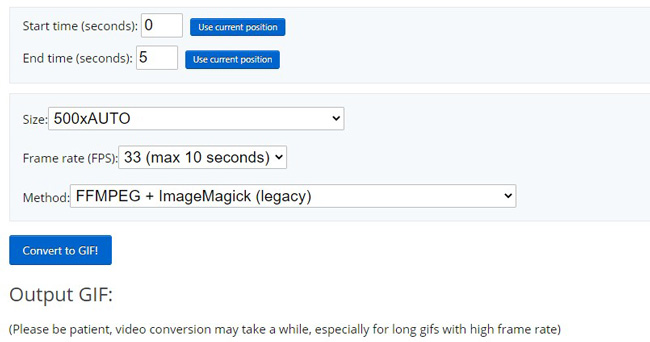 After a short moment, you'll find a series of settings of the converted GIF file. To be specific, you can set the start and end time, file size, frame rate, as well as method. While you've defined all parameters, click "Convert to GIF!" and download it online for free.
ShortCuts: Save a YouTube Video as a GIF on iPhone & Android
Want to know which app is qualified to turn YouTube video to GIF on a portable mobile phone? By testing, the ShortCut app for iPhone and Android stands out from others by the auto video-to-GIF conversion feature. Unlike VN and Inshot, ShortCuts gives you pre-designed projects to convert YouTube video as GIF. Keep reviewing this post!
Get ShortCuts on your mobile phone and select files from your album to upload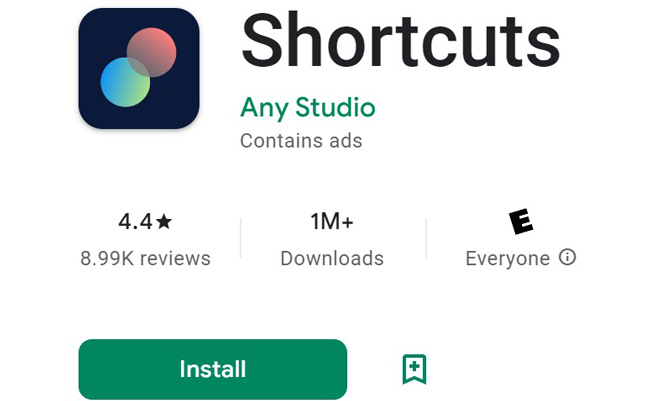 As we said before, ShortCuts can be downloaded on both iPhone and Android devices. You don't need to be a pro to use it. Once you've opened it on your mobile phone, select the YouTube video to upload.
Click the "Edit" icon and then go to the "Video-to-GIF" panel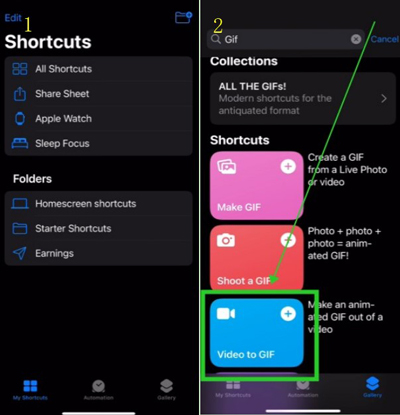 You can search for the function or click the "Edit" and "Video-to-GIF" to begin to make an animated GIF from a YouTube video by yourself.
Trim unneeded parts from the YouTube video. Tap "Save" to convert it into GIF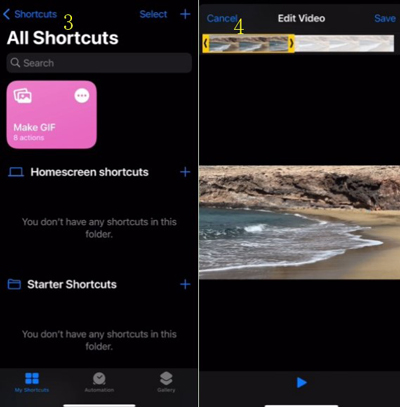 Before saving the YouTube video as a GIF format, you can choose to edit the video with the trimming feature. You need to change the lenth of the timeline to trim out unwanted parts.
Which One to Pick Up? Let's Compare the Differences among the Three GIF Converters
If you want to know which one is better for you, comparing them in a table and getting the points you like will be a good way. Below, we'll review their differences and help you find the best one. The aspects include the operating system, useful features, output quality, user experience, and more.
| | AceMovi | EZGif | ShortCuts |
| --- | --- | --- | --- |
| OS | Windows 10, 11, & Mac | Online | iPhone & Android |
| Interface Style | Nonlinear | Linear | Linear |
| GIF Cropper | √ | √ | × |
| GIF Trimmer | √ | √ | √ |
| Add Text to GIF | √ | √ | × |
| Upload via YouTube URL | × | √ | × |
| File Size Max | No Limit | 100 MB | No Limit |
| Video Advertisement | × | √ | × |
| User Experience | Easy | Medium | Medium |
| File Quality | 1080p | 720p | 720p |
| Video Formats Supported | Almost All | Few | Few |
The Bottom Line
If you want to convert multiple YouTube videos to GIFs, AceMovi will be the first option because of the streamlined timeline. However, AceMovi doesn't come with online and mobile versions, just stay tuned. That's why we shared with you EZGif and ShortCuts, both of which are beginner-friendly. Go to create your own funny, animated GIFs!