People would like to share a meme or a GIF on their social media for creating a humorous atmosphere and attracting more audience. The main difference between memes and GIFs is that meme tends to show a picture with captions which are located in the above or below parts, they're usually created to be static, while GIF contains animated, sequential images, so you find GIF moving and simple. But nowadays, we can even make a meme GIF with our customized effects and elements, like stickers, text, filters, and more. If you have a proper meme GIF maker, that task won't be difficult at all. Here, follow me to learn the skills.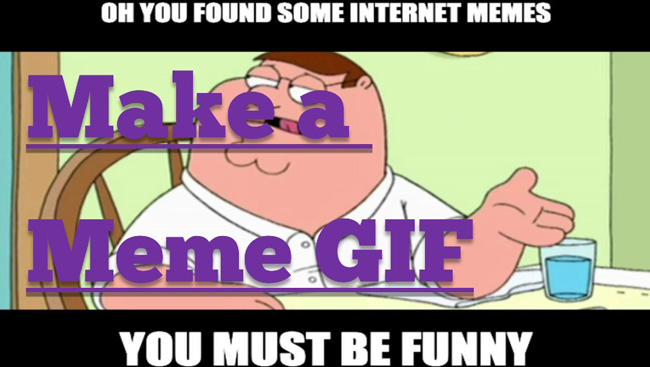 How to Make a Meme GIF with TunesKit AceMovi for Windows & Mac
TunesKit AceMovi is made for converting any media file to GIF and adding personalized texts, backgrounds, filters, black bars, colors, music, or stickers to your meme GIF. The free demo version of this software provides users with all the elements and effects.
It is easy to set the resolution of the meme GIF as 480p * 480p by the GIF cropper. And you're allowed to add unlimited tracks for different types of media files. You don't need to be a pro when using TunesKit AceMovi due to the convenient user interface and easy-to-learn guides:
AceMovi Meme GIF Maker
Convert images or videos to .gif format
Make a meme GIF with texts and captions
Preset file resolution and aspect ratio
Unlimited tracks for different types of files
Make a photo animated with the motions
Diverse and high-standard filters and overlays
Quick exporting speed that makes the job easy
Easy Guides: How to Make a GIF Meme in TunesKit AceMovi Video Editor
Download TunesKit AceMovi on computer. Launch it, and add files to timeline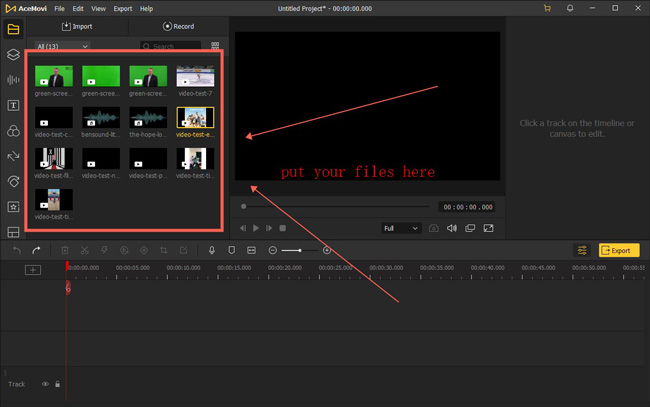 Once you enter into TunesKit AceMovi, you see "Import" and "Record" on the Media. The "Import" icon helps you add the original files to this software and the "Record" icon is able to operate scree recording or webcam recording features. You need to add the thumbnails to the timeline afterwards.
Add text to the meme GIF from Text. Modify the styles with color and font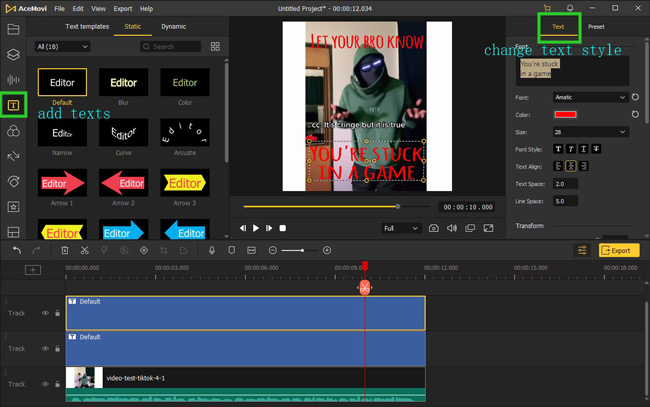 The built-in text panel includes both static and dynamic templates. You can choose one of them and add it to a new track. Adjust the text duration under the track. Design the color, font, size, location, opacity, and background from "Properties" > "Text" in your right-hand place.
Find Export > Web > GIF. Set the save path and resolution before downloading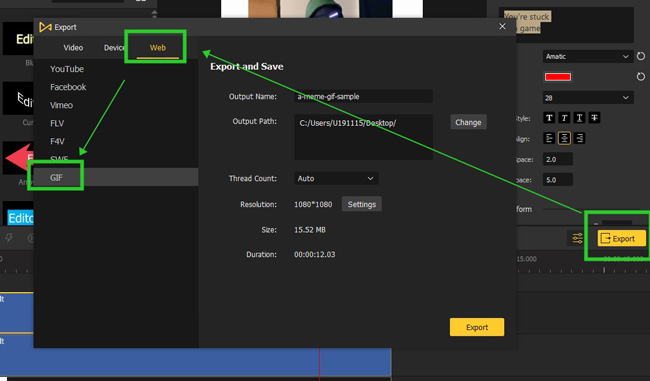 Here comes the final step. You need to click "Export", "Web", and "GIF" one by one. In that case, the file will be saved in GIF format. In addition, you're allowed to adjust the save location and output parameters of resolution and quality. Try TunesKit AceMovi below!
How to Make a GIF Meme on Android & iPhone with PhotoGrid
Even an app is capable of making a GIF meme with texts and filters, do you believe it? First of all, download a GIF maker app on your mobile phone, and here you can opt for PhotoGrid. In addition to meme creation, users can generate scrapbooks, slideshows, short videos, and films with this app. There are pre-made GIF settings and some layouts for your workflow.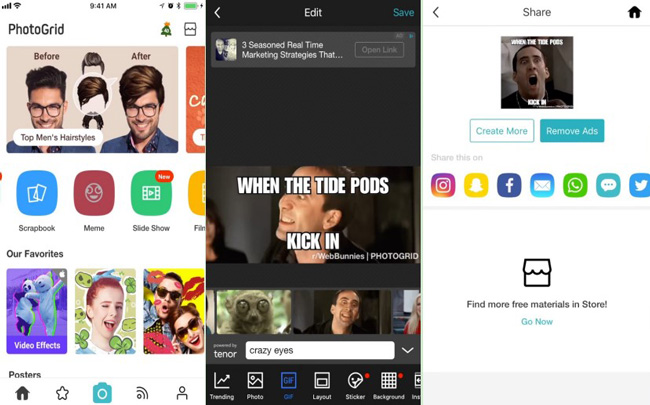 To begin with, you need to select the "Meme" project from the toolbar. Next up, pick up the video or photo from your album. You can use the layout templates for making a collage as well. You see buttons for editing the meme GIF with stickers, background, and more elements.
It is available to move the file location or resize the aspect ratio on the screen by dragging and dropping. In the final step, share your GIF meme on WhatsApp, Instagram, Facebook, or other platforms.
How to Make Meme GIFs Online for Free with Canva
Want to figure out how to make a GIF meme online for free? Lots of online websites like GIPHY and IMGFlip for making meme GIFs are paid, and their trial versions leave a watermark after you export the file. But it is no need to worry about such questions if you use Canva, which required premium accounts for downloading videos but not GIFs. That is to say, creating a meme GIF with Canva is absolutely free.
Fina Canva, go to Design spotlight > Meme Maker on the default webpage

As soon as you come into Canva, you see a series of projects, like "Design spotlight", "Business", "Education", etc. You should select "Meme Maker" from "Design spotlight", then you will come into the specific workspace.
Click "Uploads" to add new files. Press "Text" to overlay texts on the screen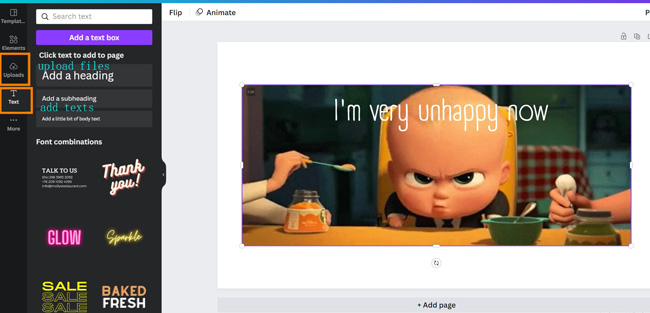 For producing a meme quickly, users can pick up a template. If you want to start from scratch, click "Uploads" to import files first. Then select a text mode and add content to the box. You're empowered to play the meme GIF in real time.
Click Share > Download > GIF to define the output format and download it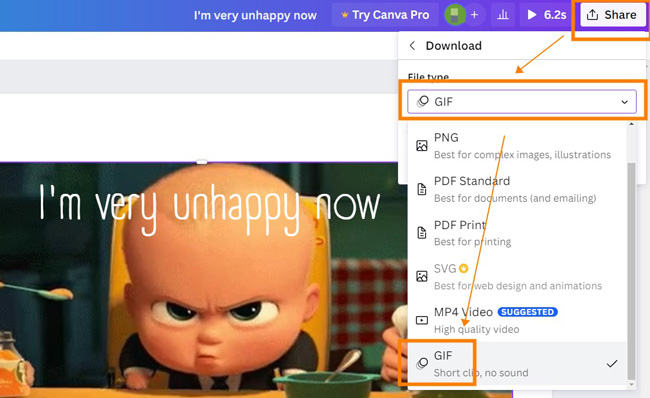 With that said, downloading files in .gif format is free of cost and watermark-free. You need to navigate to "Share", "Download", and "GIF" to complete the mission and download your GIF memes online for free.
The Best GIF Meme Downloading Websites in 2022
If you want to find GIF meme resources, you may need a professional downloader. In the following, we'll show you the best websites to download free GIF memes. Let's go!
1. GIPHY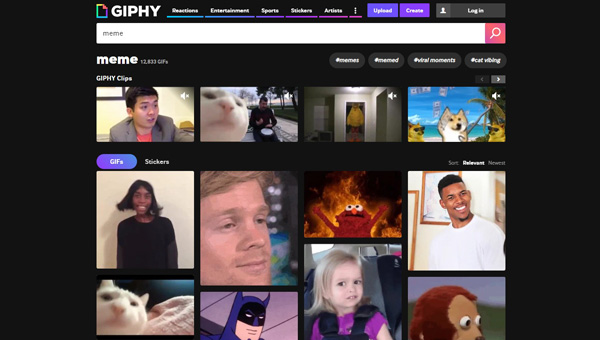 Thousands of millions of GIF and sticker templates can be found on the GIPHY website. The stickers are set with or without background color. Users can navigate to the desired GIF with their wanted themes, for example, if you plan to search for an animated animal GIF, you can open up the three dots panel, then pick "Animals" from those categories.
What makes this program different from other meme-downloading websites is that some of the resources even come with background music. In the area of "Create", you're capable of creating GIFs with customized captions, filters, backdrops, and colors. The accepted formats include JPG, PNG, GIF, MP4, MOV, WebM, etc. It supports video URLs from social media like YouTube, Facebook, and Vimeo.
2. Quickmeme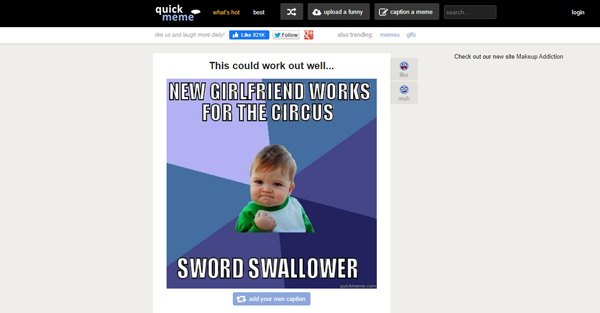 The next website to download and make a meme GIF is called Quickmeme, which updates the hottest meme GIFs every day and gives you the authority to add your own captions on the screen. If you log in to this website, then you are able to like or dislike the GIFs that have been posted by others.
The menu allows users to review some of the popular memes as well as upload their funny samples for getting more likes and followers. In addition, searching for related GIFs is available on the user profile.
3. 9GAG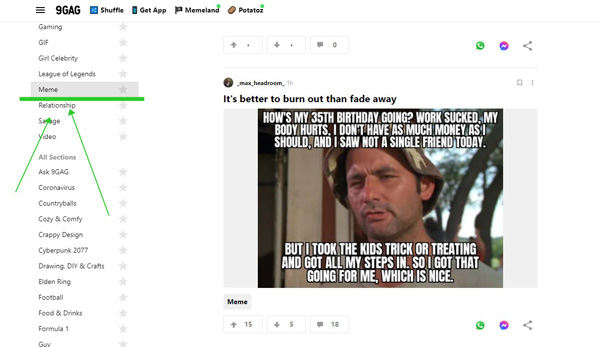 The same as some communication platforms, 9GAG is an online website that is able to post and download free GIFs. There are various samples that can be picked up according to the hot tags, such as "funny", "wtf", "surreal meme", and "random". You're empowered to switch to the Shuffle, Memeland, and Potatoz from the menu bar.
It is accessible to sign in to create a new account at any time and save your wanted GIFs quickly. The only problem with it is that you will confront a plethora of advertisements on the screen.
Conclusion
If you want to find a proper meme GIF generator, you cannot ignore their built-in features and effects, especially the text templates that help to make moving captions. Those ways have been tested well-performed, and you can try them at once. By the way, if you don't have any resources, visiting some popular meme GIF downloader websites first is a good idea.