GIF is one of the funniest and fast storytellers - An animated GIF conveys information that gets people involved and activated. It is and, to a large extent, lighter than most static texts, which gives itself more flexibility to be sent through plenty of social media, forums, and chat groups.
However, oftentimes, your GIF is too big for the screen or it leaves unnecessary parts (e.g. watermarks and black bars). In this case, you'll need a GIF cropper. And I'm going to share with you 4 tools to crop a GIF at a quick pace. You can follow the guides step by step. Lets's move on!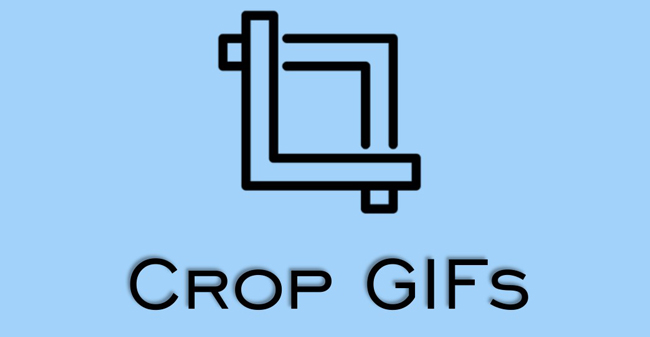 How to Crop a GIF File on Computers - AceMovi
When you want to post or send a GIF on different social media, size matters. If the GIF is too big for the screen, it will not be fully visible. So it's vital to crop the GIF to a proper size. With TunesKit AceMovi, you can easily crop a GIF without removing the animation.
This software is compatible with Windows and Mac. The free version can be downloaded for free even without registration required. Amazingly! TunesKit AceMovi supports a vast category of media formats, like MP4, PNG, JPG, AVI, DivX, DVD, WMV, MOV, MPG, GIF, FLV, etc. In other words, you can convert video or image to GIF easily. Here download AceMovi and follow our tutorials.
AceMovi GIF Cropper
Crop multiple GIFs at once
Convert video/image to GIF
Adjust GIF quality
Add dynamic texts to GIF
Soft and easy UX
No expiry and file size limits
AceMovi Step-by-Step Tutorials!
Download AceMovi tool on computer, and drop GIF files to the Media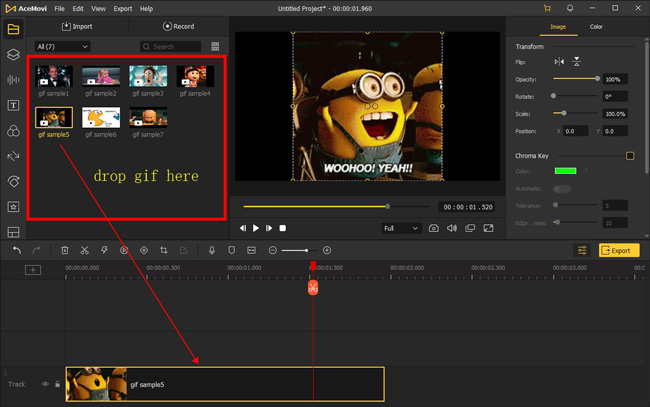 There are official buttons to download AceMovi safely and free. When you enter into it, you can drop GIF files under the Media place or the timeline firsthand.
Tap on the icon from toolbar, or right-click to select Crop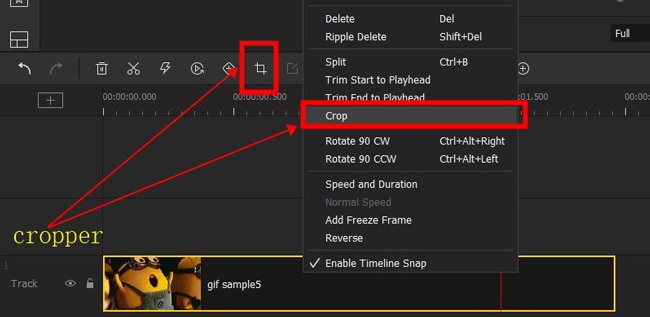 You may need to adjust the size of the GIF to fit different social platforms. To change the size of your GIF, click on the

icon from the toolbar. Another way is to right-click the current clip, then pick on "Crop".
Crop your GIF with pre-designed aspect ratio, or choose to customize it yourself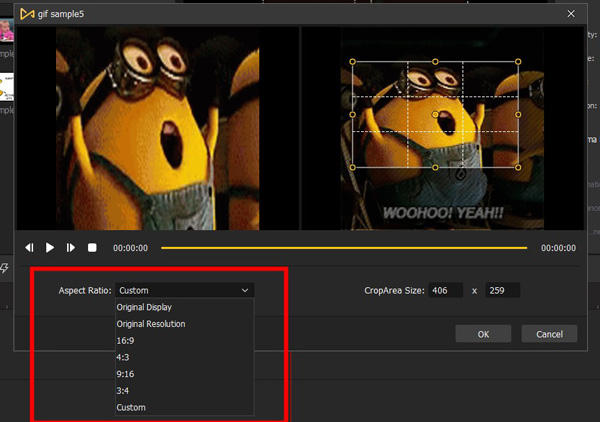 You can set the size of GIF at 16:9, 4:3, 9:16, or 3:4. Besides that, the "Aspect Ratio" > "Custom" helps you customize the canvas yourself. If you click it, you are allowed to drag the edges of the GIF on the monitor without restriction.
[Optional] Fine-tune the resolution, frame rate, bit rate, and quality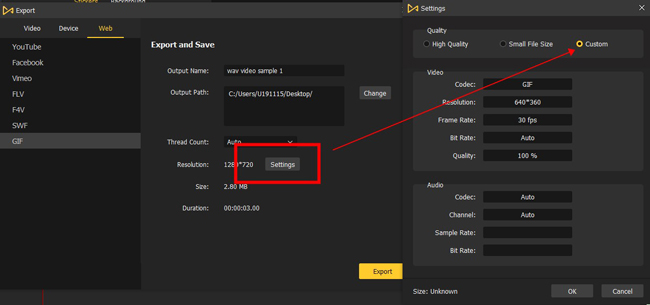 Next up, if you want to improve output quality or compress the GIF file size for quicker storing and sharing. Just click the "Settings" upon the "Export and Save" page. For example, if you're to resize the GIF, you need to open up the "Quality", then you can choose "50%".
Download the cropped GIFs to your portfolio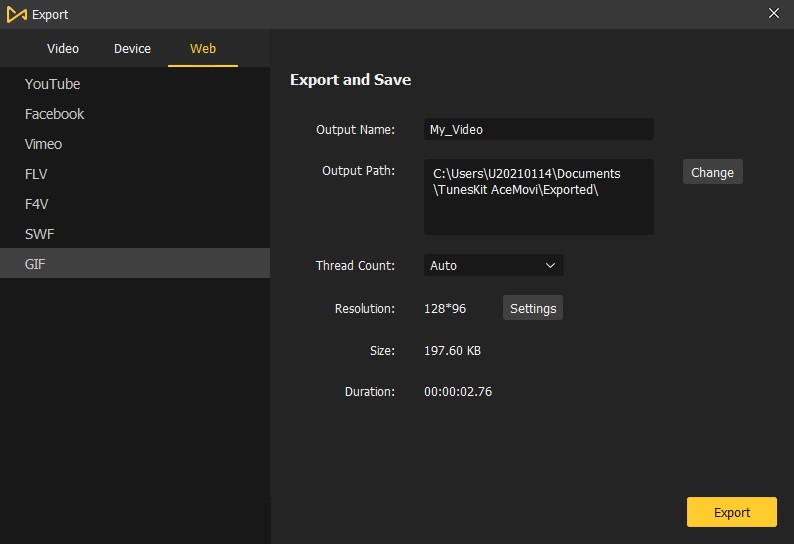 To export the edited GIF file, you need to go to "Export" > "Web" > "GIF". Likewise, you can convert videos or images to GIFs in this way. Next. set the output name and the save path. Finally, click the "Export" icon once again.
How to Crop a GIF on iPhone with iMovie
If you want to know how to crop animated GIF on iPhone, the iMovie app may be of help. It's pre-built on your mobile phone, with powerful media editing, converting, and cropping ability. It has a hassle-free user interface, with unlimited tracks for GIFs, video clips, images, and background music. You can even trim out clips and speed up the motion. Let's continue to move forward.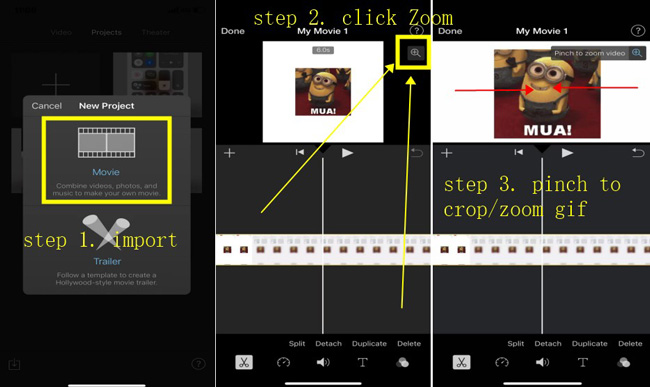 How to crop and zoom a GIF with iMovie:
Step 1. Launch the iMovie app on your phone. Import GIF to commence a new project.
Step 2. Pick on the GIF clip. Next, press the "+" icon under the performing monitor.
Step 3. Pinch to change the aspect ratio of the GIF. You can play the effect in -real-time to check whether it's correctly cropped.
Step 4. Click the "Done" to download the editings to the album or share it with others. Before that, you will be asked to set the resolution.
How to Crop GIFs Online Free with EZGif (Max File Size: 50MB)
There is a way to crop GIF without software or application downloading and can be used for any device. It's the EZGif website where you can crop, trim, convert, compress, optimize, rotate, cut, and do much more to GIFs without handing over a penny. However, the file size should be limited to 50MB, and you may see annoying advertisements on the website. Want to have a try? Follow the guides!
Browse EZGif online. Import your files or the URL to this website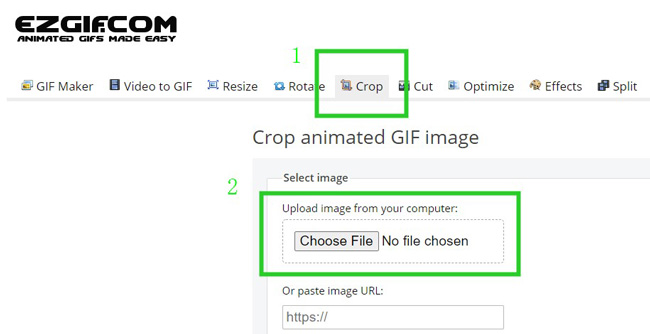 You can perform a search on any browser to find EZGif. Find the toolbar and go to the "Crop" feature. Then, you should click the "Choose File" to upload your GIF files. On top of that, you have access to paste the image URL.
Customize the GIF size online to your wanted one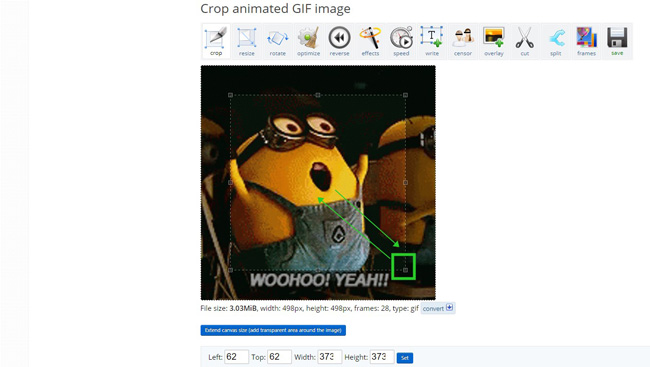 You can easily pinch the edges of the GIF to make it cropped under the canvas. By default, the shadowing parts will be cropped out completely. Also, it's able to redo and undo the actions you just made.
[Optional] Apply the designed aspect ratio options to crop GIFs directly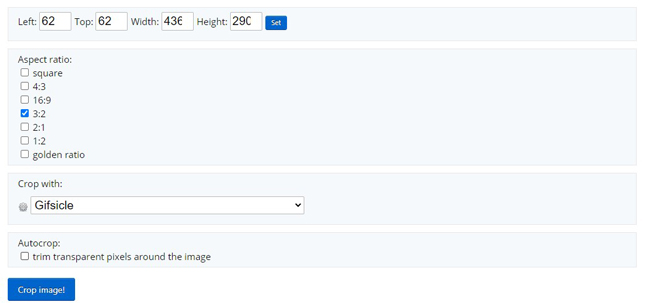 Alternatively, you can scroll down to set GIF's aspect ratio as square (1:1), 4:3, 16:9, 3:2, golden ratio, or else. Here is the button to apply the Autocrop feature.
Save the resized GIF and download it online free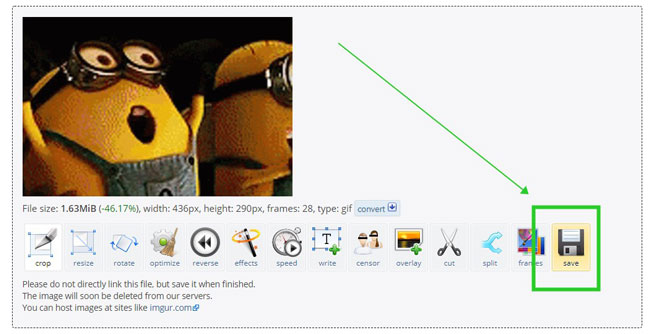 Click the "Save Image!" to process this action. You can continue to rotate, optimize, reverse, or apply audio effect to the saved file. Or select the "Save" option to download your GIF for free.
How to Crop a GIF in PhotoShop
PhotoShop is so powerful that you can use it to optimize and edit images, as well as crop GIFs. It's uneasy for beginners to edit media with Photoshop. However, you'll find it flexible and quick when you're familiar with it. You can download and use Photoshop for free right now. Want to know how to operate this animated GIF cropper? Keep reading!
Download Photoshop. Create a new project by importing GIF file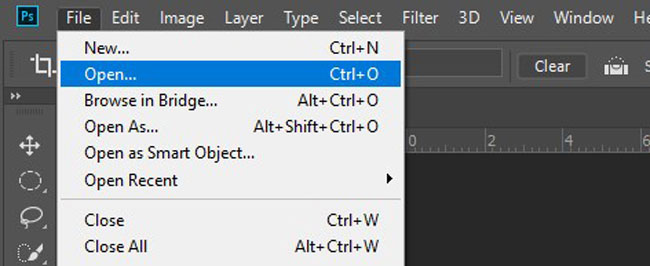 The shortcut "Ctrl + O" is used to import files directly. Or you need to go to menu "File" > "Open" to upload your GIFs to Ps.
Switch to the 3D Mode, otherwise, you cannot preview the GIF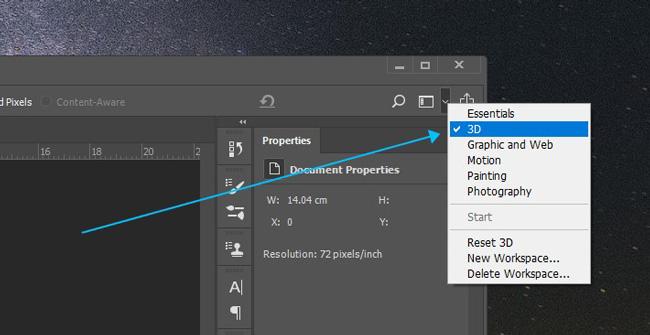 It's easy to operate the 3D mode in Ps. Generally, you should click the dropdown menu to choose the "3D" line. Then you can perform and edit the GIF files frame by frame.
Press shortcut "C" to crop the window. You can choose the Cropper tool as well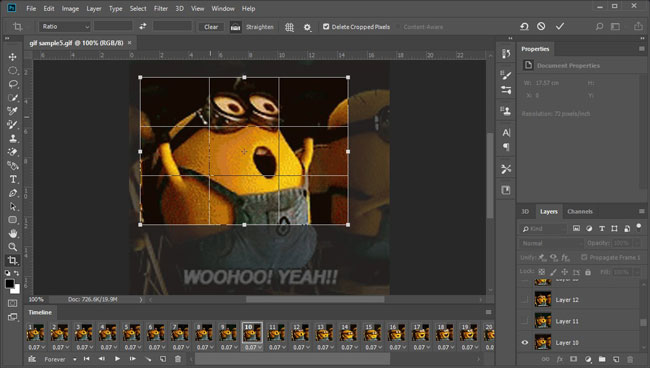 You can use the "C" shortcut to launch the Cropper in Ps. Then, it's easy to flexibly crop the GIF with the wanted aspect ratio. When it is over, press the "Enter" on your keyboard.
Export the cropped file to your computer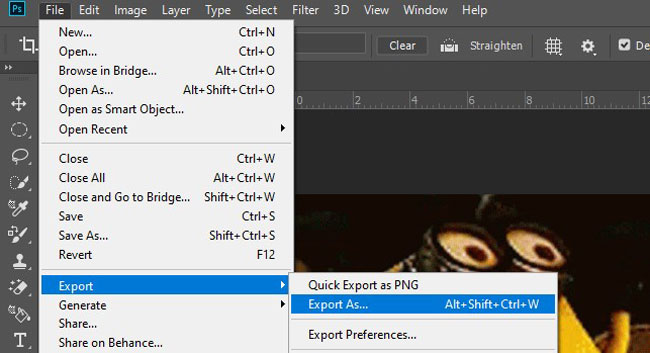 When you want to download your file from Photoshop, you can use "Alt + Shift + Ctrl + W", or click the "File" > "Export" > "Export As". Meanwhile, it's accessible to change the resolution and bit rate of your clip.
Sum Up
To sum up, you can easily crop a GIF with the beforementioned GIF croppers. For better output quality and stable performance, AceMovi and PhotoShop are undoubtedly the better choices. In EZGIF, you can only upload files up to 35 MB. While iMovie has been widely used among iPhone video editors. By the way, all of them provide a preview window before you export the GIF, which is a great time-saver.