Do you like GIFs? GIFs are trendy nowadays! They are commonly used on messaging applications such as WhatsApp and Facebook. Usually, the intent of using GIFs in a conversation is to add a sense of emotion and make it feel lively. To add some fun, many people prefer multiple GIFs combined. It makes the conversations feel more personal. Therefore, more often, you may require to combine several GIFs into one.
Well, merging GIFs is easy and quick. However, you will need a powerful GIF merger and this article will furnish you with some of the best software options and guides on how to combine multiple GIFs. Let's check them out together!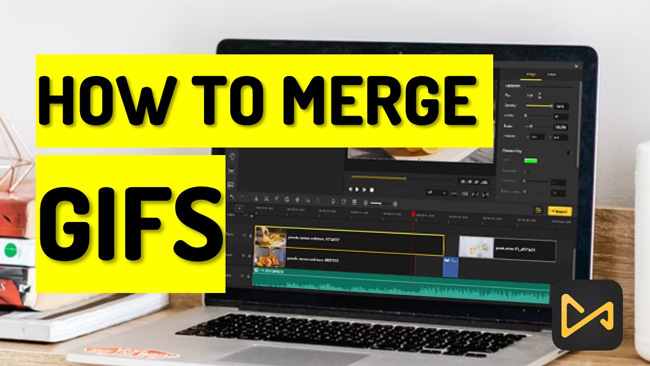 2022 | Best GIF Mergers to Join GIFs Together on Windows & Mac
GIFs or Graphic Interchange Format are basically images with animations. They are literally a type of image extension with embedded frames of scenarios that make it look like a video. As mentioned, you need a powerful GIFs merger, and luckily the internet provides hundreds of options. But how do you find the best merger applications? Well, we are about to find out!
1. TunesKit AceMovi – Best Recommended GIF Merger on Computer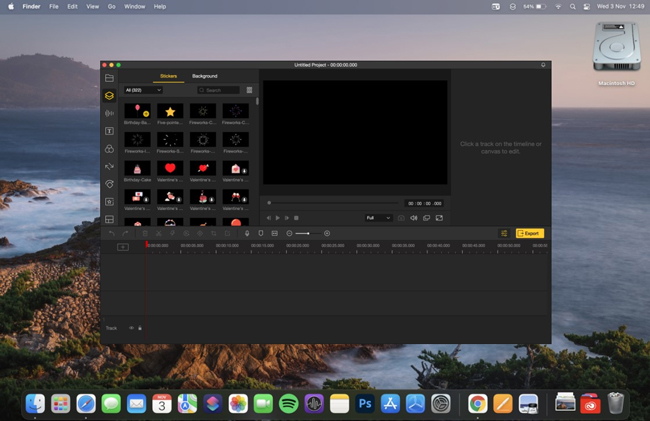 If you are looking for a top-class and easy-to-use GIFs merger, TunesKit AceMovi is possibly the best one you will come across. With over 15 million delighted customers over 150+ countries, AceMovi's features and capabilities are remarkable and will attract you a lot.
AceMovi is available for both Mac and Windows users. It also has an intuitive user interface that makes it easy for anyone to operate and create eye-catching videos and combine GIFs. Also, this GIF combiner has a learning center that incorporates how-to- guides, informative blogs, and video tutorials that should help navigate and use the video editing function to the maximum.
Besides its ability to merge GIFs, TunesKit AceMovi is a comprehensive tool with advanced video editing functions. For instance, it allows users to cut, trim, rotate, customize video filters, transitions, detach audio, control video speed, etc. It also has an abundance of text templates that you can add to your videos for a more stunning view.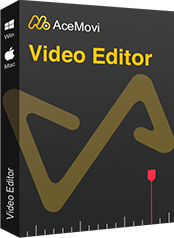 TunesKit AceMovi Video Editor
Security Verified. 5,481,347 people have downloaded it.
Pros:

Easy to install and use
Intuitive user interface
Numerous video editing functions
Support the majority of video formats
Offer numerous export options
Trial version is available
Cons:

Not available for the Linux system
How to Merge GIFs into One GIF or a Video with TunesKit AceMovi
Launch and Import GIFs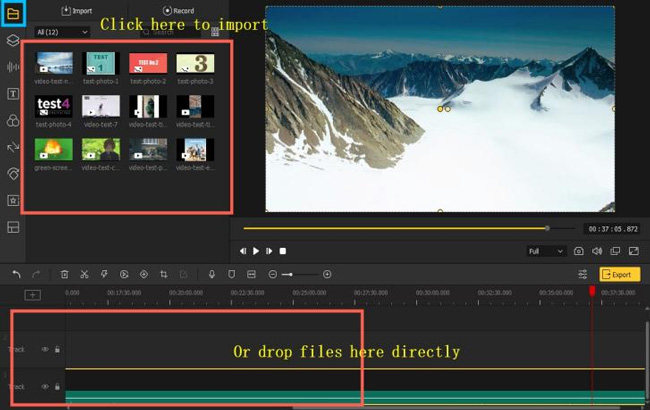 After downloading and installing the TunesKit AceMovi, click on the app's icon to launch. Next, you need to import the GIFs onto TunesKit AceMovi. To do that, click on the import button to import the GIF files from your desktop.
Alternatively, you can drag and drop the GIF file onto the TunesKit interface to import. Ensure you have imported all the GIF files you want to combine.
Merge the GIFs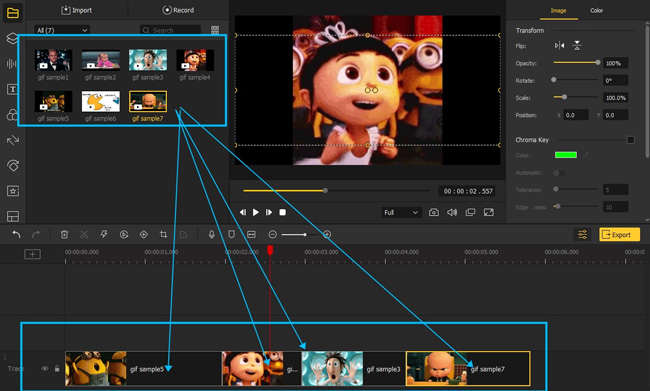 Now, drag the GIFs from the peripheral of the interface to the timeline at the bottom. Then drop the GIFs one by one; in this way, it is possible to sequence the GIFs in the order you prefer. You can use the available settings to make a few adjustments, such as the sharpness, scale, and opacity.
Export Your GIF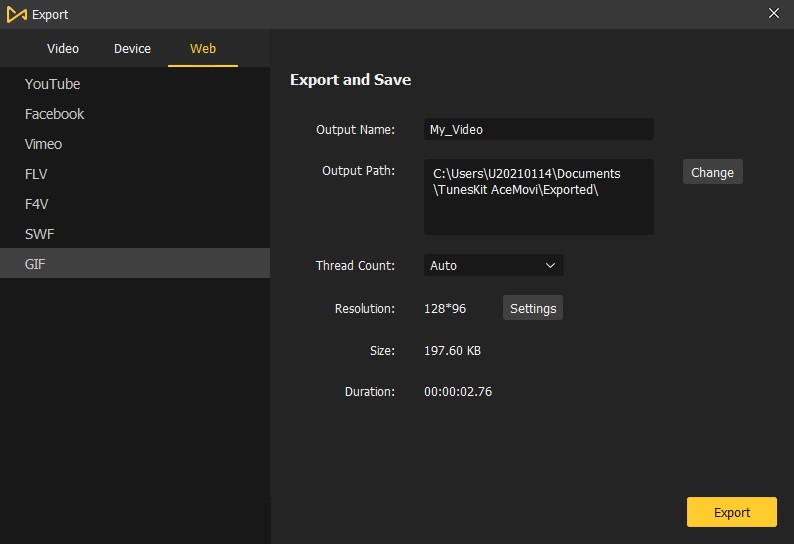 Finally, hit the Export button to save the GIF on your computer. You can now share it with your friends on social media as well.
If you want to merge multiple GIFs into MP4, click the Export > Video > HD MP4 or MP4; If you'd like to merge GIFs into one file, go to the Export > Web > GIF. Now tap the buttons to enjoy your trip!
2. How to Merge Two GIFs Together by Adobe Photoshop
Adobe Photoshop is a world-class photo and video editing software and undeniably the best TunesKit AceMovi alternative that you can use to merge GIFs. Using the program, you can easily merge multiple GIFs into one. Check the guide below.
Go to PhotoShop and Import Your GIFs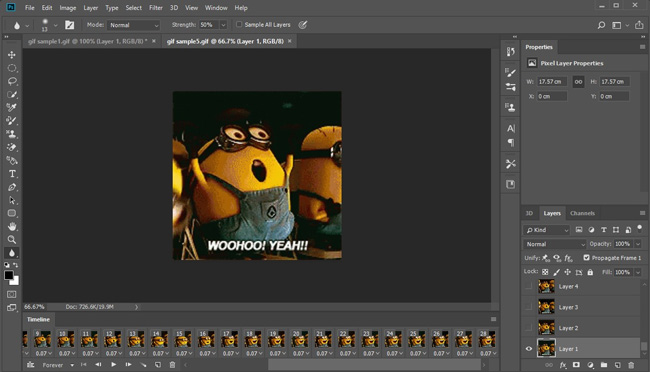 Launch the Photoshop and drag and drop the GIFs to import them to individual tabs. Resize the size to view each at a time on screen. Access the Window menu and check the Timeline option. Open a new file and save with using a name you can remember.
Begin to Merge Two GIFs Together by PS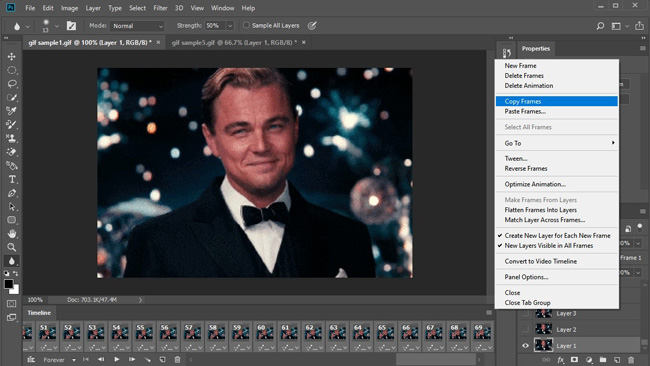 Find the tab with the first GIF file and then to the timeline toolbar. Click on the top-right menu icon and select Copy all Frames. Move to the newly created file and paste the GIF file you just copied.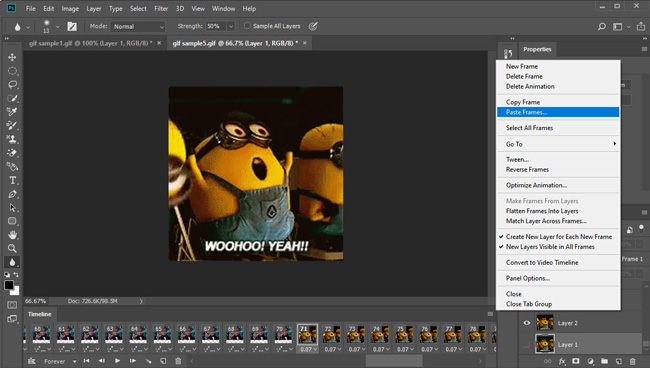 Now, copy and paste the remaining GIF file using the same method. After importing all the GIFs, the new folder will contain all layers of imported GIFs. You need to separate the GIFs elements. To do that, go to the new folder, select layers of the second GIF, and move them below the first GIF layer. You can preview both GIFs.
Finish the GIFs Combination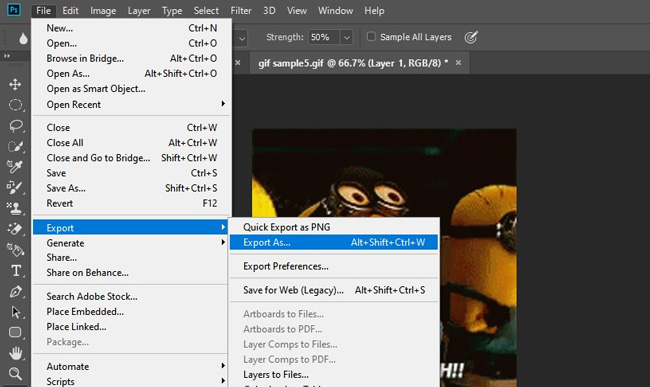 After finalizing the preview and edits, hit the file menu and save the project. Hit the Save button to confirm. You can now share your combined GIF file with your friends.
Best GIF Mergers to Combine GIFs Online Free
1. How to Combine GIFs into One Video by EZGIF
Want to combine GIFs online free without downloads? EZGIF is a powerful & free online GIF merger that allows users to merge two GFI files into one. It is, in fact, and dedicated GIF maker and editor. The online-based app runs smoothly and is easy to use. Being a cloud-based app, you can use it on any device with an internet connection. Here is the tutorial for you.
Go to EZGIF Website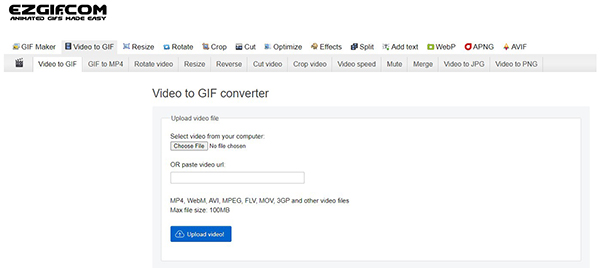 EZGIF is free to use yet comes with a few ads. Notice: max total size is 100MB.
Try to Combine GIFs Online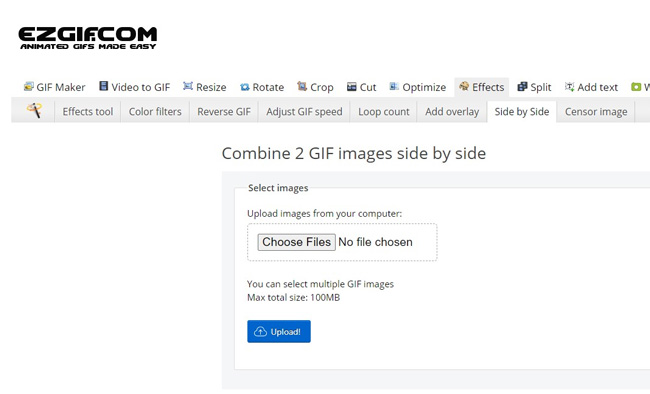 If you want to combine 2 GIFs side by side, click the Effects > Side by Side > Choose Files once entering this online GIF merger. When you want to make them shown on a screen, go to the Add Overlay.
Once finished, scroll down and select the Save option to download the combined GIF file to your computer.
2. How to Combine GIFs Free by ImageOnline
As the name suggests, ImageOnline is another web-based software designed for GIF lovers. The online GIF editor has a whole bunch of GFI editing tools. For example, apart from the GIF merging function, which allows you to flip, resize, change GFI animation speed, make GIF animations, etc.
Go to ImageOnline & Upload GIFs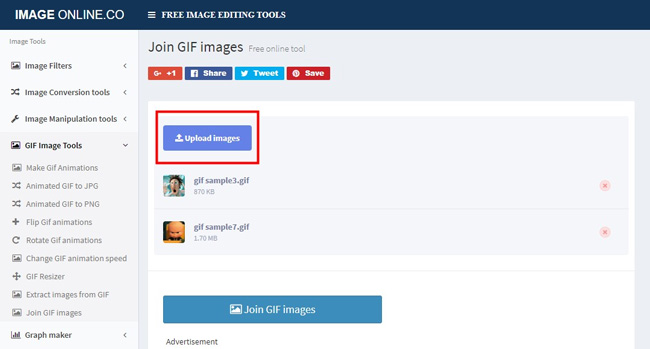 Click here to access the ImageOnline site. Then tap on Upload Images to add the GIF files from your computer.
Successfully Combining GIFs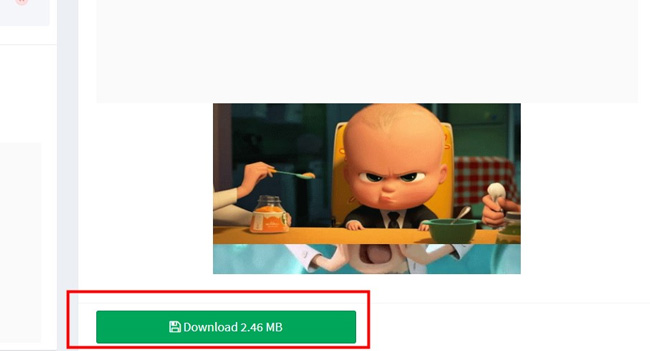 Finally, hit the Combine GFI Images button to merge the two GIF files. Download GFI images to save them on your computer.
Best GIF Merger App for Mobile Phones
How to Combine GIFs Vertically by InShot
Want to know how to merge GIFs on a mobile phone? InShot is a powerful smartphone video editor that allows you to fine-tune your photo and videos. You can quickly merge GIFs, add transitions, and slow down video speed with a few taps on the screen. The app is available on Google Play Store for Android devices and App Store for iPhones, iPad, and iPod Touch.
Download InShot & Create Your Account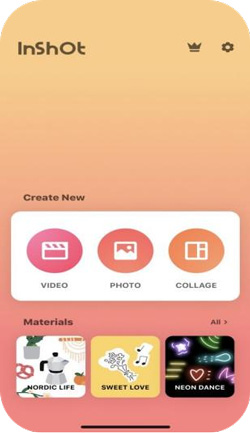 Download and install the InShot app on your smartphone, then you need a new account to begin your journey.
Commence Merging GIFs with InShot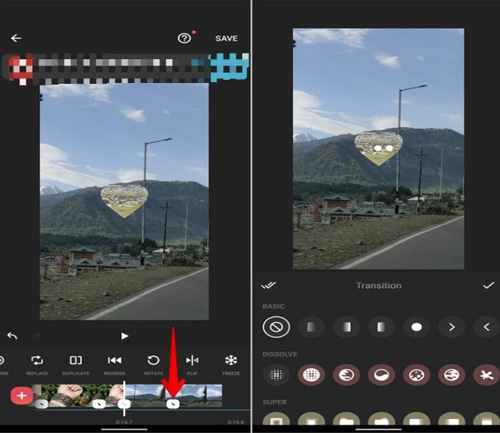 Launch the app, tap on Photo and select Create New Project. Find and upload the GIF files you want to merge. You can turn to add filters, texts, overlays, and more effects built-in InShot as well.
Save the Merged GIFs
Make sure the GIF files are organized correctly. You can add some transition or keep it fit. Hit the Save button on the right corner to save the GIF file on your phone. Sadly, there is a watermark left with you sharing or downloading the GIF file.
Conclusion
Merging GIFs into one can be real trouble if you do not have the right tools for the job. Luckily for you, we have featured some of the best GIF mergers that you can use. Your only job is to try each of them and find one that suits your needs. For more great features to make your video stand out, follow us!