GIFs are animations that can represent emotions and states of mind in a few frames. Since these are smaller and easy to share, they've become a massive hit on social networking sites. Occasionally, you might come across GIF files or some intriguing videos that you'd want to save the most amusing portions of, but you're puzzled about achieving that!
No need to worry! A good GIF Cutter can help you get rid of your problem quickly and easily. A GIF cutter can be used to trim the GIF file but also make excellent edits like trimming and cropping to make it more enjoyable. Continue reading to learn more about the best GIF Cutter tools available today. HERE WE GO!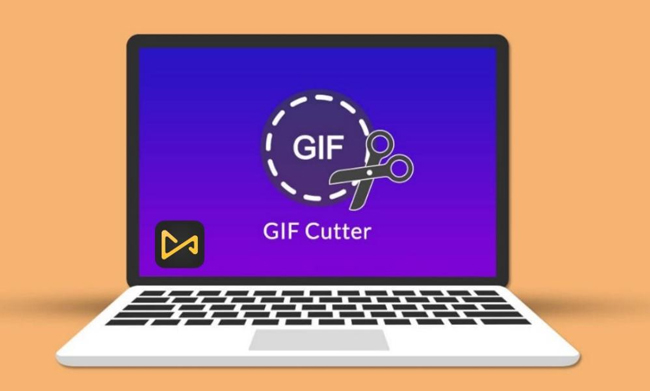 Top 1. TunesKit AceMovi GIF Cutter/Editor/Cropper/Maker/Converter/Compressor (Windows 10 & Mac)
Size is important when posting or sending a GIF on various social media platforms. If the GIF is too large for the screen, it will be useless. As a result, cropping the GIF to the correct size is essential. TunesKit AceMovi allows you to trim a GIF without destroying the animation quality at all. It is an all-in-one video editor that includes a variety of beautiful effects and transitions. It also comes with a Screen/Webcam Recorder that can capture both pictures and sound.
Want to do video edits? AceMovi is a well-known video editor that includes Split-screen, Filters, Animations, Texts, and Music/Sound-Effect Library. AceMovi's basic capabilities enable you to alter your video by resizing, cropping, rotating, trimming, compressing, merging, reversing, and converting. The self-explanatory user interface includes all of the effects and tools you'll need to enhance your movie.
Next, we'll teach you to cut a GIF in TunesKit AceMovi without destroying animations and losing quality. Before editing your GIF, ensure you have TunesKit AceMovi installed on your computer; this program is now available for Windows and Mac platforms. Click here to get it↓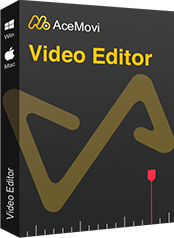 TunesKit AceMovi Video Editor
Security Verified. 8,230,286 people have downloaded it.
Trial Version

Free to download on Windows and Mac + All features to try (Split-Screen; PiP; Chroma Key; Reverse; SlowMo; Sound Equalizer; Color Grading; Text Templates)
Full Version

No watermark + Free tech support and update + 5-day money-back guarantee
Pros:

Cut GIF with a couple of clicks
Rotate GIF in any manner
Quite user-friendly
Begin with recording or uploading
Able to make Video-to-GIF & GIF-to-Video
Export video at HD bluntly
Cons:

Cannot export at audio-only
How to Make Wonderful GIFs with AceMovi on PC: Tutorials Here!
Drag-n-Drop Files to Import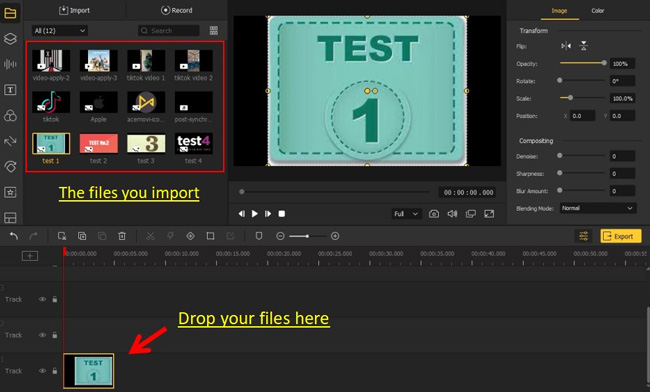 You can simply do the dragging-&-dropping to import your wanted files, that's very easy! The formats supported by AceMovi include GIF, MP4, MP3, AVI, DVD, M4V, AVI, KWM, WMV, MPEG-2, MPEG-1, DivX, YouTube File, Facebook File, Vimeo File, and so on. AceMovi progress all of your GIF types like Genocide GIF and Diamond GIF.
Begin to Cut GIFs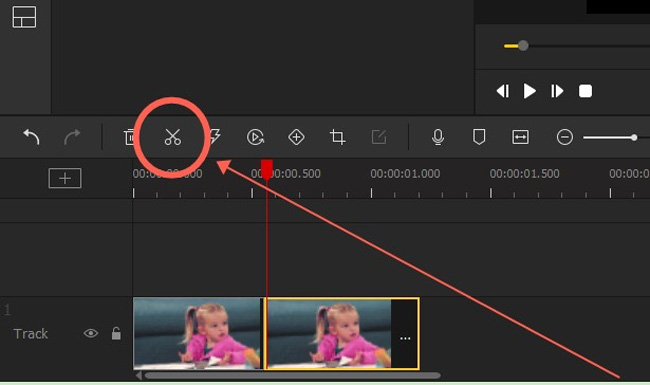 Click the ▶ to wait until the playhead reaches the trimming point and then go to the ✂. Or move the playhead under the trimming point to make your GIFs trimmed.
Merge/Combine Multiple GIFs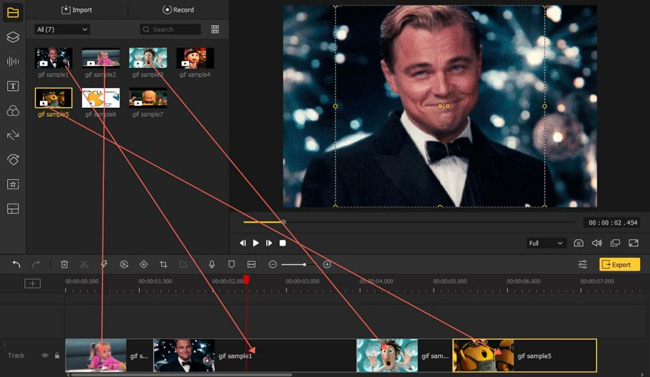 You can drop your GIFs randomly under the same track. Besides, AceMovi is also a GIF duration cutter, if you want to cut GIF duration, try to right-click the clip to choose the Speed and Duration option where the slow-motion/fast-motion GIF effect is available as well.

Want to make GIF looped? Same as merging and combining GIFs, you can drop the same GIF file under the track over and over again.
Export GIFs/Convert Video to GIFs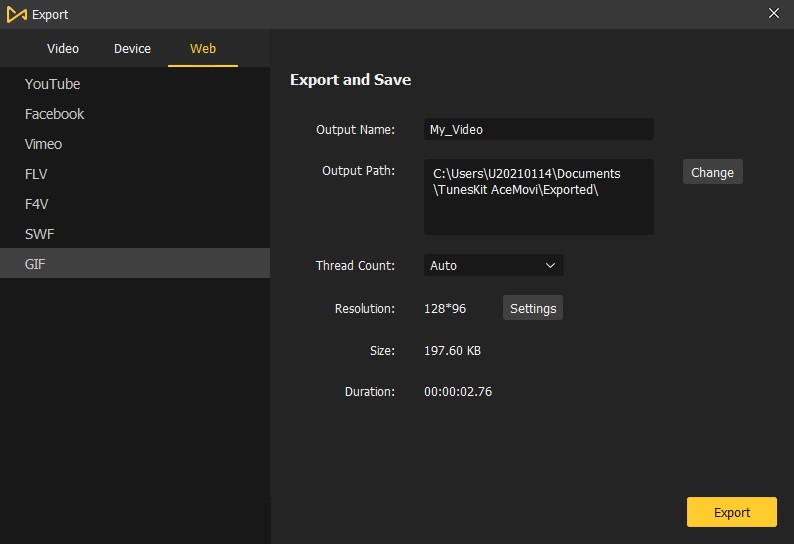 After making your adjustments, go to the Export tab and choose Export > Web > GIF. This way is applied for both exporting GIFs and converting videos to GIF format. To get more tips and amazing editing features, download AceMovi!
Top 2. Ezgif Cutter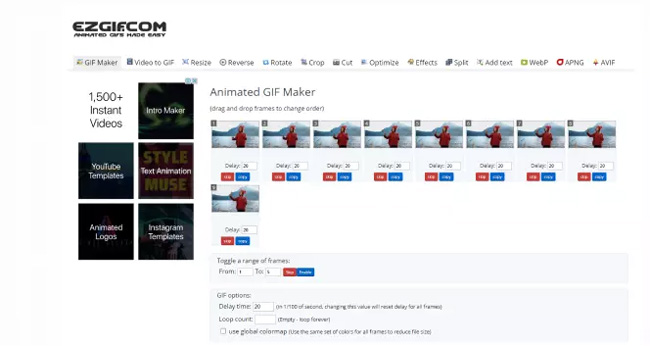 Ezgif is much more powerful and aesthetic than your ordinary free GIF creation software. It is designed explicitly for GIF editing purposes like making, converting, resizing, reversing, rotating, cutting, optimizing, titling, etc. With Ezgif cutter, you upload your files and generate a GIF for you; it certainly lives up to its name.
The simplicity of this software is excellent, and you don't need to be very tech-savvy. More online solutions do not support as many file types as it does. It supports GIF, JPG, PNG, APNG, HEIC, MNG, FLIF, AVIF, WebP, and other formats. It can manage up to 2,000 files and has a Tips section that contains helpful hints.
Pros:
Easy to use for beginners and professionals
Helpful tips section
Supports multiple output formats
Online-based
No watermark
Cut GIF duration easily
Cons:
Limited uploading size
Ads
Top 3. VEED.IO GIF Cutter
Are you looking for a GIF cutter that is both easy and dependable? Look no further than the free and online GIF editor provided by VEED.IO. With VEED's simple GIF editor, you can cut, crop, and resize Genocide GIF and Diamond GIF in seconds.
This online tool will convert your GIF and guarantee that it is compatible with all media players on the market. MP4 is the most suitable video file type and the most suggested format for uploading videos to sites such as YouTube, Facebook, and other social media platforms— and VEED.IO lets you save MP4 files in a breeze!
In addition, you can use our video editing tools to improve your movies, allowing you to share visually amazing videos that convey fantastic tales. However, VEED.IO requires you to log in and follow the subscriptions of removing the branding watermark.
Pros:
Add texts and captions to GIFs
Multiple social websites sharing options
Easy to use for everyone
Ready-made tools and templates
Rendering time is quick
Save GIFs and videos online
Cons:
Limited features
Comes with an export watermark
You need an account
Top 4. ImgPlay GIF Cutter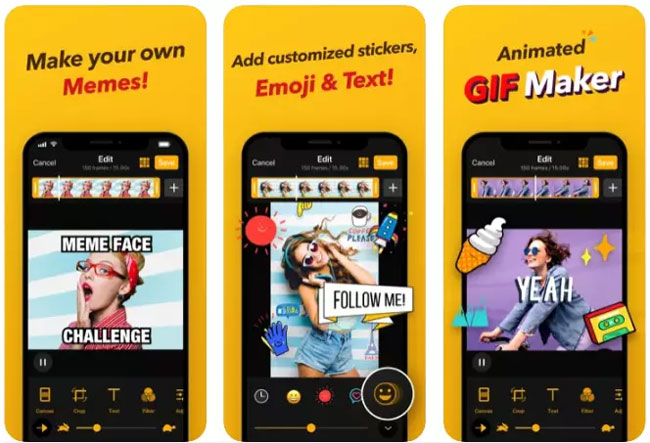 ImgPlay is an excellent application that allows you to create a GIF, cut a portion out of a video as a GIF, and edit it. This animated GIF app shines with a slick design and an easy-to-use interface.
It also includes a variety of interesting stickers and editing options that make it a good pick among animated GIF apps. In-app video recording is also available. This GIF picture program also has more than 30 filters and color correction options for editing, resulting in more visually attractive outcomes.
ImPlay is a smart GIF cutter and maker with which you can begin via selecting GIF resources from the library or uploading from local directly. When it comes to practical use, you need to slide the slider to apply the wanted features. For example, if you want to add captions "MEME FACE" "CHALLENGE" to GIF, click the Text icon to fill in the content and change font and size even color.
Pros:
The option to merge multiple videos
Excellent amount of filters
You can shoot video-in app
Flexible and quick edits
For iPhone and Android
Cons:
It contains advertisements
Unfit for multiple edits
Top 5. GIF Brewer 3 by Gfycat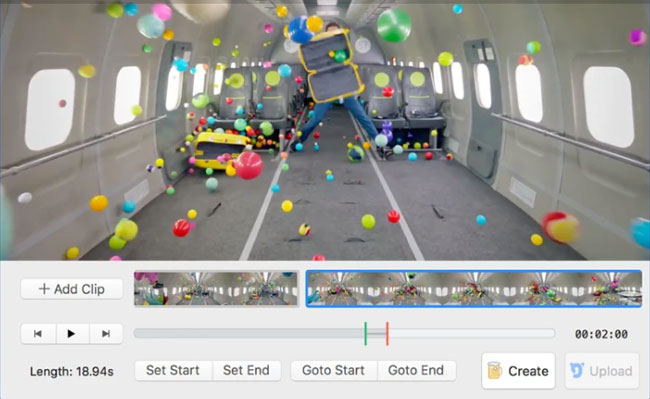 GIF Brewery by Gfycat allows anyone to make visually gorgeous GIFs from multimedia data, regardless of their skill level. It's easy to use, reliable, and versatile in features — and it's now completely free. Using this software, you can resize and crop a video to make a GIF out of it.
You can set the desired frame rate and frame delay. Moreover, using the Noir, Transfer, and Color Correction filters to make GIFs more entertaining and appealing to the audiences. It's very easy to cut the duration and make GIFs cropped.
Pros:
Intuitive interface
Straightforward to use
Decent editing options
Watermark-free
Quickly merge GIFs
Cons:
Some features are paid
Limited GIF editing choices
Top 6. GIMP GIF Cutter
For those who are unfamiliar with the acronym GIMP, it stands for GNU Image Manipulation Program, and it is, first and foremost, an image editor. Think of it as comparable to Adobe Photoshop when it comes to the hype and competition.
Because GIFs are animated pictures, GIMP is a fantastic piece of a freeware program that can be used for various tasks and is considered one of the best free GIF editors available. This software can be a bit complicated yet it's worthy of a try. Selecting from hundreds of types and modes is available.
Pros:
Open-source (free) GIF maker
Easy process for making GIFs
Straightforward editing tools
More presets and target selections
Pro titling tech
Cons:
Not as intuitive and can be puzzling
Improper for low-end computers
Top 7. Movavi GIF Cutter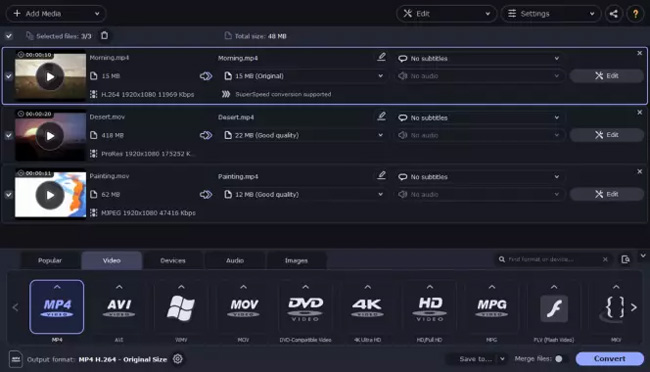 When it comes to video editing software, the current version of Movavi Video Converter is much more than simply a capable GIF creator. As the name implies, it is a dynamic video editing application that enables you to convert video and media files and then transmit those videos to any platform or device.
You can easily extract audio and visual content from videos with a single click. Once you've got everything you need, you can rotate, trim, and combine video in the exact location, making it a fantastic GIF-making application and a powerful video editing program. But this is not a watermark-free video editor, you need to buy upgraded services.
Pros:
Batch processing option
Intuitive interface for users
200+ presets covering popular devices
Stable program process
Support most trendy formats
Cons:
No option to add stickers and filters to GIFs
The trial version comes with a built-in watermark
Top 8. ScreenToGif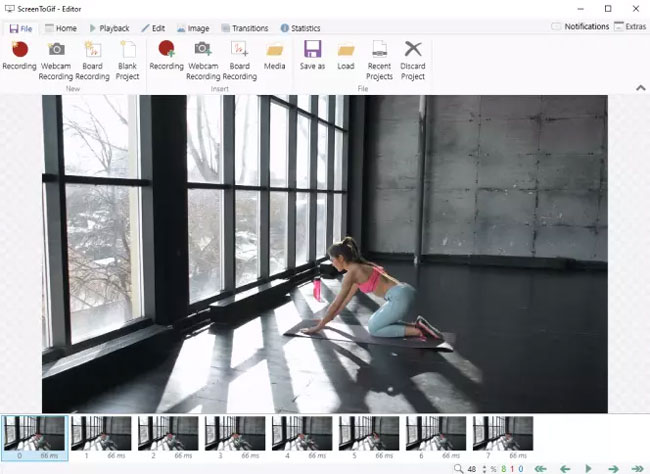 A relatively smart and innovative tool for creating GIFs, ScreenToGif enables you to produce GIFs by recording your screen, camera, or sketch board and saving them as GIFs. To put it another way, you can convert anything you're looking at on your screen into a GIF in minutes. You can quickly and easily add the cuts you need when you have basic editing capabilities.
For example, you can change frames as needed and, if required, incorporate an existing movie or picture into a project you're working on if necessary. It's another GIF creator that's available for free download.
Pros:
Available in many languages
No need to install the software
Multiple output formats
Simple interface
Cons:
A bit difficult to use for beginners
Limited tracks
The Final Words
Now that you know everything about the top 8 best GIF Cutters, it's time to get started with making excellent quality GIFs for your social media presence. You can share these GIFs with your friends and loved ones after editing them via these softwares and online programs.