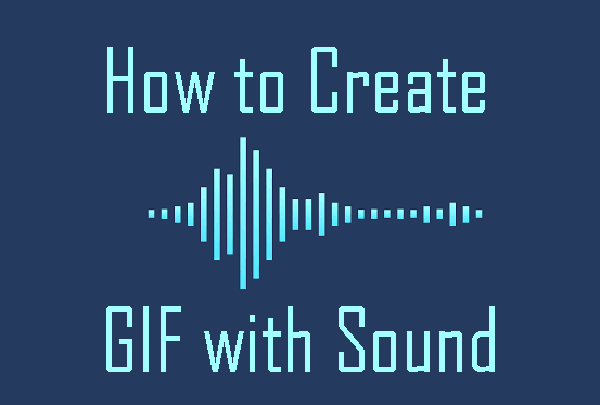 The GIFs are short and small animations that are widely used on online platforms like Line, Twitter, and Facebook. Though the file size is much smaller than a video, GIFs contains an inescapable characteristic - no sound. So the question is: can we create a GIF with sound? The answer is yes. Nowadays, we can make it easy with a professional video editing tool. In this post, I will show you some efficient ways to do this job without meeting any obstacles.
Use TunesKit AceMovi to create GIF with sound
To add sound to a GIF, a professional and easy-to-use video editing tool can bring convenience to success. I think the best answer for how to create gifs with sound is TunesKit AceMovi. TunesKit AceMovi is a one-stop and comprehensive video editor and provides users basic editing features like filter, animation, transition, subtitles, audio, and so on. Else, these features can help you finish the master editing, such as make a YouTube intro video, make an anniversary video, or add the filter to GIF.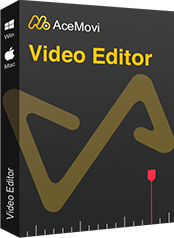 TunesKit AceMovi Video Editor
Security Verified. 5,481,347 people have downloaded it.
Basic and advanced features that make your video better
Multiple filters, transitions, text, sound effects, music
User-friendly interface
Import as many photos or footage as you want
Create GIF with sound in just a few steps
Now, let's see the step-by-step guide to create GIFs with sound.
Import media files to TunesKit AceMovi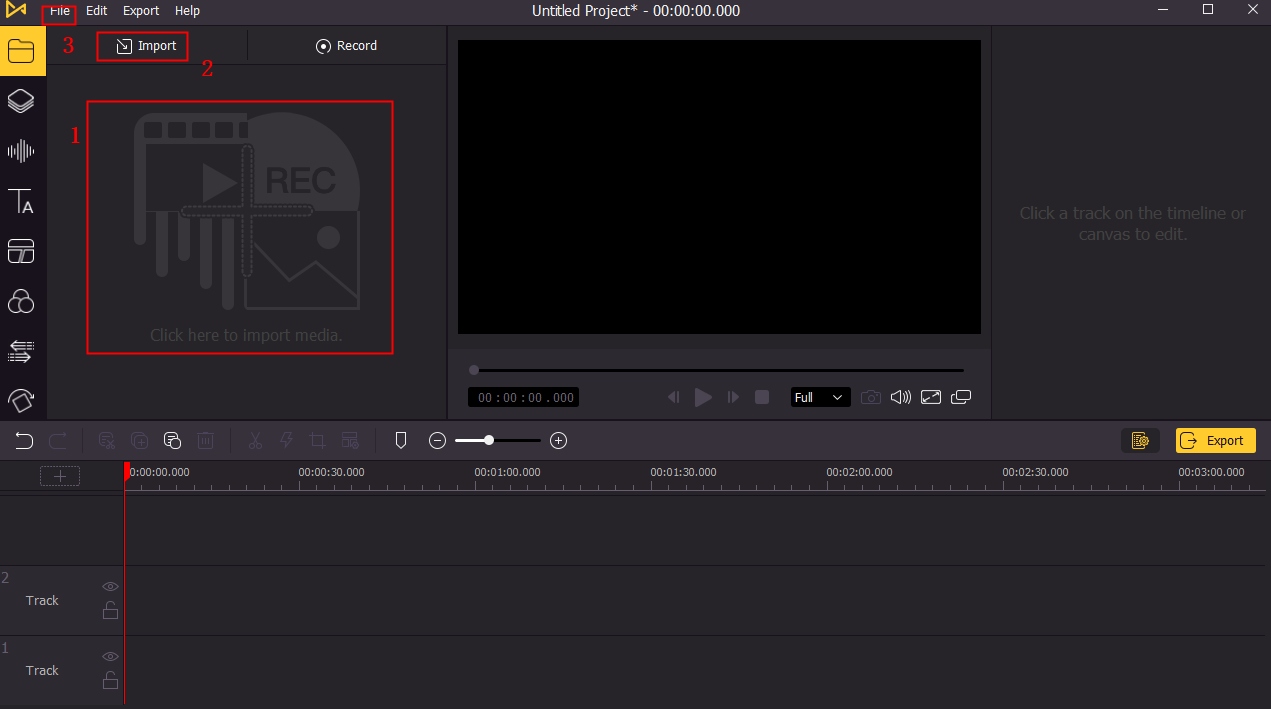 First of all, please import your GIFs and audio file to the TunesKit AceMovi library. You can drag and drop the files to the TunesKit AceMovi. Click the Import icon to import your GIFs and audio, or import them via File > Import Media are the two alternative ways.
Add GIFs to timeline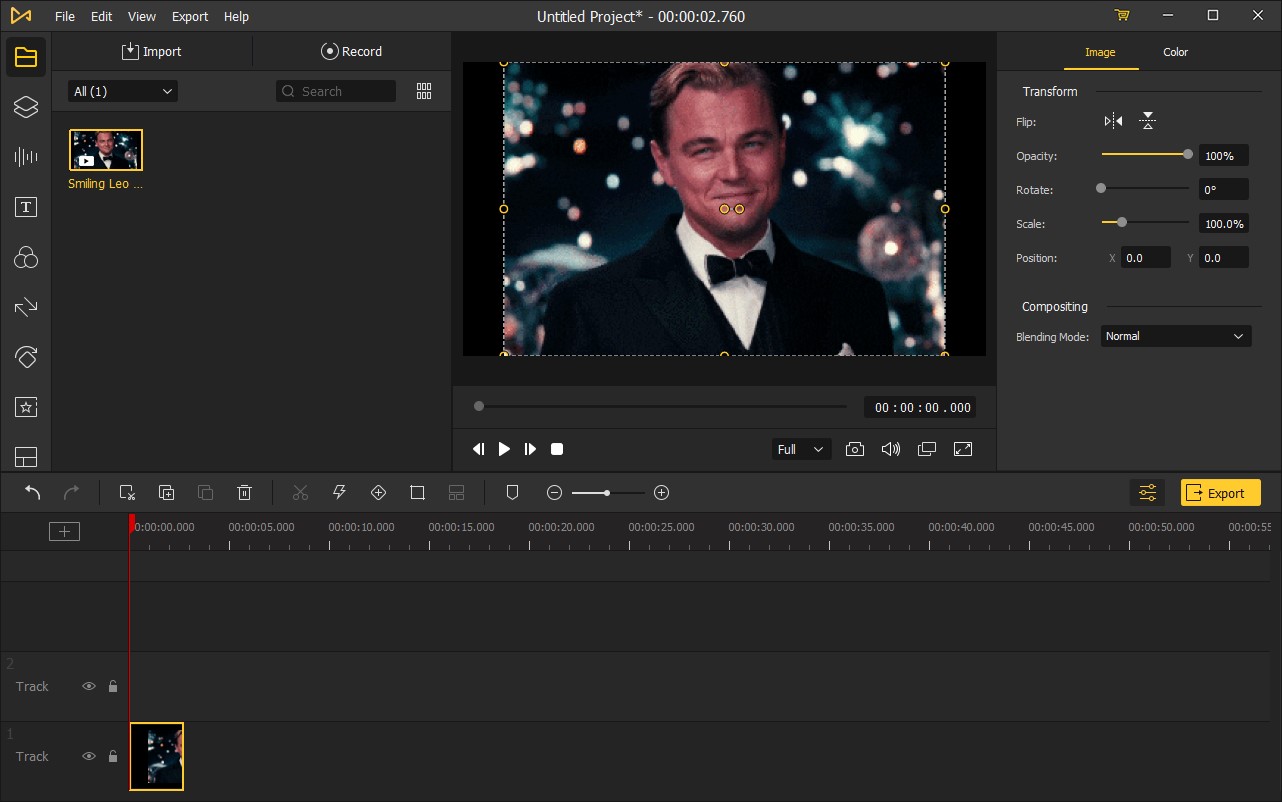 Then, you should add your videos or GIFs to the timeline. Drag and drop them to different timelines. Once you add them to the timeline, you can customize the opacity, flip, rotate, scale, and position in the top-right panel. Besides, you can add more than one GIF or video to the same timeline, and this operation will join them.
Add audio to timeline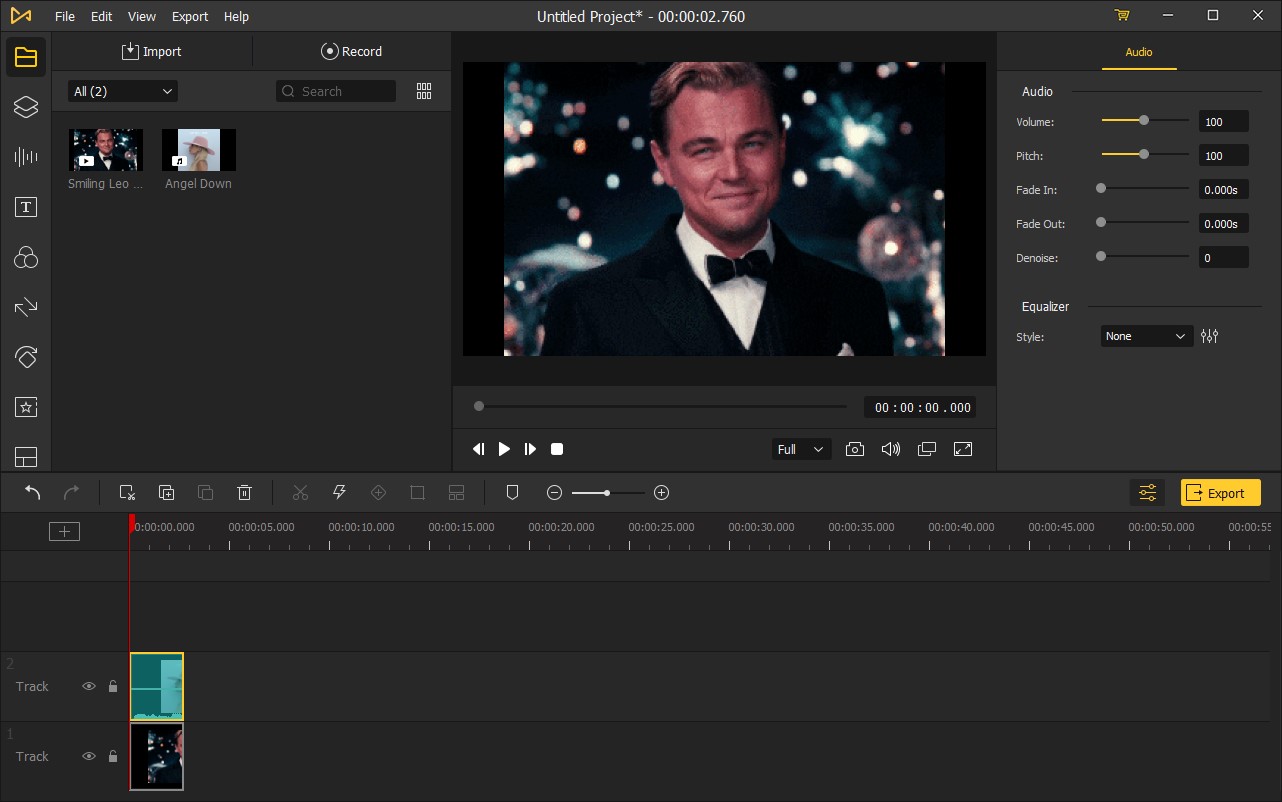 Next up, drag and drop the audio files to the timeline. In TunesKit AceMovi, you can find a bulk of sound effects and audio provided. Click the Audio icon, drag and drop the audio to your timeline. You can edit the audio in the top-right panel, including volume, pitch, fade in, fade out, and denoise.
Export GIF with sound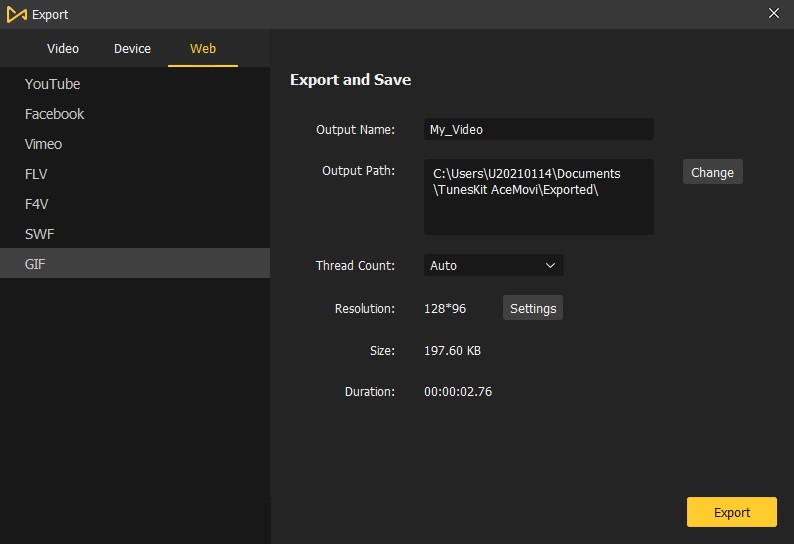 Finally, you can export your GIF. Click the Export button to export your GIF. You can change the output name and the output path in the pop-up window and change the resolution via clicking the Settings button. However, the thing you should note is that most platforms do not support play GIFs with sound. It means that if you are trying to share it with your friends via the mainstream platform, you need to convert your GIF with sound to a video form like MP4 or WebM.
Where can we share our GIFs?
So, are there any ways for us to share the GIFs we made? Sure. Here, I will recommend some websites to you, and you can share and create GIFs with sound there.
Imgur

Imgur is a famous website that allows users to share different kinds of videos and GIFs with sound on the internet. Add tags to your GIFs, and share them with others. Before uploading, you need to sign up for Imgur. Not only sharing, but you can also view many interesting and funny videos on this website.
GIPHY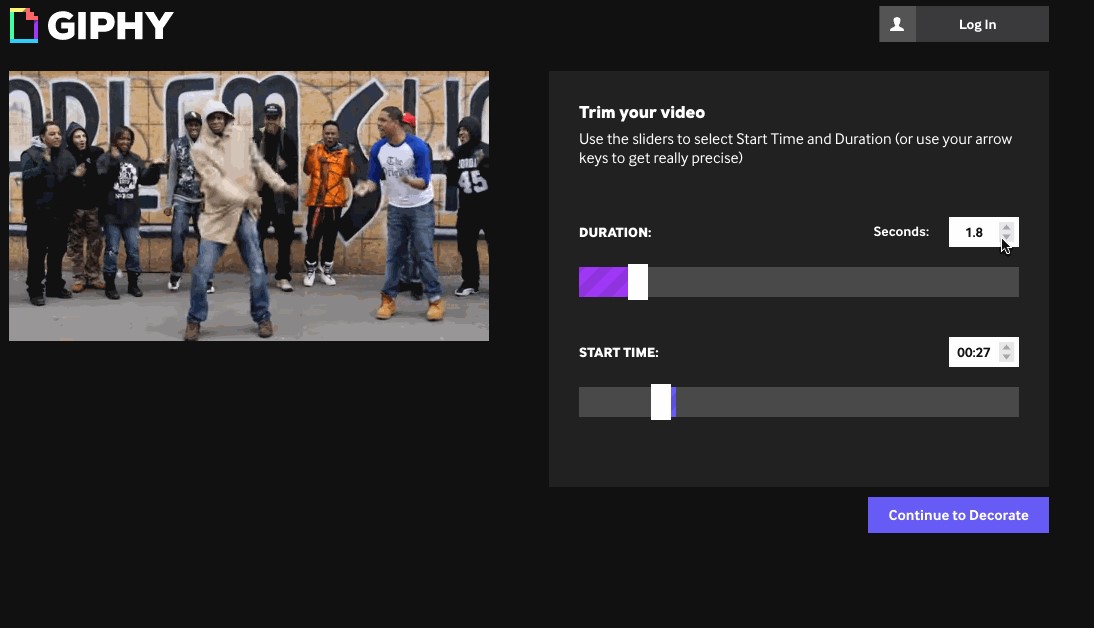 GIPHY is a dedicated GIF with sound sharing website. Different from Imgur, you can create GIFs with sound on the website. Log in to GIPHY and then click the Create icon. You can upload your videos or GIFs to the website, and you are able to add captions, stickers, filters, and draw to the GIFs or videos you have uploaded. Nevertheless, as an online creator, the function you can use is limited. It is a better choice for you to editor your video or GIFs with TunesKit AceMovi before you upload the GIFs or videos to GIPHY.
Tenor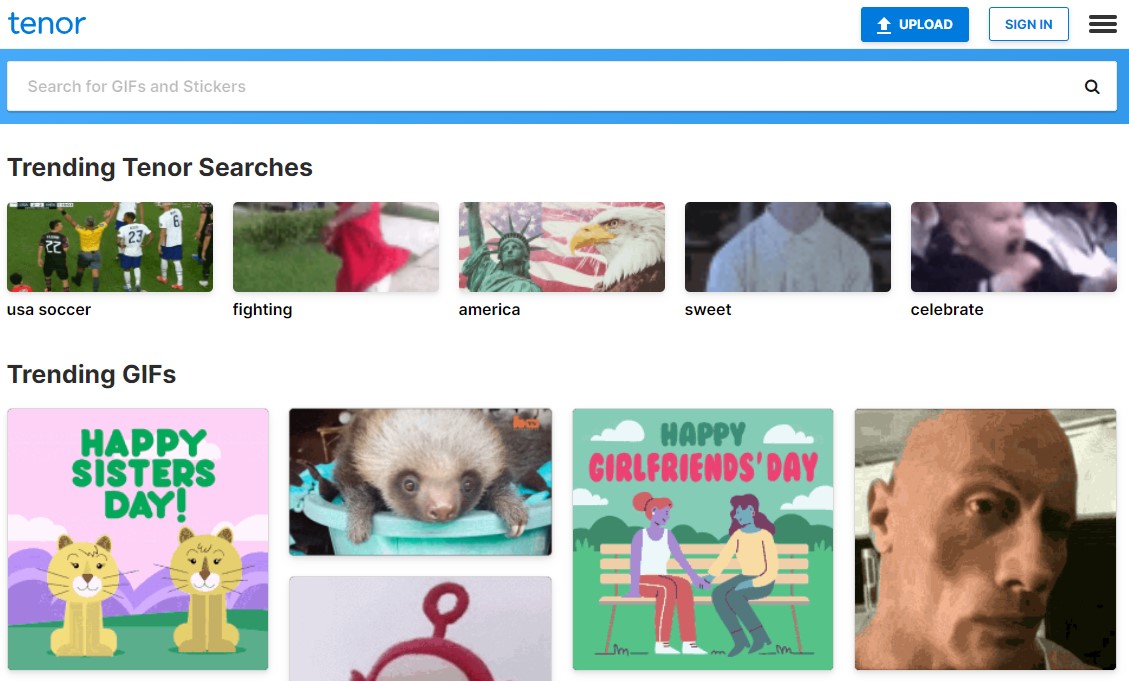 Tenor is a famous GIF-sharing website. After the GIF or video editing in TunesKit AceMovi, you can upload it to Tenor. In Tenor, you can save the GIFs you like by Right-clicking on the GIF and save it. Different to the above two websites, all the GIFs and MP4 are silent.
The bottom line
Contrary to the videos, GIFs come with small file sizes and low image quality. In an online chat or personal post, GIF always plays the role of a meme, which can help us express our moods and feelings. Though most platforms do not allow users to play GIFs with sound, we can create GIF with sound with TunesKit AceMovi and export them as MP4 or WebM or post them to the websites I recommended above. In addition, if you are trying to change the speed of GIF, crop a GIF, or add a filter to GIF, TunesKit AceMovi can be the best assistant for you.