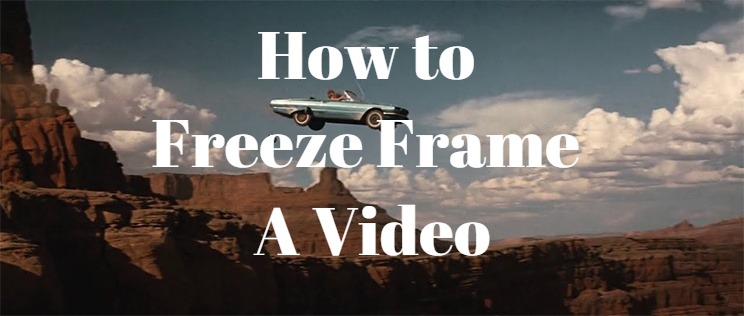 It's good to keep the video at the same pace to create a steady flow. But as the viewers keep watching, they may get bored. Adding a freeze frame is one of the great ways to break the cadence of your video and create freshness and surprises. Freeze frame can also be applied to emphasize an action or plot as well.
In the following sessions, I'm going to show you the easiest way to make freeze frame videos and a more advanced option to add freeze frame to video in Premiere Pro.
Easiest Way to Make Freeze Videos
Adding freeze frames to your video sounds like a tough task to accomplish. But with TunesKit AceMovi, you can easily add a freeze frame to your video with just one click. After adding the freeze frame, you can adjust the duration of the frame and add more elements or effects to it.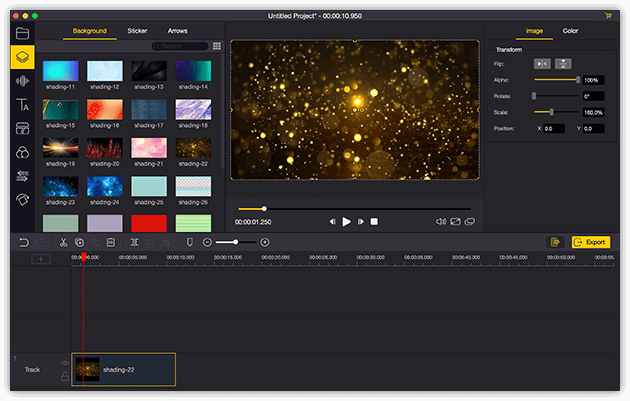 TunesKit AceMovi Video Editor is a powerful video editor that provides multiple effects and transitions. It comes with a screen recorder which can record images as well as the sound coming out of your computer. As a well-established video editor, AceMovi is mounted with features like split screen, filters, animations, texts, and music library. The user-friendly interface comes with all the effects and tools you need to embellish your video. Besides basic features, you can also add freeze frames to your videos to do more advanced editing.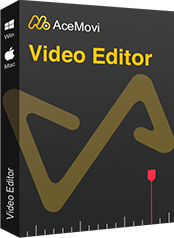 TunesKit AceMovi Video Editor
Security Verified. 5,481,347 people have downloaded it.
Basic and advanced features that make your video better
Multiple filters, transitions, text, sound effects, music
User-friendly interface
Import as many photos or footage as you want
Freeze video with one click
Next up, I'm going to show you how to freeze your video in TunesKit AceMovi. Before you edit your video, make sure that you have already installed TunesKit AceMovi on your computer.
Add Media Files to TunesKit AceMovi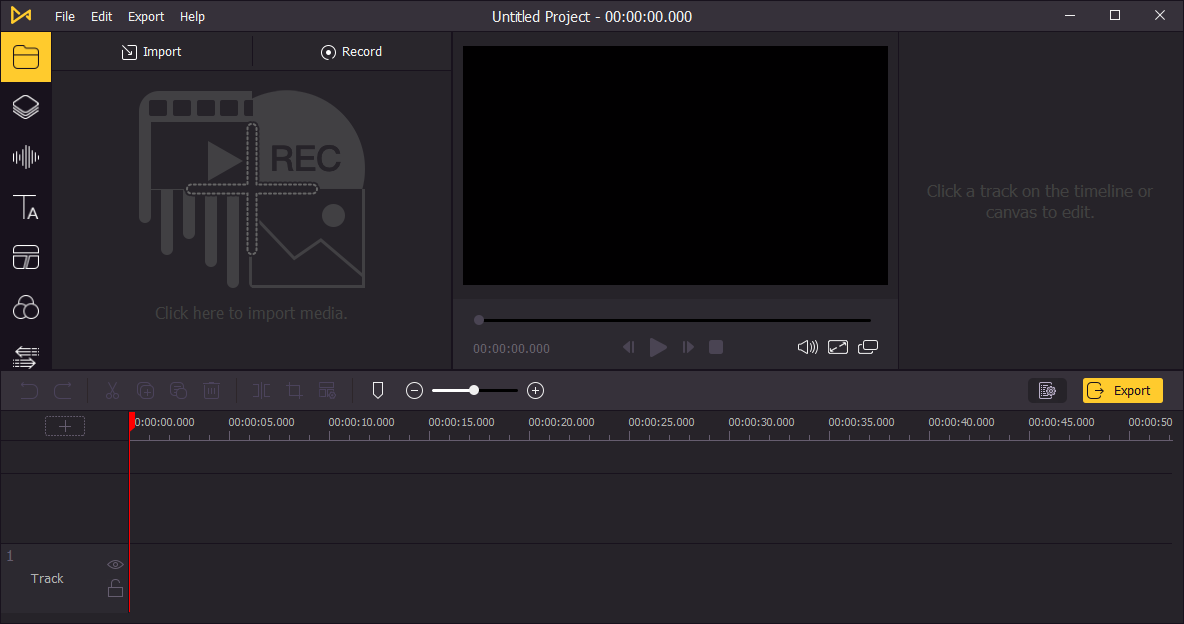 Open TunesKit AceMovi on your computer, then import the video files to the media box. You can click on the import button to upload or directly drag and drop the video files into the box.
Add Video to the Timeline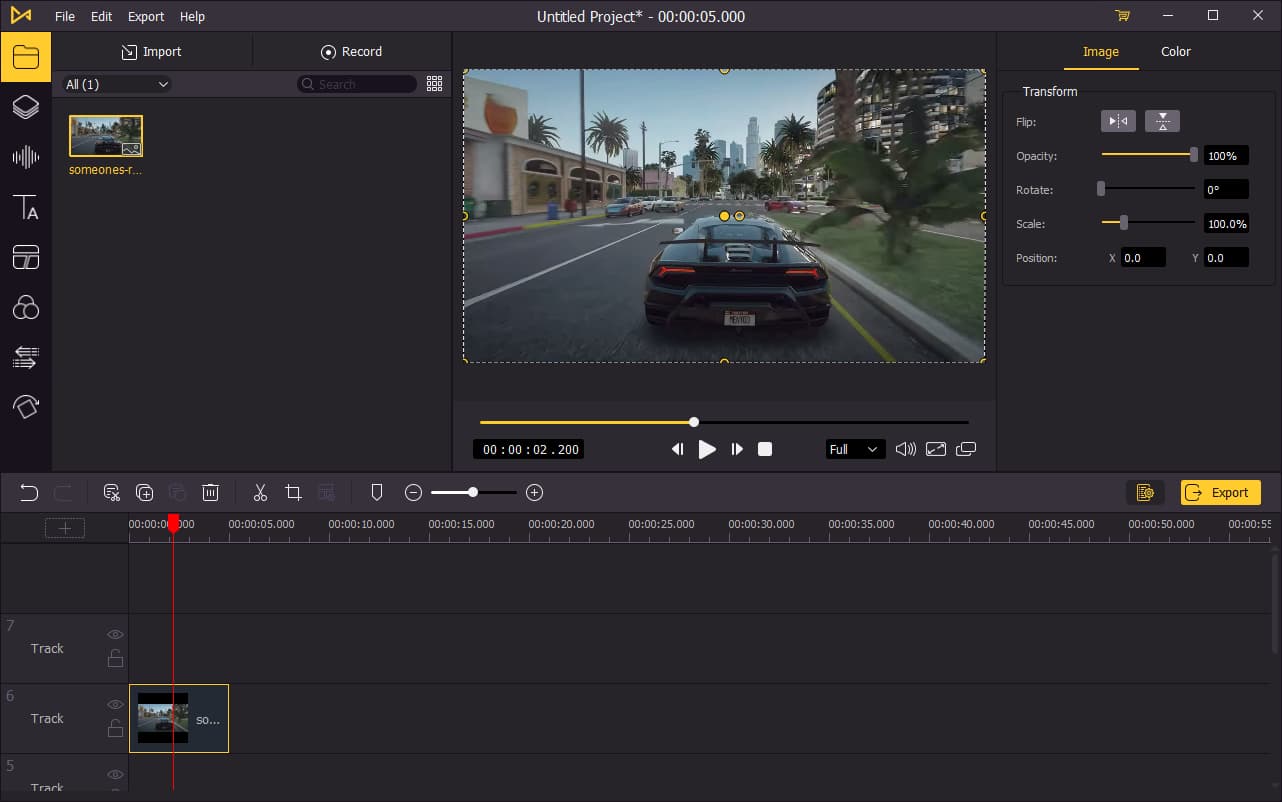 To add your video to the timeline, you can directly drag and drop them one by one. Or you can press Ctrl+A to select all the media files and drag them to the timeline. You may want to drag the slider above the timeline to zoom in/out the timeline so that you can edit your video more easily.
Add Freeze Frames to Your Video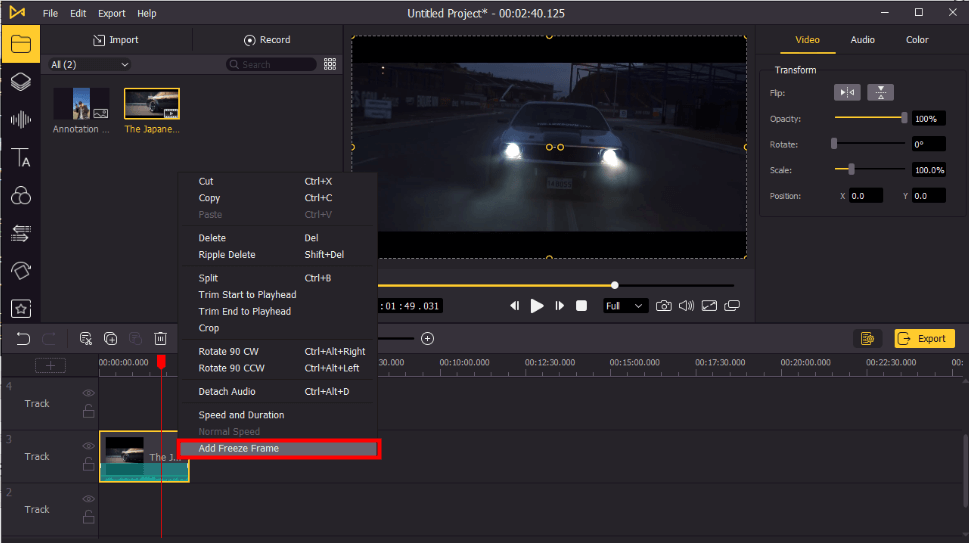 Move the playhead to the point where you want to add freeze frames with, and then right-click the video track on the timeline. Click Add Freeze Frame, a 5-second frame with the frozen image will be added to the timeline.
To edit the freeze frame, click on the downward arrow next to the freeze frame. You can edit the duration of the freeze frame or delete it.
Export Video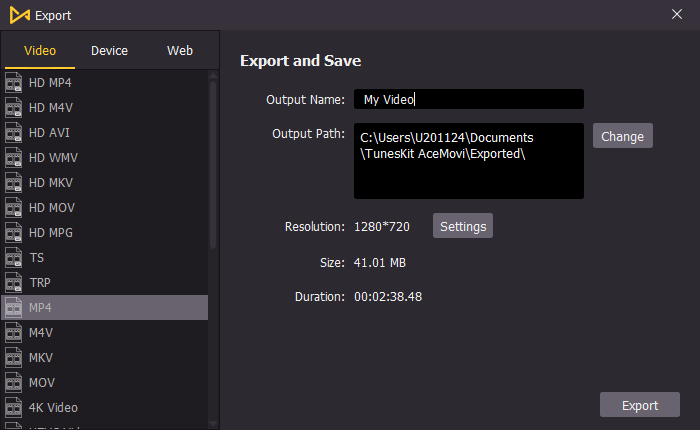 Once done editing your video, click the Export button on the middle left and export your video. Click the Settings, you'll be able to choose the output parameters. And by clicking the Change button, you can change the output location.
How to Freeze Frame in Premiere Pro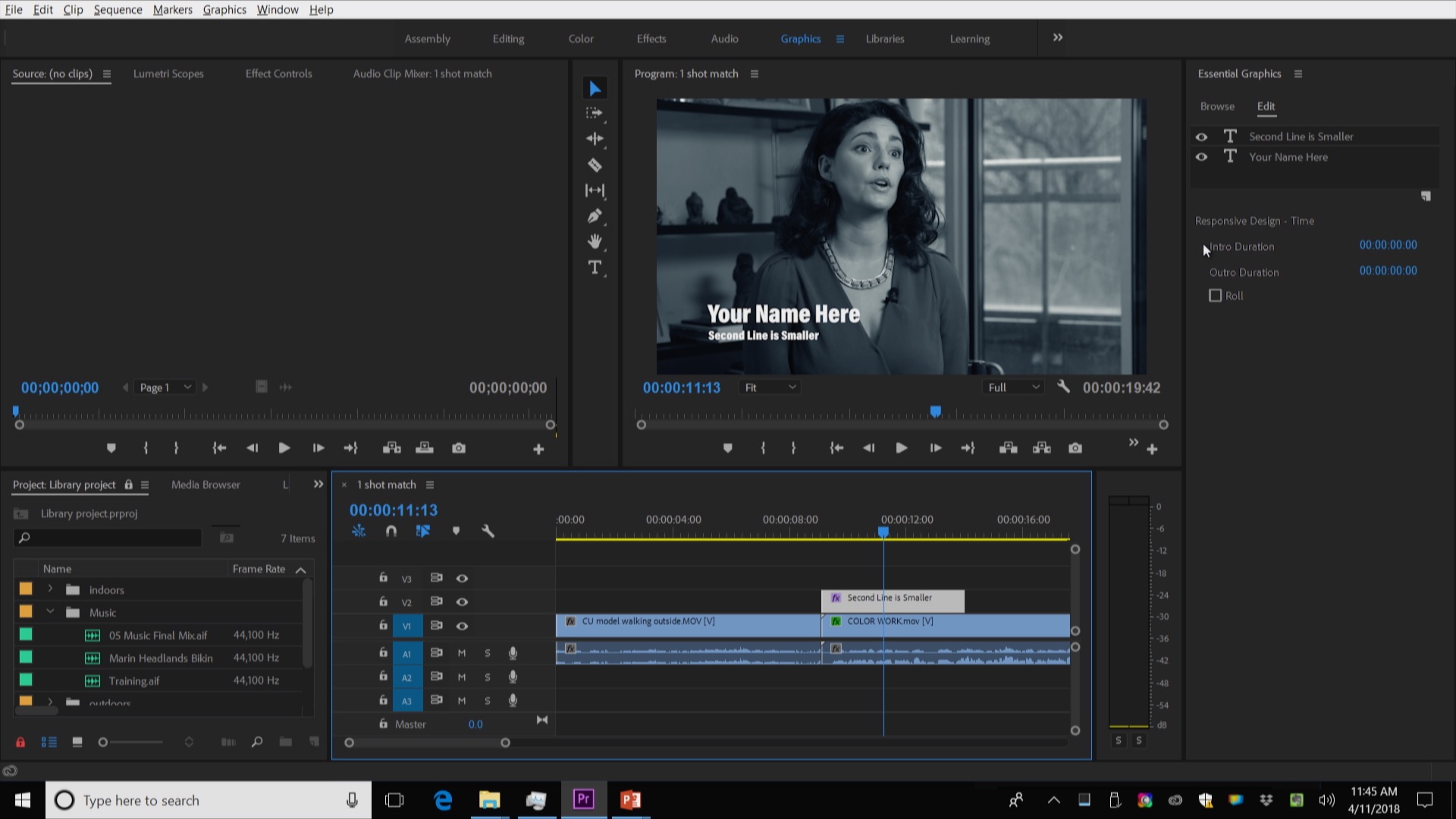 If you're looking for a more advanced freeze frame editing, you can do this in Premiere Pro. Premiere Pro is a professional video editing software made for more advanced video editing. This software requires a relatively long learning curve to get up on. So if you're already familiar with how it works, let's get started.
1. Set Frame Hold Options
To get started, you can set how you want your frame holds to work. Select any clip in your timeline, then go to the toolbar and click Clip > Video options > Frame Hold Options. Check the box to "Hold On" (leaving it unchecked will remove the holds on selected frames), then select the option you want. Now, you can choose how you want to get the frame.
2. Add A Frame Hold
Right-click the video track on the timeline, then click Add Frame Hold. A freeze frame with the duration of one frame will be cut out from the original clip. This won't affect the duration of the whole video clip, you can edit the freeze frame independently.
To sum up, both TunesKit AceMovi and Premiere Pro can freeze video easily. For Premiere, you'll need to spend more time learning how to use the software before adding freeze frame to your video. While in AceMovi, you can directly create as many freeze frames as you want to your video even without any video editing experience. You can choose the one that suits you the best.