Instagram video separated the video posts into Stories/Reels/IGTV (9:16), Square (1:1), Portrait (4:5), and Landscape (1.91:1). Consequently, the aspect ratio matters when you want your video to show properly on Instagram. In most cases, if you don't comply with Instagram's standards, your videos are likely to be cropped with black bars which are definitely not what you want and even lose the original quality.
Since different Instagram posting projects have various video size requirements. A good video resizing program must be what you want right now. In the following parts, you'll learn how to resize your video for Instagram with 3 tools that are applied to computers, online, and mobile phones. Here we go!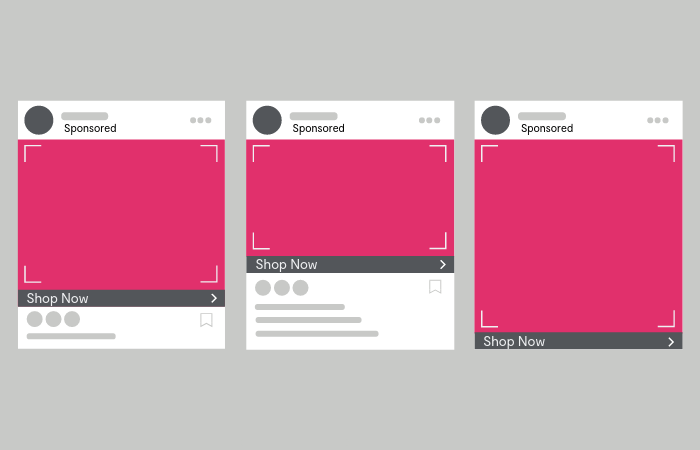 Instagram Video Requirements
There're a few things you should consider before uploading videos on Instagram: length, file size, format, and aspect ratio. Here're some quick rundowns of these parameters for Instagram.
Instagram Feed
Instagram Story
IGTV
Length
3s - 1m
Up to 15s
15s - 10m
Aspect Ratio
4:5
9:16
Portrait IGTV: 9:16
Landscape IGTV: 16:9
Resolution
1080p × 1920p
1080p × 1920p
1080p × 1920p
1920P × 1080p
Format
MP4 (H.264 Codec)
MP4 (H.264 Codec)
MP4 (H.264 Codec)
Volume
4GB
4GB
650MB (for 10m videos or shorter) or 3.6GB (60m videos)
FAQs about Making & Resizing Videos for Instagram
1. How do I post a video on Instagram?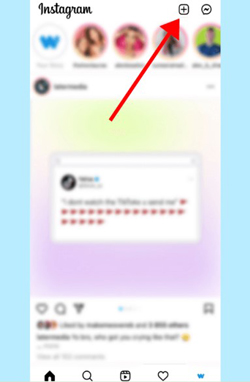 For posting a feed video: To begin with, open Instagram and tap on the "+" sign in the middle of the bottom menu. Then, click the drop-down menu on the top and switch to video, this will open your video gallery. Choose a video that you want to share right now and apply filters that Instagram offers, and choose a cover of your video. Lastly, Share your feed.
For uploading a video to Instagram Stories: Open Instagram and tap on the camera in the top left corner. Choose a video from your media library. Add stickers by clicking the sticker button on the top menu. Finally, share your Instagram Stories.
2. How to resize TikTok video for Instagram?
The normal aspect ratio of TikTok video is 9:16, which fills up the whole screen without extra screen bars. Since Instagram has a series of distinctive aspect ratios, you'd better check the requirements of the project in advance. Later, use the methods below to resize your TikTok video.
3. How do I resize an Instagram video without losing quality?
At present, you can find video editing programs that are available for computers, online, and mobile phones. By comparison, it's advised to download and try the software on your computer to resize an Instagram videos because they offer high-quality output resolution and meticulous parameter settings like the codec and sample rate.
4. How to reduce the size of a video for Instagram?
If you want to compress Instagram video, you can decrease the file resolution, codec, bit rate, and frame rate. The tools we're going to introduce are capable of automatically reducing the file size. For example, you can go to AceMovi and click the feature icons of "Export" > "Settings" > "Small File Size" to achieve that.
How to Resize Video for Instagram on Computers with AceMovi
Once you know what ratio you need to resize your video for Instagram, you can start editing it. And now you'll need a video editor that can resize your video. TunesKit AceMovi is a fit video editor that helps beginners to easily edit their videos including resize, crop, rotate and more. With this tool, you can crop videos for Instagram with fit pre-designed size options like 9:16, 16:9, 4:5, etc.
AceMovi is mounted with features like the split-screen, filters, animations, texts, and a music library. The self-explanatory user interface comes with all the effects and tools you need to embellish your Instagram video. With the crop tool, you can resize your video on a specific canvas.
AceMovi Video Resizer
Basic and advanced features
Multiple stickers, transitions, text, and music
Pre-made aspect ratio templates
A variety of output options to choose
Crop video with customized size
Apply a cool filter to your footage
The Guidance to Crop Video for Instagram with AceMovi
Before you start resizing videos for Instagram, make sure that you have already installed TunesKit AceMovi on your computer, this software currently supports Windows and Mac systems. Even low-end computers can operate it swiftly.
Add your original videos to the Media panel, then drop them to the timeline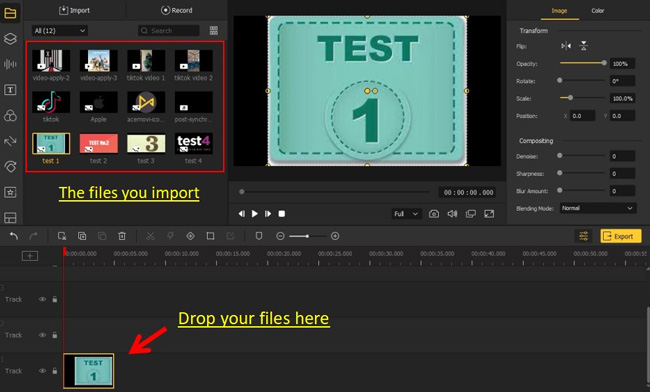 Open TunesKit AceMovi on your computer, then import your video footage to the Media box. To add your media to the timeline, you can directly drag and drop them one by one. Or you can press "Ctrl+A" to select all the media files and put them upon the timeline.
Click the "Crop" feature button to define the aspect ratio of your video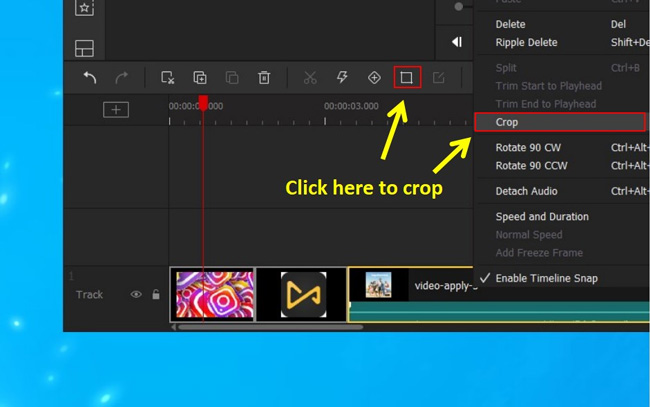 To resize your video, click on the

icon and then go to the downward arrow to open the dropdown menu. There you can choose the different ratios. For Instagram Story and IGTV, choose 9:16 or 16:9. For the Feed, you can customize the ratio to 1:1 or 4:5.
Set the save path and file parameters. Download the resized video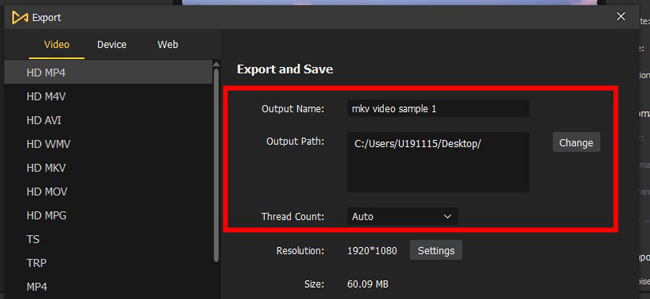 Once done editing your text, click the "Export" button on the middle left and export your video. Click the "Settings", you'll be able to choose the output parameters like resolution, quality, and frame rate. And by pressing the "Change" button, you'll be able to change the output location.
How to Resize a Video for Instagram Online Free with Resizegram
A large portion of users prefers to use online video resizers to edit their videos because of the convenience and multi-platform support. You may want to know which tool is better, and one of the answers is the Resizegram website, which empowers you to resize any format of video to fit the uploading requirements.
One of the most attractive qualities of it is that beginners can complete the mission just on one page. By the way, the max file size is up to 500MB, and you can resize one Instagram video every time. Here are the guides for you.
Go to the Resizegram website, and enter into the "Resize Video" menu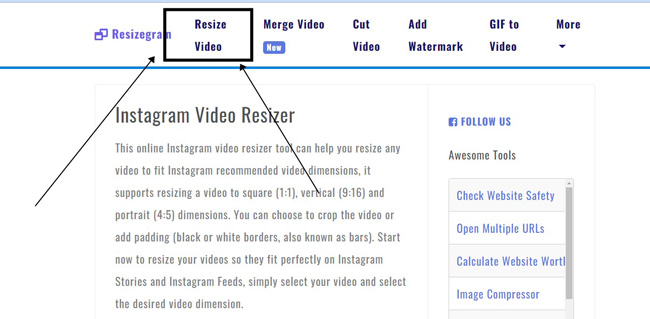 There is no need to register on this website. You can search for it on a browser. You need to click the "Resize" menu from the toolbar. Other functions are set to hep you merge Instagram videos, cut videos, and add watermark to a clip.
Click "Browse" to upload files. Select the new video aspect ratio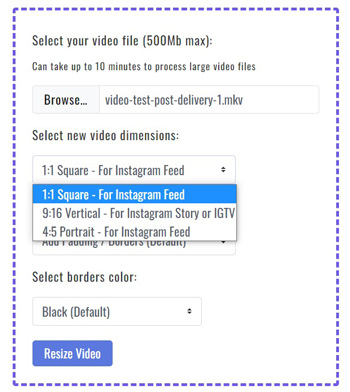 In the first place, click "Browse" to add files from your computer. Next up, select the new video dimension from 1:1 for Instagram Feed Square, 9:16 for Instagram Story or IGTV, or 4:5 for Instagram Feed Portrait.
Below, you can choose to add padding or borders to the video or not. Once you're ready, click the "Resize Video" to perform the operation. Now, download your resized video and post it on Instagram.
How to Resize a Video on iPhone for Instagram with VN
You may want to figure out how to resize a video for Instagram on your phone device. Since TikTok and Inshot come with their branding watermarks, is there any app that is watermark-free and frustration-free? Certainly, and one of the best choices is VN. This app is compatible with both iPhone and Android. You can download it for free. Let's learn the tutorials on resizing Instagram videos with it.
Download VN first. Click "+" and "New Project" to start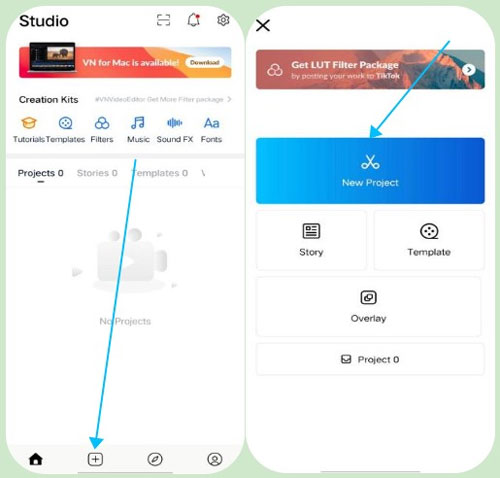 Launch the VN app from your mobile phone. You can register to create a new account for saving videos. After that, go to the "+" > "New Project" to select your Instagram video from the album.
Resize your video via the "Crop" button and choose the dimension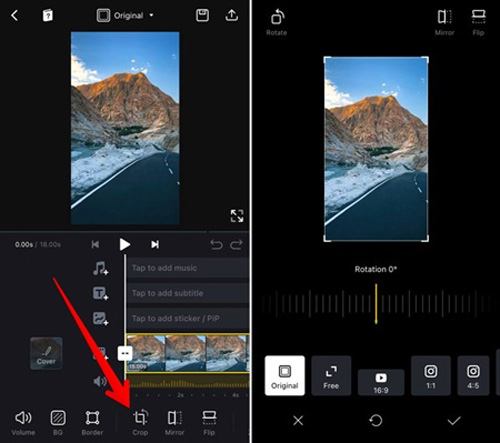 Slide the toolbar until you find the "Crop" button, then click it directly. You'll find a lot of dimension options for various platforms, like 16:9, 1:1, 4:5, 5:4, 9:16, and many more. Choose the aspect ratio that the Instagram posting project requires.
Set output resolution and bit rate. Download your video from VN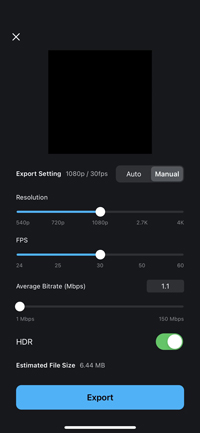 In the final step, set the resolution and fps value of the resized video. You can choose to use the HDR effect or not. Click the "Export" button to download your videos to a local file afterward.
Conclusion
After you make it clear to set the video aspect ratio for different Instagram posting sizes. You can start downloading a tool and importing media to the timeline. Apart from making a fit video, there are many more channels to make your video go viral on Instagram. For example, you can trim out unwanted portions, apply a VR background by the green screen, or overlay moving texts. Just try the tools shared in this post!