Use music players, such as Spotify or Vox to combine songs by coying-n-dropping the queues into a new playlist, alternatively, you may do it via the hand-actuated way of clicking them consecutively, whereas the two songs are still separated inherently and cannot be used as one track for playback in your podcast. So it is unlikely to combine songs together by a music player. And that's why an audio editor is wanted.

Bingo! If you need to combine two songs into one track intrinsically with the purpose of audio editing, decoding, or configuration, you will find the page helpful and direct. Here are the best 4 audio mergers to deal with that matter effortlessly for computers, online, and iPhones. Let's get started!
AceMovi Song Editor: How to Combine 2 Songs into 1 Losslessly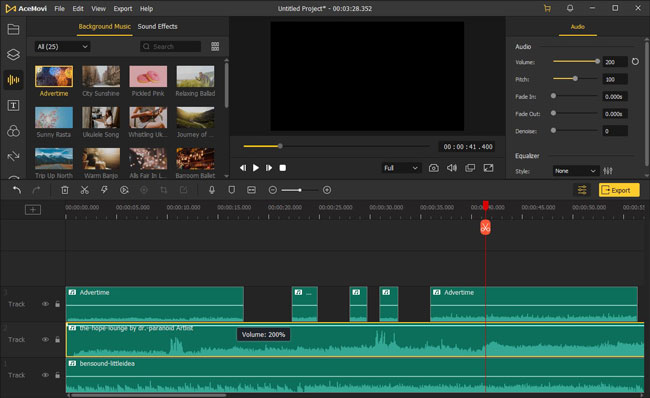 AceMovi is a multimedia and feature-fledged audio combining, recording and editing software, with unlimited tracks to add songs together on one screen. In other words, AceMovi is able to compile more than two songs from YouTube, Facebook, or other platforms. Audio formats include MP3, M4A, WAV, WMA, AAC, AC3, OGG, CAF, AIFF, APE, FLAC, etc.
This tool is endowed with 200+ royalty-free background music and sound effects in stock, all of which can be applied to your videos with the drag-n-drop interface, like the Bleep and Shot. Editing the song's parameters of volume, pitch, effect, denoise value, and style from the Properties pane. Now, discover and pick AceMovi to produce ideal content and go viral!
AceMovi Songs Combiner
The operating system applies to low-end PCs
Major audio formats you can import in seconds
Audio quality: codec, bitrate, sample rate, and pitch
Hundreds of uncopyrighted music tracks to add
Efficient and customized bare-bones interface
Trim, cut, convert, combine, and denoise songs
Tutorials: Learn How to Add Two Songs Together with AceMovi
Add Your Songs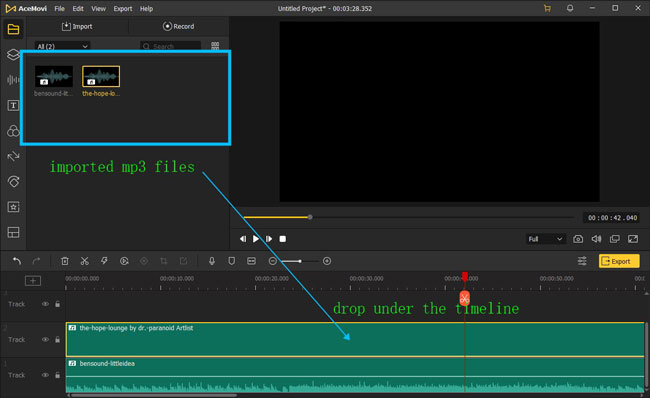 On AceMovi's timeline, it is easy to drop your files under a selected track to combine your songs. Or click the "Import" button to upload it. Either way, you can make imports successfully.
Combine Your Songs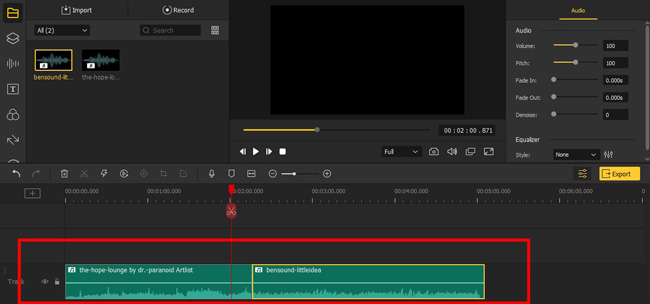 You need to place the two songs under the timeline one by one. There is a built-in Audio Trimmer to cut out unwanted parts in your song. If you need to merge songs together for free, just drop the second song in a new track under the timeline. In addition, playing and rendering the song in real-time is offered by this software.
Export Your New, Combined Songs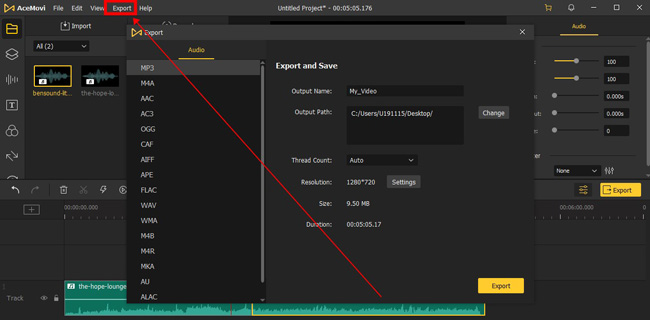 Go to the menu to select the "Export" and "Export Audio" in the left upper place. AceMovi is going to download the combined songs to your designated folder. It is easy to change the audio format and set parameters of the song.
If you find the background song of a movie is beautiful and want to extract it, you may need: How to extract audio from video. That's all for AceMovi's tutorials on combing two songs into one track. For carrying on bleeping, recording, cutting, splitting, syncing, and equalizing, go to download AceMovi!
How to Merge Songs from YouTube Online
If you want to cut and merge songs online from YouTube, you'd better try Kapwing.com. With this online audio merger, compared to 123APPs and FlexClip, not only can you import songs from YouTube by URL but also downloading the music in stock without copyright issues is offered. The output song is watermark-free to download online based on your internet speed. You have quick access to share it on Instagram, Facebook, and TikTok.
Import Your Songs via URL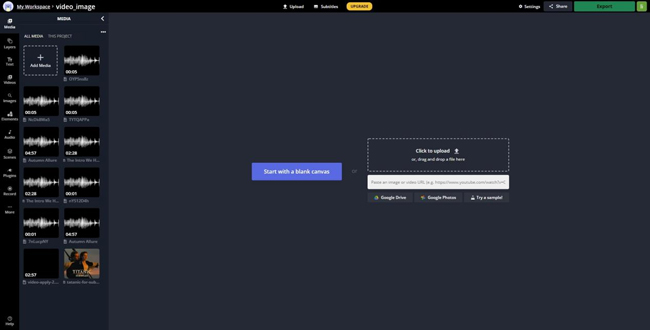 You can copy the URL of the YouTube song and paste it into the blank box. That is to say, you don't need to download or record the song from YouTube. By the way, it's required to notice whether there is a copyright of others' songs. After a while, you will find the songs from the "Media" plate.
Add Song to Combine in Timeline

Press the "+" icon from the Media, or drop your songs into the timeline. There are buttons in your right hand to increase volume, change speed, convert to the waveform, set to current timing, and apply an effect.
Download or Share Your Songs
If there is an only audio track, Kapwing will detect and export it online without watermarks. You can choose to download the song or share it on your social account.
How to Combine 2 Songs into 1 on iPhone
No matter Garageband, iTunes, or iMovie, are tested to be uneasy for users to merge their songs. In fact, iOS users can use the hidden Awesome Voice Recorder(AVR) to make songs combination and recordings. AVR enables you to record audio like MP3, and WAV files, but also convert voice from MP3 to WAV or M4A. Now, we will show you how to combine two songs into one album on iPhone.
Find AVR & Import Files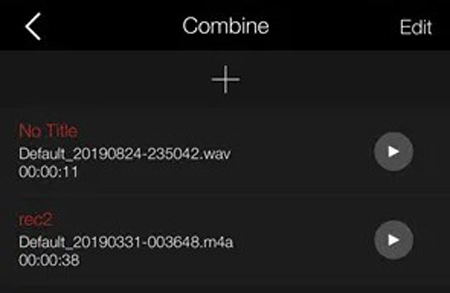 Go to the Audio Recorder on your iOS device, and tap the "Folder" button to upload your songs to the listing. Now, press one of the songs to make the toolbar pop up at the bottom place.
Commence Combining Songs
You need to click the "+" button from the toolbar to make your songs merge. You can rename the new song. Then you can find it from the album.
How to Combine Two Songs into One with Audacity
A specialist audio editor is a rescue to someone who wants to make sophisticated edits to the audio track. Audacity belongs to a professional, open-source, and nonlinear audio recording, manipulating, visualizing, and editing software. You can download it on Windows 10, Mac, and Linux.
There is a spectrogram view for selecting frequencies. 16-bit and 32-bit are supported, along with various sample rates and high-quality formats for dithering and resampling. Ready? We are going to learn how to use Audacity to combine songs.
Go to Import Your Media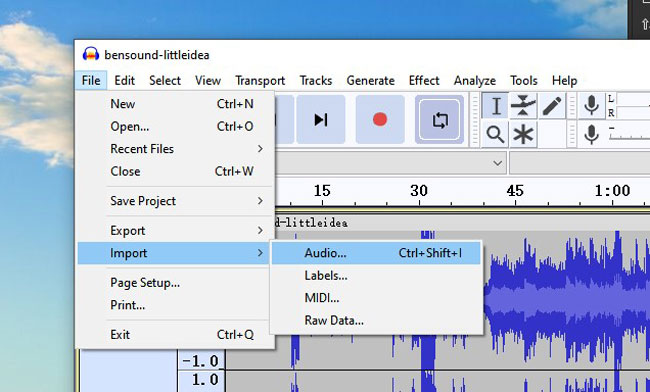 Press "Ctrl + Shift + I" to directly import your songs to Audacity. Or you can do it by clicking on "File", "Import" and "Audio". You will find your songs in the timeline with 2 tracks.
Combine Two Songs into One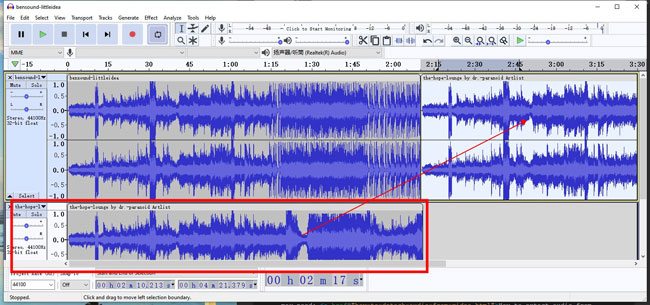 Then you need to import the second song track, but you will find the new track won't be automatically put under behind the first song. So you need to double-click the next track and paste it under the right place. You can hold and drop it to reposition it under the timeline flexibly at any time. Lastly, delete the extra track.
Export Your Songs from Audacity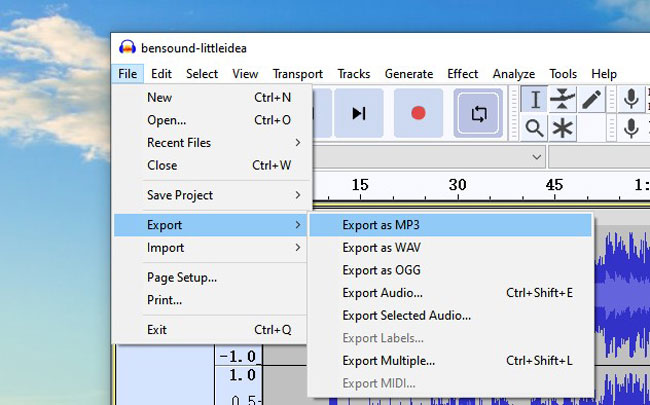 The process to export your song is the same as importing. You should click the "File" and "Export". Then choose the output format from the dialogue where MP3, WAV, and OGG are provided. You can choose to export selected audio or multiple audios as well.
The Last Line
Combining songs into one may not be as easy as you think at the beginning, but you can deal with the problem in case you have a good audio editor and maker. There are many tools available right now, among them AceMovi and Kapwing are recommended highly for the soft learning curve and feature-rich user interface. In addition, AceMovi can help you edit the song from a movie with the tools of trimming, cutting, splitting, converting, and so on.