Linear video editing tools are unfit for combining multiple audios and videos together, not to mention applying those eye-popping video effects and normal functions such as trimmer and cropper. So turning to using a non-linear video creator becomes popular currently due to unlimited tracks for texts, music, and clips that compose the fully-fledged timeline. Now that you know the differences between linear and non-linear operation styles, you may want to grasp how to combine video and audio by a proper, multi-track media merger. This sharing is uploaded to help you complete the mission without any quality or frame loss. Here we get started making a nice video.
AceMovi Video Editor to Combine Audio and Video in Window 10 & Mac
The interface of AceMovi Video Editor makes multiple files combination efficient, which is unlimited so users are capable of joining videos, audios, texts, and images into one screen without decreasing the bit rate and other initial quality parameters. AceMovi cover dozens of media formats like MP4, MP3, AVI, FLAC, MOV, M4A, MKV, WMV, DivX, and many more.
In fact, editing multiple MP4 and MP3 music files are not enough if you want to make an engaging clip. That's another reason recommending AceMovi for your work, which is made to trim out unneeded clips, crop video size, convert media format, speed up or slow down playback, and change the background with green screen.
AceMovi Media Merger
Crystal easy user operation & editing interface
Convert between different media file formats
Import or export with no size and duration limits
Arrange any media clip by dragging-n-dropping
Support downloading resolution of 720p and 1080p
Record a video with or without background music
How to Combine Video and Audio in TunesKit AceMovi
Add files of audio and video by clicking "Import" icon from interface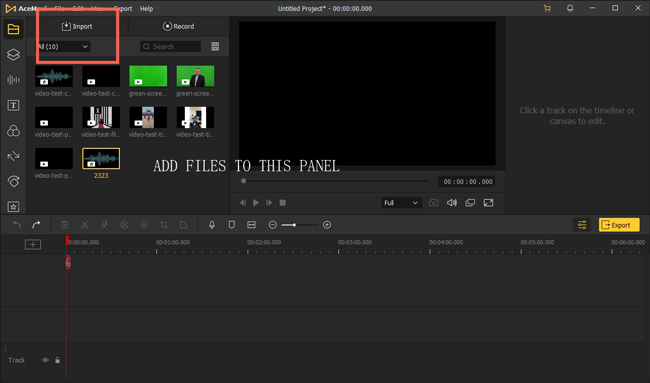 This post gives you official downloading buttons to install AceMovi Video Editor to your computer. If you don't minding watermarking, AceMovi won't need you to register when using all functions and effects within. On the interface of this program, drag-n-drop your files under Media or click "Import" to upload.
Commence combining video with audio by putting files to timeline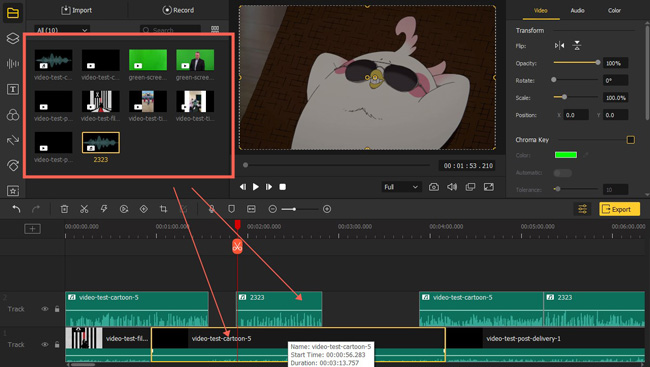 You see thumbnails, toolbar, and timeline on the screen. Put the video thumbnails under one track and join the music files under another track. You can manage the queues as per your requirements. If you put a clip that cover a part of the other one, you find the covered part will be trimmed automatically.
(Optional) Fine-tune project video, audio, & color from "Properties"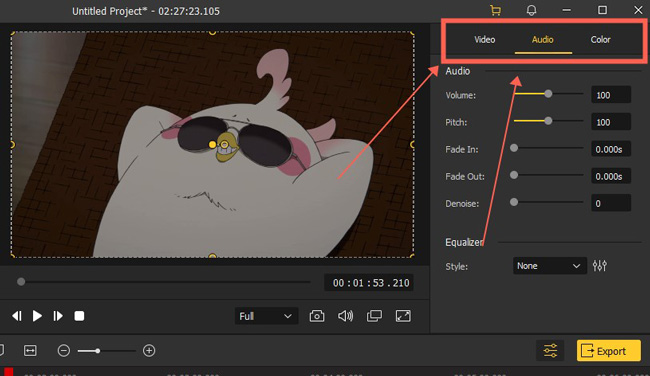 The basic settings are set in the upper right panel where you can adjust the video, audio, and color parameters of the project. For example, as regards the audio adjustment, users are allowed to increase/decrease volume, convert original pitch, apply fade in/out effect, or de-noise the background.
Download videos from AceMovi with specific customizations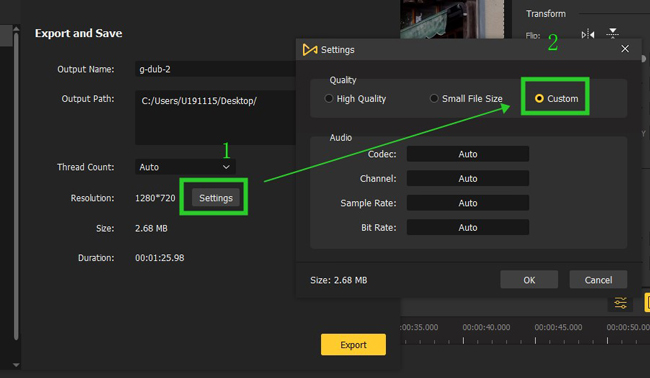 The step three is about how to edit a video basically, and here is the way to make the video professionally. So this part is not merely concerning downloading your combined audio and video file.
You click "Export" from the screen and navigate to the exporting window where you can adjust advanced parameters of codec, resolution, bit rate, and frame rate from "Settings". Moreover, resizing the video quality automatically is available.
Turn Audio and Video Files into One File in VLC for Windows, Mac, and Linux
VLC is used as one of the best video playing and editing device that is both cross-platform and watermark-free. In other words, even though playing the video on high-quality even for stream living channels is the main character of VLC, editing and converting files by this software is good enough.
To be honest, VLC is a non-linear video editing, so the interface isn't so wonderful for the file combination. Don't worry! Here is everything about how to combine audio and video in VLC. Just follow the guide step by step.
Operate VLC on your device. Go to "Media" > "Open Multiple Files"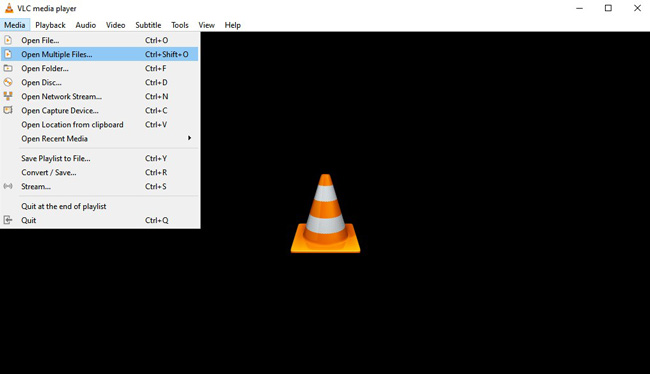 There is no registration need in VLC. And you don't need to add the video on the interface in case you think checking the video in real time is a kind of time wasting. You need to click "Media" > "Open Multiple Files" from the menu, or right press "Ctrl + Shift + O".
Begin to join your audio and video in the "File Selection" place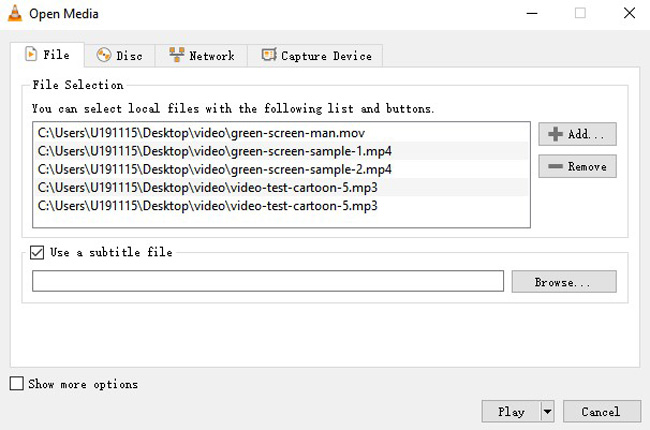 The listing is clear after adding files to the "File Selection" panel, which makes the combination of audio and video productive. The file format is not a problem because VLC is capable of configuring different types of clips. When your addition is finished, click "Convert" to get into the next step.
Set the downloading video format and define the save path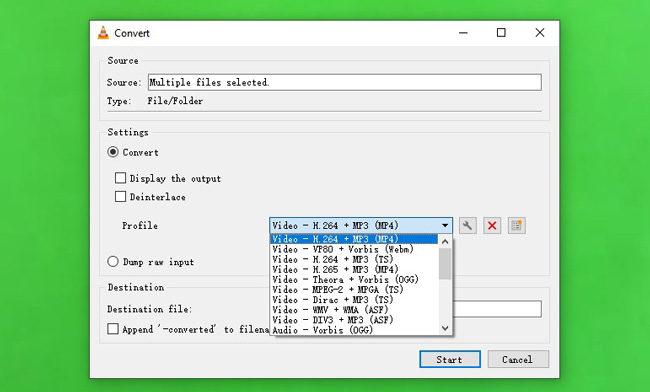 Here is the workspace for converting the output settings of the current project. Usually, you need to set the result at "Video - H.264 + MP3 (MP4)" from "Settings" > "Profile". Other than that, you're empowered to set the destination file and source.
Perform advanced settings and download your combined file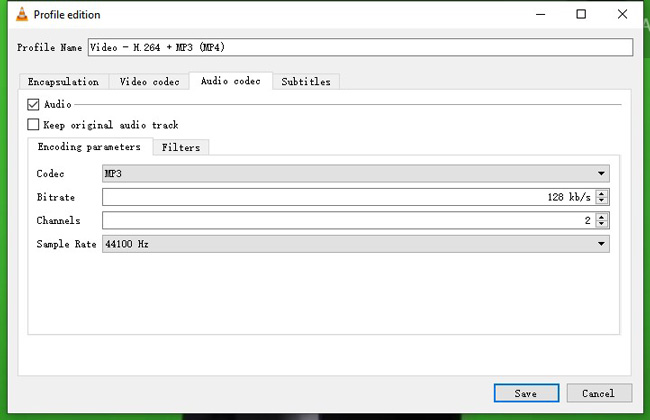 For editing the filed professionally, tap on the first icon from "Profile". In the next popup panel, users can convert audio codec, video codec, and subtitles. Within each area, professional settings are allowed, for instance, chaning the audio bit rate, channels, and sample rate is at your disposal within "Audio Codec". When you"ve set the output options, go to export the video.
Combine Video with Audio Online with 123APPS
123APPS is not an app works on mobile phones, with which making a video from all common aspects is possible. Audios, videos, texts, colors, and even PDF files can be edited on the website of 123APPS. It not a tool for professional yet it is good enough to combining video and audio as one file without watermarks on 480p or 720p. Due to the watermark-free quality, you may confront ads on the webpages.
Navigate to "Merge Videos" from "Video Tools" on 123APPS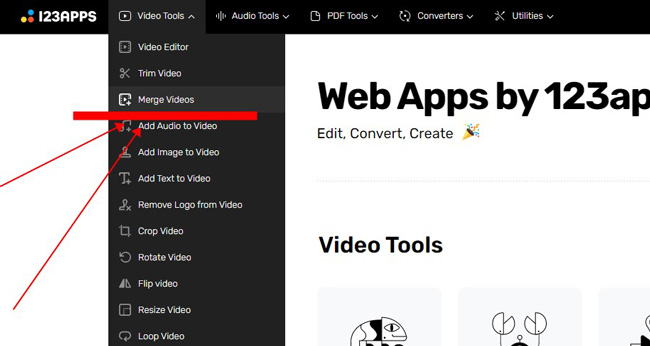 Logging in is required for exporting a video without watermark on 123APPS. Otherwise, click "Video Tools" &gt "Merge Videos" from menu. Then, you import the resource to this program for joining video and audio.
Click "+Add" &gt "Video" to upload other videos to track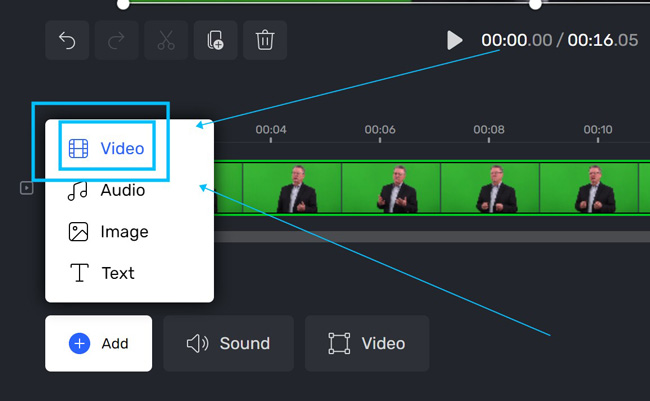 You find the original file under the track after uploading. When it comes to adding other clips for joining, go to "+Add" and "Video", and then select the files from local folders. Those new clips will follow the previous one by default. For adding more videos, click the button once again.
Customize the canvas size and choose to trim out the clip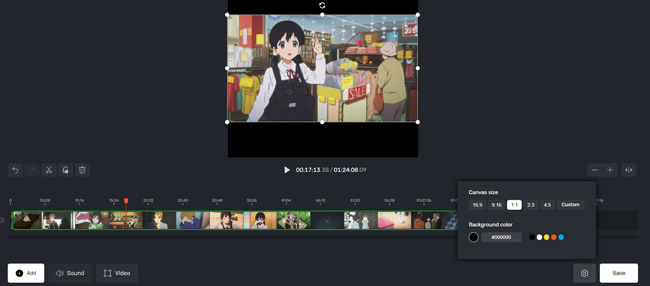 It's time to make some editings to the video. Namely, you're able to trim out unnecessary parts of a video by hitting the "Trimming" button from toolbar or convert the video aspect ratio and the background color. The playback monitor displays the rendering and help you judge whether it is perfect.
Add background music files to the track by clicking "Audio"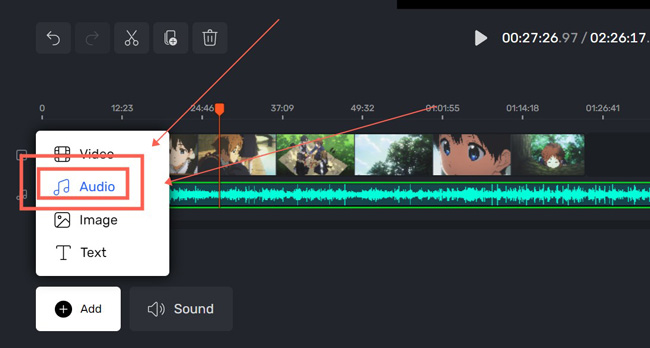 Right here, it is time to add background audio to the project from "+Add" > "Audio". The same as putting a new video, you need to select audio from local files. You can rearrange the music clips under the timeline track or trim the music as want.
Find and tap "Save", then choose video quality at 480p/720p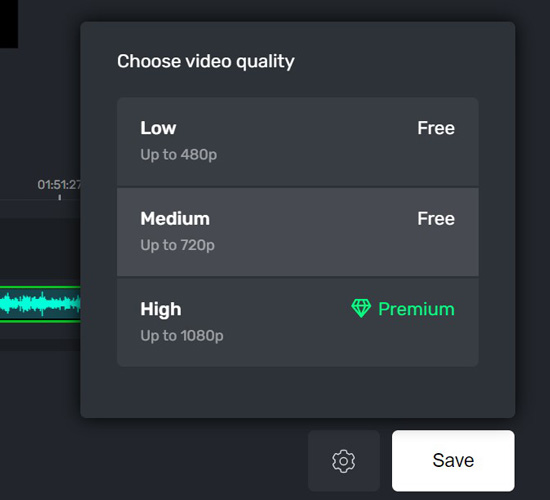 As we said, exporting your video without any watermark after combining audio and video from 123APPS is possible. To be specific, you can set the resolution on 720p or 480p for free. After that, this website gives you direct channels to download the joined file.
How to Merge Audio and Video in Android & iPhone by Splice
Splice is a video editing app for multi-track project generation, which is alive with direct buttons to add new files to the same timeline with a couple of clicks. This app is made for both Android and iOS, so you can learn how to combine video and audio on all phone types. You can enjoy the free trial for two weeks and the exporting channels won't leave any watermark or logo on your edited video.
Select all video clips and click "Add" to combine videos under the track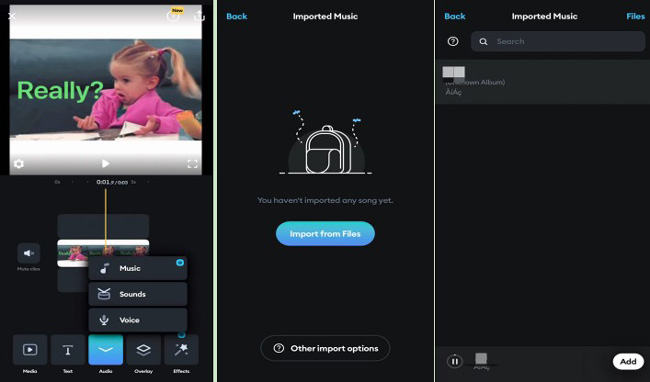 You select and put all video files first, which requires you to pick up the video thumbnails from local folders on your phone. The sequence is decided by which one you select beforehand. After that, you see all videos are embedded within the timeline and you're able to arrange the clips as want.
Navigate to "Music" to add audio from the "Imported Music" part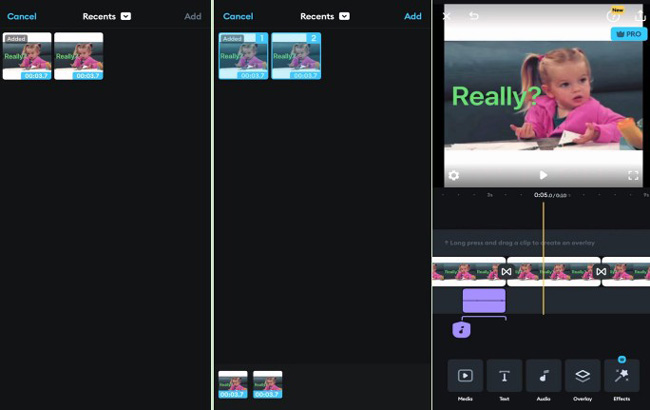 Slide the toolbar and enter "Audio" panel, then select "Music" > "Imported Music". In this panel, add your music to the place and choose the music to add to the timeline. Before adding, you can play the video to check the result.
Manipulate the output FPS and project resolution before sharing it
When you're saving the file in the exporting page, you can slide the FPS slide to control the value from 24 to 60. Higher frame rate per second, larger file size the video takes up.
Surprisingly, this app to join video and audio gives free permission to Full HD, HD, as well SD resolution. The video will be saved in "Photos" first, and you can choose to share it on YouTube, TikTok, or other platforms.
Summary
Combining audio and video into one file is not possible on a lot of tools because of the timeline that contains one track for each project merely. But that won't trouble you any more after you use those tools and ways introduced by this posting. Apart from joining your videos, trimming, speeding, converting, and resizing make the content greater than your first impression.