Are you looking to build a brand on social media? Well, to do that, you need a trendy and growing social media platform, and TikTok is the perfect place to start your journey. TikTok has a vibrant and rapidly growing fan base- over 1 billion users.
As a brand builder, you need to create original, catchy and short videos of up to one minute, which is the time limit for each video on TikTok. This means more often than not, you will require to trim videos to align with the TikTok video time requirement. But how do you trim TikTok videos? That should not be a concern anymore, as this article will feature several tips on how to trim TikTok videos for your channel. Let's do it!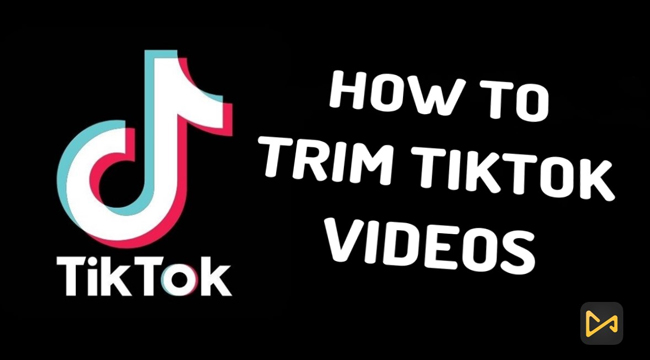 How to Trim a Video on TikTok App
TikTok has revolutionized video content creation, and all your need is a smartphone and internet connection to create a brand for yourself. The TikTok app provides you will video editing to enhance their quality. You can adjust the volume, add effects and templates, and so much more.
Reasons to Trim TikTok Videos
Since TikTok is virtually a short video media platform, your adjustment must fit their requirement. For instance, the length of a TikTok video should be between one second and 60S long. That means if you have a long video, you need to trim it. Well, trimming TikTok significantly depends on whether you are shooting a new video or uploading a premade video.
For new videos, you can use the TikTok app to trim videos, while for premade ones, you can use a third-party videos trim software to cut unwanted video parts and then upload them on TikTok. This section will introduce 3 ways to trim TikTok videos easily.
How to Trim TikTok Videos on TikTok App
TikTok allows one to upload premade quality videos. Since it allows for less sophisticated videos, you can record a video using your portable device, i.e., iPhone or Android, trim it, and upload it on TikTok.
Import Video by Camera Recording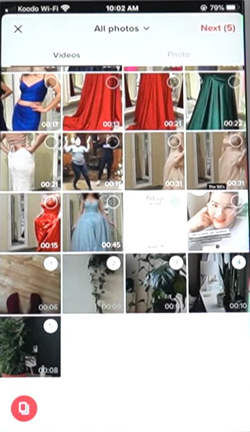 Start the TikTok app on your phone and register. Click the red button to record a new video or upload videos from the phone album. It's available to select one clip or multiple files at the same time.
Begin to Trim Videos on TikTok and Keep Recording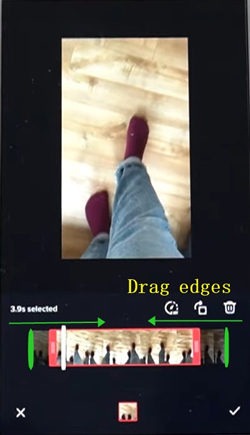 Holding, dragging in, and dropping the timeline edges. The whole duration depends on the length you shortened.
Add Filters/Texts/Music or Apply Slow-Motion/Fast-Motion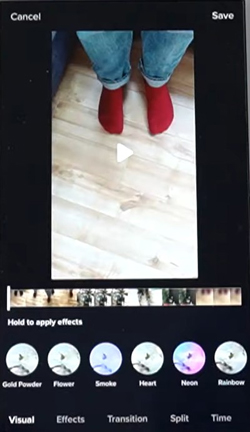 TikTok, an all-in-one app, is designed with a vast library of stickers, subtitles, filters, transitions, and many more effects. Tap on any effect you want to try in real-time. Here learn how to make a TikTok video that will go viral beyond your imagination.
Once done, click the Done option at the bottom to save the video on your phone. The video clip is now ready for upload on TikTok.
TunesKit AceMovi: Trimming Multiple TikTok Videos Easily & Quickly
Considering that there is an eminent need to create high-quality videos, it would be best to use professional trimming software. Here we recommend that you try out the TunesKit AceMovi Video Editor, which is a fully-fledged toolkit to edit videos from TikTok, YouTube, Twitter, Vimeo, and other platforms.
TunesKit AceMovi is an all-time top professional video editing software designed for beginners and professional video editors. The program is easy to use and allows you to create catchy and high-quality videos for your TikTok portfolio. The app has been in the video editing industry for over 8 years and is accessible in over 150 countries worldwide.
Compared to most video editing tools and the TikTok app, TunesKit has an easy learning curve and a responsive customer desk. Also, apart from trimming TikTok videos, there is so much you can achieve with the app. For example, you can add video effects to your clips to add some style and flair to your TikTok videos, customize unique animations, change the video background, crop, zoom, rotate, split, merge videos, etc.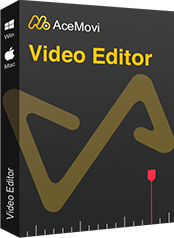 TunesKit AceMovi Video Editor
Security Verified. 7,399,007 people have downloaded it.
Pros:

Intuitive interface
Easy to use
Supports many video output formats
Available for Mac and Windows computer
Trial version available without expiration
Numerous video editing tools
Cros:

Not available for Linux
Cannot export audio (yet you can make recording)
Below Is a Quick Detailed Guide on How to Trim TikTok Videos Using TunesKit AceMovi.
Get TunesKit AceMovi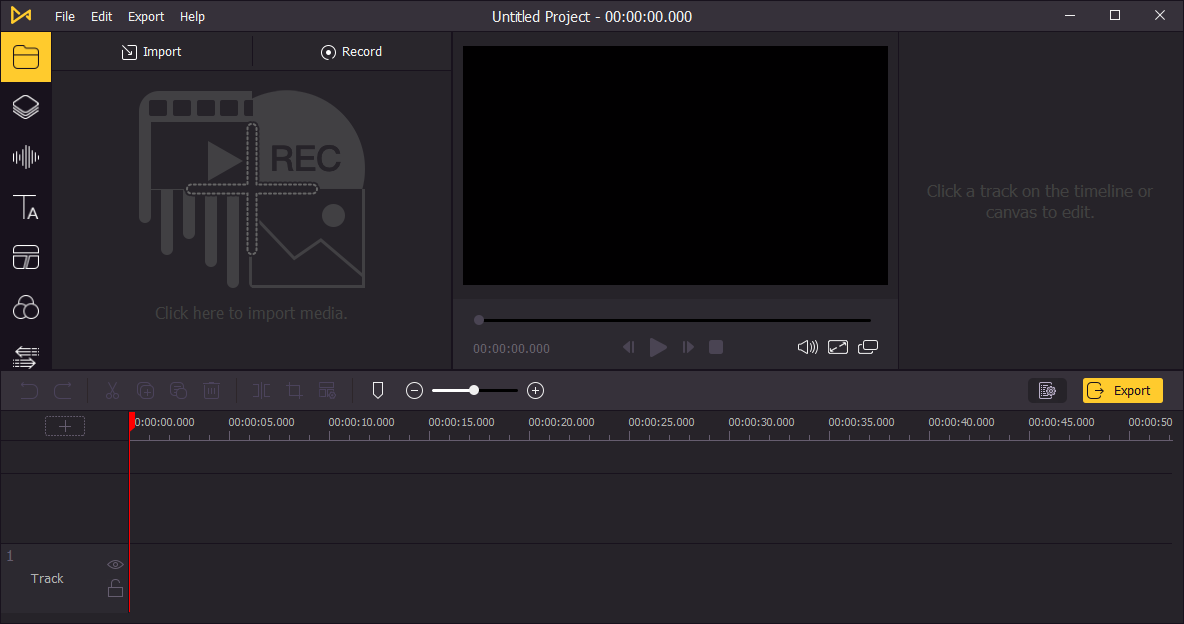 Download and Install the TunesKit AceMovi app on your computer and launch it.
Import Video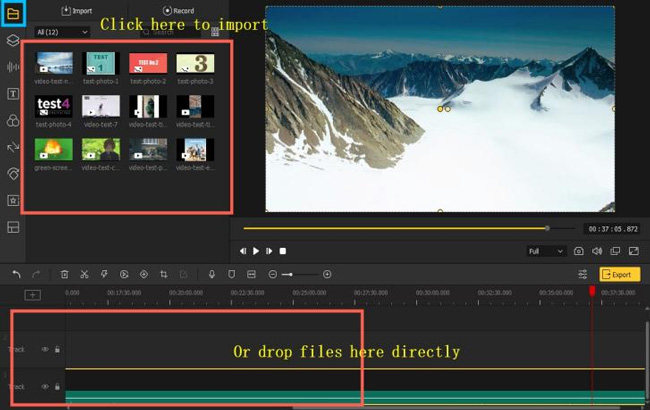 Next, on the main interface, hit the yellow Import button in the Media Library and select the video you want to trim.
Commence Trimming a TikTok Video
To trim the video, move the cursor to either end of the video timeline and move the edges forward or backward to trim off unwanted video parts.
If you want to trim unwanted parts in the middle of the video, drag the playhead to the start of the section and click the Scissors icon. Then, drag it to the end of the unwanted part and click the Scissors icon again. Finally, press the Delete icon to delete the section.
After trimming, save the video and upload it to your TikTok channel.
How to Trim TikTok Videos Online Using Clideo
The TikTok video trimming tool recommended here is the Clideo online video editor, which is free, and most importantly, it has a dedicated TikTok video maker function and you don't need to download any app or software. Below is a guide on how to use Clideo to trim TikTok videos.
Go to Clideo
Go to the official Clideo website and select the video cutter tool. Click on Choose File to upload your video clip.
Start Trimming TikTok Videos Online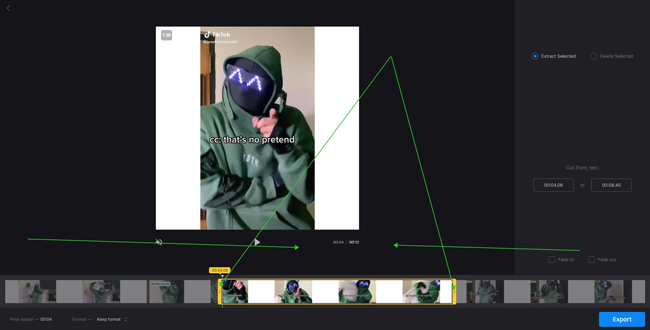 Use a marker to select a section of the video. Choose to extract or delete the selected part. Select your preferred output format and click "Export" to download the video.
Finish Trimming & Sharing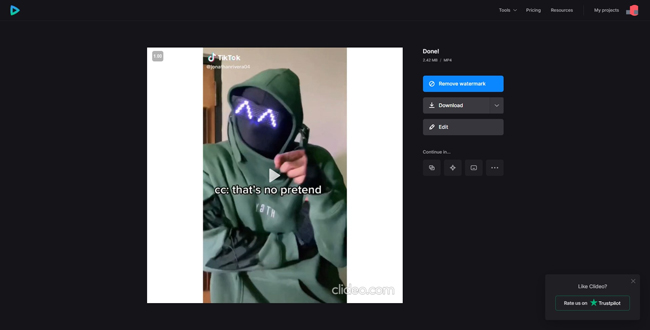 You can now upload the video on TikTok for your viewers. However, only with the paid version can you download the video without a watermark on Clideo. You need to pay $9 per month to get unlimited videos editing or $72 per year.
Conclusion
If you have been looking to trim your TikTok videos, you are now equipped with the top 3 guides on how to trim TikTok videos without a hassle. If you have other questions about making a video, share them with us below! Hoping this post can be of help!