TikTok has become a sought-after channel for boosting short videos and exciting reels. Millions of TikTokers utilize it hoping one of their videos will come into fashion. However, after publication, all the videos will be printed the TikTok's branding watermarks. So, is there a solution for influencers who wish to share their TikTok videos on other platforms without any logo?
It is easy to get rid of the TikTok watermark from your content using TikTok watermark remover tools. If you want to know which one works best for TikTok watermark removal project on Windows, MacOS, iOS, Android, and online, here are the selective options, along with users guides. Let's get going.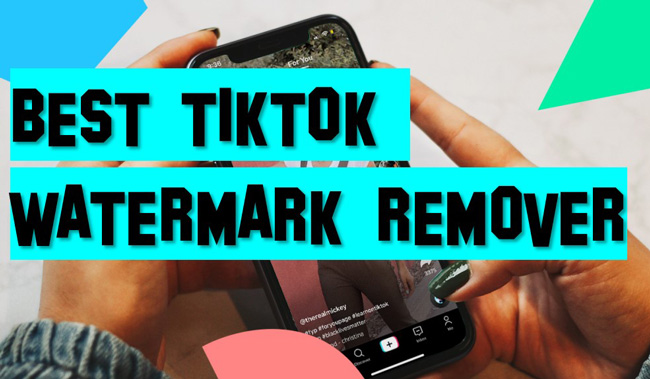 TunesKit AceMovi - The Best TikTok Watermark Remover for Windows & Mac
The first up is an all-in-one software called TunesKit AceMovi that can remove watermarks and edit your films quickly and efficiently. TunesKit AceMovi is a popular video watermark removal and editing software that can be used on Mac and Windows computers.
The proper version is available for free download so that you can begin immediately. On top of that, AceMovi is great for amateur and expert filmmakers. The powerful tool built-in allows you to export HD quality videos in all popular file formats including MP3, WAV, MOV, MPG, MP3, MKV etc.
That's not all, after removing TikTok watermarks with TunesKit AceMovi, you can enhance your videos with advanced editing tools like green screen and keyframes when removing the TikTok watermarks.
AceMovi Watermark Remover
Three methods to eliminate watermark
Modifiers include split screen and chroma key
Templates for text, overlays, & transitions
Save in optimal format for sharing on social media
Crop video at 9:16 for TikTok uploading
No limits in file size and exporting times
HitPaw: An Easy Watermark Remover for TikTokers on PC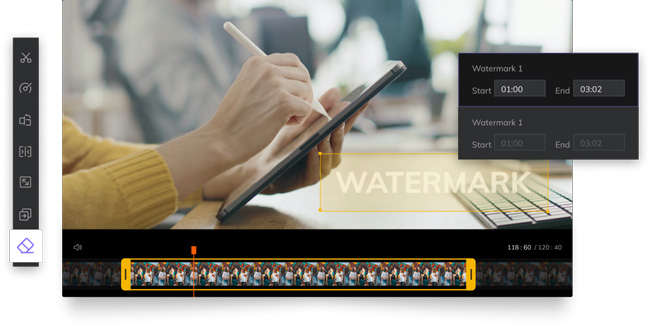 HitPaw Watermark Remover is the best AI TikTok video watermark remover since it meets all the criteria. To get rid of any blemishes on your images or videos, use the HitPaw Watermark Remover.
Stickers, phrases, images, and other visual elements can be layered on top of one another. Currently, you can get your hands on HitPaw for either a Windows or Mac computer.
Plus, you can utilize HitPaw's web-based watermark removal without ever downloading any additional software. Because of its user-friendly design, this software is a favorite among experts and novices. The HitPaw Watermark Remover is a simple tool for erasing any object in your video clip.
Pros:
Use the AI In-built tech to remove TikTok watermarks
No blurring points when operating
High-quality output
Real-time preview
Remove logos, texts, stamps, as well as watermarks
Cons:
The free version is not full-featured, for example, not all the removing modes can be tried on a free license
Remove Logo Now: Tiktok Watermark Remover Free for Windows Only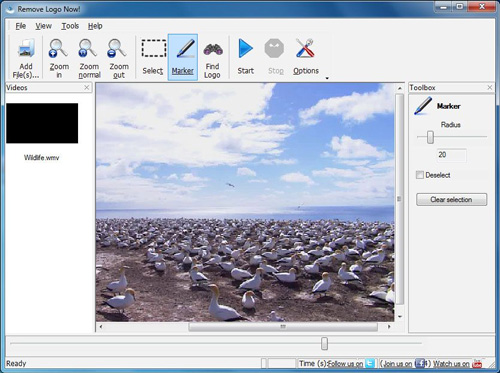 It's impossible to overlook Remove Logo Now as a potential contender for the title of best TikTok watermarks remover. The Windows operating system is the only one supported by this software now.
Remove Logo Now is a tool that can assist you in removing all text overlays, unwanted photos, and obtrusive watermarks from video files. You will be delighted with the straightforward and uncomplicated user interface this software provides for its users.
Launch it and import the required videos to remove watermarks from the TikTok videos. Once "Find Logo" is selected, the software will immediately identify all watermark areas present in the video. You can also select the watermark on your own by using the selection tools. In the end, you need to hit the "Remove" button so the watermark can be erased from the movie.
Pros:
Mark the watermark area manually
Detect and find TikTok watermarks
Easy-to-control workflow
Customized interface
It doesn't create distortions after removing watermarks
Cons:
Limited video file types
Paid versions for advanced methods
SnapTik: Online Free TikTok Watermark Removing Website

Online users can edit videos and remove the TikTok watermark online by SnapTik, which is sometimes known as SnapX amd was released as an online TikTok watermark remover and downloader. If you have the URL of the TikTok video, then you will have no trouble using this program - All you need to do to get started is visit it on a browser and you will be ready to go.
This website is packed with linear interface, including the absence of watermarks, direct channel for URL uploading, and online downloading button. This pick can be used at no cost, once the watermark has been removed from your TikTok videos, you can download it on desktop or a designated folder.
Pros:
Linear working experience
URL video upload
Free of cost
No queues for downloading
Multi language support
Cons:
It's unadvised to upload private videos to it because you don't even need an account for using it
MusicallyDown: Free Website to Remove TikTok Watermark Responsively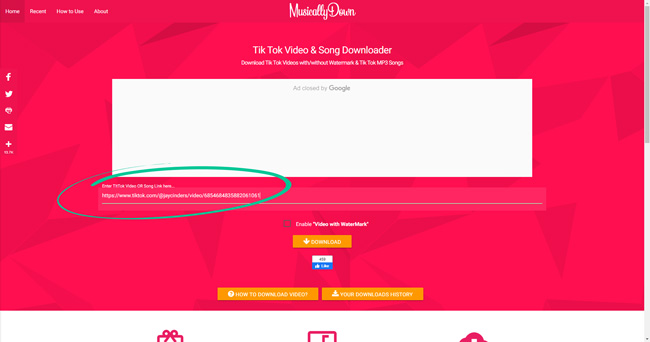 Another free website to remove TikTok watermark is MusicallyDown, which is not confused with Musically Download. You can download a TikTok video without the watermark by copying and pasting the URL from the video you wish to download.
The functionality of this option is identical to that of SnapTik. You have the added benefit of downloading the MP3 audio version of the video so that you can play it in the background while working on other projects.
Go to MusicallyDownload.net, put the URL to the video into the appropriate box, and then touch the download button. When the window that asks you to download the video opens, choose the option that says, "no watermark." You can enjoy an easy experience with this website.
Pros:
Import TikTok videos by URL
Users guide on the page
Quick watermark removal speed
TikTok song downloader
Export MP3 audio from TikTok videos
Cons:
Many advertisements
Batch videos are unfit for operating on this tool
SaveTok: Intelligent App to Remove TikTok Watermark on iPhone & Android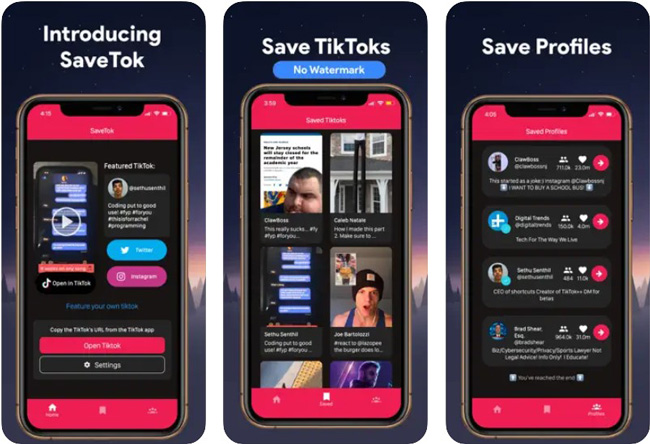 Want to find an app to remove TikTok watermark completely? Any annoying watermark can be removed from your TikTok video by using the watermark remover provided by SaveTok. It's allowed to utilize the components function of this video editor to add a form to the watermark that is on the TikTok video, or you can zoom the movie out until the watermark is no longer visible.
Users do not need to sign up for an account on the website to use the TikTok watermark remover app, nor is it necessary to download or install an extra tool on your mobile device.
You can log in from any device thanks to this feature. It is up to date and simple to use. Hide the TikTok video watermark with any one of a variety of entertaining components from the app's extensive library is allowed.
Pros:
URL importing
Android and iPhone devices can download it
Share videos on Twitter and Instagram
Save profiles automatically
Free TikTok watermark remover app
Cons:
No extra features to edit your TikTok videos
Registration required
The Differences among the 6 TikTok Watermark Remover Tools
While all these software, online tools, and applications we reviewed above are great, not everyone offers the same features. Yes, they all will help you remove watermarks from TikTok videos, but because of having distinct functionalities, they differ in their processes.
WFrom our experience, TunesKit AceMovi has performed professional when removing watermarks from TikTok videos, which not only offers a three-step procedure while providing many in-built video editing features like trimmer, cropper, background music changer, and compressor.
WBesides TunesKit AceMovi, we also liked what the HitPaw software offered. However, it differs from the former because it has fewer editing features, and the watermark removal process is cumbersome. Besides, it's a tough competition between MusicallyDown and SnapTik since both online tools are easy to use yet have limited user features. Now, you can check this table for a quick comparison.
| | OS | Watermark-Removal Methods | Experience | Download MP3 from TikTok Video | URL Import | Ad |
| --- | --- | --- | --- | --- | --- | --- |
| TunesKit AceMovi | Windows & Mac | Crop/Replace/Effect | Easy (Non-Linear) | √ | × | × |
| HitPaw | Windows & Mac | Eraser | Medium (Non-Linear) | × | × | × |
| Remove Logo Now | Windows | Watermark Detector & Marker | Easy (Linear) | × | × | × |
| SnapTik | Online | Auto | Easy (Linear) | × | √ | √ |
| MusicallyDown | Online | Auto | Easy (Linear) | √ | √ | √ |
| SaveTok | iPhone & Android | Auto | Medium (Linear) | × | √ | × |
Conclusion
The below is a list of the six options for removing watermarks from internet videos. It makes more sense to have a smart tool that allows you to edit your films since it gives you the ability. It doesn't matter whether you want to download videos from TikTok just for enjoyment or repurpose it for views, and there are useful solutions available that will allow you to watch films without a watermark.
Note that these tools are not associated with TikTok in any way. Thus, there is a possibility that they can become inoperable if the app's user interface is modified. Put them to use while you still have the chance!