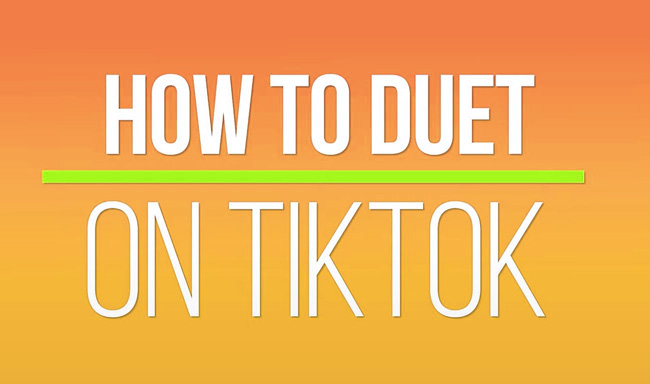 Making a TikTok video is fun. But what's more fun is that you can create a duet video with someone else on this platform. How does TikTok Duet works? It allows users to create videos featuring an initial video and make both videos appear side by side on the screen. Users can also choose from one of the four layouts: a left and right layout, react layout, top and bottom layout, and three screen layout.
In this tutorial, you'll learn how to duet a video on TikTok and an alternative way to make a better duet video for TikTok.
Ⅰ How to Duet/React Someone on TikTok
In this part, I'm going to show you how to make a duet video on TikTok as well as apply the method of TikTok Reaction (the two features just side by side). Make sure that you have the latest version of TikTok installed on your phone and a TikTok account.
Find the Video You'd Like to Duet on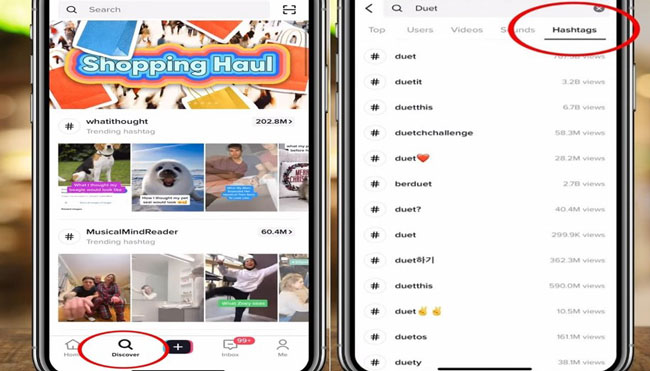 Get into the Discover and imput Duet upon the Hashtags Box to search for the TikTok video that you want to duet or react.
Apply TiKTok Duet/React Feature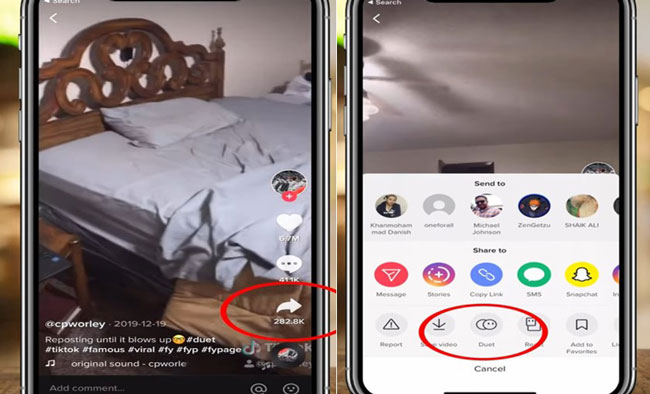 Click the Share icon and choose the Duet (TikTok Reaction just beside), then you'll see the two TikTok videos are dueting side by side.
Edit the Duet/React Video & Post on TikTok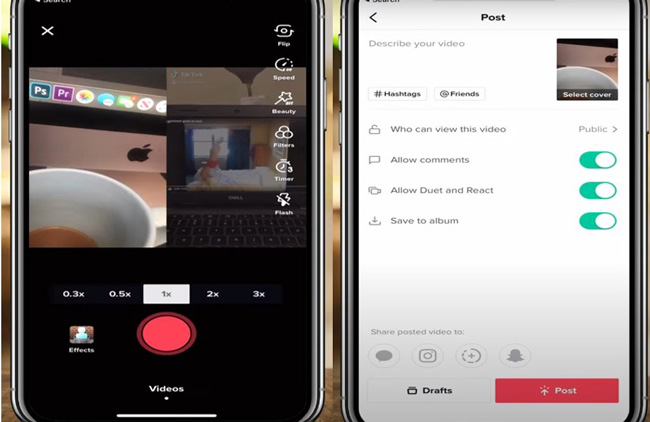 When it comes to editing the duet video, you can speed it up to 3x or slow to 0.3x and use the PiP, Beauty, Filters, Timer, & Flash on the screen that pops up next.
Nice job! Now, you've done all the main steps, let's see what's going on in the export process - naturally, you're allowed to describe your duet TikTok videos with a few words and hashtags. Also, you can set the options to allow others to view, comment, & duet/react your videos.
Ⅱ Alternative Way to Make Duets & Reactions on TikTok via AceMovi Video Editor
The duet option on TikTok will only appear when the initial video creator enables this feature for other users. If you still want to make a duet video without the duet option, there's still an alternative to do that. With TunesKit AceMovi, you can easily make a duet video for TikTok using the split-screen feature.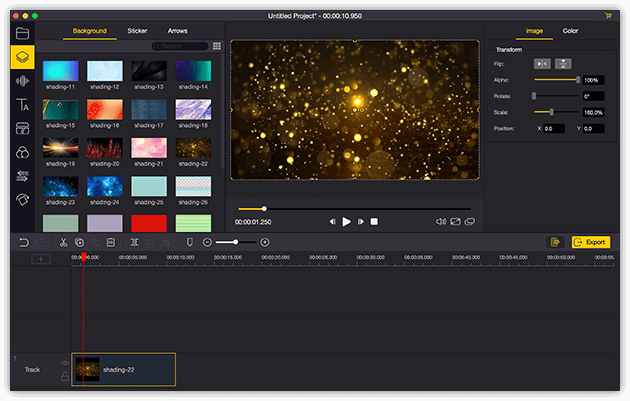 TunesKit AceMovi Video Editor is a powerful video editor that provides multiple effects and transitions. It comes with a screen recorder which can record images as well as the sound coming out of your computer. As a well-established video editor, AceMovi is mounted with features like split screen, filters, animations, texts, and music library. The user-friendly interface comes with all the effects and tools you need to embellish your video. You can easily make a duet video using the split-screen feature.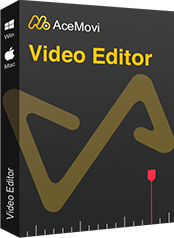 TunesKit AceMovi Video Editor
Security Verified. 5,481,347 people have downloaded it.
Basic and advanced features that make your video better
Multiple filters, transitions, text, sound effects, music
User-friendly interface & one-stop service care
Import as many photos or footage as you want
Make a TikTok duet with ease
Next up, I'm going to show you how to make a duet for TikTok in TunesKit AceMovi. Before you edit your video, make sure that you have already installed TunesKit AceMovi on your computer.
Add Media Files to TuneKit AceMovi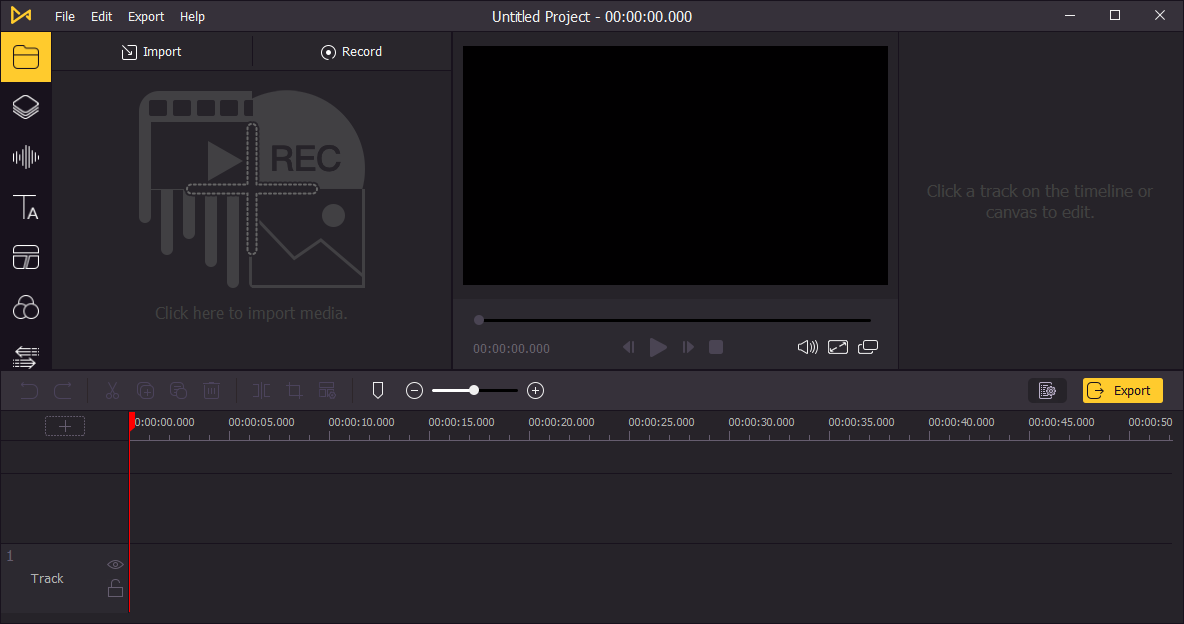 Open TunesKit AceMovi on your computer, then import the video files downloaded from TikTok to the media box. Also, you'll need to import your own video for the duet. You can click on the import button to upload or directly drag and drop the video files into the box.
Make the Duet/React TikTok Video on AceMovi [2 Ways]
There're two ways you can use to make TikTok video duet/React - by adding the second video-track or using the advanced feature Split-screen. Now, let's see the details.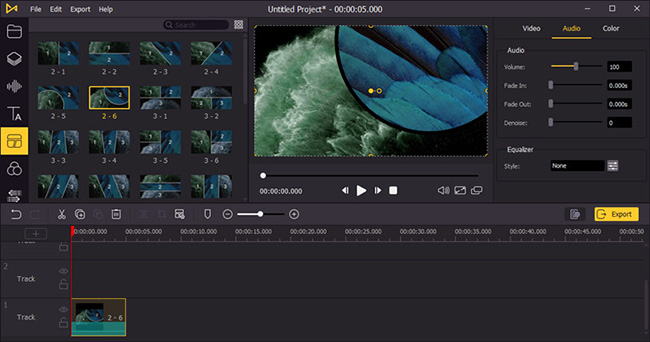 Method first: Click on the

button on the left sidebar and choose a split screen preset. Drag and drop it to the timeline. A new window will pop up for further editing.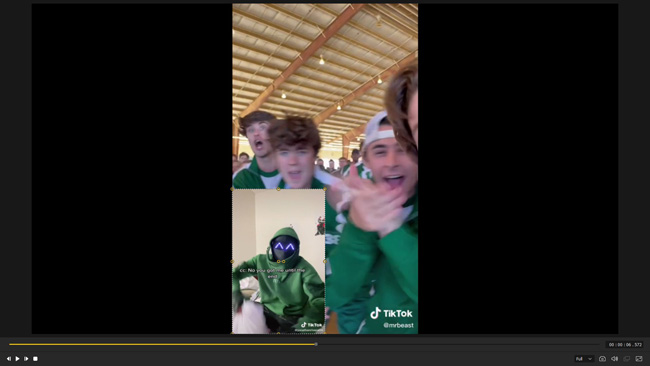 Method second: You can import the two videos upon Track 1 and Track 2 and here you should notice that the background TikTok duet video (bigger one) should be placed on Track 1 while the front TikTok duet video (smaller one) Track 2.
By the way, if you'd like to remove the TikTok watermark, you can click here to remove the watermark of TikTok videos.
Add Wanted Duet/React Videos to Screens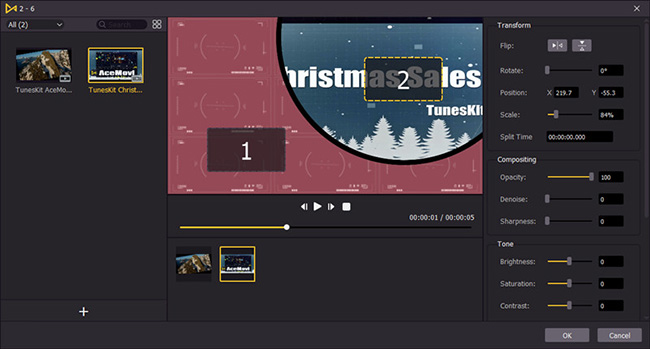 Drag your videos into the screens. You can click the Play button to preview it, or do some basic editing such as flip, rotate, change the position, opacity, brightness, saturation, contrast, etc. to make it better. After that, click the OK button to save.
Add Filters/Texts/Animations/... to Your Duet/React Video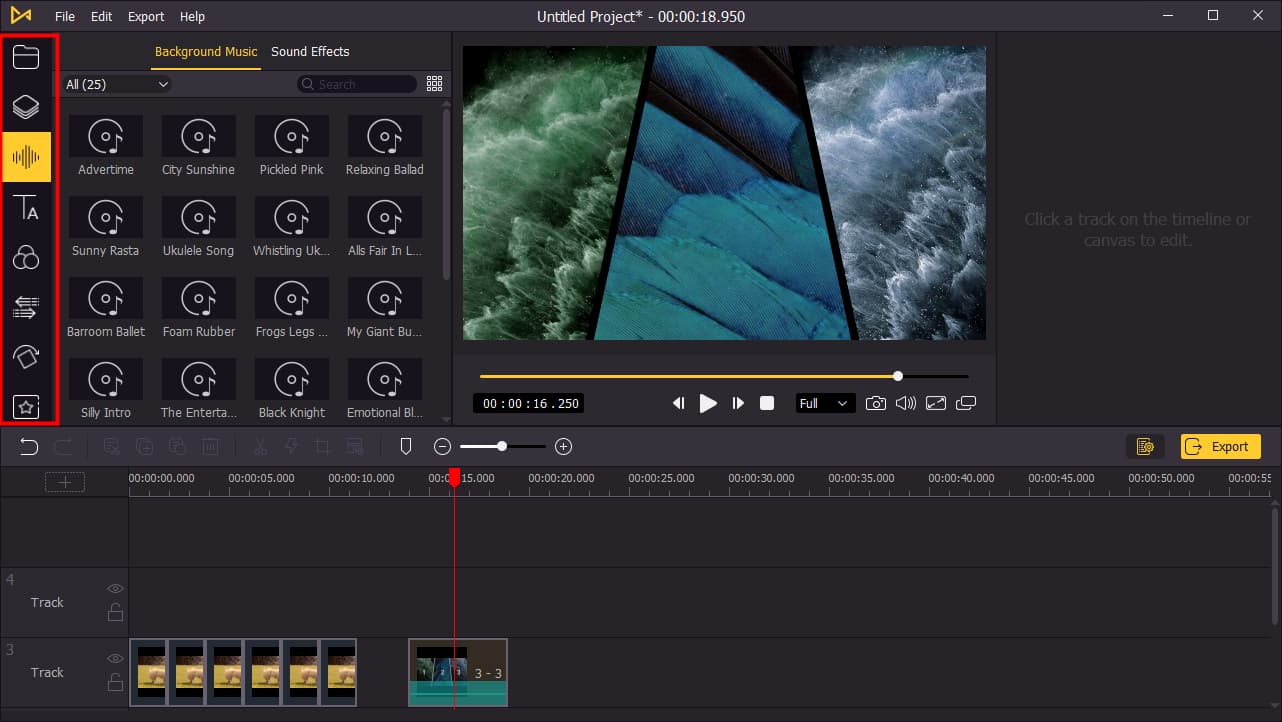 Back to the main interface, you can add elements like stickers, backgrounds, background music, sound effects to your duet video applying features in the left sidebar.
Also, you can apply filters, transitions, animations and regional effects to make your duet video even better.
Export Duetted/Reactted Video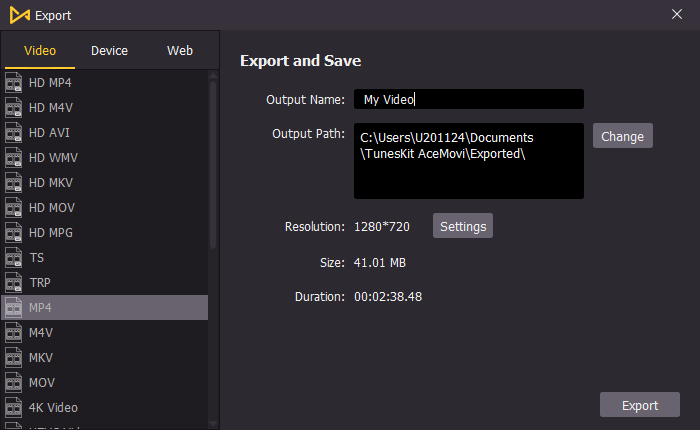 Once done editing your video, click the Export button on the middle left and export your video. Click the Settings, you'll be able to choose the output parameters. And by clicking the Change button, you can change the output location.
Ⅲ The Last Talk
If you want to try more splitting genres on your duet TikTok video like three-window, oval-shaped, or triangle model, better choose AceMov, while the TikTok app is more suitable for quicker duet video creation and uploading.
That's the two ways of dueting/reacting on TikTok video, want to have a try? You can download AceMovi below on Windows and Mac for free.