Splicing joins two or more video clips into one file and broadcasts them on one screen seamlessly. This editing trick comes in handy when you want to compound multiple videos, audios, texts, and images, or produce a video slideshow with transitions and songs. So you're able to edit a lot of videos at the same time and then the effects or filters will be applied to all of them by the feature. This makes editing batch files simpler, as you can apply effects to the entire post-production files and convert them into other formats with a couple of clicks, also, it is no longer need to carry on intricate, multi-task footage mixing work. To sort it out, here are the 5 easiest ways to splice videos together based on practical testing.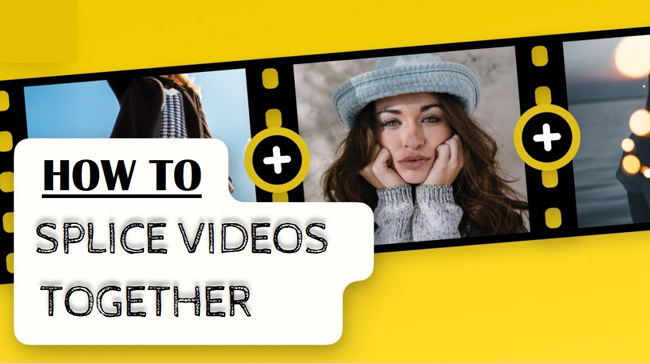 AceMovi Video Editor to Splice/Merge Videos to One File in Computers
AceMovi is a versatile video editing software for Windows and Mac, as it comes with tools for splicing, converting, recording, configuring, speeding, and mixing. Those tools operate at a fast speed and help you generate various kinds of engaging outcomes. Long videos can be both imported and exported to AceMovi, meaning that no file size issues will happen.
To make your content better, you can add built-in high-fidelity transitions to make the playback no lag, insert animations to make the motion animated, apply filters to change the color and feeling, and many more. Also, if you add a .mp4 format file to this software, it's easy to convert the spliced video to others including but not limited to AVI, MOV, MKV, MOV, M4A, DivX, WMV, DVD, MPEG-2, etc. Here is the downloading channel and users guide to splicing your videos.
AceMovi Video Splicer
Splice large file size videos easily
A plethora of classic video transitions
Free trial for low-end Windows 10/Mac
Butil-in VFX of green screen and keyframes
Generate a video on high-quality output
Converted spliced video into AVI or others
AceMovi Users Guides to Splicing Videos Together
Download AceMovi Video Editor. Import files to the interface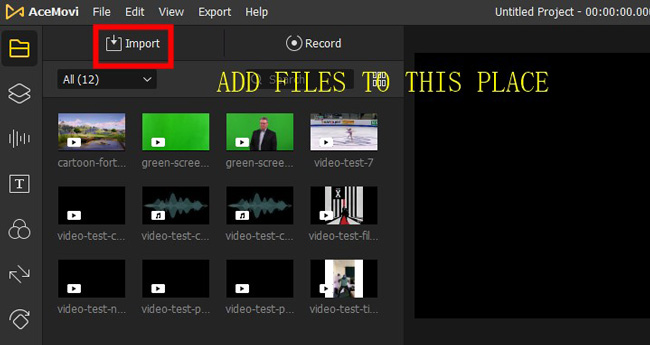 Downloading this program for free and no registration on Windows or Mac. Click "Import" from the interface to add your videos or audios to the Media plate. Those videos become thumbnails later, and you can rearrange them in any manner.
Add thumbnails to timeline. Splice videos together with transitions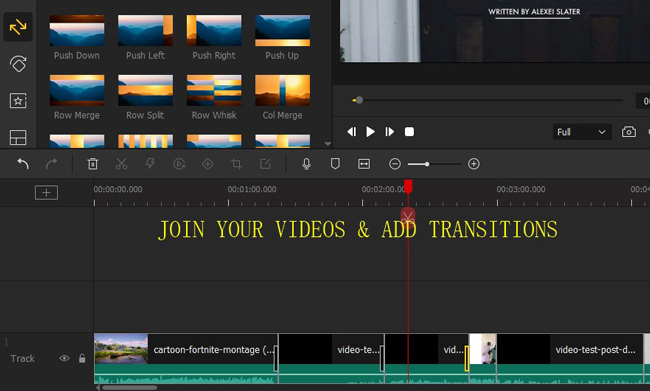 Drag and drop the thumbnails under one track. Shift the sequences according to your needs. If you want to make the video look seamless, edit every two files with transitions from the "Transition" panel. You put the transition mode under two videos. In "Properties", you can fine-tune related parameters like the filter style and changing pattern.
Set the save path and exporting format. Export your spliced video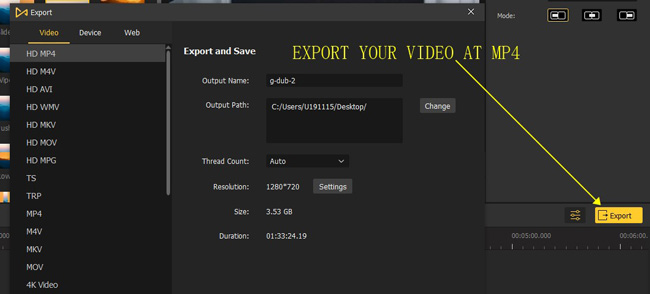 That's all for splicing 2 videos on AceMovi. This software gives you more useful tools like a trimmer and cropper that you can use directly on the screen. Click "Export" to download the merged file with the wanted save path, resolution, resolution, and more settings on the popup window.
How to Splice Videos in Adobe Premiere Pro without Exporting
Want to comprehend how to splice videos in Adobe Premiere Pro with easy guides? Compared to other video editing tools like DaVinci Resolve and Final Cut Pro, people can splice 2 or more video clips directly on Premiere Pro without exporting, in other words, files combination and media editing with trimming, converting, and effects are easy to achieve in this software by the "Nest" icon. You follow the guides below to make it happen on your computers.
Launch Premiere Pro. Tap "Import" to add your videos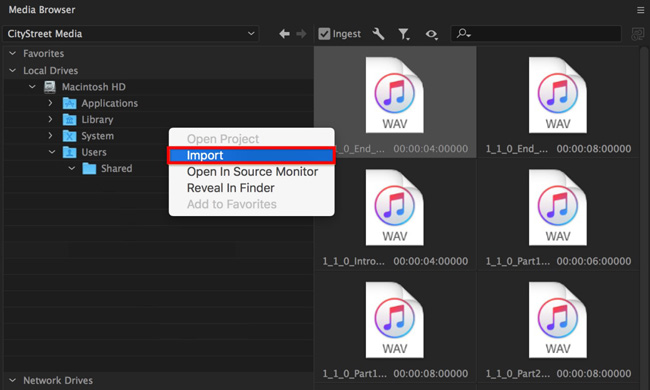 You find starting plates under the Media Browser area. Right-click the interface to import your videos and soundtracks. The timeline is multiple which supports unlimited files.
Put videos under the timeline that you want to splice together

Add your videos to the track and splice them one by one. The sequences can be altered as per your needs. You can trim or split any part of the video by right-clicking on the clip and choosing "Split...".
High-light the two clips and choose "Nest..." from the options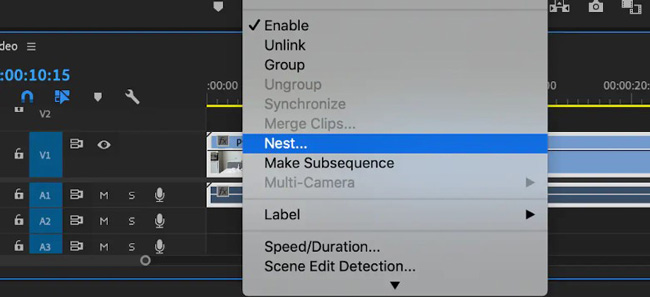 To splice videos in Premiere Pro, right-click the two files and select "Nest...". After that, you see the two videos combined and embedded with a green color background. That is to say, it is no need to download or export your file from Premiere Pro, and you can edit the spliced videos with built-in VFX and SFX.
Export the video with format and quality in specific settings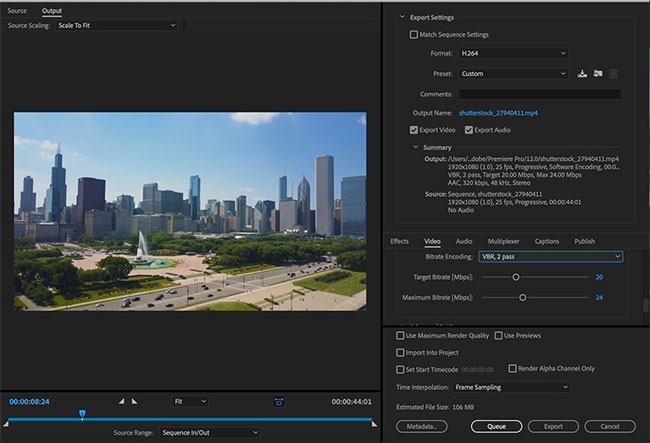 In the "Output" panel, choose the video format and preset of codec, resolution, and frame rate. You're empowered to slide the options from the given toolbar on the screen. Besides that, you can make the output HD, Full HD, or 4K. Click "Export" to download your videos from Adobe Premiere Pro.
123APPS to Combine and Splice 2 Videos Online without Downloading
This post is about to share with you the editing strategy to combine multiple video clips and customize the aspect ratio settings online for free. 123APPS is the recommended and tested online video splicer to complete your mission without any difficulty. 720p and 480p resolution options are available with this program. Better than that, shifting different video tools is easy on the screen. Visit 123APPS (Online Video Cutter) to begin this tutorial.
Opt for "Merge Videos" from "Video Tools". Click "Open file" to upload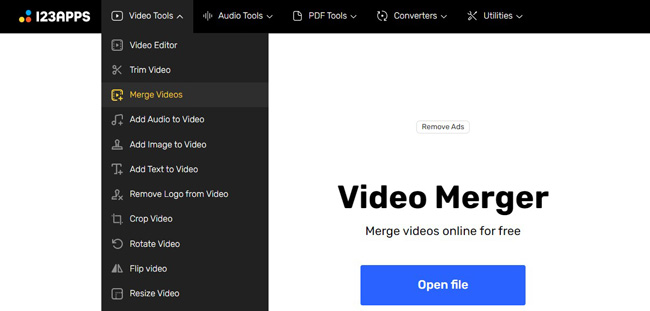 First of all, enter "Merge Videos" from "Video Tools". You see the canvas for splicing media and adding your video to this program. The resource can be computers, Google Drive, or Dropbox.
Click "+ Add" to add more video clips. Go to unfold the timeline

To add another video to the imported video, click "+ Add" &gt "Video". Select the media from your computer's local folder. After uploading, you find multiple video clips on the same track one by one. You can trim out unwanted parts with the "Trimmer" from the toolbar.
Set the canvas size and background color. Change the output quality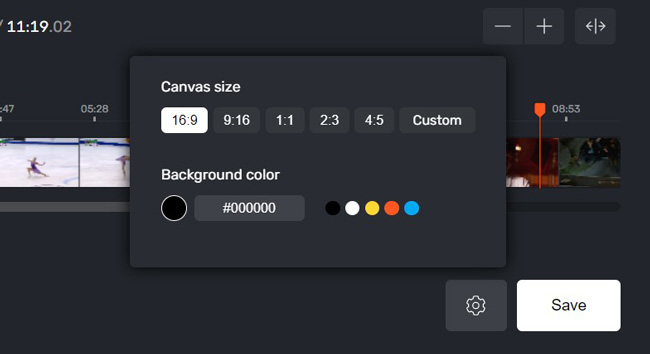 From the gear icon, you can change the canvas aspect ratio to 16:9, 9:16, 1:1, 2:3, 4:5, or other customized options, as well as apply a different bar color. When it comes to finishing the task, click "Save" and choose the output resolution from SD or Full HD.
Splice Videos Together on iPhone with iMovie for Apple
Want to figure out how to splice videos together on iPhone for free? iMovie is the best option to combine your videos and download edited files without a branding watermark. This software is free for Apple users and pre-installed in every iOS version. Apart from splicing 2 videos, iMovie is capable of speeding, cropping, and volume boosting. If you haven't found the step-by-step ways to use iMovie for combining and splicing clips, here is the guide.
Start a project, click "iMovie", and select your videos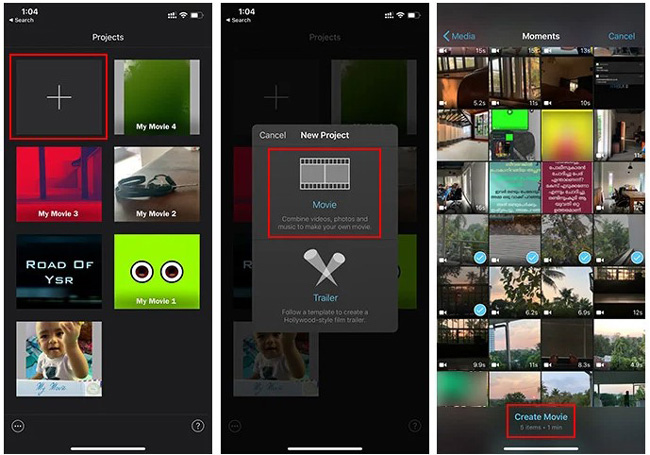 Run iMovie on your mobile phone, click the "+" icon from the user interface. Create a new project by hitting the "Movie" icon. In the next panel, select your videos from the album, then click "Create Movie".
Hit "+" under the toolbar. Splice your videos with transitions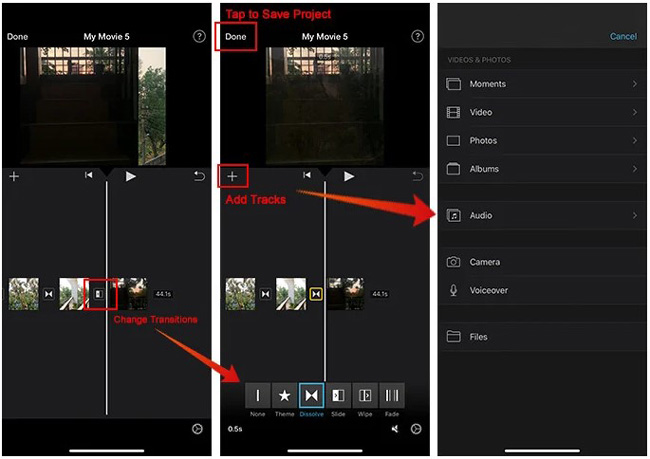 Hit the "+" icon between every two video thumbnails. Choose a transition mode from the built-in library. You can also add music and photos from the local folder. And it is accessible to add voice-over and screen recording.
Save video on specific resolutions, or share the editing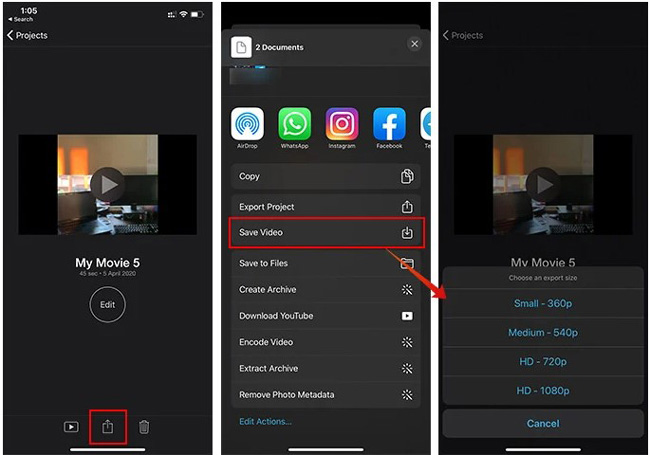 Once you click "Export" in the right upper place. You find output channels to share the edited files on Facebook, YouTube, or other platforms. And you can save the project to local files by clicking "Save Video" and choosing a resolution option. The iMovie app supports 360p, 540p, 720p, and 1080p.
How to Join Two Videos Together with VN for Android
Ready to get how to edit videos for Android users with video splicer and merger apps? Different from iOS, Android devices do not provide a powerful yet easy built-in video production app. In this case, you're likely to use TikTok, InShot, CyberLink PowerDirector, or KineMaster for generating a video, but they come with watermarks and limited features. So we advised you to try VN for splicing two videos together and editing with seamless transitions.
Tap on "New Project" for generating a new file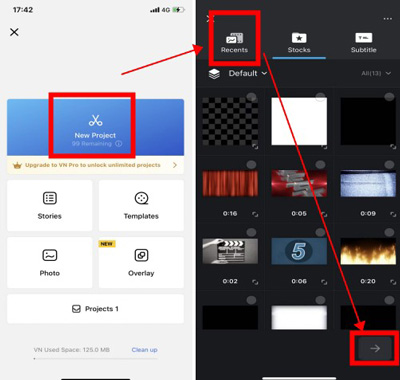 Video templates, collage slideshow, and blank projects are supported by this app. Begin to splice your imported videos by clicking on "New Project" from the popup page.
Find "+" on the video track and add a transition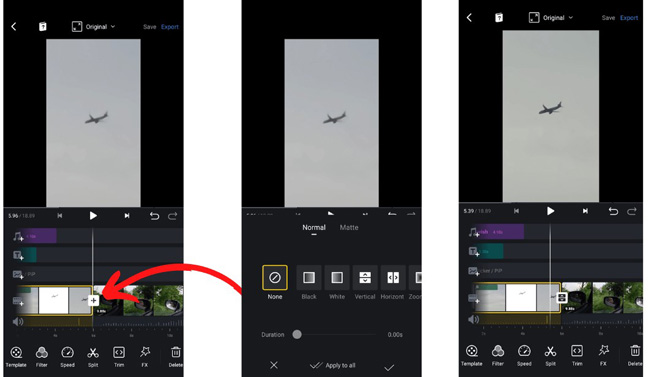 VN contains a streamlined interface with tracks for music, text, effect, video, and volume. Find the video track and click "+" to add more videos to this app. Then you add a normal or matter video transition between the two clips. It is provided to play the video in real time to check the video rendering result.
Set downloading parameters and file sharing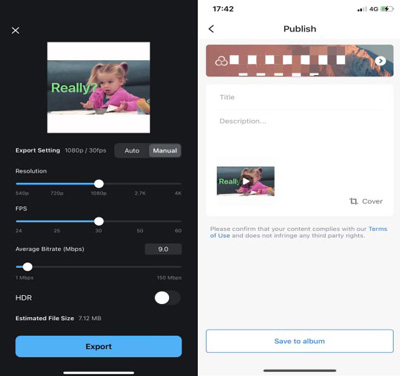 As regards the download-setting page, users can manipulate the resolution, bit rate, and frame rate. When it comes to sharing the video, adding a description and title is a good way to enhance the results.
Wrap Up
You learned the ways to compound and splice videos together on different channels. For making a long video file, it's better to edit a video on computer, as video-making software is powerful and good enough to combine large-size videos. Other useful tools like trimmer and splitter are easy to be applied by those introduced video splicers.