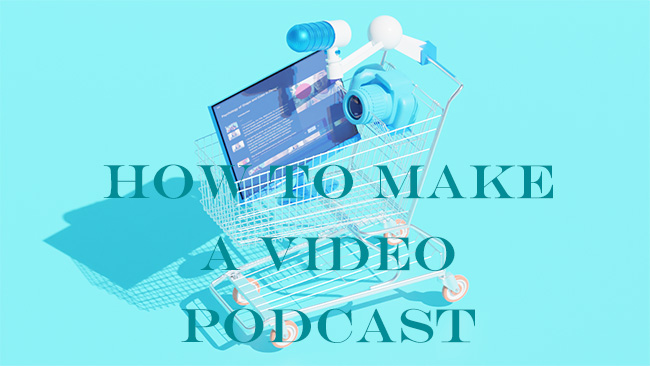 Podcast is different from traditional radio through which people just can listen to specific programs in a specific time. While podcast allows people around the world to enjoy their favorite programs everywhere and anytime. However, podcast has its own market. Podcast makers try their best to attract more fans. Making a video for podcast is an effective way to achieve this. But how to make a video podcast? In the following content, we will give you some advice and help you create a video podcast more easily.
Part 1: What is a Video Podcast
A video podcast is a regular podcast with a video which usually performs the content of the podcast. How to make this video is up to you. The elements of the video can be just a picture or some pictures with podcast subtitle or some videos you shot in advance. When you make a video podcast, what you can do is the same as the steps applied in those usual videos and what the difference is that you must add your podcast audio to the edited videos before you output it.
Part 2: The Reasons to Make a Video Podcast
Make podcast attractive
How to increase the number of podcast fans is the key question for podcast makers. Making a podcast with a video is a good way. Videos are more active, more various, and richer in terms of presentation. People would be attracted more easily by the things they can see. How to make a video podcast is the key problem for it.
Compatible with more platforms
Although audio can be also popular, it cannot be upload directly in some specific platforms such as YouTube and TikTok. On YouTube, you can just upload videos but unlimited duration. On TikTok, you can just upload videos but limited duration less than 60s. Therefore, turning podcasts into videos is an effective way to expand the audience scale. Those video social media platforms like YouTube have large user base. If you upload your podcasts on it, more and more people can listen to your works.
Resonate with the audience
When you just perform your podcasts in the form of audio, the scenes descripted by your voice just can be imagined by audience. It is a challenge for some audience. While video podcasts give audience another experience which is relaxed and feel like personally on the scene. Videos are more likely to resonate with the audience.
Part 3: How to Make a Video for Your Podcast With Effective Video Editor: TunesKit AceMovi Video Editor
To make a video podcast, you need an easy-to-use video editor. There are all kinds of video editor such as Adobe Premiere Pro. Although Adobe Premiere Pro is a good video editor, for beginner it is too complex to learn. Here we recommend a good enough Adobe Premiere Pro alternative for you: TunesKit AceMovi Video Editor.
TunesKit AceMovi Video Editor has all the features you need to make your videos including all kinds of videos not only video podcasts. Its features include basic editing features like splitting videos, adding audios to videos and adding images to videos and advanced editing features like adding filters to videos. TunesKit AceMovi Video Editor is very easy to use. Even if you never use any video editor, you can still learn it and master the ways to take advantage of it to make a perfect video podcast. If you are a video editing beginner, AceMovi Video Editor would be your best choice.
Apart from excellent editing features, it can converter the video format to your target platform. For example, if you want to upload your video podcasts to YouTube, you can output the video as YouTube format. As you know, the video uploaded to YouTube has some requirements. This feature helps you save time.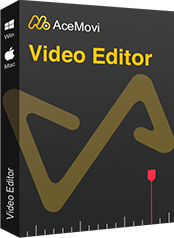 TunesKit AceMovi Video Editor
Security Verified. 5,481,347 people have downloaded it.
Record your screen with high quality
Create and edit YouTube videos with ease
Provide basic and advanced editing features
A lot of flexible output options including YouTube
User-friendly interface and clear navigation
Steps to make a video podcast with TunesKit AceMovi Video Editor:
Download and install TunesKit AceMovi Video Editor on its official website;
Open the software and click the Import button to import your podcast and the video clips prepared in advance on computer;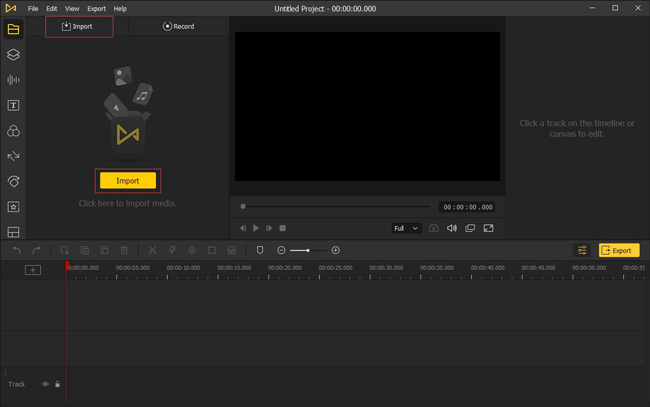 Move mouse to the video and audio respectively and click the yellow button + to add the video and audio to the timeline; or you can drag them to the timeline directly;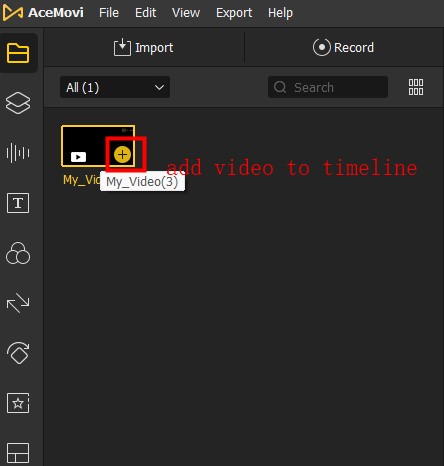 Adjust the order of those video clips on timeline to make it in accordance with the podcast content; and then adjust the video duration is the same as the podcast to make sure the video and the podcast audio begin and finish at the same time;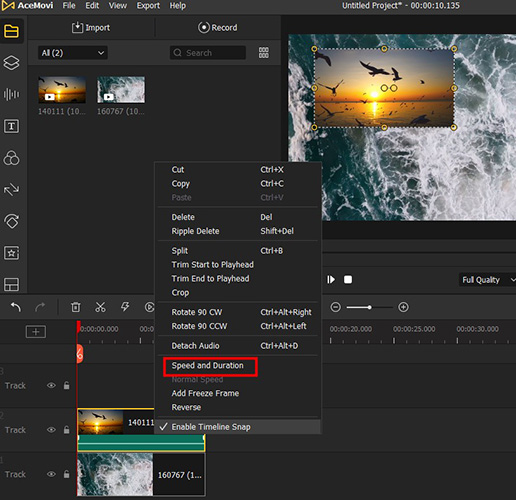 Choose those icons on the left of the video to add other elements to the video like texts, filters, transition and so on. Appling those elements to which video clips and when to add them is completely up to you;
On the top of the timeline, there are Split, Speed, Reverse, keyframing, Crop and Zoom icons. Take advantage of them to adjust the video speed and location;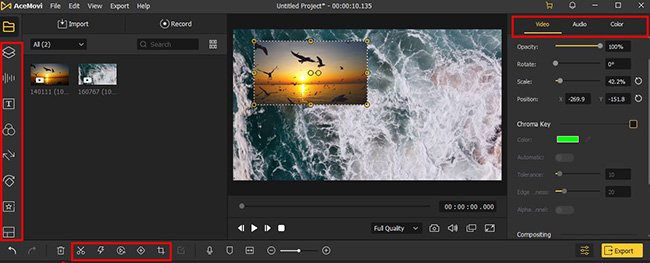 On the center of the software, it is a preview window that you can preview your video whenever you want;
If you get a satisfactory video, just click the Export button; click Web and choose the platform you want to upload to; AceMovi Video Editor offers some popular platform formats; on the right of the popped-window, you can change the name of the video and the place you want to save it;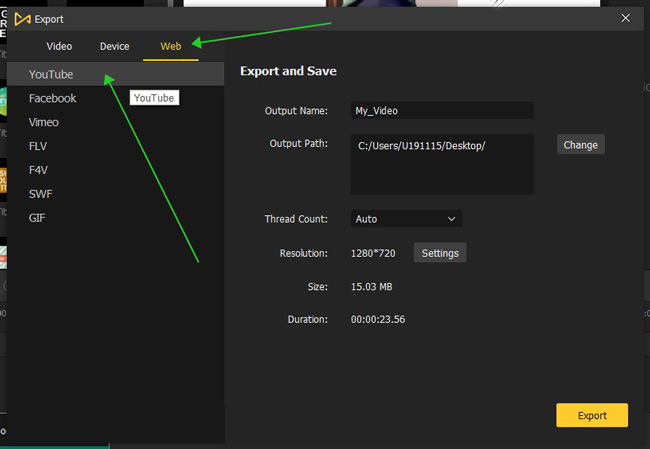 After the above all steps, just click the Export again; a video podcast is born.
The Bottom Line
Now you have known how to make a video podcast. It is not a big problem for you to carry out it. Whether how difficult it is, we need to face it and do it personally. Although creating a video podcast is not so easy, your effort will be your best helper and your fan will be your biggest motivation. TunesKit AceMovi Video Editor will take a great load off your mind. Find it and try it! Maybe it would give you a surprise.