The audio track is a key element in video editing, especially for those who want to make good content and go viral in the digital video era. Audio codec, channels(mono or stereo), sample rate, and bitrate are some of the most important parameters that we video creators need to comprehend and master. Not all software now available for audio and video editing is able to change audio bitrate, not to mention the precise to convert audio bit rate into 256kbps, 320kbps, or higher, however. You are in the right place if you are interested in this, I must say! You will find this post helpful and the mentioned methods to change audio bitrate are easy and pragmatic.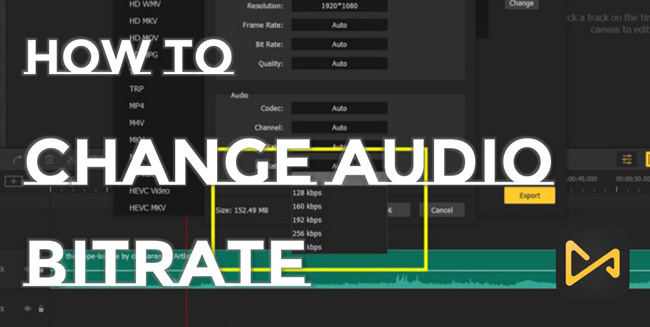 How to Change Audio Bitrate in Windows 10 & Mac with AceMovi
For changing audio bitrate of MP4, DivX, WMV, AVI, MOV, M4V, DivX, 4K Video, and mobile phone videos, AceMovi must be the easiest option. Perfect for YouTubers, TikTokers, Facebookers, and many more users from social media. AceMovi tells the audio editing story with the tools of bitrate changer, voice-over recorder, trimmer, splitter, joiner, converter, and compressor.
With 80M+ active users worldwide, to a large extent, you can use AceMovi to make video editing easier and quicker. All together there are in-built action-packed features, such as split-screen, chroma-keying, animation blur, item clone and mirror, and picture-in-picture. More importantly, you can learn how to change and convert audio bitrate, codec, sample rate, and volume with it.
Now, downloading this software to hit your road. More effects, filters, and text templates are at your disposal!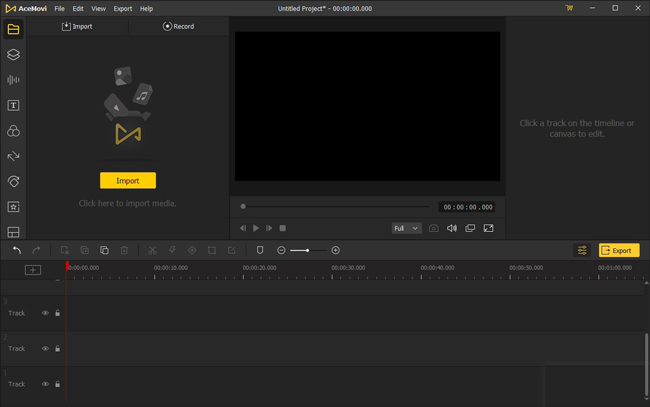 OS: Windows XP, Vista, 7, 8, 8.1, 10, 11 (32-bit & 64-bit); OS X 10.8, 10.9, 10.10, 10.11, macOS 10.12 Sierra, 10.13 High Sierra, 10.14 Mojave, 10.15 Catalina, 11 Big Sur, 12 Monterey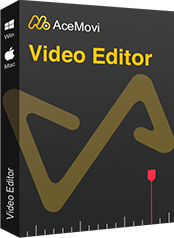 TunesKit AceMovi Video Editor
Security Verified. 10,335,060 people have downloaded it.
Pros:

Audio bitrate can be changed up to 320kaps
Slow- and fast-motion video maker
Clean bare-bones UI
Great UX for both beginners and professionals
Change major popular audio formats, including MP3, M4A, AAC, OGG, CAF, AIFF, APE, WAV, M4B, AU, ALAC, M4R, MKA, etc.
A smart library of audio effects and background music resources
Advanced color grading and correction
Pros:

8K video editing with this tool(v4.9.5) is unstable by our testing
Learn How to Change Audio Bitrate of a Video in AceMovi
Download & Install AceMovi
The premise of everything is you need to download and install AceMovi on your desktop. No matter whether your license is trial or full, you now can enjoy all the built-in tools of the tool to create and share.
Make Videos Imported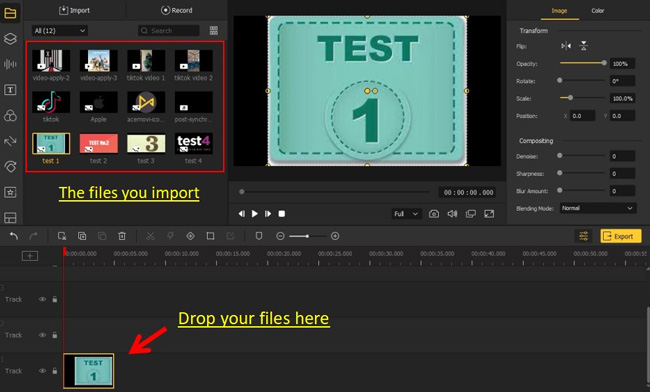 Simply drag and drop your files under the timeline. Your imports will be organized and become thumbnails that are ready to be edited more times. If you prefer to click the buttons, now, go to click the menu "file" > "Import Media" > "Add to Timeline".
Change Audio Bitrate in Video
To change the audio bitrate of MP4 in windows 10 and Mac, you need to click the button "Export" to export directly. Then go to click the icon to make presets.

Now, go to the "Bit Rate" on the Audio Plate. You can change the default audio bitrate to 123kbps, 160kbps, 192kbps, 256kbps, and 320kbps. Once over, press OK and Export.
How to Export Audio Only and Change Audio Bitrate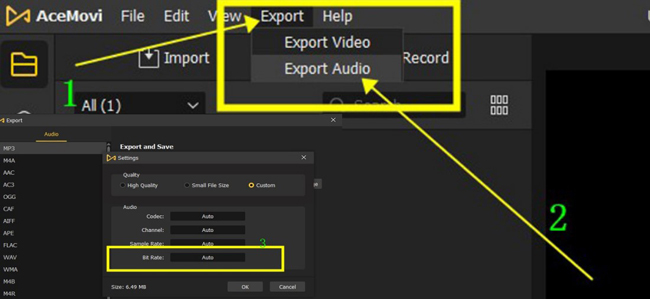 AceMovi allows you to export the single soundtrack and make related audio settings. To do this, you need to move your eyes to the menu, then go to the "Export" > "Export Audio" > "Audio Bitrate".
How to Change the Bitrate of an Audio File in iPhone & Mac with iMovie
Compared to AceMovi which is downloaded on Windows and Mac for free, iMovie is a best-in-class video and audio editing software for iPhone and Mac users that comes with a plethora of transitions, overlays, and texts. You find there are no exporting watermarks embedded after the whole workflow with iMovie. Surprisingly, you will find this audio bitrate changer has been installed on your iPhones. But you need to download it extra on your Macbooks.
Here we are going to see the tutorials on changing audio bitrate in a video with iMovie on your Apple devices. The tutorial is simple and comes up right now!
Import Videos to iMovie
To import files into iMovie, click the "File" > "Import" Media. Or drop your files under the timeline straight. For iPhone users, you need to upload files from your album.
Go to Change Audio Bitrate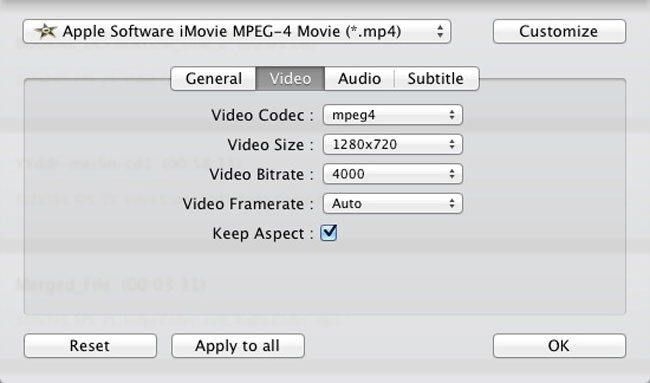 You need to export your files with iMovie. And follow the "Audio" and "Audio Bitrate" to do your job. After you have finished, click the "Apply to All" and "OK".
How to Change Bitrate of Audio File Online with Aconvert
Want to know how to change the bitrate of audio files online with ease? You must give Aconvert a try! As an online video editing website, Aconvert provides you with audio bitrate changing, URL importing/sharing, text overlaying, new soundtrack adding, audio trimming and splitting, etc.
Import Files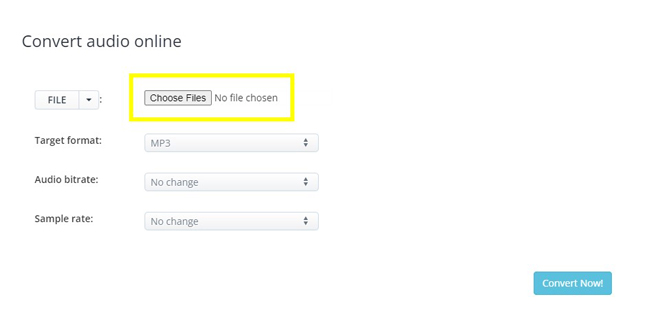 You can browse "change audio bitrate Aconvert" directly. Or go to the Aconvert webiste > "Audio". Now click the "Choose Files" to upload your audio files to this online audio bitrate converter.
Start to Change Audio Bitrate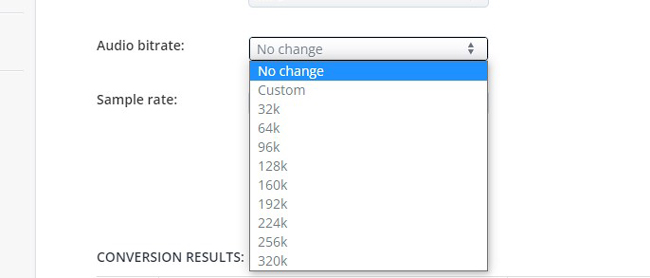 It is worthy of mention that Aconvert lets you customize the audio bitrate value. You need to click the "Audio Bitrate" dropdown box and select the value. Make sure that the target format and sample rate have been checked in advance.
Alternative Ways Functional - How to Change Audio Bitrate in Discord, OBS, & DaVinci Resolve
1. How to Change Audio Bitrate in Discord
Discord is an easy and popular tool for voice communication and sharing. You are allowed to tweak the audio bitrate to enhance the calls. Normally, Discord users have audio bit rates of 8 to 96kbps(kilobytes per second), with 64kbps pre-set to the default channel bit rate. If you have enough Discord Nitro gains on your server, you'll get higher bit rates, up to 384kbps.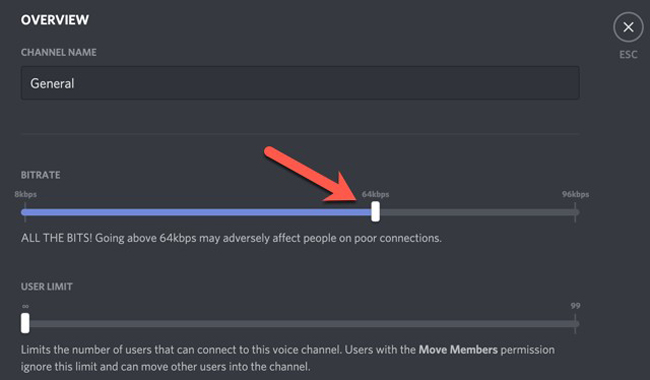 OS: Windows 7+; MacOS 10.11+ (El Capitan); iOS 11.0+; Android 5+; Google Chrome, Firefox 80+, Opera, Microsoft Edge 17+
Step 1. Press the "Settings"(icon) from VOICE CHANNELS > GENERAL;
Step 2. Find the "OVERVIEW";
Step 3. Go to adjust the value of the "BITRATE" slider.
2. How to Change Audio Bitrate OBS
As an open-source and free-to-use video recording and live streaming software that can download and start streaming in a breeze, OSB Studio is the next station that we're now going to. Windows, Mac, and Linux are compatible well with OBS Studio. With a center canvas in the middle, images, properties, and filters on the bottom place, OBS shows its clean interface for all users and comes with a library of built-in high‑fidelity filters and simplified soundtracks.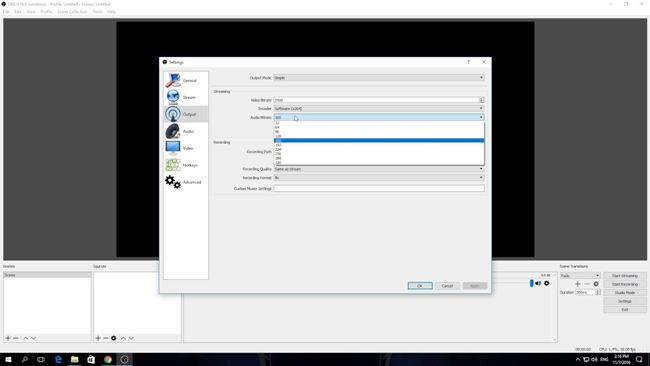 OS: Windows 8.1, Windows 10, or Windows 11; macOS High Sierra 10.13 and later; X window system or Wayland
Step 1. Go to the OBS website to download this tool;
Step 2. Click the button "Settings" which can be found in the bottom right corner;
Step 3. When a new page pops up, go to the "Output";
Step 4. Click the "Audio Bitrate" box to change the audio bit rate. The audio bitrate ranges from 32 to 320;
Step 5. Lastly, click the buttons of "Apply" and "OK".
3. DaVinci Resolve How to Change Audio Bitrate
If you have a fast Internet connection and a computer has good compatibility, DaVinci Resolve will be an efficient choice to change the audio bitrate of an audio track. DaVinci Resolve 18 was released this year and can be downloaded completely free on Windows, Mac, and Linux.
Resolve is a video editor with advanced audio editing features that can be found on the Fairlight panel. You find the Audio Mixer and Audio Mixer on the interface. You will see the input, order, effects, dynamics, EQ, Bus Sends, Pan, and more settings.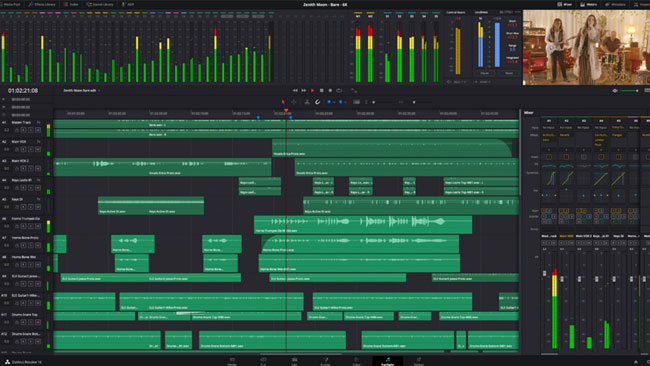 OS: macOS 10.4.6 or later; Windows 10, 11; Linux CentOS 7.3 or later
Step 1. Begin with a new project, then move to the "Project Settings";
Step 2. Find and click the "Fairlight" icon which can be found in the bottom place;
Step 3. Navigate to the "Timeline Sample Rate" and "Audio Sample Rate".
Conclusion
If you want to make more edits like trimming and cropping video files, AceMovi, iMovie, and Kapwing will be better. For changing audio bitrate with more professional parameters and settings, OBS is a great choice. There are also price differences among the 6 above-mentioned audio bitrate changes. It's advised to check the pricing details in the first place.