A large-size audio file makes it time-consuming to share or store. It is why an audio file size compressor comes up, which can effectively shrink song files smaller, allowing you to tune bitrate and codec. There are several points, to be sure, to consider regarding the best audio size reducers, including (1) Unwanted noise generated; (2) Auto de-noise, equalize and sync the beat and tone, and; (3) Time-saving and responsive. That's it! I should say the question of "Which one to choose?" has been solved because today I'll be sharing with you the six tools to compress audio size, along with guided steps. Here we start!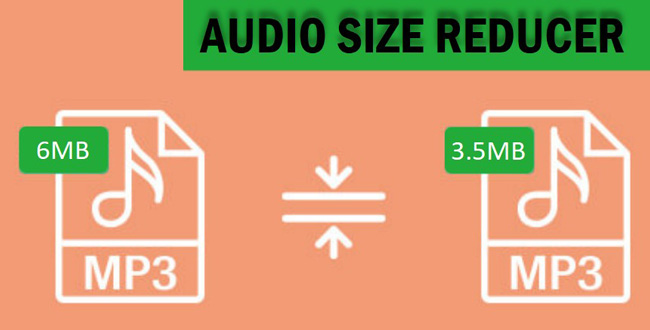 TunesKit AceMovi
TunesKit AceMovi is a brilliant audio size reducer software for compressing music files. It can downsize your songs by up to 80% while preserving the pitch. So the audio editor is becoming more popular as people want to make their music files smaller without sacrificing sound quality.
You can edit audio and video files according to the requirements of a project. For instance, if you wish to compress the audio file in a video, you can set the audio parameters bluntly. Likewise, it gives you complete control by providing customization features like sampling and output format. Here download AceMovi and learn how it functions.
AceMovi Audio Size Reducer
All trendy music formats
Edit videos' soundtrack
Batch files compression
Comprehensive codecs and bitrates
Record a voice-over
Bleep, Shot, and more effects
You can trim out unwanted parts
AceMovi Guides: How to Reduce an Audio File Size
Download and install AceMovi on PC, later, import files to interface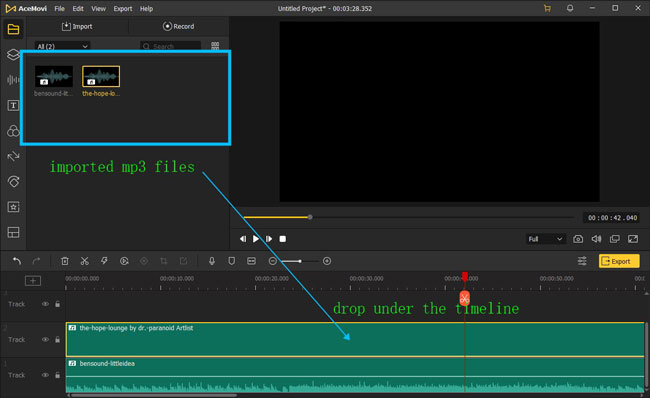 You can free download the trial version for Windows and Mac. Then drop files to AceMovi's timeline to create a new project with it.
Use the "Auto-Compression" feature, or customize the audio file settings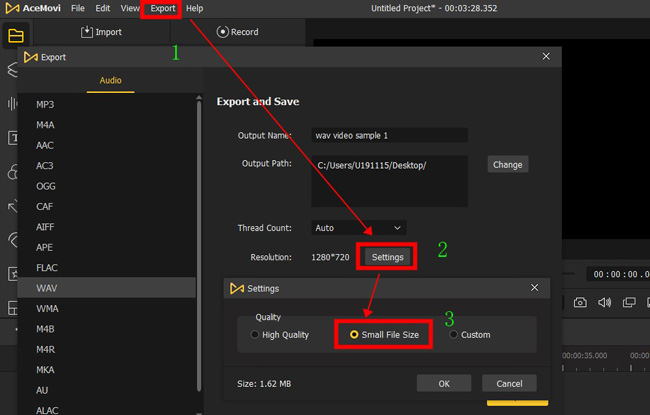 You need to click the menu "Export" > "Export Audio" to enter into the audio-setting profile. You can use the auto-compression feature to compress the music file. To do that, just click the "Small File Size" from "Settings".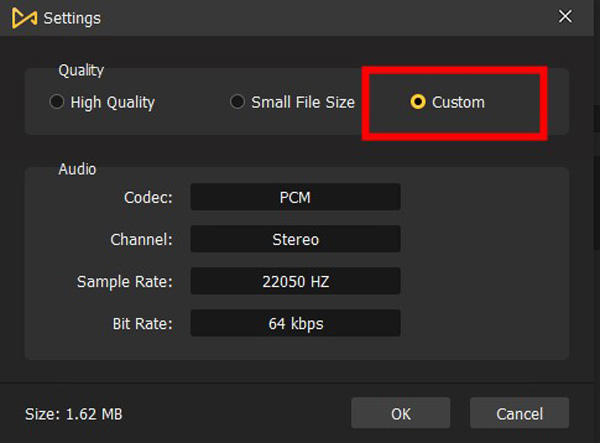 Another method is to customize the settings and parameters. Go to the "Custom" panel where you are empowered to change the audio codec, channel, sample rate, and bitrate. The smaller the value, the smaller the audio file size. Then click "OK" to apply your operations.
Convert audio to any other format, or download it to folder directly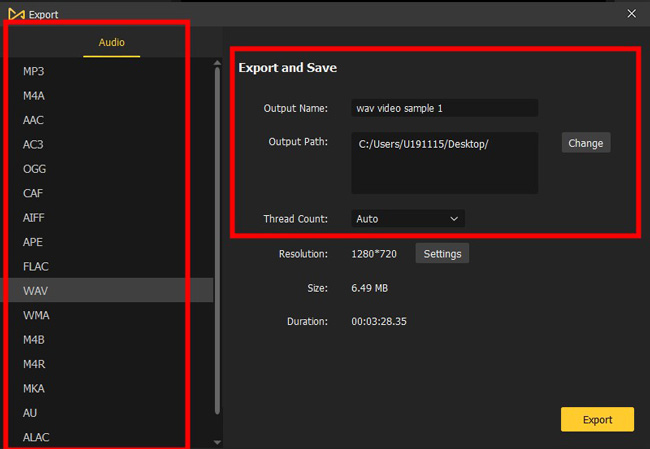 With that said, AceMovi is an audio converter so you can choose the target file type from the "Audio" plate. There are channels to locate the destination and output name.
OnlineConverter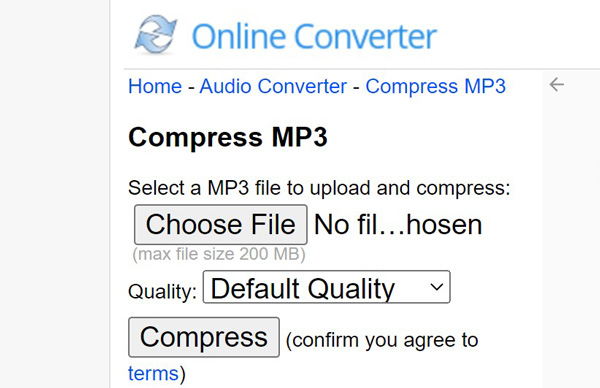 Want to use an online tool to make audio file smaller? The OnlineConverter website is an audio size reducer online free that can compress audio files based on diverse output quality requirements. It will help you save space on your browser and reduce the quality of your recordings or downloaded music.
As easy as it can see from outside, OnlineConverter can be used to downsize audio file and make them smaller with a few clicks. The features include multiple formats supported and auto quality settings. Reducing audio file size into smaller files for iTunes or iPhone, splitting long videos into several shorter ones, and changing the volume are covered.
Guides: Go to OnlineConverter website. Click the "Choose File" to upload music and set the quality, then operate this compression.
Pros:

Based on webpages
Plain workflow
Five quality settings
Switch to cut and merge songs
Cons:

Max file size 200MB
Unfit for batch files
Quality settings do not show parameters
Audacity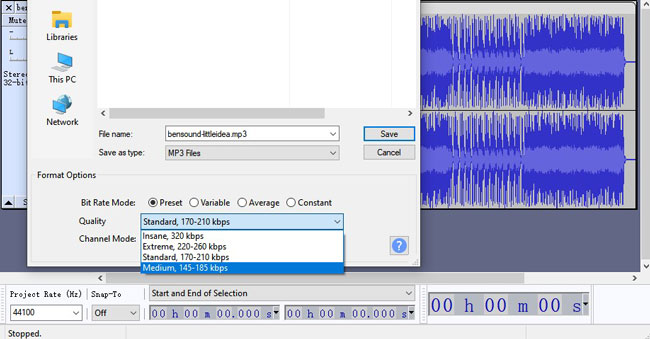 Audacity is an open-source and free audio editor, recorder and composer for Windows, Mac OS X, GNU/Linux, and other operating systems. You can get it for your computer by visiting the official website. Audacity offers a wide range of features that make it an ideal tool for reducing audio file size. To be specific, it can edit sound files from different sources such as CDs, tapes, LPs, or even live recordings. Audacity can also make audio files smaller and remove noise from your recordings.
Guides: Download the Audacity audio editor on your desktop. Find the menu "File" > "Import" to upload music and click the "File" > "Export" to choose the output format (MP3, WAV, OGG, or else). Later, set the quality from "Format Options" > "Quality". When everything is all right, tap on "Save".
Pros:

Various bitrate modes
MP3, OGG, AMR, and more common formats
Sliding stretch
Tempo/pitch/speed changer
Visual sound waveforms
Cons:

It's complicated for some users
Audio formart conversion feature should be updated
FreeMake Audio Converter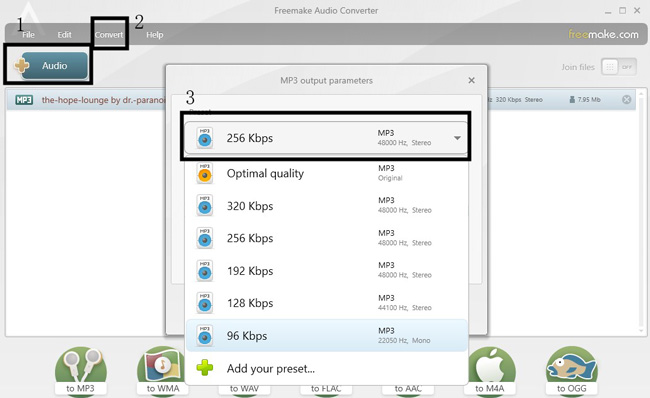 Freemake Audio Converter is a free tool that provides an easy way to make audio file smaller without compromising on quality. It offers additional features such as converting songs between different file formats, splitting audio files into multiple volumes, and converting audio files to MP3 or WAV format. As the tool is freeware, one will find it limited with available options. However, this converter is a blessing for those who do not wish to spend money or are looking for a simple tool that reduces audio file size.
Guides: When enter into this software, click "+Audio" to upload. Go to the menu "Convert" where you will be asked to choose the exporting format. Open up the dropdown preset to set the target bitrate (Kbps) values. Also, you can use the gear icon below the dialogue to manipulate meticulous parameters like sample rate and channels. Finally, locate your file and click "Convert".
Pros:

Multiple tracks
Customize bitrate (32 - 256 Kbps) and sample rate (8 - 48 kHz)
Export to iTunes
Clutter-free process
No file size limit
Cons:

7 audio formats
Not a media player
Monkey's Audio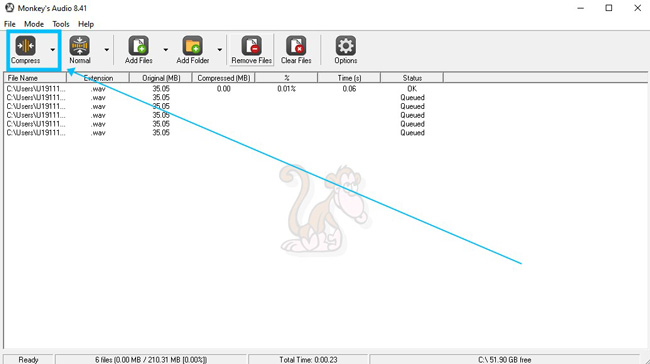 If you want to find a WAV audio file size compressor, it's good to Monkey's Audio which is software that can reduce audio file size without hiccups. It is the easiest software for compressing music files. Monkey's Audio has been around since 2001, becoming one of the world's most popular audio compression tools.
It is also free to use without size limits. This software can reduce the size of WAV, AIF, AIFF, CAF, or any other audio file by up to 50%. Sadly, it does not support MP3 format. Monkey's Audio can also transform or normalize audio input to produce a better listening experience.
Guides: Download this software on your Windows. Drop audio files to the interface. Click "Normal" to set the output quality. Finally, tap on "Compress" to complete this mission. By the way, there are options to preset simultaneous files and verify mode.
Pros:

Make a wedding video with texts
Better for batch audio file compress
Decompress, convert and verify
Responsive system
Cons:

The MP3 format is not supported
It's not a music player
WinSoft Magic Compressor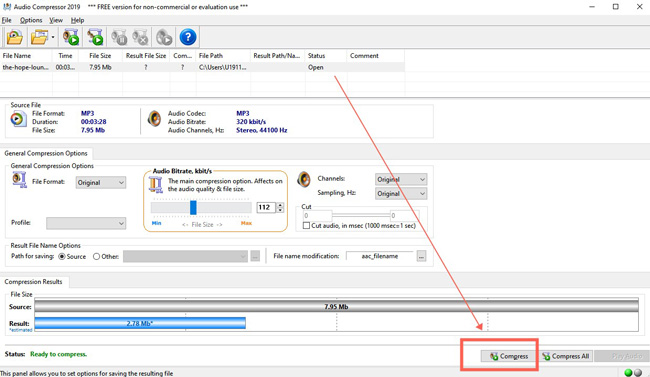 WinSoft Magic Compressor is a tool that assists one in converting audio type and shrinking the audio file. It supports a wide format of audio files, making it comprehensive for any user to compress an audio file in a few simple steps. Additionally, the compressor supports converting video into an audio file and compressing MP3 files to be played on different devices. You see the "Source-Result" plate to compare the compress degrees, which makes WinSoft Magic distinct.
Guides: Get this software on your PC firstly. Perform a shortcut "Shift + Ctrl + O" to upload files from local. Select the file format, sampling, bitrate, and name. And click "Compress".
Pros:

Download size multiple files with one click
40+ different codecs
Lighting compression speed
Real-time source and result player
Cons:

There is no any audio effect for you
Limited fomats
Wrap Up
Storing huge files is always an issue whether you are a professional or a home user. With an audio file compress tool, it is possible to reduce the file size without any hassle. The tools discussed here allow everyone to save space saving their favorite audio files. The best tool gives complete control to the user with a good collection of editing options. The only way to check which compressor is suitable is to try and review it. So, download today and start reducing!