After you recorded or downloaded audio files, in most cases, you'll need to enhance the quality of them with a series of music-editing tools like cutter, merger, and converter. That's simply because the original file won't leave you with the perfect impression that all the parameters are well-designed. The first thing you may indulge in is which one is the best audio cutter pick.
This article will provide you with the best audio cutting tool available in the market. All the mentioned programs are incredibly easy for you to trim audio files on one track as well as provide multiple functions to edit the music further. Also, you can play the cut effect in real-time to check the results. Go through the article and select the best tool!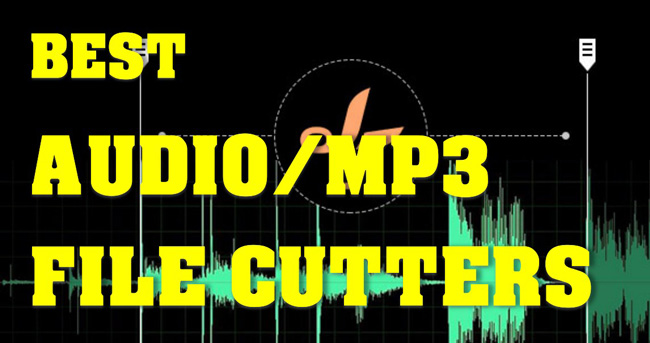 [2022] The Best Audio Cutter Software and Online Tools
Top 1. TunesKit AceMovi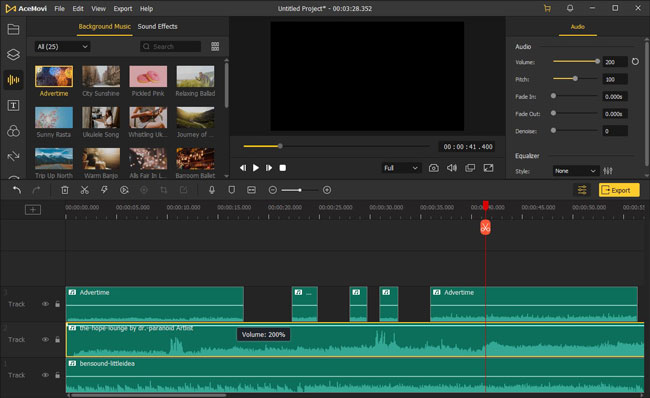 With a pure and easy-to-understand interface design, TunesKit AceMovi is the best tool for cutting and editing audio files of MP3, WAV, FLAC, ACC, etc. This audio cutter software provides users with more tools like volume booster, pitch changer, and file converter. Other than cutting and joining audio files, AceMovi records screen with music and offers the best video captures for you to directly fine-tune.
Using AceMovi does not require any technical training. Beginners are able to easily figure out the features, such as filters, music library, animations, split-screen, and text overlays. It has a free trial that allows users to use all the tools and effects for their audio and videos.
AceMovi Audio Cutter
Responsive audio MP3 cutter
Most audio types are supported
Edit batch files at once
A library of music effects like Bleep
Extract and edit video audio
Royalty-free music stock
Convert sound bitrate and codec
How to Cut Audio Files with AceMovi for Computers
Download AceMovi via official channels. Create a new project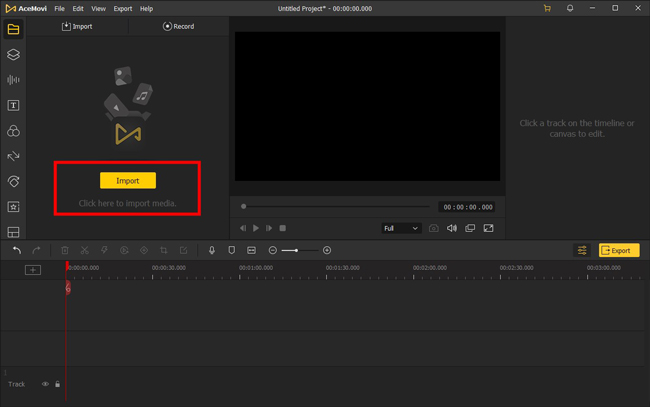 Once entering into the AceMovi layout, click the "+" icon to import your audio or video files. You'll see thumbnails from the Media place where you can choose to add files to the timeline.
Set the cutting time by the pointer. Click "Trim" from the toolbar

If you've placed the time pointer into the correct place. Then, just click the icon "Trim" from the toolbar or right-click the audio track to choose "Split". After that, you'll see the cutting effect on the timeline that the original audio will be separated into two parts.
Choose the audio file parameters like format. And download your music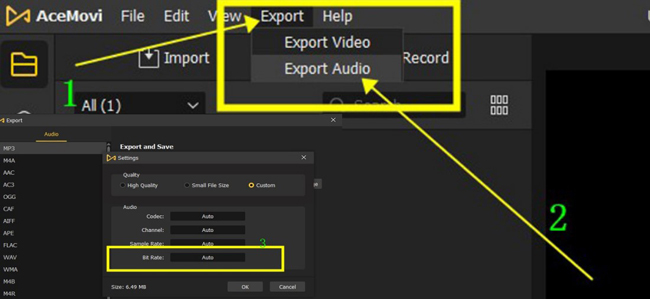 For exporting audio file merely, click menu "Export" > "Export Audio". Choose your output format as well as the settings provided by AceMovi. If you don't know the parameters and you want a high-quality file, click the "Settings" > "High Quality". Don't forget to define the save path.
Top 2. Clideo Audio Cutter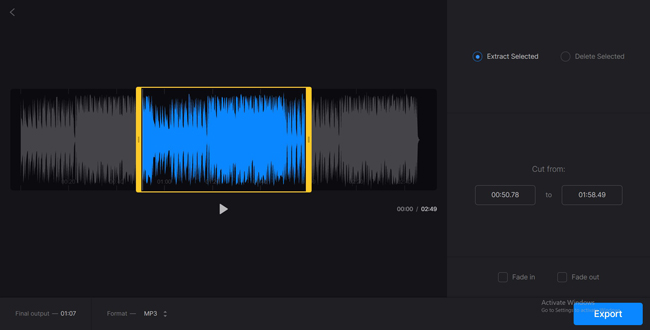 Clideo is one of the best online audio cutters and joiners for editing any type of music file based on a website. You can use the cutter to freely split audio into any parts or apply them to create ringtones and music for videos. Clideo enables you to edit and mix audio files, convert videos to audio, and do many other tasks.
With Clideo Audio Cutter, you can extract music or audio from a video, edit the recording, add fade-in or fade-out effects, or use it for multiple options. Also, you can remove the vocals of a video and add other audio or music to it. Furthermore, the editor can import audio files from multiple applications.
Pros:
Qualified ringtone cutter
WAV, MP3, ACC, OGG, SPX, and more audio formats are provided
Easily set the extracted area on one screen
Save the cut files on mobile phones or computers
Switch into other functions like MP3 cutter
Cons:
It's not a streamlined MP3 cutter, so you'd better choose it to edit a few files
The video-making features come with the Clideo watermarks
Top 3. MP3Cut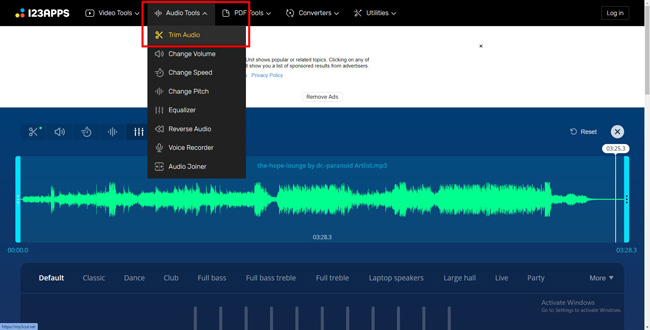 Another useful and effective online audio cutter is the MP3Cut. The cutter is one of the best for splitting and merging audio files. You can edit and customize audio and music files for ringtones and alarm tones.
MP3Cut has a friendly interface that allows you to add files from local folders, Google Drive, Dropbox, or URL with a couple of clicks. It is simple to follow guidelines for using the audio cutter online for the first time, as the MP3Cut guides its beginner users on how to cut audio. What makes this tool stand out is the functions to change volume, speed, and pitch that can be applied on one page.
Pros:
Equalize audio online
Control the time points to trim out
Reset button
Multi-functional layout
Sound waves
Cons:
There are many advertisements
You cannot edit and cut audio from a video with it
Top 4. AudioTrimmer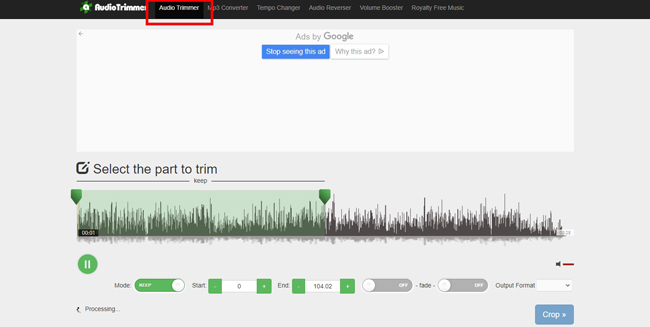 As an audio cutter online free, AudioTrimmer empowers users to trim, cut, edit, and merge audio and music files. You can then use the edited files to create personal ringtones, alarm tones, video content, and music files. The cutter has an easy and friendly interface that guides beginners and provides instructions to use the app efficiently.
AudioTrimmer supports audio formats such as MP3, WAV, and OGG. Also, you can import audio files to edit from multiple applications and your phone's SD card. While using the tool, you can use the "Undo" option if you did something wrong. By the way, you can click the icons to change the music tempo, reverse any clip, or change the playback volume.
Pros:
Include MP3, M4A, OGG, and AIFF
Mobile friendly
Easy ringtone maker for online
Set audio-fading effects
Free of cost
Cons:
A lot of advertisements
The max file size is 100MB
Top 5. Any Audio Cutter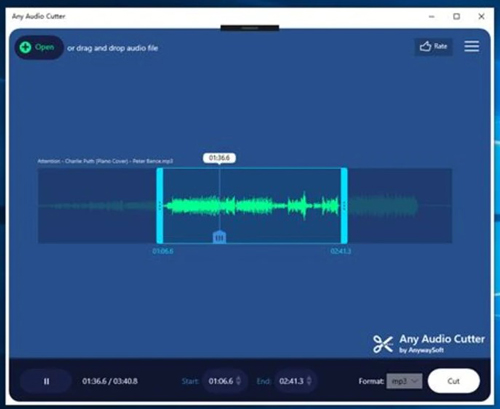 Any Audio Cutter software is among the best MP3 audio cutters for creating alarm tones, notification tunes, and ringtones from audio files. The cutter has an easy-to-use interface that permits users to cut unneeded music or audio track. After editing an audio file, you can use it to create good-quality music content.
The program can record a sound so you can record any sound from your device's screen or other audio providers. You can save your recorded audio files with different names. Also, the software is compatible with all audio output formats.
Pros:
Straightforward using interface
Multiple formats supported
No file size limit
Download it for free
Change audio bit rate
Cons:
There is no audio resource
This software needs Redo and Undo options
Top 6. Audacity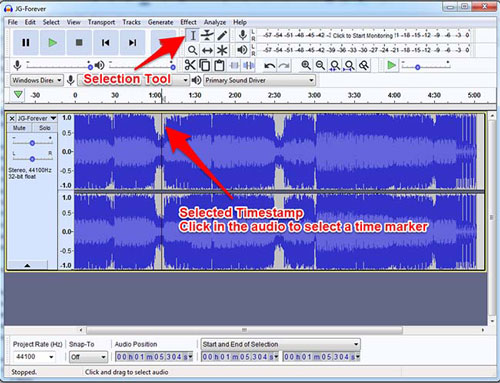 Want a pro audio cutter to fuel your creativity? Audacity has the main purpose of trimming and editing audio files. With Audacity, you can perform several useful functions and create amazing music outputs, such as alarm tones. The software has a multi-track interface with which users can trim, split, cut, configure, convert, and merge their favorite audio parts and use them for multiple purposes.
Audacity enables users to create videos by adding recorded audio and music files. You can share the created audio files directly with anyone, friends, and family. It has great features that can be used completely free. If you want to use advanced features and effects, this tool won't let you disappointed.
Pros:
Multiple tracks for cutting audio files
Voice recorder
Advanced, meticulous parameters
Completely free
Quick channels for exporting
Cons:
Intricate of use for beginners
You should download it on high-end computers
Top 7. MixPad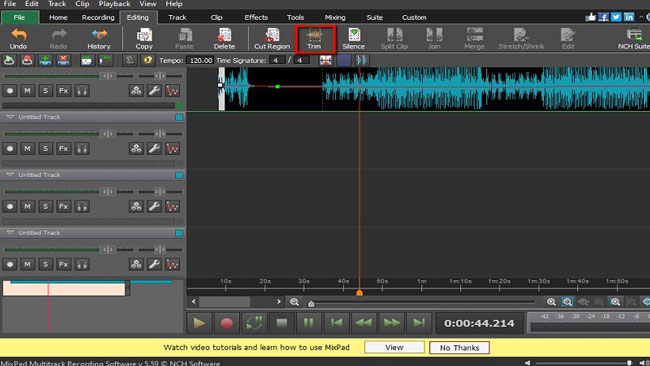 MixPad is one of the powerful audio and video editing tools that provides users with all the features necessary to create an HQ and SQ music file. You can split, trim, and cut unwanted pieces of an audio or music file as want. Then use them as daily-life ringtones and alarm tones after downloading.
With MixPad, you can use advanced features like removing vocals, adding text, looping clips, and overlaying multiple effects. You can add audio from any device-supportive application. The audio cutter supports a series of formats, including MP3, WAV, ACC, OGG, and more.
Pros:
Share to social media
Record voice and audio
Compress files
Real-time audio waveform
Multiple tracks on the timeline
Cons:
Hard learning curve for a newbie
Sometimes it will get stuck
Top 8. Free MP3 Cutter and Editor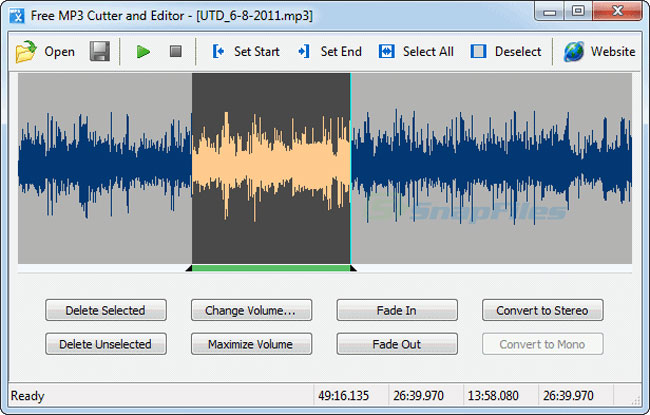 Free MP3 Cutter and Editor is one of the easiest audio editing tools that offer a simple-to-learn workflow interface. You can use this MP3 cutter to trim and split audio and music files with several clicks. With MP3 Cutter, you can merge different audio files and create a new music file. The cutter efficiently fulfills its purpose of providing ease and convenience to users.
It has a fast and HQ merging service that joins different MP3 files. The software is compatible with multiple audio formats like MP3 and FLAC. You can import and add MP3 files to the timeline from different devices and your device's SD card. With it, you can choose to delete the selected area of unselected parts.
Pros:
Free of use
Set end and start time
Sound waveform
Maximize/change volume
Various audio effects
Cons:
There is no macOS version
You cannot use it to edit multiple files
Frequently Asked Questions about Audio Cutters
1. Is there any audio cutter free of cost?
Absolutely yes. Those introduced audio cutters have an easy-to-use interface, advanced editing features, and more options for converting, reversing, and editing audio files even if there are no premium accounts. You need to import any file of audio to the track, use the cut option and click on the "Crop" button.
2. Which audio file format is the best one?
| Format | Quality | Flexibility | Playbility | Storage Cost |
| --- | --- | --- | --- | --- |
| Apple Lossless | ⭐⭐⭐ | ⭐⭐⭐ | ⭐⭐ | ⭐⭐ |
| FLAC | ⭐⭐⭐ | ⭐⭐⭐ | ⭐ | ⭐⭐ |
| MP3 | ⭐ | ⭐ | ⭐⭐⭐ | ⭐⭐⭐ |
| MP4/AAC | ⭐ | ⭐ | ⭐⭐⭐ | ⭐⭐⭐ |
| Ogg Vorbis | ⭐ | ⭐ | ⭐ | ⭐⭐⭐ |
| WAV | ⭐⭐⭐ | ⭐⭐ | ⭐⭐ | ⭐ |
| WMA Lossless | ⭐⭐⭐ | ⭐⭐ | ⭐⭐ | ⭐⭐ |
| WMA Lossy | ⭐ | ⭐ | ⭐⭐ | ⭐⭐⭐ |
All audio file formats are used for different purposes. If you are wondering about the best format for audio quality, a lossless audio file format is the best. WAV, FLAC, and AIFF are included in the lossless audio formats. Lossless files are called "hi-res" as they provide better CD quality.
3. How can I detach the audio from the video and then cut it?
For removing audio from a video, you can use comprehensive tools like AceMovi and Audacity. If you want to detach audio from a video in AceMovi, just right-click the clip and choose the "Detach Audio" option. The software will detach the audio from your video and keep it on another track. If you want to delete the removed audio, you can click on the "Delete" icon to delete the audio permanently.
4. Which audio cutter is the best?
By testing, AceMovi stands out from the top-ranked free audio cutter software for Windows and Mac. You can use this tool to trim out unneeded audio parts, boost playing speed, improve quality, and even make the audio in sync with your video.
Apart from that, AceMovi offers a plethora of royalty-free music libraries as well as sound effects like Shot and Bleep that will inspire you a lot. Download AceMovi here!
The Final Verdict
Nowadays, video editing and cutting tools are popular among content creators and other professions. The page with the best audio and music editor proves to be eye-catching for viewers. We introduced you to the 8 best audio cutters you can use to split, trim, and edit MP3 files without any trouble. Choose the best sound editor and make your content perfect with advanced features.