For storing more music files in the HDD, sharing them easier with others, or balancing the beat for a podcast, musicians and DJ players will choose to compress the size of their sound resources. That's the reason why people make music of lower quality. In fact, the process of audio compression is the same as mixing - You need to take the settings of file bit rate, frame rate, and codec into consideration. At present, there are many tools that can help you even automatically compress audio files in minutes. Just run through this page and follow the guides with us.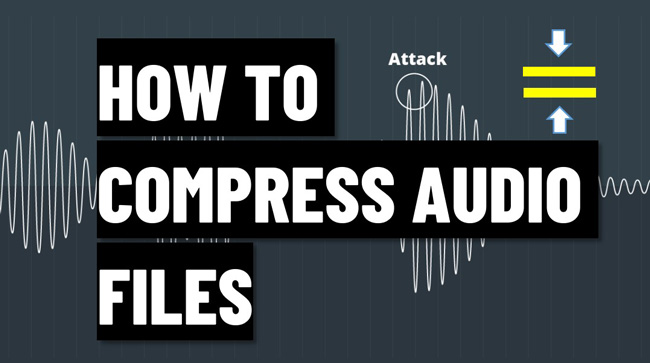 How to Compress Audio Files in Computers with TunesKit AceMovi
For both single or batch audio files, TunesKit AceMovi can help you automatically and intelligently reduce the size with a couple of clicks. This software supported the majority of audio and video file types, including MP3, AAC, FLAC, OGG, MP4, WMV, MKV, M4A, and so on. In other words, you can choose any audio to compress or edit with it.
Luckily, the AceMovi trial version can be downloaded for free right now. You don't need to spend too much time, just download it from the official channels based on your device. Then, follow our guides below.
AceMovi Audio Compressor
Multi-track timeline
All popular music formats supported
Beginners' preference
Change audio speed [0.01x to 100x]
Free background music and audio effects
Powerfully edit the video audio
Export file at audio format quickly
How to Compress an Audio File with AceMovi
Launch AceMovi after downloading. Import your audio files to the Media panel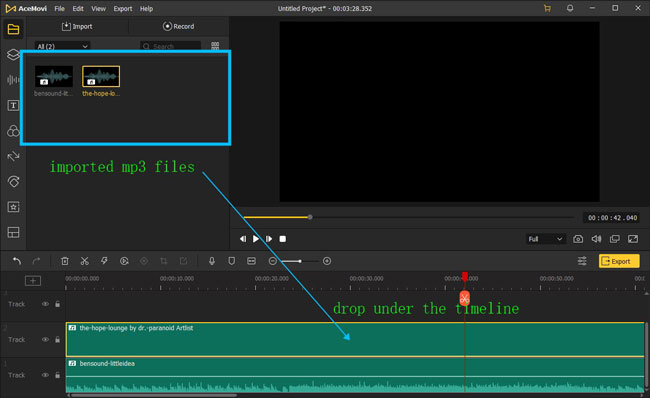 Once getting into AceMovi, drop your files under the timeline directly or click on the "+" icon to upload your MP3 files. You can upgrade your account to remove the branding watermark.
Use the Auto-Compression feature to reduce the audio file size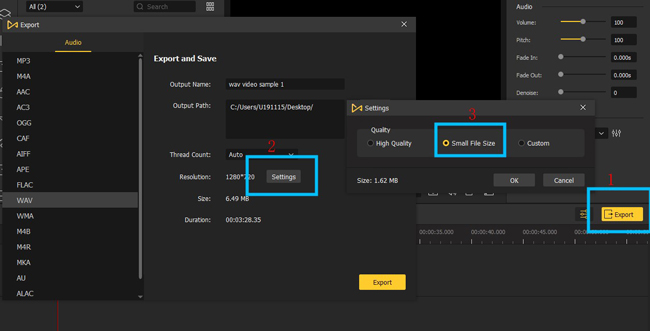 If you want to complete this mission quickly, you'd better try the Auto-Compression feature, which is set under the "Export" > "Settings" > "Small File Size". AceMovi will smartly adjust the parameters of your audio file. You can preview the final size from the window.
Fine-tune the sample rate, codec, and frame rate of your music file
Another way is to set the parameters by yourself. AceMovi provides you with channels to convert the values of MP3 codec, channel, sample rate, and bit rate. The key points include sample rate and bit rate. You can make them lower values firsthand.
Download audio file from this software by clicking on the menu Export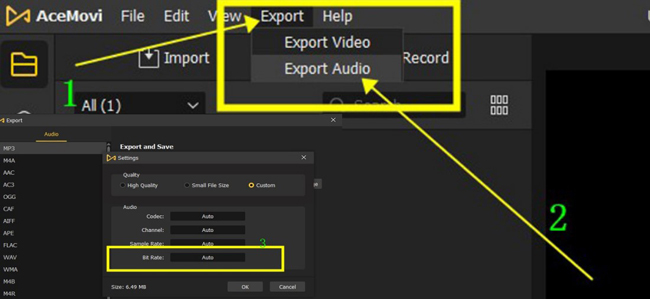 If you want to download the file in an audio format from AceMovi, you need to tap on the menu "Export" and "Export Audio". When you see a pop-up window, choose the final format as wanted.
That's the tutorial on reducing audio file size with AceMovi, downloading AceMovi below for trimming, speeding, converting, merging, and de-nosing your files further.
How to Compress Audio Online Free with OnlineConverter
Want to know which is the best method to operate audio compression online? We all know that an online audio editing program is compatible with all devices so long as you've connected to the internet. That's to say, you can try it to compress audio files on iPhone and Android as well. And we'll be sharing with you one tool which is called OnlineConverter. Keep reading to review it.
Click the "Choose File" from the interface of OnlineConverter to upload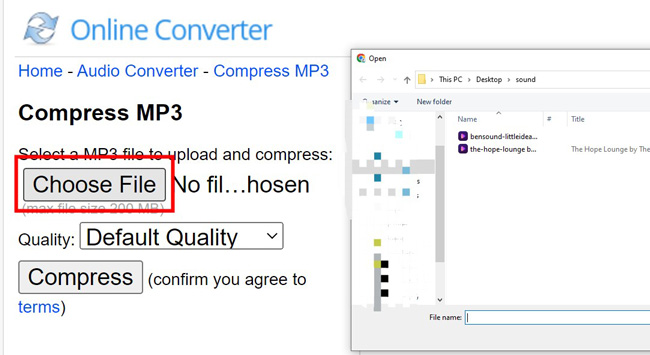 When you enter into OnlineConverter, find the "Audio Converter" and "Compress MP3". The file size should be limited to 200MB, and you can upload any type of file from local folders by tapping on the "Choose File" button.
Choose the compression degree from the pre-designed options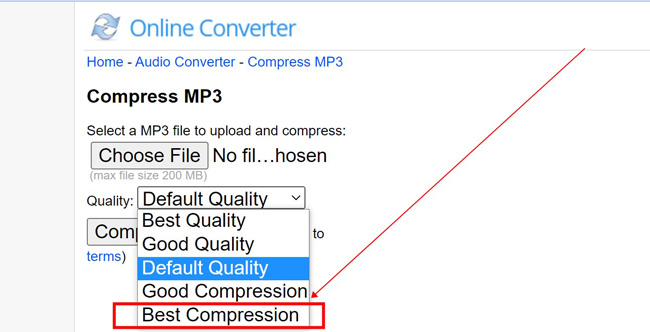 It's direct to change the audio quality from the interface to "Best Quality", "Good Quality", "Default Quality", "Good Compression", and "Best Compression". You need to click the last two options.
Operate the process and download the compressed MP3 for free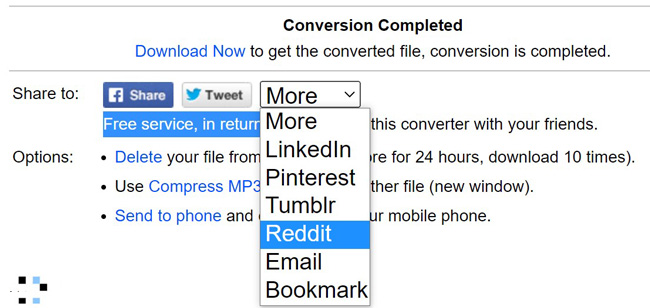 You can click the "Download Now" to export your files from OnlineConverter, or share the audio file with others via Twitter, LinkedIn, Pinterest, Reddit, or more channels.
How to Compress Audio Files in iPhone and Android
If you want to know which app is the best one to compress audio and video, you can give the MediaConverter a try, which is compatible with both Android and iPhone devices. You can now download it for free without any hassle. Apart from the size compression feature, you can use this tool to convert file format, extract audio from video, and adjust the volume. Here is the guide.
Download the Media Converter app on your mobile phone

Download and install this app first.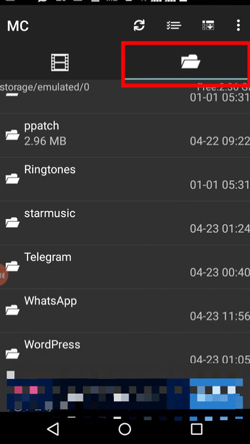 Then import your files from the album on your mobile phone. You can even extract audio from a video file with this tool.
Adjust the audio quality to lower. Then save the audio file
Scroll down to find the sliders to adjust the values of file quality. You'd better turn it to lower. You can also choose to change the sample rate. After that, download the compressed audio bluntly.
How to Compress Audio in Audacity for Computers
If you want to try an advanced audio editing tool to compress files, Audacity must be a good option, which is free for both Windows and Mac. You can compress, combine, cut, convert, mix, denoise, equalize, and configure any audio with Audacity. However, this software is intricate for newcomers, and you'd better download it for high-end computers.
Click the "File" > "Import" to upload your audio files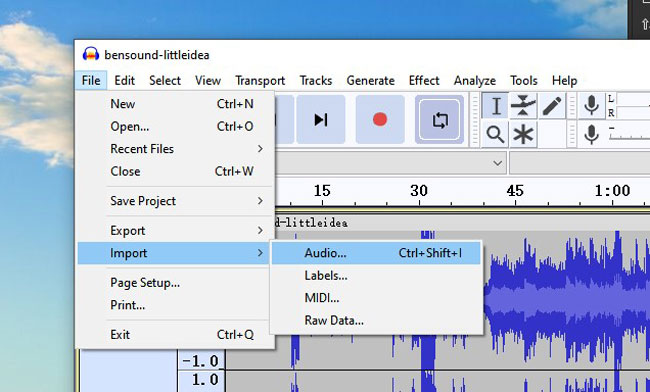 The shortcut to import your files is "Ctrl+Shift+l". Or you can choose to click the "File" > "Import" > "Audio" to import your files to Audacity.
Set the output format, frame rate, screen size, bitrate, etc.
Pick on the audio track first. Then open up the menu "Effect" and "Compressor". Right now, you can set the parameters of the audio file, including ratio, noise floor, attack time, and threshold.
Go to the menu "File" > "Export" to donwload your audio files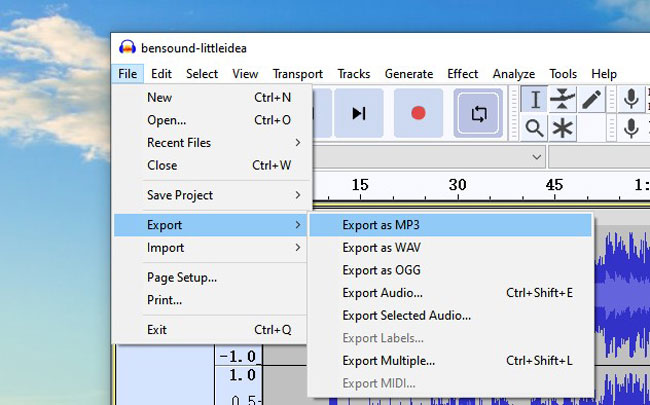 There are many audio formats provided for you to export, including MP3, WAV, OGG, etc. You need to click the menu "File" again, and then navigate to the "Export" and "Export as MP3" when you want to export your audio in MP3 format.
What Are the Differences among the 4 Audio Compressors
You've reviewed the three guides to reducing audio file size. If you haven't decided which one to choose from, you can check the differences below. Let's move on.
| | OS | Timeline | User Experience | Music Resources | File Size Limit |
| --- | --- | --- | --- | --- | --- |
| TunesKit AceMovi | Windows 10 & Mac | Streamined | Easy | Abound | No |
| OnlineConverter | Online | Linear | Easy | No | 200MB |
| Media Converter | iPhone & Android | Linear | Easy | No | No |
| Audacity | Windows 10 & Mac | Streamlined | Hard | No | No |
Lastly
If you're confused about the definitions of video parameters like codec and bit rate, you'd better try the auto-compress feature built-in AceMovi and OnlineConverter. They are professional audio creation and editing tools for beginners who want to make excellent music. Also, the Audacity can help you customize more meticulous settings like the Attack Time and Release Time.