M4A is different from MP4, although they apply the same MPEG-4 Codec. The biggest difference is that the .m4a file only contains the audio track, while .mp4 is one of the most popular video formats that has been used for the majority of platforms, devices, and other digital purposes. Aside from the content, the size of an M4A music file is much smaller than an MP4 video file, so users can save and transfer more .m4a files at the same time. In many cases, you may need to play the M4A audio file in MP4 format because of specific needs. Thus, a brilliant and powerful video converter to convert M4A to MP4 is what you want right now. Here are the best picks!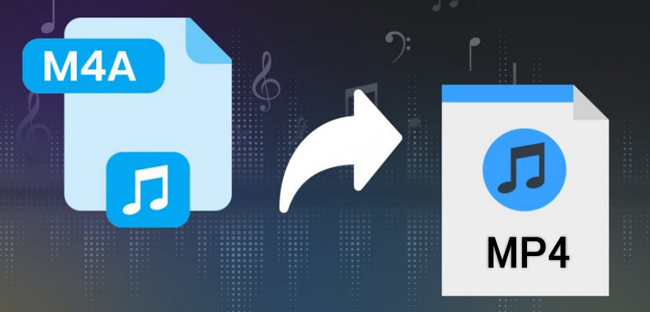 How to Convert M4A to MP4 in Windows 10 and Mac - AceMovi
Using AceMovi to convert video and audio files is quite easy. Its streamlined, multi-functional timeline supports videos, audios, texts, voice-overs, and images. No matter the large size M4A video file or small size, AceMovi is able to edit the media with the Duration Trimmer, Volume Booster, or Fading-in/-out effect maker, and then help you make a quick conversion.
Aside from high-speed M4A to MP4 file conversion, the formats embedded within AceMovi are more than that, to be detailed, MP3, AVI, DivX, MOV, MKV, WMV, FLAC, AAC, OGG, and DVD are included. When exporting the project, you can fine-tune the codec, bit rate, frame rate, file size, and channel like a pro.
AceMovi Video Converter
Change video speed from 0.01x to 100x
Allow almost all audio and video types
Easy-to-use user interface for entry-level
Add subtitles and captions on the screen
Free trial for even low-end personal comuters
High-quality green screen, keyframes, and more
Import/download large-size video content
Here is the guide to converting M4A to MP4 with AceMovi Video Editor
Start AceMovi. Click "File" > "Import Media" to import yout M4A file
It is easy and safe to download AceMovi on this page. Run it on your computer. You can enjoy limited use of the free trial version with no registration. When it comes to importing any file, such as your M4A media. Go to "File" > "Import Media", then add the thumbnails under the timeline.
Hit "Export" on the interface. Choose "HD MP4" and click "Export" again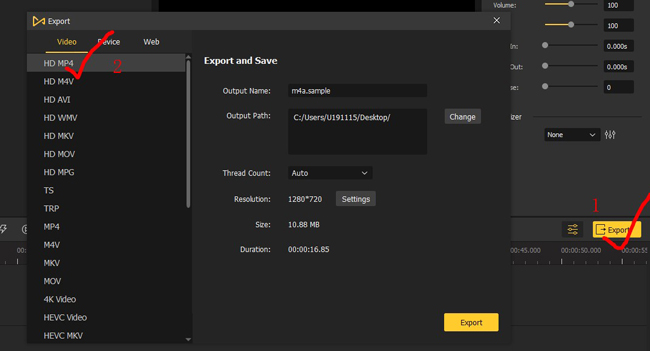 Press the "Export" icon from the user interface. There is a popup workspace to download the project you are working on, and you can choose many channels as well. To change the file of .m4a to .mp4, just pick up the "HD MP4" or "MP4" from the "Video" plate.
Decide the location to save the video. Adjust other file parameters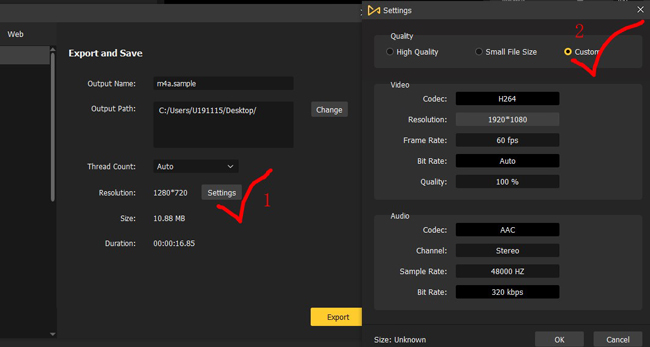 If you want to directly download the project, then click on "Export". If you need to make some adjustments to the settings of your file, such as resolution, bit rate, or quality, navigate to "Settings" > "Custom" on the panel.
(Optional) Edit the M4A media with built-in trimmer, speeder, and reverser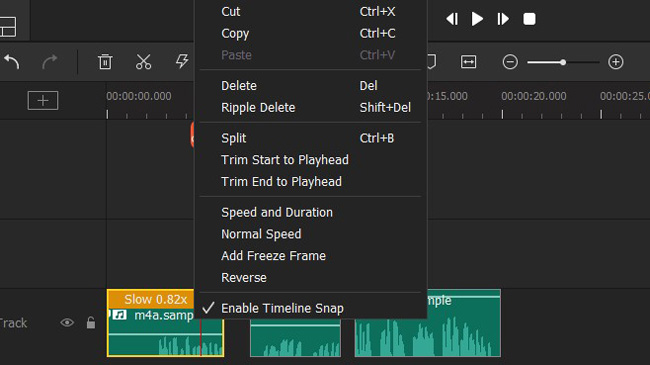 So many interesting functions you can use within AceMovi, for example, you can trim out unneeded parts of the audio track by moving the handle at the points and clicking n "Splitting" from the toolbar. Other features like reversing and speeding will make your content eye-grabbing and engaging as well.
Professionally Convert Your M4A File to MP4 Format - TunesKit Video Converter
If you want to find a professional video and audio converter rather than a video editor, then picking up TunesKit Video Converter, which a replete with hundreds of common media formats, such as M4A, MP4, AVI, MKV, FLAC, AAC, DivX, etc. You can apply the video bit rate up to 60 fps with no hassle in high-quality output. The UI is intended for converting batch files at once and organizing the converted clips with ease.
Drop .m4a file under timeline. Click "Format" > "General" > "MP4"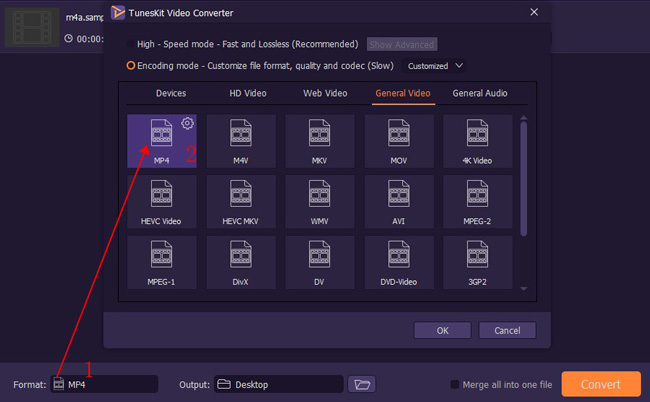 You can click the "+" icon to import your file or drop the media under the drag-n-drop interface for quick importing. After that, follow "Format" > "General" > "MP4". In this way, the imported file will be converted into MP4.
Use the "Scissor" icon to edit advanced settings for the audio and video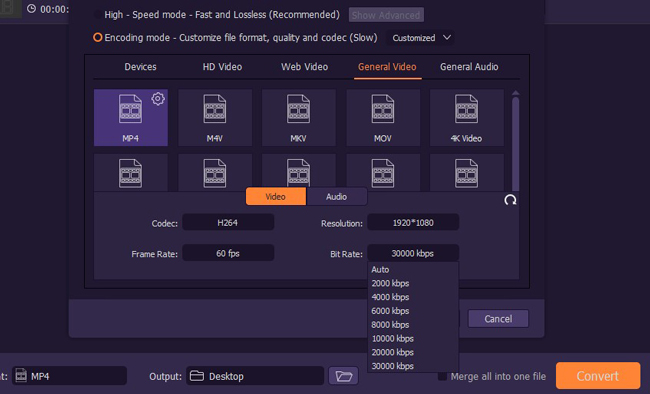 Since an MP4 video includes both video and audio tracks, you can adjust parameters of them as well. Specifically, it is able to change the codec, resolution, frame rate, and bit rate. Those options will determine the file size in the end. To relocate the file in your computer, click "Output" and choose the final folder.
(Optional) Click "Edit" to trim your file, change the volume, and so on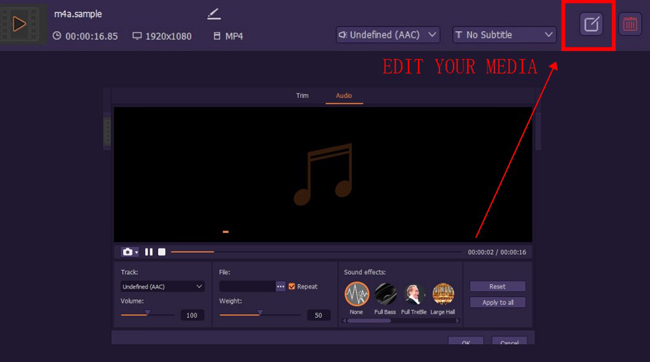 Small video and music editing is supported by TunesKit Video Converter, such as putting sound effects or boosting the volume. To do that, you need to find the icon from the clip on the user interface. Click the icon to enter the editing workspace.
How to Convert .m4a to .mp4 on iPhone and Android - VN
Do you want to find an eligible media converter app on your mobile phones? In fact, it is not possible to convert an audio file to a video format on your cell phone. No matter whether you use iCon or other M4A to MP4 conversion apps, they only allow you to convert audio to another audio, or a video to another video. As a result, we need to find a video editor which supports M4A format and can export the video in MP4 format. And VN belongs to one of the best picks.
Begin a new project. Choose the black background from stocks to import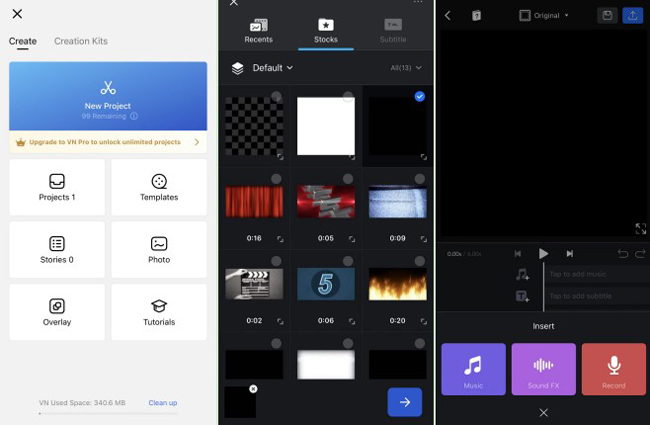 First of all, download VN on your iPhone or Android. Go to "+" > "New Project" > "Stocks". You need to select a black background as your video canvas because you cannot import the .m4a audio merely. On the UI, click the audio track, and pick up "Music" to add your audio file to the track.
Select the.m4a music. Edit the file, and export the project in .mp4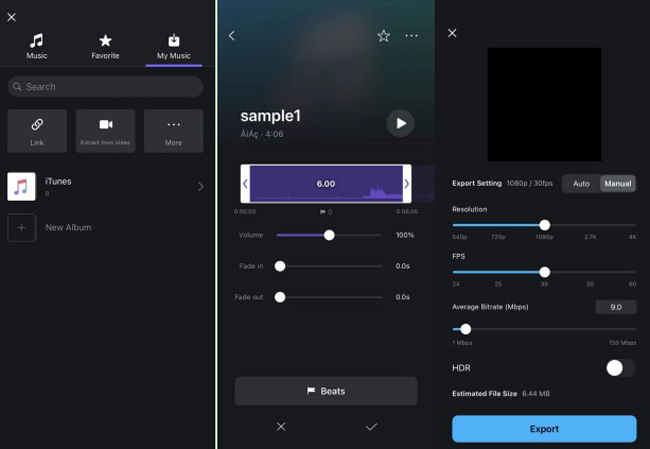 Choose the .m4a media from "My Music". On the popup plate, edit the duration, volume, and fade effects. When you see the audio track, click the "Export" icon in the top-right place to save the video in .mp4 format on your album. Meanwhile, you can change the fps, resolution, bit rate, titles, and description.
Produce M4A to MP4 Conversion Online for Free - FreeConvert
Anyone wants to use the best online file converter to change .m4a to mp4 without a penny? In that case, you will like FreeConvert very much because you do not need to download software or app, and you can make a conversion among multiple files up to 1 GB. On the layout, there are more features to edit your M4A file creatively, such as Reverser and Volume Changer. Keep reading.
Go to FreeConvert, find "M4A to MP4 Converter" from "MP4 Converter"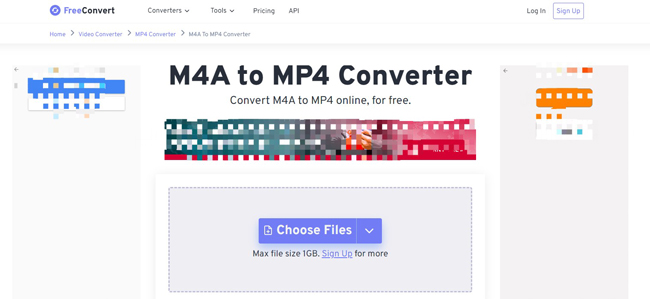 To use this online video converter, the first thing you need to do is find the correct converter inside the system. To complete the mission, you need to opt for "M4A to MP4 Converter", and click "Choose Files" to upload the M4A files you want to convert to MP4.
Set professional parameters, such as video/audio codec and frame rate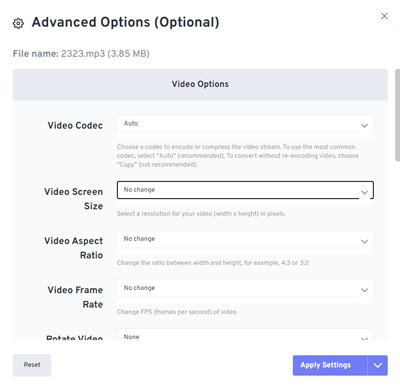 Before downloading the MP4 file online, you can edit both the video and audio track with advanced settings. You can also skip the step, as it is an option. Video codec, screen size, aspect ratio, frame rate, rotation degrees, and more functions are at your disposal. When you're finished, select "Apply Settings".
Download project in MP4 format online free, or save it to device or Dropbox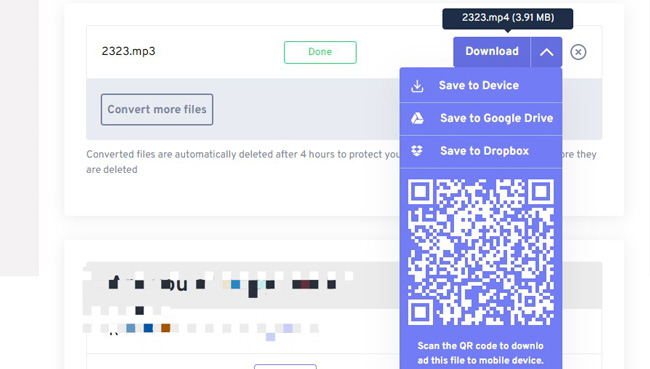 There are a few downloading channels to select. You have the panels to download the project online for free, save it to your device by scanning the QR code, store it to Google Drive, or save the video to Dropbox in one click.
Converting M4A to MP4 Frequently Asked Questions
Q1: What does M4A stand for? Why is M4A better?
MPEG-4 audio file is abbreviated as M4A, which includes digital music stream encoded with ALAC/ACC compression criterion. Apple used .m4a audio media to differentiate from MP4 video media.
An M4A file offers the same bit rate as MP3 but gives tighter compression quality. In other words, M4A files have the same bit rate as MP3 files, but with smaller file sizes and better audio playing quality.
Q2: How do I convert M4A to MP4 in Windows Media Player?
In practical terms both the Windows built-in Windows Media Player and Windows Movie Maker cannot convert M4A to MP4 files. To convert your .m4a to mp4, you can follow the above-mentioned tutorials by adding the media to the timeline and then downloading it with personalized MP4 output parameters, such as bit rate and frame rate.
Q3: Does YouTube accept M4A files?
Yes. The audio formats YouTube supports include M4A, MP3, FLAC, WMA, OGG, and many more. When uploading your music on YouTube Studio, there is a progress bar showing the music is importing and a piece of information once you have your songs uploaded successfully.
Q4: Which is the best M4A to MP4 converter?
AceMovi video editor is the easiest m4a to mp4 converter to deal with both m4a to mp4 conversion and media editing. When it comes to small edits, you can take advantage of resize, crop, speed, split, cut, and record. As regards professional settings, it allows you to convert the bit rate, codec, sample rate, file size, and so on. On the friendly user interface, the conversion mission will be completed at a high speed.
| | AceMovi Video Edito | TunesKit Video Converter | VN | FreeConvert |
| --- | --- | --- | --- | --- |
| OS | Windows and Mac | Windows and Mac | iPhone and Android | Online |
| UI | Streamlined (Able to edit multiple media at once) | Linear | Linear | Linear |
| UX | Easy | Easy | Easy | Easy |
| File Size | No limit | No limit | No limit | 1 GB |
| Free Trial | Provide | Provide | Provide | Provide |
| Free Trial | Professional | Basic | Basic | Basic |
| Supported Audio/Video Formats | 100+ | 100+ | 50+ | 10+ |
Summary
When you find the eligible video converter to convert your M4A file to MP4, it will be appreciated if you leave a comment below to let me know why you think that software, app, or online converting pick is better. By the way, there is no actual app that is able to convert between .mp4 and .m4a, so you need to import a background and the audio media to a video editing app for converting.