One of life's most enjoyable pleasures is filming, editing, and sharing videos. With so many devices capable of capturing video and so many ways to share it, there may be times when the audio narration is more significant and enlightening than the pictures. Worse, your chosen video may be unplayable on your device.
In such a situation, a video to audio converter is the answer. It's essentially a handy tool that transforms your video to a preferred music format, so you can submit it to the site, listen to it on your device, or use it for any reason you choose. If you're unaware of the best tool to convert video files to audio, don't worry. In this article, you'll get the finest tools for the job. Let's get going!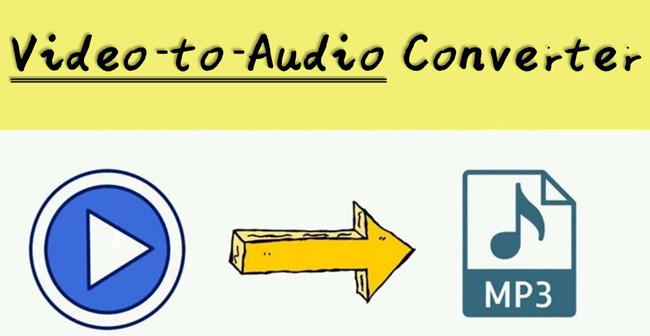 The Best Software to Convert Video to Audio File in Computers
While videos are the best way to catch precious moments, there are cases when only the audio in them is important. To reduce the size of such files, people look for software to convert the video into an audio file. If you want such a tool, the following 4 picks can be of great help:
1. TunesKit AceMovi Video Editor (Windows & Mac)
The first video to audio converter on our list is TunesKit AceMovi. It is an audio and video editor with a suite of creative features. The tool comes with a screen recorder that can capture high-fidelity sound from your computer. Regardless of the video format, TunesKit AceMovi allows you to convert video files to audio in all popular music formats, like AAC, MP3, FLAC, M4A, M4B, M4R, and OGG.
For the best part, the converted audio quality is worth enjoying up to 320 Kbps. You may also use this program to add audio to a video if you choose. Just right-click the clip in the frame to separate audio from a video file first and choose "Detach Audio". The separated audio will be automatically put on the track above the video.
Additionally, TunesKit AceMovi is a complete audio converter and editor with features such as a split screen, filters, transitions, texts, and a music library to enhance your experience. It allows you to edit immediately, trim, chop, transform, crop, reverse, enhance, and render recorded material.
AceMovi Video MP3 Converter
Automatic high- or low-quality output
PCM Codec option
22.05 - 48 kHz for audio sample rate
64 - 320 Kbps for file bit rate
Convert multiple videos together
Support almost all audio formats
Easy-to-comprehend user guides
2. TalkHelper Video Converter (Windows)
To convert video to audio professionally, TalkHelper Video Converter is a leading program that combines ease of use, unrivaled performance, and, most importantly, high-quality audio output. You are empowered to extract audio from any movie with this free tool, such as MP4, MOV, 3GP, etc. It has a preview tool to confirm that you are extracting audio from the correct video file.
It is allowed to change the sample rate (up to 48000Hz) and the channels to improve overall audio quality. Even better, you can convert the default rate or modify it to any available presets with maximum bitrates ranging from 128kbps to 320kbps.
Also, this video converter has a quality slider option that increases the quality even more. Furthermore, you may convert movies to audio in bulk, regardless of file size or the number of files.
Pros:

Convert videos to various audio files
Clean user workflow
Customized output settings
More advanced parameters
Free trial for beginners
Cons:

You need to get the premium versions to remove the branding watermarks
3. Adobe Audition (Windows and Mac)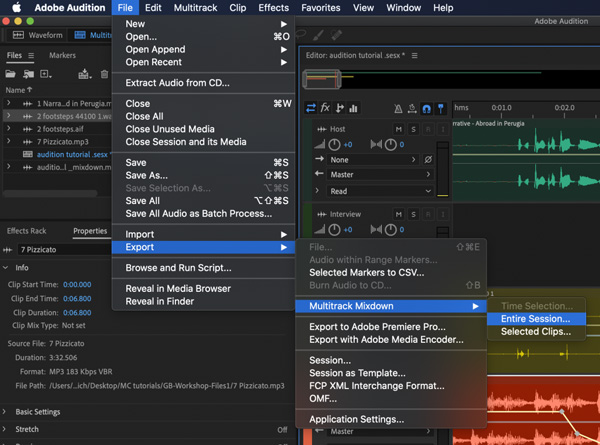 Adobe introduced Audition, a professional audio editor in video, a full audio editing toolset that provides users with waveform, audio mixer, spectral projection, multitrack, and podcast. This music editor enables you to extract and alter the audio in a video file to your liking. In other words, you can silence any audio format with a single click.
This program offers a free trial with signup and is compatible with both Mac and Windows. Furthermore, it is simple and versatile to record, mix, and deliver a podcast using Audition. Audition may be the finest video sound editor for professionals for audio restoration, precise editing, parameter changes, and cleaning.
Pros:

Multitrack mixdown
Record a new audio file using the recorder
Real-time sound waveform
Crop out unneeded music parts directly
The free version comes with no watermarks
Cons:

It's advised to use high-end computers to operate batch files with this software
4. Freemake Video Converter (Windows)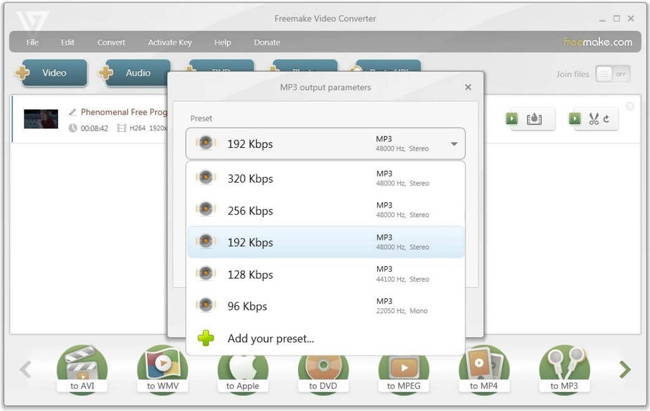 Freemake Video Converter is a simple video to audio file converter that even inexperienced users can master quickly. In reality, it has a large-buttoned interface that makes it easy to find functions. You may use this free tool to convert local and internet videos from sites such as YouTube, Vimeo, and others.
It enables you to turn video to audio and instantly export the audio to iTunes. It also lets you experiment with audio characteristics such as channels, sample rate, and bitrate.
You have a complete cutting tool to extract audio from a video. Furthermore, based on your demands, you may choose any of the various presets with up to 320 Kbps quality, and you can even develop your unique profile if required.
Pros:

Converting video to audio with one click
48000 Hz and Stereo support
Edit the imported files with the trimmer
Add personal presets
Join and merge multiple files at once
Cons:

No performance monitor support
You need the activation key to unlock premium services
3 Best Video to Audio File Converter Apps for iPhone and Android
Want to know which app is the best to convert video to audio on your mobile phone. InShot, VN, and Splice cannot help you export audio only when editing the video files. You can use the following recommendations to complete your mission. Select them based on the device types!
1. VidCompact (Android)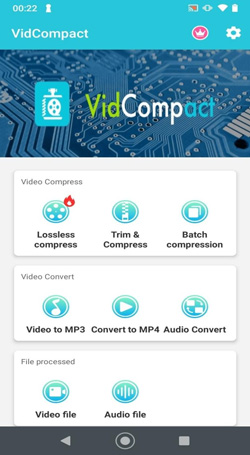 VidCompact was created just for you if you seek a free video converter app with exceptional performance. As the name implies, this program provides various functions for managing films from Android devices. Moreover, this app can convert practically every audio and video format, including HD video, WMV, MP4, and MP3.
VidCompact also includes video editing tools that allow you to chop, combine, rotate, and stabilize movies. Because of the user-friendly features, you may convert movies with little effort. VidCompact, in addition to video conversion, includes a video compressor, video trimmer, video cropper, and video cutter.
You may use the compressor to compress video segments and decrease file size without compromising quality. It also has a simple and new UI to enjoy. And one of the hottest functions that people like is Lossless Compression.
Pros:

Diverse presets for specific missions
Lightweight file size
Convert video to audio MP3 losslessly
No file duration limit
Support meticulous parameters
Cons:

iPhone and iPad users cannot apply it up to now
The channel is not designed for batch editing
2. Video To MP3 Converter (Android & iPhone)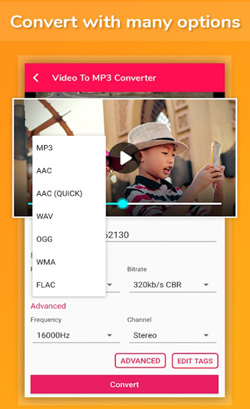 Video To MP3 Converter has engaging features that can assist you in converting any video into various audio formats. This program takes very little time to edit high-quality audio and video.
Modifying the frequency, bitrate, and audio channel will be possible. Aside from output customization, the app also supports audio fade-in and fade-out effects. Using it on your mobile phone, you may alter audio tags or music such as album, year, genre, artist, audio title, etc.
Furthermore, it is available to trim the movie and adjust its resolution by selecting a certain period. Similarly, you may choose numerous audio files from media, combine them with a single swipe, and set them as ringtones, alarm alerts, etc.
Pros:

Motion detection
Sound waveform
Trim unwanted audio clips
320 Kbps CBR
Video to audio conversion with one click
Cons:

Output formats are limited to MP3 and AAC
3. Video Converter VidSoftLab (Android and iPhone)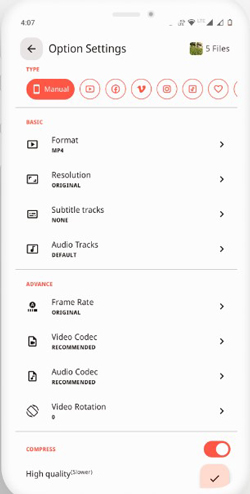 VidSoftLab's is a robust converter to convert video to audio that supports a broad range of video and audio formats. It is not only a file converter but also a media trimmer, quick compressor, and powerful merger. It allows users to manage your videos and expect to be entertained. Another significant feature that makes this converter application appealing is its straightforward UI.
This helpful converter program supports various video formats, including AVI, MOV, MKV, MP4, and many more. It is simple to use, owing to basic editing tools that allow even inexperienced users to manage the project.
Furthermore, it enables you to convert movies easily from one format to another. It also includes a DVD converter, which allows you to convert videos to DVD or DVD to MP4, MP3, and other formats. Users are given opportunities to choose the ready-made tools at the very beginning to start quick editing.
Pros:

Add subtitles to a video with colorful styles
Advanced frame rate and audio codec
Compress file to high quality
Share on Facebook, YouTube, Vimeo, or other channels
Linear interface
Cons:

It cannot edit large file videos without losing quality
No sound waveform
3 Best Free Video to Audio Converter Online
Want to discover some tools for converting video to audio music online? Here are some options for you to convert files online for free. You don't need to download or install software and app with those picks. And more features are provided for you inside them. Let's continue!
1. Online Converter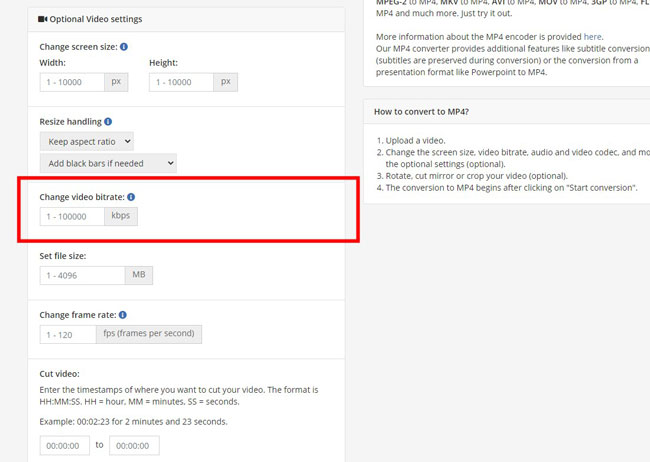 You can convert various video files to audio formats using the OnlineConvert video to audio converter, including MP3, AAC, FLAC, and other popular audio formats. Because converting is so straightforward, you can import video files from your computer, Dropbox, Google Drive, or by entering a URL.
Changes may be made to the audio bit rate, sampling frequency, and audio channels under the settings for the additional options. There is now the possibility of cutting out the unneeded segments of the audio file.
It's accessible to normalize the audio file using Online Converter, and you can give the conversion parameters a name and store them for further use in extractions. The user may download the converted file directly from the tool's main interface for free.
Pros:

Change to other useful features like trimmer, speeder, compressor, etc.
MP4, M4B, M4A, MTS, MKV, and many more video formats
Completely free
No need to sign in
Options to increase audio quality automatically
Cons:

The file size should be controlled to less than 200MB
2. Y2mate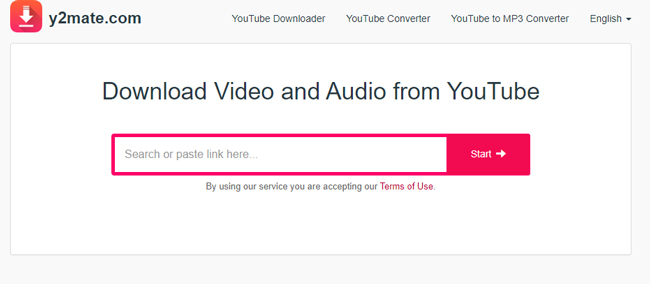 Y2mate is your go-to online video to audio converter for converting YouTube videos to audio files. Aside from YouTube, you may also convert videos from Facebook, Dailymotion, and other sites. Because this program primarily focuses on video or audio downloads, there are no options to edit videos or even unite numerous videos into a single audio file.
Still, anticipate fast video-to-audio conversion. Simply search for the video or enter its URL into the entry box to begin converting. You will then be offered numerous audio download choices, and all you have to do is choose your quality in bitrates ranging from 128kbps to 320kbps.
Pros:

Multi-language page
Quick URL import
YouTube videos downloader
Extract MP3 audio from YouTube videos
Free of cost and easy to use
Cons:

It is filled up with advertisements
You'd better not use it if you have a lot of files for conversion between video and audio
3. FreeConvert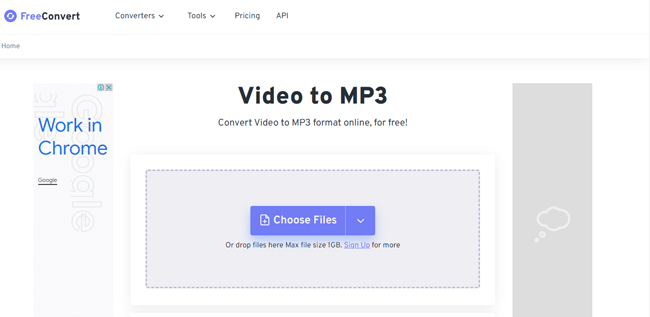 Using the FreeConvert video to audio file converter online, you may convert everything from MP4 to AVI and anything in between to audio. This tool can also transform hosted (online) video into audio. A greater sampling rate may be used to extract CD or DVD-grade MP3.
FreeConvert contains a Cut Audio option that allows you to choose a specific area of the movie to convert to MP3, and you can choose which part to delete. Furthermore, the fading-in/out effect creates a nice listening experience.
A free account allows for a maximum file size of 1GB. Network conditions strongly impact the online tool's conversion speed. This program is completely easy and works with any web browser. Your data are encrypted with 256-bit SSL and are immediately erased after two hours.
Pros:

Support large files
Drag-n-drop interface
Switch to other functions
Responsive importing and exporting
Cons:

The premium accounts allow you to enjoy full features
The Bottom Line
The video to audio file converter handles videos to various audio formats to minimize file size and optimize them for devices or internet sharing. Since there are multiple choices in the market, finding the best tool is quite a difficult job. Your choice may depend on how often you use it and the size of the media files you typically handle.
However, we hope that you've found the right tool for extracting audio from a video file after reading this article. Get the tool on your device and learn how to convert your video to audio files today!