Showing videos is the way to go in today's colorful world. Up to now, how many video formats have you used for video editing? MP4, AVI, MOV, MKV, M4A, MKV, DivX, TS, or DVD? Nonetheless, the fact that a video file is mismatched with the other tools or systems you work with might be bothersome. That being the case, it makes sense to use a tool to convert that video.
A file converter for videos is used when a certain media format is not supported by a specific device, which is also helpful for keeping your video size down or improving the original quality of frame rate or bit rate. So, if you are in search of one for yourself, this article is for you. Learn more about the best video file converters with amazing features below!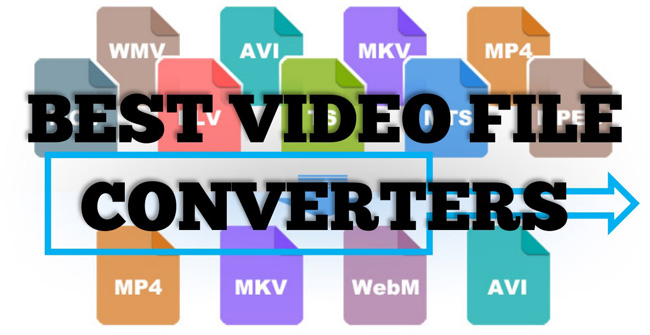 6 Best Tools to Convert Video Files Fast in 2022
Top 1. TunesKit AceMovi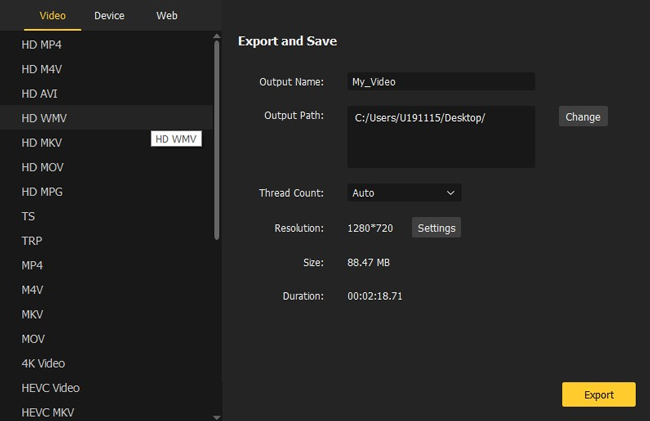 The finest software for converting between different video file types, such as MP4, MKV, MOV, DVD, WMV, and M4A, etc., is TunesKit AceMovi Video Editor. The capability enables you to modify your video before converting, making it a full and multipurpose video converting and editing tool.
With a user-friendly interface, this tool helps you convert huge video files within no time. TunesKit AceMovi is highly recommended by all users because of its extensive feature set (Sticker, Background, Audio, Split-screen, Animation, Transition, Text, etc.). More than that, you can convert videos into the best format for those popular platforms like YouTube, Instagram, and Facebook.
AceMovi File Converter
Access features to elevate movies to new heights
Many kinds of filters, sound effects, and subtitles
A simple and clear layout that's easy to navigate
Variety of output formats, devices, and social outlets
Capable of converting video files to audio files
Improve video quality in frame rate up to 60FPS
How to Change Video File Type with AceMovi Video Editor
Top 2. VideoProc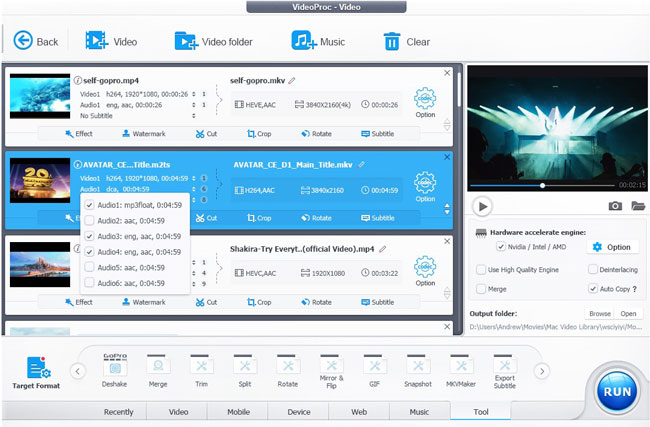 The number is second on our list. With VideoProc video file converter on computers, you can easily convert between many formats thanks to its intuitive UI. Choose the gear icon to open a new screen dedicated to that tool. Some available options are merged, flip, trim, split, snapshot, and fisheye correction. Two of them, de-shake and de-noise, were developed with GoPro users in mind.
Although many features will appeal to more experienced users, this software is also suitable for novices. VideoProc recognizes more than seventy formats. It comes with a plethora of pre-set profiles that are neatly organized. VideoProc can handle a 4K resolution with ease, and it can download 8K quality as well. This software is available for macOS as well.
Pros:
Denoise and stabilize 4K or HDR videos
Upload videos on YouTube and Instagram
Batch convert MP4 to MP3
420+ output videos and audio types
Screen recording or webcam snapshot
Windows and Mac can download it
Cons:
The free trial has limits, such as your file should be less than 5 minutes and there will be a watermark
A lot of plugins that you need to download extra
Top 3. Handbrake
For those who want more control over the video conversion process, Handbrake is an excellent free video file converter. It might not have the most up-to-date user interface, but its powerful capabilities more than make up for that. The platform is compatible with all major file types and can quickly adapt the video to the specifications of common mobile devices.
Videos can be converted to formats playable on services like YouTube and Vimeo. Handbrake's enhanced editing tools are among the software's greatest strengths. You'll find options to include captions, audio tracks, and chapter markers. Using these filters, you can adjust the contrast, brightness, and even the level of deinterlacing. The output resolution can be changed down to the pixel level.
Pros:
Open-source and free
Windows, Mac and Linux can use it
Up to 4k or 2160p resolution
Support H.264 and H.265 codec
Save a video for Android Teblet or iPhone & iPod touch
Cons:
No real-time performance monitor
Cannot edit batch files at once
Top 4. Any Video Converter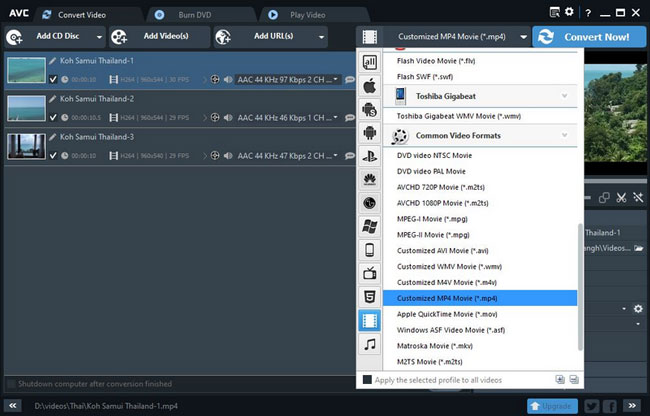 Three distinct video file converters are available from Any Video Converter. Simply put, we found their video-converting effect to be the most feature-rich of the available free solutions. Since there are one hundred inputs and 160 outputs, your preferred file type probably is one of them.
Videos from websites like Facebook, YouTube, and Vimeo can be downloaded and converted, and the software can work with both online and offline media. Excellent editing tools allow you to clean up, clip, and rotate your films, among other things.
Now, two premium versions are available with additional features for those needing conversion. In addition to supporting various input formats and converting movies more quickly, Any Video Converter Ultimate and Any Video Converter Pro also come with various additional output formats.
Pros:
160+ outputs
Burn videos to DVDs
The interface is suitable for batch file conversion
Enhance your video by trimming and cropping
Convert video files to MP3 files with a few taps
Cons:
Not all features are included in the trial version such as the 8k editing and no-watermark exporting
Top 5. Freemake Video Converter
Freemake Video Converter is just another top-notch, cost-free option to convert video files with ease. Videos can be converted, DVDs can be burned, and picture slideshows can be made using the software on your desktop. For video conversions, it can handle well over 500 unique file types.
Not only can you convert the whole file, but you can also choose to convert just a certain section of the original file. To reach this effect, you should trim out unwanted parts with the built-in video trimmer first.
Freemake Video Converter can handle all your regular converting requirements, and it also features basic editing capabilities, so you can cut out unnecessary material and add subtitles.
Pros:
Various video aspect ratios
Compress a file hugely
500+ formats for converting videos, audio tracks, GIFs, and images
Upload clips to YouTube channels
Convert a movie with video subtitles
Cons:
Simple built-in effects and features
Limited version for free users
Top 6. Format Factory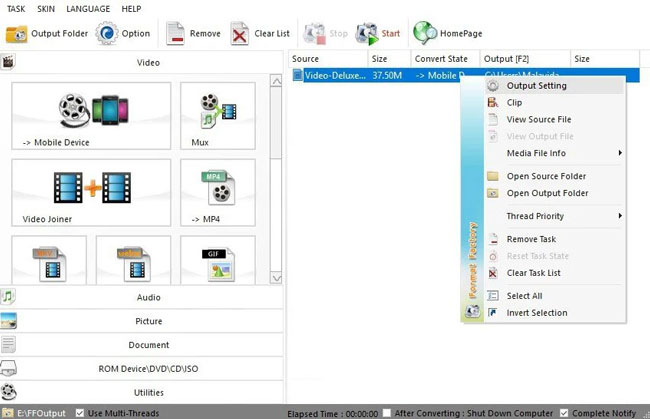 Video, music, and image files can all be converted with the help of Format Factory, freeware software subsidized by advertisements but otherwise impressive. FormatFactory can also fix broken media files like movies and music. As a quality video-to-audio file converter, Format Factory plays a strong role in keeping the original quality after transforming video files.
It supports the MP4, 3GP, WMV, AVI, and SWF video formats, MP3, AAC, WAV, WMA, and OGG music formats, and the JPG, BMP, PNG, TIF, and even Google's WebP picture formats. You can conduct each one of the transformations in batch mode, which is an enormous time saver.
Pros:
Video converter, joiner, and clipper
Rip DVD and BD to video
A built-in screen recorder
Edit PDFs or convert PDF to TXT
Convert multiple video resources
Cons:
You cannot play the media to check the result
A long time for waiting for the downloadings
Frequently Asked Questions to Video Files
A. Which video format is the highest quality?
The MPEG-4 Part 14 format, sometimes known as MP4, was one of the first digital video file formats released in 2001. Modern digital media players widely support MP4. Video files encoded in MP4 format are quite popular. As a globally compatible format, it has found widespread use. Although MP4 didn't appear until 2001, it became widely used almost immediately.
The fact that the format provides high-quality video at a reduced file size is a big draw for many people. Specifically, it can do this by removing unnecessary data in most video files. To speed up processing time, the MP4 encoding process will often find clusters of pixels with the same color.
However, this can cause MP4 files to get corrupted and cause a minor loss of detail and color saturation in the movie. Thanks to its widespread support, MP4 has become one of the most popular video formats. Apple and iTunes both agree that it's a good video format.
B. Can VLC convert files?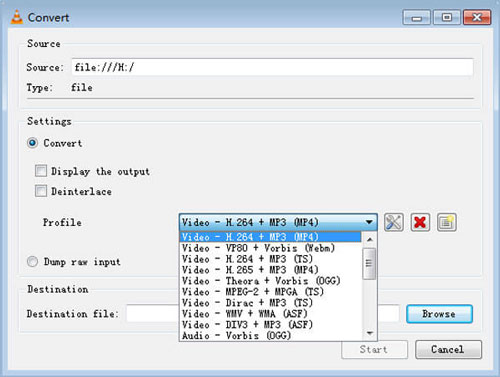 In a word, yes. The VLC player, developed by VideoLAN as a free, open-source media player, is well-known for its versatility. VLC can play about every video file format conceivable. VLC can also transform your media files to more readily accessible forms like MP4, making your videos watchable on devices. Below are the steps to use VLC to convert any video file format to the other:
Step 1: Launch VLC on your computer. Click "Media" from the options menu, then locate and select "Convert / Save".
Step 2: Click "Add..." to locate and add the file to be modified, then click "Convert / Save."
Step 3: Click the dropdown menu next to "Profile" and choose the MP4 option from the dropdown window.
Step 4: Click "Browse" at the bottom to choose your new MP4 file location.
Step 5: To begin the conversion process, click "Start". The time it takes VLC to convert a video is proportional to its size, so if you're converting a large video file into MP4, you'll have to wait for a long time.
C. What does it mean when the file format is not supported?
Several times, whenever you try to watch a video, you encounter the error that reads: "cannot play the file. The format is not supported". The following are some of the interpretations of what this error means:
1. No suitable codecs are available for this media file.
2. This file is encoded in a format that Windows Media Player does not recognize.
3. You have a corrupted or missing Windows Media Player file(s).
4. Windows Media Player does not recognize the file format you're attempting to play. Take the case of attempting to run an .viv file. The .viv file format is not supported by Windows Media Player.
5. This media file has been corrupted.
Lastly
Converting a video to a different format might help you save space on your device or make it more suitable for internet sharing. There are various free video converting tools available to choose from, each with distinct features. A high-quality video converter is available for each format you wish to convert to. Let us know if you know of any other useful video converters that we can try!