Converting an HD video is a little difficult in comparison to the normal video as the converters may decrease the original quality of codec and bit rate after the whole workflow. As a result, you may need an impeccable HD video converter that supports various dimensions and can change between video resolutions losslessly. Basically, it is a tool that alters any video to the desired format to upload it to any website, play it on any device, or for any other purpose. Here we have listed some best video converting programs. Now, let's directly jump into it.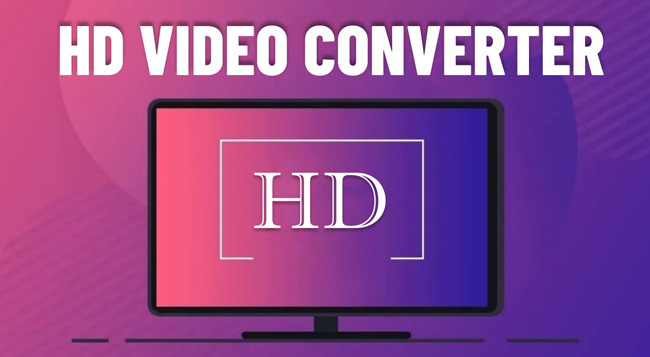 What is the Video Resolution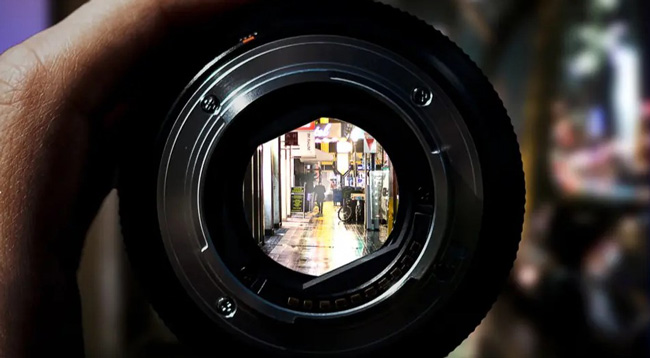 The total number of pixels on a screen or image that are regularly set or combined by width and height is the resolution. In other words, resolution measures the number of pixels in an image. Generally, the more pixels, the better the picture. One of the most frequently set video resolutions is called "format," which is technically known as Ultra HD or full HD.
Resolution affects the video quality, aspect ratio, file size, as well as uploading speed. The point is we cannot conclude that higher video resolution brings better video editing and playing experience. That depends on the usage and device compatibility. So, you may need to learn the varieties of video resolutions, just continue to read.
Video Resolution Types and Common Name
The following are some of the video resolutions that are commonly used by filmmakers. Different video resolutions are corresponding to their unique pixels, whereas some of which have the same aspect ratio.
| Video Resolution (Commom Name) | Aspect Ratio | Pixel Width × Pixel Height |
| --- | --- | --- |
| 480p (SD, Standard Definition) | 4:3 | 640 × 480 |
| 720p (HD, High Definition) | 16:9 | 1280 × 720 |
| 1080p (FHD, Full HD) | 16:9 | 1920 × 1080 |
| 1440p (QHD, Quad HD) | 16:9 | 2560 × 1440 |
| 1080p (2K Video) | 1:1.77 | 2048 × 1080 |
| 4K/2160p (UHD, 4K Video or Ultra HD) | 1:1.9 | 3840 × 2160 |
| 8K/4320p (8K Video or Full Ultra HD) | 16:9 | 7680 × 4320 |
8 Best 1080p Video Converters for PCs
Top 1. AceMovi Video Editor
Availability: Windows XP - 11 (32-bit or 64-bit); macOS 10.8 - 12
Best for: One-stop HD video conversion and editing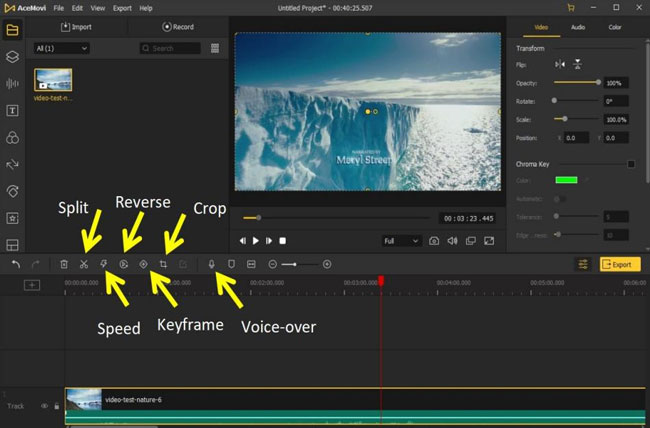 Do you want an easy way to convert multiple HD videos in a matter of minutes? If yes, AceMovi Video Editor is an ideal tool that helps to edit high-definition videos. It is a power-packed HD converter with an easy-to-try toolbar and simple interface.
This video editor has plenty of video effects and templates, including animations, transitions, filters, split-screen, behaviors, green screen, and more. Surprisingly, you can easily view the changes done by you in real-time. The users can save their videos in various formats such as DivX, MPEG-1, MPEG-2, WMV, MKV, MOV, and MP4.
AceMovi HD Video Converter
Personal output customizations
Up to 4K resolution
Free media resources
Filters, transitions, keyframes, etc.
Make slideshows with pictures and music
Capture HD video by screen recorder
Top 2. WinX HD Video Converter Deluxe
Availability: Windows 7-10
Best for: Lossless HD video conversion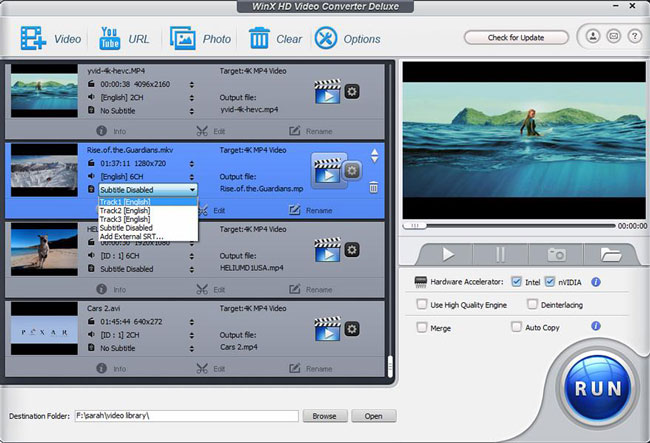 It is a multifunctional and powerful video tool. WinX HD Video Converter Deluxe empowers users to convert any HD and 4K video to MKV, MP4, Android, iPad, or many other output files. Leveraging the unique and innovative Level-3 hardware acceleration tech, it processes the videos at around 47x real-time fast speed and features basic video editing options to add subtitles, crop, merge, and trim a video.
Moreover, you can use this tool to create images from the separate frames in videos, and it works perfectly with all the basic resolutions, up to 4K. This software is ideal if you want to work with a broad range of video or niche file formats.
Pros:
Convert to any format
Add subtitles and extract audio
Download videos from 1000+ sites
Fast speed, lossless quality, and GPU acceleration
Create slideshows
Cons:
Some of the codecs and output formats should be unlocked by premium accounts
For Windows version only
Top 3. Any Video Converter Free
Availability: Windows and Mac
Best for: Convert HD videos between most formats freely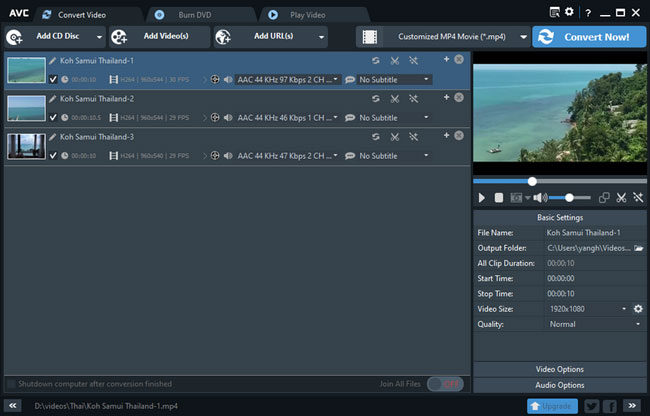 If you are seeking a quick online HD video converter, then you must try Any Video Converter Free. It is a platform that converts the files from the web or your PC. This software handles both online and offline files. Suppose you like videos on YouTube, Facebook, or any other platform. In that case, you can easily convert them into a format that fits offline viewing on your mobile without having any concern about data allowance.
Furthermore, you will find various editing options such as cropping, rotating, and trimming. If you want to do something creative, you can use video effects to achieve a unique look.
Pros:
Bonus effects
Converts videos hosted online
Excellent format support
Burn video to DVD or AVCHD DVD
H.256 codec decoding
Top 4. TunesKit Video Converter
Availability: Windows and Mac
Best for: Multi-track HD video conversion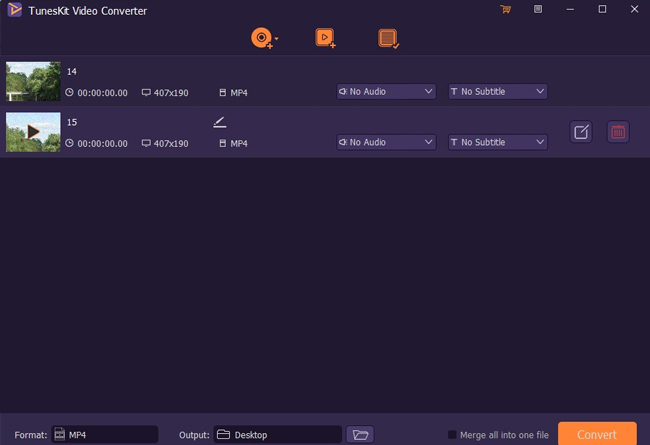 When it comes to the best video converters for beginners, TunesKit Video Converter never disappoints. It is an ideal option if you expect speed and quality. Being a paid software, you don't get interruptions like ads or upsells while doing conversions.
This converter is very simple to use, which makes it ideal for both beginners and advanced users. In addition, this software can handle around thirty-five video formats, including MPEG, MP3, MP4, MKV, and MOV. This software is also available for macOS.
Apart from video conversions, it features some advanced editing tools. You can also use its trial version, but it has various limitations.
Pros:
4K resolution
DVD ripper
Responsive system
Customize bit rate and codec
Cons:
The trial version comes with 1/3 clip output limits
Top 5. FonePaw Video Converter Ultimate
Availability: Windows and Mac
Best for: All-in-one HD video making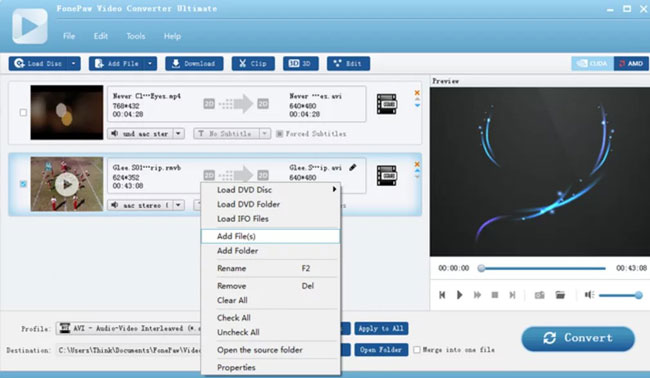 It is among the best HD video converters that show outstanding performance in converting audio and video files. The powerful media decoder and encoder let you convert a video with a complicated codec to standard formats like AVI, MOV, MKV, and more as per your requirements.
In addition, the preset device profile also makes it easy for you to discover the suitable format for your device.
Besides video format conversion, this versatile software also acts as an amazing editor that allows you to compress, cut, and trim your video and the exporting file. The best thing about this software is that it is perfectly compatible with both macOS and Windows systems.
Pros:
Rip DVD to iOS file
Trim and crop unwanted media
Change video play speed
Batch file conversion
Cons:
5 mins for each trial project
Top 6. Handbrake
Availability: Windows XP-11
Best for: One-screen workflow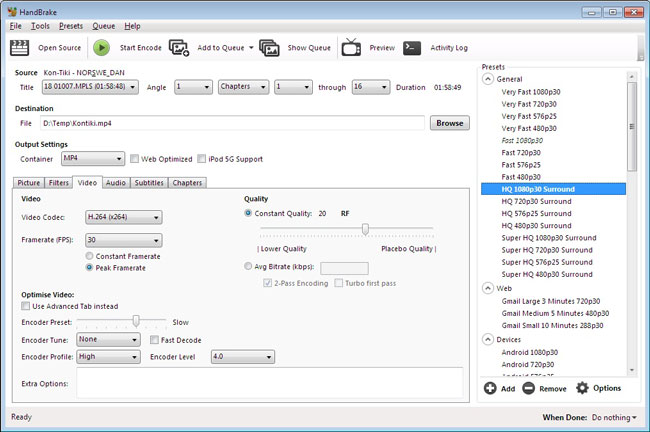 If you are looking for advanced settings to convert video to HD easily, Handbrake is a great option to consider. Although it does not have a modern user interface, it has top-notch features.
This platform supports almost all types of formats and easily converts video to the settings of various devices like smartphones. Handbrake features the best editing controls as you can add audio tracks, subtitles, and chapter markers. In addition, you can change the scale and sharpness using filters and adjust the resolution of the output file by individual pixels.
For your convenience, Handbrake is available for Mac OS, Windows, and Linux, making it more compatible than the other video converters.
Pros:
Multifunctional interface
Range selection
Batch scan and queuing of encodes
Video filters like Deblock and Denoise
Cons:
Complicated for beginners
It need to update an real-time performance monitor
Top 7. HD Video Converter Factory Pro
Availability: Windows 2000-11
Best for: Change video formats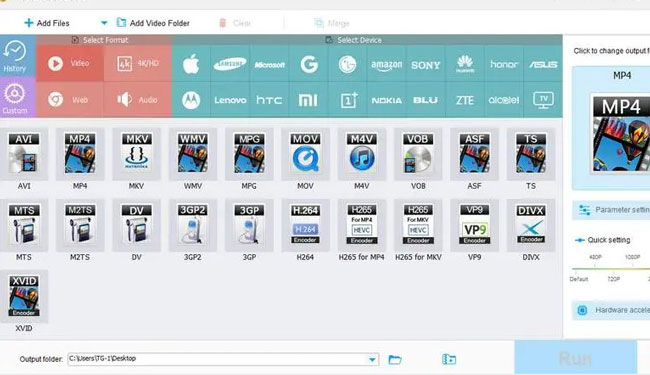 HD Video Converter Factory Pro is among the best options if you prefer seamlessness and simplicity. This tool is very simple and offers a 10-second guide before getting started. Either you can drag and drop a video onto the interface or use the selection menu and press the Run button, and that's it.
The conversion process starts just in seconds. You may customize the output by adding impressive effects, cutting, and cropping to get the desired video look. If you are new, you can choose a profile designed for a specific playback device. In contrast, advanced users can go for manual selection and modify further things.
Pros:
Convert any format virtually
Extract soundtracks
Pre-optimized output profile
Download online video
Export to mobile device
Top 8. Freemake
Availability: Windows XP-10
Best for: Share editings on social media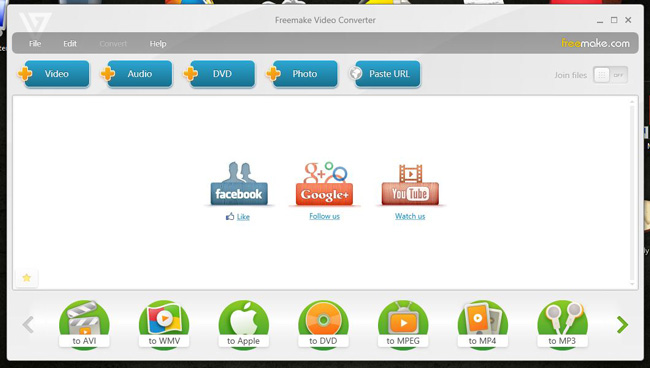 Freemake is effective yet simple-to-use video converter HD software that is available free of cost. It does not just convert the files from your device to various formats but is also used to convert and download online videos you like.
With many editing tools to trim and the capability to add subtitles and convert to and from DVD, this software meets all your daily conversion needs.
Pros:
200+ formats
Add subtitles to video
Convert YouTube video to audio file
Mobile outputs supported
Low-end OS
Cons:
It lacks advanced features
Wrapping Up
These are some of the best HD video converter software that will make things easier while dealing with video on various platforms. Whether you are a macOS or a Windows user, the above-listed choices can help you start converting immediately. Since you may find some tools are limited in the output length and watermarks, you can try their free version in the first place.