It is so common for people to find a video on a platform but cannot find a good converter. They want to transform the video to MP3 format, but some software is expensive, and some are not useful. They inquire about a useful, fast, powerful video to MP3 converter that supports easy conversion and stable video editing operation.
This article provides you with the best video MP3 converters that are 100% reliable. Before choosing the tool, it's better to read all the provided details and information about its compatibility and customizing features. Moreover, some frequently asked questions about the MP3 formats will be solved. Read the article and have answers to your queries.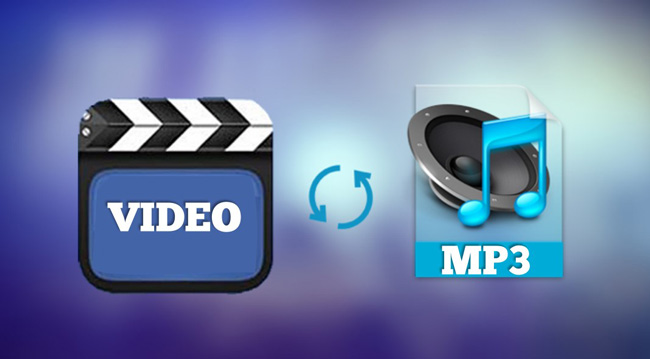 The Best Software to Convert Video to MP3 Music for Computers
In this section, we will introduce you to the 3 best video audio converter options that you can use to convert your videos to MP3 format on Windows 10, 11, or Mac.
1. TunesKit AceMovi Video Editor
With the first recommendation placed among all other videos to MP3 converter software, TunesKit AceMovi stands out. It helps users to convert their selected footage to music format easily. With an easy-to-acquire interface, you can record, edit, trim, crop, and customize your videos and convert them into multiple audio formats. The supportive video formats are MP4, MKV, MAV, WMV, MKV, and MOV.
The converter is compatible with Windows and Mac, along with a free trial. Besides, TunesKit AceMovi has additional features like filters, animations, picture-in-picture, transitions, a green screen, keyframes, and much more. TunesKit AceMovi converter is fit for downloading videos on diverse devices like iPhone, iPad, Galaxy, Smart TV, or platforms such as YouTube and Facebook.
AceMovi Video MP3 Converter
Convert video to MP3 without quality loss
Audio frame rate up to 320 Kbps
Download videos for different channels
Increase the original song volume
De-noise background noise
Royalty-free music resources
Free trial for Windows & Mac users
2. Handbrake
If you want free, open-source software that enables users to convert their videos to audio formats, Handbrake can be your option. Initially, it was designed to convert DVD format files to a storage device. But with its revisions, many new features were added to it like filters and subtitles. You can export videos from any platform due to cross-platform compatibility.
The converter supports video formats such as MPEG, MP4, M2TS, VP8, FLAC, and MKV. Also, it converts the videos with some customization tools like file size and bit rate. You can also crop, decompose, and alter your files. With easy and simple steps, install the software and convert MP4 to MP3.
Pros:

Multiple output settings, even for TV and phone tables
Colorful filters, subtitles, and chapters
Customize the file size with a couple of clicks
Preview the effect and changes in real-time
Entry-level will find it very easy to use
Cons:

Up to now, you cannot use it to merge more than 1 file at once
3. VLC Media Player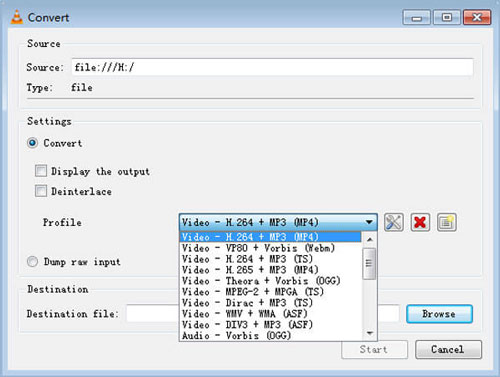 The VLC software is one of the most amazing video-to-MP3 converters for Windows, Mac, or Linux. Users can freely use the software to manipulate their clips and operate editing with the trimmer, converter, or VFX addition tool. As open-source software, VLC has many functions that users do not yet reveal, and you can use it as a media player.
VLC supports video formats, including AIFF, AVI, MKV, MP4, WAV, DVD, CD, MPEG2, and ASF. Also, you can use it as a compression tool to compress your videos and use them as audio files. The converter is a simple, fast, safe, and powerful tool to convert MP4 files to MP3 format. Unlike other software, VLC provides secure quality without any risk of viruses or other malware interruptions.
Pros:

Video to MP3 converter for Windows, Mac, and Linux
Contains a lot of video effects, such as 3D waveforms
Very small size to download and install
No licensed accounts need to purchase
Easy-to-follow workflow
Cons:

It is not so good for someone who wants to control multiple files because the linear style
A bit complicated for beginners
2 Best Online Video to MP3 Converters
Converting video to MP3 music online limits the uploading file size. When you have a small size video and wanna extract the audio track, pick an online video MP3 converter is suggested. Keep reading this post.
1. FreeConvert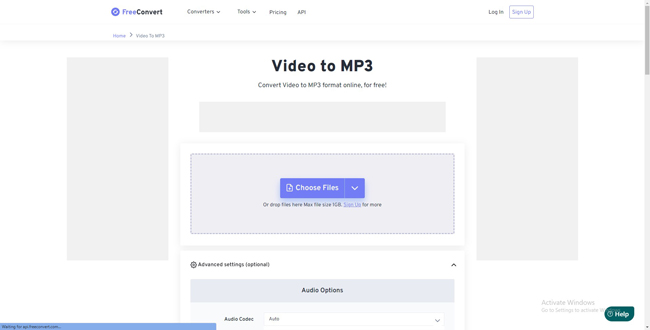 As an online video-to-MP3 converter that you can visit anywhere, anytime, without filling your device's storage, FreeConvert is an exclusive tool to export videos from any platform and convert them. Without any doubt, you can convert long videos to a maximum of 1GB.
The fast converter changes the videos to MP3 in seconds and minutes. The process of using the converter is simple, all you have to copy the video link that you want to convert. After that, paste the link on the site's search bar. You can choose the file format and tap the "Convert" option. You can convert video formats such as MP4, MPG, VOB, MP4, M4V, and WTV with the Video to MP3 Converter.
Pros:

Support video files up to 1GB
Choose files from local files or Dropbox to upload
Advanced settings for audio like bitrate, sample rate, and audio codec
The linear interface that helps you make conversion quickly
Trim out unwanted frames from the duration
Cons:

Many pro tools are used for upgraded accounts, such as exporting unlimited projects
2. OnlineConverter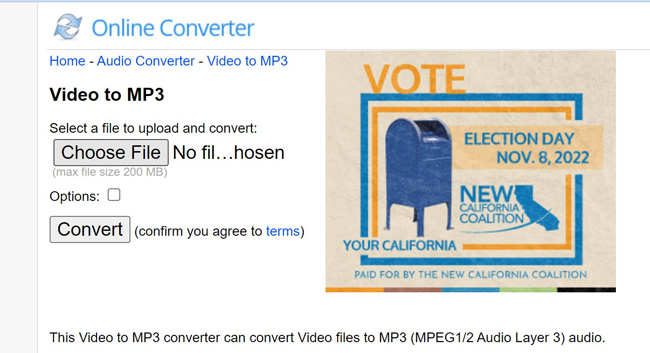 OnlineConverter is one of the best video to MP3 converters online. With an easy-to-use user interface and direct functions that you can operate batch conversions as quickly as possible, this converter is simple, and no technical knowledge is required. You convert multiple videos to multiple audio formats such as MP4, M4B, MPG, VOB, MOV, M4V, or RM.
You can use additional converter features, such as cutting video and creating multiple clips. The converter enables you to fine-tune audio settings such as increasing volume, changing channels, and decreasing bitrate. OnlineConverter provides safety and security to the privacy of its customers.
Pros:

Online video MP3 converter without watermark
Multiple types of video files are supported
Simplified user editing interface
Switch to other tools on the same page
Quick conversion speed
Cons:

The file size should be limited to 200MB
A lot of advertisements
2 Best Video to MP3 Audio Converter Apps
Wanna know which app is the best for converting video files to audio? Apps are now powerful enough for diverse video editing and splitting. The only problem is that you'd better not use it for batch file conversion because the workflow is not so easy and time-consuming. Contune to scroll down.
1. Video to MP3 Converter for Android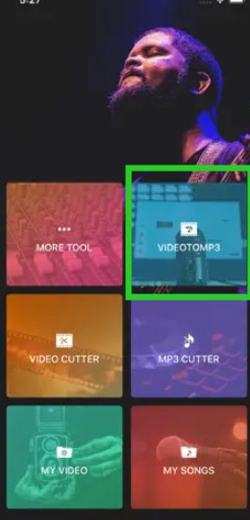 With easy and simple steps, users can convert videos to MP3 format with Video to MP3 Converter on mobile phones. The software is free, and there are no technical requirements for using the converter. You must install and launch the software on your Mac or Windows PC device. And you will be able to convert any video to many audio formats.
The app used for conversion supports many video formats, such as MP4, MPG, VOB, MP4, M4V, WTV, and many others. On top of that, you can also use some customization features like filters, effects, and transitions. The converter can trim, crop, merge, rotate, and add subtitles to your videos.
Pros:

Pre-made projects for file conversion
Cut or split unneeded frames from your videos
This app comes with no paid versions
Save the converted MP3 to your phone automatically
Linear workflow that makes the job easy
Cons:

It is incompatible with iPhone or iPad
There are requirements for video filters, stickers, and transitions
2. MP3 Converter for iPhone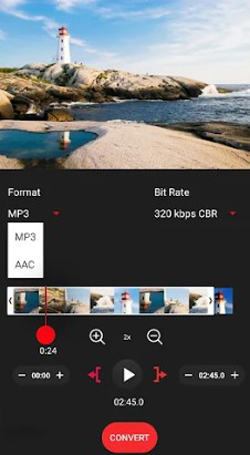 Free Video to MP3 Converter - MP3 Converter enables users to convert videos from multiple sources to various audio formats. The converter supports video formats, including DVR, MPG, RMM, OGV, MKV, MPEG, and AVI. Users can easily convert their videos to audio format with simple steps in the conversion process.
The converter has more than 20 functions that you can perform to enhance the quality of your audio files. The multi-functional app provides unique features to customize the file size. Also, the converter has a pre-designed MP3 cutter and video cutter that users can freely use. It is allowed to change the final result into more than 10 different languages.
Pros:

Change video playback speed at 0.5x, 0x, 1.5x, 2.0x, or 3.0x
Convert and save multiple video files
More tools included, such as the video cutter and MP3 cutter
Completely free on iPhone and Android devices
Auto object detection
Cons:

You cannot download it on Android tablets
Limited file options, only include MP3 and AAC
Convert Video to MP3 Frequently Asked Questions
1. What is an MP3 File?
An MP3 file is the most common file extension for audio files at present times. It is an audio format that compresses the overall size of the file. It removes all the pieces of an audio file that the human ear is unable or hard to hear. When it comes to popularity, the MP3 audio format is playable on all devices and can be converted to other types of the song without losing the original frame quality.
2. Should I burn a CD as MP3 or audio?
With time, MP3 or audio formats are common playable sources on almost all devices. It is good to convert your CDs into MP3 or any other audio format so you can play that on a wanted platform. You can use your CDs in their original format at home after burning a CD as MP3 or audio.
3. Is MP3 or WAV better quality?
Without decreasing the original song recording from which it is encoded, WAV file belongs to a lossless type. The WAV file is created by Microsoft and IBM-pioneered company and can be stored to generate high-quality music.
By comparison, WAV is a better audio format with HD or SQ sound. They are common and popular audio formats, but they are different in size. WAV files are larger than MP3 files. If we compare both with other video formats, MP3 audio files are better to use anywhere at any time.
The Bottom Line
With an informative journey, hopefully, you have gathered a wide variety of information about the popular and useful video to MP3 converter options for personal computers, mobile phones, or online. With the recommended video converter, you will have high lossless audio quality with the wanted, pinpoint output codec and frame rate. Now, make up your mind and choose the best tool to convert your videos to MP3.