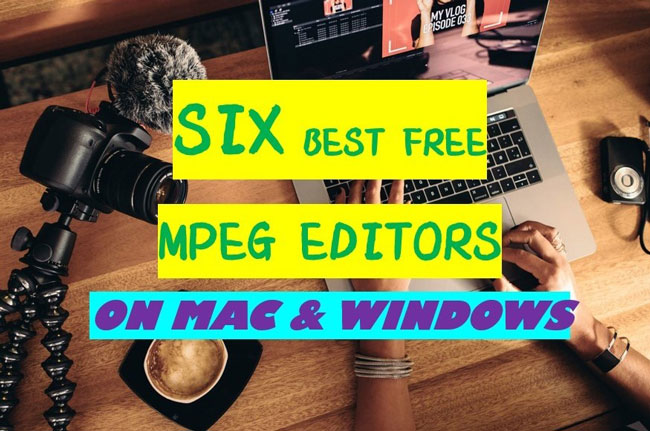 MPEG nowadays has become one of the commonly-used video formats, so it comes with questions of how to edit MPEG file format and which is the best video editor to operate MPEG files on both Windows & Mac.
Don't worry! In today's sharing, we'll make a guide to some basic tutorials of editing & splitting MPEG file format and the best free MPEG video editors with pros and cons of each. Meanwhile, the online MPEG editor without watermark added will be introduced as well. If you're unknown with MPEG or already grasped some of the features but want to find a better moviemaker. Here we go!
Ⅰ What are the MPEG Files?
MPEG is a video file format like MP3 and MP4, it includes MPEG-1 and MPEG-2.
· MPEG-1: It is oriented to compress VHS-quality raw video and CD audio to 1.5 megabits per second without losing quality. Mpeg-1 video data is typically 30 frames per second (frames per second) with the 352×240 resolution.
· MPEG-2: It is created to compress video & audio for higher quality and has been chosen as a compression method for wireless digital & satellite TV, and DV. MPEG-2 is able to capture video/audio at a speedy bit rate (about 6 megabits per second). Mpeg-2 video data is typically 30fps with the 720×480 resolution maximum.
Ⅱ The Best Free Software to Edit MPEG on Both Mac & Windows – AceMovi Video Editor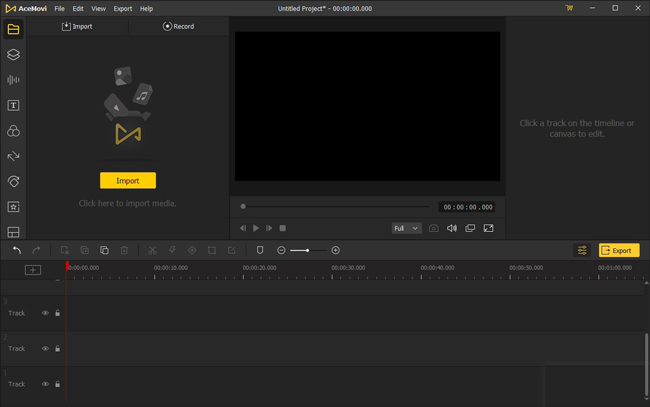 AceMovi, an one-in-all video editor that proceeds in both macOS & Microsoft systems, provides all the ways of editing, splitting, merging and converting MPEG files in a matter of few minutes. Meanwhile, many people prefer AceMovi to use because of the easy-to-learn & all-sided interface, where users can get started with their workflow efficiently and conveniently.
With AceMovi, it's very easy to import MPEG videos and export them to any other video files like MP4, MKV, MOV, AVI, and MPG, etc. More importantly, both MPEG-1 and MPEG-2 are available here.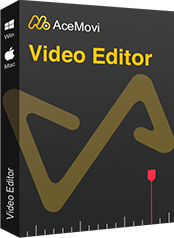 Key Features of AceMovi Video Editor
Security Verified. 5,481,347 people have downloaded it.
Pro:

MPEG files: easy-to-grasp steps & all-sided tutorials
Clean interface & effortless process
A vast of video genres to pick up: filters, texts, music, & animations
Professional features within like Pip and Regional
Good compatibility: downloaded on almost all the PC and Mac
No times and length limitation on the demo version
Cons:

Trial version:Little watermark printed (but cost-efficient)
Part 1:How to Edit MPEG Files with AceMovi?
Import MPEG Files
Directly drag-&-drop into the timeline, or by clicking the Import icon.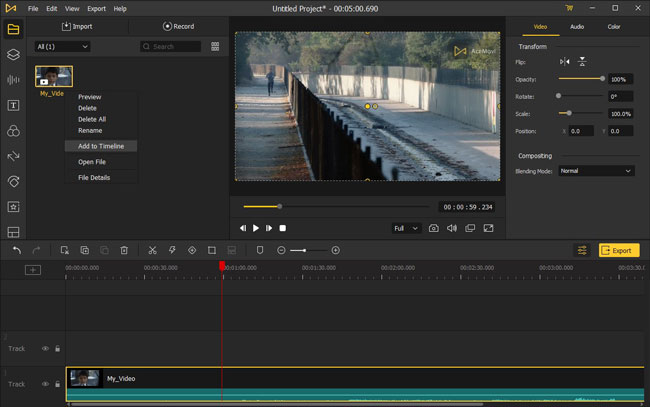 Edit MPEG Videos with Elements
Video elements – music background, static & dynamic texts, stickers, filters, and overlays are easy to find on the interface.
Edit MPEG Videos with Effects
You can add transitions, split-screen, regional, animations, and motions here.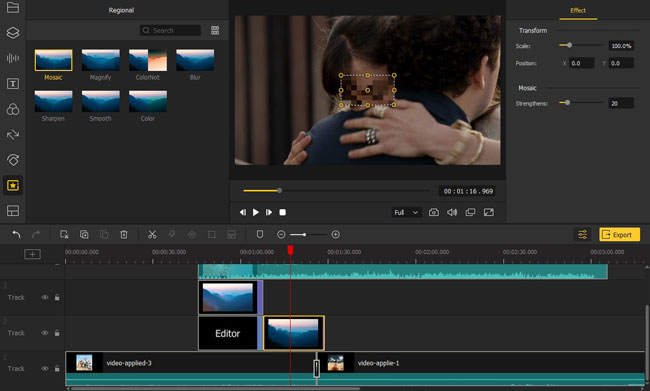 Export MPEG Files
Press the Export, choose the format from Video, Device, or Web.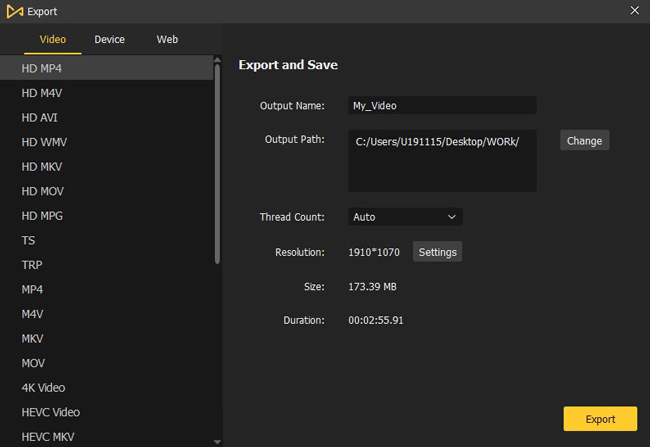 Part 2:How to Split MPEG Files?
AceMovi also plays the role of a brilliant MPEG splitter, so in response to the hot issue of how to trim MPEG files, we've taken AceMovi as an example. By the way, in case that you're still unconversant about how to import and export video files, it's advised to go back and see the previous step one and four again. And three ways of cutting MPEG files are provided in the following.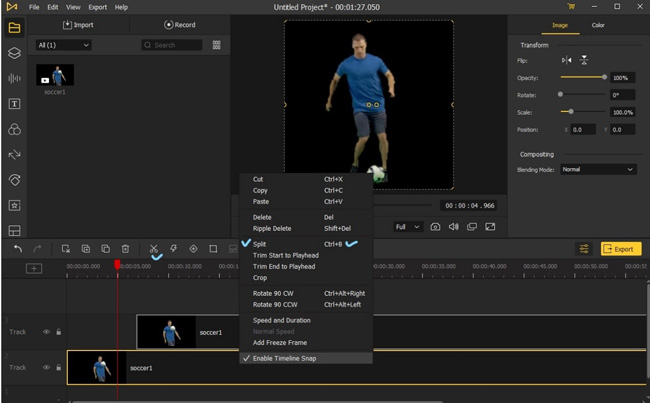 Way 1: [Better] Drag-n-drop the red vertical line, then press down shortcut "Ctrl + B"
Way 2: Tap the timing point you'll cut on the timeline, then right-click on the Track to choose Split.
Way 3: See that scissor sign on the toolbar? Click it after moving the red control line to the split site.
Ⅲ Other Top 5 Free MPEG Editors Used on Mac & Windows
1. Movavi Video Editor Plus 2022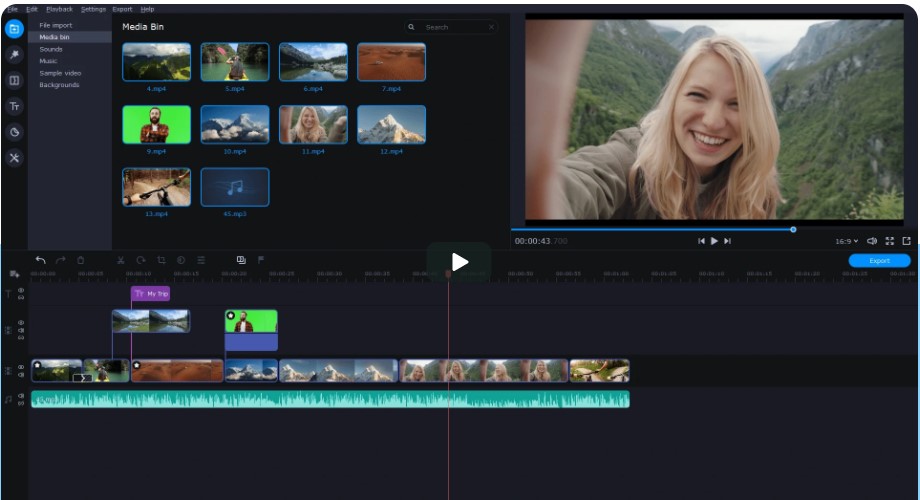 Taking a simple and intuitive layout, Movavi makes itself out of competitors in the powerful and multitudinous video effects that all of them can be applied directly without extra payment. In other words, when it comes to editing MPEG videos on Movavi, you're allowed to use tons of video elements.
In the case of the Transitions, which include not less than 15 types of categories such as Parallax, Artistic, Fade, Geometric, Circle, and Block, etc., and each of them has been divided into 20 or more transitions.
Pros:

MPEG files: edit, convert, and output supported
Premium features applied: animations options, timeline makers, etc.
Runs system: both Windows 7-10 & Apple's Mac OS
Training courses & tutorials: to shorten the learning curve
Cons:

Trial version: 7-day free use limited, with watermark
Slow video rendering: not so good at rendering big video file
2. EaseUS Video Editor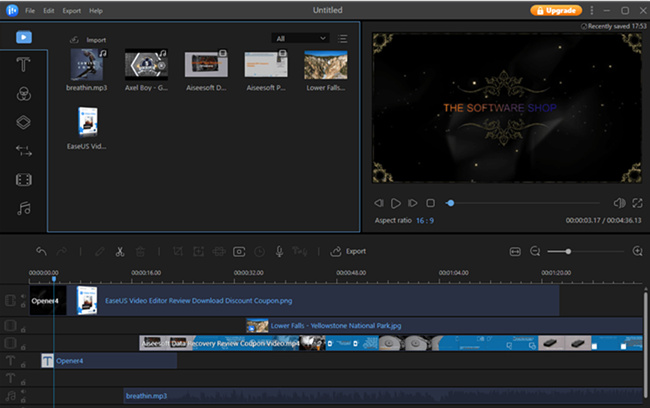 As one of the most reliable & stable video editors, EaseUS has a robust system backup to protect and auto-save your editing data even there're disorders or errors that occur on your PC and Mac. When exporting MPEG files, EaseUS has more precise buttons for altering the parameters of video and audio, such as the encoder, resolution, frame & bit rate of the video, and mono or stereo channel.
Unlike other video editors, in order to apply features, sounds, and texts smoother, EaseUS has listed five main tracks – Video, PIP, Text, Audio, and Voiceover. Consequently, if you'd like to use the picture-in-picture feature, there's no need to search for tutorials, just put your files above the PIP track.
Pros:

MPEG files: more parameters related to video & audio
Video recovery: restore lost files from an external HDD within 2 hours
Plenty of devices, formats, & social websites included
Use features directly: five types of tracks separated up to down
Cons:

Trial version: export length limit, with watermark, no 1080p/HD
3. MiniTool MovieMaker 3.0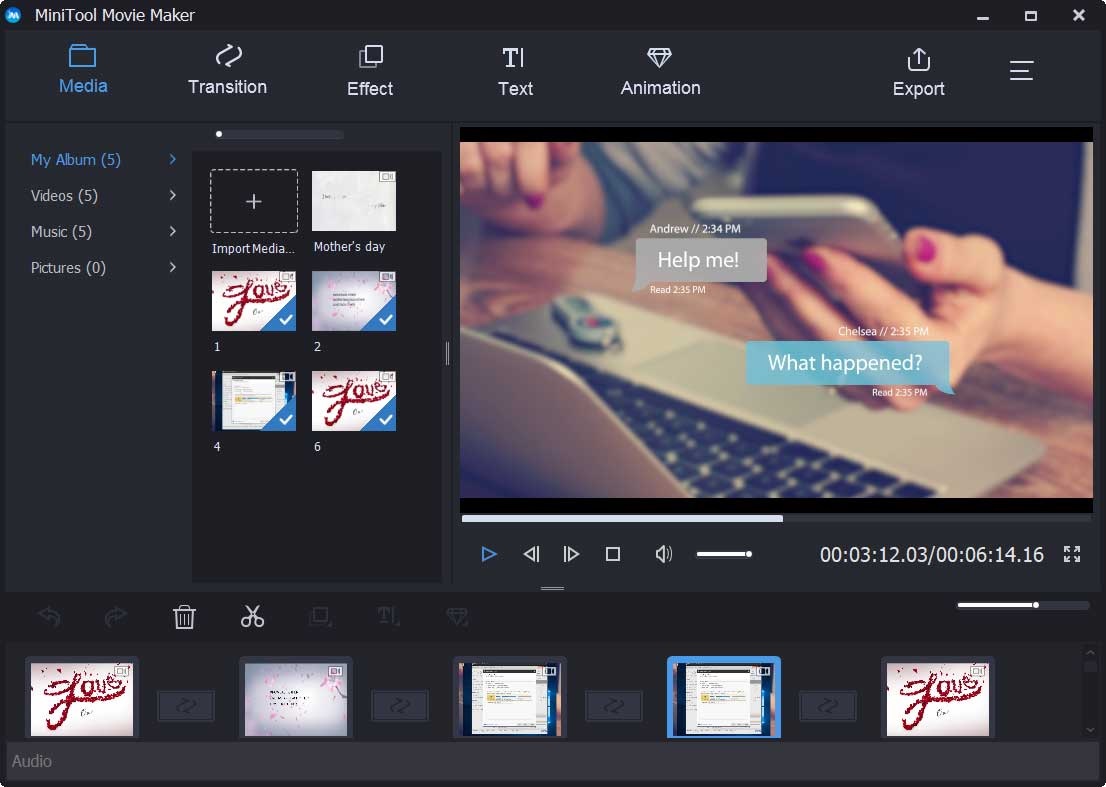 To highlight video clips, MiniTool enlarges the track area so that users are able to see more details in real-time. MiniTool contains more basic texts, filters, and stickers, so if you're newcomer in video making, better choose it. Meanwhile, you're allowed to pick up read-made templates from standalone stock, where the themes of Travel, Love, Family & Friends, and Festival are included.
With MiniTool, you can convert MPEG files to video formats like MOV, AVI, MP4, and GIF in 1080p/HD quality, or transmit them into iPhone, iPad, Xboxone, PS4, and other devices.
Pros:

MPEG files: higher quality & more formats are included
Advanced tools: 3D LUT, video reverser, and Motion effect, etc.
Templates resource: 9 basic templates to choose
Social Web: MiniTool uTube Downloader
Trial version: no watermark printed if the duration is less than 5 minutes
Cons:

Unimpressive transitions and effects
Unlikely to catch professionals
4. AVS Video Editor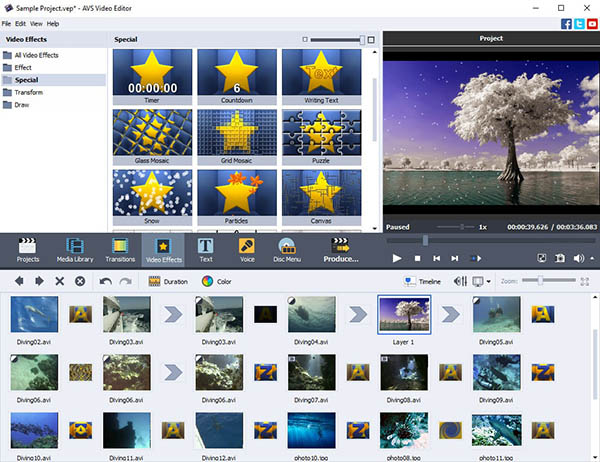 Providing elaborate & wrought sample projects, the AVS video editor contains a fully-featured toolbar, where you can find all of the functions inside – Projects, Media Library, Transitions, Video Effects, Text, Voice, and Disc Menu. More specifically to the numbers of each, around 50 current projects, 600 transitions, 80 video effects, and 40 types of texts are made within AVS.
Interestingly, AVS pays attention to the Disc player, so you can easily burn the MPEG formats into DVS, DivX, BD, or CD. At the same time, advanced configurations like video & audio bitrate, rate control, MBs, and frames can be adjusted as well.
Pros:

MPEG files: easier ways to burn into Disc files
Video resources: A robust library of project samples and transitions
Stabilization settings: Compensation, Frame Lock, and Customize Preview
Directly post on Facebook (Meta), Twitter, YouTube
Cons:

Trial version: watermark added
5. Canva Video Editor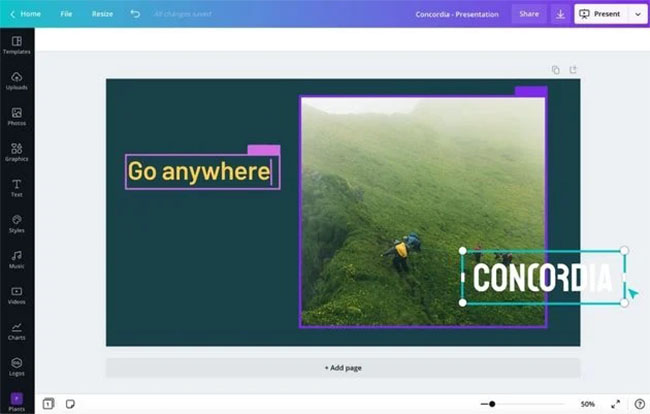 Want a MEPG editor for online use? Here we got Canva, a video editor that works just by few pages on the internet, and thousands of templates can be searched here, like the video topics of Educational, Reviews, Explainer, or Birthday.
Canva provides all kinds of trendy graphics to add to your MPEG videos. And you're accessible to use charts within Canva to make data explanations.
Pros:

MPEG files: personalize with tons of graphics, charts, and background
Video templates: thousands of fully stretchable templates
Online use: No software downloading on PC or Mac
Social web: Supports Instagram, Dropbox, Embeds, Emoji, Facebook, etc.
Trial version: no watermark when export
Cons:

Required high internet speed & possible loss of personal info.
Ⅳ To Sum Up
By applying the above six best & free video editors, MEPG files must be very easy to edit, split, convert, and merge. However, different selections depend on different requirements. For example, if you're demanding in the whole user experience, better pick up AceMovi, while for recovering editing history, EasUS can be a good choice. And as an online video editor, Canva carries downsides as well, such as the poor internet quality and fewer video output formats.