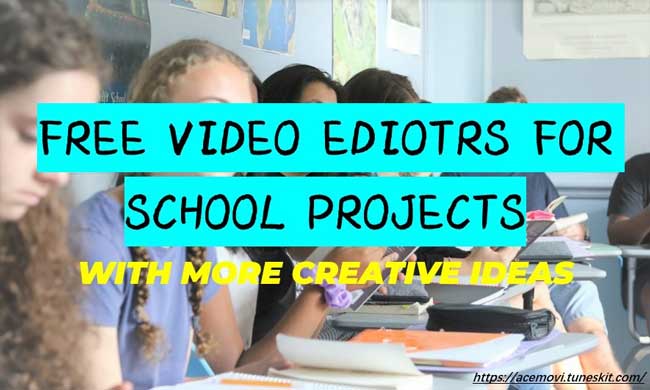 Feeling all at sea when encountering the upcoming videos for the school project? And want to decorate your videos with texts, filters, effects, and music? You and your classmates, I believe, must be trying to create the best school videos with great project ideas. Am I right? So, let's go on!
In the following, we'll make introductions of the six best free video editors for school projects with their pros & cons. Next, 4 creative video project ideas with illustration pictures will be displayed. So, if you are in the middle of nowhere to start editing a video for your school project, just follow me.
ⅠThe Best School Project Video Editor – AceMovi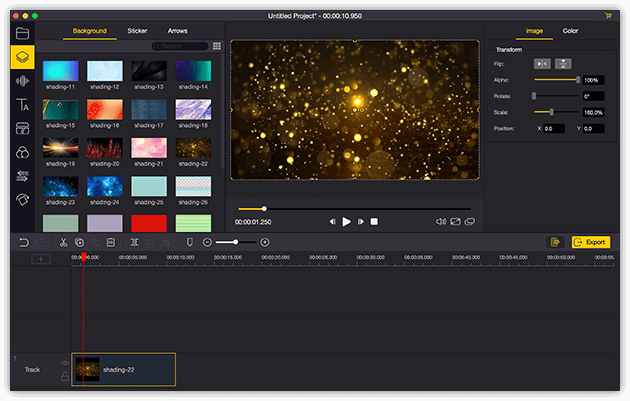 Why we recommend AceMovi as the top because it comes with a slick UI & illustrates all the basic and pro features on-screen. Whatever you want to add texts, filters, music, animations, effects, & transitions, or trim, merge, rotate, converter, record, & zoom in & out, AceMovi works well on all of them.
Moreover, very easy learning steps and all-sided service care are provided within AceMovi, that is to say, you don't need to worry about how to or what to edit your video. Besides, AceMovi offers hundreds of video import & outport formats for school project use, such as MP4, M4V, AVI, MKV, and their HD version. Also, you can transmit videos into devices like iPhone, Apple TV, and Galaxy, etc., or post on YouTube, Facebook, or Vimeo directly.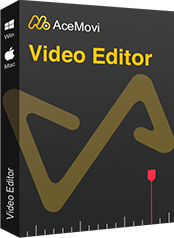 Key Features of AceMovi Video Editor
Security Verified. 5,481,347 people have downloaded it.
Reasons to Pick Up:

For school project video: easy-to-grasp steps & all-sided tutorials
Clean interface & effortless process
A vast of video genres to pick up: filters, texts, music, & animations
Professional features within like Pip and Regional
Good compatibility: downloaded on almost all the PC and Mac
No times and length limitation on the demo version
Downsides:

Little watermark printed on the trial version (but cost-efficient)
Ⅱ Other 5 Best Free Video Makers for School
1. Movavi Video Editor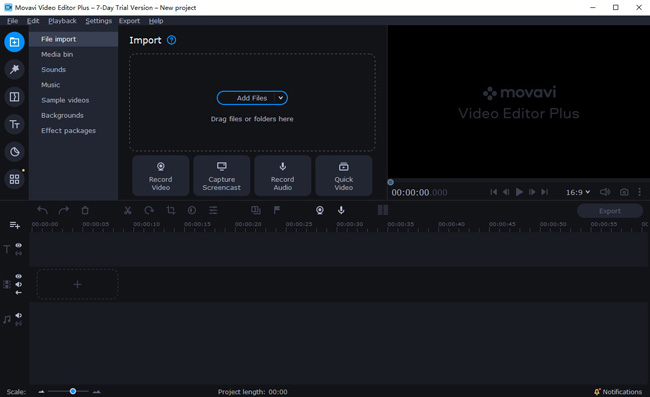 Movavi offers bountiful already-made templates to use for us teachers and students, in other words, you're accessible to try various kinds of school video themes like "how time flies" or "self-narration display". Also, you can add attractive effects to your video, for example, by using the Mirror, the video will be turned around.
Besides, Movavi is an open-source video editor replete with more than 500 kinds of texts, filters, & effects, and they've placed orderly above the layout, just click those categories and sub-categories as you what.
Reasons to Pick Up:

Pleasing & well-planned interface
Numerous templates about school projects to apply
Pros-to-use like Motion Tracking, Chroma Key, & Stabilization
Downsides:

Only 7-day available of the trial version, & watermarked
Apple Silicon M1 is declined
2. VSDC Video Editor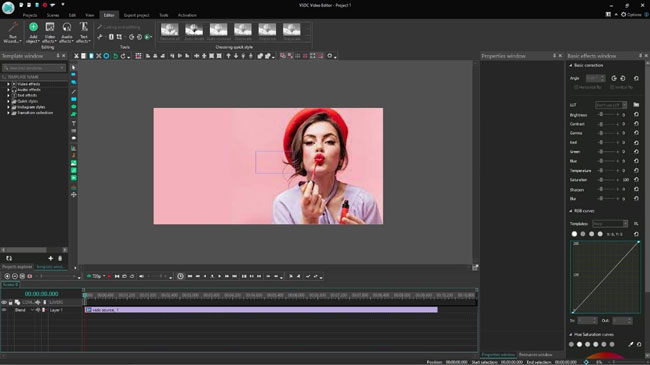 Want a free video editor with precise pre-settings & high-end features? With VSDC, three video projects are already provided when you're coming into that interface – blank project, slideshow creation, and video & screen capture. Next, before formal school project editing, you're allowed to set the name of the author & publisher, resolution, framerate, background, and opacity.
Having a closer looking, VSDC outperforms its features like 360°/3D Editor, which can play a more convenient preview of the panoramic & VR clip. And the Motion Tracking is designed for attaching video elements like masks, titles, and images in your video. As well as the Multimedia Combiner, which is mainly used to convert your video into multiple formats and extra apps for the Creative Work-video Manager, DVD Burner, & Screen Recorder.
Reasons to Pick Up:

More advanced features: 3D Pro Charts & AI Art Generator
Precise setting to use such as pirate & duplicate add and multi-angle aligns
Plenty of devices, formats, & social websites included
Free-to-use & no watermark when export
Downsides:

User-unfriendly to newcomers
Little messy interface & settings
3. Wondershare Filmora X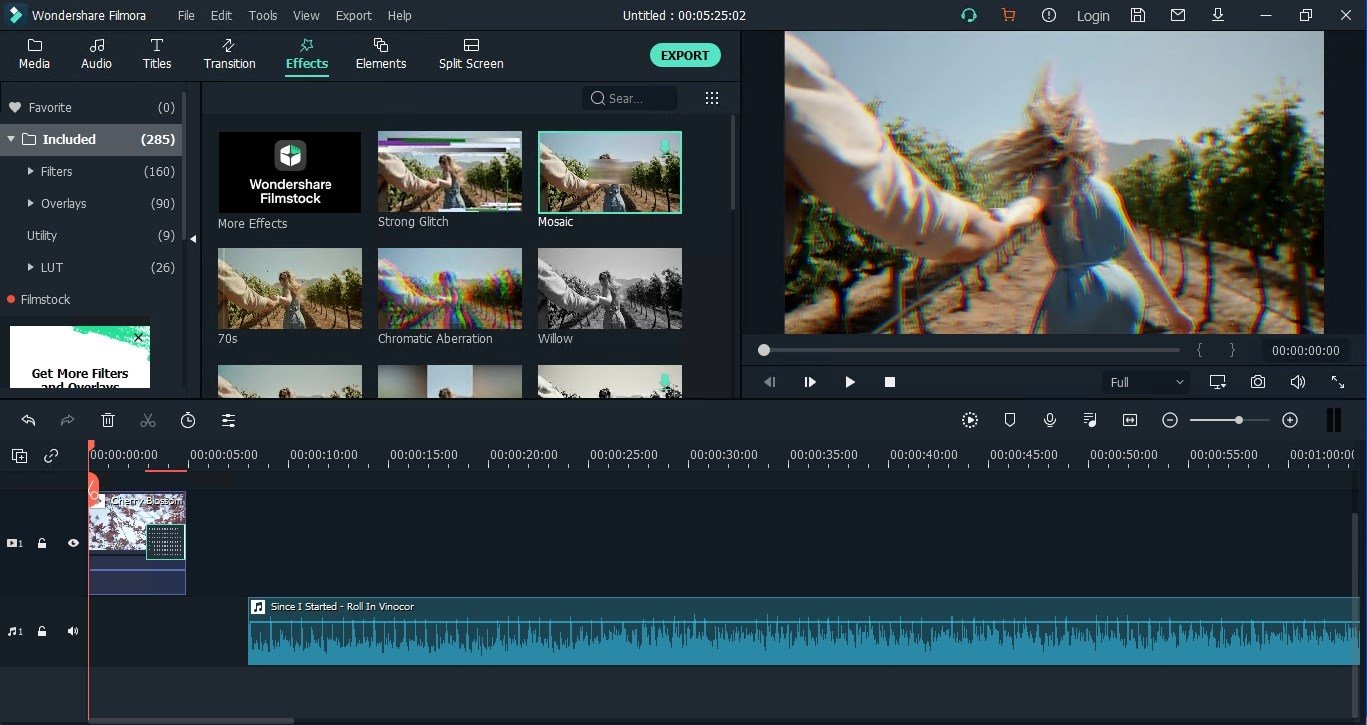 Nowadays, Filmora has released more professional video editing tools like Auto Reframe, AI Portrait, and PC Screen. That is one of the specialties of Filmora – updates at a high speed. Right now, let's see more details.
Hundreds of media, audio, titles, transitions, and effects are available here, along with a search line. Meanwhile, Filmora gives prominence to the 30 different styles of Split-screen, so you can see it was located on the menu. You can also find buttons to record a voice-over or mix sound above the toolbar. What's more, Motion Tracking, Automatic Audio Syncing, and Video Stabilization are as well designed within it.
Reasons to Pick Up:

A slew of built-in resources to choose
More tutorials for the school video project
Formats supported are ranged diversely
Quicker updates speed – enjoying new functions before others
Downsides:

Watermark contained on the trial version
Lacking shortcuts in helping maneuver timeline
4. Icecream Video Editor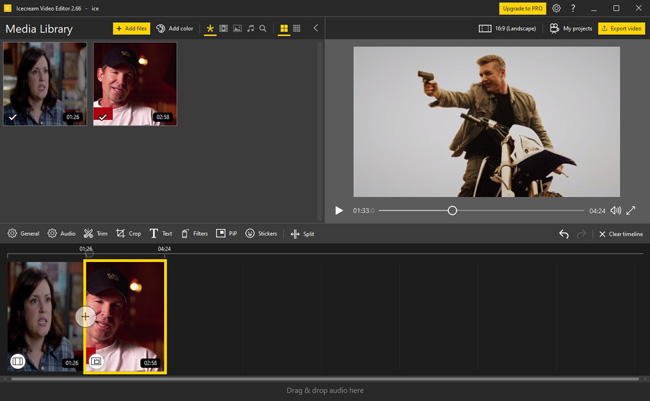 You may wonder, I guess, that is there a video designed with very intuitively and simple operations? Yes, it's Icecream Video Editor. What Icecream must surprise you is its timeline, where all the video footage will be magnified with direct visibility, so you can adorn the school project video with more ease.
As we can see, Icecream has put the function of General, Audio, Trim, Crop, & Text side by side on the toolbar, so they're very easy to utilize. With the General, you're allowed to adjust brightness, contrast, saturation, hue, and speed. And the audio effects like Chipmunk, Echo, Chorus, and Robot Voice can be controlled on the Audio.
Reasons to Pick Up:

Very easy-to-learn interface
Enhanced visibility upon the one-line track
More audio effects to use on the video of the school project
No watermark on the demo version & free
Downsides:

Lacking advanced editing tools
No templates prepared
5. InVideo: Online Video Editor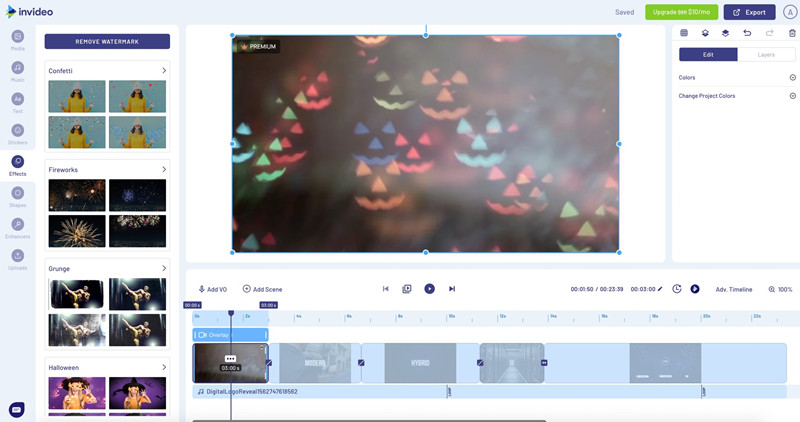 Preferring to use a free video editor for school projects online? We got one for you. InVideo made itself out of others mainly in the open-source construction – 5000+ templates & 50+ themes inside. Specifically, you're empowered to use 50+ models about school video. And you can find the hottest models to use like "Back to School Kit", "School-Stationary", and "School Event Ad".
After picking up the template as Wide (16:9), Middle (1:1), or Vertical (9:16), you can choose the video footages from iStock or Premium Media, that is to say, the school video even can be made in case you haven't captured any images, clips, or texts.
Reasons to Pick Up:

An abundance of templates & footage about school video (50+)
Operates online – no need to download any software
Includes an integrated video element, like images, music, logo, and colors
A direct way of sharing to Twitter Tweets
Downsides:

Watermark added in & some advanced features should be paid
Possible personal data leak and system crash
Ⅲ Creative Project Ideas with School Video Editors
Knowing that how to choose the best free educational video editor for the school project, next, we'll share with you four creative and striking video editing ideas that have been applied on AceMovi below. Let's have a try!
1. Slideshow Creation
You can show off your performance on the big event like academic achievements by adding related photos, charts, and personal thinking into the video – first to import into the track by drag-n-drop, then choose proper video effects like transitions.
2. Personal Narrations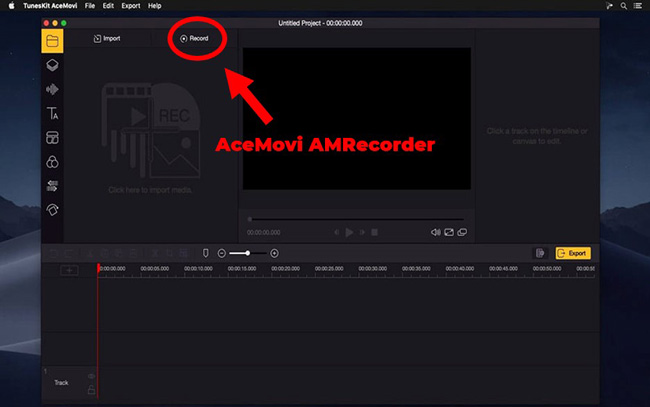 Recording your voice by the Video editor and trim that file, putting them into the different tracks to synchronize video, audio, and image. In this way, you can strengthen the video with the first-person angle to attract classmates & teachers.
3. Multi-scenes Talking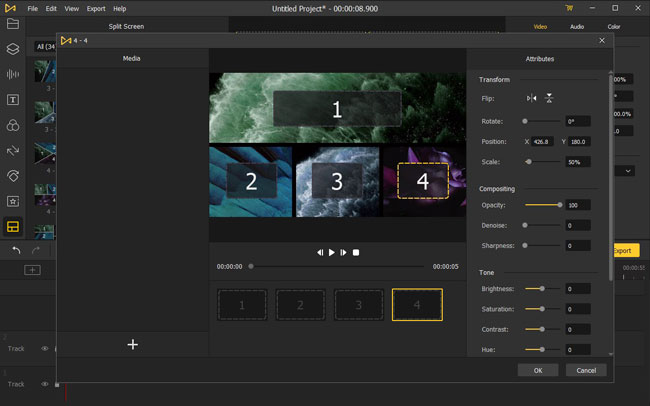 By playing video on more than two scenes, you can make comparisons & contrast smoother and softer. You have 34 kinds of Split-screen to try with AceMovi, vertically or horizontally ranging from two scenes to six, and by the shape of rectangle, round, & triangle.
4. Stop-motion Animation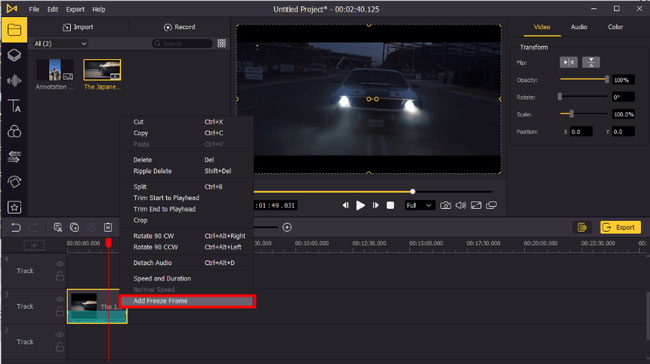 You can make a physically manipulated object seem to be moving on its own. You just need to move the play head into the frame you're going to trim. Afterward, right-tap the track & add freeze frame. Here, you can add as many freeze frames as you want.
Ⅳ In a Word
Each of the video editors we've mentioned above carries their specialties, some lie in captivating features, some outperform in easier steps of video making.
Alright, this is all the content in today's article, for more information like video ideas & tutorials, please visit the official website of each video editor. Also, wish you'll find the most suited video editor for your school project and create satisfactory videos with great ideas.