It would be amazing if you never let your graduation day pictures stay on your computer hard disk forever. Apart from posting a few photos on social media, a better way to bring the still and moving images to life is by creating a slideshow.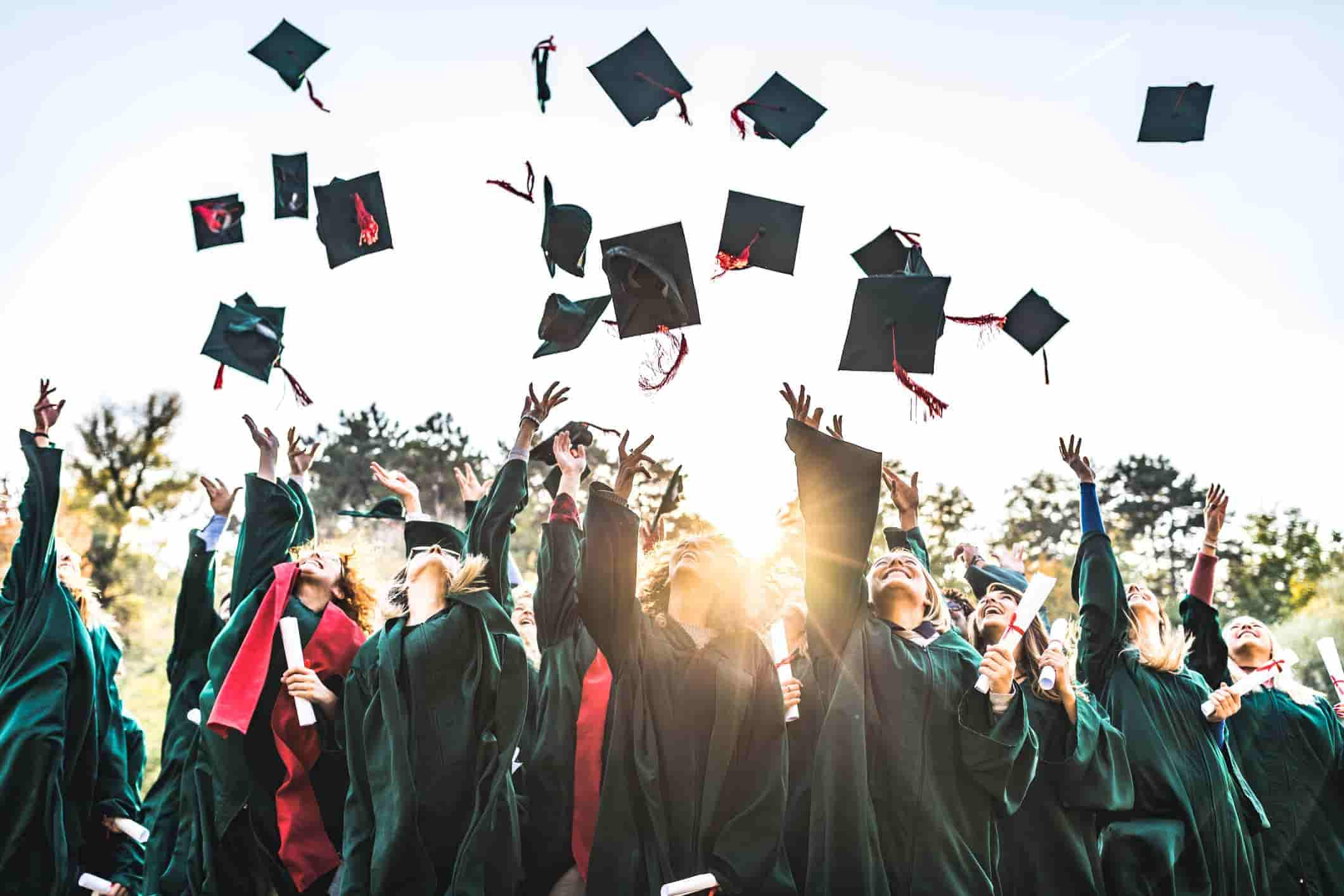 Using a free graduation slideshow maker creates an opportunity to create an outstanding slideshow of the graduation pictures. The best thing about these programs is you do not need professional experience. All you need is the creative urge and plenty of images.
When you search for graduation slideshow makers on the Internet, you will come across free, paid, and online applications. As you are new, you will find it challenging to choose the right creative software. In this article, we have outlined the best graduation slideshow makers.
Recommended Application – TunesKit AceMovi
TunesKit AceMovi turns out to be a great performer in video editing. With the options and the features provided by the software, you can create, explore, and produce inspiring videos.
The graduation slideshow maker has everything you need – transitions, effects, text, frame rate, cropping, and many more. It supports both Windows and Mac, and therefore, no struggle in choosing the suitable variant.
You can use AceMovi to create slideshows, educational videos, capture memories, branding, sales, demo videos, and more. The following are the important features of the software: Screen recording, Audio, Text, Filters, Animations, Transitions, Split screen, Crop and zoom, Cut, Rotate, Flip, Fade in/out, Behaviors, Green screen, Change clip speed, Color match, Closed captions, Annotations, Keyboard shortcuts.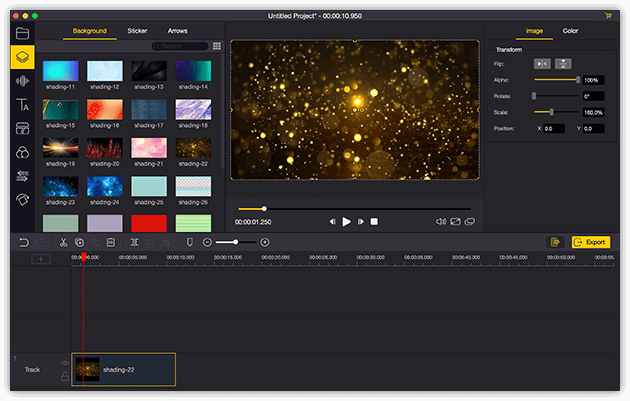 Pros:
Fast screen recording.
Multiple output formats.
Abundant sound effects.
Straight-forward and intuitive interface.
Cons:
Not many advanced video editing features
How to Use TunesKit AceMovi to Create Graduation Slideshow?
The steps discussed here will help you understand how you can use AceMovi to create a graduation slideshow. However, ensure that you have selected the correct version and installed it on your computer.
Step 1: Adding Media Files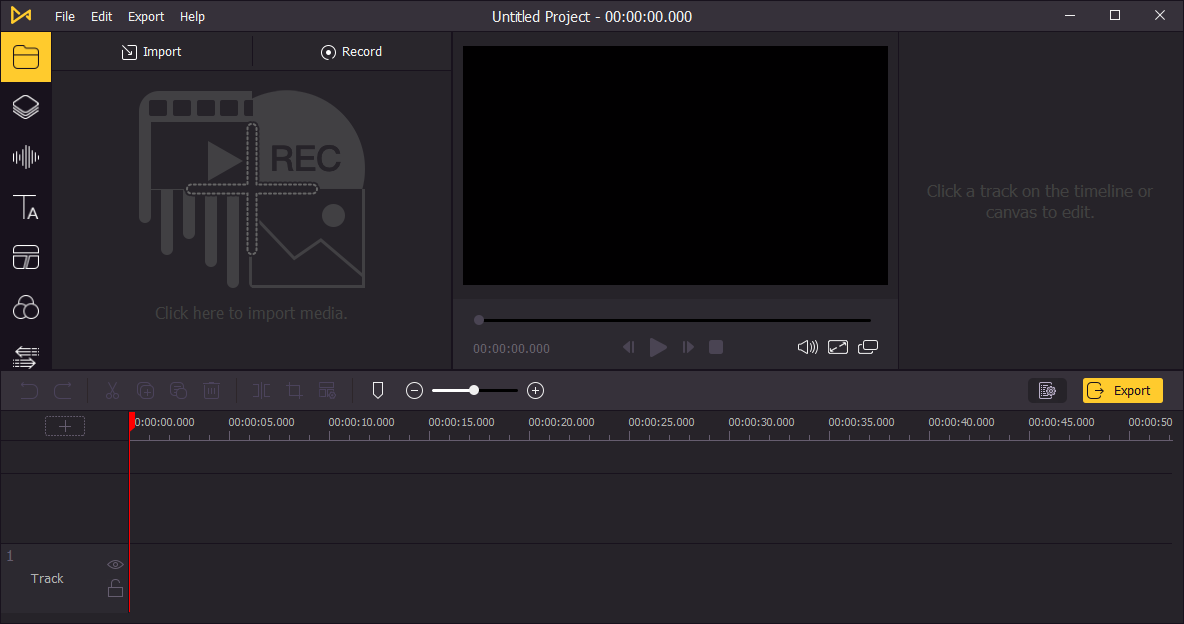 The animated photo slideshow maker will help you create fantastic video files. Once you start AceMovi software, you will notice the "Import" and "Record" options highlighting beneath the menu bar. Use the import feature if you already have the images, video files, and audio clips to create a slideshow. Use the record feature when you like to capture your screen and then add an audio track.
Step 2: Editing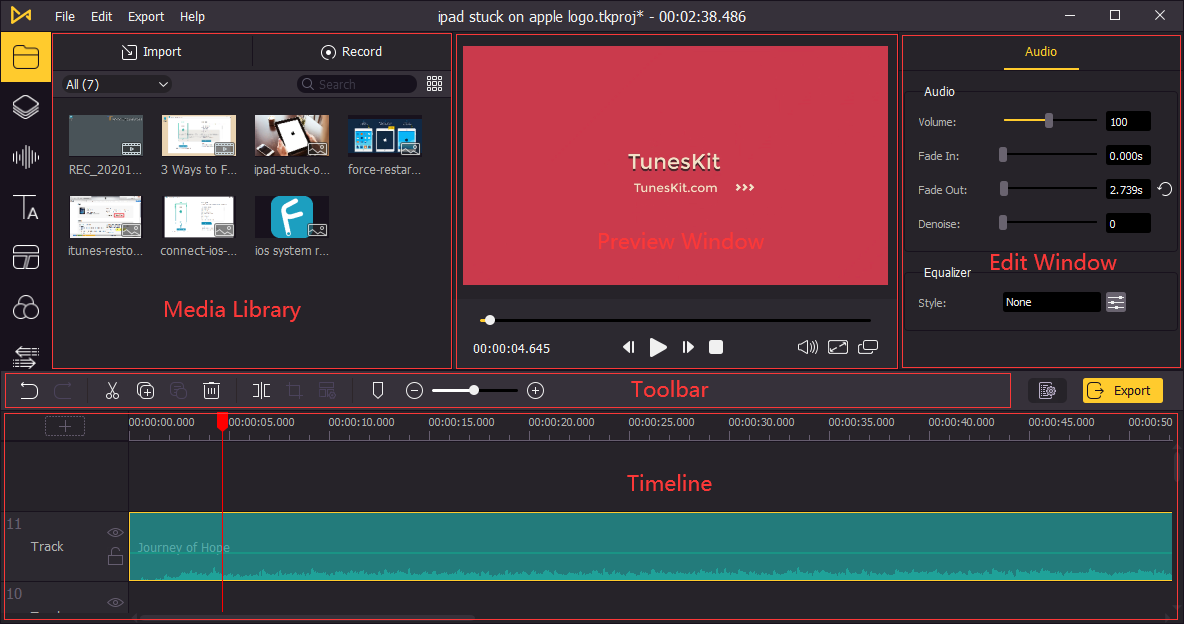 After completing the addition of the files or recording the screen, you can edit the files. The timeline beneath the preview screen enables you to adjust according to the requirement. For instance, you can crop video and add text or fade in music at the start. The settings icon allows you to alter parameters such as position, volume, brightness, saturation, contrast, hue, and more.
Step 3: Export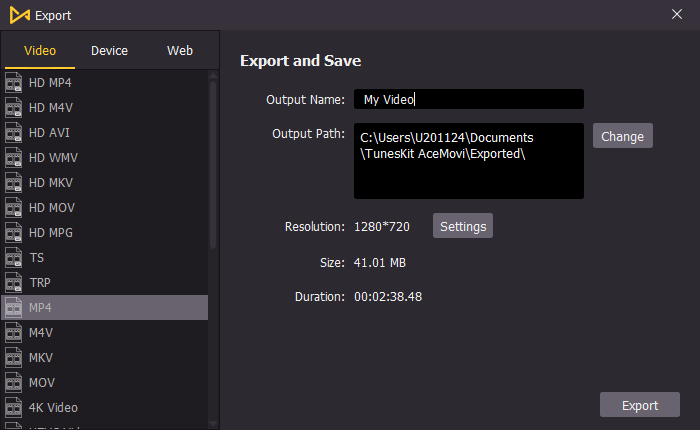 After completion, click the "Export" button to save the slideshow as per the needs. You can save it on your computer, share it with online video streaming sites, email, and choose the format based on the device you like to use. The formats include MP4, AVI, 3GP, MPEG-1, MPEG-2, and more. You can additionally interchange the resolution, bit rate, codec, quality, and more.
Top 2. Magix Photostory
Photostory from Magix is a free slideshow maker for graduation. The free trial gives you everything you need to create a fantastic slideshow of your graduation pictures. It is simple to use and has a plethora of features.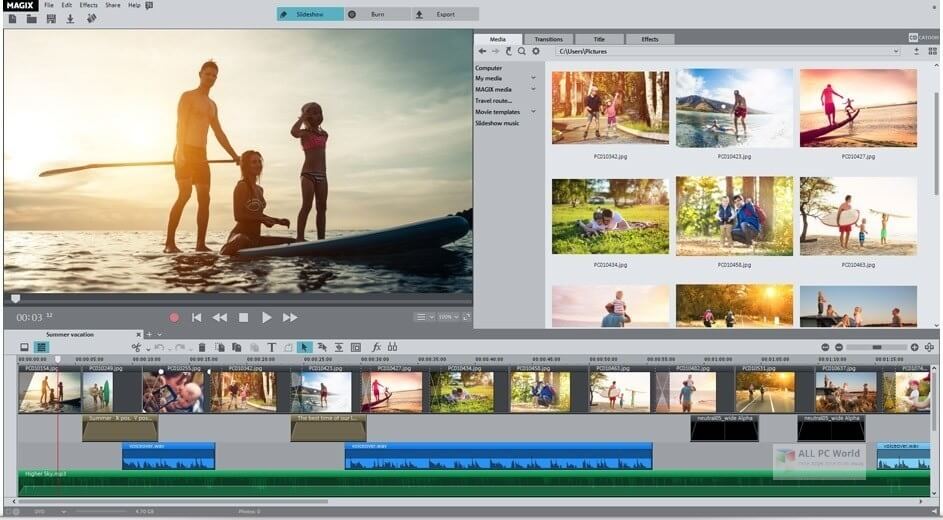 Pros:
Over 1500 effects
500+ templates
Add video and animations
Cons:
Expensive
Audio waveform absent
Top 3. Movavi Slideshow Maker
Movavi is the best graduation slideshow maker in its class. If you just started learning slideshow creation, it is a perfect tool. The wizard and options present in it help you create a good outcome. Alternatively, you can develop a custom project. The features, support, effects, and transitions provided by the software make it easy to construct an intriguing video.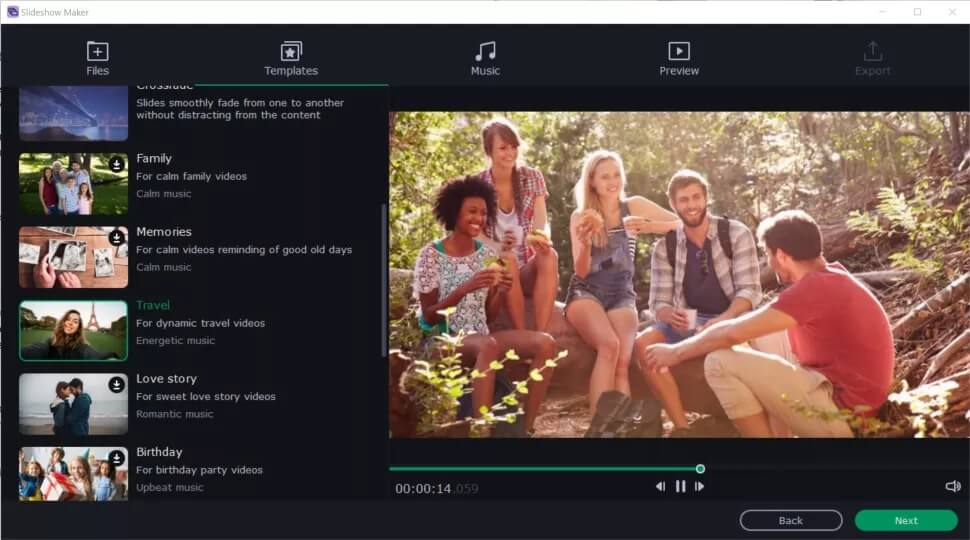 Pros:
Fine-tune audio
Record screen
Built-in collections
Cons:
Watermark in the trial version
Limited toolkit
Top 4. NCH PhotoStage
The PhotoStage from NCH is the best graduation slideshow maker free. You can operate without a license for non-commercial use. You can utilize the Quick Create feature to develop an excellent slideshow automatically.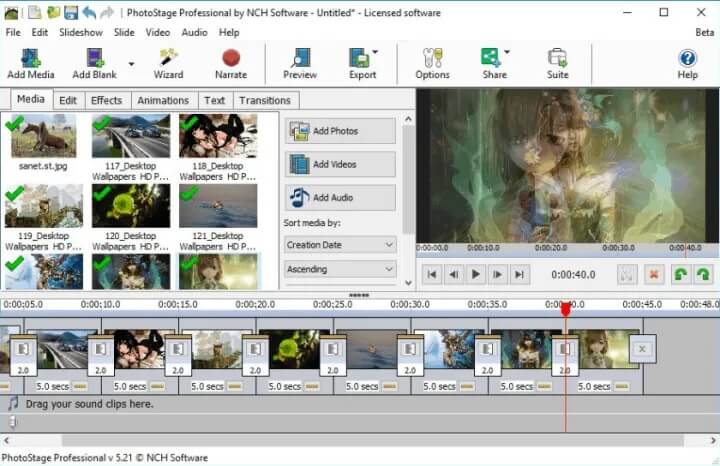 Pros:
Free for non-commercial use
Burn slideshows into DVDs
Record voice comments
Cons:
Few presents
Cannot fine-tune animations
Top 5. Icecream Slideshow Maker
Icecream graduation slideshow maker helps you create simple presentations without involving complex features and procedures. You will find all the essential tools on the main screen. You can drop the pictures, add effects, and customize.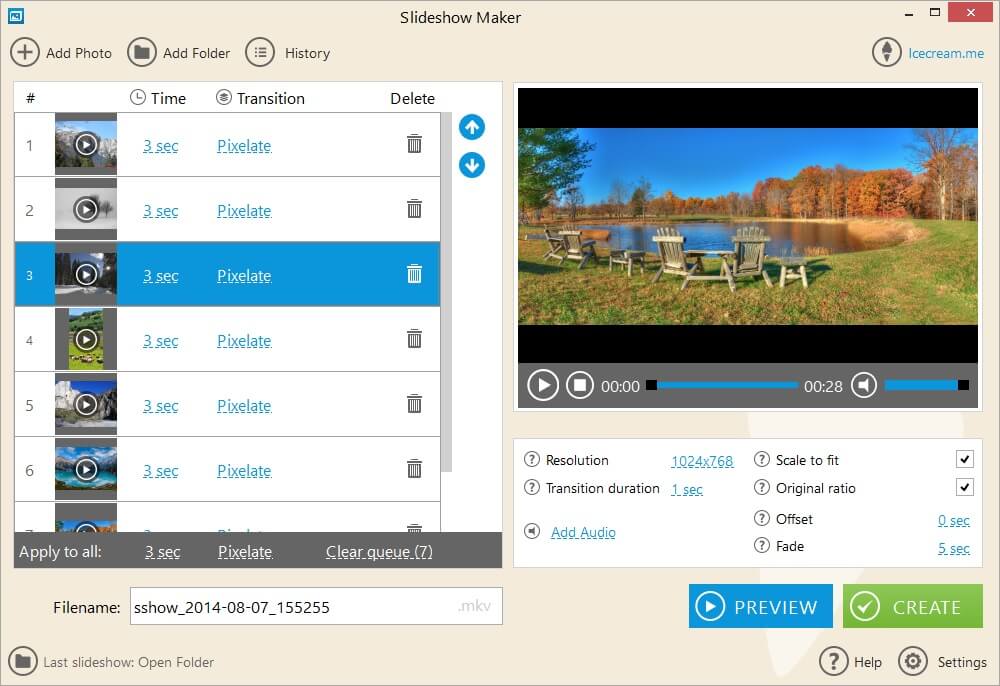 Pros:
Highly user friendly
Create 4K videos
Use cloud storage
Cons:
Limited toolkit
Few transitions
Top 6. Windows Movie Maker
Windows Movie Maker is a free graduation slideshow maker. You will find it as Video Editor on Windows 10. You can clip images, add voice comments and transitions to create a slideshow. You can drag and drop the pictures.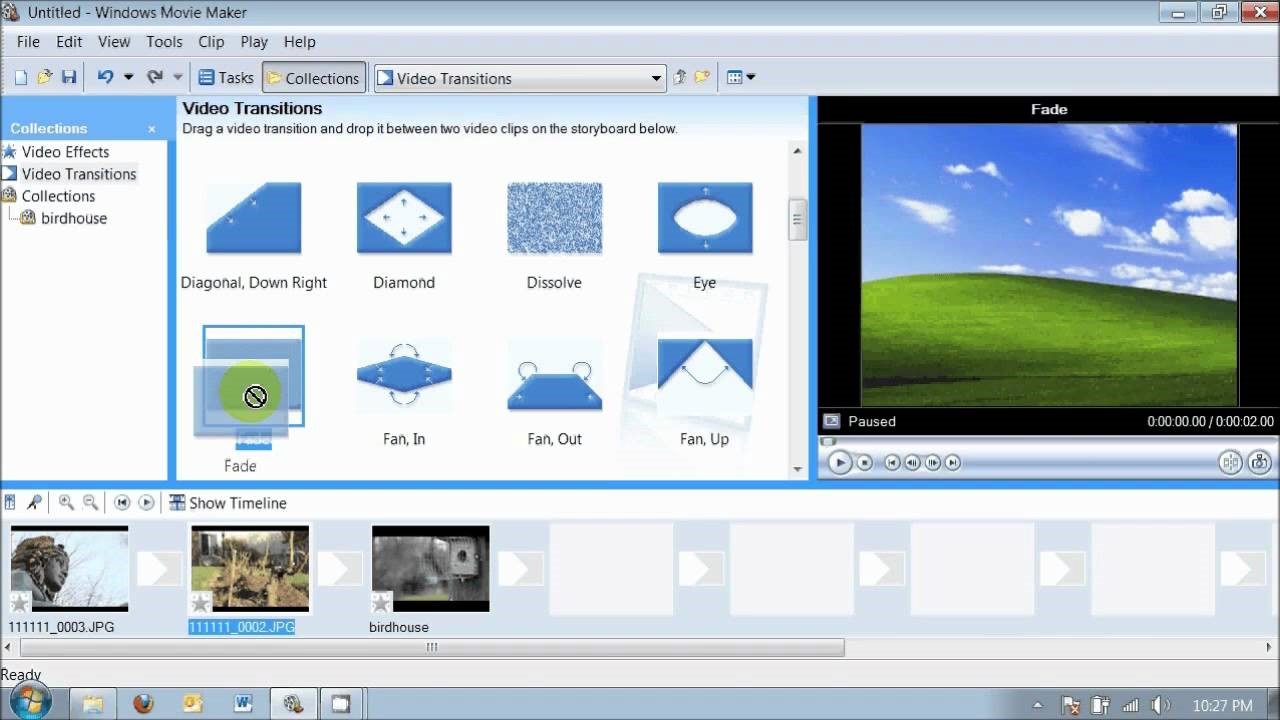 Pros:
Add voice comments
Burn DVDs
Free application
Cons:
Limited toolkit
Few output file format options
Top 7. Kizoa
Kizoa is a free slideshow maker for graduation and available online. It does not require registration, and you can use the available templates to create enticing videos. Alternatively, you can replace animations, add effects, add transitions, and more.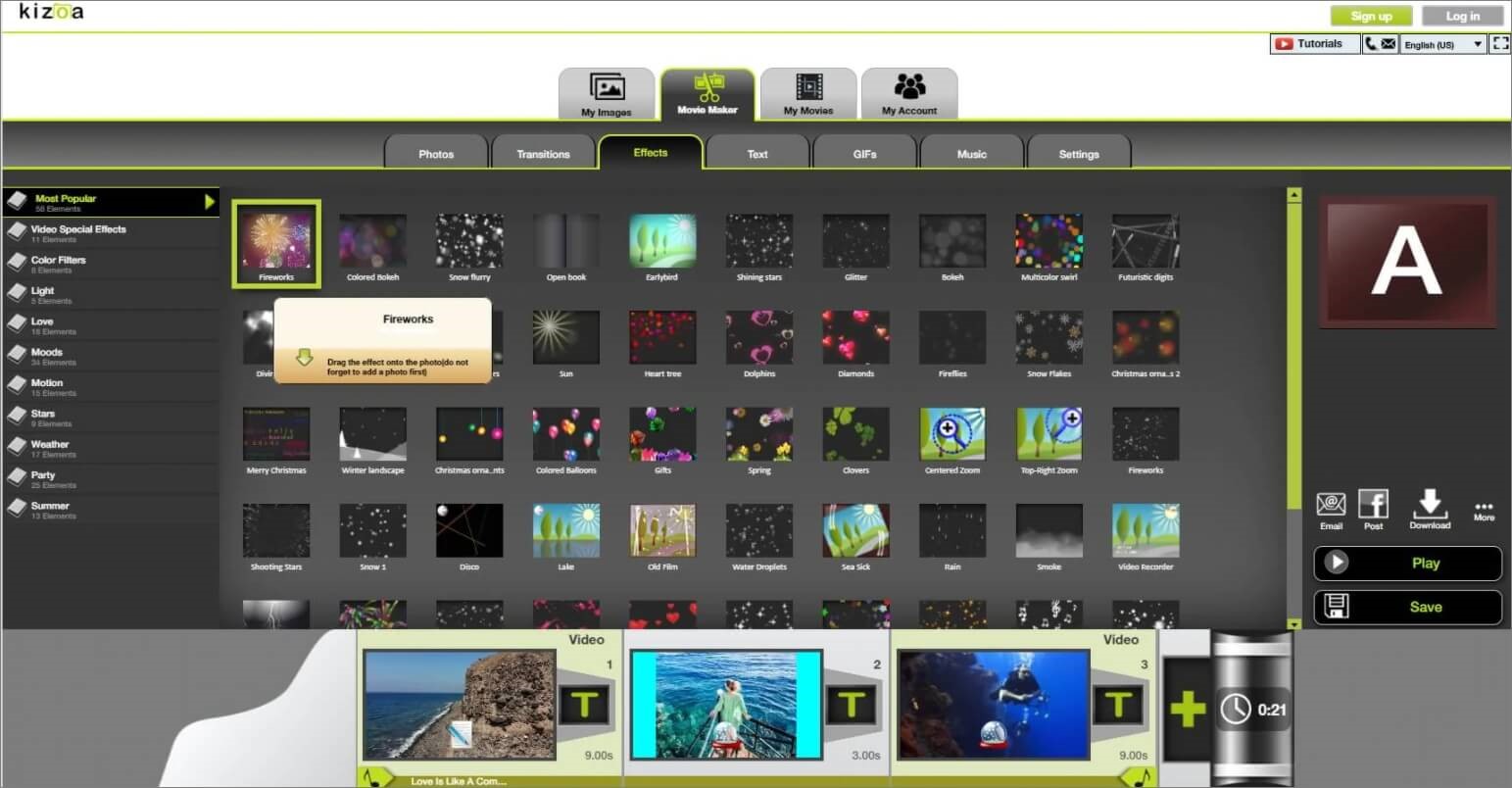 Pros:
Free to use
Pre-made themes
Explore library
Cons:
Requires subscription
Stable internet connection required
Top 8. Animoto
Animoto is the best graduation slideshow maker. The online application allows you to create slideshows quickly using the templates. You can select a template, add your photos, music, and comments, and wait for the application to complete the video.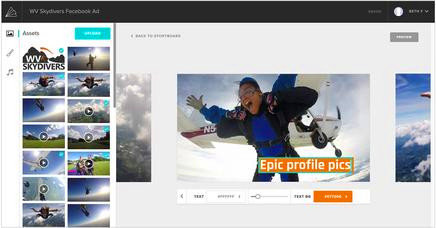 Pros:
User-friendly
Sharing capabilities
No HDD space requirement
Cons:
Monthly subscription
Reliable Internet connection
Top 9. Smilebox
Smilebox is another best graduation slideshow maker free tool. The online version allows creating slideshows, collages, presentations, and flyers. You can use the themed templates to make your presentation or slideshow.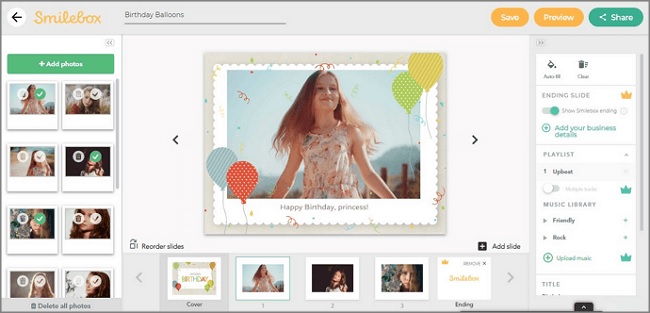 Pros:
Easy to use
Built-in music collection
Plenty of pre-made templates
Cons:
Monthly subscription
Requires consist Internet
Top 10. Google Slides
Enter your Google account to pull out an affordable slideshow. Google Slides graduation slideshow maker is a simple and thoughtfully designed program. Although it does not have the essential fun features, you can create a slideshow quickly and share it online instantly.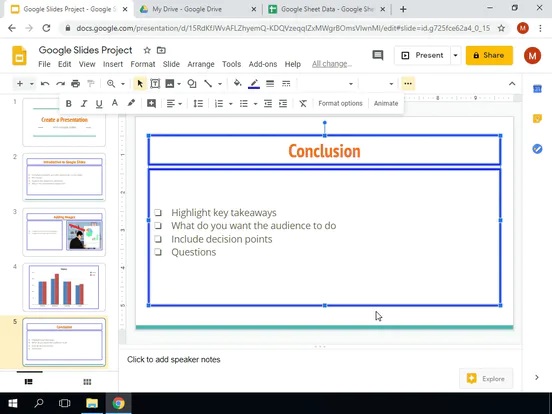 Pros:
Free
Web-based back-up
Privacy protected
Summary & Extra Tip
You now have all the details related to various slideshow makers of 2021. We have presented the list with pros and cons to make it a simple task to pick the appropriate slideshow maker. Irrespective of your OS, you can now create exceptional output using your graduation pictures.
With the best graduation slideshow maker by your side, you can put life into images and use all your imagination. The software's selection depends on how you like to use, frequency, creativity, and the features you expect in the software. Get the tool you need and create the perfect graduation slideshow!