An impressive way to reach the target audience is by quickly telling your story. The best way is to create a slideshow, which focuses on a single point. Then, it is easy for people to understand what you want to show and what you are promoting. An online video slideshow maker comes to your rescue in such a situation.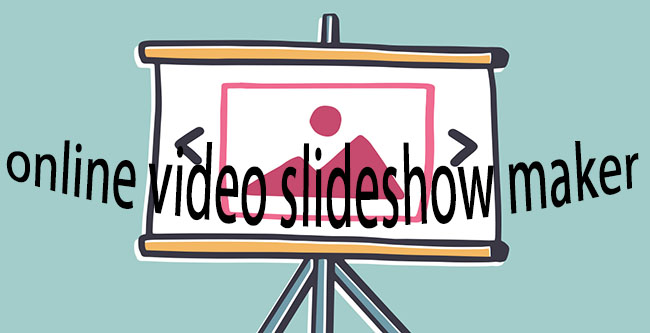 With the assistance of these online platforms, you can quickly create a slideshow that you like to share across multiple web platforms. It simplifies your work, and you can access it from any web browser. You can forget about downloading software! Let us look at some of the compelling and engaging video slideshow makers currently trending in 2021.
Top 1. Adobe Spark
Adobe Spark is an online video slideshow maker and the best for beginners. The online tool provides everything that a fresher would require in creating some fancy slideshows. The powerful features include adding clip images, text, audio, and background. In addition, you can choose between eight presets to create a slideshow automatically.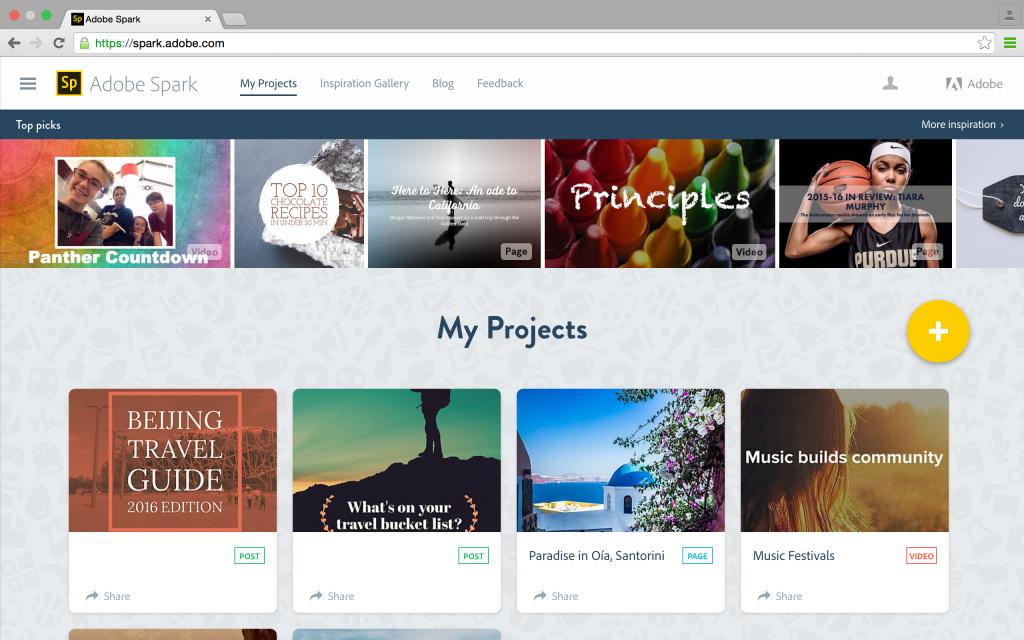 Pros:
Free images, templates, and audio
Visual slide board
Customizable fonts, labels, and colors
Teamwork
Top 2. Canva
Canva is another online slideshow video maker without watermark with which you can create professional slideshows. It has an impressive collection of assets and templates. You can quickly choose one for an automated process or heavily customize it according to the need. In addition, you can combine different slideshows into one and use a background for an impressive output.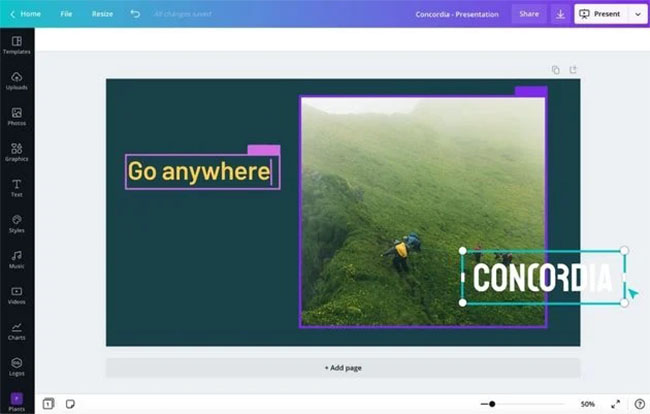 Pros:
Free graphics
Simple user interface
No watermarks
Cons:
Resizing is absent in the free version
Transparent background requires payment
Top 3. Visme
You can term Visme as the best online slideshow maker for both a professional and a beginner. You can use the wealth of presets available to create mesmerizing slideshows. You can work with a team on a project with ease. In addition, the team members can edit, comment, and view based on the access rights.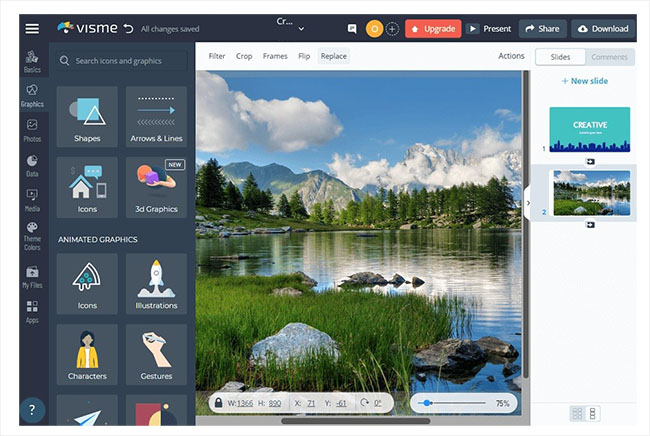 Pros:
Several slideshow templates
Simple to understand and master
Easy slideshow creation
Customizable options
Top 4. FlexClip
The other free online video slideshow creator on the list is FlexClip. The free plan has useful options and editing tools. For example, you can control the duration, insert custom media, captions, texts, transitions, and add audio. For a quick storyline, you can pick a template and adjust.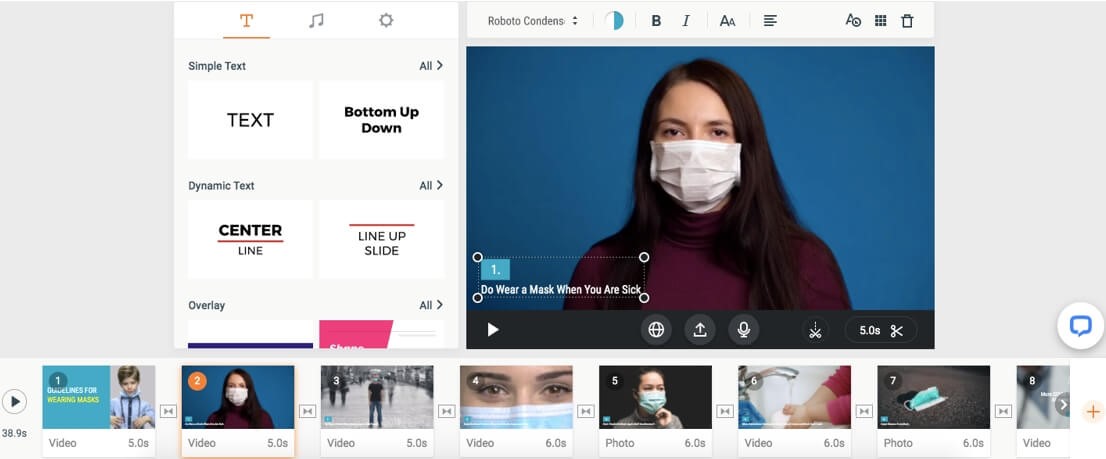 Pros:
Wide range of readymade templates
High customization
Aspect ratio control
Paid plans are cheap
Cons:
Only 480p in the free version
Only 1 minute of video
Top 5. Kizoa
Kizoa online video slideshow maker is helpful for creative professionals. The wealth of assets, styles, and effects that you can apply brings life to your pictures. You can create a slideshow in two simple steps – choosing a template and adding images. Later, you can add effects, music, texts, etc.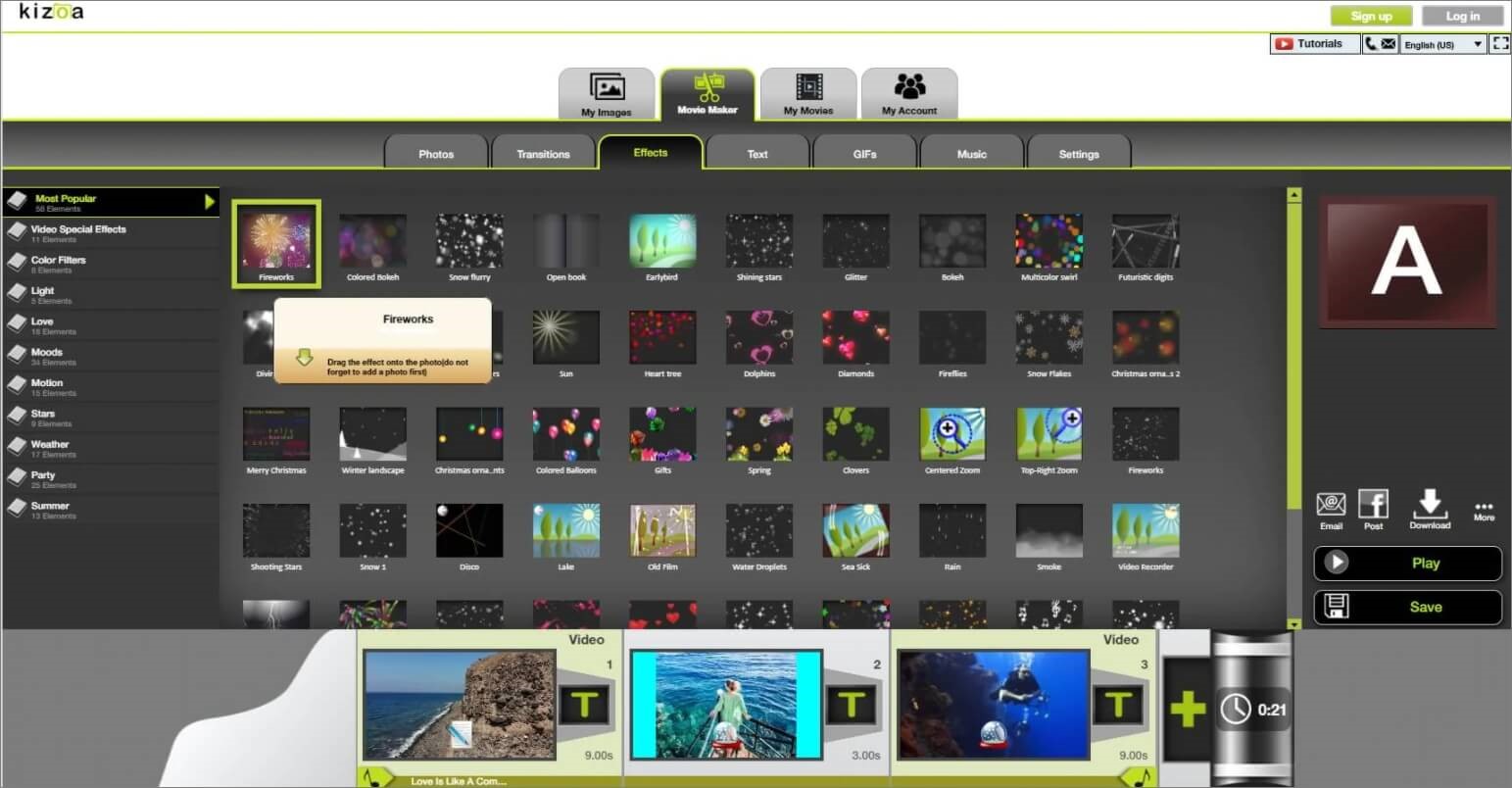 Pros:
Free templates and assets
Aspect ratio control
Creative fonts
Wide range of effects
Cons:
Requires flash in the browser
Suitable for creative purposes
Watermark in free version
Alternative Online Video Slideshow Maker - TunesKit AceMovi
The online slideshow makers are not a great option since there are limitations. The alternative to the online video slideshow maker is using TunesKit AceMovi. With the software, you can tell your story the way you want it using all the editing features you need to create the perfect slideshow.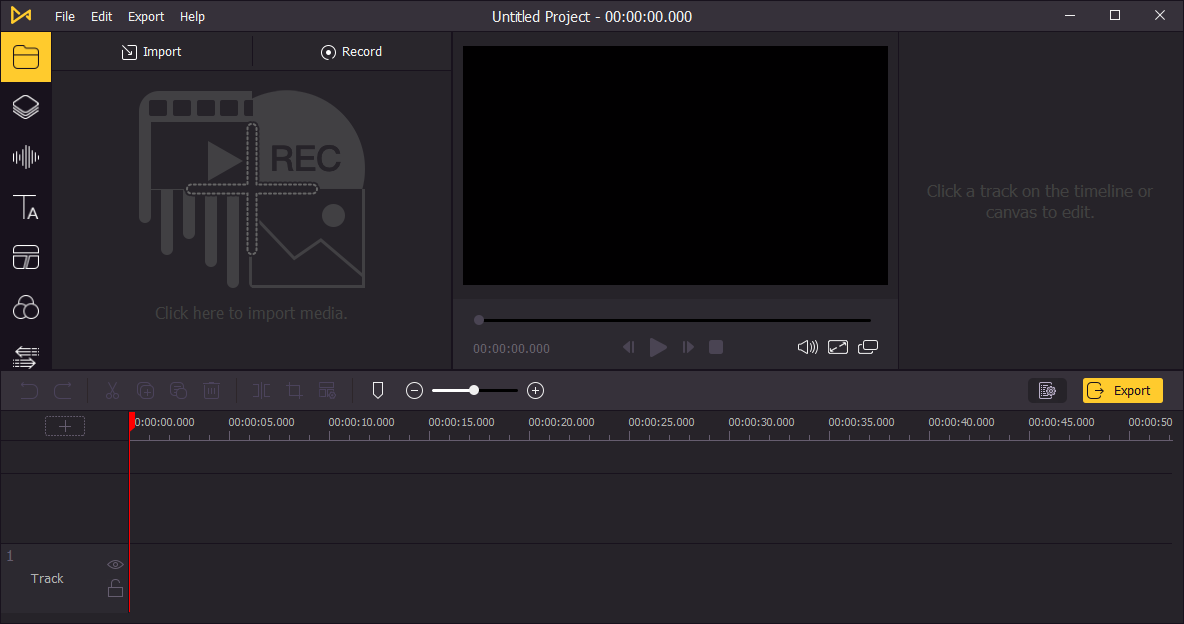 The robust construction makes the program stand out from the rest. The powerful features include cropping, split-screen, adjusting video speed, rotating, and more. You can also add text, zoom, merge, and perform many actions. The addition of a soundtrack and editing the same is another advantage.
Apart from the usual basic editing features, the tool also has advanced features, such as filters, overlays, transitions, PIP, and keyframing. All these together bring life to your imagination and the slideshow you want to create using pictures.
Guide to Use TunesKit AceMovi to Create a Slideshow
Before you follow the step-by-step guide, ensure to download TunesKit AceMovi by clicking on the right version.
Step 1: Launch TunesKit AceMovi
Install the appropriate version by heading to the AceMovi website. The free version provides complete access. However, it will leave a watermark on the video. You can avoid it by registering the product. Enter the registration code sent to your registered email in the "Register" column under the "Help" tab.
Step 2: Add Media Files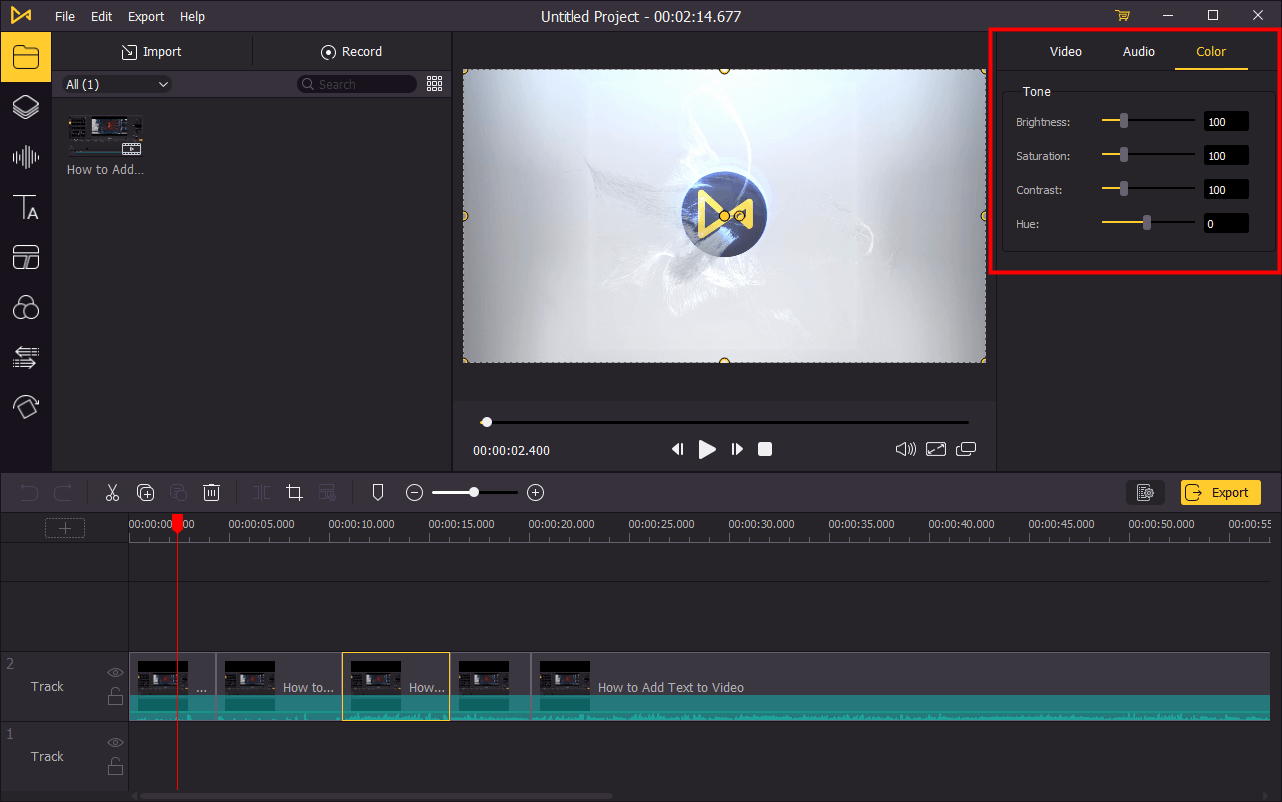 Add pictures you want to use for making a photo slideshow to the media library by clicking the "Import" button. Drop the files from the media library interface onto the "Timeline."
Step 3: Edit Video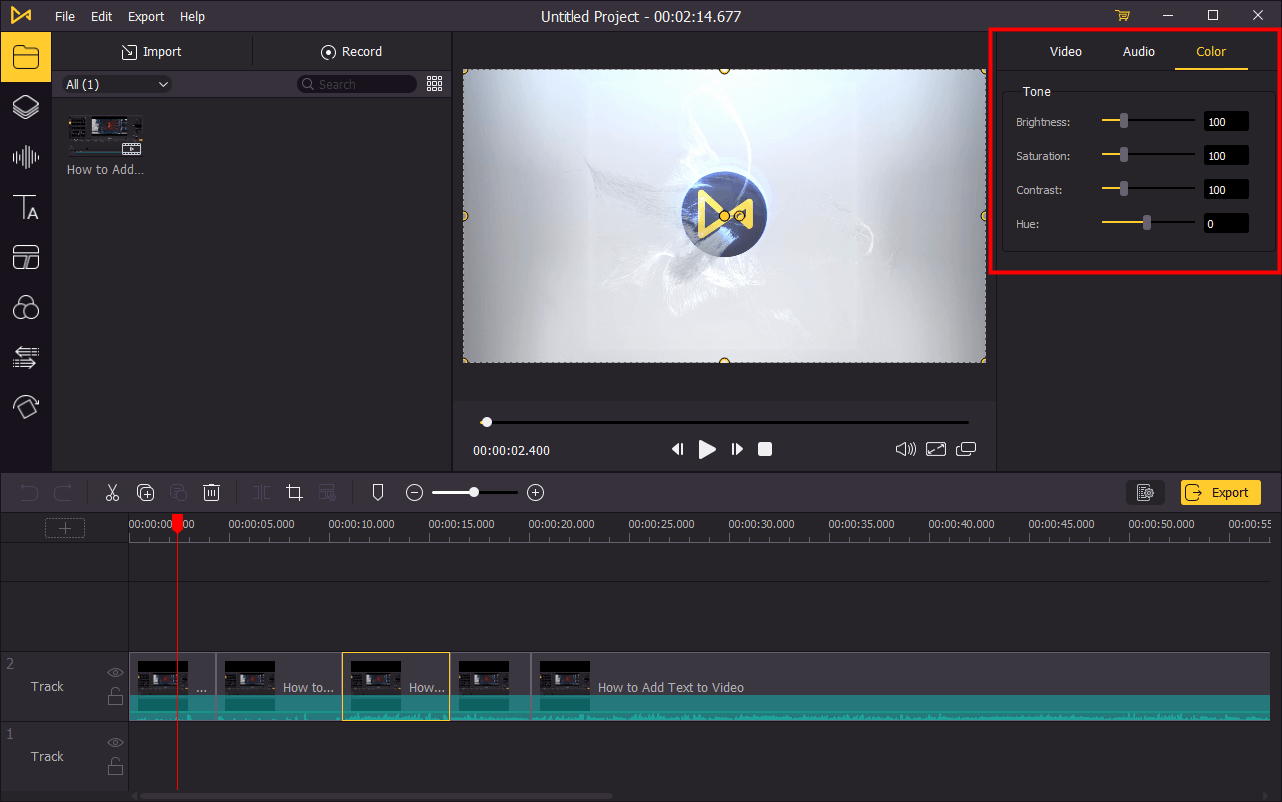 Here, you can start editing the video by adding the images. You can change the picture duration, which is five seconds by default. As you have different pictures, you can adjust the position by dragging and placing them before or after another image. The other action you can take is rotating the image and changing the picture color.
Add the soundtrack you wish to use with the slideshow and start editing the same. The program allows you to split, trim, detach, adjust volume, create a fade in/out, denoise, and change audio speed. You can make all these to the entire video or at sections for a productive output. If you wish, you can add texts and titles to the slideshow. Changing duration, position, style, and font is possible in this case. You can also use advanced features, such as filters, transitions, animations, split-screen, and keyframes.
Step 4: Export Your Video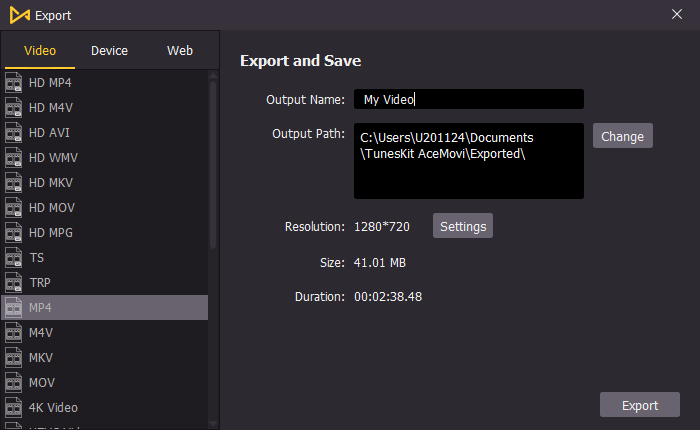 After completing the edits, click the "Export" button to save the file to your computer. You can save it in any file format you need or choose a device. You can pick a name and change the resolution.
Conclusion
Creating slideshows is a fun way to show your images. Depending on your requirement, personal or professional use, you can choose an online tool that fulfills your requirements. However, an online video slideshow maker has limitations, making it difficult to use the needed features. In such instances, opting for the desktop alternative like TunesKit AceMovi is highly recommended.