How to best express your feelings using all those stock-up images and pictures in your gallery? Install a slideshow maker, create a slideshow and impress your online friends with your creativity and imagination.
Using visual representations to showcase your feelings or suggestions has always been the brightest idea one could ever come up with. For that very reason, slideshows have been so successful in creating a powerful impact. Want to wish your best friend on her big day? Create a slideshow containing all your best memories together and post the final video on her wall—the best way to impress and an excellent idea to create memories. Having the best slideshow maker for Facebook lends you all the tools needed to create an amazing video filled with lively music.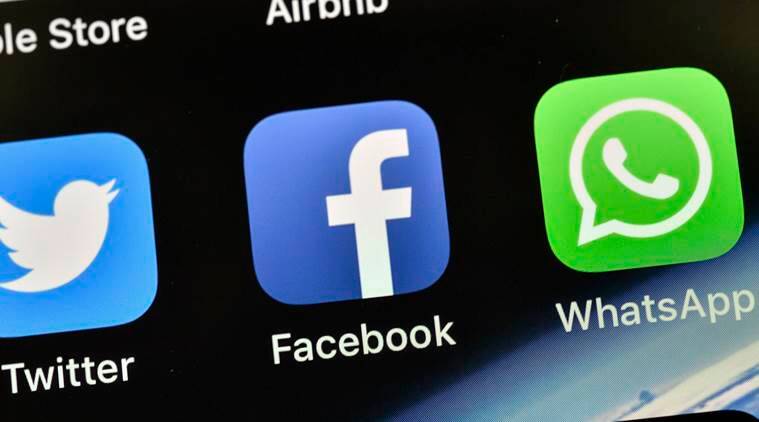 Here we will point out some of the best slideshow makers for Facebook that rolled to fame with the start of 2021.
Top 1. AceMovi Video Editor
AceMovi Video Editor is a video editing tool that keeps things simple yet interesting. With millions of users worldwide, the software is an ideal slideshow maker for Facebook. The software is simple, intuitive, and has tons of video editing features for users to play with. Basic features are helpful for beginners, whereas advanced features will further improve the quality of the video. You can create an amazing slideshow with all those special effects, transition features, add animations, include text, intensify your video with the right music, and share your slideshow instantly on Facebook all through AceMovi.
A noticeable feature of AceMovi is its keyboard shortcut feature which allows you to create a short key for functions you most often use. This speeds up your editing process.
It is a sure choice for someone who wants to create quick slideshows for their News Feed on Facebook either through their Windows or iPhone devices.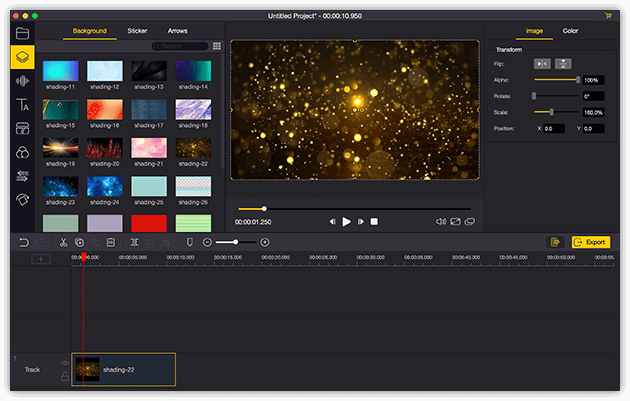 Creating an amazing slideshow video with AceMovi for Facebook by using the steps below:
Step 1. Download and install AceMovi on your device.
Step 2. Drag and drop option to upload media files within the software.
Step 3. You need to place all your videos and content in the order you want them to appear in your video. For that, drag all the media files on the track in an orderly fashion.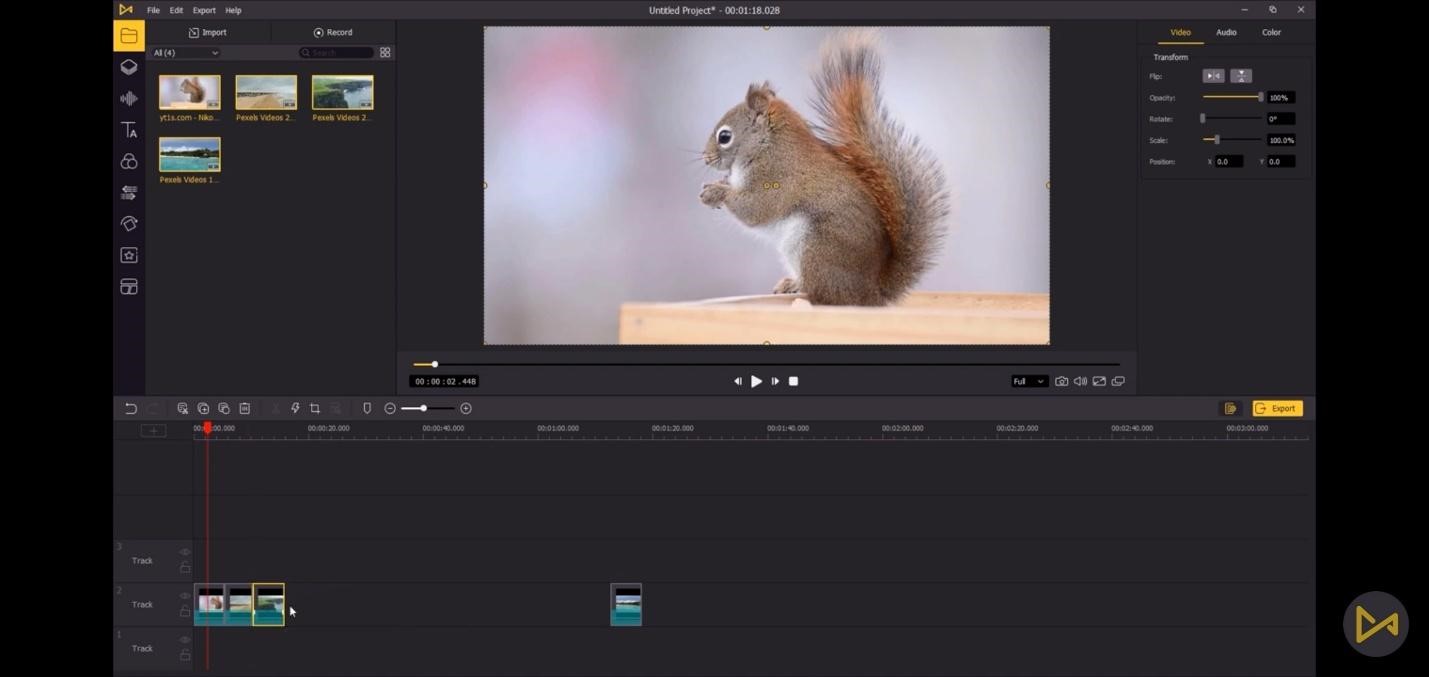 Step 4. Go to the "Transition" option and drag the transition of your choice to the timeline to add it to your video.
Step 5. Go to the music library option to add background music to your slideshow.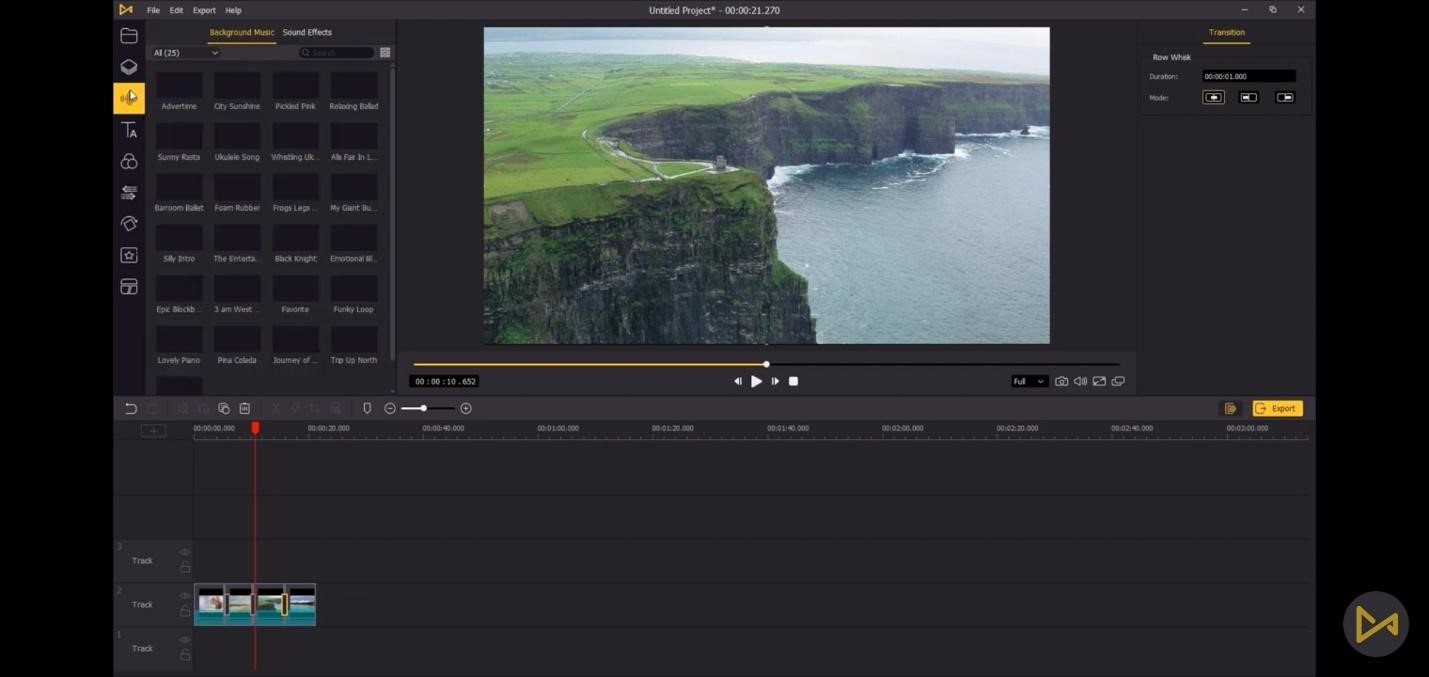 Step 6. Preview your slideshow and finally select "Export" to save the slideshow to your device.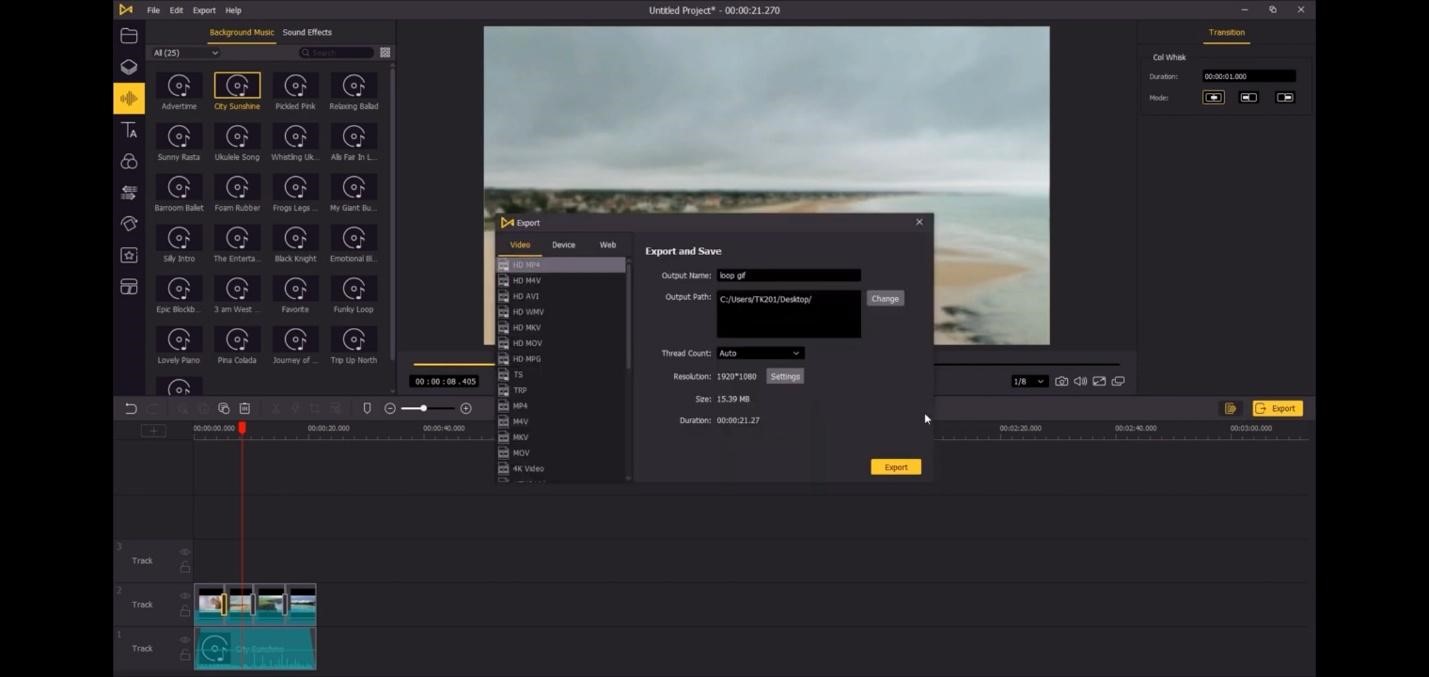 Top 2. Movavi Slideshow Maker
Movavi is a slideshow maker for Facebook with music. It lets you create a slideshow video in just three simple steps. Upload the media file and choose a pre-designed template and save it. The slideshow is ready to be shared.
Besides, you can also manually create a slideshow using the 160 filters, 100+ animation effects, multiple transition modes, add stickers, include music overlay, and much more. A handy software that can make your slideshow a real treat for the eyes!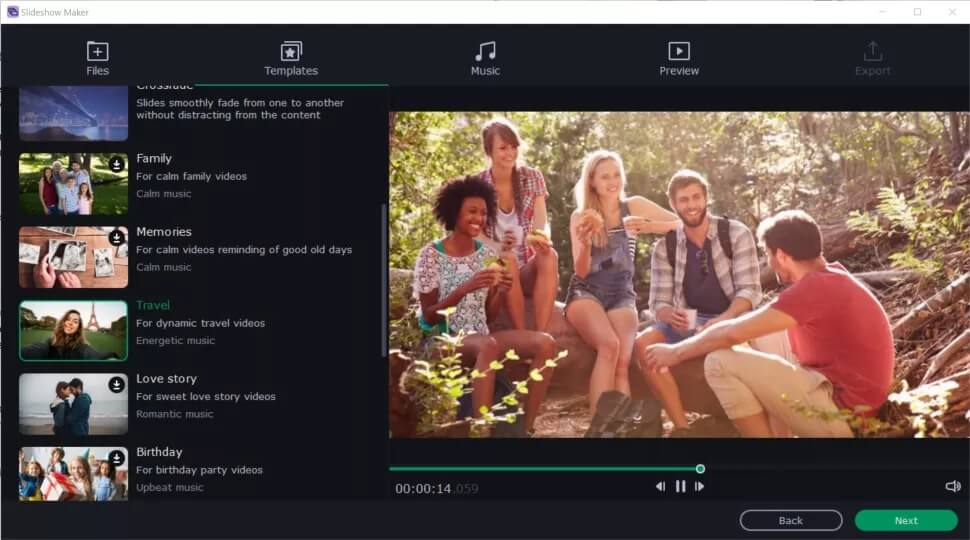 Pros:
Offers a 7-day trial version.
Slideshow Wizard guides users in creating a professional-looking slideshow.
Easy to use.
Cons:
The trial limit allows only 2-min long videos.
A premium version is required to unlock advanced features.
Top 3. Animoto
An online slideshow maker is even more reliable, letting Animoto become our top slideshow maker for Facebook that can be accessed online. The software has built-in templates perfect for both personal and professional use. From letting you follow the current trend on Facebook through cool templates to allowing you to create a promo video for your brand, Animoto has got your back.
Other features include a built-in image library, browse through thousands of licensed tracks, and the simple drag and drop interface that keeps things trendy yet super easy.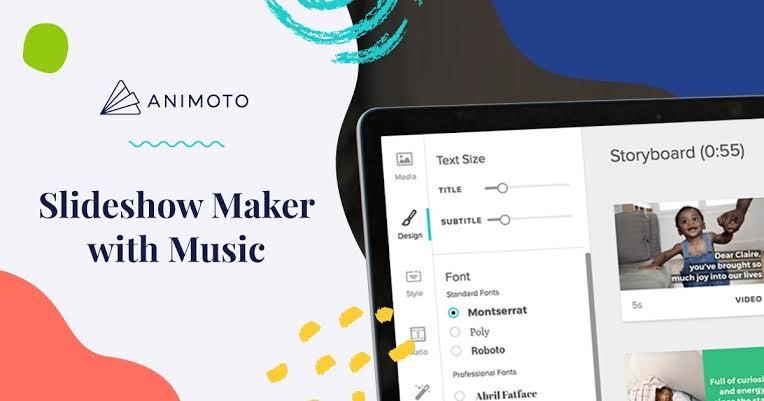 Pros:
No need to download any software.
Allow you to add a logo.
Option to customize videos.
Cons:
Requires you to upload your image online.
Videos in the free version will have a watermark.
Top 4. Ice-cream Slideshow Maker
For users looking for a Windows 7 slideshow maker for Facebook, Ice-cream Slideshow Maker is quite supportive. Available for Windows 10, 8, 7, and XP Ice-cream slideshow maker is easy and fun to use. Add custom text to your slides, enhance videos with transitions, use audio files as background music, and upload your videos to YouTube, Google Drive, Dropbox, and more.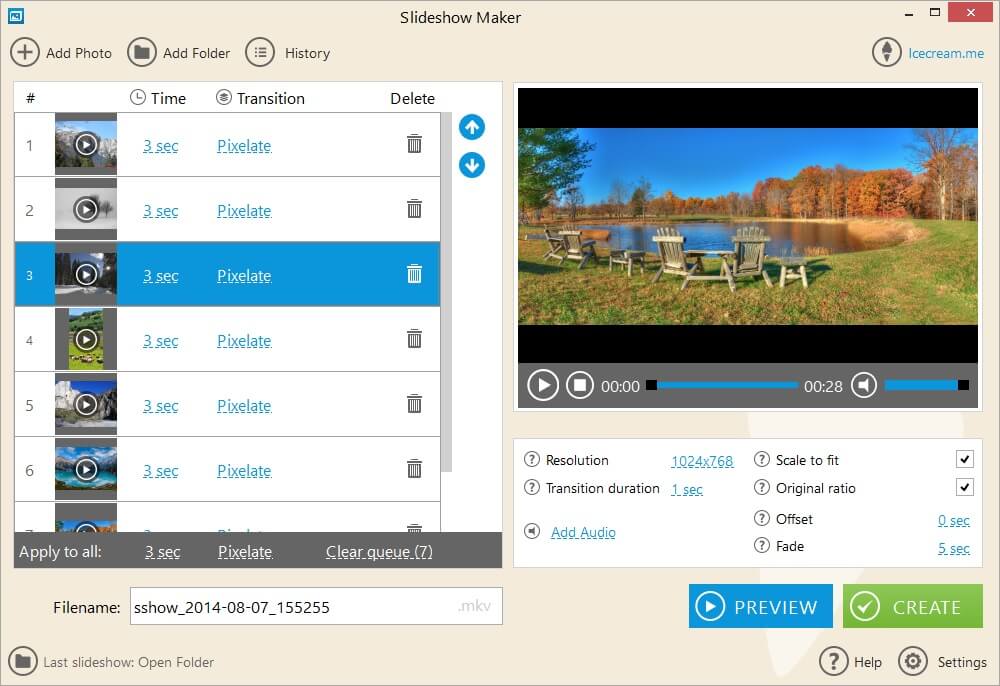 Pros:
Burn slideshow to DVD or CD.
It allows you to create a slideshow in 4K resolution.
Cons:
Not available for iOS devices.
The trial version supports 20 photos in 1 slideshow.
Only 4 output formats are supported ( AVI, MOV, WEBM, and MP4).
Top 5. PixGram
Create countless slideshow videos by installing the super convenient slideshow app PixGram directly from your Google Store. PixGram is preferred by users who want to create quick slideshows containing music and share it directly to their Facebook without delay. Since it is a mobile app, you can upload images from your gallery and create a memory lane to be shared on any social media site.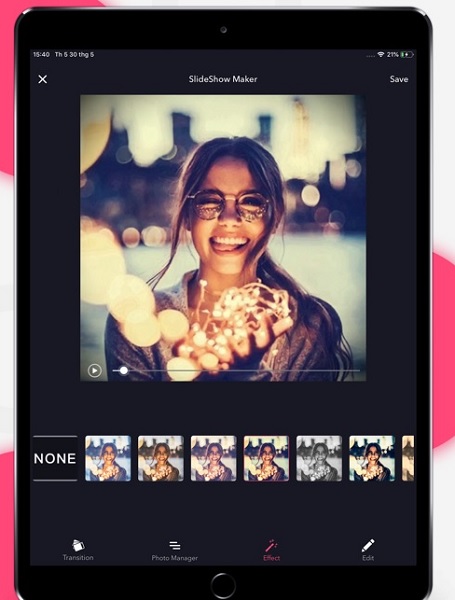 Pros:
16:9 aspect ratio perfect for sharing on Facebook.
Easy sharing options.
Basic video editing options are available.
Cons:
The free version has ads and limits the slideshow duration to 3- minutes only.
Unavailability of advanced editing options.
Top 6. Adobe Spark
Adobe Spark is the most powerful and unique slideshow maker that will give you a slideshow worth sharing with your friends and online community. Filled with both basic and advanced editing features, the software gives you a final video having a great combination of images and music. Utilize the built-in templates or start from scratch customizing every slide according to your preference; the choice is yours to make.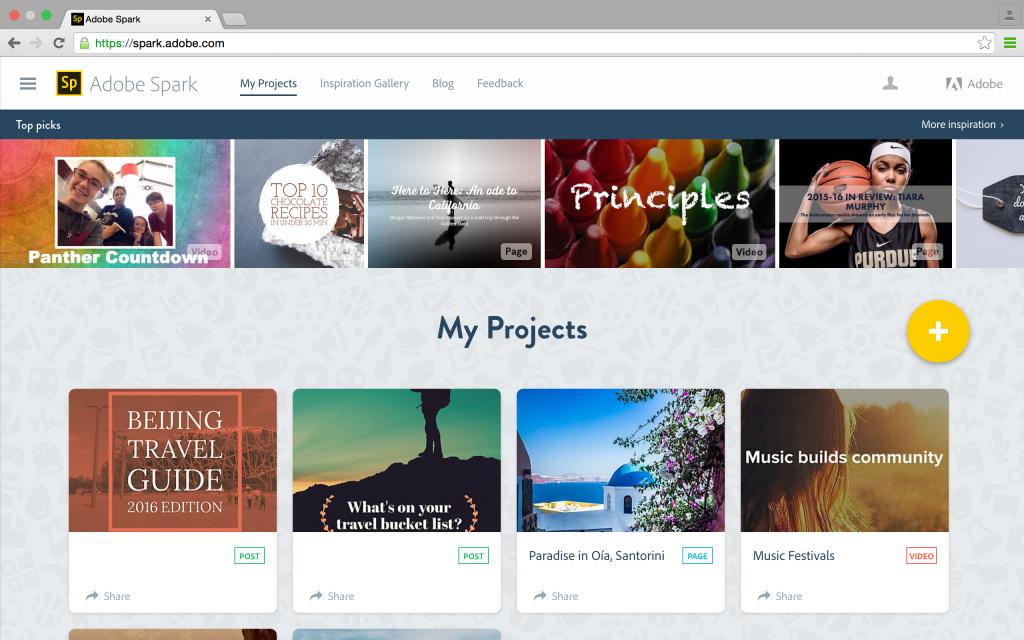 Pros:
Available for both iOS and Android.
Super convenient to use.
Cons:
Watermark on the free version.
Few text styling options.
Top 7. Flex Clip
FlexClip is an online slideshow maker containing amazing music and effects that can make your slideshow a treat to the eye! For someone eager to get started and make a slideshow to be shared with friends, then FlexClip is more than just suitable. Pre-made templates and editing options give beginners a more handy tool for making their slideshow interesting and cool.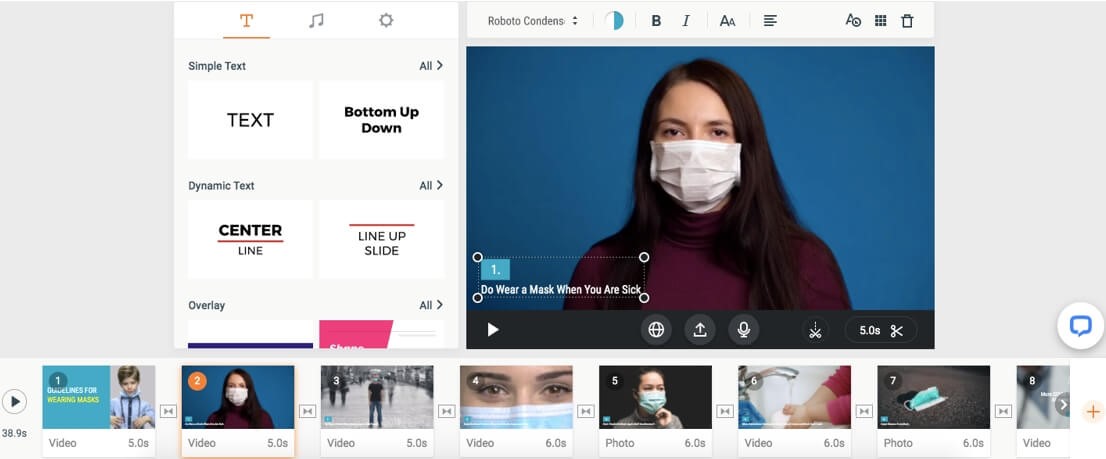 Pros:
Straightforward interface.
Add animations to your videos.
A vast array of editing options.
Cons:
The free version supports only 480 p resolution.
A watermark may appear on the final video.
Conclusion
With so many options to choose from, finding the best slideshow maker for Facebook can be pretty confusing. But every software or online tool has its significant side. Choose something compatible with your operating system, will produce high-quality output videos, and has several filters and effects. Use the right slideshow maker and share your best moments with your loved ones.