Integrating videos into your Facebook ads may do wonders for your company. Consumers and prospective customers may discover more about your business, goods, and services by watching videos. Not to mention that Facebook Videos can boost visibility, interaction, and, ultimately, revenue. That is most likely why video is used in marketing by the majority of businesses. However, delivering high-quality video content continuously may be far more complex than what you're thinking.
Luckily, you can utilize Facebook video editors to stylize your social media content or the business marketing videos in a breeze. For that purpose. I've compiled a list of 11 best Facebook video editors that would assist you in creating engaging, high-quality videos that will attract and satisfy your audience. THEY AER HERE!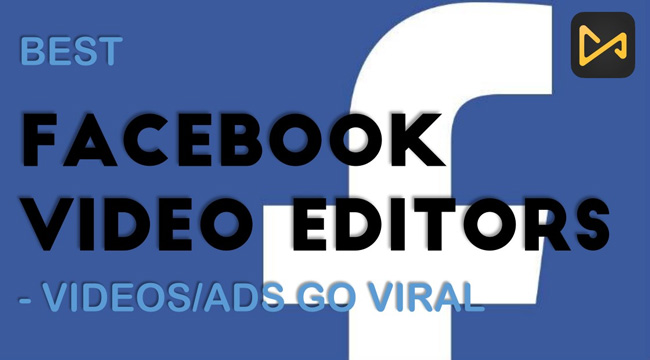 6 Best Facebook Video Editors for Windows & Mac
Top 1. AceMovi - Facebook Video Editor PC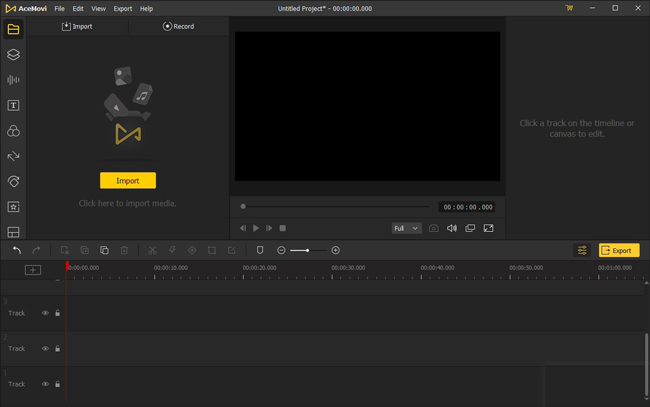 Making excellent HD videos for your Facebook feeds and Ads, just get started with TunesKit AceMovi. AceMovi Video Editor is an excellent streamlined & all-in-one video editing software released for Windows and Mac.
All of the popular video formats are supported like MP4, M4V, AVI, KWM, WMV, DVD, DivX, MPEG-1, MPEG-2, TS, and many more. You will not be restricted in terms of imports and outputs as well. More importantly, AceMovi is able to export the result into Facebook AutoFit format(MP4/MOV, 16:9, 30fps, H.264, fixed frame rate, audio compressed at 128kbps+) directly.
Thanks to the built-in stock library, you'll have more resources to give your videos a more professional feel. Text overlays, animations, transitions, sound effects, and various other effects are some of the noteworthy features. Additionally, AceMovie can help you design a presentation video by combining pictures and attaching audio.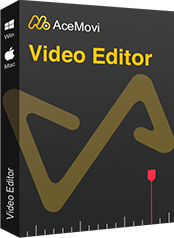 AceMovi Video Editor
Security Verified. 7,598,115 people have downloaded it.
Reasons to Try:

User-friendly UI
Drag-n-drop tech to import files
A vast selection of text and music resources
Split-screen video maker
Quick rendering speed
Export video in the AutoFit Facebook format
Downsides:

No online version is supported right now
Steps to Make a Market Standard YouTube Video/Ad with AceMovi
Install AceMovi
Download and launch AceMovie software on your PC. Download AceMovi's trial version for free is available.
Import Facebook Files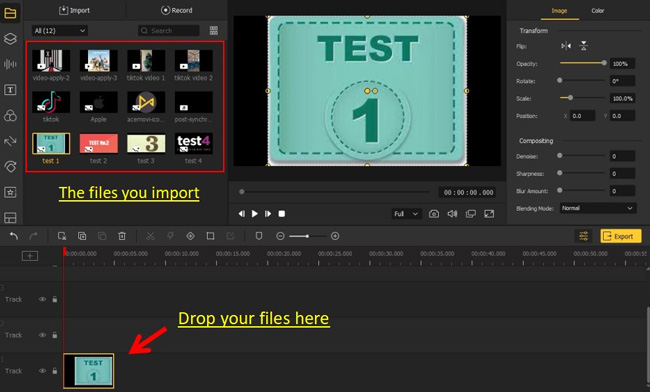 Now, click on the Import button in the media library to add your video. Or you can simply drag and drop your files on the interface.
Edit Your Facebook Video with Texts, Music Resources, and More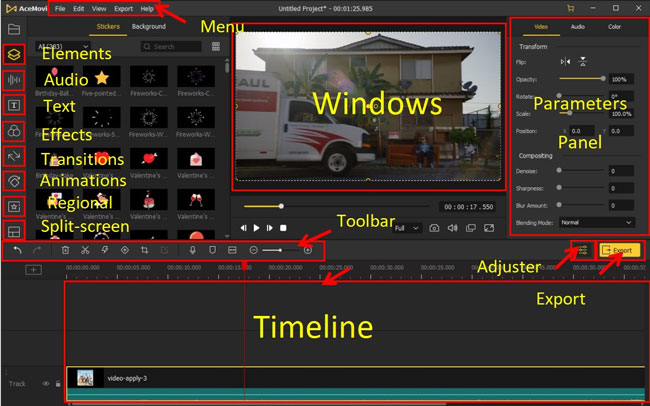 Then, modify your video with text, audio, effects, and other editing features. For example, when it comes to adding texts to your Facebook video, you need to go to Text to select from a mode. Then go to the Properties to make adjustments like Font, Color, Size, Position, Scale, etc.
Export Facebook Video/Convert Video to Facebook Format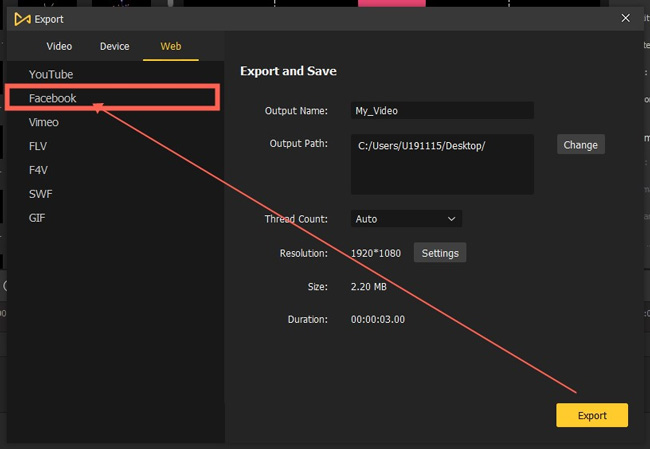 After making all the required editing to the video, click the Export > Web > Facebook option to save the Facebook video to your computer and then upload it to your account.
From the export menu, you may choose a file type such as MP4, AVI, MPEG, 3GP, MOV, and others. You can also change the video quality, name, codec, resolution, bit rate, frame rate, etc.
Top 2. VSDC - Facebook Video Editor on PC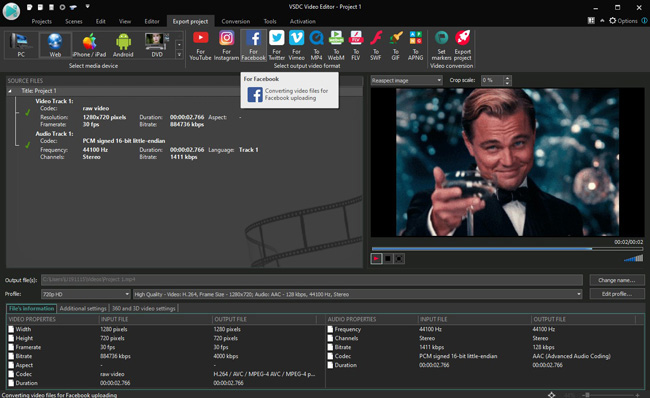 Deemed as one of the best open-source as well as watermark-free Facebook video editors in the professional video editing field, VSDC is designed to help you make Facebook ads videos, Facebook slideshow videos, Facebook vlogs, and even record other Facebookers' videos.
VSDC is distinctively created lies in the 3D technologies. For instance, VSDC empowers you to deploy 3D/VR Making, 3D Chart, and 3D animated effects. Beautify tables and VFX, this software won't let you disappointed.
As you can see from the sample pic above, just convert any format into Facebook uploading directly with VSDC and no watermark left. However, VSDC is not a completely free Facebook video editor, you need to pay a bit if you want to enjoy splendid features. And it only operates on the Windows system.
Pros:

Professional VSDC video editor with more presets and parameters
Adept in making 3D videos and converting 2D charts to 3D style
Edit HD, 4K, and even 4K video stably
Watermark-free & no expiration
Well-performed color grading
Cons:

Complicated to use
NOT for Mac users
Top 3. iMovie - Facebook Video Editor APP & Mac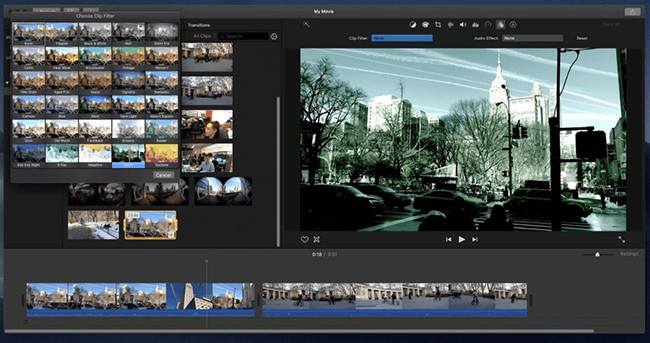 Video editors all across the globe utilize iMovie, which is well-known as a professional video editing program. With this editor, users have access to various effects, audio libraries, and filters on Mac, iPad, and iPhone-like devices. Using iMovie, you can add professional-looking titles to your video adverts to improve their educational value.
Marketers benefit most from iMovie's excellent content quality since it allows them to create Facebook videos with stunning clarity. You can even add texts of different styles, such as annotations, captions, or subtitles, to improve user engagement.
Pros:

Intuitive and modern interface
An excellent choice to edit Facebook videos
Add music, transitions, etc.
No watermark
Completely free for iPhone and Mac users
Cons:

Unavailable for Windows user
Lack of element resources
Top 4. Lightworks - Facebook Video Editor PC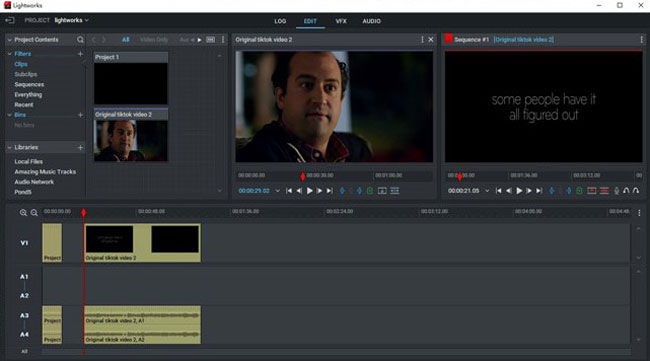 If you're looking for the most excellent design services for professional-quality video material, then LightWorks can be your best bet!
This helpful software is free to use, but it has brand-new capabilities to create professional-looking videos. Its high-end technology enables precise control over every editing tool, allowing users to create personalized films quickly.
Various standard file formats are supported for output, and direct sharing capabilities make it simple for business professionals to promote their content.
Pros:

Lightworks is free to use
No limit on video format importing
An excellent option for professionals
Pro VFX
Great audio sync and balance tool
Cons:

Create an account to get started
No so easy to learn from
Top 5. Avidemux - Facebook Video Editor PC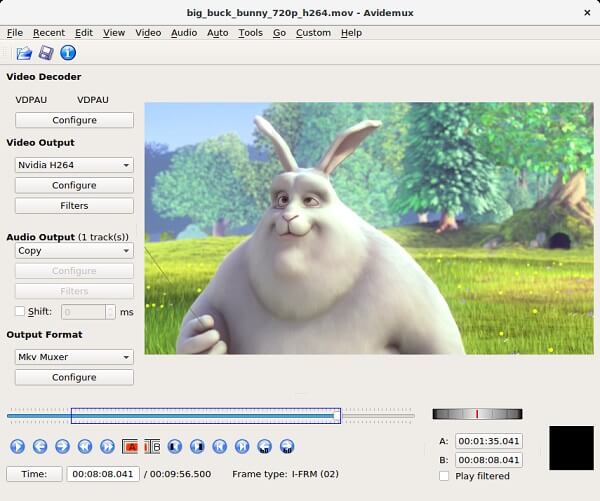 Avidemux, a free Facebook video editor provides you with a straightforward video editing experience. The software is compatible with AVI, MP4, DVD, MPEG, and ASF video files and can edit the videos in no time.
It does not have a timeline. Therefore, you will be unable to apply effects and transitions to video clips. However, Avidemux can assist you in cutting/trimming, filtering, and encoding related tasks for Facebook video advertisements.
You can add text or a title to your Facebook video to draw attention to the essential aspects. This is not a superb option for those who like to have more control over their Facebook video editing.
Pros:

Excellent customization options for youv
Add text/title to your Facebook videos
You can even add audio to your videos
Easy-to-use interface
No watermark
Cons:

Takes a little time to process the video
Limited tracks
Limited advanced features
Top 6. Windows Movie Maker - Facebook Video Editor PC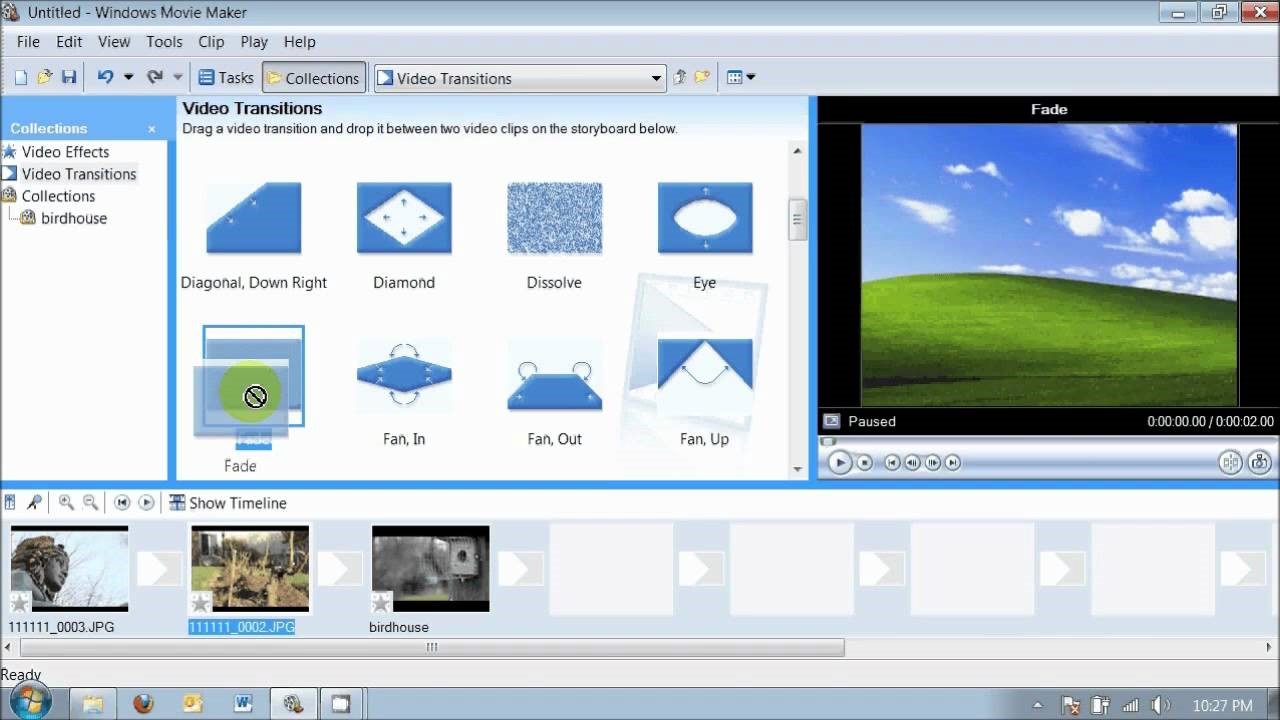 Windows Movie Maker is an excellent tool for creating and polishing your Facebook video advertising. Not only for commercial use, but Movie Maker presents you with hundreds of effects and transitions for your family videos as well.
The editing capabilities accessible in this software program include so many vital actions like slow down, speed up, divide, trim, etc. Conclusively, this feature-rich platform can produce beautiful outcomes for your commercial advertising campaigns as well as personal videos.
Pros:

Totally free to use
Clean interface
All the basic video editing features
A classic collection of captions, effects, etc.
Share and download videos easily
Cons:

Not further updated by Microsoft
Cannot make split-screen video
2 Best Facebook Video Editors Online Free
Top 1. MakerMoon - Facebook Video Editor Online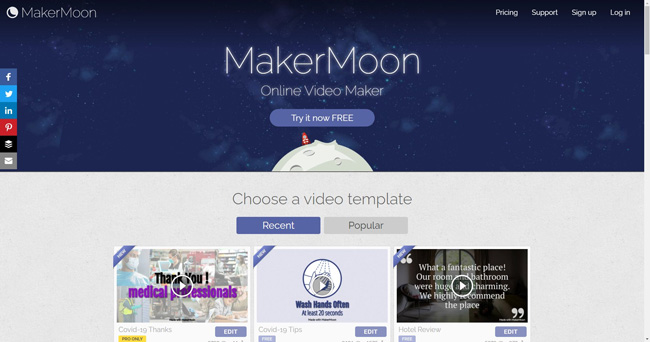 MakerMoon is an online Facebook video editor that caters mainly to the real estate business, although it can also be used by any company or business to promote its services. You begin by personalizing one of MakerMoon's pre-made templates to ease the job.
The majority of the pre-made videos/templates are free; however, some may have a watermark. All of the movies are fully customizable, with the ability to modify pictures, text, fonts, colors, and other elements.
MakerMoon is a powerful tool for making various films, including Facebook video advertising, product presentation videos, promotional videos, and animated slideshows. Furthermore, your videos will be compatible with all the leading social media sites available today.
Pros:

Pre-made templates
Compatible with all major social media platforms
Excellent customizable features
Online-based completely
Upload video to Facebook account directly
Cons:

Some videos include watermarks
Ads
Top 2. Animaker - Facebook Video Editor Online Free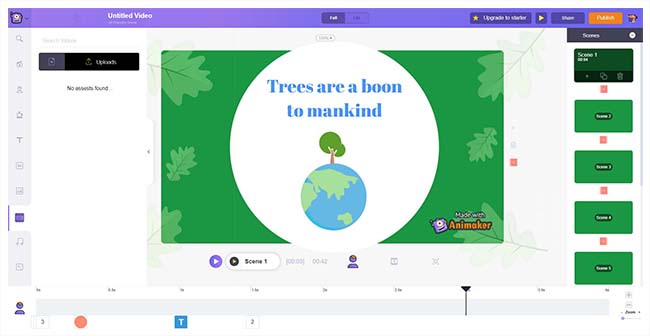 Animaker is a free online Facebook video maker suitable for anyone who wants to produce videos but isn't a designer and expert in the field. The software may be used to make both animated and live-action videos. This software includes a primary drag-and-drop tool and a character builder, which can be used to create billions of unique characters quickly.
Animaker provides access to more than 100 million stock videos and photographs and more than 1000 templates, making it simple to produce the Facebook videos and Facebook video advertisements you need to market your company.
You can upload and edit movies in up to 4K video quality, and you can even resize the films for use on other social media sites such as Facebook and Instagram.
Pros:

100+ million stock videos
Edit videos up to 4K video quality
Simple drag-and-drop videos
Full of features and elements
Amazing animated effects
Cons:

Limited editing features
Ads
Sign up first
2 Best Facebook Video Editor Apps Free for iPhone/Android
Top 1. VN - Facebook Video Editor App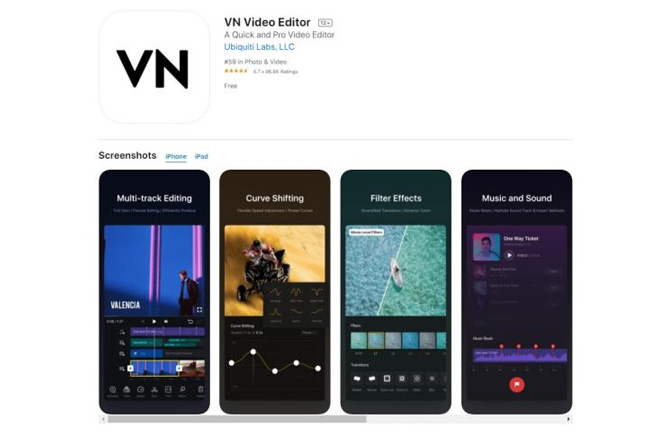 More video sharing & communication apps tend to convert themself into video editing apps like TikTok and InShot, but strictly speaking, VN Video Editor is not a video sharing app. What do we think VN is really worthy of trying? VN can be downloaded for iPhone and Android for free anytime with which you can make video trimmed, cropped, chopped, split, compressed, recorded, and much more.
All in all, you can do everything the same as TikTok and InShot, along with the export services of no watermark and completely free. Another difference is that VN is a streamlined video editing app for Facebook users, in this case, you'll find edit multiple videos is possible even on your phones.
Pros:

Streamlined Facebook video editor app
Free & no watermark
Cut, trim, crop, convert, record, chop, and reverse Facebook video
Upload to Facebook directly
Beautiful and clean user interface
Cons:

Lacks video templates
Top 2. FilmoraGo - Facebook Video Editor App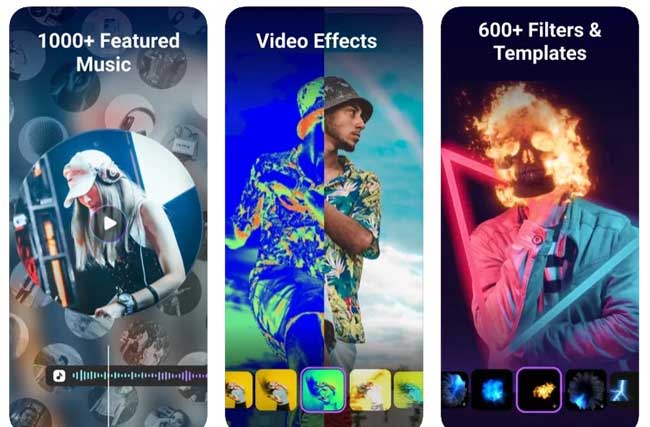 FilmoraGo is a complete video editor app that will ease your job and let you edit Facebook videos right from your mobile device. Along with standard features like themes, text, and transitions, it also has several video editing tools, including trim/split, ratio/crop, speed control, reverse, audio mixer, and picture-in-picture capabilities.
FIt's incredible that FilmoraGo is entirely free and that it doesn't impose any restrictions on the duration of your videos. FilmoraGo is a mobile application accessible on both iOS and Android smartphones. The application has a drawback: it imposes a watermark on your videos in its free version.
Pros:

Android and iOS compatibility
Multiple video output formats
Excellent video editing features
Various music resources from built-in stock
Ready-to-made video templates
Cons:

Takes up a little time to process the video
Monetizing Video on Facebook - How to Use Facebook Creator Studio
Making Facebook edits on the Facebook website can be really easy and convenient, but there is a question you need to pay attention to - The features are limited. Same as what you can do on YouTube TV, Facebook allows you to add titles, give descriptions, apply tags, set uploading modes, etc. Now, check if you're qualify for Ad Breaks and then learn how to edit video with Facebook Creator Studio.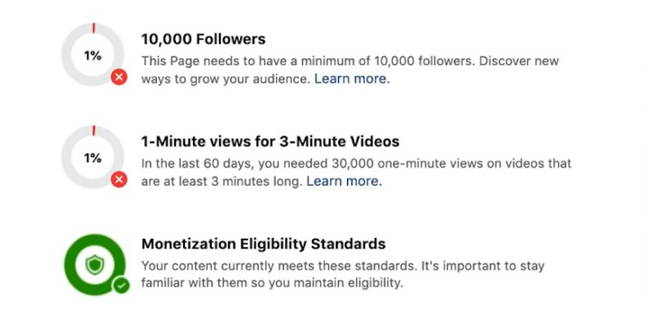 To break YouTube Ads, three items are required - They're 10,000 followers, 1-minute views for 3-minute videos, and monetization eligibility standards. What's your goal? Now, let's see how to make your video edited with Facebook Creator Studio!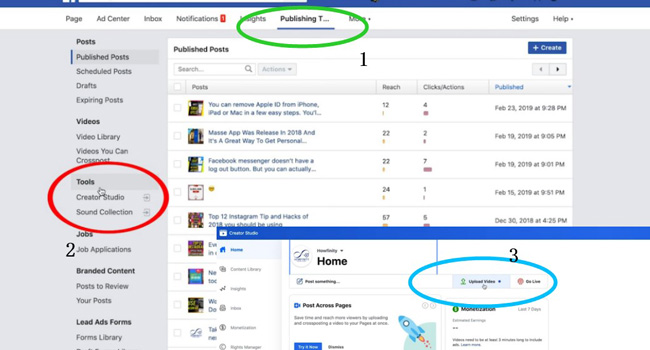 On your profile page, go to Publishing > Tools > Creator Studio > Upload Video. Now you're in the room of Facebook Creator Studio. As you can see, there are many user options listed in the right place, such as Video Details, Thumbnails, Subtitles & Captions (CC), Polls, etc. Now, let's take how to do Facebook edits in the area of Video Details. If you master this, you'll master all of the other tools as well. Here we together get started!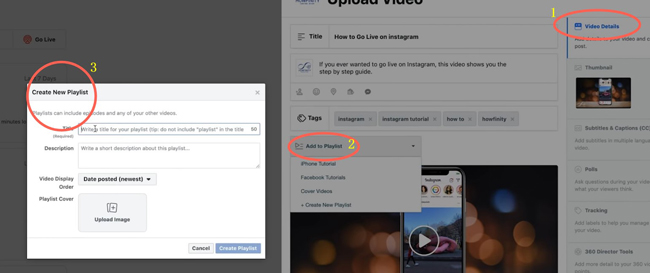 I just add the "How to Go Live on Instagram" to the Title, fill in the Description, put tags, and went to the Add to Playlist where the Creator Studio gives a new list to organize your uploading content. Once done, Facebook will give you options to set the publishing schedule as well as custom distribution.
Final Verdict
We hope that the article has provided you with all the information you need about the best Facebook Video Editors. Not only are these tools tried and tested by the experts, but also the professionals have praised their video editing features.