The number of people creating their videos through their smartphones has skyrocketed in recent days. Consequently, video editors on Google have seen a meteoric rise in popularity. If you're anything like the majority of content creators who just start their small businesses or short video sharing, you'll most likely be recording your films on your smartphone. You also can edit your video with Trimmer, Cropper, or Converter while you're on the move, giving it the last touches of polish; it needs to look professional. This article will dig in the 10 best video editors on Google, so don't go anywhere because we are about to sort your video software problem together!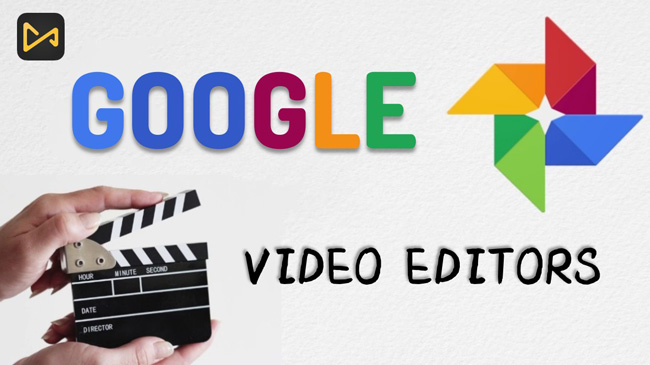 Top 10 Best Free Video Editing Tools for Google
Top 1. TunesKit AceMovi - A Google Video Editor for Windows & Mac
Because of this incredible tool, modifying videos has never been simpler than it is right now. The TunesKit AceMovi Video Editor UI is simple, making it easy to edit your films, vlogs, and short clips and you can download it with all distinguished features on the Google website anytime anywhere.
If you want to produce a video tutorial or edit significant events in your life, the AceMovi program is an excellent option, which offers a wealth of action-packed video templates and effects such as filters, transitions, animations, behaviors, picture-in-picture, split-screen, green screen, blurring, audio bleep, and other similar features.
Simply drag and drop your target source onto the timeline using TunesKit AceMovi, and then organize it in whichever way you see suitable. The formats to be imported and exported include MP4, AVI, WMV, MKV, MOV, 4K Video, TS, DivX, GIF, and many more, so users find it easy to make video converted with AceMovi on a computer. While editing, you can precisely examine what changes you have made in the box labeled "Preview."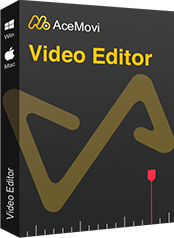 TunesKit AceMovi Video Editor
Security Verified. 11,211,050 people have downloaded it.
Reasons to Choose:

UI: The UI is user-friendly
Formats: All of the most popular video and audio formats can be played back
Elements: It has an awe-inspiring selection that may be found in its stock collection
Downloading: It has a trial version
UX: One-stop service
Subscription: Cost-efficient software boosts video editing
Buzzy effects: Reverse, Clone(Mirror), Mosaic, Bleep, Blur, Green Screen, Vintage, etc.
Downsides:

At the present time, there is no Linux version
Top 2. iMovie - A Google Video Editor for Mac & iPhone
If there is one firm in the world that excels at developing user-friendly and feature-rich quality, it must be Apple; a perfect illustration of this would be Apple's free applications and tools. It is expected that a video editor will be able to perform all of the tasks that are possible with the iMovie.
With only a few mouse clicks and some minor tweaks, you'll have a film that appears to have been produced by a professional and is ready to be used. As a wonderful bonus, the application comes with split-screen effects, ten high-fidelity filters, green-screen effects, and the ability to produce trailers in the Hollywood way.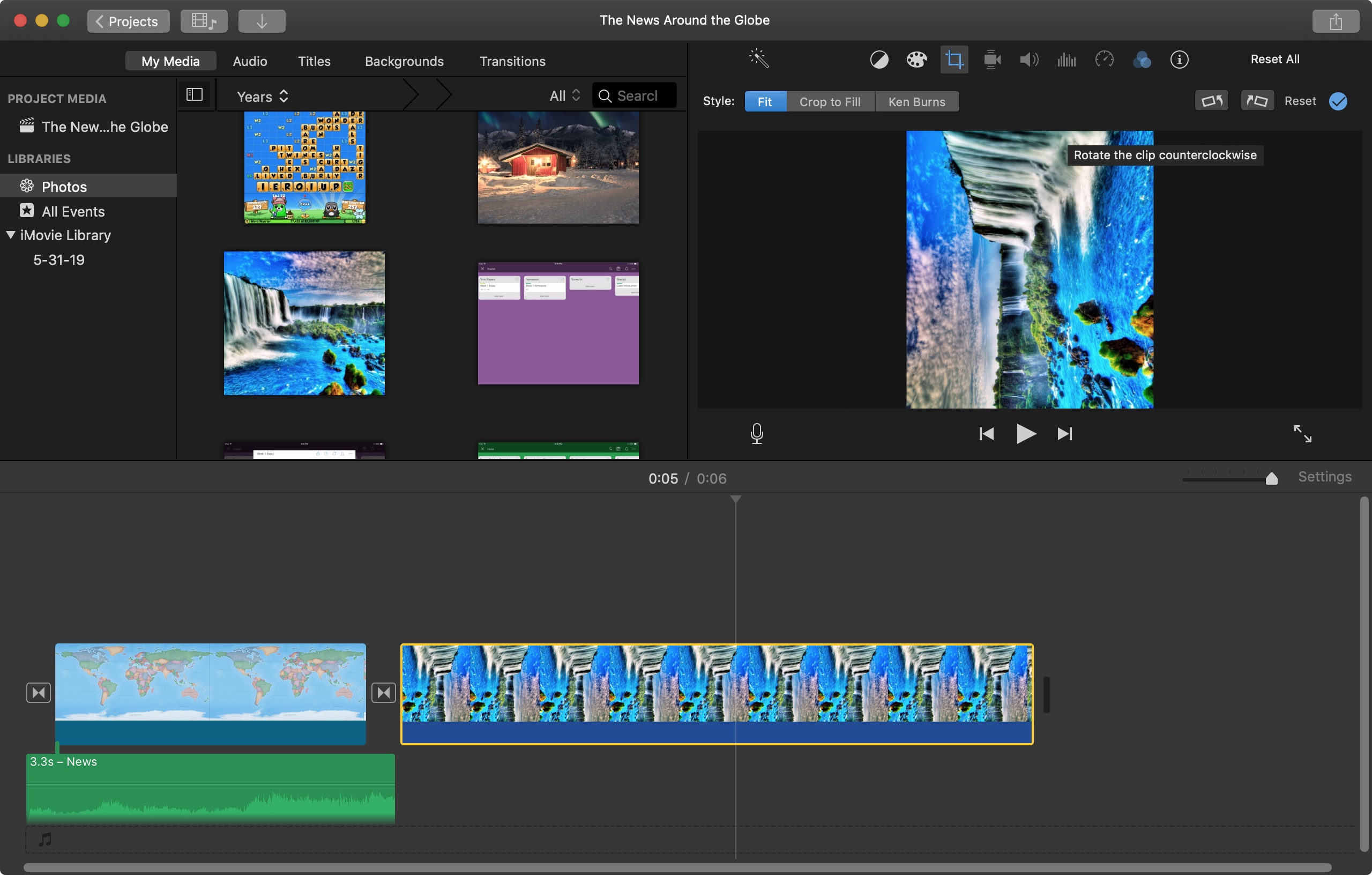 All of these features can be found in the program's extras section. You'll also be able to work on the final edit of your file from any of your Apple devices by utilizing AirDrop and iCloud Drive.
Pros:
Simple to use
No watermark
Multi-device capabilities
Store films in 4K or 1080p
Built-in tracks are limited
Cons:
It's exclusive to Apple devices
Top 3. GoPro Studio - A Google Video Editor for Windows and Mac
GoPro Studio is a great Google video editing software that is free for use. Using GoPro Studio, you can turn any video or still image into a story by adding text and effects. The capability of GoPro Studio to automatically make films is without a doubt its most impressive feature.
You can fast cut/trim/split videos, apply VFX, and add text. You are also able to sync everything to the rhythm of any music. After you have completed shooting, it's easy to save the video to your camera roll in either 1080p or 720p resolution, or you may immediately upload it to social media. The Studio is trustworthy and does not display any disruptive advertising to the UX.
Pros:
5-panel workflow interface
Advanced editing options like color grading
Edit 3D videos powerfully
Correlated with other GoPro devices like GoPro Quik for Mac
Lovely & cool filters
Cons:
Not all gadgets are compatible
Old interface
Top 4. VlC Media Player - A Google Video Editor for Windows, Mac, & Linux
Suffice it to say that you are allowed to enjoy a great video playing experience through a wealth of video editing technologies, you find a=VLC Media Player combines the functions of being a video player that accepts 8K videos and a video editor that provides a variety of features like Spatializer and Stereo Widener.
It is worthy to mention that VLC comes with only one track for video and audio so you need to adapt to the habit of switching from built-in plugins and effects and filters(Ctrl+E). Also, VLC is a completely free Google video editor downloaded on Linux, Windows, and Mac. Click here to know: how to edit videos with VLC.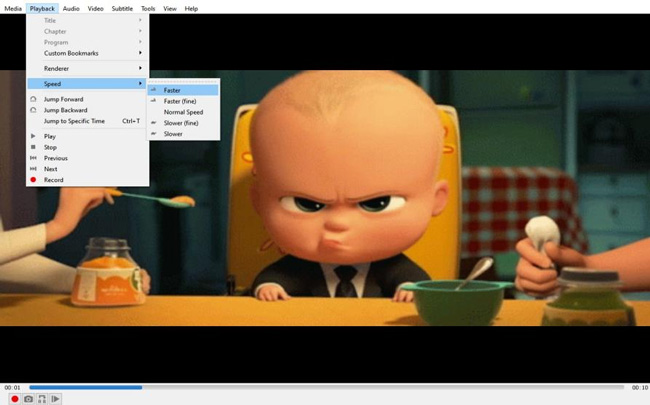 Pros:
Watermark-free video editor on Google
Up to 8K video playing
Major aspect ratios included
Convert videos with more parameters like the audio codec and DVD burns
Advanced audio synchronization
Cons:
Linear workflow style
Hard for newcomers
Top 5. Clips - A Google Video Editing APP for iPhone
Clips video editing tool provides many remarkable features to enjoy because of the weight of the tech giant's best minds behind it. For instance, consider the way they have put up their live tiles. Because of this, you will have the ability to design animated subtitles and titles that will display as you speak.
You may spruce up your video by using animated emojis and backdrops and music that is smartly matched if you want things to be more exciting. Brilliant stuff, right? The Selfie Scenes tool offers a range of 360-degree backdrops, and Clips can even determine who is in the video and present sharing options for that person.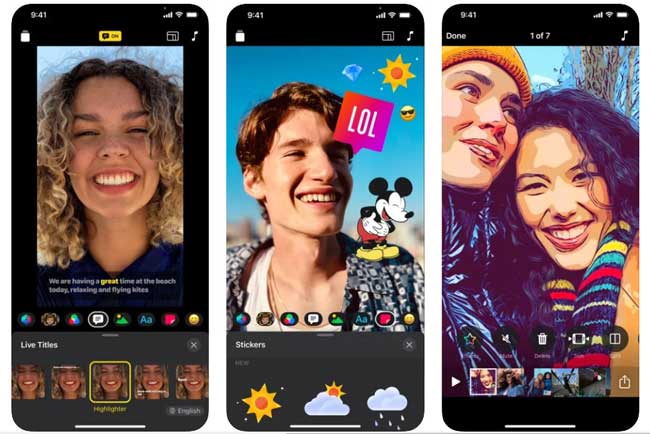 Pros:
Easy to navigate
It has unique features
Apple backs it
A plethora of stickers and titles
Cartoon filters you will like
Cons:
Compatible with only iOS devices
It has difficulty handling a large number of clips
Top 6. Splice - A Google Video Editing APP for iPhone & Android
Splice, the award-winning mobile video editing app on Google, asserts that it can deliver desktop-level editing functions on either the iPhone or Android. Splice has been recognized with many awards. This well-known video editor is used frequently by Splicers due to its extensive feature set, including a trimmer, cropper, effects wizard, speed controls, animation wizard, and music wizard, among other similar tools.
One of Splice's strongest points is undoubtedly its extensive music collection. It's possible to synchronize the action in your movie to the pulse of your soundtrack, and you can spice things up with a wide range of free music and sound effects to choose from.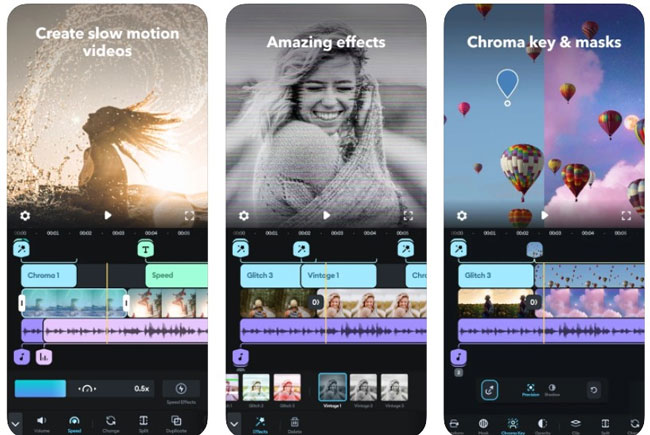 Pros:
It's an award-winning video editor
It's a highly acclaimed product
Multiple tracks
Smart toolbar
Reverse videos
Cons:
Cannot remove watermark completely
Top 7. FilmoraGo - A Google Video Editing APP for iPhone & Android
As the best video editor on Google Play, FilmoraGo is now one of the most well-liked video editors for Android as well as iPhone. While using it, it is not difficult to accomplish any of the fundamental tasks, such as cutting, editing, adding themes and music, and so on. Your video may be improved in many ways, such as by cropping it to a 1:1 square for Instagram or a 16:9 aspect ratio for YouTube.
This Google video editing app gives you the option of saving the films directly to your collection or sharing them via your various social media profiles. But when using the free version to edit a video, a watermark will be added to the final product. Real-time previews, as well as highly developed editing tools, are at your disposal.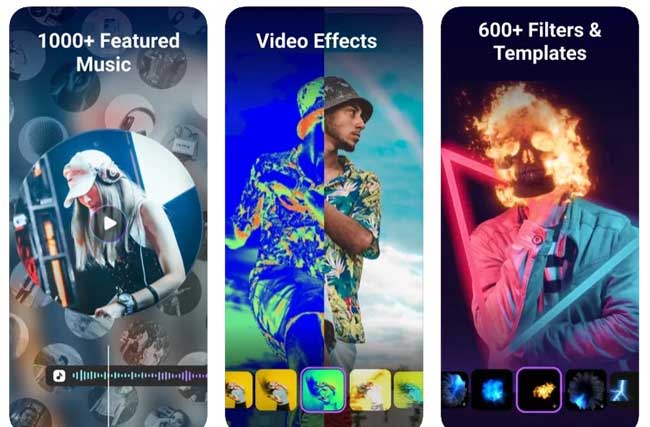 Pros:
Features a wide range of options
It has a user-friendly interface
The Pro edition gives you access to high-quality templates and settings
Best-in-class VFX
1000+ featured music
Cons:
You cannot find instructions on how to utilize the presets and templates
There are numerous glitches within the app
Top 8. Adobe Premiere Rush - A Google Video Editing APP for iPhone & Android
Premiere Rush, much like any other Adobe product, comes with a set of intriguing customization choices and is deemed as the best video editor on Google Play Store. Users tend to create professional-quality videos using the application's built-in camera, and editing those videos is as easy as dragging and dropping.
Your clips also may have any of the typical finishing touches, such as titles and transitions, added to them to sync up with the beat of the music you pick. You may quickly adjust the size of your videos so that they are compatible with a variety of social networking sites with Premiere Rush and then share the results straight away.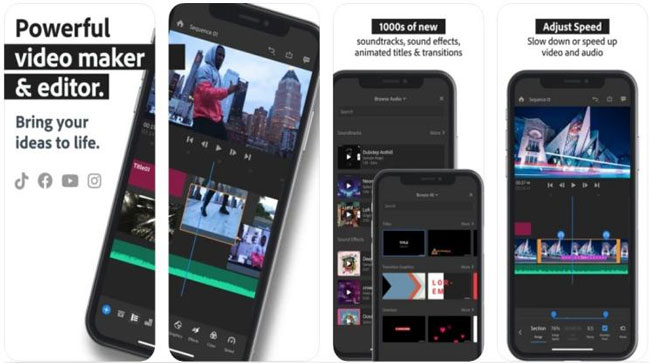 Pros:
A comprehensive set of basic functions
Supports Adobe integration
It has excellent customer service
Advanced sound effects
Streamlined editing
Cons:
To access all the tools and the whole content collection, you must upgrade to premium
Top 9. WeVideo - A Video Editor on Google Online
The simplified user interface set in WeVideo makes it possible for everyone, not only experts, to create breathtaking 4K videos. You have total command over all of the creative elements that go into your video when using WeVideo. This includes the ability to add text, transmissions, and motion effects.
Even the most basic special effects, like a green screen, allow you to let your imagination run wild. If you are using cloud storage, you can start a project on one device and finish it on another, giving you the ability to work on several devices simultaneously.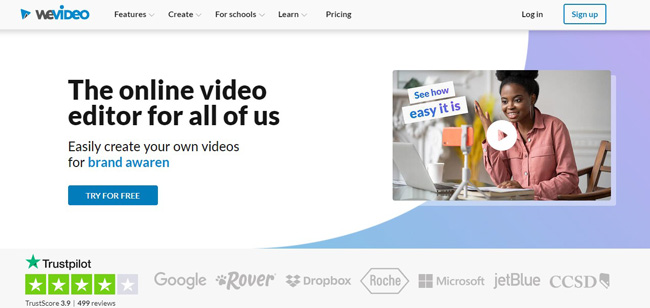 To put the cherry on top of it all, if you sign up for one of their programs, you'll get access to a vast library of licensed and royalty-free video clips, pictures, and audio tracks to use in your projects.
Pros:
Thousands of ready-made video templates
It supports cloud storage for many devices
Save videos in the cloud
No Adds
Clean UI
Cons:
The free edition has a watermark and restricted features
Top 10. 123APPS - An Online Video Editor on Google
One of the best online video editors that has been visited more than 681.3k times total is 123APPS, which provides you with a set of video tools, audio tools, PDF tools, as well as file converters. The Video Recorder, Video Trimmer, Video Merger, Audio-to-Video Adder, Logo Remover, Footage Cropper, and Titler are displayed on the bare-bones interface.
Surprisingly, 123APPS is a watermark-free video editor to use on Google and many other websites so you can also use it on your mobile phones for free. However, you need to control the video file under 4GB every time.
Pros:
Watermark remover online
Tools for PDF like PDF Unlocker and PDF Converter
Stable video editor on Google for free
Cartoon-designed interface
Linear video editing workflow
Cons:
Files should be limited in 4G
Edit one track only at a time
10 Tools' Specifications Comparison
Now that we've reviewed the 10 best video editors on Google, you can check and compare them in the table below for the sake of a better video editing experience.
| | OS | Trial Version | Paid Version | Video & Audio & Image Formats | Interface | Buzzy Tools |
| --- | --- | --- | --- | --- | --- | --- |
| AceMovi | Windows & Mac | Free to download without expiration | 29.95/m, 39.95/y, 79.95/p | Full | Streamlined & clutter-free | Green Screen, Flip, Convert, Trimmer, Cropper, Reverse, Audio Beep, Color Grading, Audio and Video Sync, Background Sound Equalizer, etc. |
| iMovie | Mac & iPhone | Free to download without expiration | Free | Lacking | Streamlined | Focus Shift, Simplified Soundtracks, Enhanced Color Grading, High-Fidelity Filters, etc. |
| GoPro Studio | Windows & Mac | Free to download without expiration | Free | Lacking (MP4 and HEVC) | Streamlined | Fisheye Removal, Slow-Motion, Framerate Editing, White Balance, Exposure, and Contrast Editing, etc. |
| VLC | Windows, Mac, & Linux | Free to download without expiration | Free | Full | Linear (Menu-based) | Audio Equalizer, Stereo Widener, Motion Blur, Anaglyph 3D, Motion Detect, Mirror, etc. |
| Clips | iPhone | Free to download without expiration | Free | Lacking | Linear | Immersive AR Space, 360-Degree Video Environment, Fun Stickers, 100+ Soundtracks, Minnie Mouse Emojis, etc. |
| Splice | iPhone & Android | Free to download without expiration | In-App purchases | Lacking | Streamlined & clean | Chroma, Slow-Motio, Overlays, Transitions, Vintage, Masks, etc. |
| FilmoraGo | iPhone & Android | Free to download without expiration | In-App purchases | Lacking | Streamlined & clean | Speed Control, Chroma Keying, Customized Texts, Cool VFX, Transitions, Up to 1080p Export, Premium AR Stickers, etc. |
| WeVideo | Online | Free to use | 8 plans from 4.99/m to $299/y | Lacking | Streamlined | Screen Recorder, Meme Maker, Video Templates, Video Trimmer, Video Merger, Green Screen, etc. |
| 123APPS | Online | Free to use | Free | Lacking | Linear | Online Watermark Remover, PDF Converter, Recorder, Trimmer, Cropper, Formats Converter, Titler, etc. |
Final Verdict
There are so many video editing programs available on Google for mobile, online, and personal computers that it is a matter of trial and error to determine which interface and features are most suitable for your needs. Although there are programs from which to choose, we recommend the best-in-class 10 tools because their feature set offers the most bang for the buck.