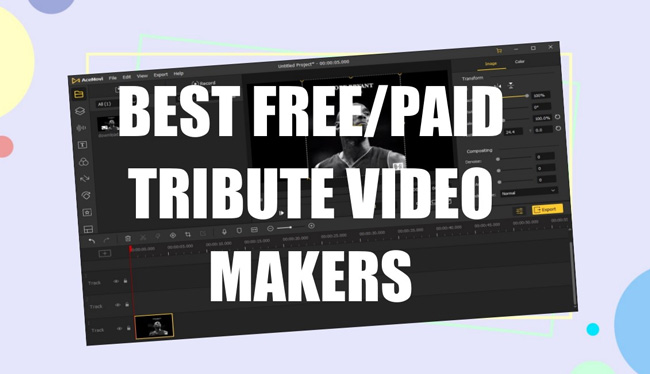 Making tribute videos is a meaningful way to show the reminiscence, respect, or emotion towards someone else or an event. Commonly, the types of tribute video include Memorial, Homage, Military, Birthday (Surprise/Gift), Reunion, Anniversary, Wedding, etc. Unlike making daily sharing content, people used to apply specific templates and forms for tribute videos like intro and slideshow. Therefore, finding a versatile tribute video maker with diverse templates is the key to unlock an excellent tribute video.
If you're going to make a touching and meaningful tribute video, just read this post from which you can get the 8 best free/paid tribute video makers for desktop or online, along with the tutorials on how to make a good tribute video.
Tips to Make a Tribute Video
1. Select a Template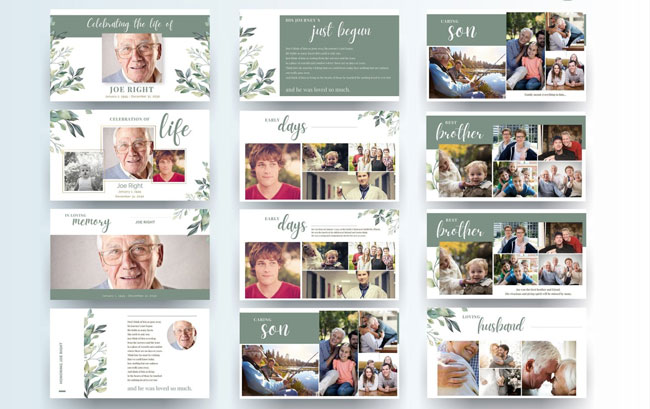 The template helps you save the half time of making a standardized tribute video because it was designed with ready-made themes, color background, music background, transitions, filters, animations, and even texts. With a relevant tribute video template, you can create the slideshow very easily just by inserting some photos or videos.
And another reason you can get a bind of video elements from video templates, for example, you need to add the icons of Christmas trees, gifts, apples, and more into your video. But one thing that may be annoyed is that you need to delete lots of redundant parts and frames of the tribute video template.
2. Choose a Proper Cover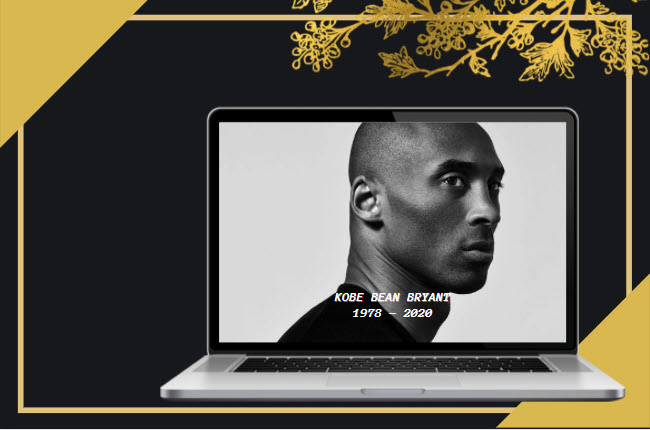 The next thing you should do is set a proper cover and at least you need to tell others what is the main atmosphere you want to create and the feeling you want to express: For a memorial tribute video, you'd better set a dark-background cover with his or her name and profile; If it's a military tribute video, you can set a cover that shows the cruelty and violence of the war.
3. Use a Relevant Music
Background music can be a very useful tool to let your audiences concentrate on this tribute video. Most importantly, you need to make this audio sounds synchronous. What is this means? It means that you need to balance the beats between video elements and audio like transitions, animations, and texts.
4. Aplly Blurred Background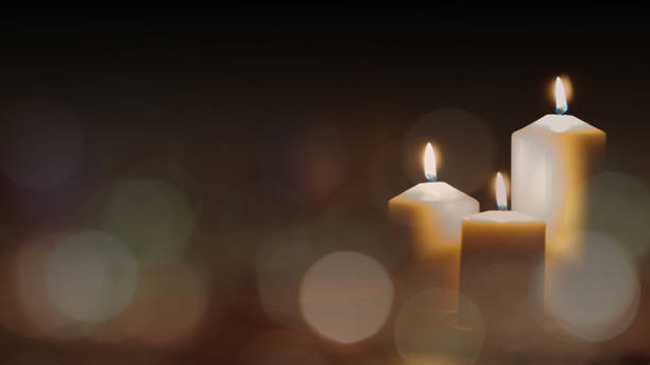 When you're trying to show the important moments within the tribute video, I believe that you don't want it looks like a simple PowerPoint video, do you? It should be attractive, comprehensive, professional, and touching. Therefore, using a blurry background is one of the best tribute video ideas and the best way to create a relevant atmosphere throughout the video.
5. Find an Excellent Video Editor
Usually, online tribute video editors give you more video templates & open-source music stock to choose from, but you need to register, pay for the service, and better prepare a high-quality internet. By contrast, you won't be troubled by the internet crash or personal data lost if you download software on the desktop. That depends. In the following, we'll be sharing with you 8 excellent tribute video editors for desktop and online, let's get started!
Top 8 Best Free/Paid Tribute Video Makers
Top 1. AceMovi Tribute Video Maker
Trial Version: Free | Full Version: $19.95/M, $39.95/Y, $59.95/P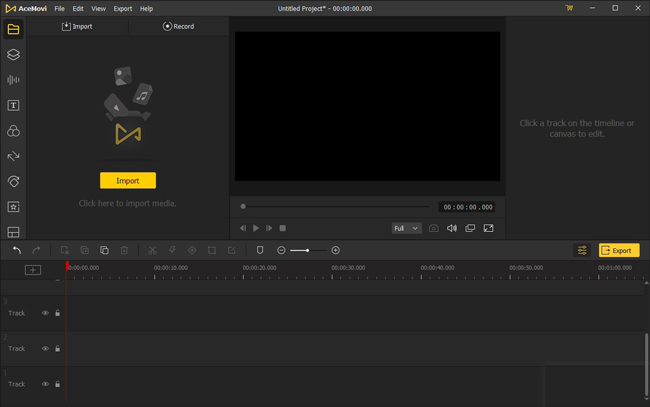 Being the best tribute video maker, TunesKit AceMovi is a very easy-to-use and multifunctional toolkit that works for all examples of tribute videos like Memorial and Festival. AceMovi provides you with hundreds of royalty-free music resources, dynamic & static texts/subtitles, filters, animations, transitions, etc. Until now, you can download and use AceMovi Tribute Video Editor for free at any time, besides, the difference between the trial version and the full version just lies in the service of removing the watermark.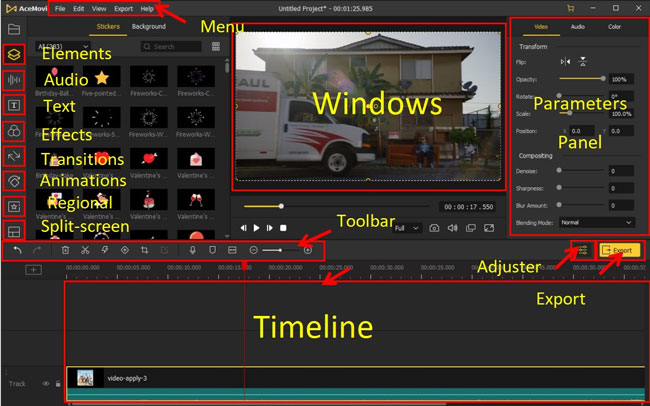 The function containers of AceMovi is intuitive and clearly divided - the left-most row of media library menu and corresponding specific content display; Middle allows real-time preview of edited video; Left side can edit media library effect content; and the lower part of the interface is the working area for tribute video editing, which can be arbitrarily added with Track, drop media and apply multiple effects through cropping, segmentation, rotation, speed adjustment, and so on. Furthermore, you can find the blurred background in the Regional Plate and the text template from the Texts Plate.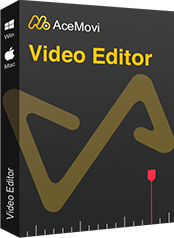 Key Features of AceMovi Video Editor
Security Verified. 5,481,347 people have downloaded it.
Pros:

Easy-to-navigate editing interface
Multifunctional menu & toolbar
Trim, split, convert, record, reverse, & compress tribute video easily
Lots of built-in background music & sound effects
Loads of text templates to choose from
Slideshow, Pip, Split-Screen, Blurring, etc.
Top 2. Vimory (App)
Trial Version: Free | In-App Purchases: $2.99/M, $19.99/Y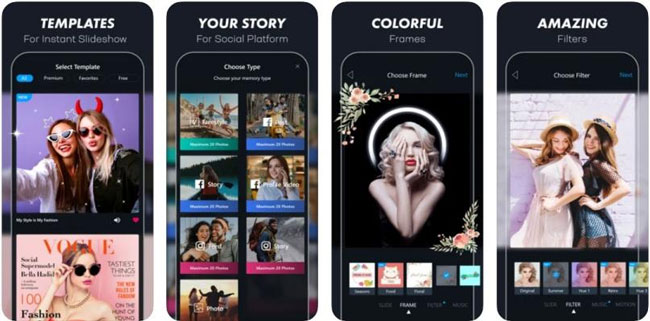 If you want, you can choose from the existing tribute video genres in the app or download the desired music resources from the wide-ranging media library. Moreover, Vimory allows you to instantly share the new-made tribute slideshows via various social platforms like Snapchat, WhatsApp, Skype, Zoom, etc.
You can pick up a vast library of tribute video genres within the app, or download music resources from an extensive media library. In addition, Vimory allows users to instantly share new-made tribute slideshows via Snapchat, WhatsApp, Skype, Zoom, and other social platforms.
Pros:

Various tribute video templates
Share with friends or post on social nets directly
Amazing filters and colorful frames
Freely set the aspect ratio at 1:1, 16:9, 4:3, etc.
Cons:

Time-consuming: cannot work for multi-track tribute video editing
Top 3. SmartSHOW 3D
Trial Version: 10-Day Free | Full Version: $29.95/Y-Standard, $49.95/Y-Deluxe, $99.90/P-Gold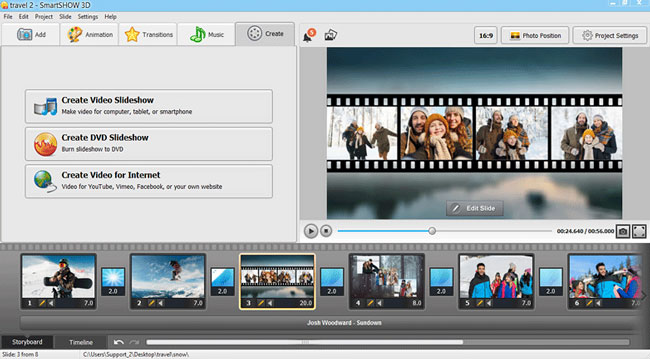 SmartSHOW 3D is a new generation tribute slideshow maker that carries professional functionality with the ease of learning professional video editing. And this software, used for both Windows & Mac, has a collection of slide designs, transitions styles, animation genres, subtitle templates, and soundtracks.
Even if you may find that SmartSHOW 3D Tribute Video Maker is a bit outmoded, which can easily help you import or export tribute videos, set your preferences like saving path, and learn from the best-given user tutorials. However, you can only use it for 10 days free and export tribute videos at an aspect ratio of 16:9 or 4:3.
Pros:

100+ animation and transitions for tribute videos
Quickly add music and voice-over
Include 30+ video formats to export
200+ free soundtracks
Cons:

10-day free only & export at 16:9 or 4:3 only
Top 4. Invideo
Trial Version: Free | Full Version: $30/M-Business, $60/M-Unlimited, $180/Y-B, $360/Y-U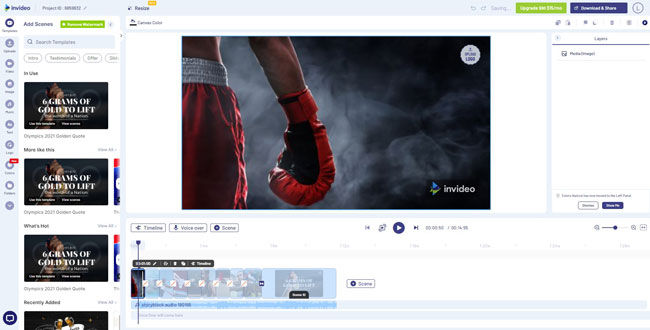 As the first online tribute video editor we'll be discussing, Invideo has a friendly interface and many unique video/image/music resources built-in. What the particular function of Invideo is that, unlike other similar platforms, the free trial version of the web-based editor had no date limit. In addition, there are several prefabricated templates for users to make tribute content creation more efficient. Finally, the text-to-speech option is also a great time saver.
Pros:

Premium video and audio library
Thousands of ready-made templates for tribute video making
100% website-based so that you don't need to download software
i-cloud service to help you memorize & transfer videos
Cons:

Not so cheap & internet may get stuck
Top 5. Smilebox
Trial Version: NO | Full Version: $59.88/Y-Premium, $139.99/Y-Pro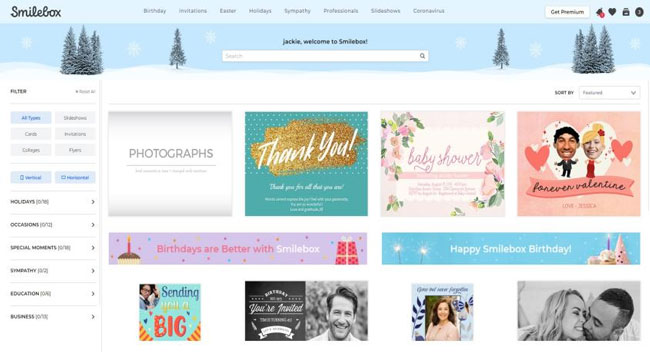 Smilebox, released in 2005, is an online app that lets you turn your photos into animated videos, cards, collages, or invitations. The site sees its main mission as providing users with a way to tell their life stories, so it's very easy-to-use when you want to create a tribute video. Also, Smilebox gets templates for all kinds of visual presentations - from invitations to flyers and greeting cards. However, speaking of the pricing, there's no free version in Smilebox and you need to pay $59.88 at least to begin the road of making tribute videos.
Pros:

Stable processing experiences
Loads of tribute video templates
8 main themes, even include Coronavirus
Simple-to-guide layout design
Top 6. Vidday
Trial Version: NO | Full Version: $5/0-30 min, $12/3-10 min, $12/every extra 10m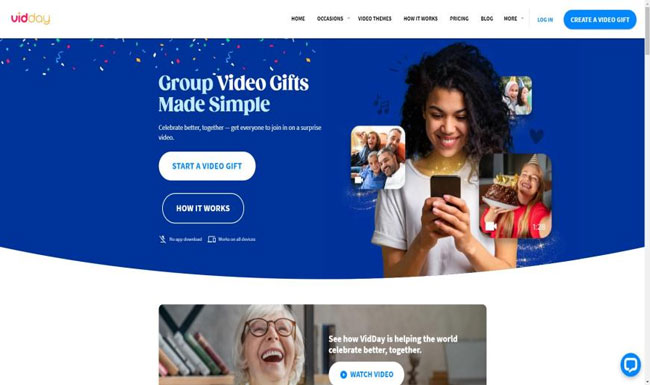 Vidday is harnessing the power of making tribute videos without doing it by yourself, viz., Vidday just needs your images, video clips, and some necessary elements. Later, the whole process of video making, like adding texts, transitions, filters, and so on will be done by professional editors. With Vidday online tribute video makers, you can capture the right mood by choosing one of our many themes and music.
In addition, Vidday edits your collection of video clips and photos into a beautiful montage of moving videos that can be easily shared anywhere but you should pay for this video editor depending on the time.
Pros:

Professionally create your tribute video
You can decide the theme, context, image, and video clips of the tribute video
High-quality (1080p) tribute video exporting
You can decline if you're not content with it
Top 7. Fastreel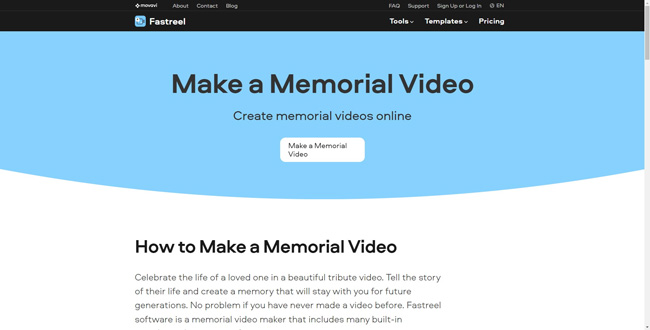 Fastreel is an online website that allows amateurs and pros to edit tribute content without having to download any software. Based on your preferences, you can do this workflow using one of Fastreel's online templates or by a series of other online tools like the tribute video trimming tool, tribute merging tool, and tribute slideshow making tool. Luckily, you can export the new-made tribute videos for free by Fastreel but with a watermark, so you should pay for the service if you'd like to get rid of the watermark.
Pros:

You don't need to download any software
Make a tribute video easily and freely
Export at high resolution
Various templates to make tribute videos smoothly
Cons:

Lacks advanced effects like split-screen and video reversion
Top 8. Movavi
Trial Version: 7-Day Free | Full Version: $64.95/Y-Plus, $64.95/P-Plus, $84.95/P-Video Suite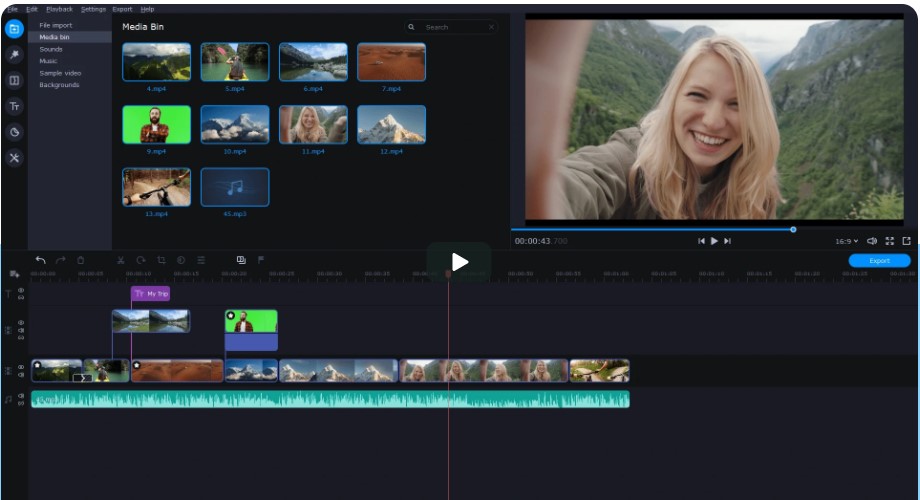 Movavi's tribute video editor can handle most of tribute video editing and making jobs, from tribute video creation to converting screen recordings, and much more. With Movavi, you can create your own professional-looking tribute contents in no time. In fact, Movavi is not only the last software to edit tribute videos we'll share with you so that you can download it freely for Windows 10 or Mac but also the PC version of Fastreel. By comparison, Movavi has more video resources, advanced effects (such as mirror, reverse, split-screen, etc.), streamlined editing style, and so on.
Pros:

Professional to make tribute videos
Advanced effects like video reversion, PiP, Mirror, etc.
Easily begin the workflow of tribute video making
Lots of built-in music resources
The Bottom Line
You got 5 tips and 8 options in making a great tribute video from today's sharing and hope this could be helpful for you. If you're still confused by some of the tribute video making or editing methods, you can try more with those video editors or visit our website to see more tutorials.