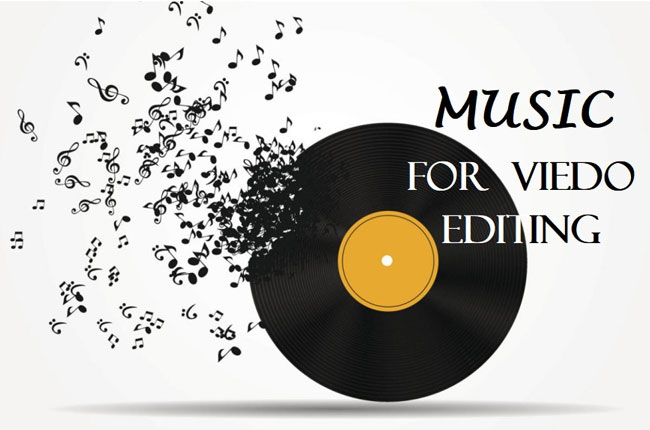 Here is a question at the very beginning: have you ever wondered about the music your favorite content creator use in his videos? I think it must be YES. Indeed, music renders your storytelling with brilliant and great beats, melody, & rhythm and emits infinite power, imagination, warmth, emotion, and more.
When it comes to the music tracks in video editing, we can see that background music has already become one of the most important parts. But you can't add music randomly just for the sake of beautifying videos, you should also care about the copyright of the songs. And sometimes you may need to cut or combine music tracks for the wanted video to make the sound and picture synchronous. Fortunately, there are plenty of music sites out there providing royalty-free music tracks to be downloaded. So, if you are editing a video project now and looking for a website to download music for free for your video, just check today's content.
Part 1: Top 7 Music Websites to Download Free Music for Video Editing
1. YouTube Music Library [Best For: Pop, Music Videos, Mix]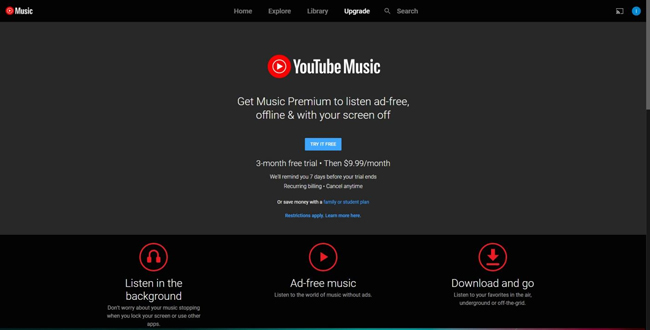 YouTube TV is one of the most popular websites used by billions of people every day. You can add uncopyrighted music for YouTube videos by downloading music from YouTube Audio Library. In addition, YouTube offers a huge collection of sound effects and free background music for video editing and you can also use filters to adjust the tracks' duration and licensing agreement.
And here's the exact way to navigate to YouTube Audio Library to apply music for video editing: Step 1: Browse to YouTube TV; Step 2: Find the YouTube apps on the right above and open the YouTube Music up; Step 3: Choose the music you like, you can add to the library or download it directly. Note: You got a 3-month free trial and then you need to pay $9.99 every month.
Pros:
Easy to use & license-free
Change music duration
Endless music resource
Ad-free music service
You can listen in-background
Use it offline or online
Cons:
Register required
3-month free music downloading service for each account
2. FilmStro [Best For: Game, Mood, Sightseeing]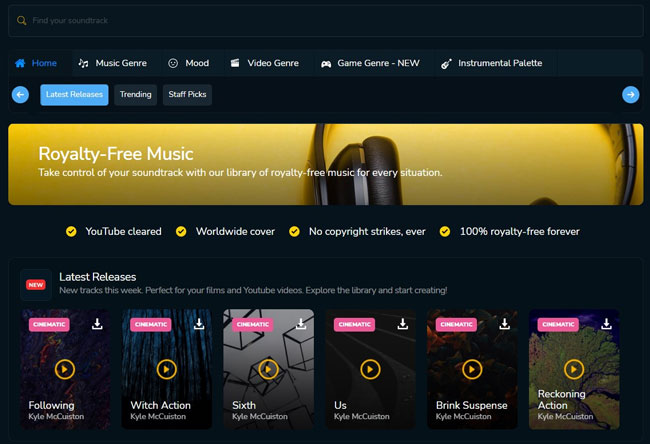 Filmstro is one of the best music websites for video editing that provides 65 different categories of royalty-free music that will make your video amazing. It allows you to download fantastic and attractive soundtracks for adding to your video's background. Besides, Filmstro separated the music types into 5 parts so that you can easily navigate to Music Genre, Mood, Video Genre, Game Genre - New, and Instrumental Palette.
Pros:
Song previews downloading
Thousands of music resources in stock
Music templates like Music, Video, Game
Quick speed to release new & popular music
Music filters like Serious & Positive, Minimal & Complex
Cons:
Requires log-in
Only 5 free music tracks in its free trial version
3. FilmPac [Best For: Artist, Instrument, Footage]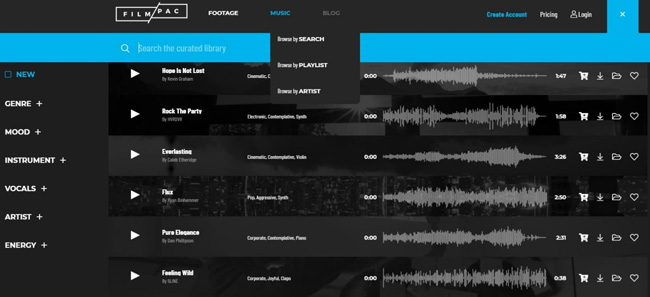 If you're looking for innovative free music files to download, FilmPac is a good option for you. On the default page, you'll see those categories like Genre, Mood, Instrument, and so on, and by opening up one of them, you'll see a list of music with their name, singer, characteristics, duration, sound wave as well as downloading button. Also, you can find more music types from the Music by Playlist or Music by Artist.
By the way, you can download all the built-in music genres, clips, and modes for free yet with a 2-second sound "FilmPac" as watermark, and to remove that watermark, one way is to purchase the VIP service at $16.58 per month, another is cut this part of the music (in the last section, we'll talk about how to cut music by an audio/video editor).
Pros:
No register as a precondition
Endless free music downloading chances
Professional classifications of music
A vast library of music resource
Ready-made music clips & footage
Cons:
Embedded with a 2-second watermark
4. Bensound [Best For: Cartoon, Education, Science]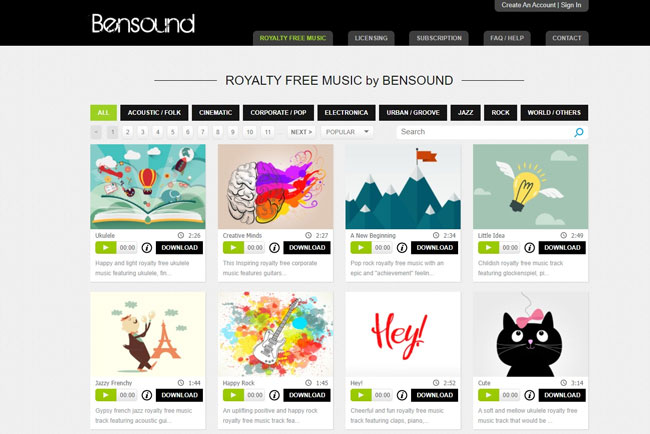 Bensound provides a unique collection of both premium and free music tracks. The free license option will allow you to use soundtracks on your online videos if you credit artists in your video description. Overall, it is a complete package and can help you download music in superb quality.
You can download any music from Bensound for free and no watermark left yet there is something about users' norms you should bear in mind like you can use music in personal multimedia video-editing projects but not for Audio-book, Song Making, Podcast, and Music Remix.
Pros:
The huge facility of free soundtracks
Free to download while no watermark
Simple interface
Description of music
Funny profiles
More video clips
Cons:
Not for pop songs lovers
More norms in commercial use
5. ArtList [Best For: SFX, Scenes, Footage]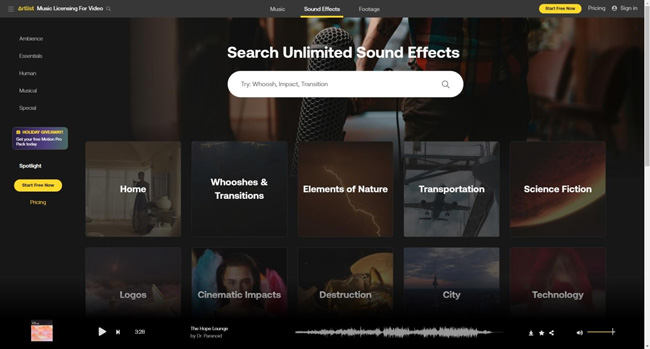 Let's see what kinds of specific or given scenes ArtList can offer you:
Ambiance: City, Crowds, Nature, Weather, Indoors, Transportation.
Essentials: Animations, Home, Sports, Industry, Electronics, Transportation, Weapons & Warfare.
Human: Body Hits & Martial Arts, Footsteps, Materials, Voices & Body Sounds, Wearable Objects.
Music: Logos, Loops & Phrases, One Shots, Vocals.
As you can see, ArtList contains specific free music background for your video editing, by testing, we find that some of that music files are very short like animals' sounds while some like the wind and sky genre tend to be long. By ArtList, you don't need to worry about the license to apply the wanted music on YouTube, Twitch, Commercials, Games, TikToks, and so on. However, a 2-second watermark will be added in the front part of the music you select
Pros:
Preset duration, tempo, & vocal
Unlimited stock footage
Lots of sound effects & SFX
Specific & given music classifications for scenes
Cons:
Register needs
Music watermark adds
6. Premium Beat [Best For: Blues, Piano, Mood]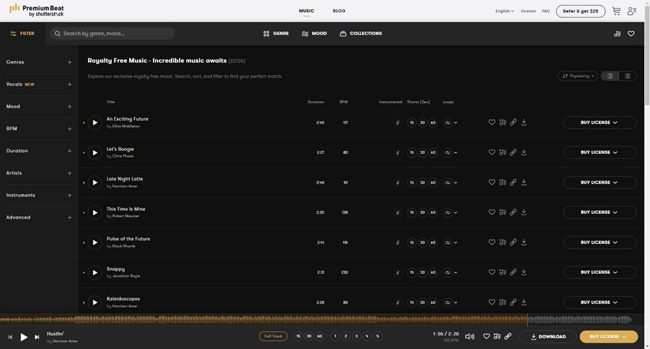 Premium Beat provides the users with a unique collection of royalty-free music from various artists and an opportunity to give credit to original artists of the soundtrack. Premium gets a very clean interface, unlike ArtList, you can find all the stock music from the three units listed above - Genre, Mood, and Collection.
When it comes to downloading free music for video editing, you can click that download button and choose the full track or just periods, or you can copy the URL.
Pros:
A wide range of music filters
Support URL copy
Free & no watermark
You can play short or play loop
Concise layout
Cons:
Register needs
Should pay for VIP (music loops, shorts, and stems)
7. Tribe of Noise Pro [Best For: Vocals, Feeling, Pop]
Tribe of Noise Pro is a very easy-to-grasp music website, viz., to download music for video editing, all you need to do is log-in > choose labels > download music for free. Besides, Tribe of Noise Pro has featured the voice, quality, beats, and ambiance of the built-in music. If you'd like to download the music type you want, you can also input the keywords under the search box.
Pros:
Most music has been enhanced
Very easy-to-learn
Rank the music in duration & BPM
15+ kinds of unique categories like Roots & Reggae
Cons:
Register first
Lack music resources for editing videos
Part 2: Edit/Add Music for Video - Best Video Editing Software on Mac & Windows 10
As you can see, music websites vary from each other greatly so that you should take something into account like music resources, download qualities, free services, and genres & filters, etc. However, you may also find that a single music website cannot help you edit music files, for example, you can download music from that website but you cannot cut it or use it directly as the audio background for a video.
So, in the following, we're so happy to share with you an all-in-one music & video editing toolkit - AceMovi Video Editor and by which you can edit music for your videos easily and quickly: Import music > Add to audio track > Apply music editing tools: cut, volume up/down, adjust pitch, add sound effects, use music equalizer, etc. > Export video.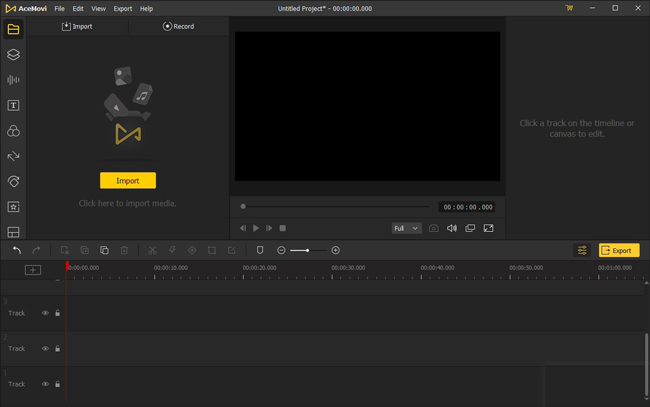 If you want to cut music, you need to drop your music files under one of those tracks and then move that red-controlling line at the cutting point, lastly, press Ctrl + B or right-click the music track to choose Split.
And if you'd like to volume up/down the background music, you need to find the Audio adjustment panel on the left side and later set the volume numbers. In this case, the volume of your video won't be uplifted while you can increase the volume of the background music. For more music features for video editing, download AceMovi, and here we provide the install way.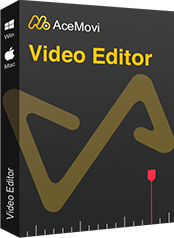 Key Features of AceMovi Video Editor
Security Verified. 5,481,347 people have downloaded it.
Reasons to Pick Up:

Audio formats you can import/export: MP3, M4A,AAC, AC3, OGG, CAF, AIFF, APE, FLAC, WAV, WMA, W4B, M4R, MKA, AU, ALAC, etc.
Video formats you can import/export: MP4, MKV, TS, TRP, AVI, MPG, WMV, MOV, ASF, M4V, XviD, DV, MPEG-1, MPEG-2, VOB, 3GP, 3G2, WebM, etc.
AceMovi tools allow split, trim, cut, and merge clips in seconds
It offers you stunning editing options, including transitions, royalty-free built-in music resources for video editing, motion elements, and animated titles
Using AceMovi Video Editor, you can adjust the speed of your video or music in any aspect ratio
After applying effects, you can share the videos on multiple social media platforms, including Facebook, DailyMotion, YouTube, Instagram, and many more
Downsides:

Watermark removal service - $19.95/Mon, $39.95/Year, $59.95/Lifetime
Part 3: Conclusion
In this article, we've tried to introduce you the best and popular websites for music downloading, and hope that all of them are worth your time and attention.
After selecting a befitting option, you may also need to look for a worthy video & music editor if you have the demand to embed the music into videos. In this case, we recommend AceMovi Video Editor based on practical testings and users' feedback.