Videos are one of the most popular ways for individuals to display their creativity and material in a visually attractive format. For appropriate video making/editing, digital marketing gurus and solitary content creators demand top-notch photo video maker software. Video editing used to be difficult and time-consuming. In recent years, however, taking and editing a short movie with your smartphone and computer has become as straightforward as taking a selfie. As one top part to make a video, content creators are curious about which one is the best music video maker nowadays. And I'm going to display the top 11 list of video makers with music and pictures. It now begins!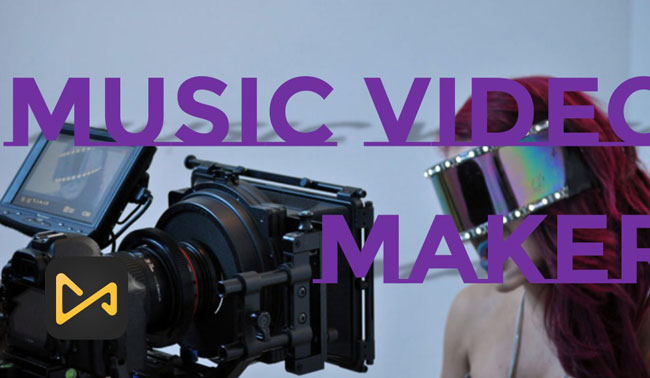 Top 11 Best Free Music Video Makers
Top 1. TunesKit AceMovi - Easy-to-Use Music Video Maker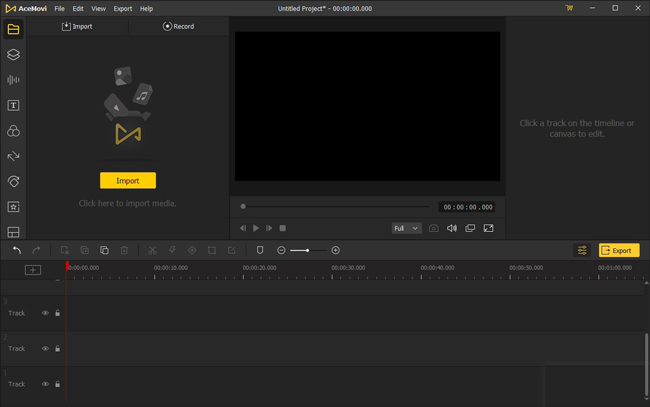 TunesKit AceMovi Video Editor has an easy-to-navigate interface with a lot of buzzy features such as chopping, rotating, recording, reversing, converting, equalizing, and so on. Millions of users tend to apply background music, audio effects, animations, transitions, cool filters, and text, to make the editing experience better and easier.
As an intelligent music video generator, AceMovi's hundreds of background music, as well as audio effects are free to try and edit. You can simply drop any wanted sound from the Music Stock under the timeline or apply audio effects like Video Bleep in a breeze.
Everyone may use this easy yet powerful video editing program. It's as simple as ABC to tell a story. Crop, split, rotate, modify speed, and other fundamental editing capabilities ensure that anybody may quickly progress as an editor. Advanced capabilities allow you to edit videos like an expert, yet an easy-to-use interface saves you time and effort. You can now click here to download AceMovi to share stories with the world in any format, device, and platform.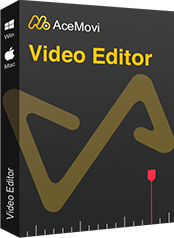 TunesKit AceMovi Video Editor
Security Verified. 10,233,447 people have downloaded it.
Reasons to Choose:

A slew of background music in stock
120+ audio effects
Unlimited audio tracks to add
Sound equalizer and balancer
Change audio pitch easily on the bare-bones interface
Download on Windows and Mac
4K and HD video editing
Downsides:

The trial version comes with an AceMovi's branding watermark
Learn How to Make a Video with Pictures and Music
Top 2. Lightworks - Hollywood-Strength Music Video Maker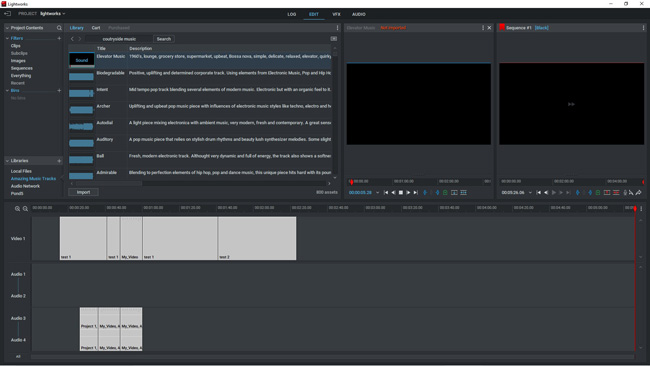 As an advanced music video maker software to be downloaded on Windows and Mac, Lightworks has a four-panel workflow interface with LOG, EDIT, VFX, and AUDIO. To quickly find the music resources and then make a good music video, Lightworks will never let you down.
You are allowed to download and license a vast selection of royalty-free video music from the built-in Amazing Music Tracks and the Audio Network. For instance, if you want to add a new piece of countryside music as your video background, you just type in "Countryside Music", and then all the possible results will be displayed on the bare-bones window, then you can choose the wanted one to make a sequence or drop it under the timeline directly.
It is worthy to mention that you find an enhanced audio editing panel in Lightworks that offers components, graphs, and routing. It's cool to apply sound effects like EQ, 50Hz Mains Hum Removal, Loudness Curve, or others. Without exception, music clip trimming, removing, revealing, speeding, and more are at your disposal. However, for each account, you can use Lightworks for free with a 90-day expiry.
Pros:
Built-in online music library
A full set of audio editing features
Specialized panel for audios
Customized interface and toolbar
Watermark-free music video maker
Cons:
A 90-day expiration limit
You need to create a new account before using it to make any music video
You may find it complicated to learn
Top 3. DaVinci Resolve 17 - All-in-One Music Video Maker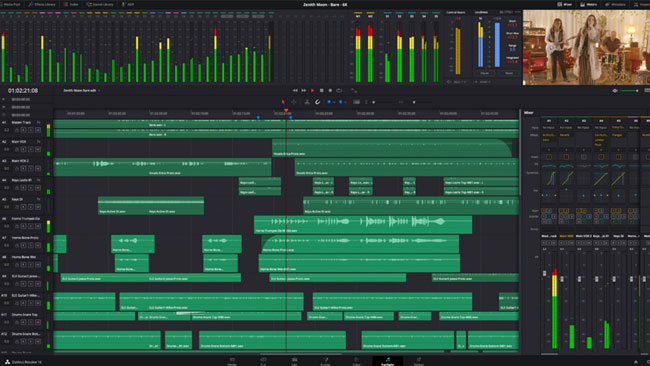 DaVinci Resolve 17 brings a unique Fairlight audio editing panel, with a sound library plugin, audio mixer, audio value meters, plus multiple sound clips to add in the timeline. There are many more distinguished audio edits in Resolve 17 that users prefer like the Enable Clip, Reverse Clip, Analyze Audio Levels, Normalize Audio Levels, and Cache Audio Effects. You see Control Room, Loudness, Bus, Dynamics, Pan, and Order of any audio you've imported upon the track.
However, if you want to download and license the online music from DaVinci Resolve 17, it is required to download the Sound Library from DaVinci's official website. This tool has no watermark after downloading yet you need to pay for the services like built-in video and audio effects.
Pros:
Audio Mixer and Meters
Unlimited soundtracks to apply
Edit audio without losing any quality
Hundreds of music resources from the Sound Library
Action-packed audio Fairlight FX
Cons:
You need to download the Music Library other than there won't be any sound clips available(you can import own sound clips as an alternative)
A bit difficult for beginners in video editing
Top 4. Cyberlink PowerDirector - Best-in-Class Video Maker with Music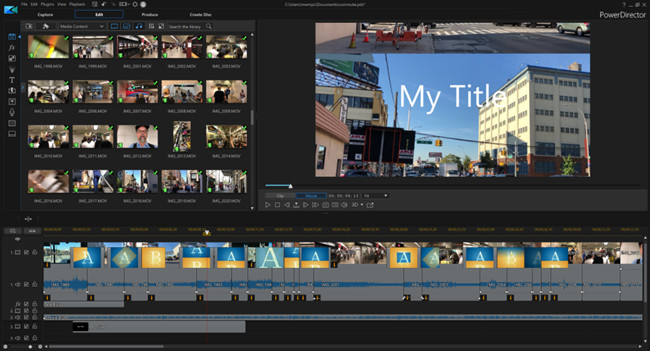 Cyberlink PowerDirector is a music clip maker Windows and Mac that allows you to produce 4K films, edit them with multi-timeline capabilities, and publish them on YouTube, Instagram, and Facebook. It allows you to improve your movies with transitions, music, motion titles, emoticons, effects, filters, etc. On Google Play, it is also listed as an Editors' Choice app.
PowerDirector comes with a vast and smart set of tools like Video Recorder, Slow-Motion Maker, Voice-Over Adder, and Video-to-MP4 Converter. You can freely try out the majority of audio and video formats with this tool on one screen without the burdens of storage.
Pros:
Cyberlink connectivity allows for easy switching between computer and phone
Pre-made templates allow you to create videos quickly
Royalty-free stock library
Directly download films/images from Google Drive
Cons:
Too many advertising and unwanted alerts
The editing interface is only horizontal
Top 5. iMovie - Apple Photo Video Maker with Music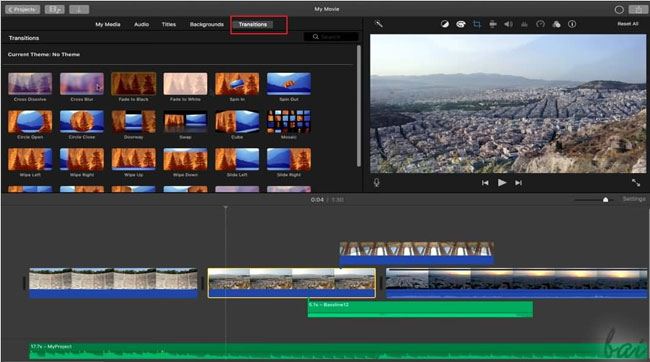 Apple's free applications are sprinkled throughout our list for a reason: they tend to build superbly effective and easy-to-use apps with unique features. Their ubiquitous iMovie program performs all of the functions of a movie editor, which is a free video maker with music and pictures. So if you want to learn how to make a picture video with music, iMovie can be one of your options.
Simply drag and drop your clips onto the timeline, cut them to size, and add built-in music, effects, and animated titles. Split-screen effects, green-screen effects, ten high-fidelity filters, and the functionality to make Hollywood-style trailers are all lovely additions.
Pros:
Easy to use
Multi-device capabilities
It can store films in 4K or 1080p
Edit audio without quality loss
Watermark-free
Works on both Mac and iOS
Cons:
It's exclusive to Apple devices
Top 6. VimeoCreate - Simplified Online Music Video Maker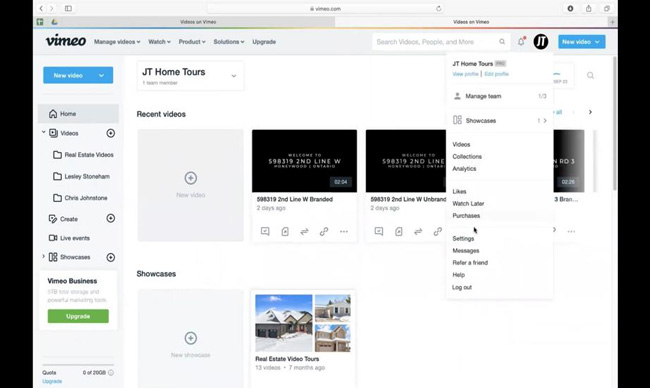 Vimeo, the video-sharing powerhouse, has responded with its online video editing tool. Users may utilize themes, stock footage, and photos from the Vimeo collection to create and modify short films. This video maker online with a music and effects free program has everything you'll need to fine-tune your video, including options for adding subtitles, transitions, and changing the colors.
Of course, once your masterpiece is ready to air, sharing your film on Vimeo and across your social media networks is a breeze like YouTube and Facebook.
Pros:
It's simple to use
It is free of charge
Cloud-based workflow
Make a music video in a breeze
Cons:
The majority of features require a Vimeo Pro account
Top 7. WeVideo - Fully-Featured Online Music Video Creator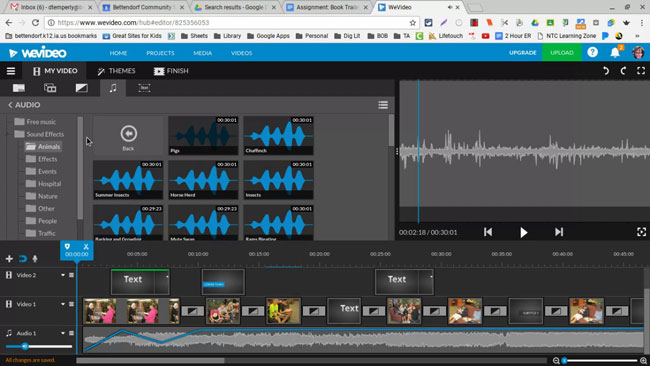 WeVideo makes creating and sharing videos fast, enjoyable, and simple. CNET, TechCrunch, ReelSEO, Wired, The Next Web, and other publications have covered it. You can record memories anywhere they happen using WeVideo's Video Editor and turn them into stunning videos to share on Facebook, Twitter, YouTube, Instagram, and more.
WeVideo Professional and Business plans include additional features such as extended music and theme libraries, professional-quality graphics, and no WeVideo watermark.
Pros:
Excellent for basic video editing needs
Excellent for social media sharing and compilations
Quickly make slideshows with little effort
Totally online-based
Cons:
Requests permission to access product usage, which may seem intrusive
The free account has very limited music, text fonts, and themes
Top 8. FlexClip - Brilliant Music Video Maker Online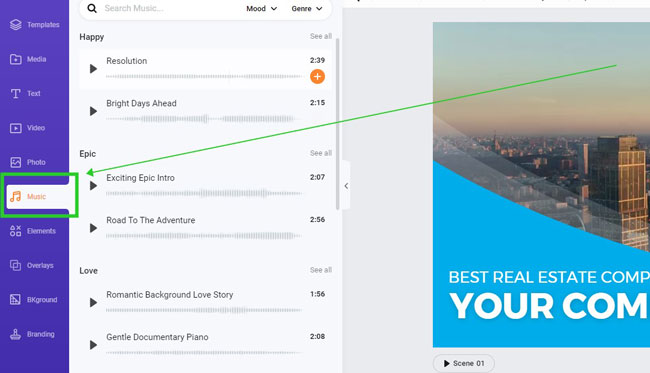 We all know that those music video maker online tools come with ready-made video templates that provide users with fresh audio clips, and FlexClip is not an exception. But surprisingly, FlexClip has been offering a vast option of music for users online even on the free version.
You can search for wanted music based on the mood and genre, it can be happy, epic, love, inspiring, pop, and intro. For replacing the original video with your wanted one, you can mute the default one and add a new one directly. Or click here to learn how to detach audio from video(FlexClip cannot do this). You need to sign up to make video edits with FlexClip, also, you find it free to export video up to 480p without any watermark. So if you want to make a music video with pictures and music, FlexClip will be a wise choice.
Pros:
Online video maker with music
Hundreds of free music resources
Select audio based on the mood and genre
Easy learning curve
Ready-made video templates will definitely surprise you
Cons:
Only up to 480p export without watermark is allowed
You need to sign up with personal information
Top 9. GoPro Quik - 360-Degree Music Video Maker App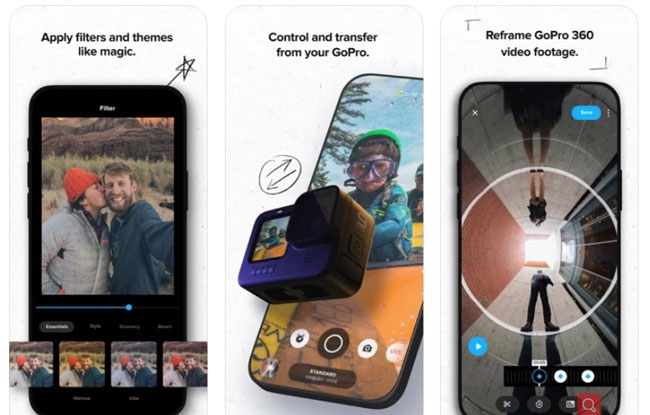 GoPro brings you Quik, one of the greatest free video makers with music and pictures for Android and iPhone. The Quik app can make amazing films in only a few touches. Create spectacular and shareable changes by automatically adding transitions and effects and applying beat-synced themes.
Most of the editing is done automatically, but Quik also allows you to modify tiny elements. Now, you can even import 2160p video to make edits like trimming and cropping for free. There are many more elements to pick up like transitions and filters.
Pros:
Supports 4K video, which is a huge advantage over other programs
Excellent for basic editing
Quik's mural function allows you to construct your greatest photos into different events
Cons:
Inadequate client service
Top 10. VivaVideo - Comprehensive Music Video Maker App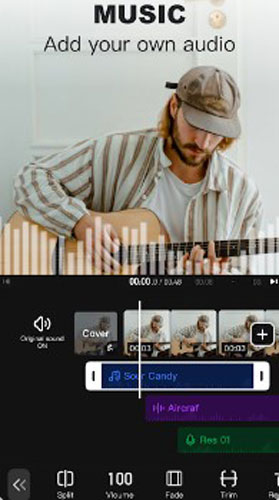 As one of the most comprehensive video editing tools, with functions such as producing films from photos with music, editing video with transitions, adding video to video, merging video clips, and adding music to video, VivaVideo is a free Android and iPhone photo video maker with music that includes all of the essential functions and some additional features that make it a top competitor.
Hundreds of stickers, special effects, animated clips, and filters are included to support you in editing your videos. You may post the video directly to your social network accounts from within the app.
Pros:
It's really simple to use, even for a novice
It works amazingly well for short social media clips
It contains a built-in slow-motion movie maker
Cons:
The free version's large amount of adverts makes it difficult to concentrate
Difficult to add and handle multiple audio/video files
Top 11. Clips - Streamlined Music Video Maker App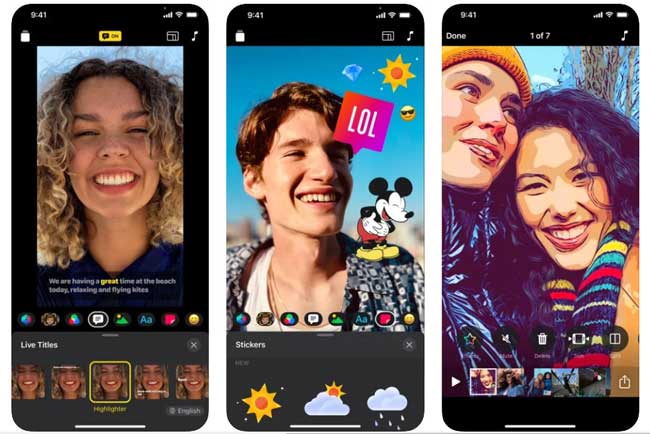 It's easy to miss pre-loaded applications like Apple's Clips, but this music video maker online has lots of impressive features to enjoy, thanks to the weight of the tech giant's greatest brains behind it. Take, for example, their live tiles setting. You may use this to generate animated captions and titles that show as you talk.
To spice things up, you may add animated emojis and backdrops, and music tracks dynamically sync to the duration of your video.Plus, Selfie Scenes lets you choose from a variety of 360-degree backdrops, and Clips recognizes who's in your video and offers them sharing choices — brilliant!
Pros:
Beautiful interface
Unique features
Apple support
A slow of online music resources
360-degree backdrops
Cons:
The free version comes withe export watermark
Differences: 11 Music Video Maker Apps, Software, and Online Tools
The 11 tools mentioned above can be divided into 3 categories according to operating systems. In addition to that, they are different also in pricing, trial version authority, audio editing plugins, free music resources in the online library, and advanced video enhancement tools. Here we gonna see a table that aims to compare those music video makers in a table.
| | Operating System | Trial Version | Paid Version | Free Background Music | Audio Effect | Audio Mixer/Meter | Sound Equalizer |
| --- | --- | --- | --- | --- | --- | --- | --- |
| TunesKit AceMovi | Windows 10, 11, & Mac | Free (with watermark) | 29.95/M; 39.95/Y; 79.95/P | √ | √ | × | √ |
| CyberLink PowerDirector | Windows 10, 11, & Mac (Mobile Also) | Free (30-day expiry) | 19.99/M; 69.99/Y | √ | √ | √ | × |
| iMovie | Mac & iPhone | Free (no watermark) | Free | × | √ | √ | √ |
| Lightworks | Windows & Mac | Free (90-day expiry) | Create-$9.99/M; Pro-$23.99/M | √ | √ | √ | √ |
| DaVinci Resolve 17 | Windows & Mac | Free (no watermark) | $295/One-Time | √ | √ | √ | × |
| Vimeo Create | Online (with watermark) | Free (30-day expiry) | Plus-$7/M; Pro-$20/M; Business-$50/M; Premium-$75/M | √ | × | × | × |
| WeVideo | Online | Free (with watermark) | Power-$4.99/M; Unlimited-$7.99/M; Pro-$19.99/M; Business-$36.99/M | √ | × | × | × |
| FlexClip | Online | Free (up to 480p) | Basic-$5.99/M; Plus-$9.99/M; Business-$19.99/M | √ | × | × | × |
| GoPro Quik | Mobile | Free (with watermark) | In-App purchases | √ | × | × | × |
| VivaVideo | Mobile | Free (with watermark) | In-App purchases | √ | × | × | × |
| Clips | Mobile | Free (with watermark) | In-App purchases | √ | × | × | × |
Lastly
Selecting a music video maker is considerably easier if you know what kind of films you want to make. For producing short music videos, lip-syncing features and the quantity of the tool's song collection should be important considerations. In contrast, video editing tools should be your top priority if you plan to do vlogs or fashion videos in addition to music videos.