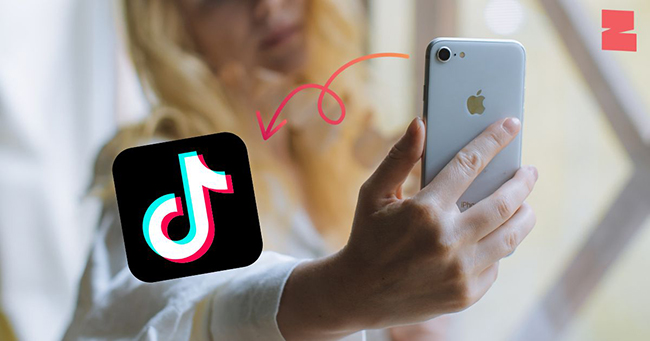 With hundreds of millions of users, TikTok is one of the most popular short video social media in the world today. On TikTok, whether you are a sports expert, a pet lover, a food expert, or just want to laugh, you can find a place that suits you. TikTok can not become so popular without users who insist on creating high-quality videos.
Maybe you are also TikTok user, struggling with how to make quality videos with Mac and hoping to upload videos to attract more fans or just share your life. This article will introduce five video editing software for TikTok on Mac to you, whether you are editing videos for the first time or a professional looking for a suitable tool, they can satisfy you. If you are curious, just follow me.
1. AceMovi Video Editor
AceMovi Video Editor is a software with simplicity as the main tone, with simple operation but full functions. If you are making a video for the first time and want to upload it to TikTok, AceMovi Video Editor will be the best video editing software for TikTok on Mac.
Functionally, AceMovi Video Editor has basic video editing functions such as rotating and flipping videos, cropping videos, splitting and merging clips, adding audio and music, adding text and subtitles, etc. At the same time, there are rich advanced editing functions, you can use different filters, switching methods, animations, split screens, keyframes, picture-in-picture, etc. to improve the charm of your video. In addition to pure video editing functions, AceMovi Video Editor also has the function of recording video and audio, and the built-in recording tools can help you quickly retain those high-quality audios and videos.
From a resource point of view, AceMovi Video Editor provides many free media templates and resources, and is constantly updated to meet the needs of all kinds of people for various purposes.In terms of price, among many video editing software, AceMovi Video Editor is the most cost-effective, and you can get the best service but cost the least money.It would be a good video editing software for TikTok on Mac.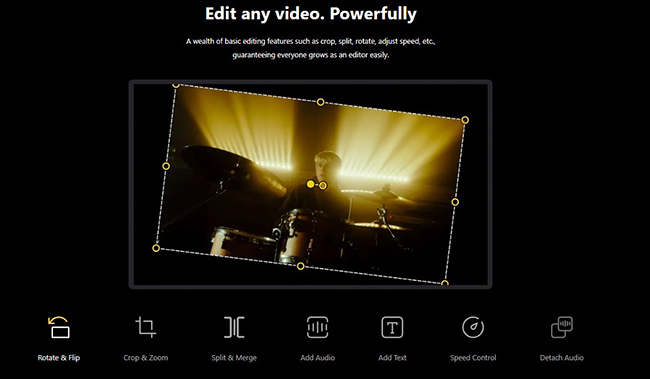 Pros:
Perfect video editing features
Easily record audio & video
Tons of free media templates
Easy operation
How to Create a Video with AceMovi Video Editor?
Open the official website of the software and select the software version corresponding to the device to download. Follow the instructions of the pop-up window until the software page appears.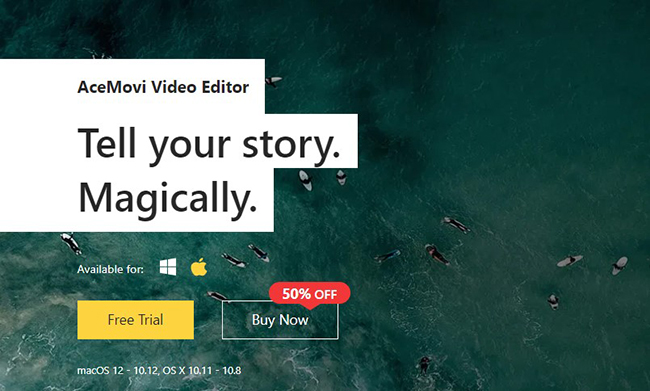 Click the Help button in the upper left corner of the page and select the Register button to log in.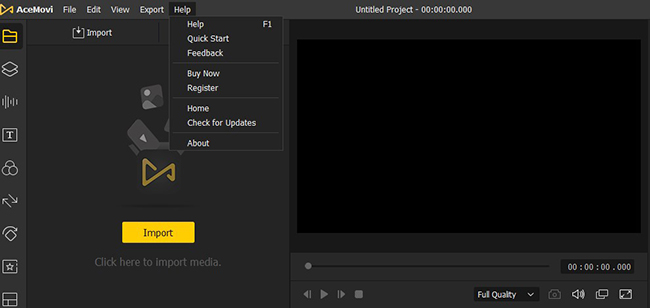 Click the Import button in the upper left corner to import the file in the device and drag it to the timeline (below the page) to start editing the file. Click the corresponding function on the page to add effects to the video. During the editing process, you can preview the edited file at any time in the preview window in the middle of the page. You can also drag the file directly from the desktop or local folder into the software.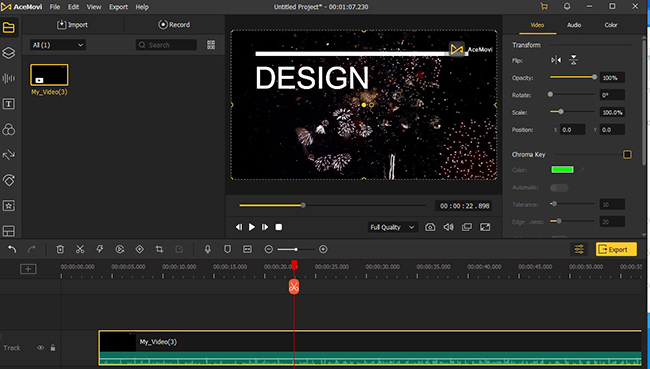 After the editing is completed, click the Export (yellow) button above the timeline to export the file; a pop-up window will appear at this time, select the export format and export path and name the file, and click the Export button again to export.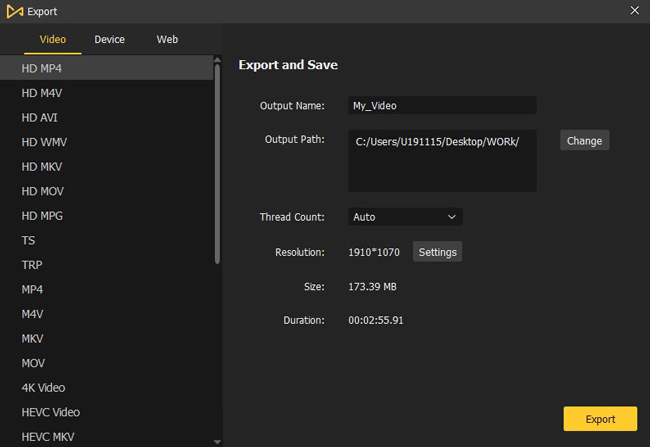 2. Filmora
Filmora is a video software that keeps up with the trend of the times, with the most popular font styles and filter templates. Not only that, but the newly popular GPT technology, Filmora also applies it to video making, using ChatGPT to automatically generate video scripts, subtitles, etc., providing great convenience for video workers. It is an advanced technology video editing software for TikTok on Mac. It also provides 1GB of storage space, which is not available in general video software. Filmora is suitable for creators of all creative levels, and can also act as a social media function, where users can communicate in forums.
Pros:
Video editing
AI technology assisted video making
1GB storage space available
Creative Creator Center
3. Adobe Premiere Pro
Adobe premiere Pro is a well-known video editing software, whether it is making movies or daily video clips, it can perfectly meet the requirements of creators. If you are looking for a suitable and powerful video editing software for TikTok on Mac, Adobe premiere Pro is a good choice.
The biggest difference between Adobe premiere Pro and other video editing software is that it has leading collaboration features. Maybe your videos need to be completed by multiple people, but you don't want to send edited videos to collaborators one by one, Adobe premiere Pro will help you save this complicated step and improve team work efficiency.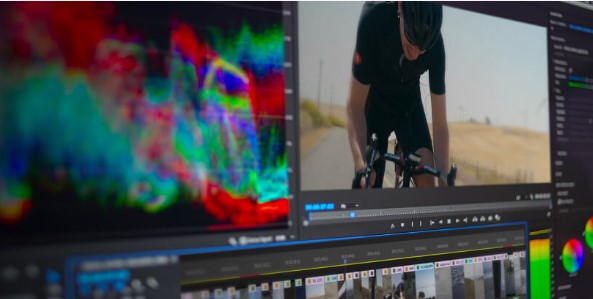 Pros:
Powerful video editing features
Leading collaboration capabilities
Supports 360 ° VR, 4K and higher and HDR video
Cons:
Complex operation
High price
4. CyberLink PowerDirector 365
CyberLink PowerDirector 365 is a professional video editing software. The software has basic video editing functions, not only can edit general videos, but also 3D and 4D videos. For videos shot by action cameras, it can perfectly handle physical defects such as unstable footage. If you are also a sports video lover and want to upload stable and beautiful videos to the TikTok, then CyberLink PowerDirector 365 must be the best video editing software for TikTok on Mac. It can help you produce the highest quality videos and make your videos stand out among many videos.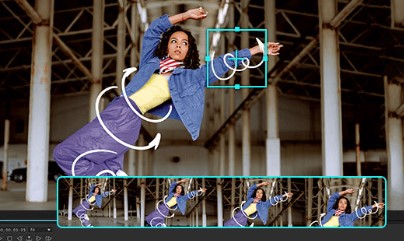 Pros:
Powerful video editing features
Leading 360 ° video capabilities
Vivid and interesting video effects
Cons:
There are many editing options, which may be difficult to operate when using the fine-tuning function.
5. Kdenlive
Kdenlive is a free video editing software. Although Kdenlive is free software, its functions are very complete and can fully meet the general video editing requirements. Kdenlive can directly use any audio and video format without converting the format. It has a flexible page layout, and the position of each large function box can be adjusted by yourselves. So no matter which layout you used before, you can quickly adapt it. Sometimes we forget to save the video, resulting in the previous work being wasted. But Kdenlive' s automatic backup function avoids this loss very well. Kdenlive' s basic functions are complete, but some more detailed and complex operations cannot be performed. If you just make TikTok video, it will be a good video editing software for TikTok on Mac.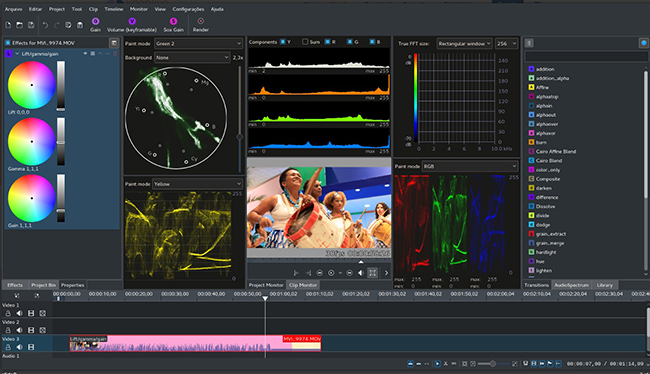 Pros:
Free
Complete basic functions
Flexible page layout
Automatic backup
Cons:
Complex operations cannot be performed.
Conclusion
TikTok video making is not as hard as you might think. As long as you use the right tools, making an engaging video is just a piece of cake. Of the above five video editing software for TikTok on Mac, AceMovi Video Editor is the most recommended. It has powerful video editing functions, but it is not complicated to operate; it only takes a few simple steps to process the video into what you imagine. The software offers a free trial version, if you can't make up your mind, download it and try it!