Whether you're an expert editor, a social media savvy, or a weekend hobbyist, you need to know how to crop a video. Cropping videos in post-production allows you to do many things, such as removing distracting elements or focusing attention where needed most. Understanding how to crop video files is useful regardless of your final editing destination.
To crop videos on your Mac, you need reliable toolset. However, if you're finding it hard to get an excellent free video cropping software on Mac, you've come to the perfect place. In this article, you'll discover the finest software for video cropping for your Mac. Let's get into the details!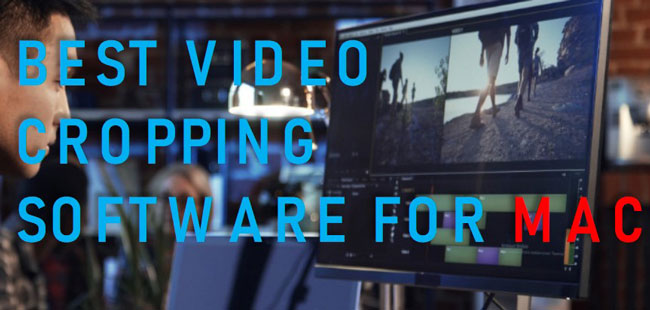 Video Cropping Frequently Asked Questions
Q1: How to crop a video on Mac?
The process is easy. Once you have found a video cropper that is compatible with your Mac. Download it, and then put the video file under the timeline for starting a new project. After that, choose the built-in cropping technologies to complete the mission, including the ready-made aspect ratio options, personal customization, and auto-cropping.
Q2: What aspect ratio should I choose to crop?
That depends. YouTube and a lot of platforms are 16:9. However, if your video should be cropped to satisfy specific needs by Instagram Reels, TikTok postings, or others that are unique, you'd better abide by the requirements because they may need 9:16 or 1:1. And if you upload a video with wrong width and height, the watching experience will be affected to some degree.
Q3: What is the most popular aspect ratio?
The 16:9 ratio is the most popular aspect ratio for visual media. Nonetheless, it doesn't make it the optimal aspect ratio. Its widespread acceptance is due to the fact that it is the de facto standard for HDTVs and several video-streaming websites. At the same time, 1.85:1 and 2.39:1 are two that has been widely used for movies.
7 Best Free Video Cropping Software on Mac [2023]
Top 1. AceMovi Video Editor
TunesKit AceMovi is the best video cropper that allows you to crop your video and adjust it to multiple aspect ratios on Mac. This video editing suite supports many common and unusual file types. Use formats like MP4, AVI, MOV, MP3, OGG, and others.
Aside of cropping your video, it includes filters, transformations, animations, behaviors, picture-in-picture, dividing, green screen, and other video templates and effects. It allows you to edit and render audio and video in various ways, including splicing together clips, applying filters, checking the time, splitting files, and rearranging their sections.
To make your desired sources visible in the timeline, import them into TunesKit AceMovi. In the preview panel, you can see the results of your edits in real-time. It is an excellent solution whether you want to create an instructional video, edit and crop precious memories, or both.
AceMovi Video Cropper
OS for Mac: OS X 10.8+, 1G Hz processor+
Crop different formats of video files
Handle both small and large size videos
Convert video resolution powerfully
Easy-to-master user operation interface
Apply prepared video aspect ratio options
Video Tutorial: How to Crop a Video on Mac by AceMovi Easily
Top 2. VideoProc Converter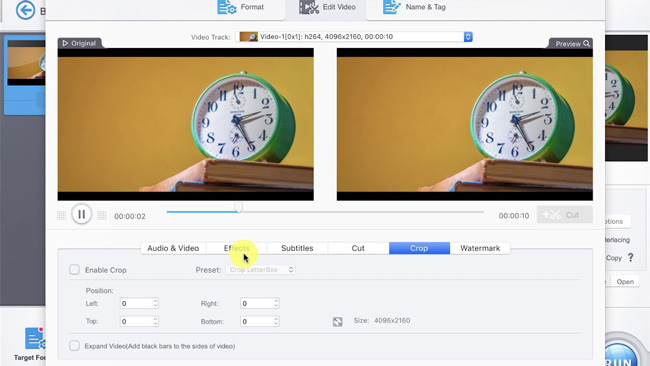 OS for Mac: macOS 10.9+; Intel Core 2 Duo or higher
VideoProc Converter is a free, all-in-one video cropping software for Mac that records, converts, and downloads your videos.  Extremely efficient for its size, it has little trouble keeping up with even the oldest PCs. The cropping tool is conveniently placed on the editing toolbar.
To crop the video using this tool, you need to drop your videos into the tool, choose them, and then crop them to your liking. Video can be cropped to any aspect ratio, from 1:1 to 16:9, or any other custom size. The high-quality engine guarantees a high standard of quality for the final product.
It supports hardware acceleration, so even an hour-long video may be cropped and exported quickly without lagging. Furthermore, you can use VideoProc Converter to modify videos in many ways, including cropping, trimming, zooming, changing the tempo, and adding special effects.
Top 3. iMovie for Apple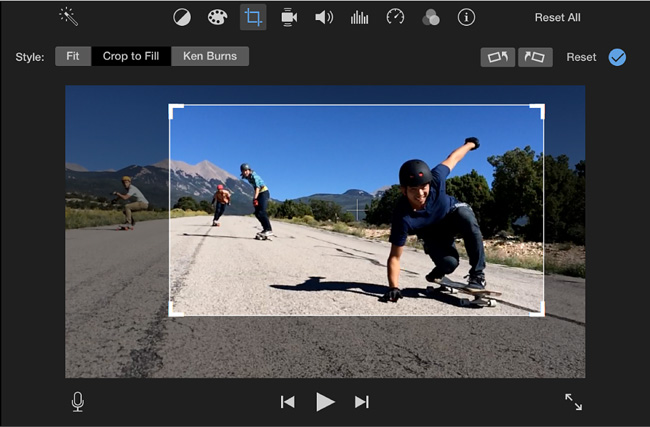 OS for Mac: macOS v10.15.6 (Catalina)+; 64bit processor+
If you own a Mac and need to make a few minor adjustments to a video, such as cropping, iMovie, the Apple-developed video cropping software that comes pre-installed on every Mac, is a great free option. It offers free, high-quality audio and editing tools.
iMovie lets you add transitions, titles, and effects to your videos. It also comes with music and sound effects that may be used as backdrops or as part of a movie trailer template. Video captured on an iPhone in Cinematic mode may adjust their focus in this free Mac video editor, a function formerly exclusive to Apple's iMovie and the more expensive Final Cut Pro.
Even if you've never edited before, you can create professional-looking videos with no effort with this free Mac software. However, iMovie's major drawback is its lack of sophisticated advanced capabilities and tools seen in competing free Mac video editing programs.
Top 4. Easy Video Maker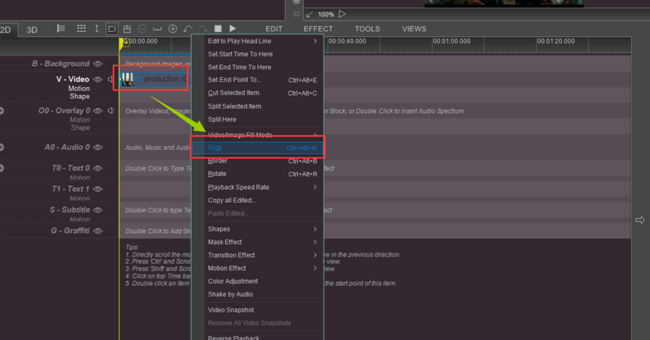 OS for Mac: macOS 10.10+; 32 bit processor+
The Easy Video Maker provides two options for cropping a video: the Free Video Cropper as a separate product and the Easy Video Maker with video cropping software integrated. The former is only a simple tool, whereas the latter is a full-featured video editor that uses a timeline and has features such as audio and video tracks, a media library, and several additional panels.
If you want to crop a video without having black bars on each side, you'll need to know the precise resolution you will accomplish with either option. You'll immediately notice that the user interface of Easy Video Maker is a little outdated.
It is possible to figure out the cropping numbers to chop off various portions of your video. It's also possible to alter the output video's file type. Moreover, the software can render movies to guarantee the smooth playing of video files.
Top 5. EZGIF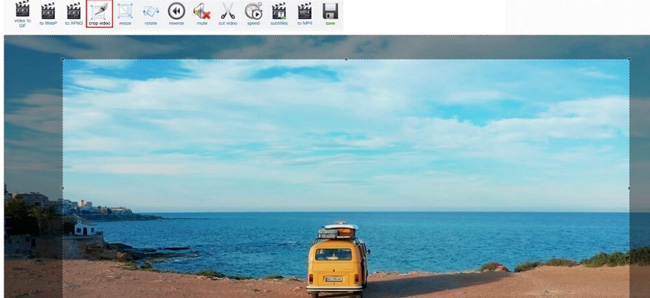 OS for Mac: macOS 10.8+; 256MB RAM+
If you have zero expertise in editing videos, you can't go wrong with EZGIF, a free online video cropper. You can convert your video into a GIF in a few minutes using the upload box in the Crop Video menu. The site has a minimal design and is compatible with all the most common video file formats.
EZGIF is upfront about being a basic web tool for making, editing, and converting GIFs, movies, and photos. We like that it has a minimal user interface, consisting just of a toolbar with all the available editing functions. All the common file formats can be converted quickly.
For quick video cropping, EZGIF.com is a great option. However, more sophisticated software is required to add additional effects, transitions, or adjustments. While the EZGIF interface is great for fast cropping and converting, it is not as precise for more in-depth editing.
Top 6. Olive Video Editor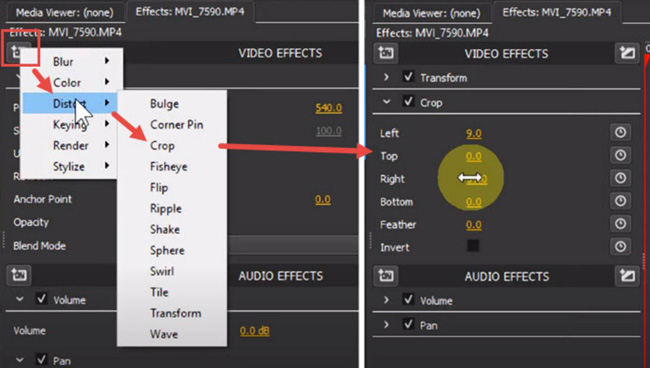 OS for Mac: macOS 10.12+; 2GB RAM+
Olive is a free, open-source video editor that aims to replace expensive non-linear editors. Like other editors based on a timeline, its cropping tool is also located in the Effects panel. Options to choose the number of pixels to crop from the left, right, top, and bottom sides are provided.
Selecting the Feather option, you can give the cropped video a feathered look. The finest part is that the cropping process can be animated using keyframes, allowing you to simulate a crop-opening transition in a video.
This cropper might be difficult to use if you want to drag and resize the crop frame to determine the region. It's not meant to be a simple program with a single-click aspect ratio selector or a drag-and-drop cropping feature. This is a potential free option if you are familiar with cropping videos.
Top 7. CyberLink PowerDirector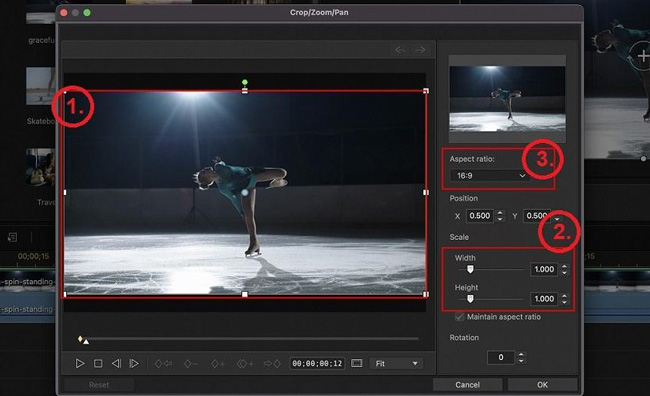 OS for Mac: macOS 10.14+; 2GB RAM+
Another free option for video cropping is PowerDirector. PowerDirector has simple and straightforward cropping features that anybody may use, regardless of editing expertise. The frame can be resized by dragging the mouse, the zoom level may be changed, and the aspect ratio can be altered. If you need assistance, there is a full instructional library you may consult for thorough instructions.
PowerDirector's vast editing options go beyond the simple cropping tool included in its base package. PowerDirector provides everything a professional editor might desire, including AI-powered motion capture, keyframing, object identification, and more. Additionally, you get access to a stock media library, including millions of media that may be used without paying royalties.
The intuitive editing interface of PowerDirector will push you to new heights. You can also try the screen recording and live streaming capabilities to capture in-the-moment events or easily import, edit, export, and distribute your finished products.
Summary
Video cropping is essential for video editors and a content creator to remove the parts of the video that are unnecessary. To crop a video on your Mac, you need video cropper. Since there are many available on the internet, finding good one is quite difficult. However, we hope you've found the best free video cropping software for Mac after reading this article.