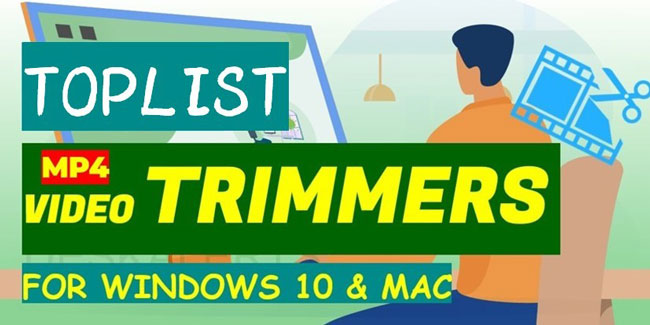 Generally speaking, the MP4 video we just shot always has redundant fragments more or less. For example, at the beginning of the MP4 video, there will be such words you've said as "Ready to be shot?" and "Be there, please!". Alike, the MP4 videos you just downloaded online are very likely to have a short-time watermark attached, in this case, it may be very awkward to play before audiences directly. Actually, all the problems could be simply solved by an MP4 video trimmer that can be used to cut out the unwanted parts from the videos. But, how to pick up the best MP4 trimmer?
Don't worry too much! The article made today aims to help you find the best free MP4 video trimmers on Windows & Mac no matter you are a novice or veteran. And by analyzing the pros and cons as well as key features of the following 8 video editors, I believe that you can find the most suitable MP4 video trimmers to get started with your video trimming workflow.

Ⅰ 8 Top Free MP4 Video Trimmer on Windows 10 & Mac [Includes No Watermark, Free, & Discount Activity]
Top 1. AceMovi MP4 Video Editor(Windows 10 & Mac)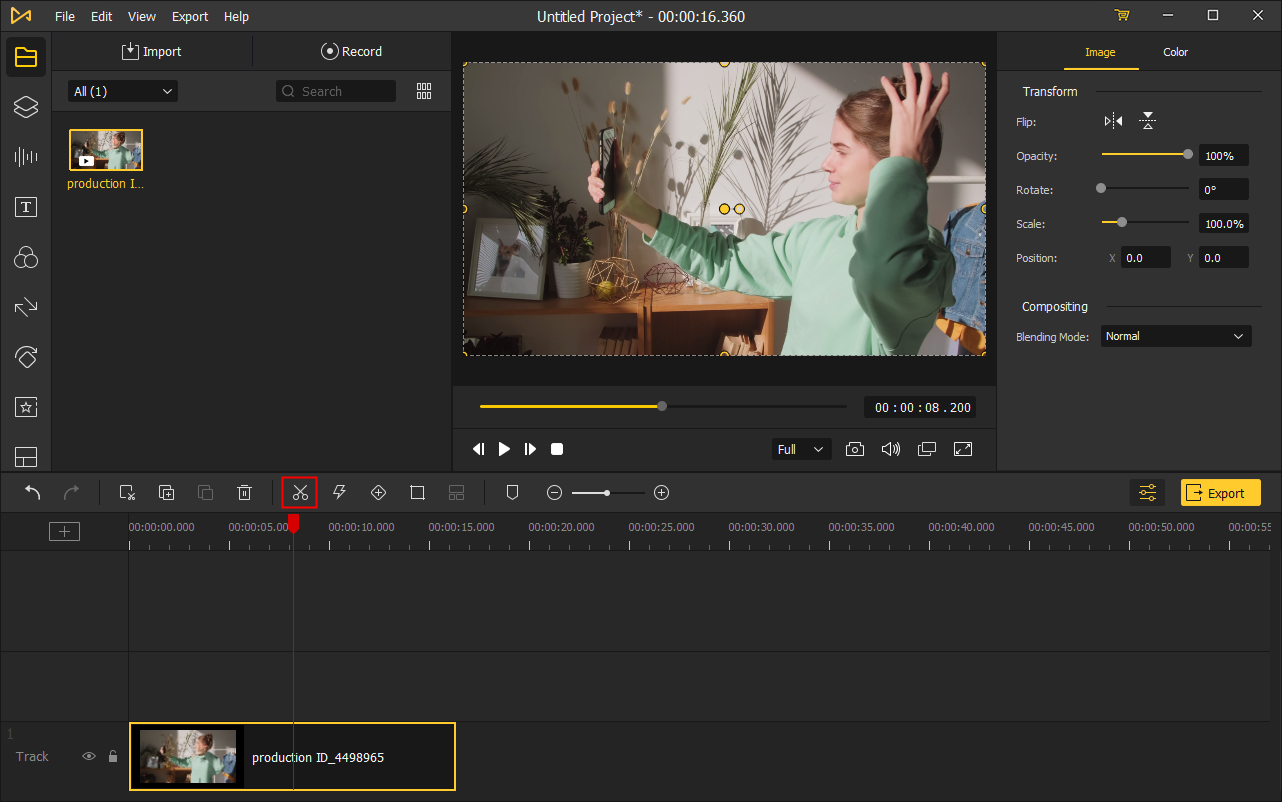 Deemed as one of the best all-purpose video trimmers, AceMovi navigates users with very easy-to-understand MP4 video trimming steps and an integrated suite of video editing functions, by which you can also empower to convert the trimmed MP4 videos into lots of video formats such as MP4, AVI, WMV, MKV, MOV, & MPEG, etc. as well as the HD quality or you can download into current devices like iPhone, iPad, Galaxy, Huawei, HTC, Sony, Motorola, & XBOX, etc.
Besides, AceMovi also gets the roles of YouTube video trimmer, that is to say, you can trim YouTube videos or convert the trimmed videos into YouTube video format (YouTube takes the h.264 codec and 16:9 aspect ratio) with AceMovi straightforward.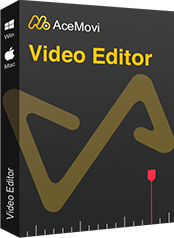 Key Features of AceMovi Video Editor
Security Verified. 5,481,347 people have downloaded it.
Pro:

Fast passing to trim MP4 videos: shortcuts or tabs
A plethora of formats & devices to convert for MP4 videos
YouTube Video Trimmer: trim or post YouTube videos effortlessly
Export at a higher MP4 video quality: resolution & size maker
Edit MP4 videos with all-purpose video features
Luckily, you can get at least 3 months free license of AceMovi from the Happy Thanksgiving & Black Friday activity.
Cons:

All features are embedded within the trial version but export with a watermark (small and locate in right above).
Top 2. VSDC Video Editor (Windows 10 & Mac)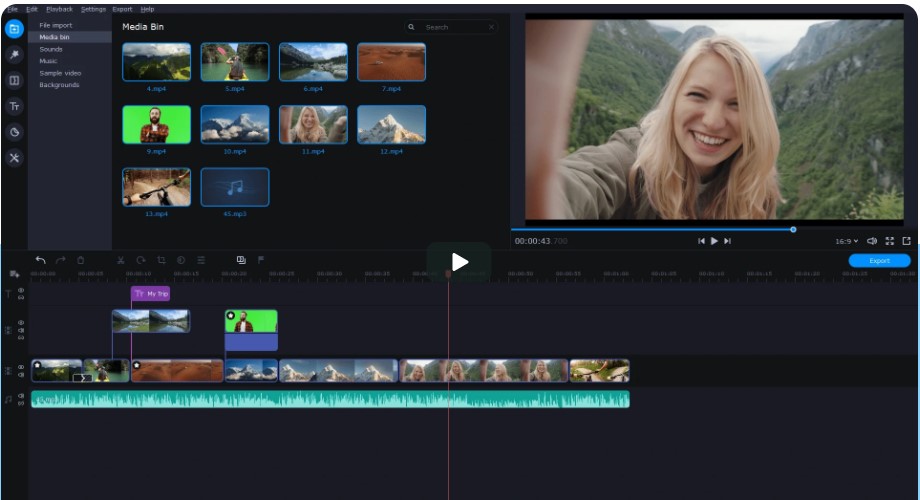 VSDC Free Video Editor gets no watermark and times restrictions at all after you make the video trimmed. The first time you experience VSDC, you'll find three main video projects – Blank Project, Slideshow Creation, and Screen & Video capture. So, you can record the MP4 videos before trimming with VSDC.
Furthermore, VSDS has designed lots of advanced MP4 video features like 360°C/3D Editor, Motion-Tracking, Beat Editor, AI Art Generator, and Modes Blender.
Pros:

Explicit MP4 video projects: editing, recording, & slideshow making
Various input and output MP4 video formats
YouTube MP4 Video Trimmer and Downloader
Free and doesn't leave any watermark
Cons:

A bit complicated to use: UI and Toolbar takes an air of Microsoft Words
Top 3. Avidemux (Windows 10, Mac, Linux, & BSD)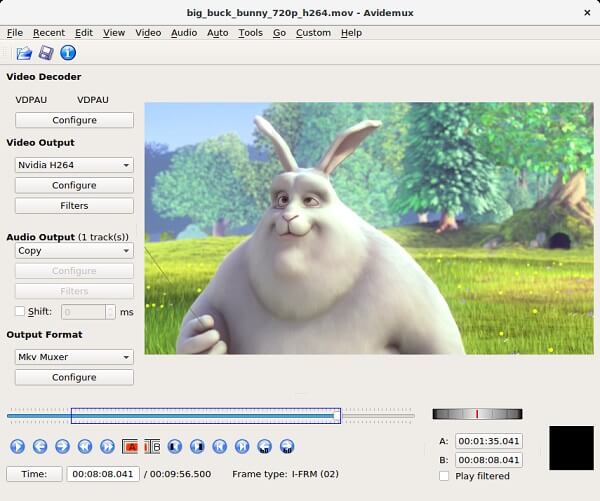 Avidemux deems as one of the best open-source MP4 video trimmers lies in the intuitively-decorated interface – a big canvas, a slider timeline, and tons of functionalities set on the left side. To trim MP4 videos, you just need to click on the tab File > Open and press "[" and "]" when the timeline hits points A and B respectively, lastly, choose File > Save > Save Video to export.
What's more, Avidemux is available to transform, interlace, add color & subtitle, denoise, and make sharpness while trimming the MP4 videos.
Pros:

Easy-to-navigate layout: trimming MP4 videos easier and quicker
Cross-platform (Wins, Mac, & Linux) and open-source storage
Plenty of devices, formats, & social websites included
Free and no watermark
Cons:

Unavailable in the batch process & no filter to apply
Top 4. Windows Movie Maker (Windows 10)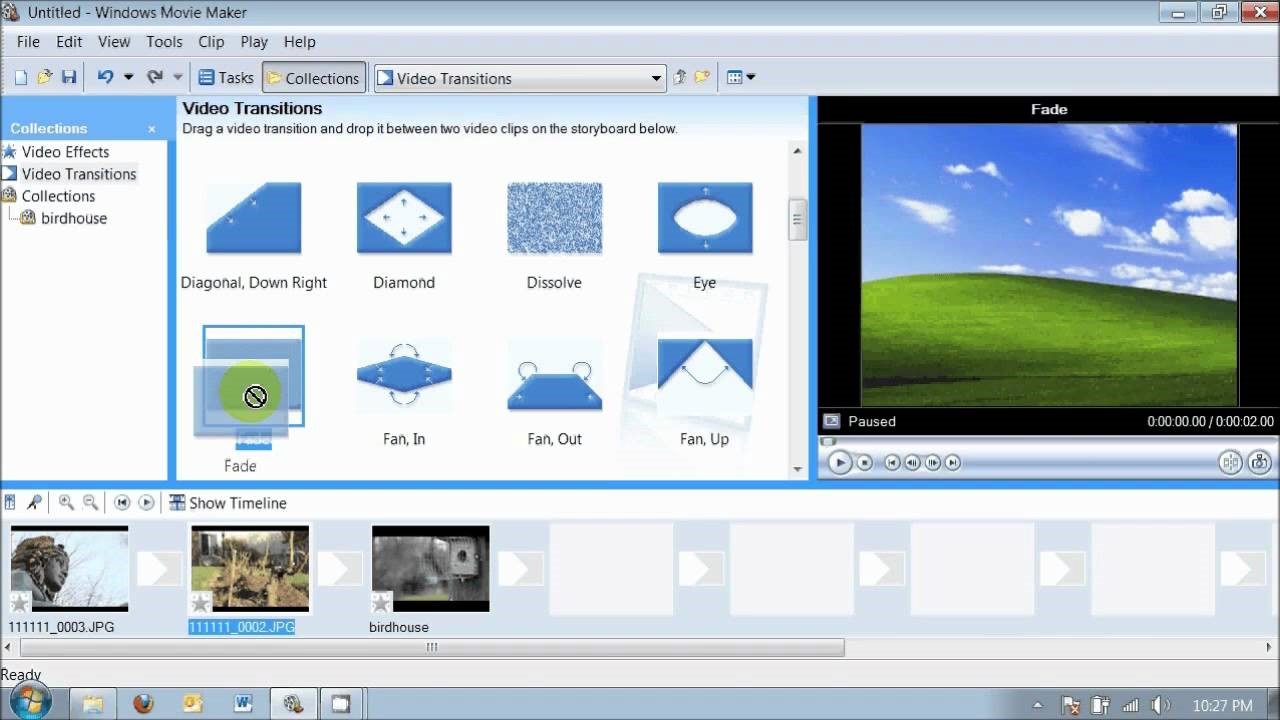 Windows Movie Maker is designed only for Windows desktops and laptops, specifically, it runs on Windows 7, 8, 8.1, XP, 10, & 11 as well as downloaded as App for Android and iOS. When it comes to trimming MP4 videos, Windows Movie Maker makes it very simple after you've captured the MP4 videos – select a video clip on the timeline or the item tray Collection, and then adjust the play head to set the trimming points, finally, choose the Clip, Split, or input the shortcuts "CTRL+L" on the keyboard.
Pros:

A simple interface made up of Timeline, Storyboard, & Preview
Support for XBOX 360 and capture from HDV clips
Templates resource: 9 basic templates to choose
Voiceovers and more audio features designed within
A bountiful of MP4 video effects and transitions
Cons:

Export MP4 videos as AVI, AV& WMV formats only
Top 5. Shotcut (Windows 10, Mac, & Linux)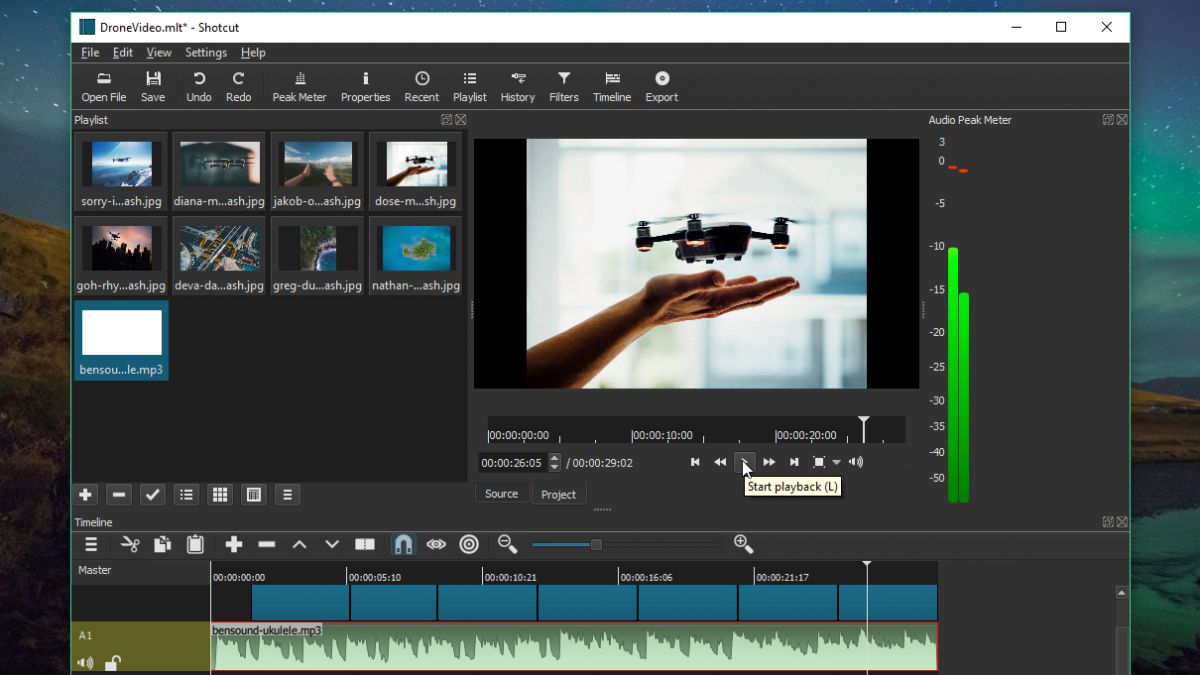 Shotcut MP4 video trimmer makes the multiple panels customizable - you can either resize or stretch sliders as some of the detailed MP4 media properties, real-time view canvas, timeline, and playlists. In MP4 video making, Shotcut comprises the MP4 video or MP3 audio capture by screen, webcam, or audio, and in MP4 video exporting after you've trimmed it, you're allowed to adjust the resolutions up to 4k and frame rates to 60 FPS.
Pros:

Comprise MP4 video making by screen and webcam capture
Ample audio features like Balance, Bass & Treble, Delay, Downmix, and Limiter
Advanced MP4 video wipe transitions as Bar, Barn, Diagonal, Iris, Matrix
3-Way color adjustors – shadows, mids, & highlights
Cons:

No built-in music and no export presets for Android or iOS devices
Top 6. Icecream Video Editor (Windows 10)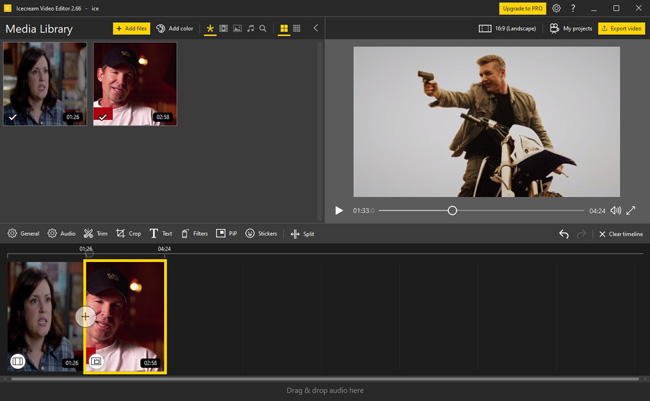 Icecream highlights the timeline area with the motion-tracking feature so that the MP4 video not only can be trimmed in real-time but users can apply more basic or pro functions in fewer clicks. And Icecream's projects have been managed to be refreshingly easy, so you can trim multiple MP4 video tasks at the same time without any lags. Additionally, see that "+" between the adjacent vides? You can click it to apply transitions directly like Dissolve, Spin, Zoom in and out, or Scissors, etc.
Pros:

A very low learning curve in MP4 video trim, edit, convert or cut
Export MP4 video at VSVGA, HD, WXGA, HD+, & 4K resolutions
Intuitively preset stickers, filters, motions, and texts
Available to reverse MP4 videos after trimming out
Cons:

Has some bugs and is unavailable through Microsoft Store
Top 7. Ezgif (Online)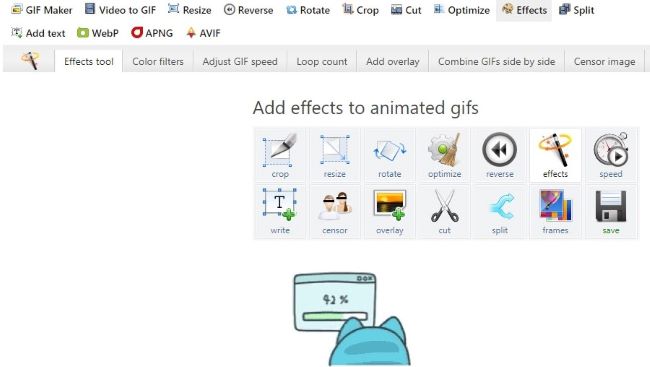 Want to trim your MP4 videos with an online video editor? You can have a try by Ezgif, click the Video-to-GIF > Cut MP4 Video > Choose File > Download. Unlike others that usually embed all the functions, Ezgif separated its video editing features into different plates so that you just need to find the designated MP4 video trimming tool and naturally the following steps tend to be very easy to operate.
Pros:

Plenty of separate & independent MP4 video editing plates to choose from
Includes in & output formats like MP4, WebM, AVI, MPEG, MOV, and more
Intuitively preset stickers, filters, motions, and texts
No watermark added and you don't have to log in at all
Cons:

Max MP4 video size up to 100MB
Top 8. Clideo (Online)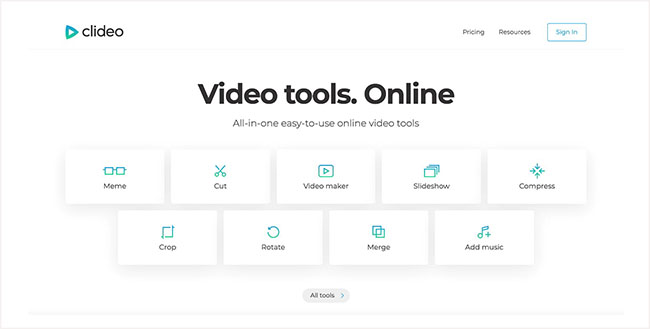 If you're want to save the trimmed MP4 video online so that you can get the videos anytime, Clideo can be a good choice. The same feature between Clideo and Ezgid is the standalone MP4 video-making tools, whereas the differences lie in that Clideo allows the uploaded video size up to 650MB and provides fade-in and fade-out effects when trimming as well as lots of useful user tutorials. However, you have to pay for unlimited tries and no watermark at least $9 per month.
Pros:

Save and download your MP4 videos online
Tons of user guides of videos, audios, & images on Resource
Larger MP4 video sizes supported
Cons:

Pay for the full version to remove the watermark and get tries unlimited
Ⅳ Lastly
When it comes to how to pick up the best MP4 video trimmer, you may want the one designs with simpler and quicker steps better with higher quality. However, no MP4 video trimmer is perfect, the best thing you can do is get more tries before making the final decision.