Being one of the essential elements in a video, music can set the mood and help to make the video more compelling. But things can be tricky when you want to add music to Facebook video because once you use copyrighted music that you have not claimed the right to use, your video will be muted or removed by Facebook. Worse still, you might be regarded as a copyright infringer in case you use copyrighted music repeatedly. As a result, your account might be suspended on Facebook. Don't worry! Today's sharing will introduce to you reliable and powerful Facebook video editing software and the tutorial on how to add music to Facebook video.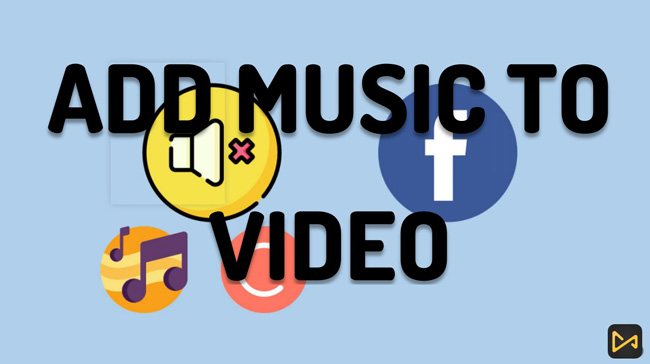 AceMovi - Best Video Editor to Add Music to a Video for Facebook
When it comes to adding music to a Facebook Video on computer, all you need to do is download AceMovi Video Editor on your desktop, import your Facebook materials, try out uncopyrighted music, and export the new Facebook in best format. You can freely use more than 200+ music and audio effects in AceMovi.
This is a versatile video editor that provides multiple VFX, filters, stickers, overlays, and transitions as well. It also comes with a screen recorder that can record clips as well as the sound coming out of your computer.
As a well-established video editor, AceMovi goes with tools like Video Trimmer, Splitter, Reverser, Split-Screen Maker, Slideshow Maker, Clone Video Maker, Chroma Keying, Video-to-MP4 Converter, & Compressor. It supports a wide range of files, except for exporting/converting video to Facebook AutoFit format, MP4, MP3, AVI, MOV, M4V, WMV, MPG, HEVC Video, 4K Video, DivX, iOS, Android, YouTube, GIF, Vimeo, and many more formats are included. Now, hit to download AceMovi!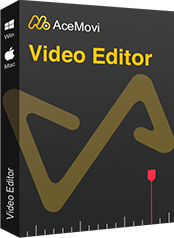 TunesKit AceMovi Video Editor
Security Verified. 10,365,507 people have downloaded it.
Pros:

Easy steps to edit video
200+ background music & sound effects
Elements abound
Text templates
Beautiful UI
Advanced Slow-Motion video Maker
Export video in best Facebook video format
Trial version free for Windows and Mac users
Cost-efficient subscriptions
Cons:

You cannot use it as a online Facebook video editor
How to Add Music to Facebook Video without Copyright in AceMovi
You must download and install AceMovi Video Editor to begin editing your Facebook videos with the built-in tools like music maker, video trimmer, and video converter.
Import Facebook Materials to the Timeline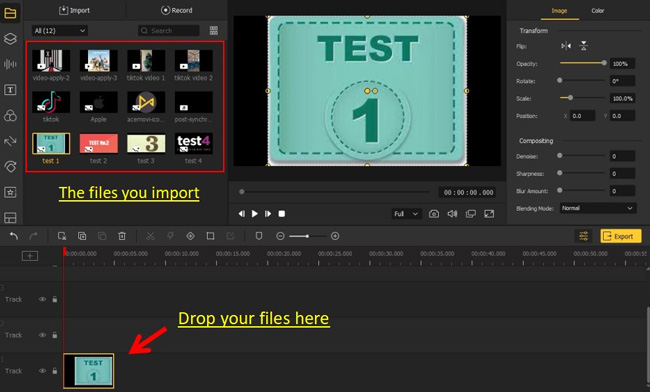 Open AceMovi on your computer, then import your video to the media box. You directly drag-and-drop the files into the timeline or click on the import button to upload.
If you have multiple video clips to add, you can press Ctrl+A to select all the video files and put them on the timeline.
Begin to Add Music to a Facebook Video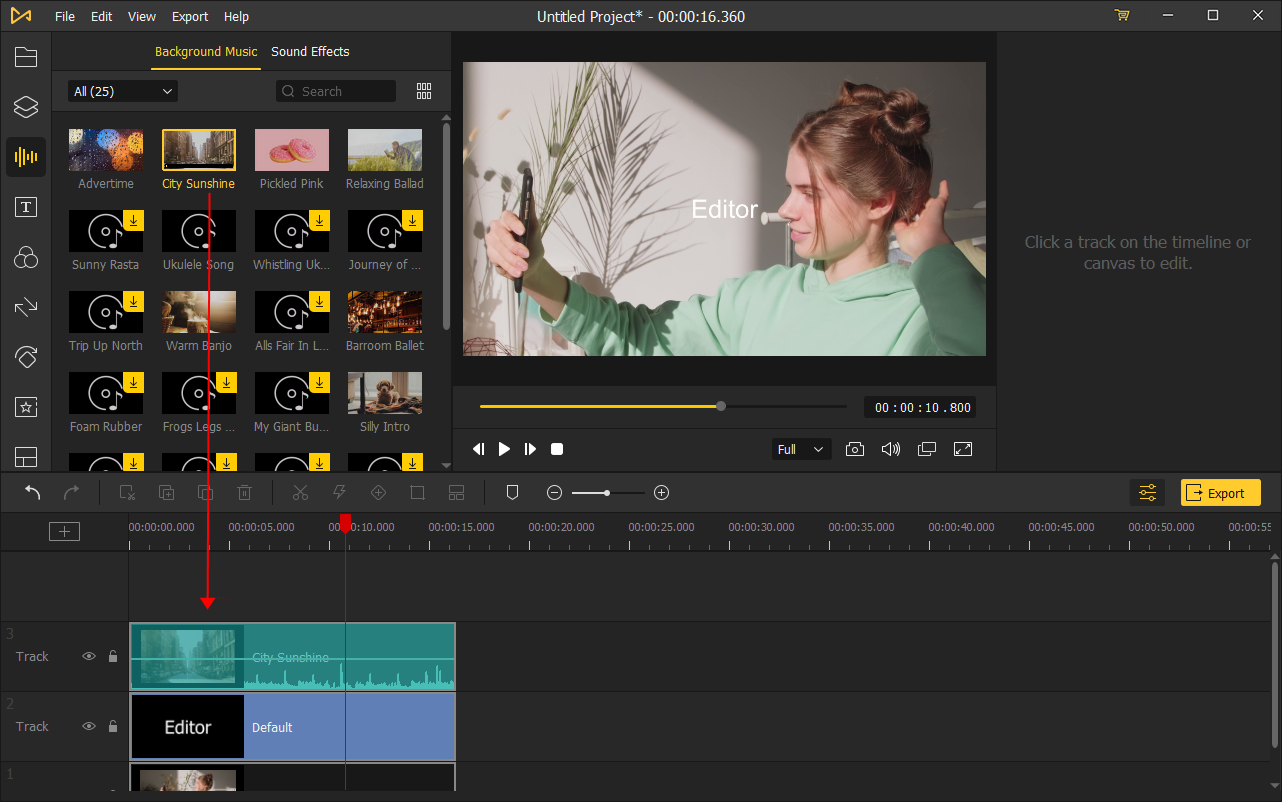 It's easy to click on the Audio button on the left menu and choose a background song or sound effect to your video to add music to Facebook videos. If you already have a background music, import it to the media box then add it to the timeline.
The background track might be longer than your video, just drag the edge of the music track on the timeline to change the duration.
Volume, Denoise, Equalize, Pitch, & Effects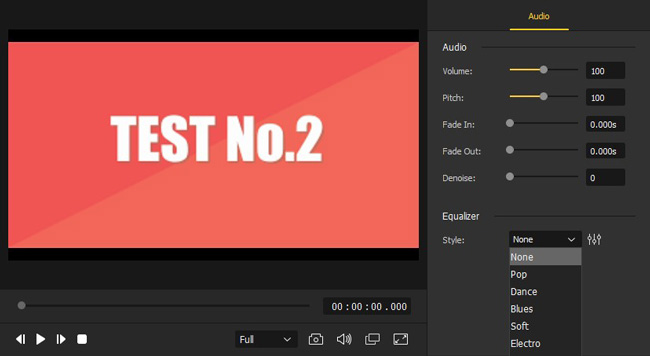 If you want to increase or decrease video volume, apply fade-in and fade-out effects, change the music pitch, or denoise the background, just go to the Properties > Audio.
Export Your Facebook Video with Music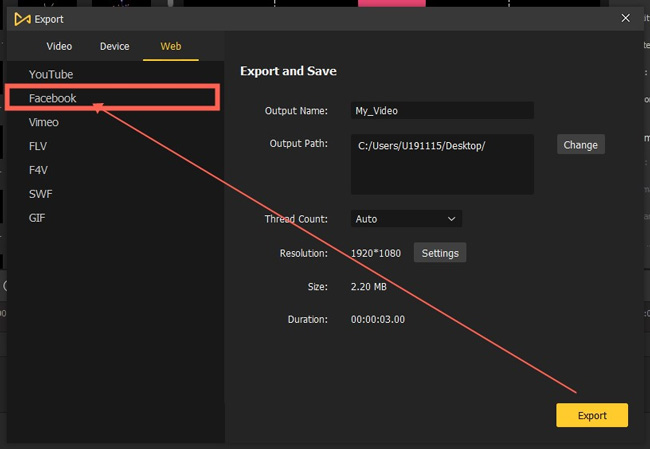 Once done editing your video, click the Export > Web > Facebook on the middle left and export your video. Click the Settings, you'll be able to choose the output parameters like the resolution, framerate, bitrate, codec, and video quality.
How to Find Music for Facebook Video without Copyright
If the music in your video is copyrighted, it'll be muted by Facebook. In this part, I'm going to walk you through how to find the best music for Facebook video without copyright strikes.
Hit AceMovi's Music Library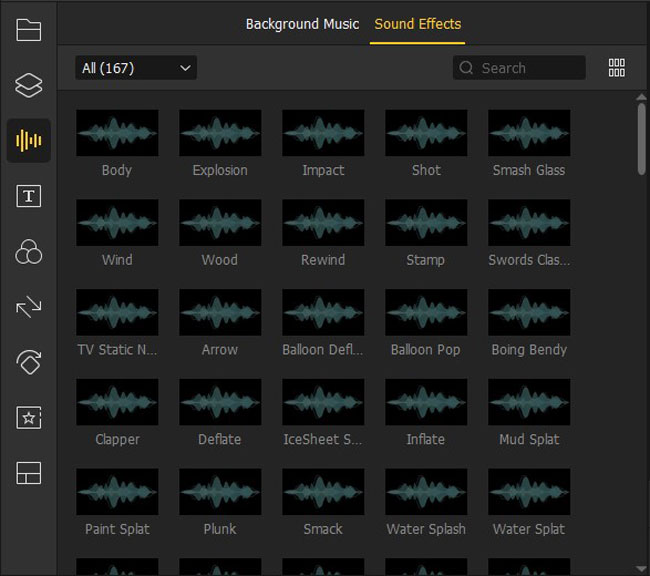 The recommended AceMovi Video Editor for Facebook contains hundreds of background music and sound effects. You'll find it easy to detach audio from video and then add music to Facebook video with AceMovi if you want to replace the previous music in your clip. Before uploading a video on Facebook, you can choose to enhance the audio with the built-in Sound Denoiser, Pitch Changer, Audio Equalizer, and Volume Expander likewise. You can click here to learn how to bleep/beep a video.
Use Your Own Music
If you yourself are a music or sound creator, you can make songs for your videos. This is the best and safest way to put music on your Facebook videos.
Request for a License
If you want to use the music from others, you'll have to contact the owners of the songs and get the license from them. Here're some basic procedures to get the license:
Step 1. First things first, determine if the copyrighted work requires permission;
Step 2. Next, try and find the original owner of the music;
Step 3. Identify the rights needed to use it;
Step 4. Contact the owner and negotiate a payment;
Step 5. Get the licensing agreement verified in writing;
Once you get the license, you can submit it before you upload your video;
Use Facebook Sound Collection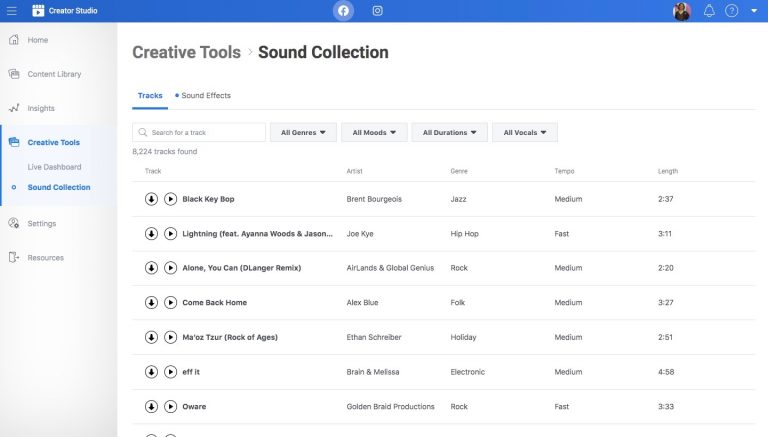 To avoid copyright issues, you can also use the sound collection from Facebook for your videos. Facebook owns a huge collection of music and sound effects, you can feel free to use them on your videos without copyright.
Use Uncopyrighted Music
If you're not that into songs in Facebook's sound collection, you can find uncopyrighted songs from other resources such as YouTube Audio Library, Mixkit and Bensound. You can also use the songs in TunesKit AceMovi's built-in audio library. Directly drag the song onto the timeline, you can get the video with music right away.
How to Upload a Video on Facebook with Music without Copyright
Want to know how to add music to Facebook video without copyright? Now we're going to take the tip of using the Facebook Sound Collection as an example. As we said, you can find over 8000+ soundtracks for your video on the Facebook website and all you need to do is select the certain music and then download it. The music will be saved in .wav format. Here are the detailed steps, keep reading!
Download Music for Facebook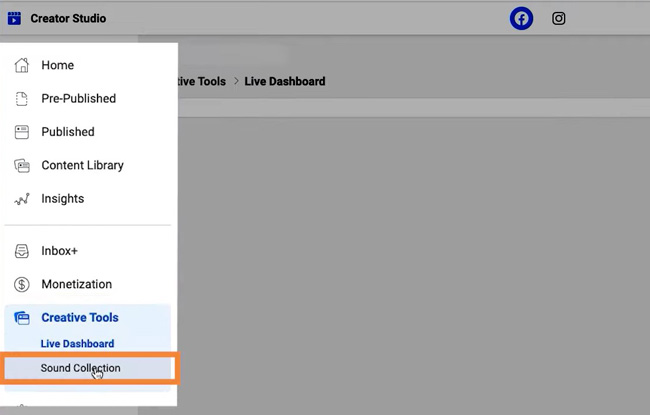 Register your Facebook account, then go to the Creator Studio > Creative Tools > Sound Collection.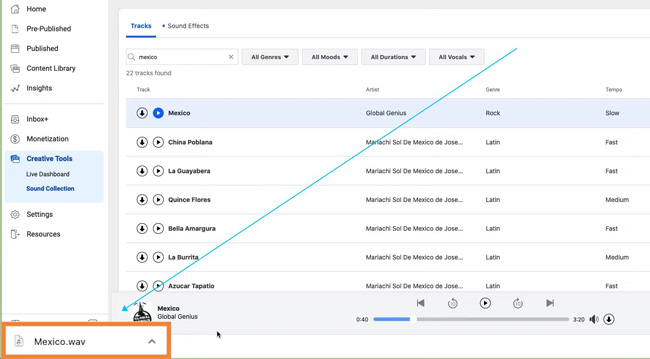 Fill in the box to search for your preferred music here, or you can choose the category like Pop, Country, Jazz, and Rock. Facebook Sound Collection allows you to play or directly download the wanted music online. Then you can find it saved in WAV format. Right now just import the music file into AceMovi Video Editor to create your own Facebook video.
How to Upload/Post Video on Facebook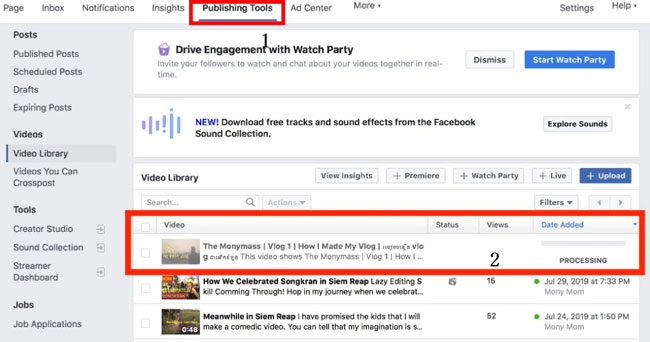 Time to upload your video on the Facebook community. Navigate to the Publishing Tools > Video Library, then tap on the +Upload icon. You can choose to name your video, give descriptions, and set privacy afterward.
Bottomline
For Facebook, uncopyrighted music is alway preferred to set the mood for your video without infringement issues. With TunesKit AceMovi, you can also find the music you need in the software and edit it right away.
You can choose the best ratio aspect for Facebook and export the video after the editing. Then upload the video with music on Facebook without copyright issues.