If you only hear the audio clip in a video, you get the dialogues and background music so that the basic information of that video can be grasped. However, if you merely watch a video, it seems that the world has been separated into two parts and the "Dumb Show" part is really dumb and desolate. Regardless it is a movie, television show, blockbuster, or advertisement, music adds to the video experience a lot. If you're confronting trouble finding a video editor to put music over a video, I'll assume that this post will help. Apart from adding music, SFX (sound effects) and music stock are offered for you by those video music editing programs.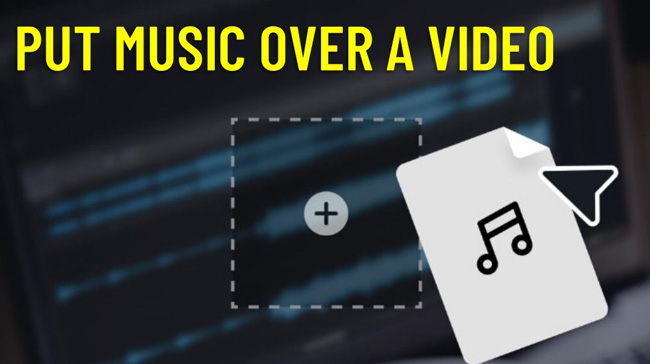 TunesKit AceMovi - How to Add Music to a Video on Win/Mac
On the streamlined interface, you can put multiple music to a video on TunesKit AceMovi. It is a beginner-friendly video and music editor for Windows and Mac systems both. Most importantly, you can download it for free and use the built-in music library or sound effects without the issues of copyright.
When it comes to editing MP3 music files, you can take advantage of TunesKiT AceMovi to trim out unwanted clips, boost the original volume, change the playback speed, convert the pitch, sync the audio and video, etc. In other words, it is an all-sided software to download. Now, let's learn the tutorials.
AceMovi Video/Music Editor
Download free on Mac and Windows
Increase the volume up to 200%
Support various MP3 formats
Trim and split the video file
Detach the original audio easily
Record a new clip of song or clip
Convert file bit rate and frame rate
User Guides: Put Music Over Videos with AceMovi for Computers
Operate AceMovi Video Editor after downloading it. Put your files to interface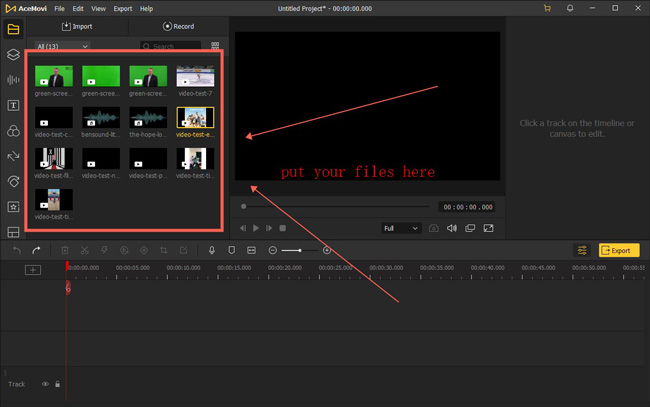 At the very beginning, AceMovi Video Editor won't ask you to register in. What you need to do is click "Import" to add your files to the interface, then those videos and audios will become thumnails that you can find from "Media".
Highlight the video clip, right-click it to select "Detach Audio"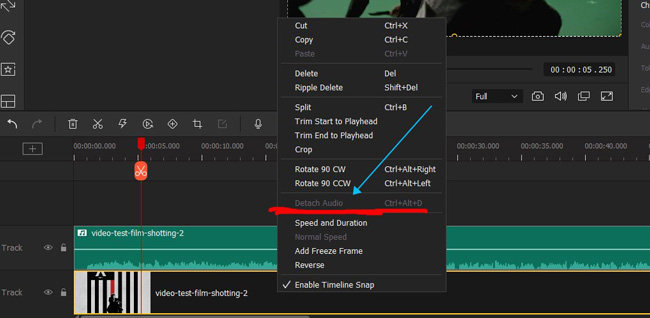 Detach the audio can be accessed by right-clicking the video track and choosing "Detach Audio". The shortcut for this operation is "Ctrl + Alt + D". After that, the soundtrack will be automatically extracted from the video track under the timeline.
Put your music to the track or choose music from the stock library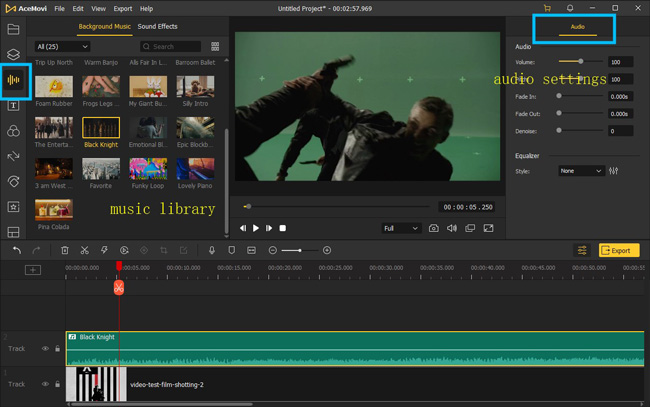 Now, there are two options. First, pick up audio from the built-in stock of AceMovi in the left-side bar "Audio". You can find some sound effects like "Shot" and "Bleep" over here as well. The second one is to add your own music to the timeline. By the way, if you find the file is not synchronous, use the "Trimmer" to cut out it.
Set the output format for your video. Change output name and path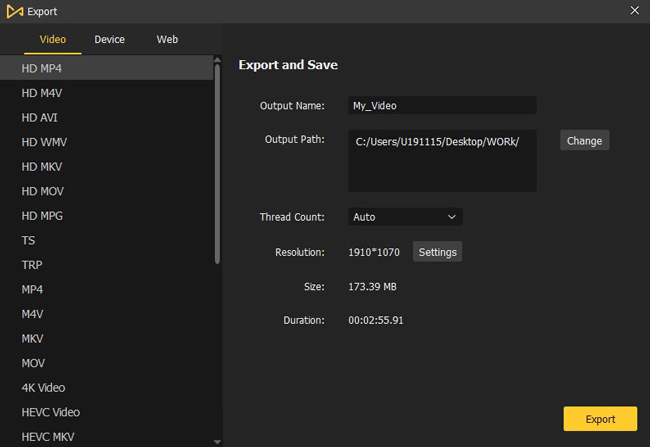 More functions like volume booster and pitch changer that you can directly use from the toolbar. Even media reverser and speeder are available. At the end of this guide, click "Export", and set the output name, path, resolution, and format as per needs. For completing your task, get AceMovi first!
Splice: How to Put Music Over a Video on iPhone and Android
If you have a mobile phone and don't know which video editing app to download for adding your music to a video, then the Splice app is quite worthy of consideration. It is robust, stable, and easy to comprehend. You can enjoy a 14-day free trial on iPhone or Android. The timeline supports you to edit music, video, text, or image by mixing, adding, and combining. Here is the tutorial for you.
Click "New Project +" to begin. Go to "Audio" > "Music" under toolbar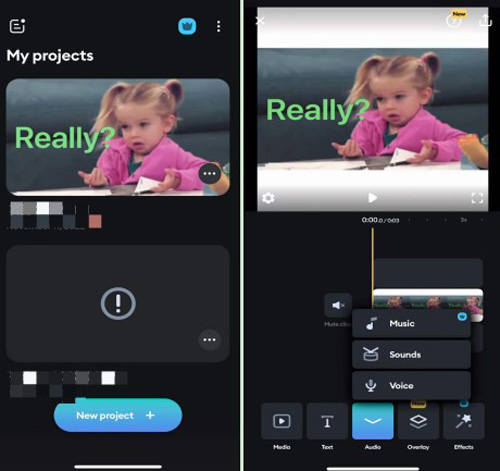 When entering Splice, import your video by clicking "New Project +". In the video editing panel, slide the toolbar and choose "Audio" where you can select "Music", "Sounds", and "Voice". For adding music to a video, choose "Music".
Add music from iTunes or imported files. Edit the soundtrack before exporting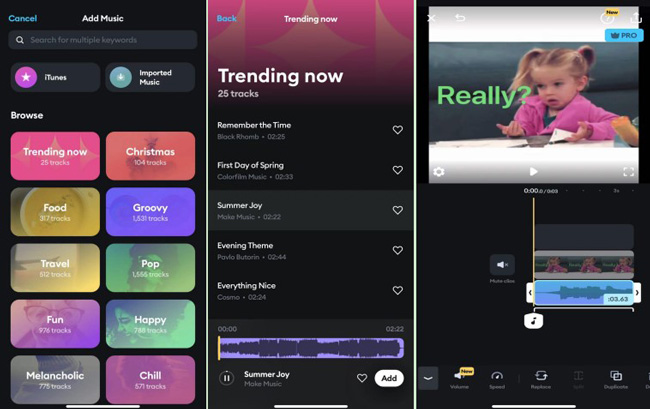 There are plenty of music genres and resources that you can add to the video. Or users are empowered to select songs from imported music. If you like the video in the stock, click "Add" to use it as your background sound. When back to the interface, you can edit it with a trimmer and volume changer. Once finished, click "Export" to download the video from Splice.
123APPS: Add Songs to Video Online Losslessly
If you need to make music play over a video, an online tool is the other option. Many who want to edit their media online, cannot find a good option due to some tools requiring registration and premium accounts. However, 123APPs is free for HD videos and powerful in editing both music and video. Video trimmer, cropper, speeder, compressor, speeder, and many more tools are at your disposal.
Browse 123APPS, then navigate to "Video Tools" > "Add Audio to Video"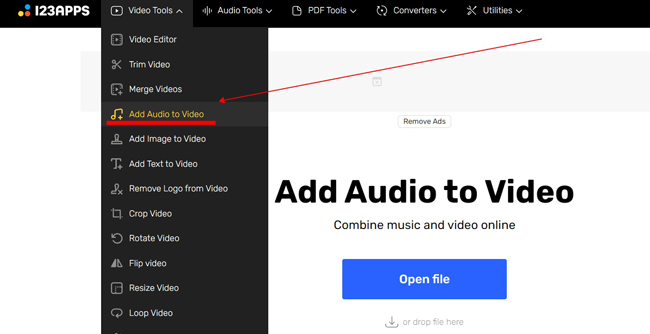 Open up the dropdown function panel of 123APPs. To be specific, choose "Add Audio to Video" from "Video Tools". Afterward, add your video to this program by hitting "Open File".
Click "Detach Audio" to separate the audio from your video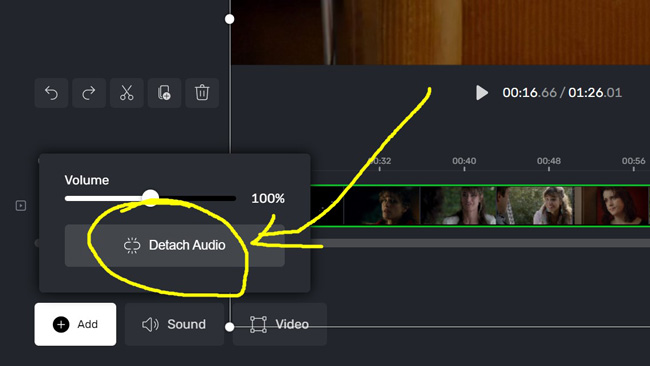 If you want to add a piece of new music to the video, it is required to detach and delete the original background music first. To do that, go to "Sound" > "Detach Audio". Delete the audio track on the timeline.
Find "Save", and select the output resolution for "Low" or "Medium"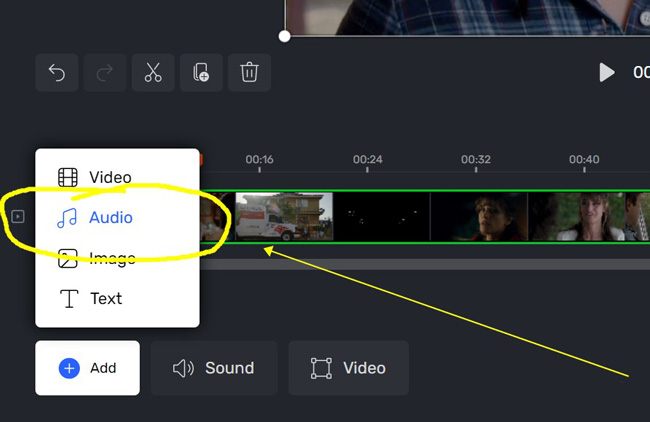 In this case, you find the video is mute if you try to play it. You can click "+ Add" > "Audio" to put the music over the video. If you dislike the result, try to edit the audio with trimming or other tools provided by 123APPs.
Save the edited video, and choose the output resolution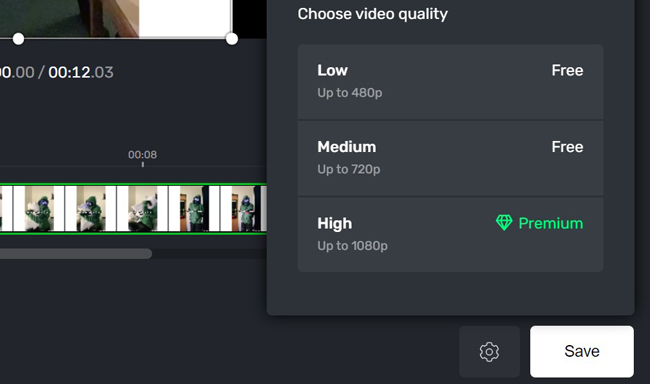 The low resolution if up to 480p while the medium is up to 720p. Only with upgraded accounts can you export video up to 1080p. After that, download your video online on the webpage.
Adobe Premiere Pro: Put Music and Songs to a Video on Computers
Once you want to use Adobe Premiere Pro for putting music over your video, you need to learn from some tutorials in advance because it is complicated for beginners. The same to TunesKit AceMovi, Premiere Pro is a video editor on Windows and Mac. To begin with, drag-n-drop your files under the Importing timeline. Then follow this:
Delect the audio track first. Then add your music to the timeline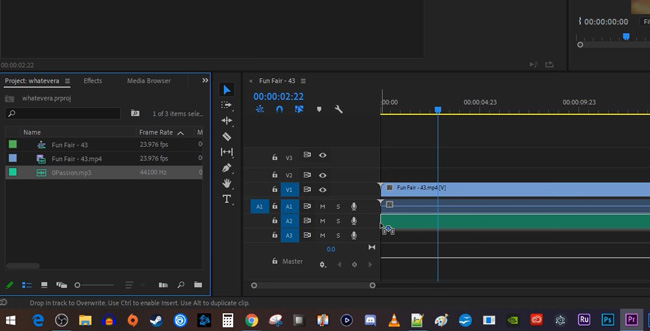 You find the audio track has been auto-extracted from the video by Adobe Premiere Pro so you can remove it without any hassle. Then import your music and put it over the video clip.
Ehance the audio with volume, pitch, and effects. Export your video file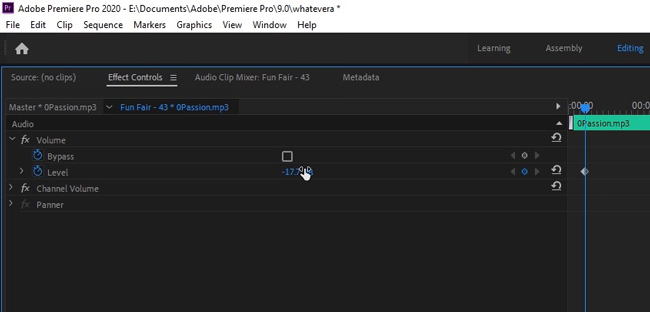 Move to the panel of "Effect Controls" where users can change the volume of the imported audio. If you want to do advanced settings, go to the "Audio" panel in the upper plate for specific workspace. Mixing multiple audio tracks is available here. When finished, click "Export" from "File", select the output format and savepath.
Wrap Up
Adding or putting music over a video is not a difficult task, but the problem lies in editing the imported audio with built-in functions like a trimmer or other features. In this case, we recommended four video and music editing programs that come with uncopyright music resources and sound effects in this sharing and hope they can be helpful.