What does it mean to have a professional slideshow maker? Whether you want to present your photography in engaging videos or looking forward to bringing life to your creativity, you will need an animated slideshow maker.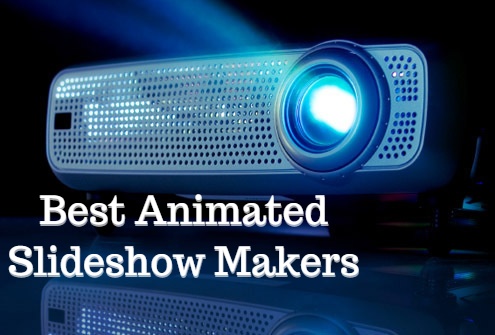 Various programs are offering free services to create an animated video. Availing their help is simple, as you will be using existing images, videos, and audio clips you own. Nonetheless, the hurdle lies in discovering the right tool. To ease the process of selection, we have come forward and compiled a list of the seven best-animated slideshow makers of 2021 that you can use without any license.
Each of the applications listed here has the details, pros and cons. You can utilize this information to choose the appropriate tool that best fits your slideshow making and future requirements.
Top 1 Recommended Slideshow Maker – TunesKit AceMovi
Unlike any free animated slideshow maker, TunesKit AceMovi is a simple yet advanced video editing software. With the help of the software, you can create excellent and engaging videos using images, videos, audio files, and other transitions and features present in the tool.
The AceMovi has garnered a reputation within a short period because of the powerful features, options, adjustment of parameters, and more. For instance, you can add images and videos, make transitions, and use built-in filters to create enthralling videos that you can share directly to any website or email.
You can use AceMovi to create slideshows, educational videos, capture memories, branding, sales, demo videos, and more. The following are the important features of the software: Screen recording, Audio, Text, Filters, Animations, Transitions, Split screen, Crop and zoom, Cut, Rotate, Flip, Fade in/out, Behaviors, Green screen, Change clip speed, Color match, Closed captions, Annotations, Keyboard shortcuts.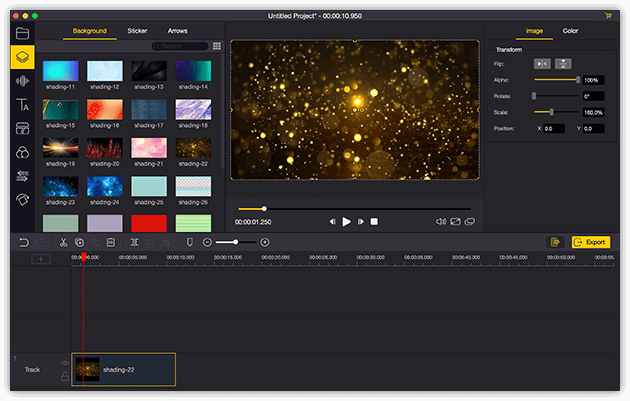 Pros:
Fast screen recording.
Multiple output formats.
Abundant sound effects.
Straight-forward and intuitive interface.
Cons:
Not many advanced video editing features
Guide to Use AceMovi to Create Animated Slideshow
Ensure to install the appropriate version of the AceMovi maker. Upon completing the setup, follow the steps below.
Step 1: Adding Media Files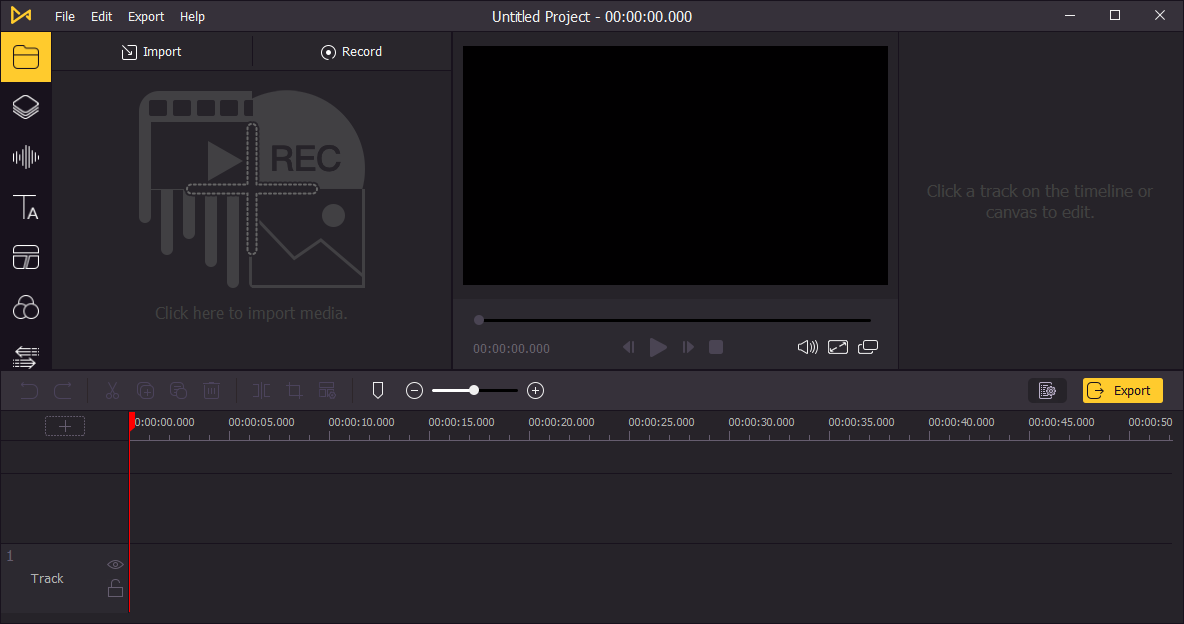 The animated photo slideshow maker will help you create fantastic video files. Once you start AceMovi software, you will notice the "Import" and "Record" options highlighting beneath the menu bar. Use the import feature if you already have the images, video files, and audio clips to create a slideshow. Use the record feature when you like to capture your screen and then add an audio track.
Step 2: Editing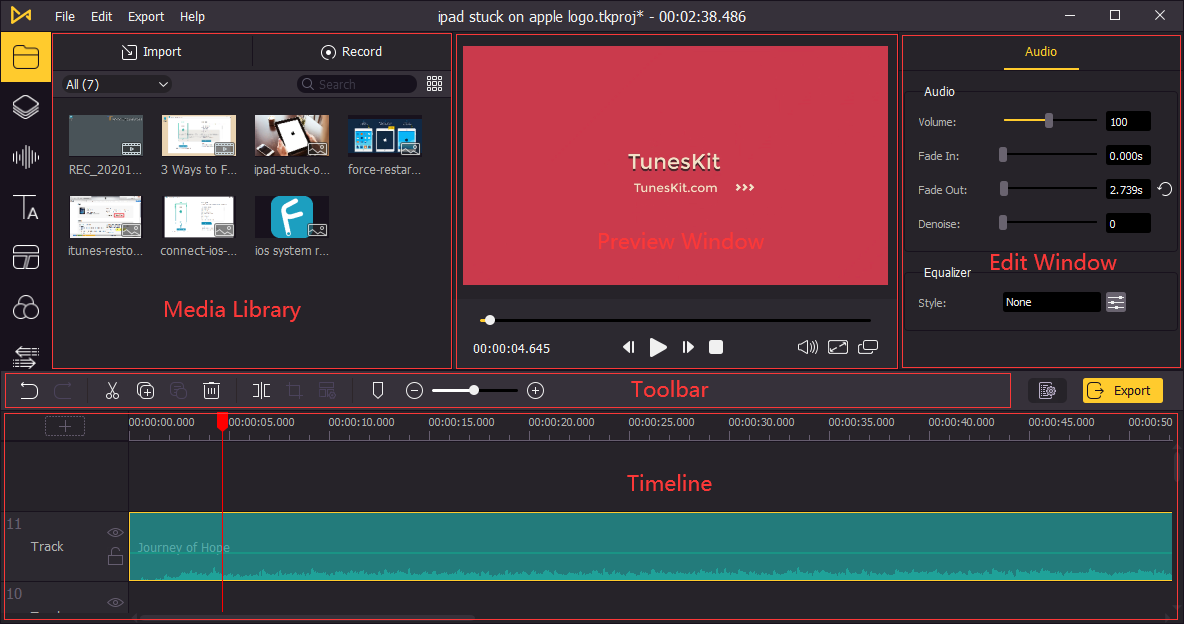 After completing the addition of the files or recording the screen, you can edit the files. The timeline beneath the preview screen enables you to adjust according to the requirement. For instance, you can crop video and add text or fade in music at the start. The settings icon allows you to alter parameters such as position, volume, brightness, saturation, contrast, hue, and more.
Step 3: Export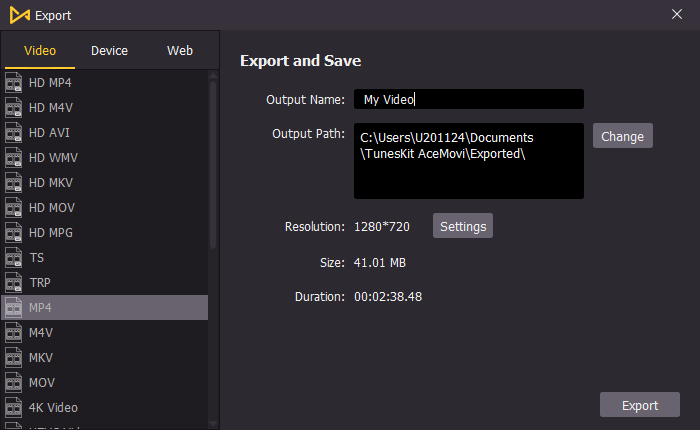 After completion, click the "Export" button to save the slideshow as per the needs. You can save it on your computer, share it with online video streaming sites, email, and choose the format based on the device you like to use. The formats include MP4, AVI, 3GP, MPEG-1, MPEG-2, and more. You can additionally interchange the resolution, bit rate, codec, quality, and more.
Top 2. SmartSHOW 3D
SmartSHOW 3D is the best animated picture slideshow maker. It has impressive features and boasts a built-in library with an extensive transition collection, templates, and more. Users can upload and put the pictures into the template to make a slideshow.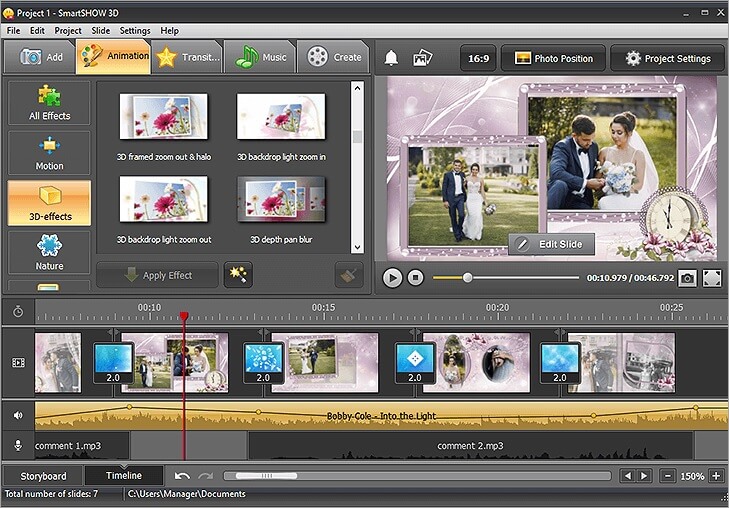 Pros:
Built-in library.
Dozens of file output formats
Audio and histogram points
Top 3. Movavi Slideshow Maker
Movavi is an excellent choice if you are looking for an animated gif slideshow maker. The features, support, effects, and transitions provided by the software make it easy to construct an intriguing video.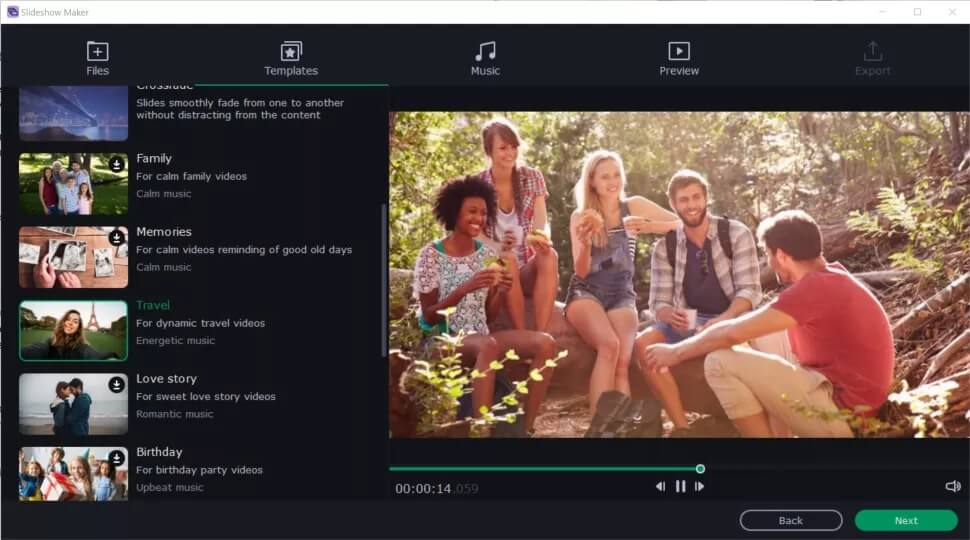 Pros:
Simple to operate
Supports a wide range of file formats
Plenty of transitions and effects
Cons:
Beginners will find it difficult
You will not use all the features
Top 4. PhotoStage Slideshow 8
PhotoStage Slideshow 8 is the best budget animated slideshow maker. Although it has a few features, it does fulfill the needs necessary to create excellent slideshows. You can save files in different file types, upload them to video sites, and more.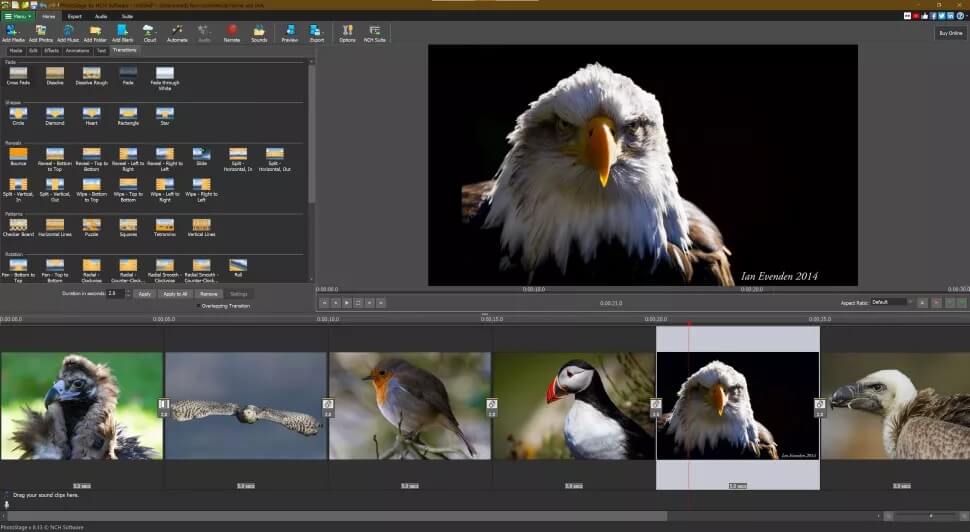 Pros:
Simple interface
Affordable pricing
Numerous transitions and effects
Cons:
No filters
Absent of backgrounds
Top 5. CyberLink PhotoDirector 12
A free animated slideshow maker does the job for simple tasks. But with CyberLink PhotoDirector 12, you can do professional editing and fulfill all your needs. It has an accurate balance of features with editing tools. You can create slideshows and edit photos.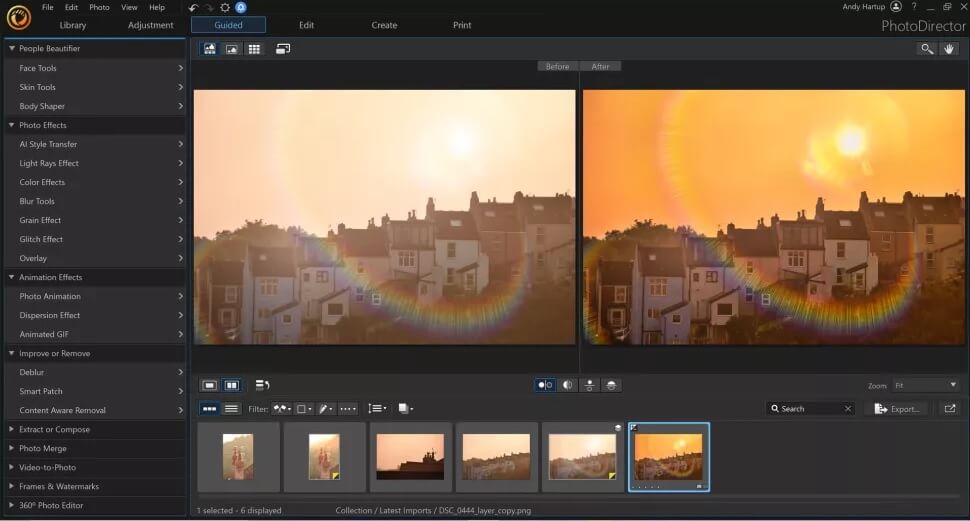 Pros:
Excellent editing tools
Superb usability
Superior results
Cons:
Expensive
Confusing for beginners
Top 6. Proshow Producer
For a while, Proshow Producer stood out as the best animated photo slideshow maker in its class. There are several manual settings that you can alter and adjust everything. You can use the options and features to experiment and create intriguing slideshows.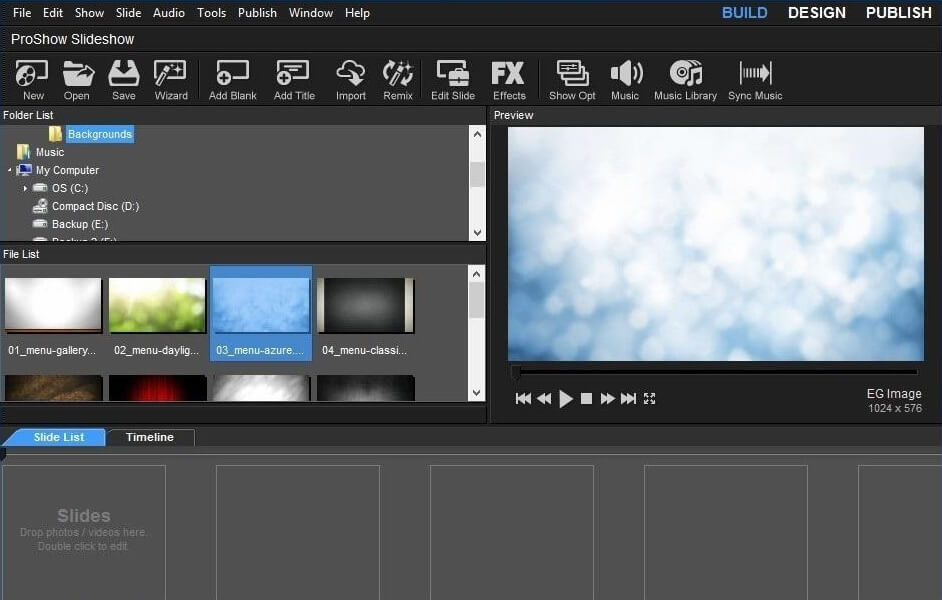 Pros:
Hundreds of templates
Unlimited number of tracks
Burn slideshows to DVDs
Cons:
Discontinued
Steep learning curve
Top 7. Wondershare DVD Slideshow Builder
The animated picture slideshow maker from Wondershare is an excellent tool to create animated videos. You can use the software to create slideshows and burn them to DVDs. It also comes with a good collection of features, transitions, backgrounds, effects, and templates.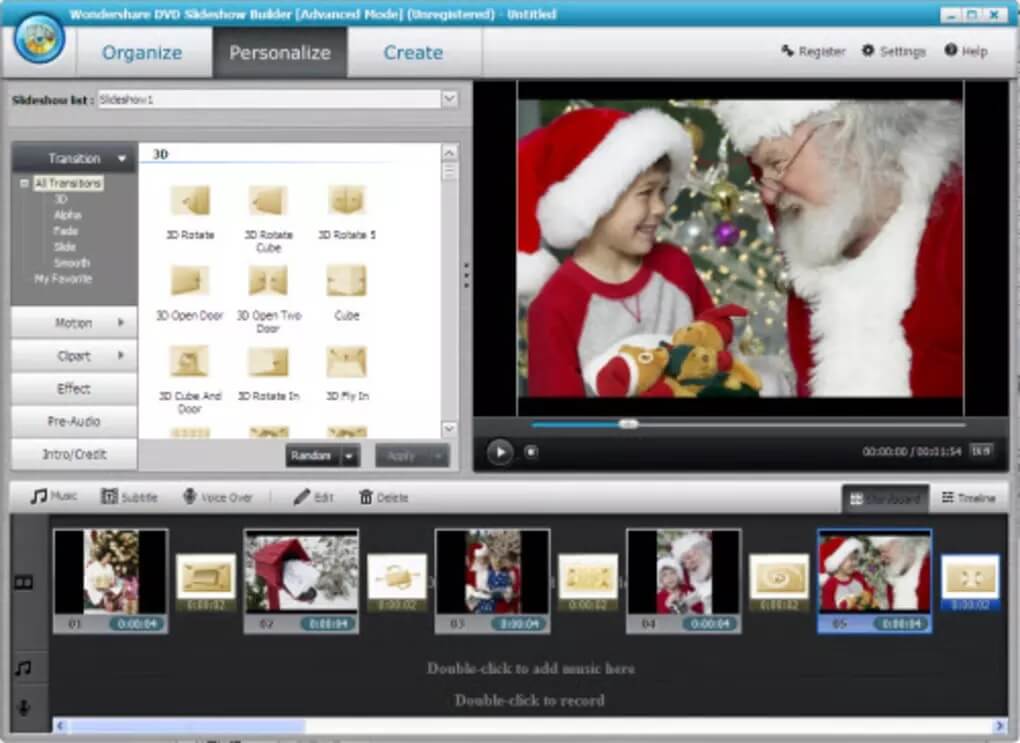 Pros:
More than 500 templates
Toolkit for burning DVDs
Advanced features and mode for experienced editors
Cons:
Outdated designs
Cannot adjust keyframes
Cannot apply masks
Summary & Extra Tip
If you are looking to create a cool-looking slideshow using your photos, you need excellent software. The slideshow maker you pick should be smart, fast, easy to operate, and packed with features. If you are a seasonal editor, you will tend towards the free programs. However, if you are a serious editor, only professional-grade software will come to your assistance. However, when you search for the best tools using Google, you will come across different programs.
With only a few offering free services, picking a free animated slideshow maker relevant to your work becomes crucial. The seven best slideshow makers discussed above will help you eliminate unwanted applications. Now use the software and create engaging slideshows!