Usually being placed on the landing page, your website home page, or the prominent product page, the explainer videos are short and to be played online to showcase a specific service or product. If you are looking to create an explainer video for personal or business purposes, you should be reading this article right until the end. The objective is to explain what is an explainer video and what are the top 8 explainer video software that individuals and video creators are using for content promotion and advisement.
A video marketing strategy must have the best tools for creating a branded animated explainer in today's world. Since there is a lot to cover, let us begin with the explainer videos!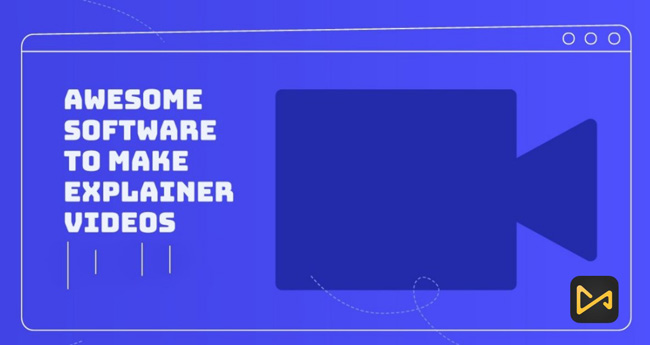 Explainer Video Types
2D and 3D animation are the two most common types of explainer video. In fact, you see more genres when making explainer videos like Action-Live explainer videos and Motion-Graphics explainer videos. Now I'm going to introduce to you the major types of explainer videos along with their qualities.
1. 2D Animated Explainer
2D animation is supposed to create characters, storyboards, and backgrounds in a two-dimensional foreground content. While 3D animation is commonly cheaper than 2D projects, some of the 2D animated explainer videos require more editing and ideas that can only be made in 3D. Using animation is advised to be strategic and tactic. Some topics like a project go to the human touch, that is so-called animation.
2. 3D Animated Explainer
3D animation refers to the very animation processing of objects in three-dimensional space, which can rotate and move just like real objects in the real world. 3D animated explainer video is powerful for showcasing products that are still in development or that are difficult to film live, as shown in the iBox video we made for Hansgrohe.
3. Motion Graphics
Bringing graphics to a video with animation, VFX, and more other techniques that are cinematic, some examples of motion graphics explainer video involve abstracted shapes, logos, as well as texts and they may not be story-based or character-driven initially.
4. Whiteboard Animation
Being a type of animated video, whiteboard animation displays all your hand-drawn works on a whiteboard as a sequence. Whiteboard animation explainer video lends itself to the process that is cheaply made and home-made.
5. Live Action
For those customer-oriented products and services such as the demonstrated plainer videos for TeleAck, Live Action Explainer videos showcase flesh and blood people in front of the screen and connects you with the audiences emotionally. Normally, the price of Live Action explainer video is more expensive than those 3D and 2D animation videos.
6. Screencast
When you want to display and advertise a new app or feature that requires users to read a plethora of text pages, Screencast plainer video will make a difference, which is a plainer video type that incorporates images on a screen and shows how your item functions in a specific situation.
TunesKit AceMovi Explainer Video Maker
AceMovi is a user-friendly video editor that allows you to put across your story magically. It is available in two versions - Windows and Mac. The video editing of AceMovi is so powerful that you can unleash your imagination. Its an advanced yet straightforward UI makes storytelling a child's play.
Some built-in tools like Explainer Video Software, Animated Slideshow Video Maker, Clone Video Maker, Video Recorder, Trimmer, Resizer, Pitch Changer, Sound Equalizer, and more are at your disposal even on the trial version. And the only difference to the trial version is that the paid version goes with a branding watermark that you can brush when you get a full license.
You have access to major popular video and audio formats in the market such as AVI, WMV, MKV, M4A, MP4, MP3, DivX, DVD, 4K Video, and so on. When it comes to updating, AceMovi makes an uptick in chroma-key(green screen) and transitions. Now you can learn how to make an explainer video with AceMovi.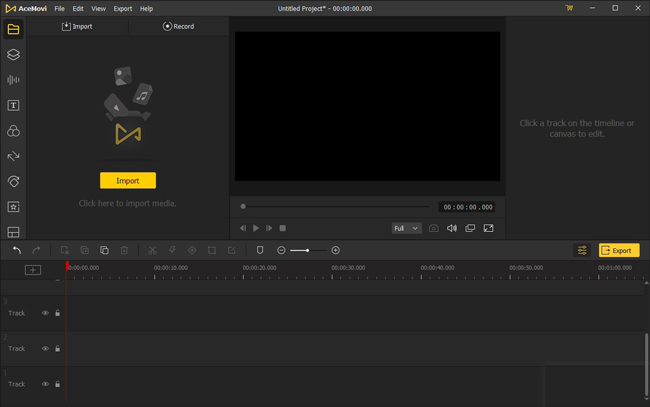 Operating System: Windows and Mac
Resolution: 1920×1080 [4K Video Editing]
Free Trial Version: Available
Premium Version Price: $15.95/Month; $49.95/Year; $69.95/Lifetime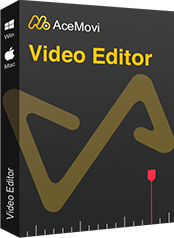 TunesKit AceMovi Video Editor
Security Verified. 10,234,614 people have downloaded it.
Pros:

Able to create most types of explainer videos like 2D explainer animations video and live action explainer video
Straightforward user interface makes your video editing work easier
Many advanced techs and features like Reversion and Flipping
200+ pre-selected text templates that you can overlay to a video
Downloading and programming without OS burden for it's simple yet powerful
You may choose to export the edited explainer video into social media format or mobile phone format
Cons:

The watermark will be printed on the trial version
Top 2. Visme Explainer Video Maker Online
Visme is a top-class online free explainer video maker that comes with pre-made graphics and photos. It is considered a 2D and 3D animation video editing online tool. Also, it is regarded as a content creation workshop. Using Visme, one can easily create animated explainers. The application allows customizing the various animated characters based on choice. In addition, there are a lot of elements, backgrounds, and animation effects that add to the richness of the final visual.
With Visme, it is possible to easily come up with a branded animated explainer video with the help of the brand kit. You have to ensure that all the color themes and the typography in the explainer video are as per the brand. The best thing about Visme is that it is not too difficult to learn and is quite user-friendly. The team is always looking to improve the user experience and design features. That way, it is possible to make visual content creation easy.
The video library of Visne has a lot of options. A few of these options are based on animation, while the others have video backgrounds with effect overlays. So far, it has not been possible to come across any cons. However, if there are any, it will be updated soon.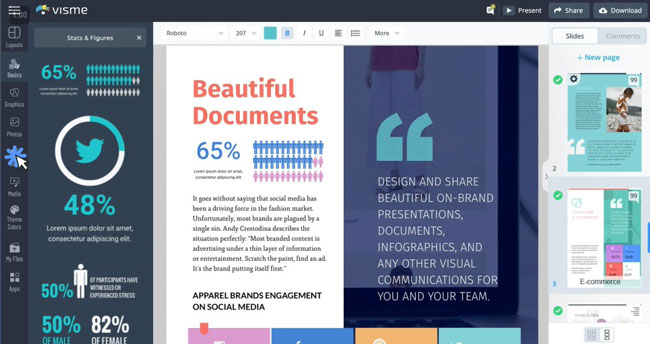 Operating System: Online
Resolution: 1920×1080 [HD Video Editing]
Free Trial Version: Available [Cannot Download]
Premium Version Price: $29/Month; $59/Year
Pros:
Brilliant stats, figures, charts, and graphics
You can change the theme colors as wish
Streamlined video creation workflow
Preview the explainer video template in real-time
Share on social media like YouTube and Facebook
Cons:
Less video templates to choose
You can only store 100MB for free
Top 3. Animaker Explainer Video Maker
Animaker is more of a tool or an online animated explainer video software that allows the creation of animation visuals. It can be used for creating any kind of video like Vlog and Blog, certainly including an explainer video. Animaker can be used on scenes that can be edited separately. It allows lowering the overload of the timeline editor. Users may choose to begin with an explainer video template that has well-made texts, background music, synced audio and video, filters, and some VFX.
Animaker is an excellent tool for customized character building in an explainer video. It is possible to customize almost everything regarding a character. In addition, there are several editing tools inside that can help to create an elaborated explainer video. However, the body size of custom characters can't be altered. In addition, the available scenes are in various forms while editing a video. Therefore, it is a challenge sometimes to create a balanced video.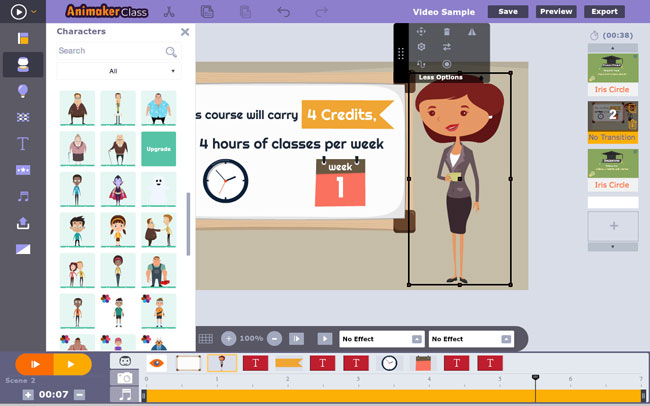 Operating System: Online
Resolution: 1920×1080 [4K Video Editing]
Free Trial Version: Available [720p Free Yet Long-Term Waiting]
Premium Version Price: $19/Month; $49/Year
Pros:
An explainer video creator features many online video templates
Cloud-based workflow
Change the background in your imported explainer videos easily
Many active expressions to add
Powerful HTML5 engine
Auto lip-sync
Cons:
It is a paid online explainer video
You find it impossible to make live-action explainer videos
Top 4. Powtoon Free Explainer Video Maker
As a free explainer video maker that has constantly been improving. Creating such a video is easy. You need to choose a style and then search for a template to get started. The best thing about Powtoon is the range of styles. There are options between cartoon, whiteboard, real, infographic, and modern edge. The application to balance the overall look of the video.
However, there is nothing much about Powtoon that might be taken as a con if you do not talk about the price which comes with different plan policies based on your requirements. But several users have pointed out that it takes a lot of time to understand the animation balancing elements of the software.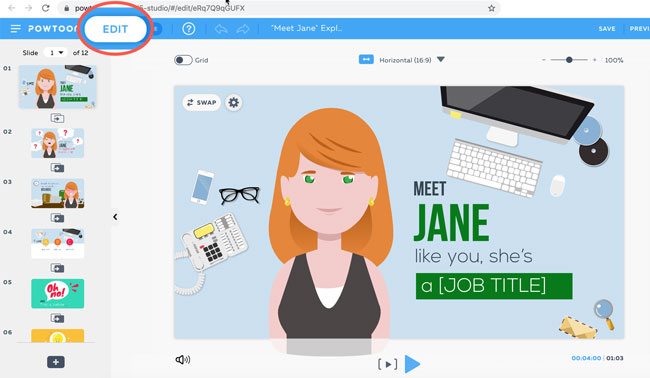 Operating System: Online
Resolution: 1920×1080 [4K Video Editing]
Free Trial Version: Unavailable
Premium Version Price: $89/Month; $197/Year
Pros:
Whiteboard doodling
Easily create animated clips instantly
Convert PPT to a video with text, music, and shapes
Allow users to design their own character in the exported content
Cons:
The fundamental plan is pricey
Top 5. RawShorts Free Explainer Video Maker
RawShorts is a different type of explainer video creator. Videos can be created in four different ways, along with the help of a creator and artificial intelligence options. The biggest advantage is the brand feature that allows the creation of videos from text to storyboard. With the help of just text, it is possible to create an explainer video within no time. Also, it is possible to make use of the pre-installed designs and templates from scratch.
RawShorts elements are animated but are not so customized in movement or color. Now, this is a limitation in terms of personalization. There may be many editing systems, but there would always be a lack of visual resources. If you are going to make an explainer video animated for free, go to the panel of RawShorts > Create > Animated Eplainer videos.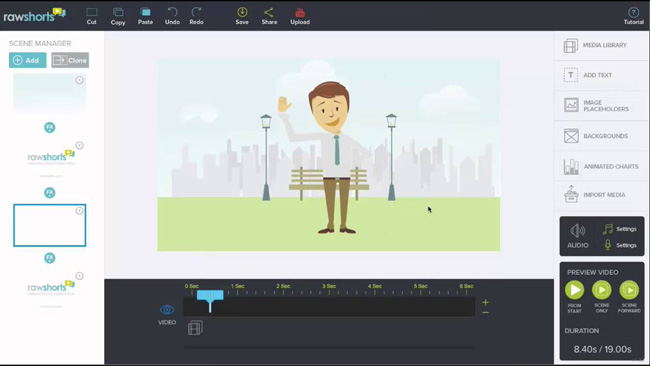 Operating System: Online
Resolution: 1920×1080 [HD Video Editing]
Free Trial Version: Available [480p Free]
Premium Version Price: $59/Month; $39/Year
Pros:
Text-to-video transformation tech
A vast selection of video templates
Support many types of animated videos
The free trial version provides 5 non-premium exports, up to 480p resolution, and standard video format like 16:9
Cons:
You cannot export video at HD or 720p on the trial version
This online free explainer video maker's price is expensive
Top 6. Vyond Explainer Video Creator
Vyond is a new look and happens to be among the most versatile explainer video makers. In terms of characters and animation, it is similar to Powtoon in many ways. The customs characters are pretty customized, whether it is any movement, outfit, skin tone, or facial expression. However, body type customization is still absent. All the elements can be animated to create an explainer video that may be highly animated.
All the elements can be animated to create a highly animated explainer video, which can be 2D or 3D. The editor includes an easy-to-use feature at the bottom of the screen. It is possible to customize characters and props quickly. However, character animation does not have adequate movement options, and it is challenging to develop something new.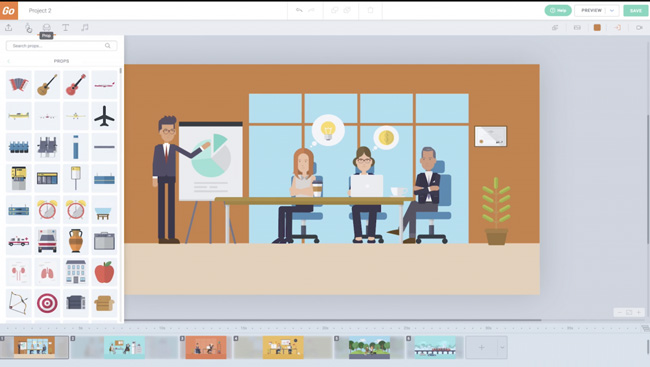 Operating System: Online
Resolution: 1920×1080 [HD Video Editing]
Free Trial Version: Available
Premium Version Price: Essential-$49/Month; Premium-$89/M; Pro-$159/M
Pros:
Full of video templates that help you cut work burden
Online-based animated explainer video maker
Accustomize texts, subtitles, and overlaid captions
The secure environment to upload and share your content
Cons:
The trial version is 14-day free of use
Many proxy and dazzling VIP plans set
Top 7. Biteable Explainer Video Software
Although Biteable is an online explainer video creator, it has enough features to create animated explainers. It has various animation styles to cover any idea or business. The designs are straight and clean. The pre-designed templates are customizable and separated into scenes through a timeline at the bottom of the screen. It allows personalization as per each scene or adds any new scene as required.
When adding a new scene to an existing template, several styles are available, thereby making it a challenge to have a visually stable explainer video.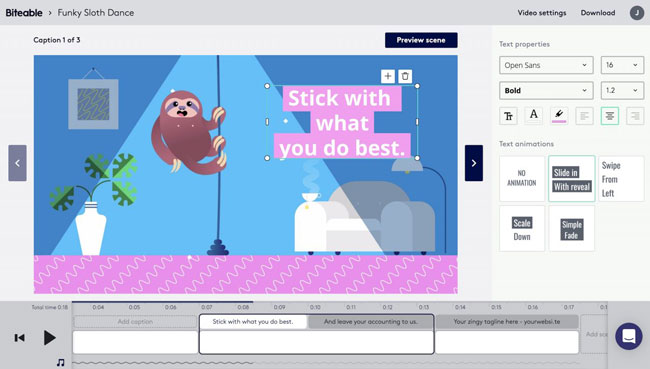 Operating System: Online
Resolution: 1920×1080 [HD Video Editing]
Free Trial Version: Available
Premium Version Price: Pro-$99/Month; Team-$329/M
Pros:
Active your team work(up to 5 members connected through email)
Save your clips online
Templates for popularity, Ads, Explainers, Animations, Square, etc.
You can invite anyone else to make recordings or record yourself in a breeze
Video shapes(aspect ratio) are free to change
Cons:
HD export service is only available for full licenses
Top 8. VideoScribe Free Animated Explain Video Maker
VideoScribe is a whiteboard animation video maker and serves the purpose of an explainer video quite well. Other than Powtoon and Vyond, it is considered one of the best tools. VideoScribe is available offline and is a good tool for those who prefer working without the Internet or a slow Internet connection.
There are over 11,000 premium images, graphics and GIFs built in this explainer video maker, while more tools like voice-over and choice of canvas type are possible as well. You get a 7-day trial version for free and you are permitted to switch from video sizes between 16:9, 9:16, and 1:1. But you need to sign in first in case you want to get the trail version of this online explainer video making tool.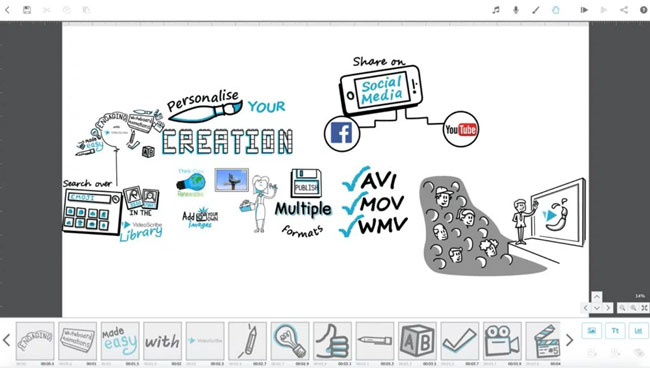 Operating System: Online
Resolution: 1920×1080 [HD Video Editing]
Free Trial Version: Available
Premium Version Price: $39/Month
Pros:
Thousands of hundreds of premium elements
On-click creative and impressive styles for making explainer videos online
Libraries of quick video templates that are free to try
190+ royalty-free music tracks in stock
Record voice-over in real-time without any hassle
Cons:
7-day free of trial only
No online tutorials available
Conclusion
You now have a list of the top 8 best explainer video makers. You first need to determine what type of business you are running, your target audience, and what they want to hear. After that, pick the video explainer software you think suits best.