"Want to announce the big wedding day with a great and elegant bespoke wedding invitation video?"
The market has been brightened by the presence of a wide variety of film producers from whom to pick according to the themes and styles of weddings. These video creators provide a sense of fun and excitement to the wedding invitation for all of our loved ones. This page will walk you through the process of using the seven one-stop wedding invitation video makers of 2022 to produce a splendid "wedding intro movie". With eye-popping layouts, appealing graphics and high-fidelity filters, the tested tools faciliate you to input photographs, movies, and music as well. Let's set in motion!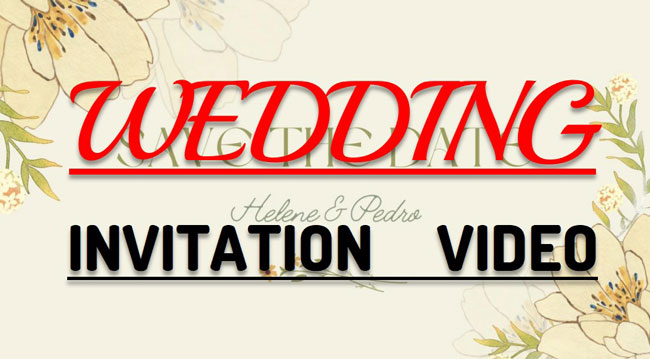 TunesKit AceMovi
Compare Plans: $0-Free(Watermaked); $15.95/Mo; $49.95/yr; $69.95/Lifetime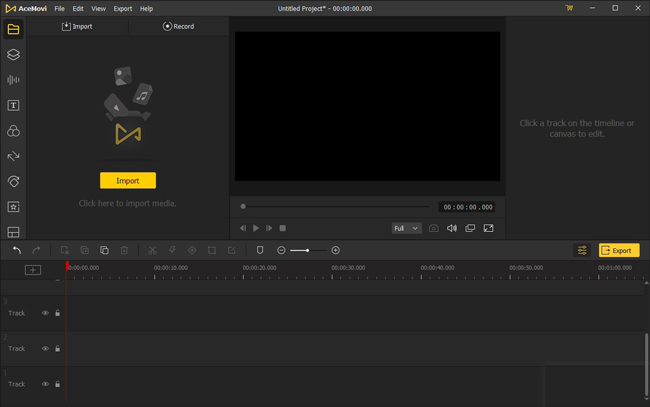 Are you trying to find a simple solution to make and create a high-quality wedding invitation video? The ideal No.1 tool for your purposes is the TunesKit AceMovi video editor. With many impressive features like filters, titles, transitions, and other amazing effects, this software makes your work much simpler on computers. It has a built-in stock library of music and templates for wedding projects that give users access to various films, images, and audio elements, so you may alter your video in any way you want.
Today, AceMovi is pleased to have a qualified research and development staff, an exhaustive testing procedure, and a responsive online support system. The AceMovi firm will spare no effort in the future to improve product performance and customer service. Try out animated texts and keep reading to learn how to make wedding invitation videos with AceMovi.
AceMovi Wedding Clip Maker
Lots of video templates for weddings, birthdays, etc.
Take a snapshot of your recordings with one click
Export wedding invitation videos to social account
HD and 4K resolution, with up to 60fps editing
Performs even on low-end PCs responsively
Texts, music, filters, stickers, and transitions
Add new voiceovers to footage from microphone
Learn How to Make a Wedding Invitation Video with AceMovi
Import Video File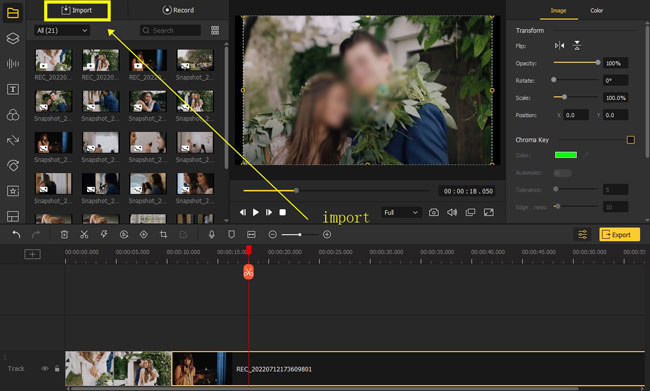 Click the "Import" button to upload your files under the interface of this video editing software. Now, drag and drop them to the timeline to begin your workflow. AceMovi is in favor of unlimited tracks for audio, video, and photography.
Make Wedding Videos with Texts

If you want to overlay texts or add subtitles to the video. Click the "Text" panel and pick up the wanted genre from it. Directly dropping the text under a new track makes it functional. Now, you can play the text in real-time.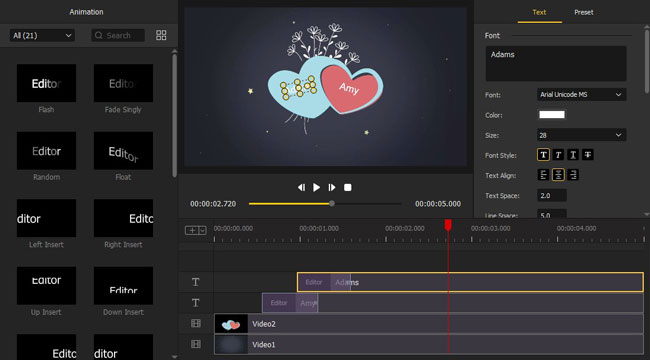 To professionally edit the text templates, you need to click the "Edit" button on the right corner place. You can fill in content, and change the font, color, size, and scale of the texts. For adjusting the duration, you need to press, drag and drop the edges of the template.
Make Wedding Videos with Filter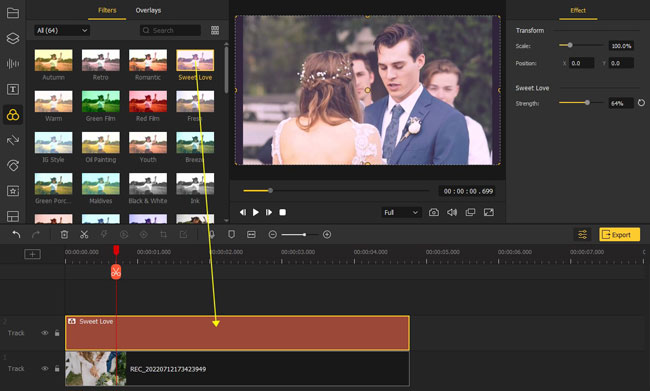 A load of filters and overlays is provided on the "Effects" plate. Click this plate to add a piece of filter for enhancing and prompting the wedding invitation clips.
Export Videos on HD Resolution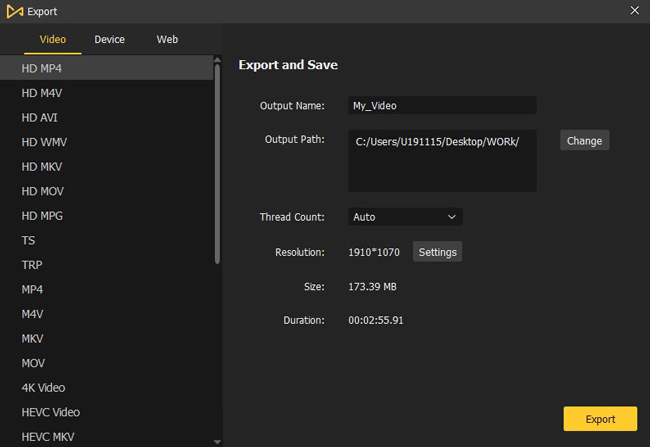 Now, you've acquired the tutorials on using the AceMovi wedding invitation video maker app. There are three main categories to export your videos in different formats or social media channels. For example, if you want to upload your files to YouTube, go to the "Export", "Web" and "YouTube".
As one of the best all-in-one wedding invitation video makers for PCs, AceMovi is able to add background music, turn the canvas to the split-screen mode, apply slow-motion and fast-motion features, denoise sound noise, and more. Now, you have the opportunity to download AceMovi for totally free.
FlexClip
Compare Plans: $0-Free(Only 480p Watermark-Free); $7.99/Mo-Basic; $15.99/Mo-Plus; $23.99/Mo-Business
FlexClip is home to hundreds of wedding invitation templates that are both simple to use and stylish. The website has no steep learning curve, making it an excellent choice for novice users. Even a non-technical individual will find the UI and customization features to be user-friendly and handy.
The website's stock library has hundreds of films and photos for users to browse through. Add text, personal information, background music, and media from the stock library or your collection to further personalize the movie. Beginners can easily learn how to make wedding invitation videos online with a template.
Pros:
The Storyboard mode with an intuitive view (you also have the Timeline mode)
Beautiful user profile and workflow interface
You can export at the 480p standard quality without watermark for free
Direct and easy GIF outputs (480p/15fps; 240p/10fps; and customs)
Add wedding music to your clips from the built-in stock
Cons:
You cannot export videos at 720p or 1080p for free at all
There is only one track for video editing, so you cannot edit multiple files with it
Inviter
Compare Plans: Each template costs from $9.99 to $19.99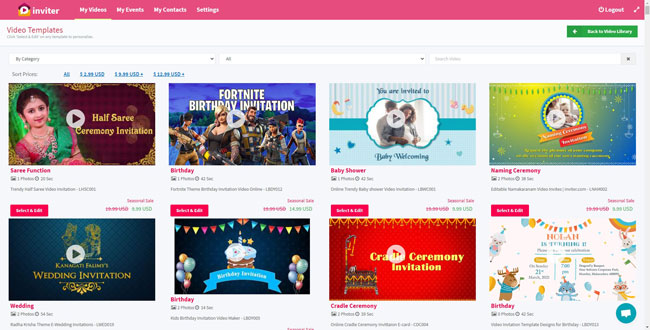 Inviter is the best Indian wedding invitation video maker online. As the name implies, Inviter enables users to send video invites for various occasions. This time-saving, user-friendly, and one-of-a-kind movie creator conveys the intended meaning via the medium of engaging films with which viewers can readily identify and empathize.
You can release your latent creative potential by recording, customizing, and then freely sharing your creations online. Inviter video maker is the sole answer to the problem of how to keep your loved ones updated on the remarkable wedding invitation video you have created. To learn the method, just follow the recommendations that are below.
Pros:
Ready-made wedding video templates for Telugu, Hindi, Marathi, Tamil, Muslim, etc.
3D wedding invitation clips and texts included
Web-based for all levels of users
Change the background color in your videos
Add animated texts with your imagination
Cons:
There is no free video template, so we can say that it is a paid wedding invitation video maker for fully online use
Animoto
Compare Plans: $0-Free(Watermarked); $16/Mo-Basic; $29/Mo-Professional; $79/Mo-Professional Plus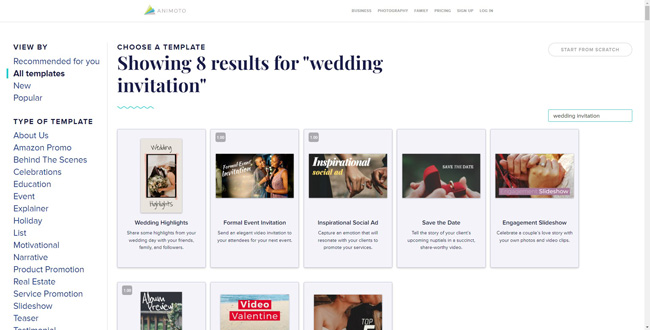 If you want to produce stylish and animated wedding invitations, the Animoto free online animated wedding invitation video maker is the tool for you. The user interface is intuitive, and there is a wide selection of pre-made layouts. Every one of the templates provides you with the means to customize the enticing film you make using the instruments provided.
Choose an appropriate layout from the available options on the website, immediately modify the movie using the tools provided on the interface, and then save the video. It is ready to be formatted as an electronic invitation and sent to the attendees at this point.
Pros:
Share to Instagram Stories and Facebook Stories without delay
Make wedding highlights using your images and clips
Customized captions to overlay on your video
Create an animated wedding invitation based on your browser
Neutral color correction palette
Cons:
The trial version has no option to export your videos on HD resolution
Adobe Spark
Compare Plans: $0-Free(Watermaked); $9.99/Mo-Premium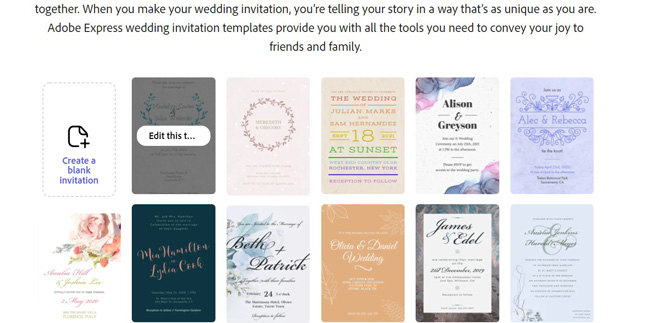 Adobe Spark is the best free online animated wedding invitation video maker to spark your ideas and alleviate tension during the whole procedure. This video maker offers a wide variety of professionally created wedding templates in addition to features that are simple to use, ensuring that your preparations for the wedding will go off without a hitch.
This website can fire your imagination and creativity, beginning with its gorgeous font, iconic artwork, and design components and continuing to give freedom and simplicity to wedding invitations. Look at the procedures outlined below to ensure the process is carried out correctly.
Pros:
An extensive option of royalty-free collection photos
Thousands of pre-designed wedding invitation video templates, assets, and fonts
Remove and change the original background in your imported clips
Share to your social community online without hassle
Easy online wedding invitation video maker
Cons:
This tool requires you to log in at the very beginning
You see a branding watermark on the trial version
InVideo
Compare Plans: $0-Free(Watermaked); $20/Mo-Business; $60/Mo-Unlimited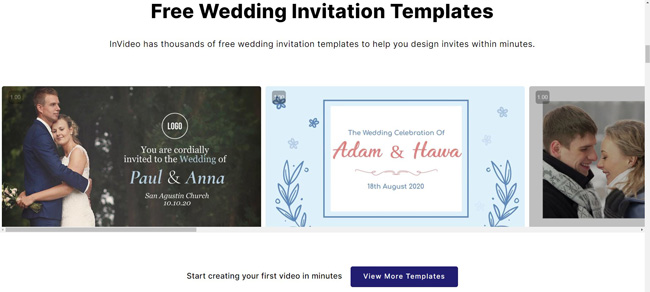 The online wedding invitation video maker offers themes for modern wedding video invitations that are new and up to date. Because of its clean-interface design and easily available icons for editing and personalization, InVideo is the ideal and most effective method for creating video invitations for first-timers. Pick a format that corresponds to the aesthetic of your wedding.
You have the option of selecting a video from the stock library or uploading your media files to use in the creation of the video. Fonts and colors may be changed to suit your needs. Remember to include an RSVP so that you can keep tabs on everyone attending the wedding.
While designing the e-invitation, including video transitions will help to make it more fascinating. The video may be cropped and trimmed to make the editing process simpler.
Pros:
5,000+ online video templates for making lovely wedding invitation videos
Different themes of text-to-video projects
Select a dimension as you want: Wide(16:9), Square(1:1), or Vertical(9:16)
Save your edited, new clips online
Connect with Facebook and YouTube
Cons:
You have a limitation on file size (500MB)
Fewer templates to choose from
LightMV
Compare Plans: $29/Mo; $39/Qr; $23.99/yr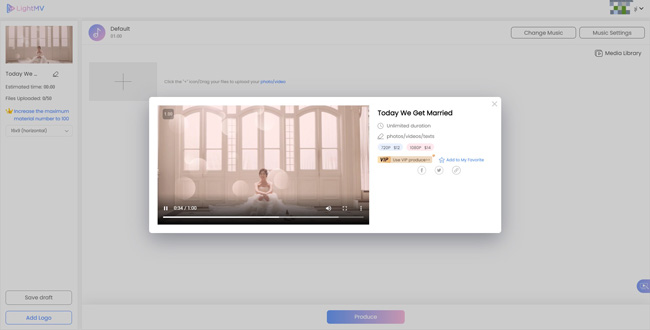 LightMV is in the driver's seat regarding wedding invitation video maker online free. Lightmv rocks in this arena. This video creator comes with a comprehensive collection of professionally designed wedding templates, enabling you to modify them in content, type, style, color, font, and aspect ratio.
Aside from this, you can crop photographs, rotate images and videos, modify the aspect ratio, adjust the video length for the wedding invitation, include gentle country music, reduce the audio tracks, and add as much text as you like.
Pros:
Make love albums with music and texts
Add filters to your wedding invitation video online
Merge, split, or trim out unwanted clips
You can download its desktop software or application
Cons:
It is not an Indian wedding invitation video maker online free
Fewer video templates for your needs
Lastly
This post looked at many of the top online wedding invitation video makers currently available. Every one of them contributes a different feature that keeps users engaged with the program. You may personalize them by the theme of your wedding, add romantic and graceful soundtracks, and entice your guests to attend your big day.