A slideshow at a wedding is a superb method to re-create the atmosphere of the event since it is at once beautiful, romantic, and passionate; it is now a souvenir that is significant in both importance and effect from your big day. So, what are the essential elements of a high-quality slideshow for a wedding? It's an easy formula to follow: all you need are images of the happy couple, beautiful romantic music, and a wedding slideshow builder with designed templates.
Finding the best wedding slideshow maker may be challenging, even though selecting photos and music can be an enjoyable activity. This is where we come in to assist you in selecting the appropriate software to use for the task at hand. Let's get the ball rolling!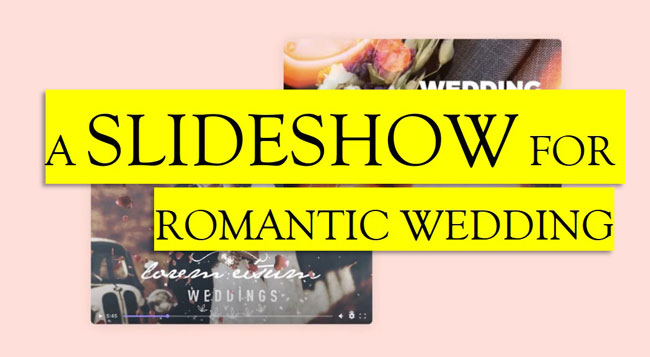 TunesKit AceMovi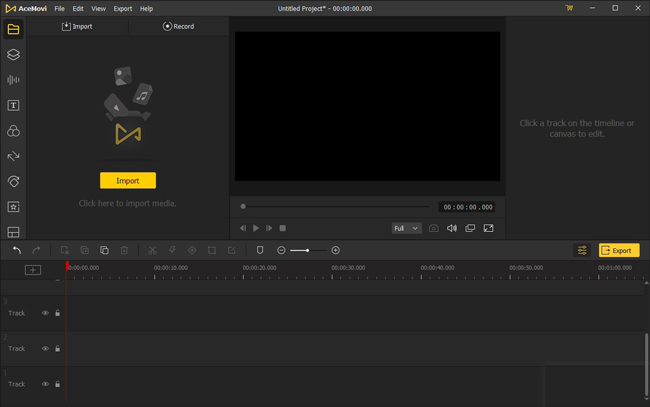 Editing a photo slideshow isn't always easy, but it doesn't have to be hard. AceMovi is here to show you how. You can make a wide variety of one-of-a-kind, visually startling wedding slideshow productions with user-friendly video editing software that does not require significant expert technical knowledge.
With software capable of performing many editing operations, amateurs can create videos that appear to be produced by professionals. However, new editing software solutions are being offered regularly, so it may be difficult for you to figure out which tool best suits your needs.
The AceMovi has garnered a solid reputation among users as the best wedding video slideshow maker. It comes with animated titles, high-fidelity transitions, eye-popping effects, romantic filters, and other capabilities, and it can make narrative faster. You will have an easy time editing and adding images, movies, and audio components from the stock library.
AceMovi Slideshow Maker
A stock of online wedding slideshow templates
120+ colorful transitions and lovely filters
Import and export images to the clip quickly
Burn files to DVD or GIF with one click
Record a new clip in real-time or take a snapchat
Hundreds of royalty-free music and sound effects
Slow-motion, fast-motion, split-screen, and PiP
Learn How to Make a Wedding Slideshow with AceMovi
Add Lovely Images & Clips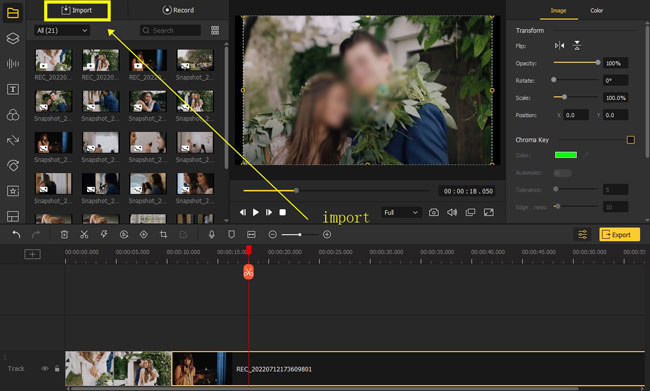 AceMovi's Media panel shows itself in front of others by default. Click the "Import" from it to add all your images, clips, and music tracks.
Add Music, Filter, & Transition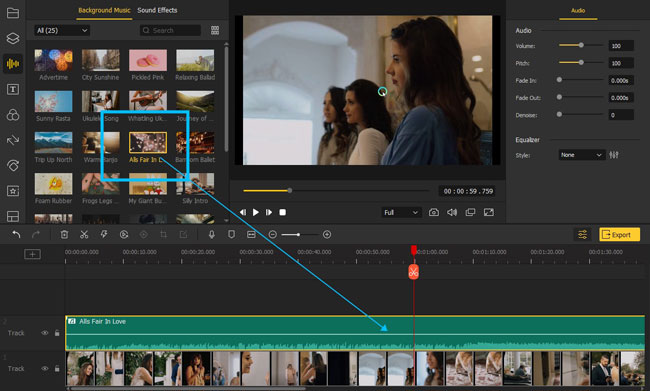 You see a library of licensed songs for your wedding slideshow project from the Music panel in the left sidebar. Drag and drop the music to the timeline. Then, you can adjust the volume, pitch, duration, fade-in & -out effect, and noise value.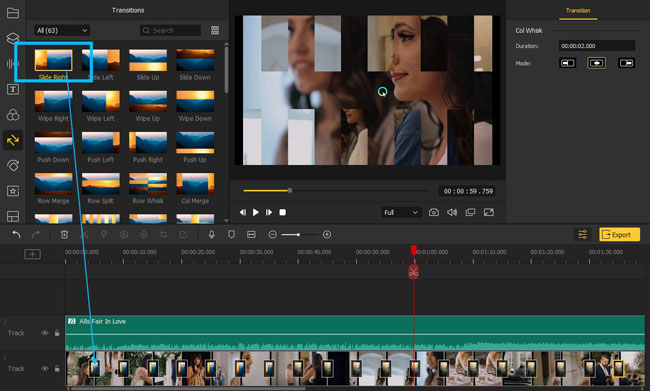 The "Slide" and "Wipe" are some of the most stylish transitions for creating your wedding slideshow with AceMovi. If you want to make a good transition in editing, remember that you need to drop one or two kinds of transitions between every two clips in the timeline. Then, fine-tune the switching mode and duration. Play the effect in real-time is suggested.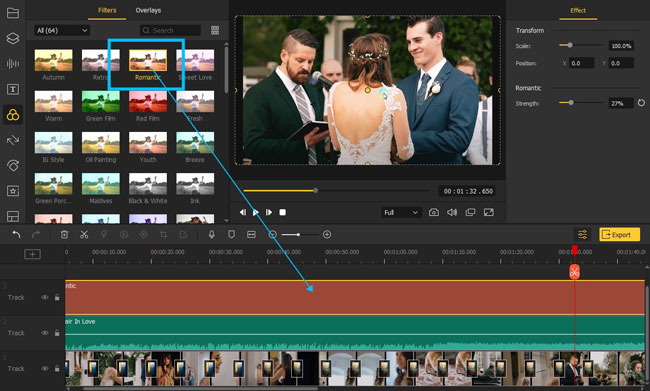 No one will not select a romantic filter to enhance their clip in the process of making a slideshow for a wedding. Go to the Overlay panel on the left sidebar, you see many filters and overlays in the stock. Try one of them and add the chosen one to the timeline. You have quick access to shift the strength and scale.
Download Your Slideshow
It is time to download your edited wedding slideshow from this software. You enjoy a fast and easy service to download the photo slideshow at MP4, AVI, WMV, MOV, MPG, DivX, and M4V. There are more channels for social media accounts, including YouTube and Vimeo.
SmartSHOW 3D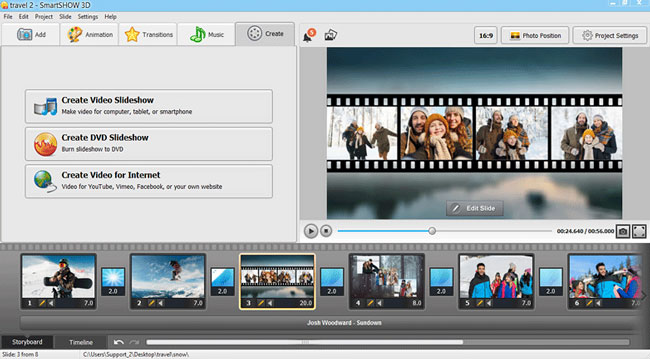 SmartSHOW 3D is a free wedding slideshow maker that combines a drag-and-drop workflow with a comprehensive toolbox. It provides a selection of pre-designed themes that may be used to create a slideshow with a vintage, striking, or sophisticated look in as little as five minutes.
In addition, the program has an in-built photo editor that you can use to improve the quality of your wedding photographs (in practically any format, including RAW) and give them a unique look by applying creative effects. SmartSHOW 3D provides its users with access to a sizable music library containing exquisite songs that may be used as the background score for their photo slideshow.
With this tool, you are free to use your music and add voice remarks to share some hilarious anecdotes about what happened behind the scenes during the event.
Pros:

Hundreds of slideshow templates and effects
Add new voiceovers to the wedding slideshow
Burn your media to DVD
200+ music tracks
3D stylish slide transitions
Cons:

You cannot download it on Mac
Adobe Express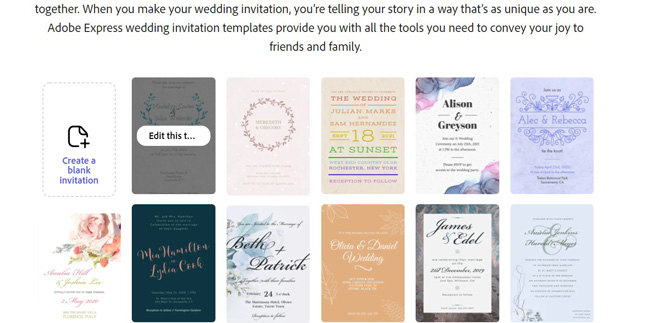 Adobe Express is one of our favorite wedding photo slideshow makers. The fact that one does not have to be an expert to use it is its most appealing aspect. It's free, and you can make stunning presentations with it. To make a wedding anniversary slideshow video with music on Adobe Express, you need to register at the very beginning. There will be a 7-day free trial for each account.
You can produce some very gorgeous visuals with Adobe Express. Even if you have no prior experience, you can still do what you set out to do without experiencing any anxiety or tension. In response to the requirements of professional video editors, Express also comes with advanced parameters and settings of the media bitrate, codec, format, and resolution.
Pros:

Create your wedding slideshow from scratch
Tons of off-the-shelf video templates and assets
Upload to YouTube and other social media
Simple-to-use workflow
Cons:

Only 7 days trial for your free license
It is not a streamlined slideshow maker
FlexClip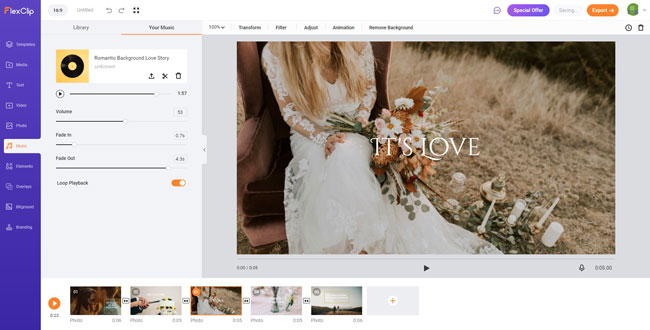 FlexClip belong to a first-class online slideshow maker for weddings. Compared to other online builders, it contains many professionally-produced wedding slideshow templates that are awaiting to be edited by the user. You may change the resources with your video clips or photographs by using the drag-and-drop method to create a wedding slideshow using your design.
Here are some further justifications for using the wedding slideshow creator offered by FlexClip. Every user has the opportunity to the media library that FlexClip provides, which has millions of pieces of royalty-free music, GIFs, and widgets that may be used to enhance wedding presents.
Do you feel like adding a bit of your personality? You may try out the wonderful filters, the amazing transitions, and the animations with only a few clicks.
Pros:

480p resolution is watermark-free
An extensive library of music for weddings and other big times
Fade in or fade out your songs in real-time
Overlay customized texts
Export slideshow to GIF for free
Cons:

You need to create a new account before using the weeding template
There is no channel for exporting your videos at 720p or 1080p resolution for free licenses
Renderforest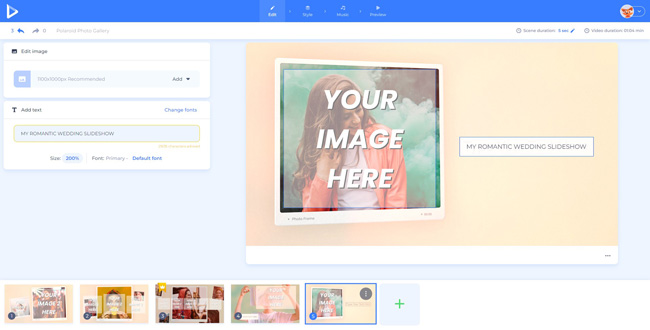 As a brilliant wedding slideshow producer that can be seen and edited online and offers customers a wide variety of stunning wedding slideshow themes that they may customize, Renderforest is quite similar to FlexClip in its functionality. We cannot overstate how wonderful the templates are. Some of them even have overlays and frames rendered in 3D.
Renderforest's lack of a comprehensive editing toolkit is one of the program's major drawbacks. It is only permissible for you to edit the text and replace the resources. You may want to learn how to make a slideshow for a wedding with Renderforst, just follow the linear guides.
Pros:

Make a wedding video with texts
You can adjust the size and font of the text
A stock of music for wedding slideshow
Text-to-speech feature, or you can upload or record a new voiceover
Cons:

Some clips in your selected template are paid
Watermarkings and limited video duration
LightMV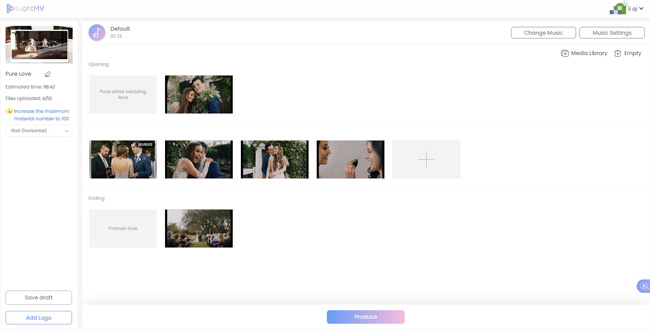 LightMV is a web-based video editor on mobile devices and computers running Windows and Mac operating systems. Utilizing this page-based wedding slideshow maker to create a slideshow of wedding photos is a breeze. Choose a template from the options provided, and then customize it as desired by adding text and music.
If you want to know how to make a wedding anniversary slideshow video with music, you can click the "+" to add new soundtracks. The editing page is what sets it apart from similar products on the market. There is neither a storyboard nor a timeline on the editing page. It's more akin to an image editor. While editing, you will not have access to the preview option.
Pros:

16:9, 1:1, and 9:16 aspect ratio
Trim music and adjust volume
Apply fade-in & -out effects to the wedding song
A online free music library
Make a wedding slideshow with texts with a few clicks
Cons:

There is no advanced settings for music and captions
HD (720p) and Full HD (1080p) need to be purchased
Magix Photostory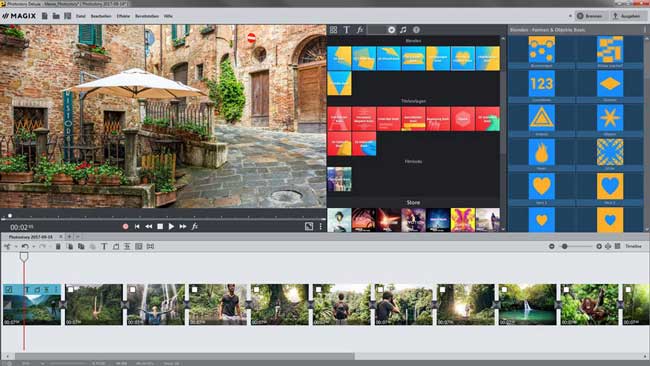 Wedding slideshows may be easily generated using the flexible and user-friendly Magix Photostory software. You may import pictures of your wedding in nearly any format and then adjust the colors and tonal range (your wedding photos have to be unbroken). You create a beautiful presentation for your wedding reception with the program's aid, which comes with a library of more than 300 different effects, 850 different music tracks, and sound effects.
Many other formats, such as high-definition videos, videos optimized for tablets, and HD videos, may be exported. Nevertheless, despite these benefits, a significant amount of RAM is required for this software to run effectively. You can use the best app to make a wedding slideshow with its easy-to-learn profile.
Pros:

Major types of transitions
Play your wedding slideshow in real-time
Well-performed system repsonse
Overlay animated subtitles
Cons:

A brand watermark will be added to your file
The Last Word
It's unattainable to locate the ideal wedding video slideshow maker that would satisfy everyone. The fact is. However, we think we've identified a close second. Look no farther than those recommended tools if you want a slideshow creator that is simple to use while still generating a beautiful and professional-looking wedding or bridal shower presentation.
Because of their feature-richness and low skill need for creating slideshows, those slideshow generators earn our high ranking. Ideally, they will become your go-to tools for producing a beautiful film that captures the elegance of your wedding ceremony.